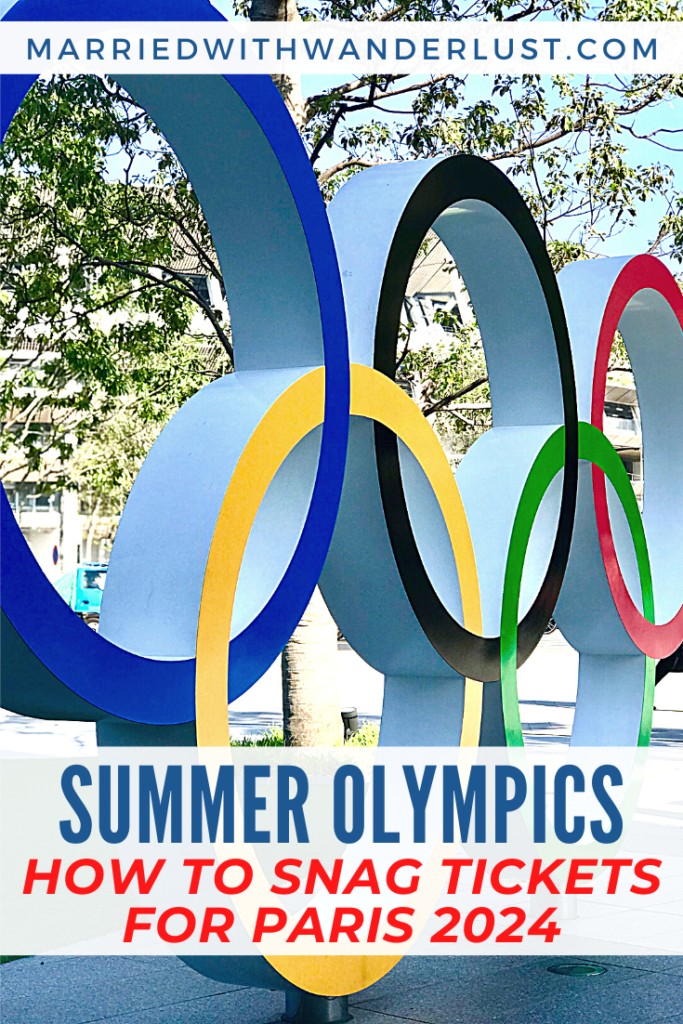 A few years ago we shared our (unsuccessful) experience attempting to get Olympics tickets for Tokyo. In hindsight, with COVID, we would not have been able to attend anyway but we were so disappointed to lose the lottery because Japan and the Olympics are both on our ultimate travel bucket list!
Hard to believe but it's already time to start planning for the next Olympics games taking place in Paris in 2024. So here's what we know so far about snagging Olympics tickets and best of luck if you also decide to enter the lottery!
Getting Olympics Tickets: What You Need to Know
Official Olympics Tickets Info:
You'll want to start by visiting the official Paris 2024 website which includes details on Olympics tickets, as well as schedule of events, volunteering, and more. When you're ready to enter the draw for Olympics tickets, click here. But first, more on the process and what to expect:
The Olympics Tickets Draw – How it Compares to Tokyo:
The process for the draw for Paris 2024 is a little different from the process we went through for Tokyo 2022. So far, it seems to be more straightforward. For Tokyo, you needed to decide exactly which sporting events you wanted to compete for (down to the day and time of the event) before entering the draw. You also had to decide on a ticket level, but no pricing was included!
For Paris Olympics tickets, the schedule of sessions is available for review and pricing is included. There are still some questions such as how different is the seating from price category A to D? But overall, it is way less vague in terms of what you should expect to spend.
An example of the artistic gymnastics schedule is below which shows pricing. The only question this schedule left us with is regarding medal rounds. The schedule does include medal rounds for most sports but not artistic gymnastics. So, we're not sure if those dates haven't been set or if they wait to sell those at a later time since they are popular? Hopefully we will find out more if selected in the draw.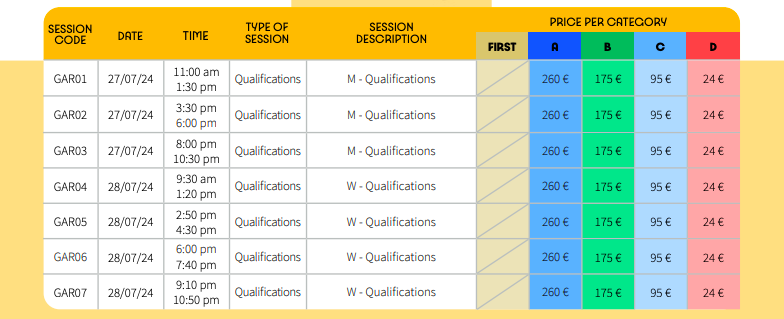 The Olympics Tickets Draw – Important Information:
So now to the most important stuff: deadline to enter the draw and the purchase window. Below we've included a screengrab from the official website with important deadlines for purchasing. But FIRST, you need to know the deadline to enter the Olympics tickets draw is January 31 at 6:00 pm. We couldn't find on the website whether that is 6:00 pm Paris time so we'd suggest not waiting until the last minute.
You should lso sign up for Club Paris 2024 (free to join) before entering the draw. Club members who are selected at random will have priority access to the sale of the "Make Your Games" packs.
Upon entering the draw, you'll have two options: entering for a pack of tickets or entering for single game tickets. We decided to opt for both to give us the best chances of winning. Unlike with Tokyo 2020, you do not have to decide beforehand which sports and sessions you want to compete for. You may also want to check out the official Olympics tickets guide for more details.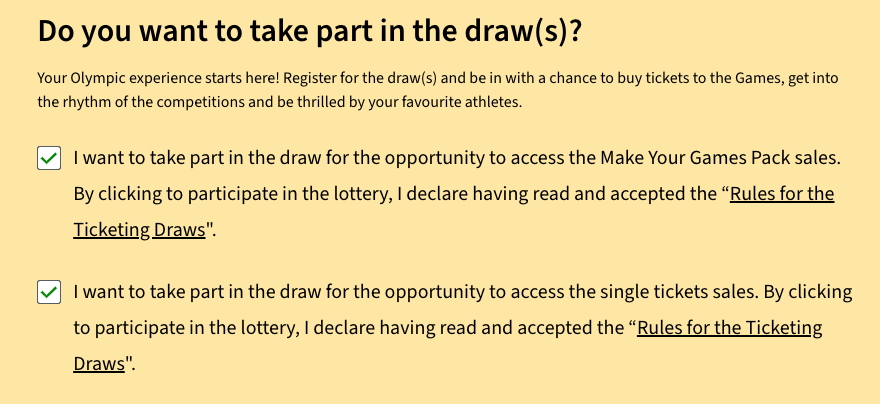 After entering the draw, be on the lookout for a confirmation email which has details on when to expect the draw results.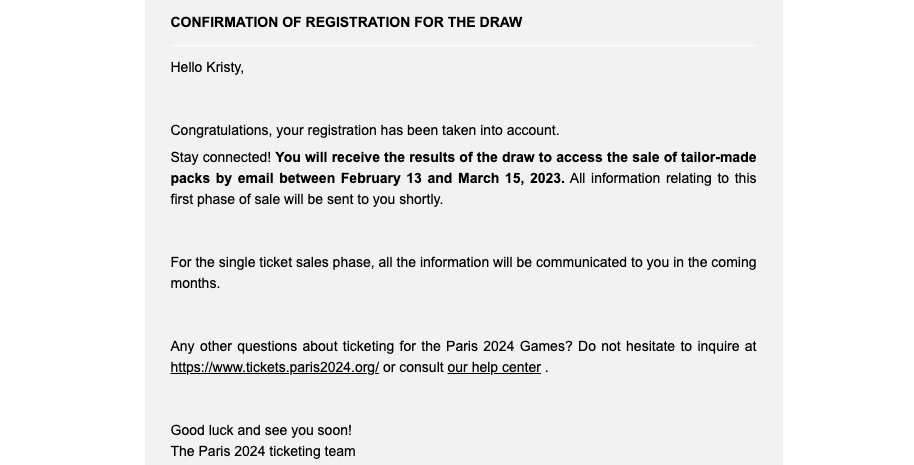 Ticket packs will be available for purchase to those who win the draw from February 13 to March 15. You'll need to check your email regularly during that period. If you're selected, once your timeslot opens, you'll have 48 hours to create and purchase your game pack. The second draw for single game tickets will take place between April 22 and May 9 according to the website official rules.

The Olympics Tickets Draw – Choosing Your Tickets:
If you win the draw for a game pack, you'll be able to choose three sports and the number of tickets. Each of the sports in the pack has to be the same number of tickets. Once you've finalized your three-game pack, you can create one or more packs up to 30 tickets per account. You can find a lot more details here.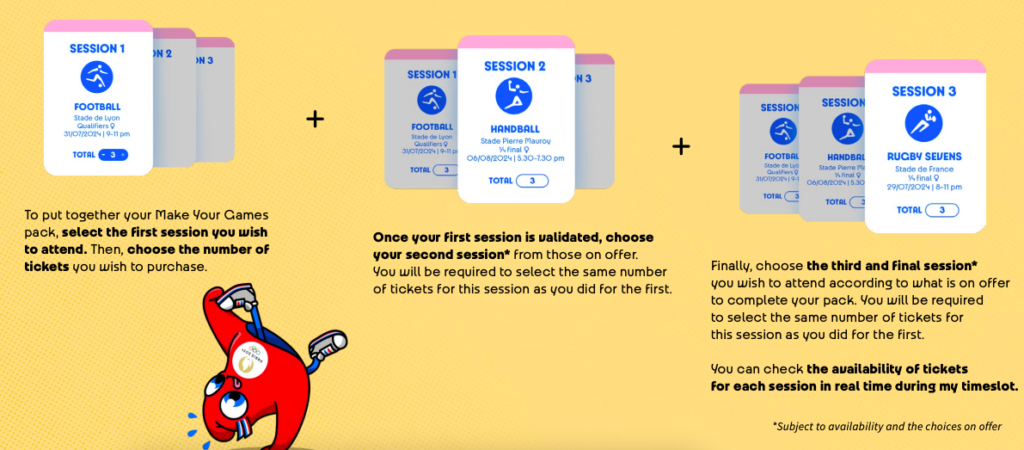 The Draw – Other Things to Consider:
We've shared what we know about getting regular Olympics tickets for Paris 2024 but there are a few other things to consider:
Hospitality Packages: If you have the means to afford a hospitality package, that may be a route you want to go for snagging Olympics tickets. You can learn more here.
Opening & Closing Ceremonies: We haven't found any information on snagging these tickets yet. We'll be keeping an eye out once we know the results of the draw!
Are you planning to enter the draw for Paris 2024 Olympics tickets? Have you been through this process before? We'd love to hear what you think! Let us know your experience in the comments and GOOD LUCK if you're entering the draw!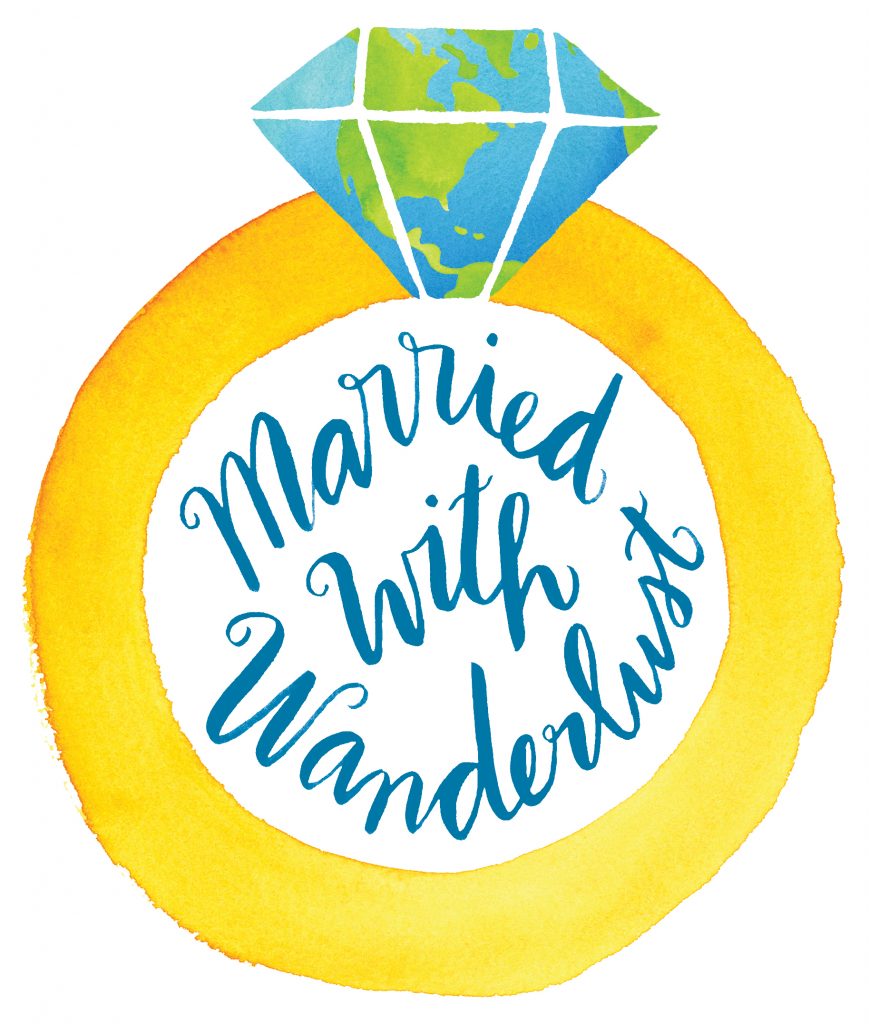 Enjoy our blog post? Pin it to share with others!