We love cruising, but even just a few days on the ship can definitely screw up even the best pre-vacation workout plan (think all-you-can eat buffets and lots of piña coladas).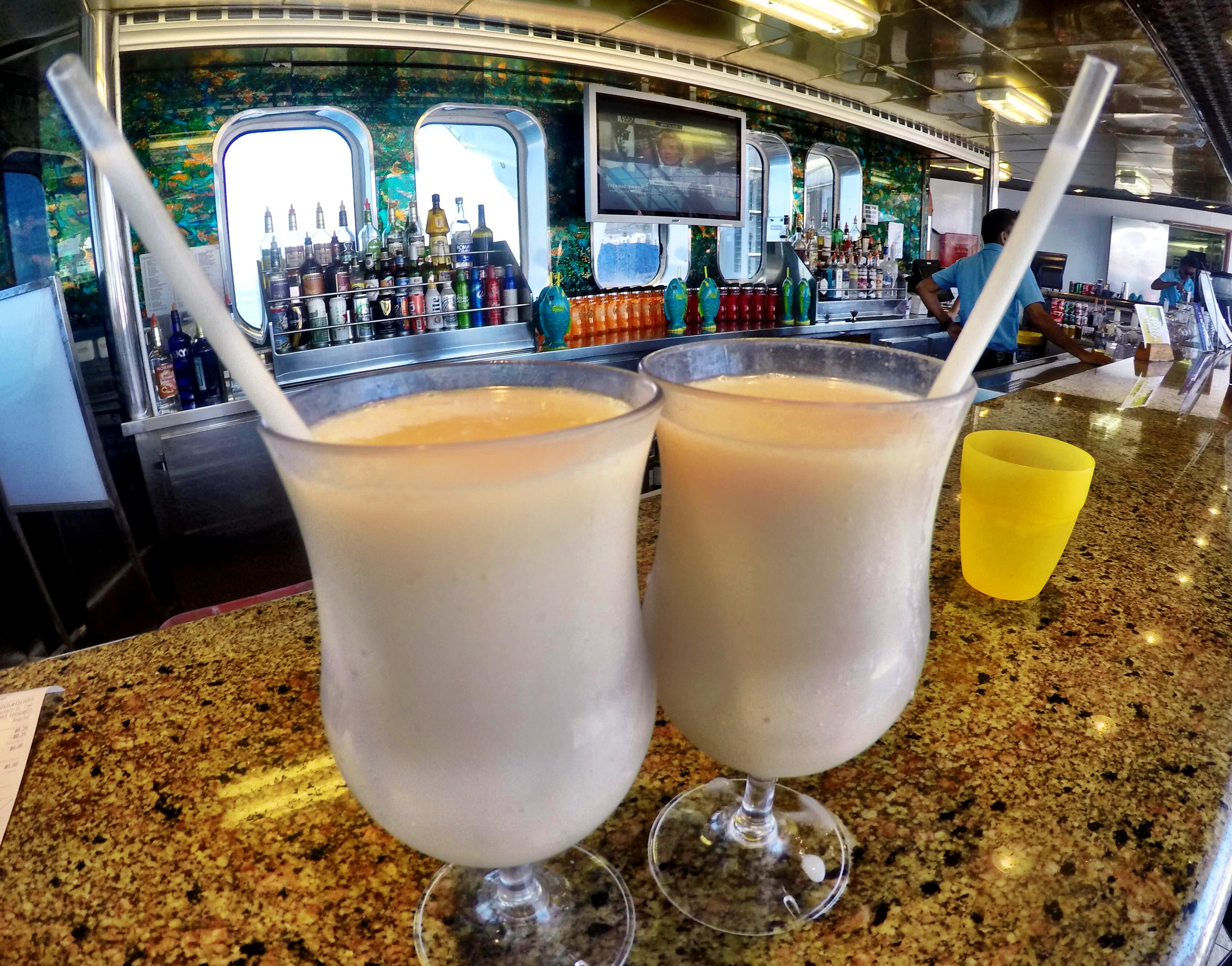 But, don't worry! With a plan, you CAN stay in shape once you set sail. Below are our best tips to stay fit on a cruise:
Burning Calories on the Ship:
Track Your Effort
Keeping track of your steps with a fitness tracker is a great way to gauge how you're doing with activity each day. They'll even vibrate on your wrist if you've been sitting for too long to remind you to take a walk! Fitness trackers can help you hold yourself accountable. Set a step goal and make sure you meet it each day.
Take the Stairs
It can be tempting to take the elevator, especially if you have a lot of flights between your room and your destination. However, we rarely ever use the elevator on a cruise ship. It's a great workout to take the stairs and it will help burn off some of the drinks and great food you're sure to consume!
Enjoy the View from the Track
Most ships have a jogging/walking track on the top deck. Go take in the view, enjoy the sunshine, and stay fit on a cruise!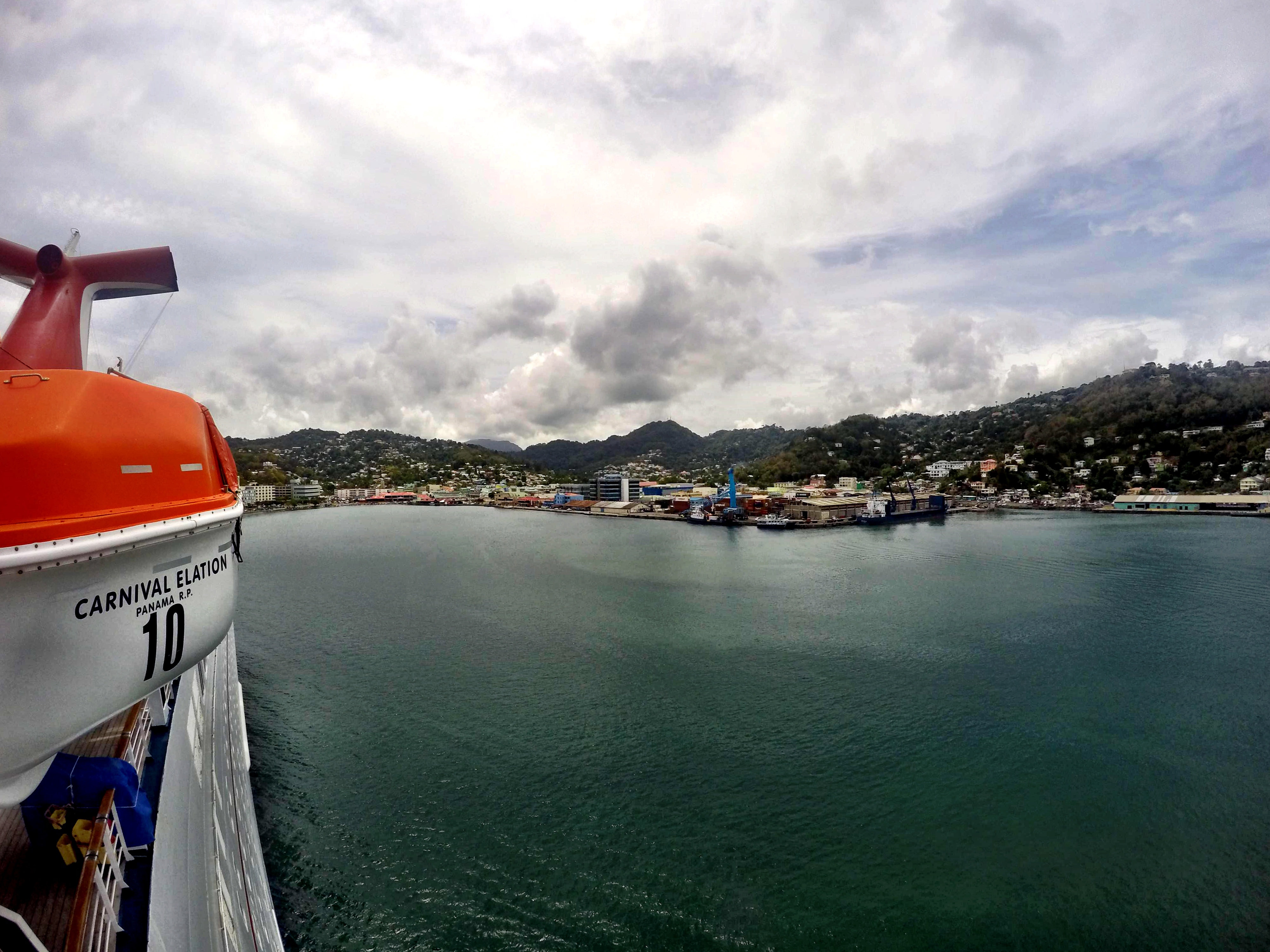 Hit the Gym
The gym is an obvious option for burning some calories while cruising. A great way to make the most out of your day is to hit the gym first thing in the morning before you're allowed to get off the ship, or on days at sea when you have all day on board. Set a goal for yourself and stick to it.
While we're talking cruise ship gyms, though, has anyone ever tried running on the treadmill while the boat was moving? Boy is that hard for me, haha. I nearly fell off!
Book active excursions
A great way to burn some extra calories while having fun is with an active excursion.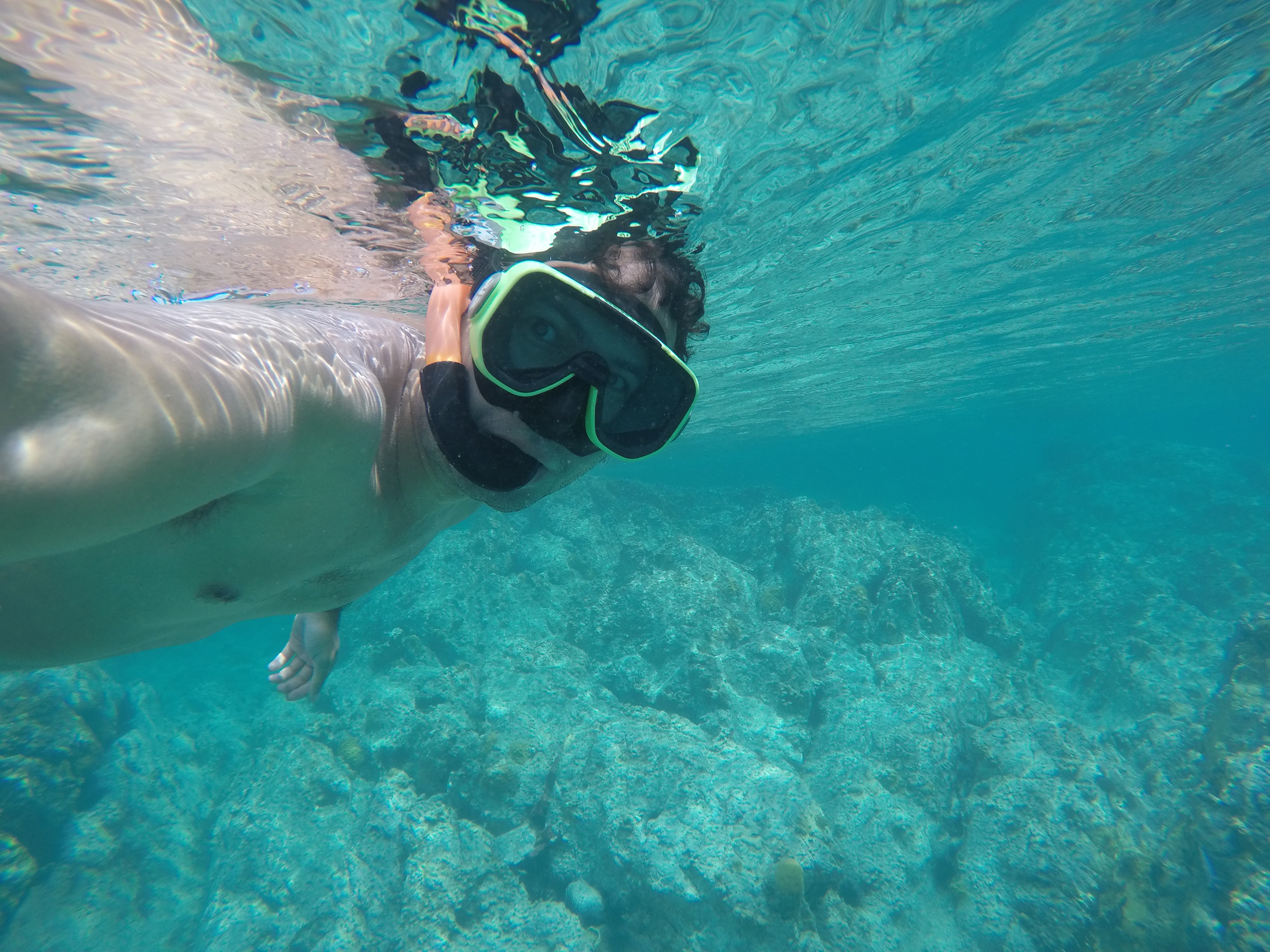 Snorkeling, horseback riding, hiking, and kayaking are all great options to consider. Also, spend a few hours walking around the port and you're sure to rack up some steps!
Dance, Dance, Dance
Dance your way to a few extra drinks! We love hanging out in the dance clubs and listening to music, so why not dance off some calories while we're there? And even if you're a terrible dancer, you probably won't know anyone else on board anyway!
Ride the Waterslide
This won't burn a ton of calories but you'll be walking the steps to get to the top and it will simply get you off your deck chair! Plus, it's a lot of fun! (Yes, that's WC pictured below!)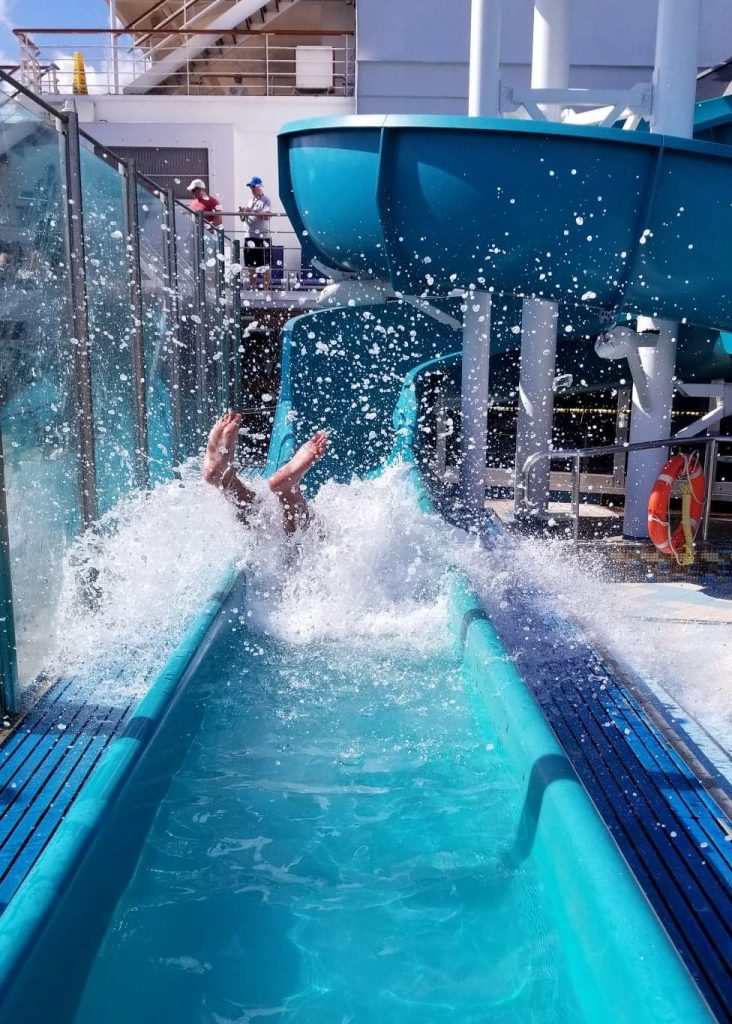 Play Sports on the Ship
Cruise ships offer a variety of activities on board including volleyball and basketball courts, climbing walls, and mini-golf. Some even have bowling alleys and ropes courses. Whatever you like to do, get up and get active!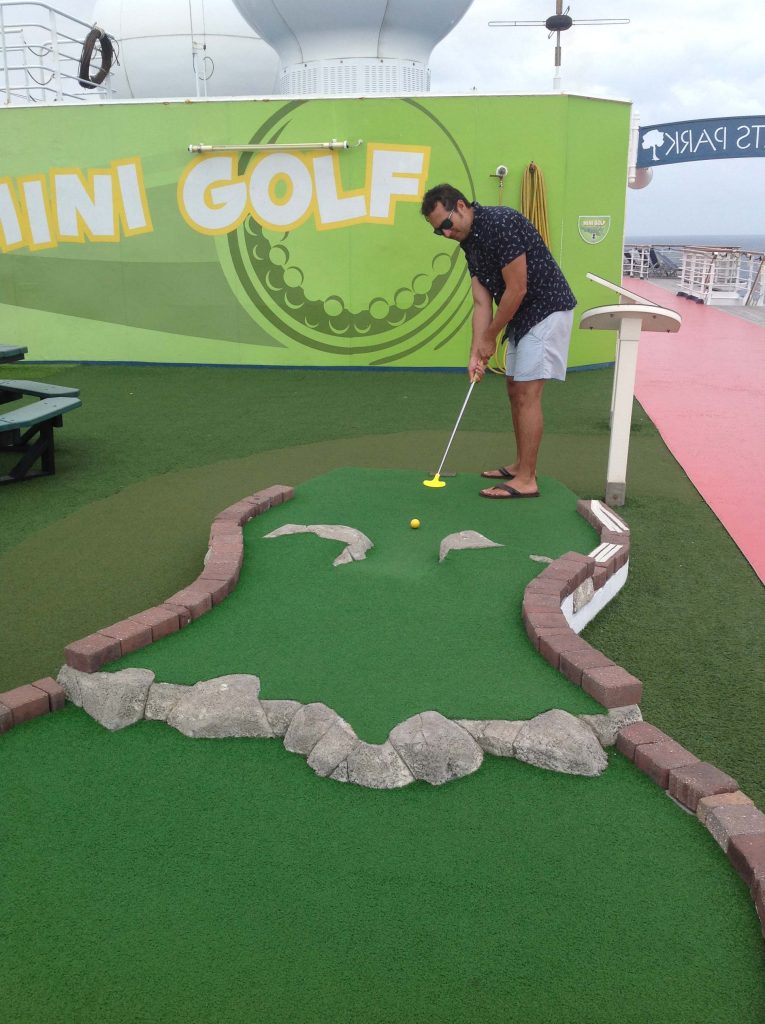 Enjoy the Steam Room
Many cruise ships offer steam rooms and they can be a great way to work up a sweat. Treat yourself to the sauna after your workout in the gym – it might motivate you to get there! Just make sure you drink lots of water afterwards so that you don't get dehydrated.
Eating Well on the Ship:
Even while trying to stay healthy, you'll still want to indulge some while on vacation. The trick is moderation and deciding what's most important. Here are a few ideas for eating well while on board:
Visit the Salad Bar
The salad bar is a great way to eat healthy while on the ship and – bonus – a lot of ships have really good salad options. (We loved the salad bar on Holland America!) Consider using the salad bar at lunch so you can indulge at dinner, or set another similar goal for your meal choices.
Skip the Dessert
Feel like you're already indulging in other ways on the ship (buffets, alcohol, etc.)? Consider skipping the dessert to make up for it.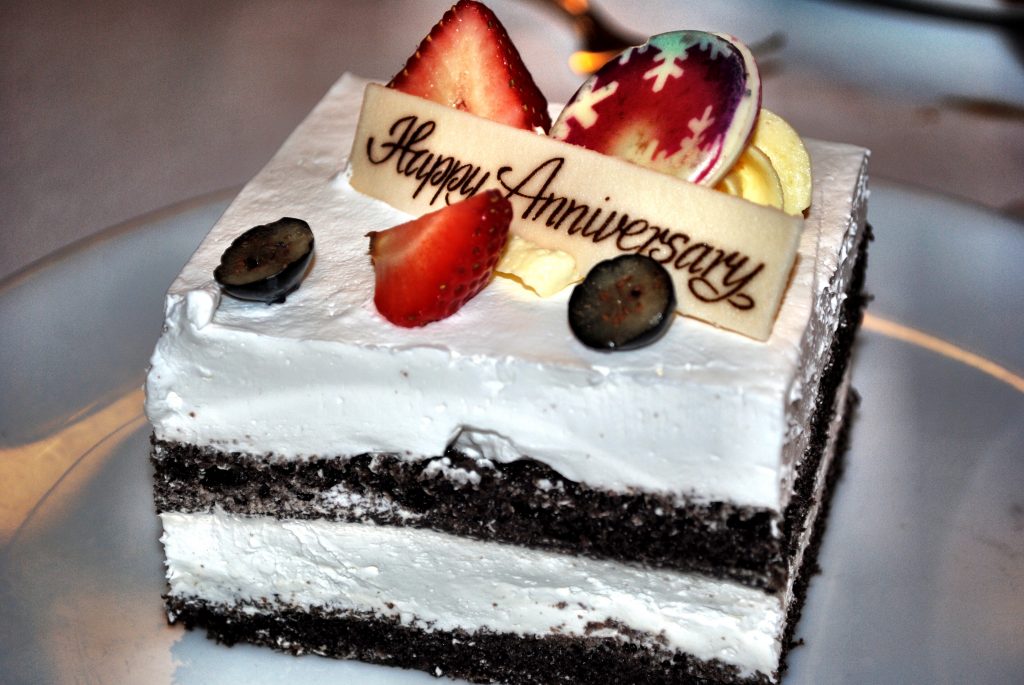 Another option is to choose the fruit or cheese plate to satisfy your after-dinner sweet tooth instead of the cake.
Choose Alcohol Wisely
If alcohol isn't your thing, you will save A LOT of calories by avoiding the adult beverages. But if you're like us and enjoy drinking on vacation, then just choose wisely.
Sip light beer or wine instead of frozen drinks and you'll save a lot of calories. Alcohols like vodka and tequila are also carb-free, but be careful what you mix them with or the calories could add up.
How do you stay in shape while still indulging on vacation? We'd love to hear your ideas!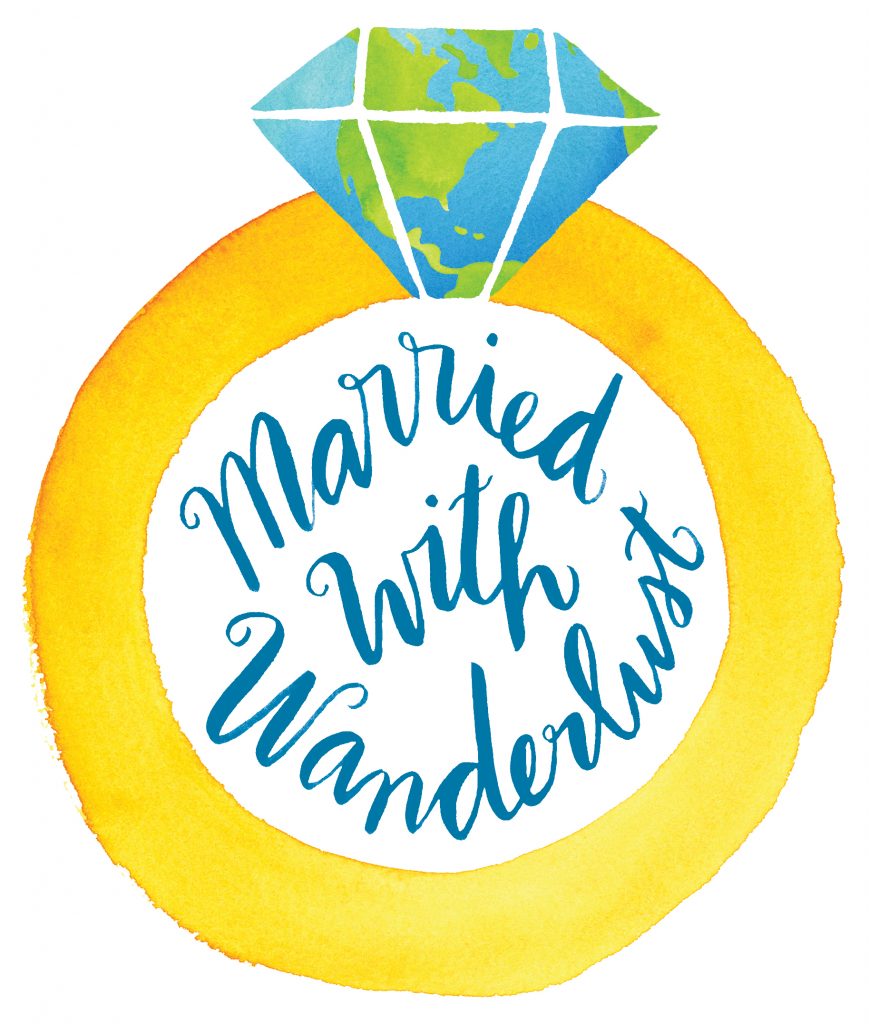 Enjoy our blog post? Pin it to share with others!