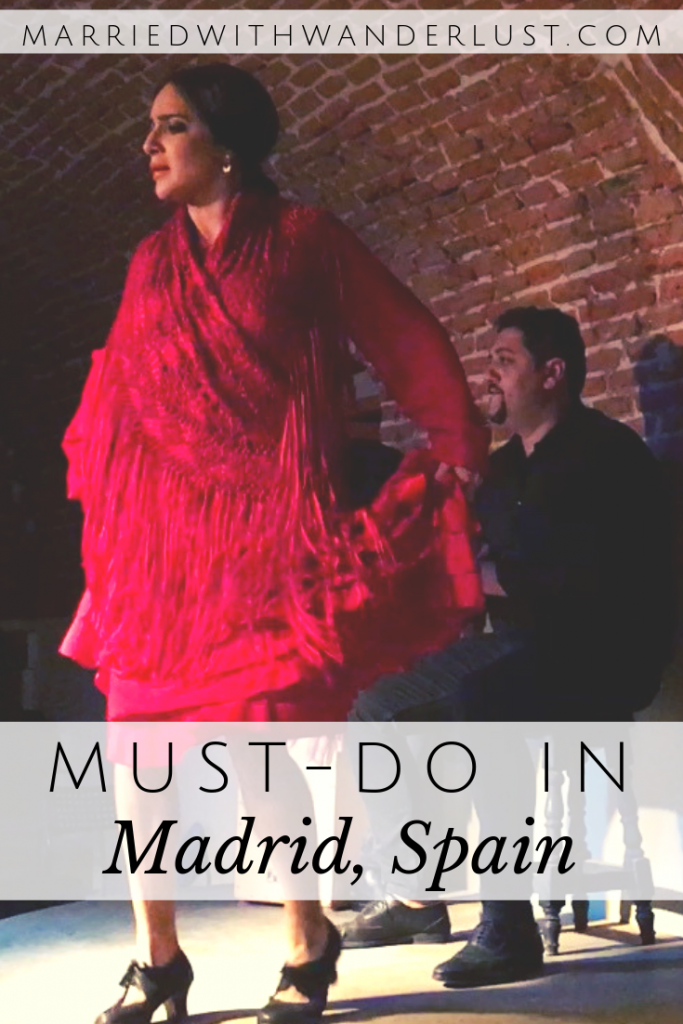 Madrid, much like Athens, Greece, is one of those cities that just blew away our expectations. We were fortunate to have a good friend living there who was able to give us a bit of the "locals" tour, but besides that we were delighted by the variety of things to do, exquisite architecture, kind people, delicious food, and fun nightlife. Here is what we'd recommend you must do in Madrid:
Must Do in Madrid:
Try Spanish Foods at the Mercado de San Miguel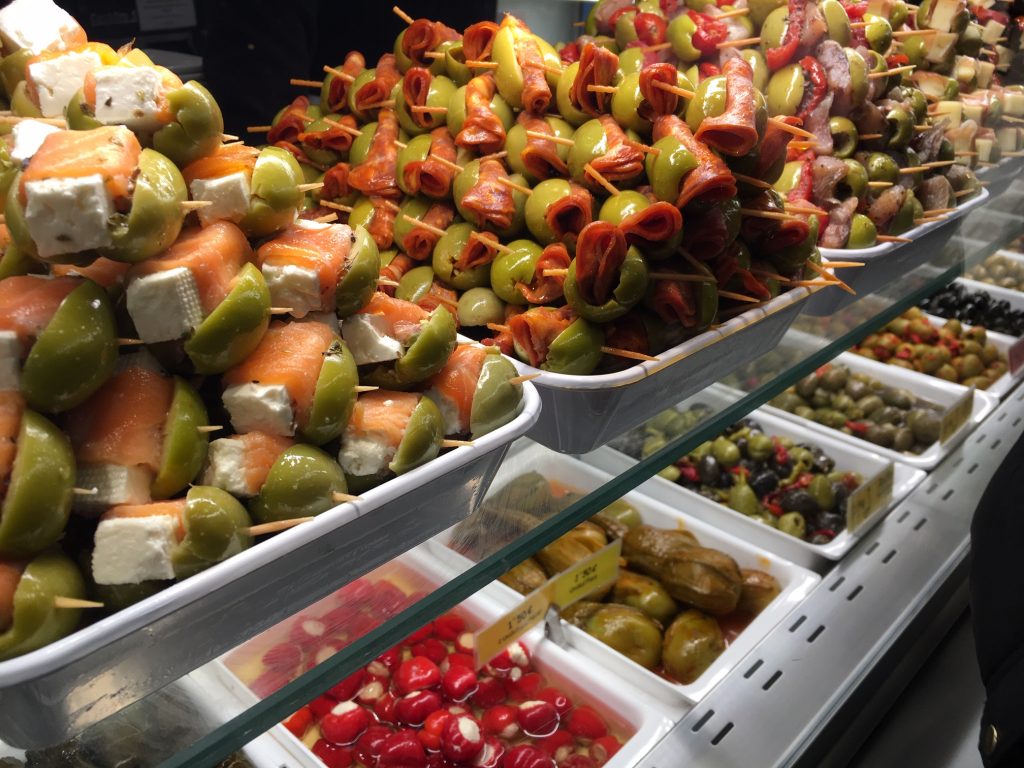 If those olives above don't have your mouth watering, well…. I just don't know what to say! This was the first booth we saw when we walked into the Mercado de San Miguel and we were immediately in love. This food market has a little bit of every Spanish flavor you'd want to try. Think Iberian ham, fresh seafood, cheeses, tapas of all sorts, and bars serving vermouth, Spanish wines and coffee.
Admire World-Famous Art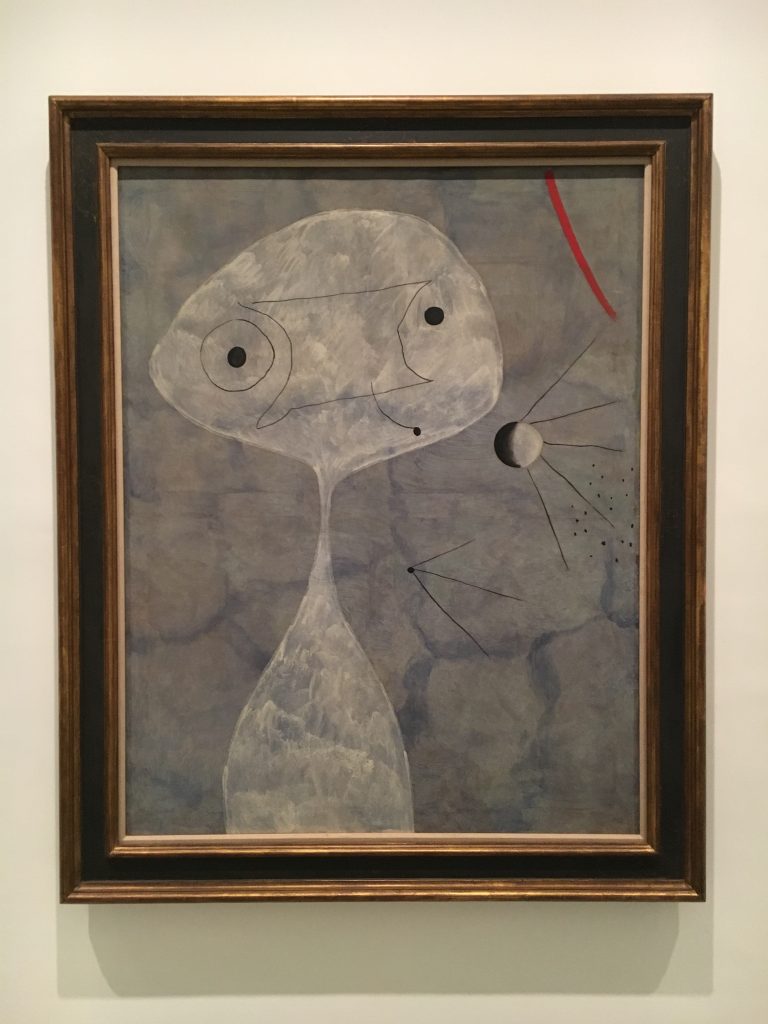 There is no shortage of opportunities to view world-famous art in Madrid. The Reina Sofía, Prado, and Thyssen-Bornemisza are probably the most popular museums, but there are several others as well.
Depending on the amount of time you have in Madrid, you may have to choose just one. We visited the Reina Sofía and were blown away by the variety of paintings, sculptures, and other art pieces. The most famous painting at the Reina is Pablo Picasso's "Guernica," with a full room dedicated to it (no photos allowed!). My personal favorite was Joan Miró's "Hombre con pipa (Man with a Pipe)" which reminds me much more of an alien than a man (pictured above, photos allowed). There are also a lot of interesting paintings by Salvador Dali
TIP: On Mondays and Wednesdays-Saturdays, the Reina Sofia is free for the public from 7:00-9:00 pm. The Prado Museum is free from Monday-Saturday from 6:00-8:00 pm and on Sundays and holidays from 5:00-7:00pm. If you're in Madrid during high season, you'll need to get in line early!
Photograph the Famous "Bear and the Strawberry" Tree Statue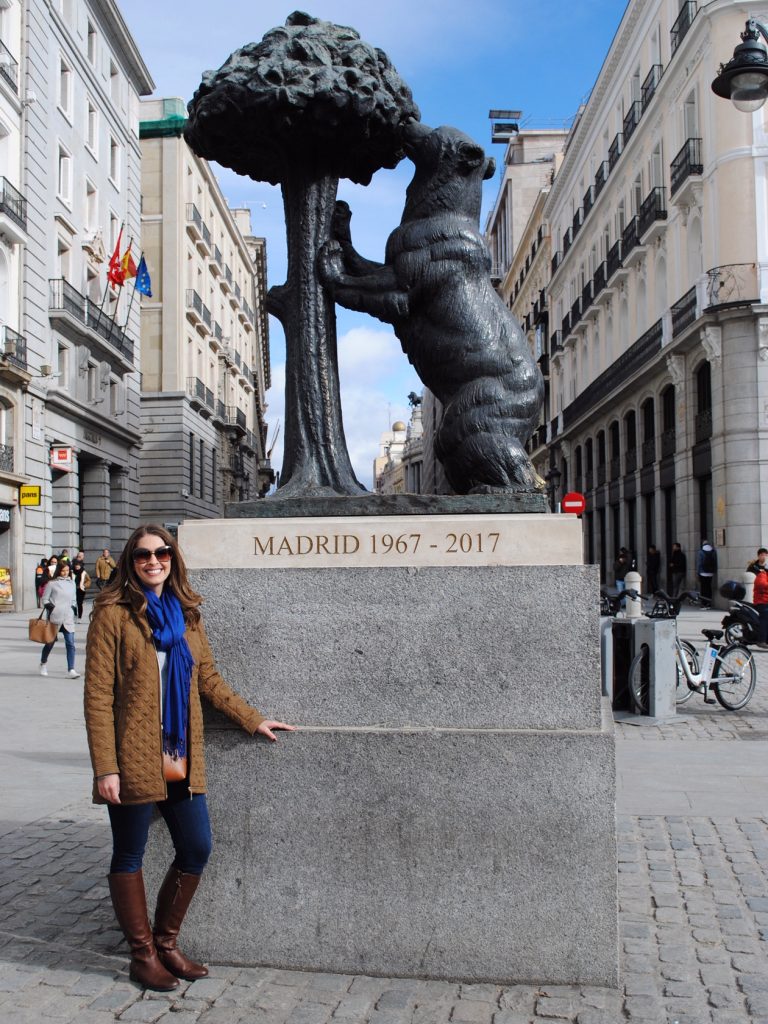 We were actually surprised at the size of The Bear and the Strawberry statue after having seen it in a lot of photos on Instagram and blogs. It's actually a lot smaller than I expected (feels much bigger once you're right beside it)! That being said, it is the official symbol of Madrid and you'll want to visit this spot and take a photo. It's a popular spot in the middle of a busy square so you may have to wait your turn.
Visit the Egyptian Temple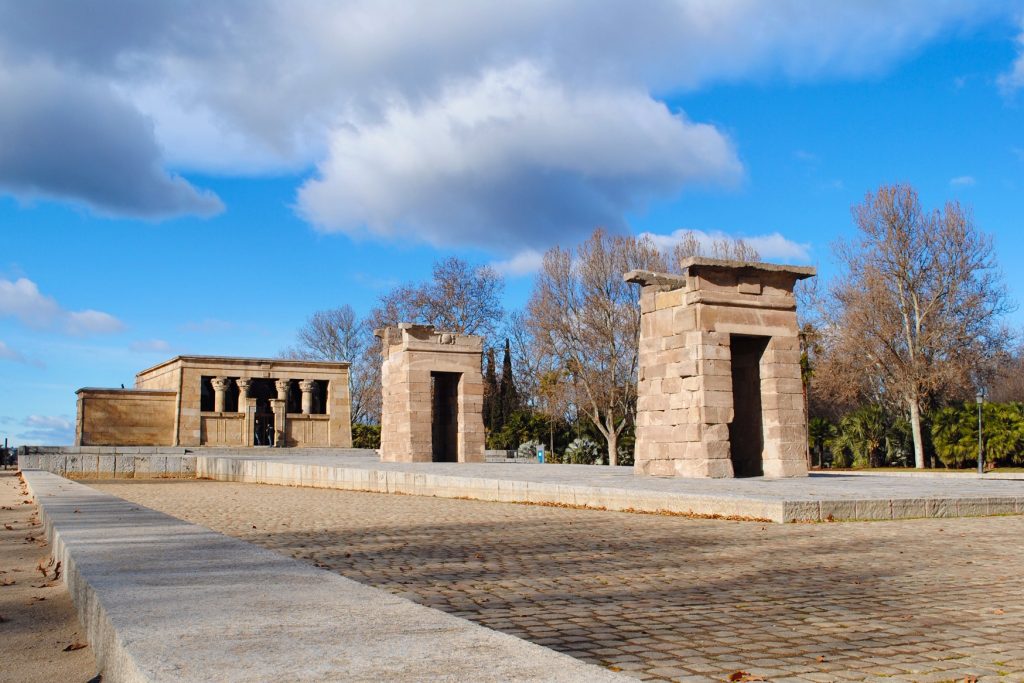 The Temple of Debod was donated by the Egyptian government and moved to Madrid's Oeste Park in the 1970s. We visited in the morning, but you should consider visiting in the evening to see it lit up.
TIP: In Oeste Park, you'll also find a large rose garden and a cable car (under renovation as of Jan. 2019). The rose garden is free to the public and the cable car round-trip ticket is under 6€. You can also ride the cable car one way to Casa de Campo Park.
Indulge in Churros & Chocolate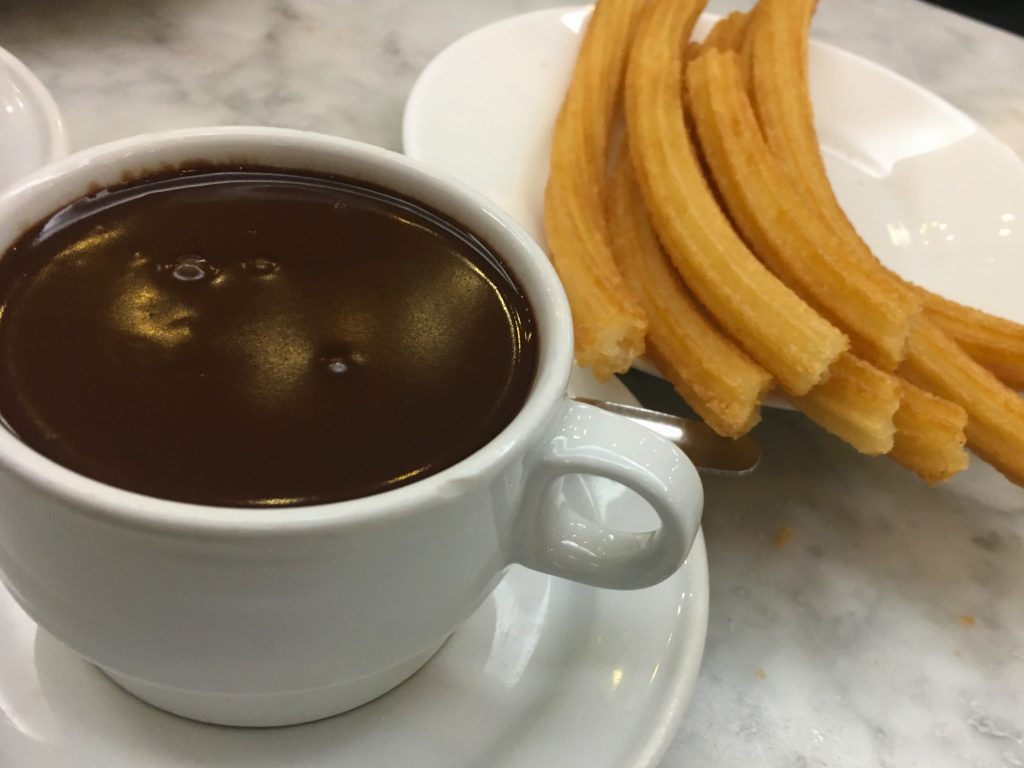 If you want to try churros and chocolate in Madrid, why not wait until midnight after a night of bar hopping and vist the 24-hour Chocolateria San Gines?! This combination of treats is good all day long, but knowing that you can get it 24 hours a day at this famous spot is even better!
Of course, there are tons of chocolaterias throughout Madrid so you'll have plenty of options. And just one visit isn't enough… you'll want to indulge at least a few times during your visit to the city!
Wander through Retiro Park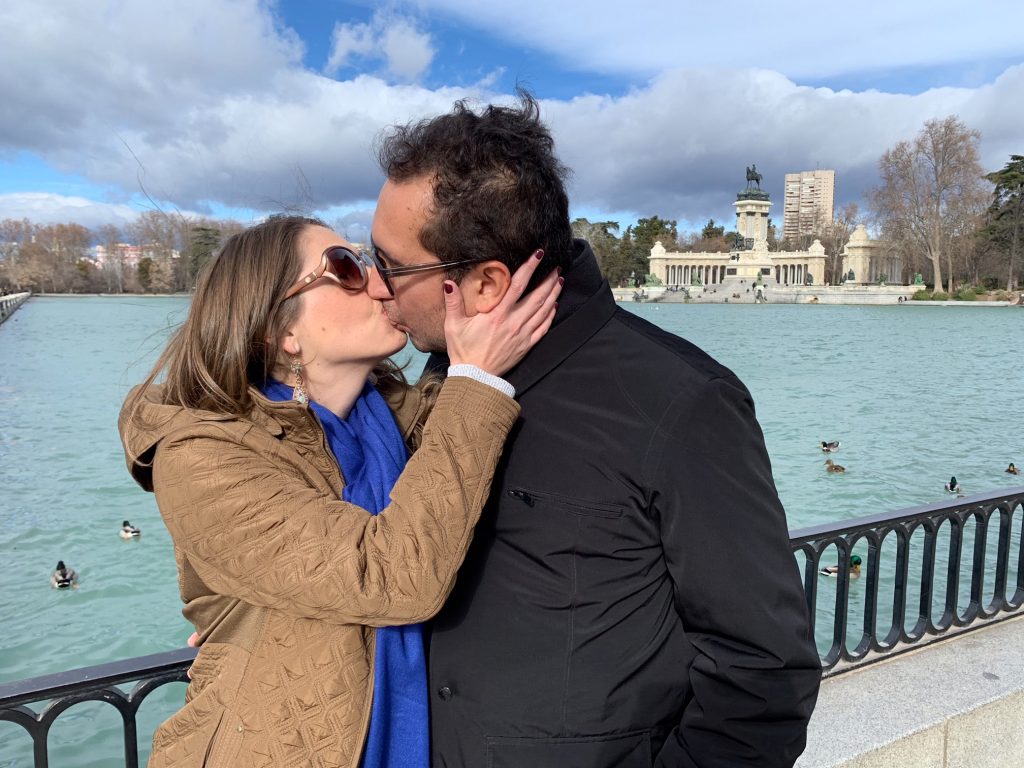 Our readers know we love a good park, and Retiro definitely fits the bill! The large lake is a popular spot for locals to sunbathe and for renting row boats (it was way too windy on the day we visited). Retiro is also home to the Roselada rose garden (has the most blooms in May & June) and the
Teatro de Títeres (check out the puppet shows hosted every weekend).
There are also two venues within the park that host art exhibitions for the Reina Sofía museum: the Glass Palace and Velázquez Palace. As of Jan. 2019, there are really unique steel wire sculptures inside the Glass Palace designed by artist Jaume Plensa.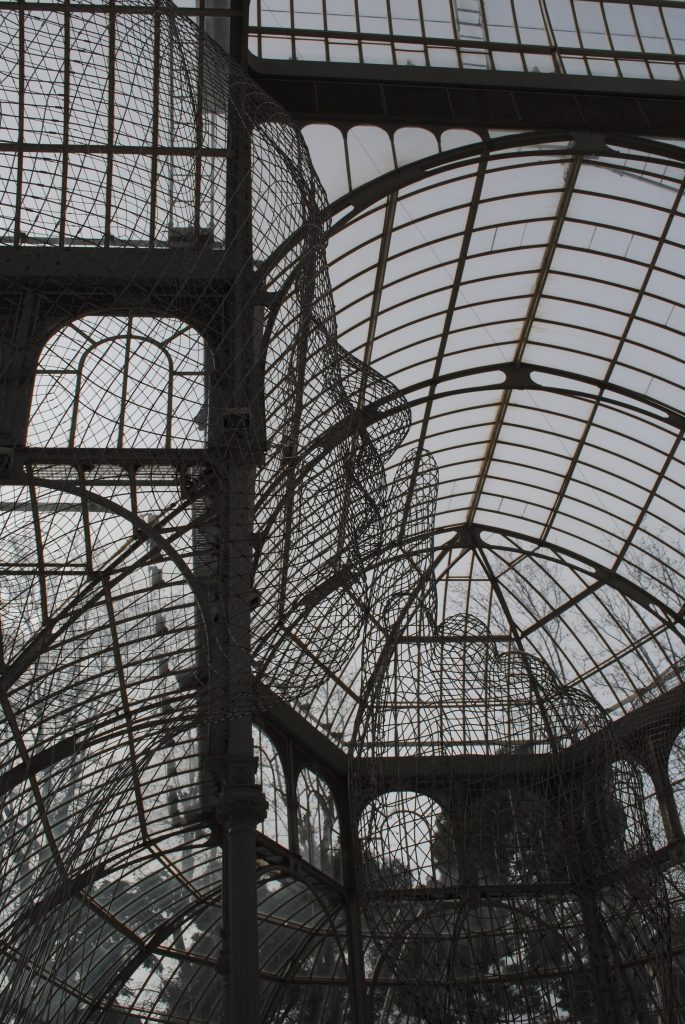 See a Flamenco Show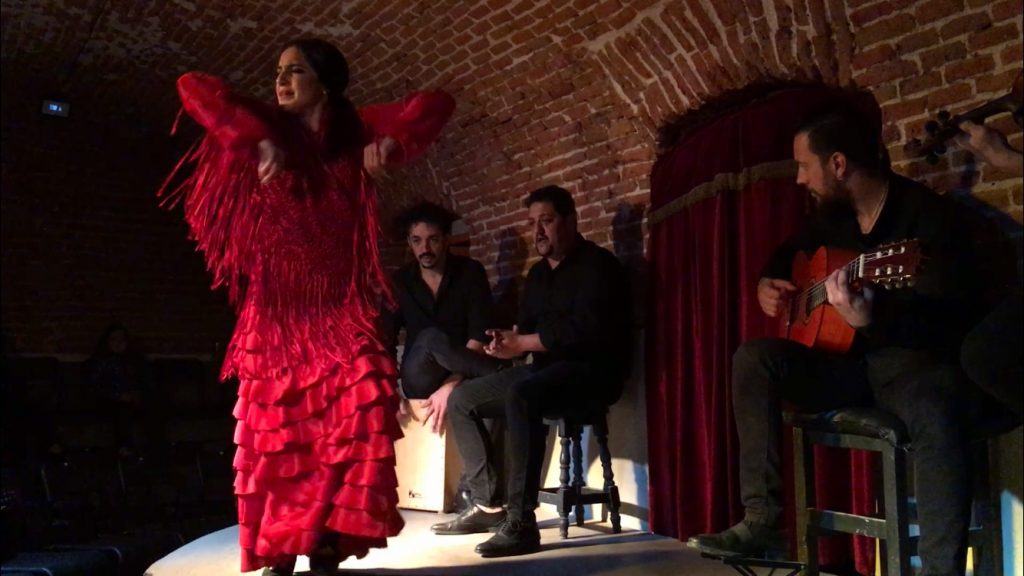 Knowing nothing about flamenco before the show, we were surprised my how emotional and moving the experience was. I call it an experience because flamenco is so much more than just a dancer on the stage. The musicians, the facial expressions, the costumes, the movements all work together in an intimate venue setting.
Though flamenco is not originally from this part of the country, a lot of performers come to Madrid to perform since it is the largest city in Spain. We attended Essential Flamenco and can't recommend it enough. The tickets were 35€ and included your first drink.
Eat at the Oldest Restaurant in the World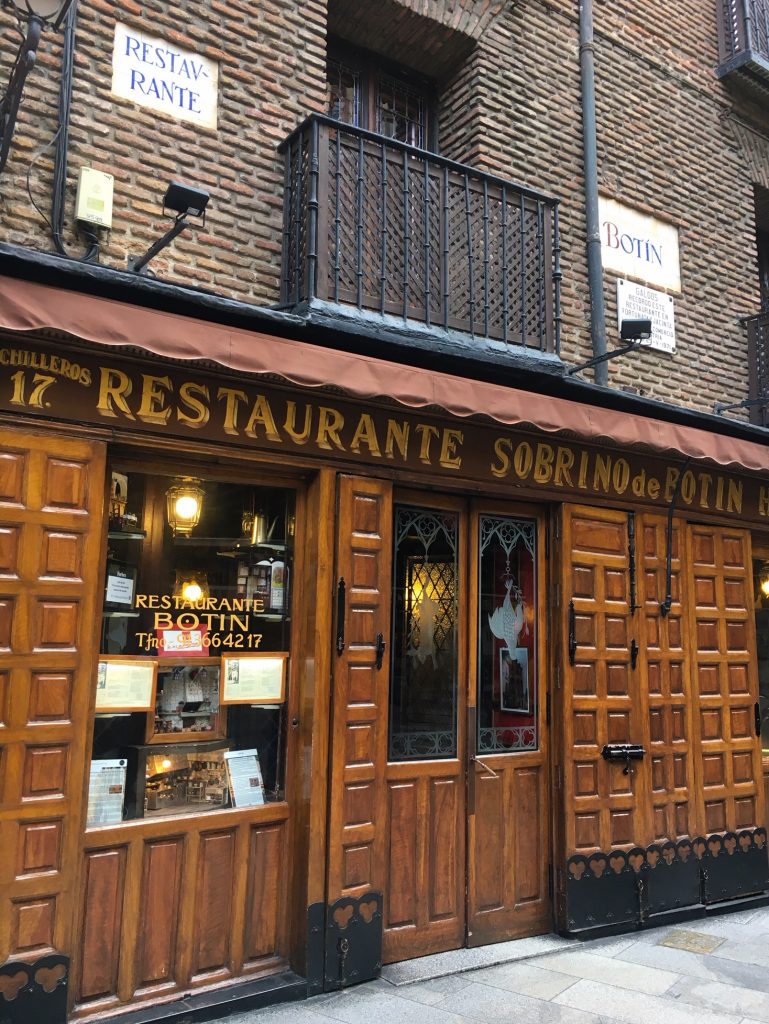 Did you know the oldest restaurant in the world (according to the Guinness Book of World Records) is in Madrid? Sobrino de Botín is not an inexpensive meal, but it definitely is an experience. We'd recommend making a reservation and try their famous dishes: roast suckling pig and roast baby lamb. Personally, my favorite was the baby squids in their own ink!
Cheer on Real Madrid at Estadio Santiago Bernado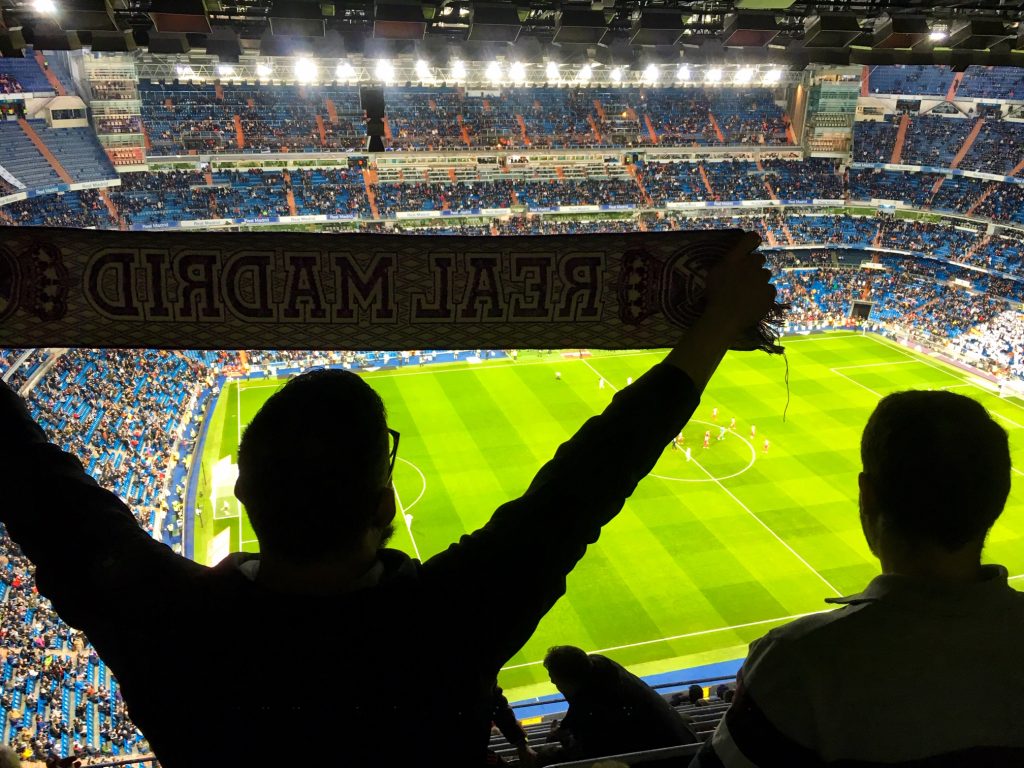 If you're lucky enough to be in Madrid while Real Madrid has a home match, we say go! Even if you're not a sports fan, it's a unique experience to see the locals watching their favorite team in their environment. These fans are certainly passionate — we especially loved their loud whistling whenever they didn't like a call from one of the refs!
The Real Madrid stadium is huge, similar to an NFL stadium. We bought tickets just hours before the game and ended up at the tippy top. Even way up there, you can still get a good view. However, if you have the chance to get tickets closer to the action, I imagine the experience would even go up a notch.
Visit the Palacio Real
The Palacio Real (Royal Palace) is the official home for the royal family, although they don't actually live there anymore. It is open for visitors except when there is official business (there was official business every day we were in Madrid).
The palace has more than 3,000 rooms and a variety are open to the public. You can purchase a guided tour or an entrance ticket to explore on your own. Tour lengths and prices vary depending on what you want to see. Options include visits to the Royal Kitchen, Halls and Royal Armoury.
You can watch the Changing of the Guard on Wednesdays and Saturdays, weather permitting, and the Solemn Changing of the Guard on on the first Wednesday of each month, weather permitting (except January, August and September).
Find Delicious Paella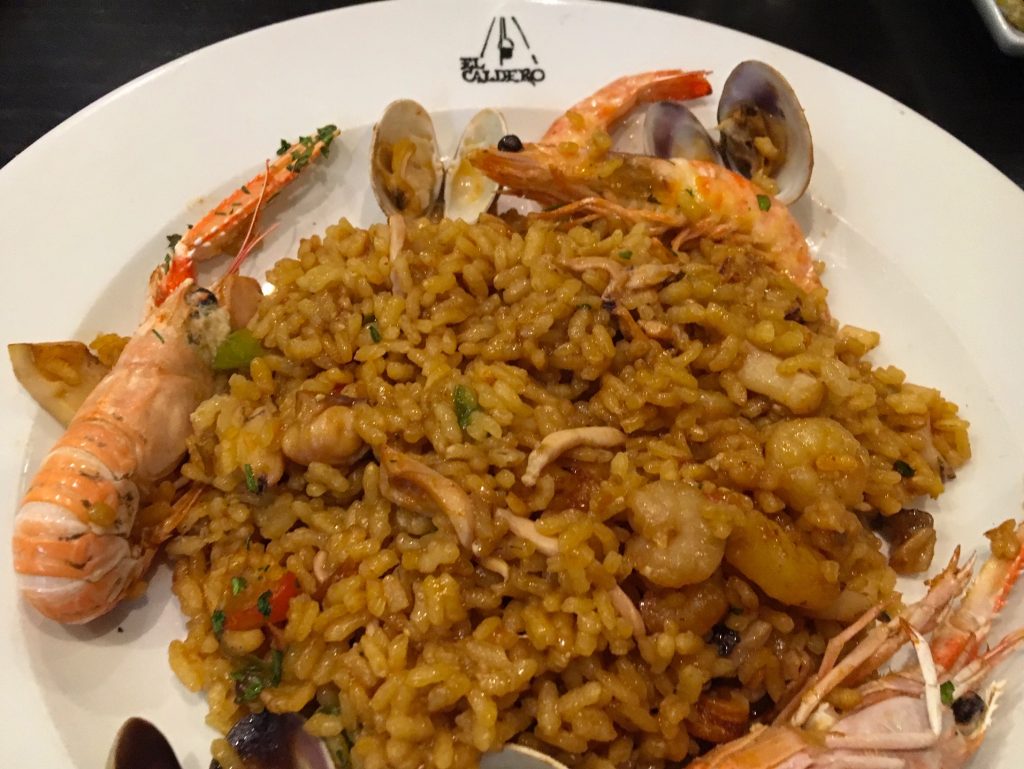 To be completely honest… you'll see a lot of signs advertising paella outside of restaurants in Spain. However (in our opinion) not all of them are good paella. We tried this dish in at least four different restaurants and really only loved one of them. Our favorite was at El Caldero. The paella comes out in a huge skillet and needs to be shared between at least two people.
Take Fun Photos in Plaza Mayor & Puerta del Sol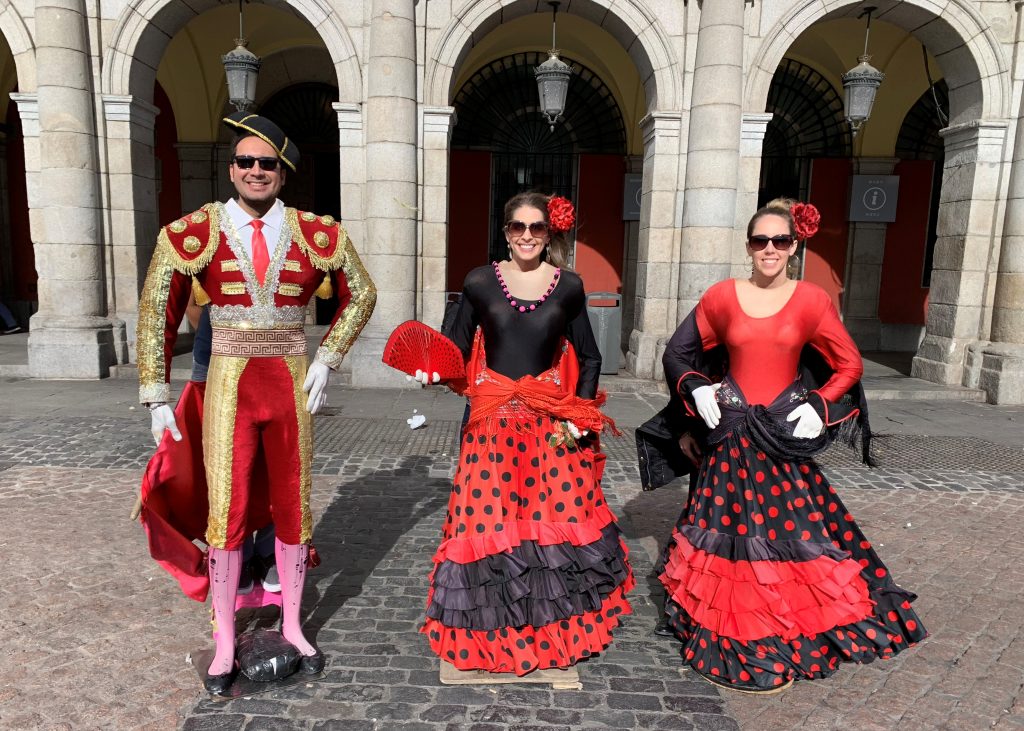 Love Mickey Mouse, Spiderman, Pirates, Freddy Krueger? You can find it all in Plaza Mayor and Puerta del Sol! We had just seen the flamenco show the night before and had to pose for the fun photo above. Isn't WC cute as a matador?!
NOTE: Remember, if you take a photo with one of the characters or at one of these props, you need to leave a tip. If you're not sure how much to leave, you can ask beforehand. In our experience, most do not have a set price and 1€ per person in your photo is a good rule of thumb.
Explore the Crypt at Almudena Cathedral
Located right beside the Palacio Real, this is a good stop either before or after. Entrance to the crypt at Almudena Cathedral is free but a donation is requested. The crypt is a bit of an escape from the hustle and bustle of the city and eerily quiet. What we liked best? The architecture and the stained glass.
Stand at Kilometre Zero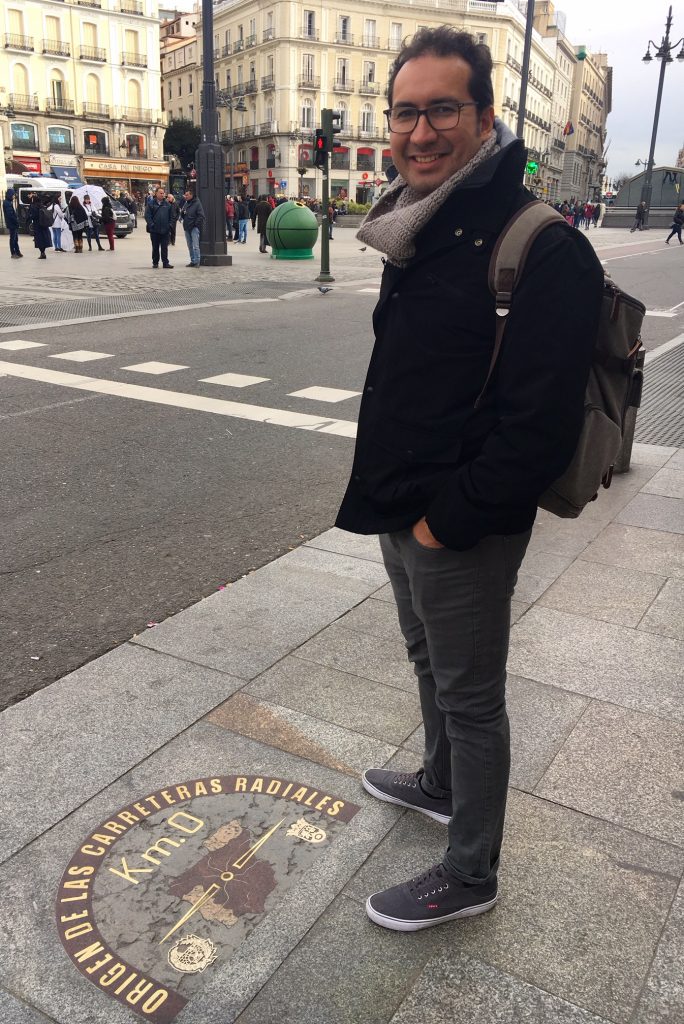 When you're in Puerta del Sol, search for this slab of concrete and snap your photo! You'll be standing at the "center" of Spain and all roads in the country are measured from this point.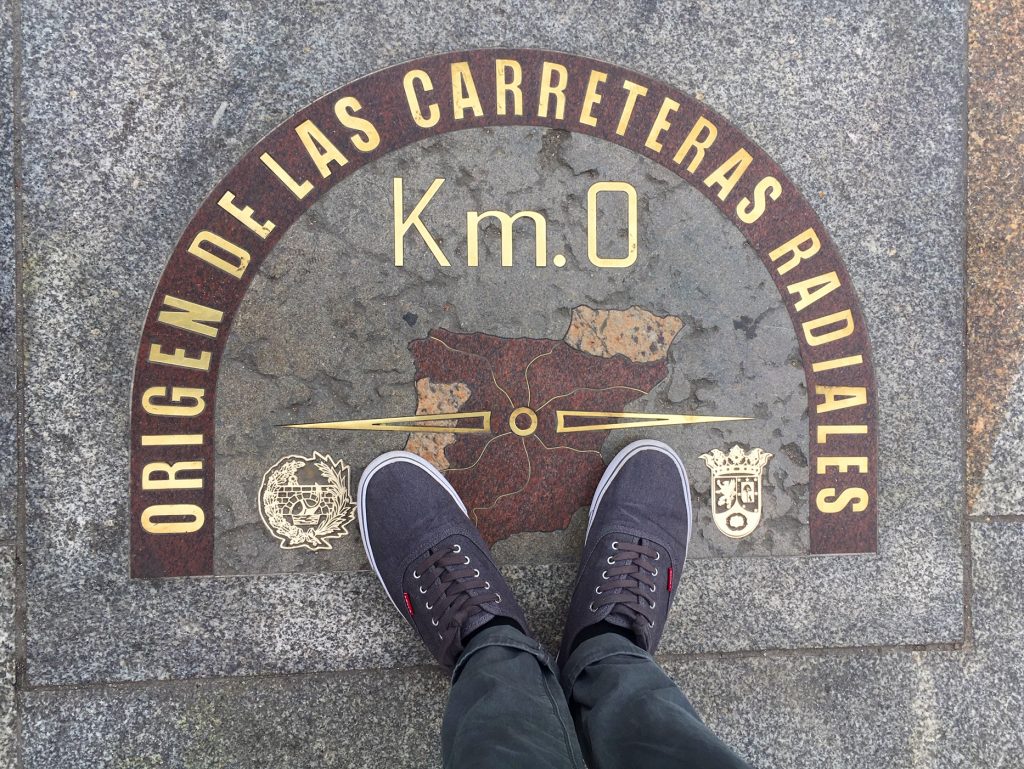 The marker is in front of the building that was the old post office and holds a clock tower. Having trouble finding it?Look around for other tourists looking at the ground and snapping pictures. 🙂
Eat Snails
Yes, you read that correctly!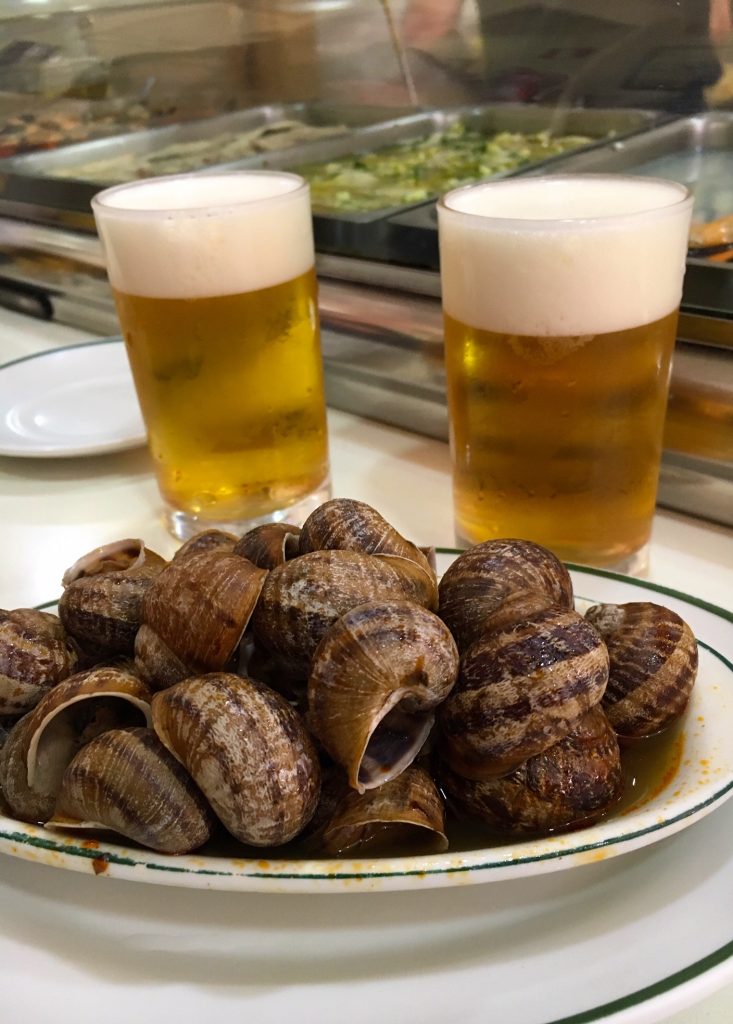 Snails are actually one of the best foods we tried in Madrid! The spot to try them is Los Caracoles (literally translates to The Snails). This is great for lunch, or even just a quick stop for a beer and to give it a try. We also recommend the sardines which were suggested by the employee. He was definitely right… these were the most delicious items we tried.
NOTE: There aren't seats at this spot, so plan to stand at the bar while you eat.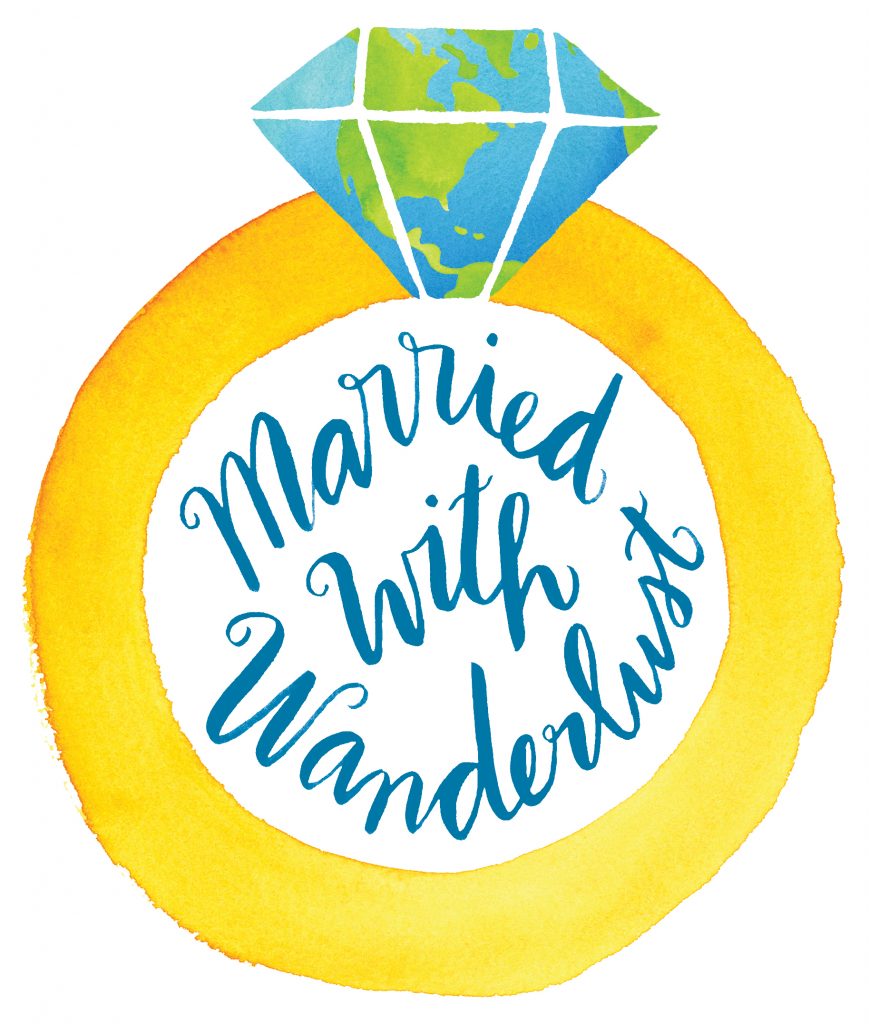 Enjoy our blog post? Pin it to share with others!