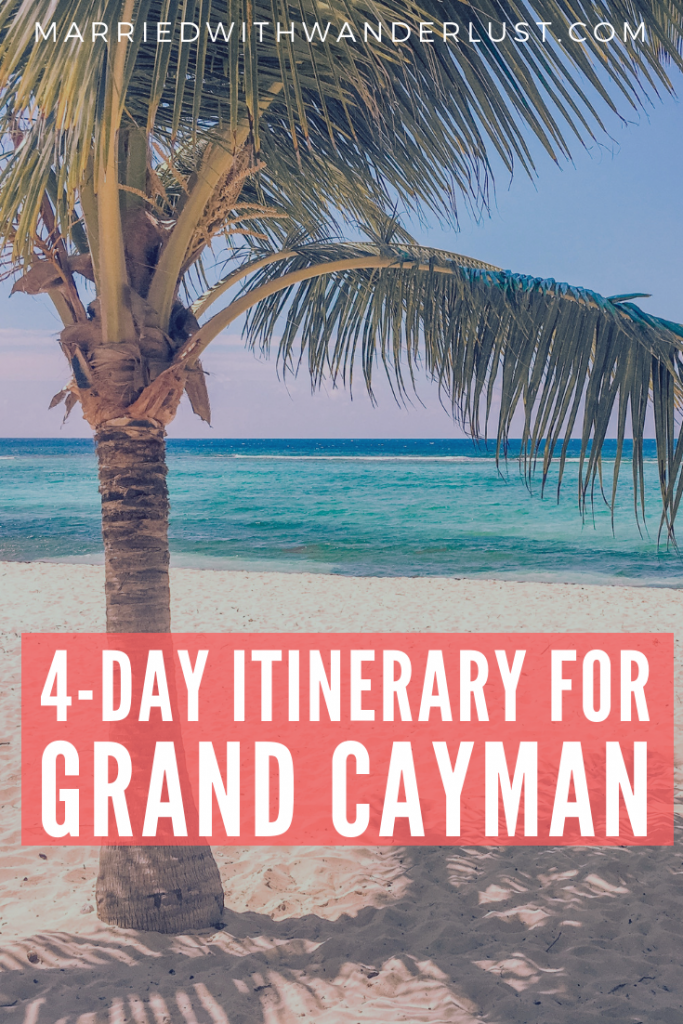 WC and I celebrated our 2nd anniversary by spending four days in Grand Cayman, the largest of the Cayman Islands. If you regularly follow our blog, you know I typically like to pack A LOT into our travel itineraries, so it will probably surprise you that I arrived in Grand Cayman without a single day planned out! (Of course, I did come with a long list of options)
We found plenty of fun activities to fill our days while also taking time to just relax. We hope you'll find our 4 day Grand Cayman itinerary helpful in planning your trip to this tropical paradise!
Our 4 Day Grand Cayman Itinerary:
Day 1
We arrived in Grand Cayman around noon and headed straight to the rental car facility. We highly recommend you rent a car if you really want to explore the island during your stay.
From the airport, we headed straight to our Bed & Breakfast, the Shangri-La, and were fortunately able to check in.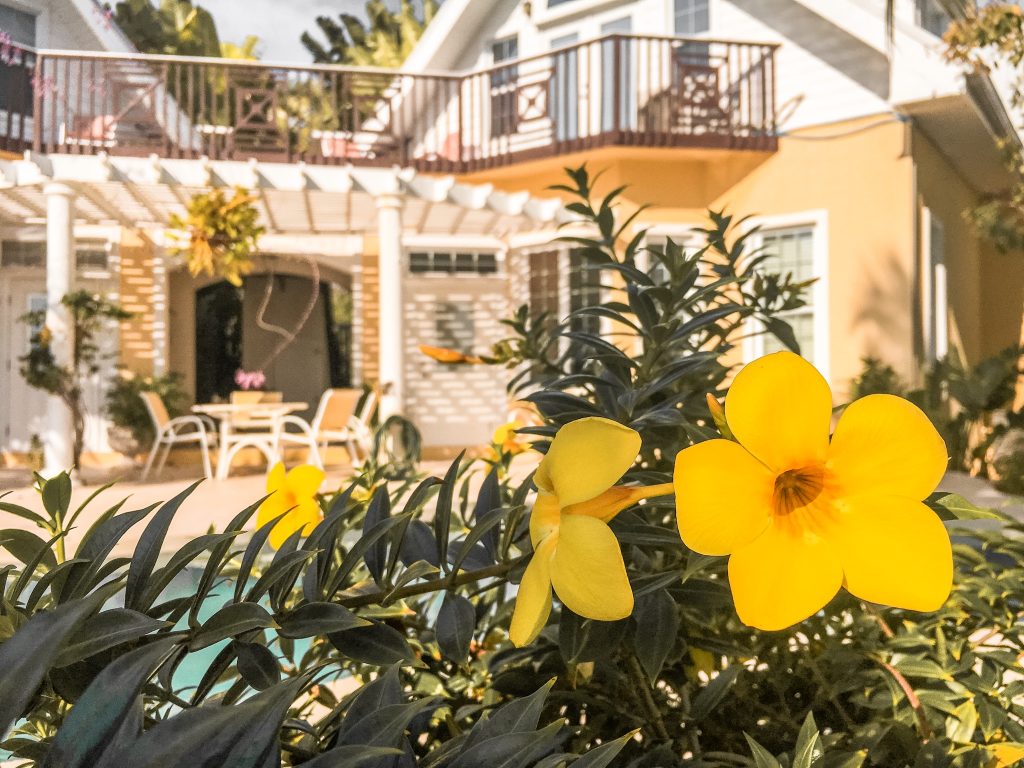 We dropped off our luggage and then headed to lunch at VIVO, an oceanfront restaurant at Lighthouse Point. What attracted us to VIVO is their menu which boasts numerous dishes made from lionfish, an invasive species that's causing issues in many "tropical" waters including in our home state of Florida.
Back in my news reporting days, I did an investigative story on the lionfish problem off the Jacksonville coast. Seeing one way the people of Grand Cayman are tackling the problem was especially intriguing for me. We tried the lionfish cakes but the lionfish curry also has a lot of good reviews.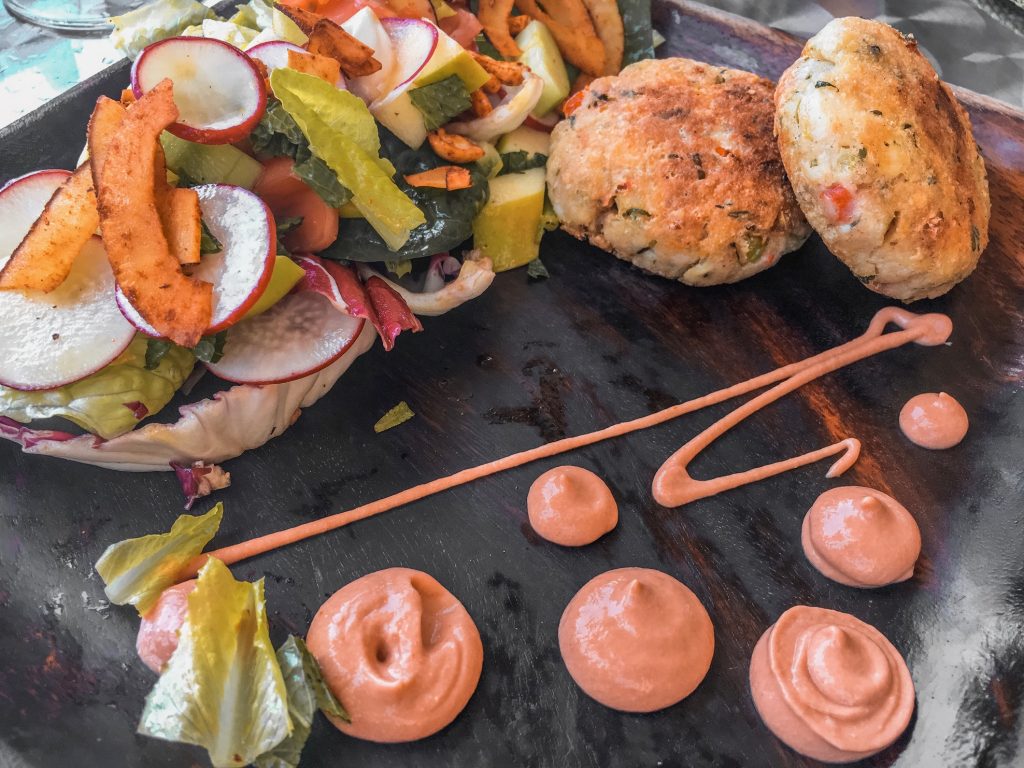 Our next stop was a quick visit to Hell. Yep, you read that right. Hell is an itty-bitty town on the northwest side of the island where you can basically stop for a quick photo opp. The stories differ slightly of how it came to be called "Hell," but they're all attributed to the rock formation you see below.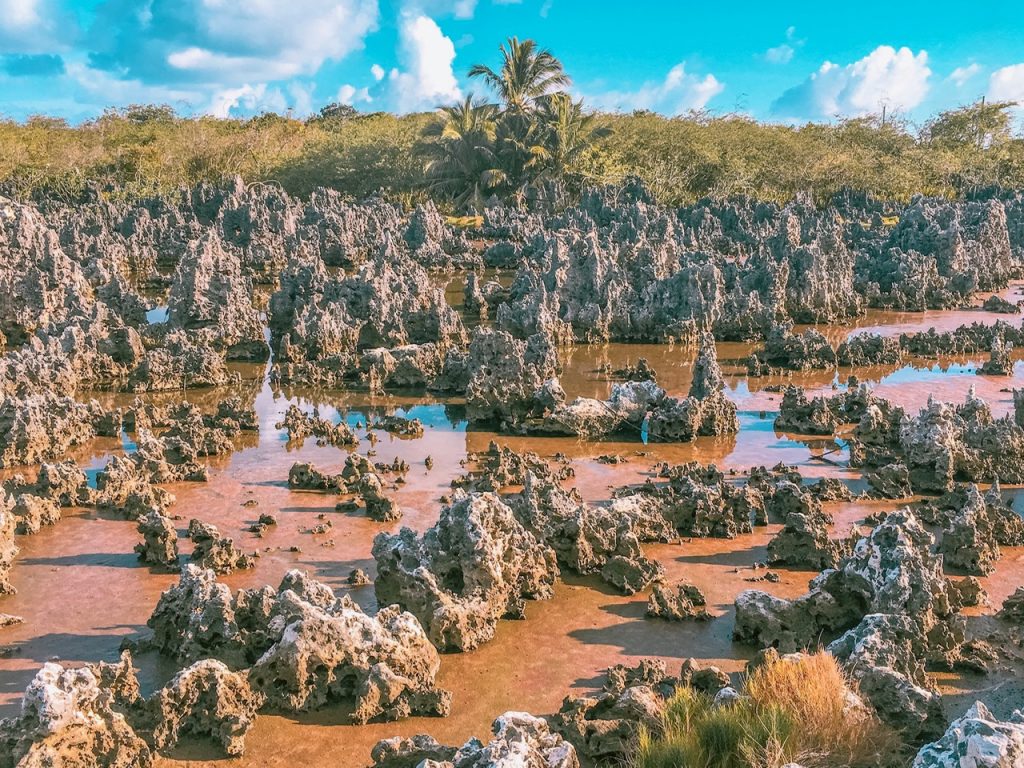 From here, we headed back to our hotel to freshen up and get ready for our first evening in Grand Cayman. We ended up at Macabuca, a waterfront bar connected to the Cracked Conch. It would be only the first of many evenings spent here! Macabuca is a great spot to watch the sunset and theres live music on Friday and Saturday evenings.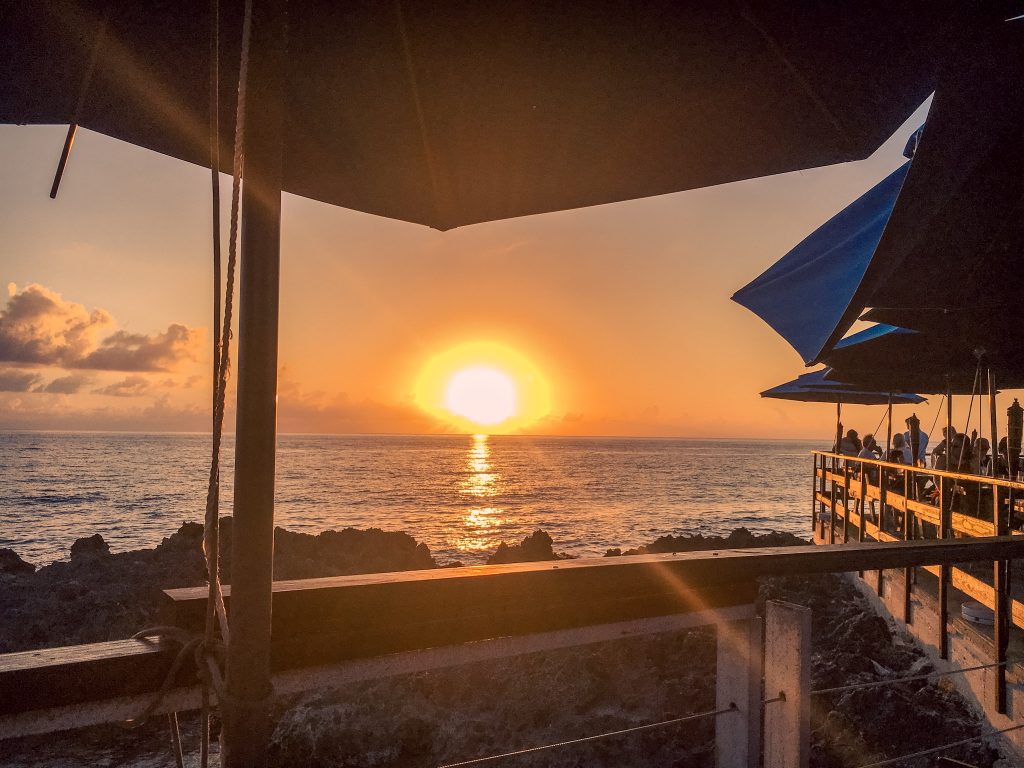 Day 2
WC has always been an early riser and despite us being on vacation, he inspired me to get up bright and early to go snorkeling at Cemetery Beach. This ended up being one of our favorite snorkeling spots on the island, but I would recommend going at low tide.
We were back at the Shangri-La by 8:30am for breakfast, which was delicious every morning and helped save some money. Food on Grand Cayman can be pricey.
From here we started our adventure to the other side of the island. Make sure you give yourself plenty of time. Our first stop was the Blowholes, a stretch of beach where the waves crash onto shore causing large sprays of water. We were fortunate to be there at the same time as another couple and snapped photos for each other.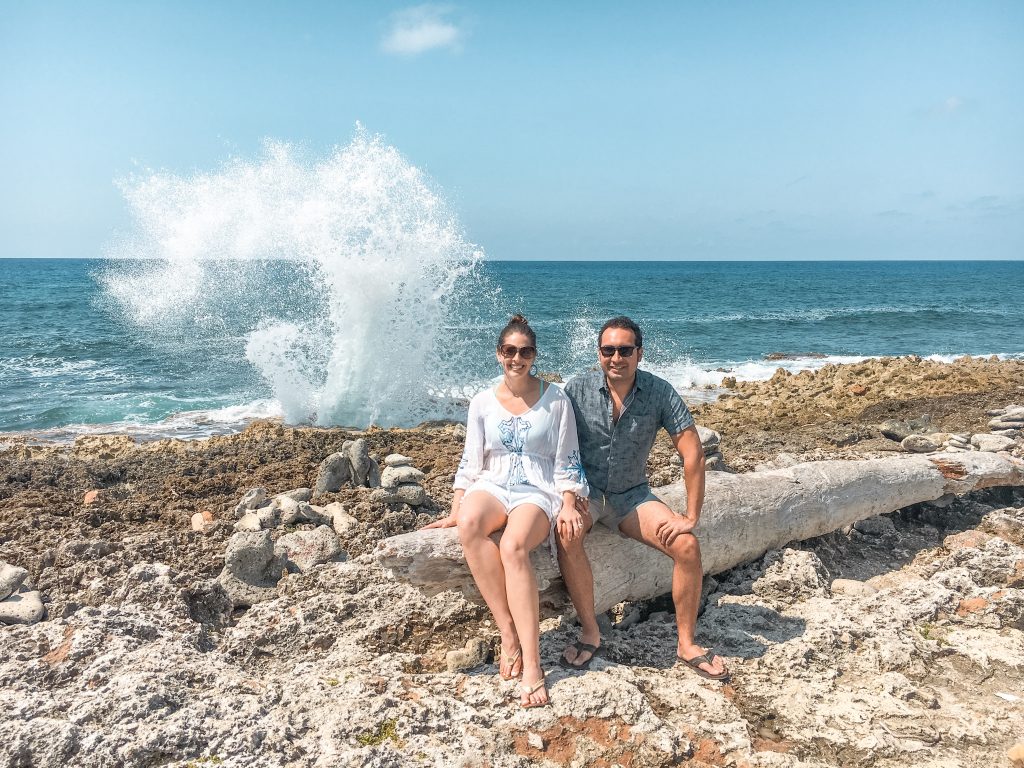 From here, we backtracked a little bit to Frank Sound Road which goes to the northeast side of the island. Along the way we passed Lover's Wall, so we had to stop for a photo.
Now to my favorite stop of the day: Starfish Point! In my opinion this has to be on your Grand Cayman itinerary. Some reviews say the area is a little overrated. However, I loved seeing these creatures in their natural habitat and just swimming alongside them in the crystal clear water.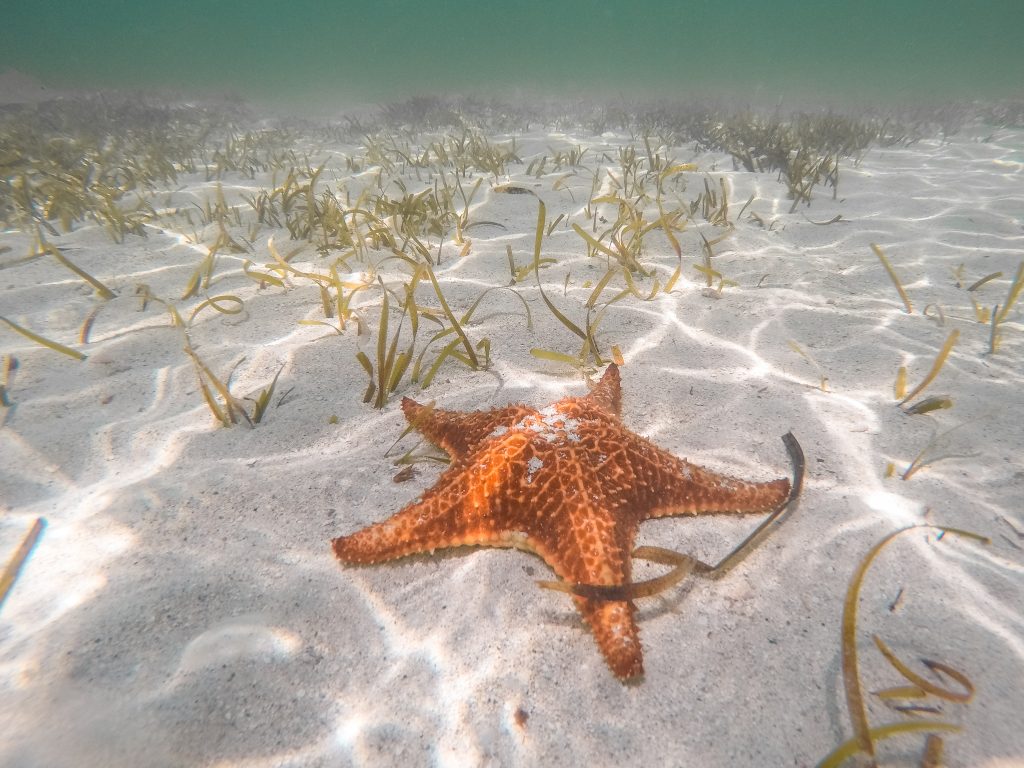 After hanging out for awhile with the starfish, we headed just about a minute down the road to the Kaibo Beach Bar for a drink with a lovely waterfront view.
TIP: If you don't have a rental car, you can still get to this spot by water taxi. It departs from Camana Bay.
Drinks aren't cheap so after one, we headed to our next stop: Rum Point. This beach bar is known for it's mudslides so when in Grand Cayman…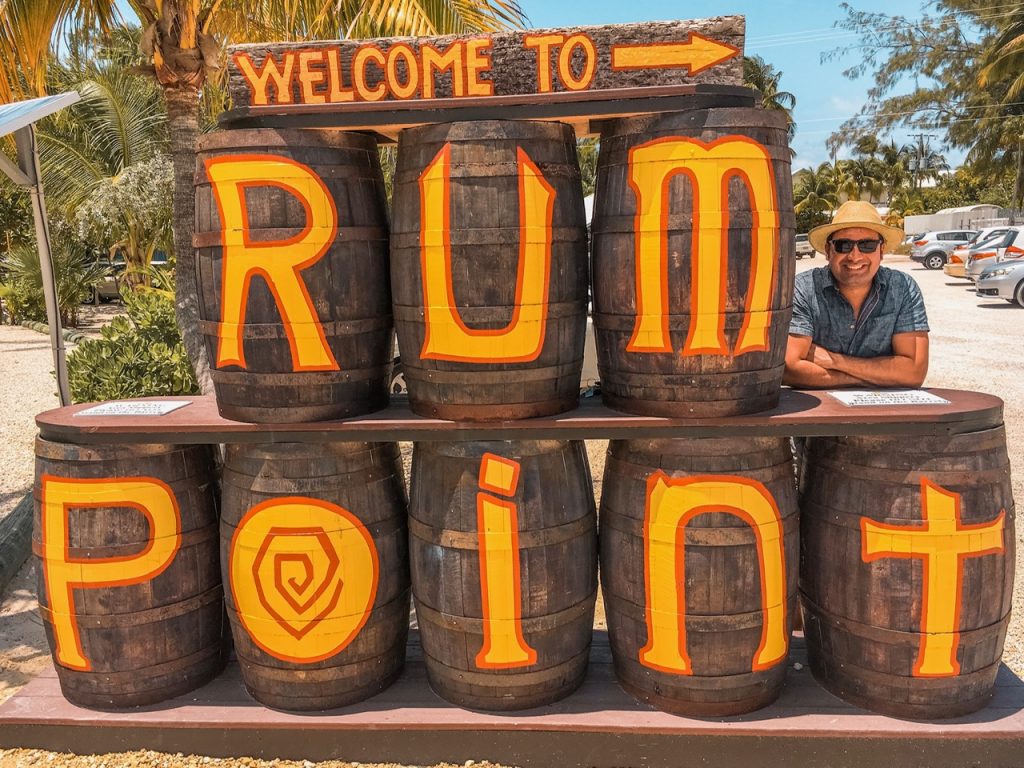 After leaving Rum Point, we were looking for another snorkeling spot and stumbled upon the Davinoff Concrete Sculpture Garden. This won't take but a few minutes of your time, but it's a fun and kitschy spot for some photos.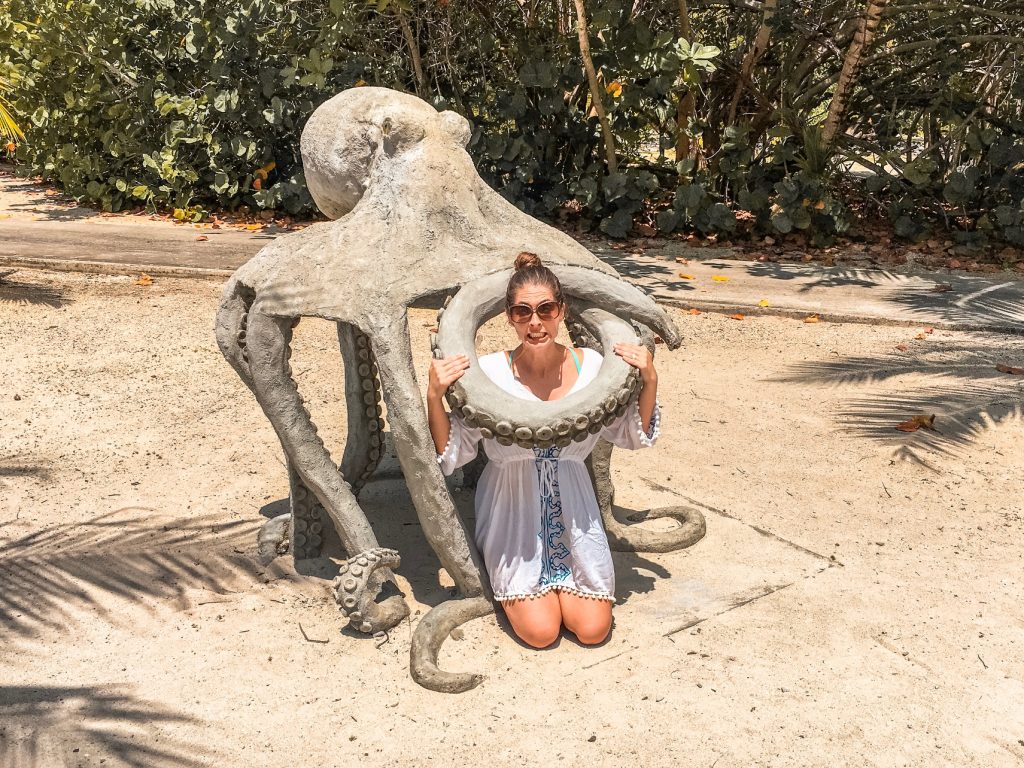 Once back on the west side of the island, we headed to Duke's Seafood & Rib Shack for an afternoon snack and then to Calico Jacks for a beer with a tremendous view!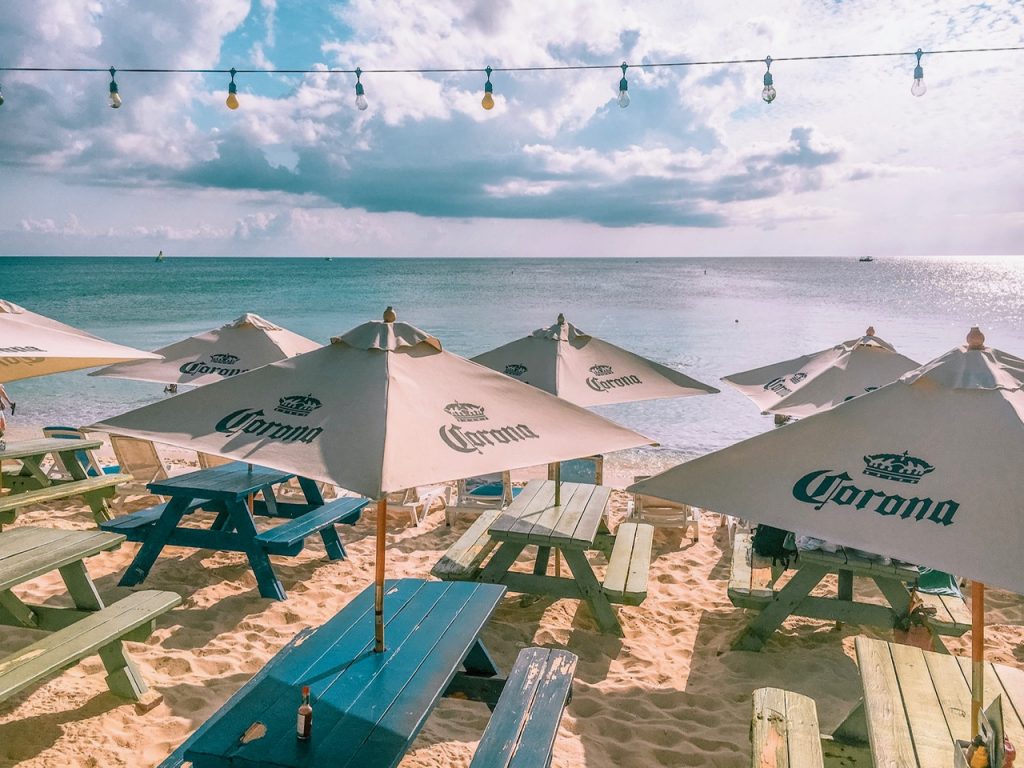 To top off a perfect day, we headed to Catch in West Bay for drinks and live music. I tried one of their wine samplers and WC enjoyed one of their specialty cocktails. Of course, we had to end the night back at our favorite spot: Macabuca!
Day 3
After two pretty early mornings in a row, we slept in a little bit and started our day with breakfast. The rest of the morning was jam-packed with snorkeling adventures all along the west coast of the island. We visited: Smith's Cove, Eden Rock, and the Wreck of the Cali.
By the time we wrapped up in the water, we were ready for a few drinks and lunch. We love trying as many places as possible when traveling so instead of having full meals, we like to have a drink and split an appetizer before moving to the next place. Our restaurant-hop consisted of Cayman Cabana, Craft Pub, and Pepper's (all three of which we highly recommend).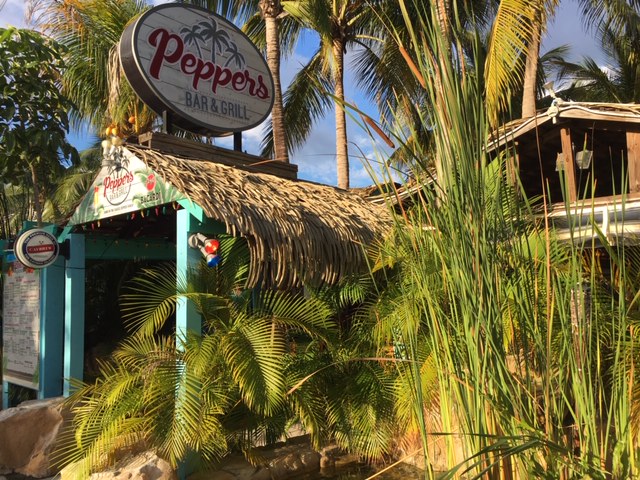 From there, we headed back to our hotel to get ready for our evening bioluminescence tour. We used Cayman Sea Elements and really loved the experience (it was WC's favorite part of the trip!). The pontoon boat departed from Camana Bay at 6:30pm and took us across the bay to the North Sound while watching the sunset. Once in the BioBay, our guide, Don, explained the science behind the bioluminescent animals. Then we got to hop in and snorkel in the glowing water!
We were pretty exhausted after our day of swimming so once back on our side of the island, we headed for a quick dinner at Casa 43. This Mexican restaurant has really great street tacos: try the Beef Barbacoa!
Day 4
For our last day, we decided to take another drive to the other side of the island and hit up a few new spots.
Spott's Beach is along the way and we had stopped there on Day 2 but the water had been a little rough for my liking. This day it was much better AND I brought a noodle to help with the snorkeling. If you're hoping to spot a sea turtle, this is the spot to be!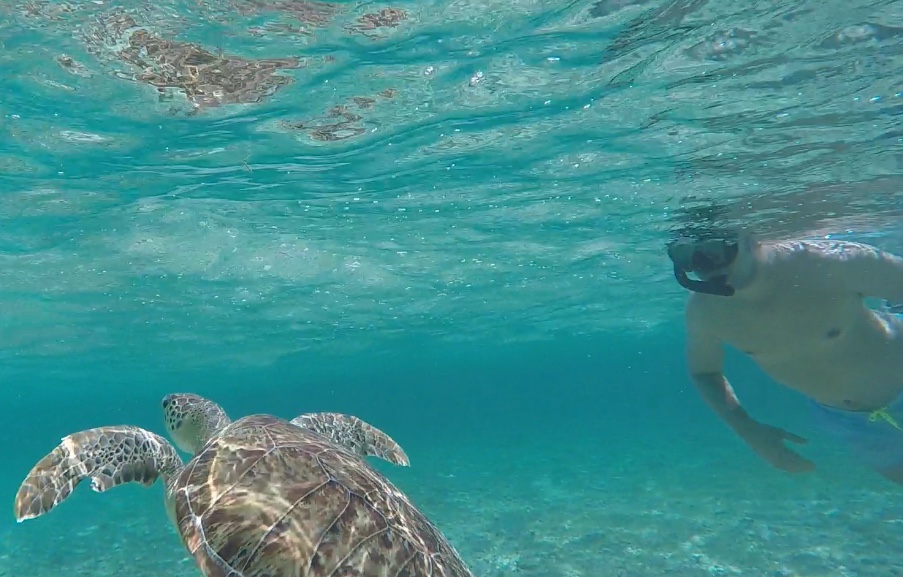 After some swimming, we headed to Over the Edge for a drink and appetizer (Try the Thai-style baby octopus). Next, we drove about ten minutes down the road to Morritt's Resort for a drink at Mimi's Dock Bar.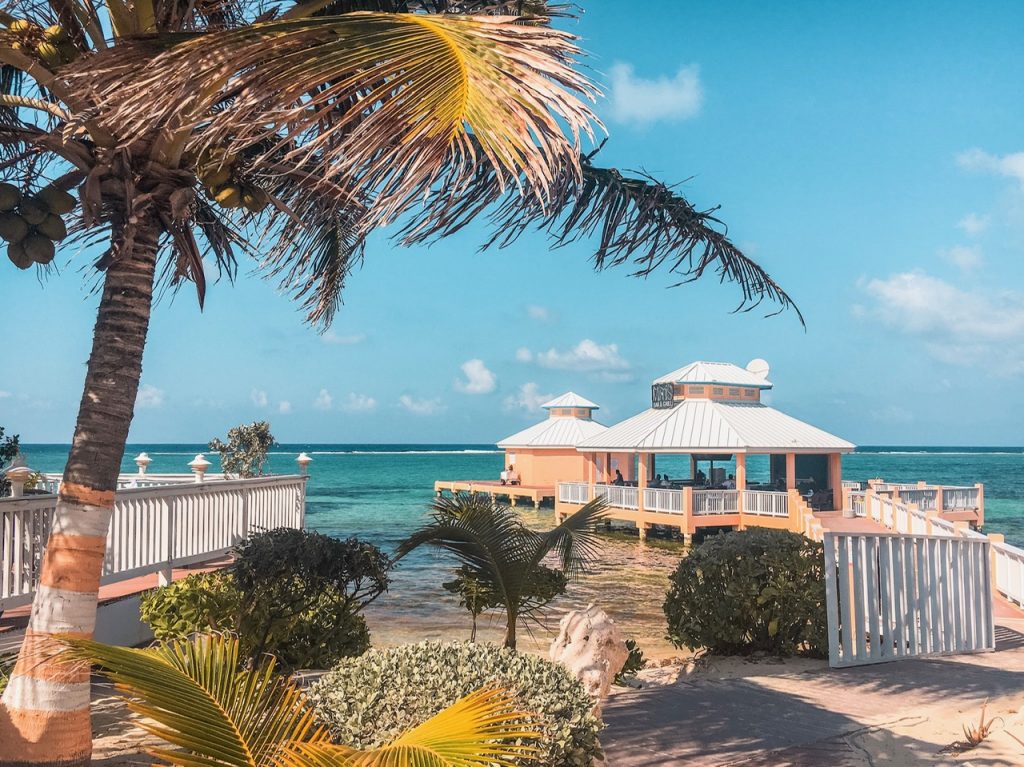 Our final destination on the east side of the island was Tukka, an Australian-owned restaurant. Happy Hour starts at 3:00 pm and you'll definitely want to be here by 5:00 for the feeding of the frigate birds! They are the Caribbean's largest wing-spanned birds and feeding them is definitely a fun experience.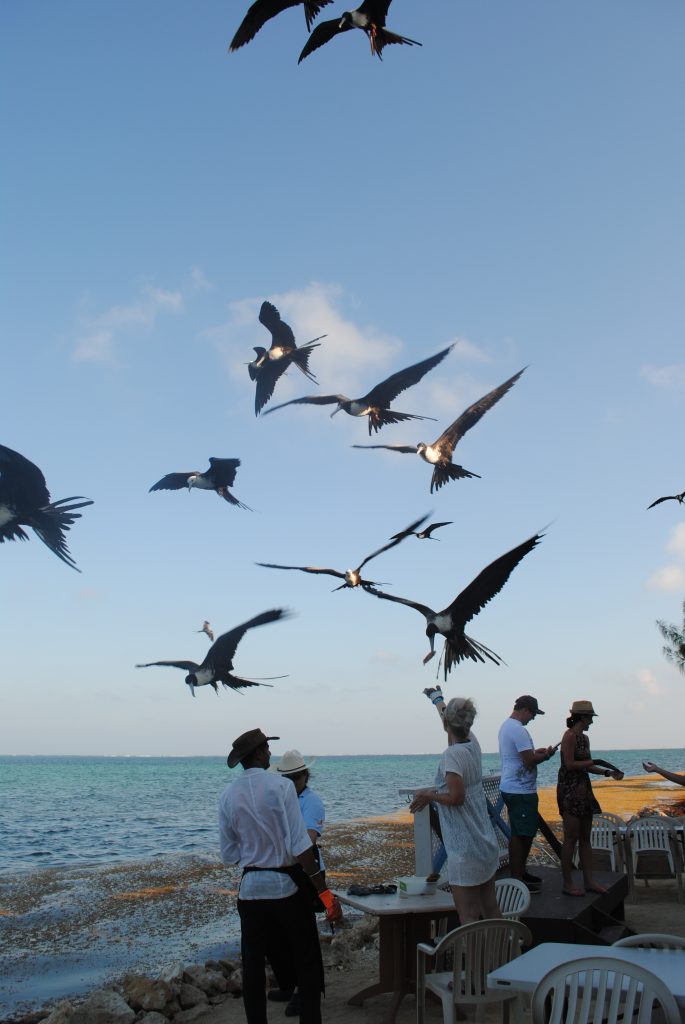 While we were in "animal mode," we headed back to the west coast of the island for one more animal experience. Each night at 7:00 pm there is a tarpon feeding at Rackam's waterfront restaurant. (Try to visit in daylight one day, as well, because these tarpon are HUGE and fun to watch!)
Day 5
Oh sad day, time to return back to reality! Our flight departed early afternoon so we had breakfast at the Shangri-La and then headed to Georgetown for our last couple hours of vacation. We sipped one last "Rum N' Swanky" at Cabana Cayman while taking in the view. Then we picked up a Christmas ornament souvenir at one of the local shops before heading back to the airport. Goodbye, Grand Cayman! We loved every minute!
Need more Grand Cayman inspiration?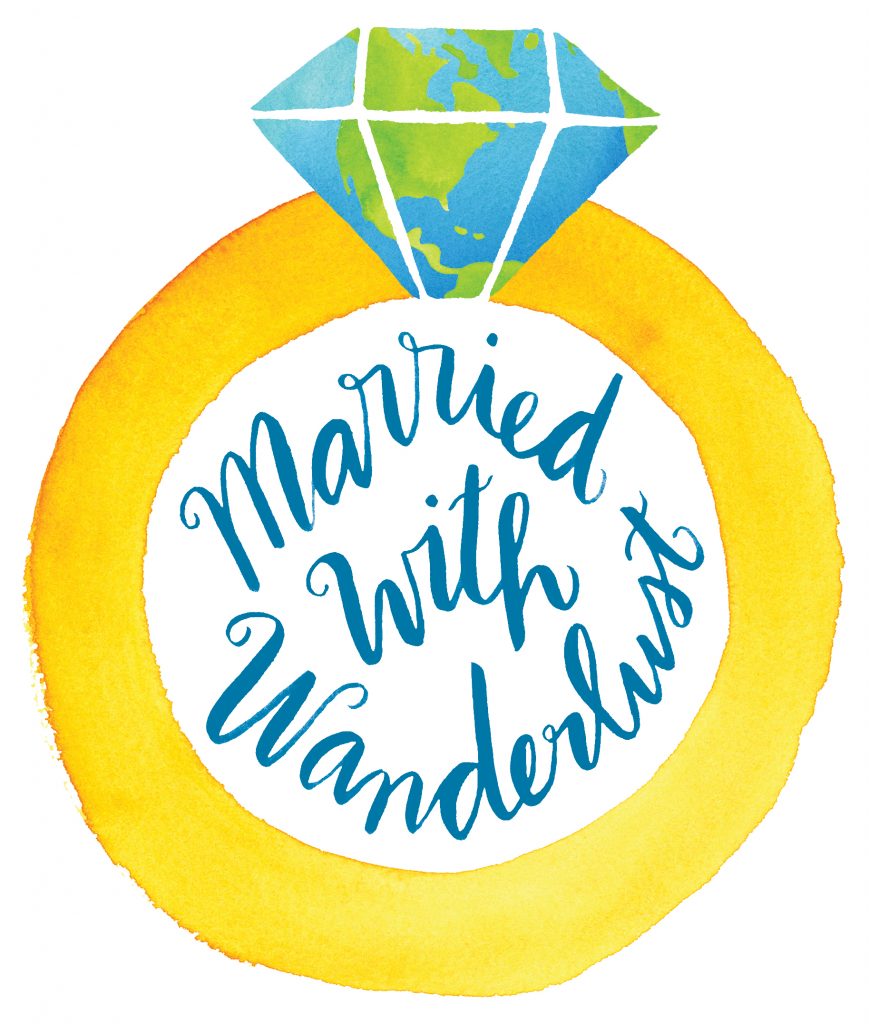 Enjoy our blog post? Pin it to share with others!