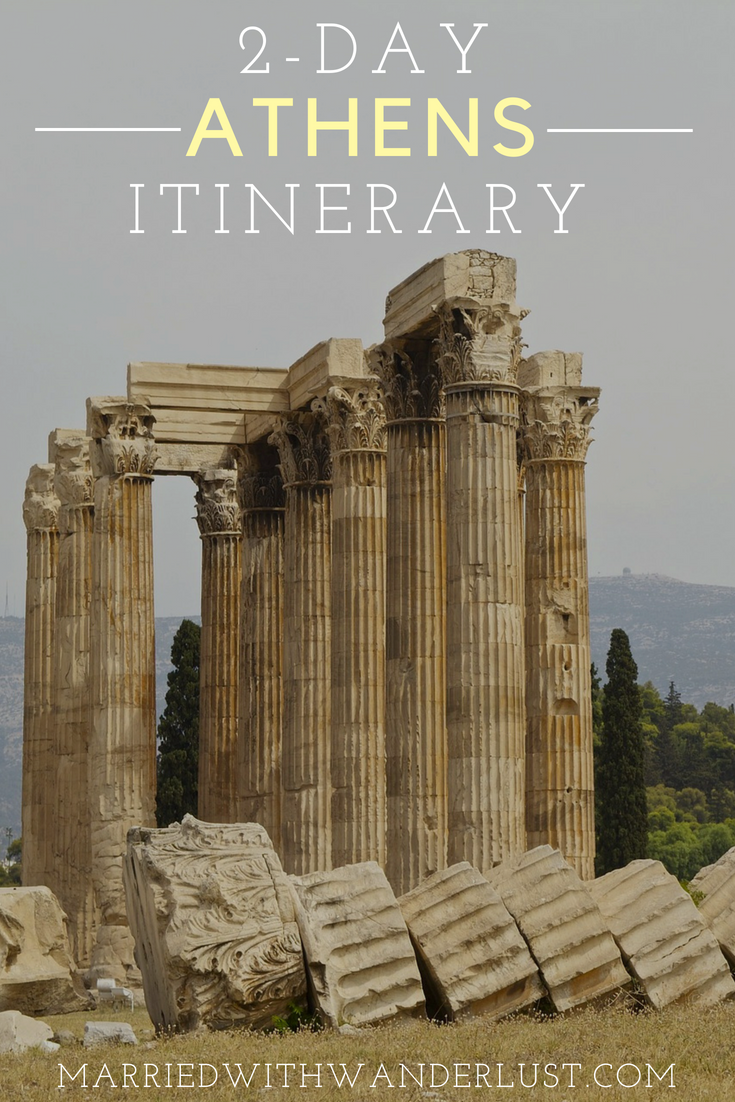 We recently returned from a trip to Greece that can only be described as perfect. The trip was planned by our friend, Harah, to celebrate her 40th birthday and we had four of us for the first leg in Athens. We hope this 2-day Athens itinerary will help you plan you with planning and we've also added a few suggestions that could make your trip even better!
Our 2-Day Athens Itinerary
Day 1: Travel Day/Athens
We arrived in Athens around 10:30 am and took the metro to Monastiraki. You'll fall in love with Athens from your first glimpse at the Acropolis when you come out of the station!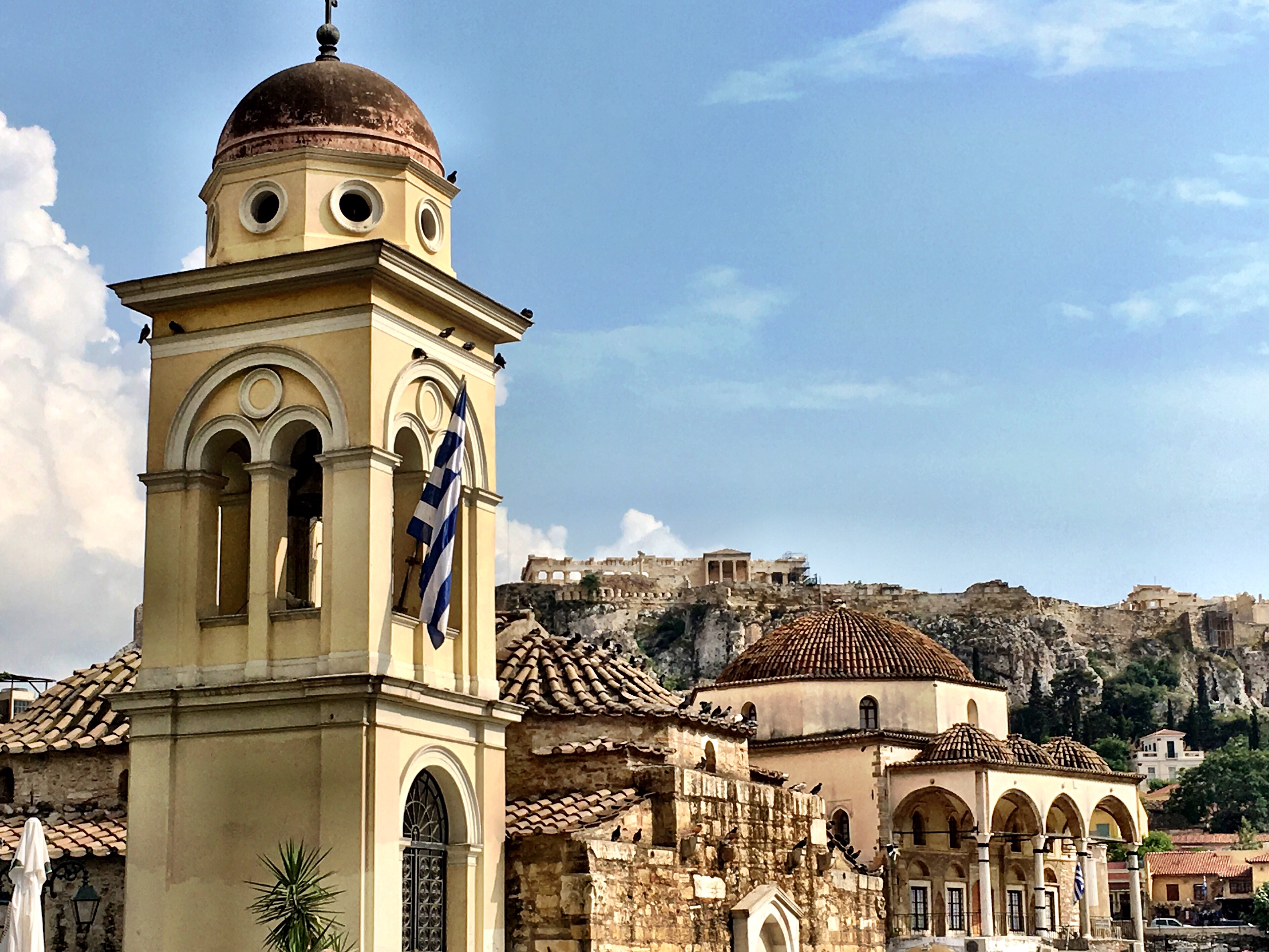 From there, we walked several blocks with our suitcases to Athens Center Square Hotel. As long as you don't have a ton of luggage, this is totally doable.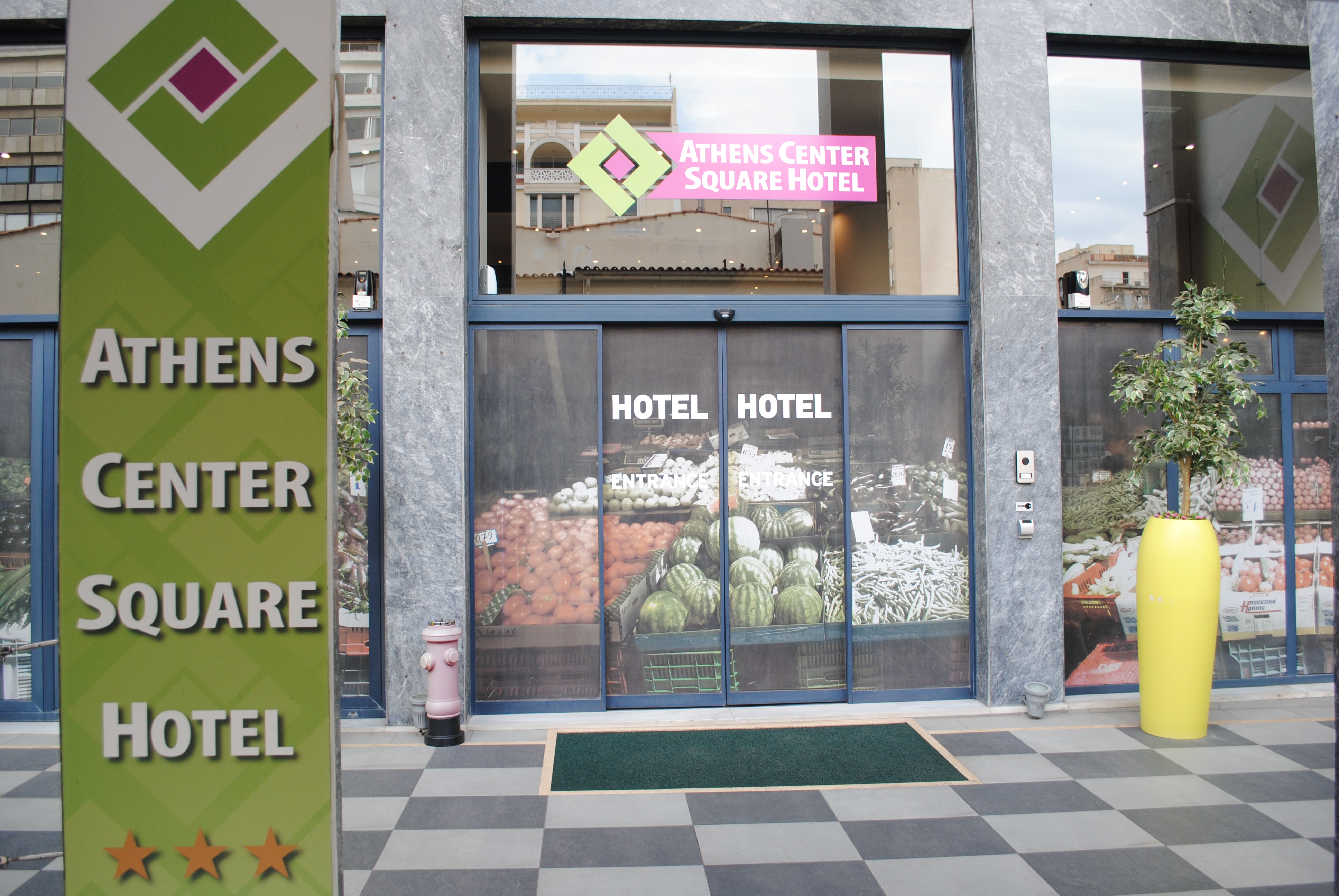 We got settled into our hotel rooms and showered since we had been traveling overnight. Once we were ready to go, the first thing we did was head to the hotel's rooftop to take in the view and indulge in our first glass of Greek wine!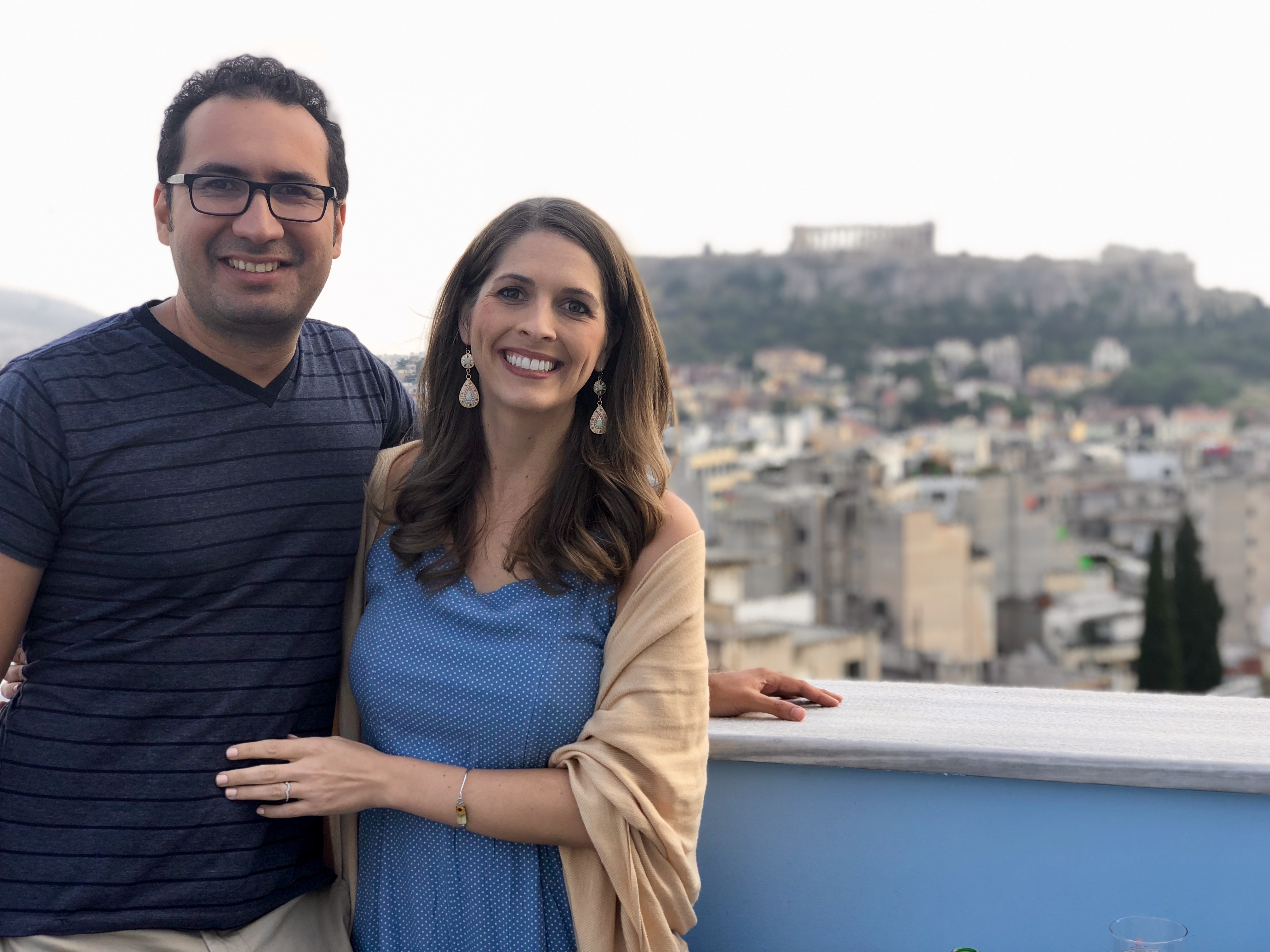 From there, we headed to the Plaka area to check out Bretto's Bar. This distillery is the oldest in Athens and produces ouzo and brandy. We enjoyed the atmosphere so much we added it to our list of 10 things you must do in Athens.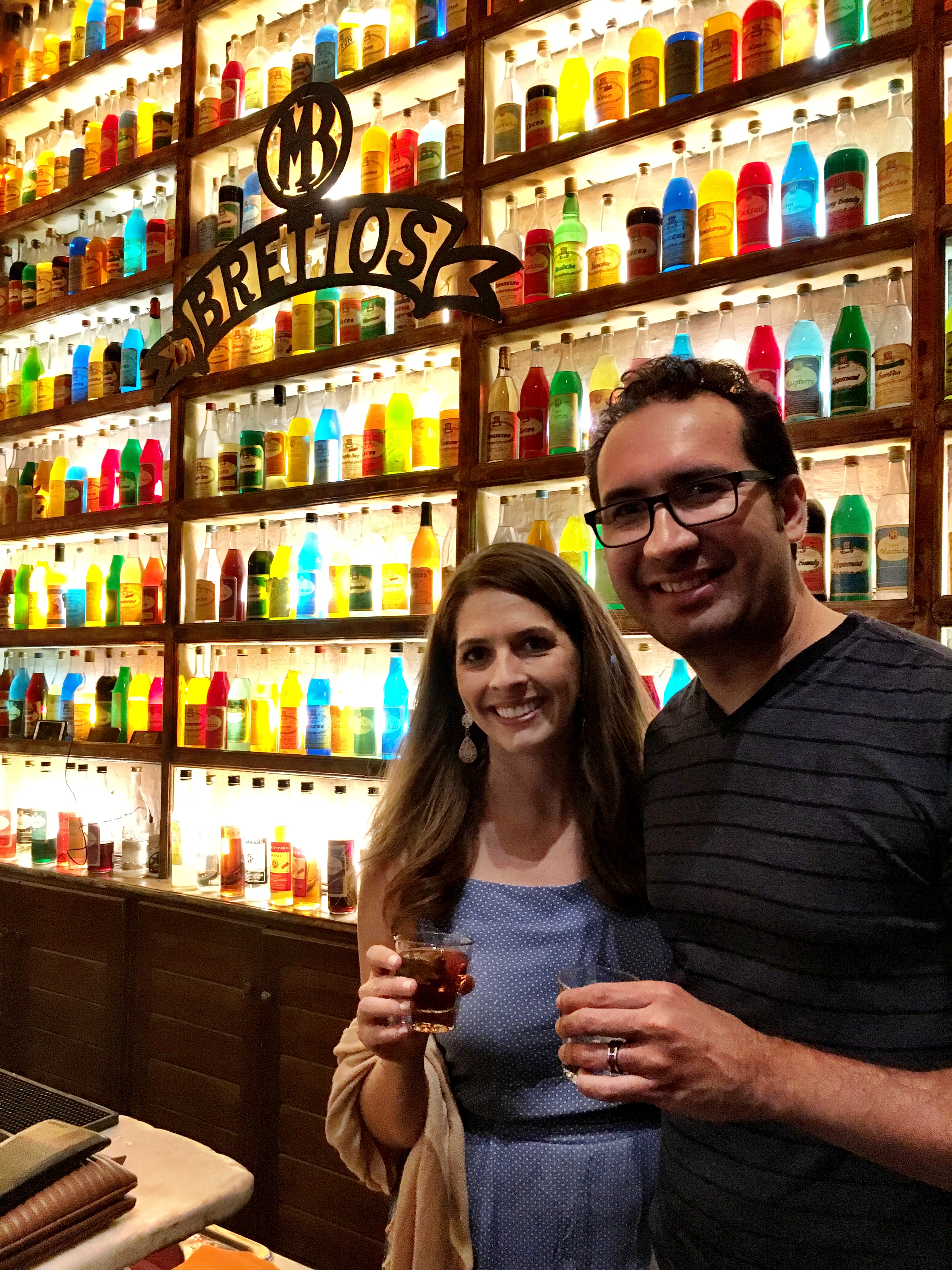 After a few drinks, we were ready for dinner. We chose Scholarchio as it came recommended from a friend and it ended up being in the top two meals we had in all of Greece! It competes with Mezzo in Santorini but we liked the two restaurants for totally different reasons. Scholarchio is a family-style restaurant where you can try a variety of items for a flat price depending on your group size (4 people = 60€). This included a choice of 10 dishes, plus wine (or another drink), bread, water, and dessert!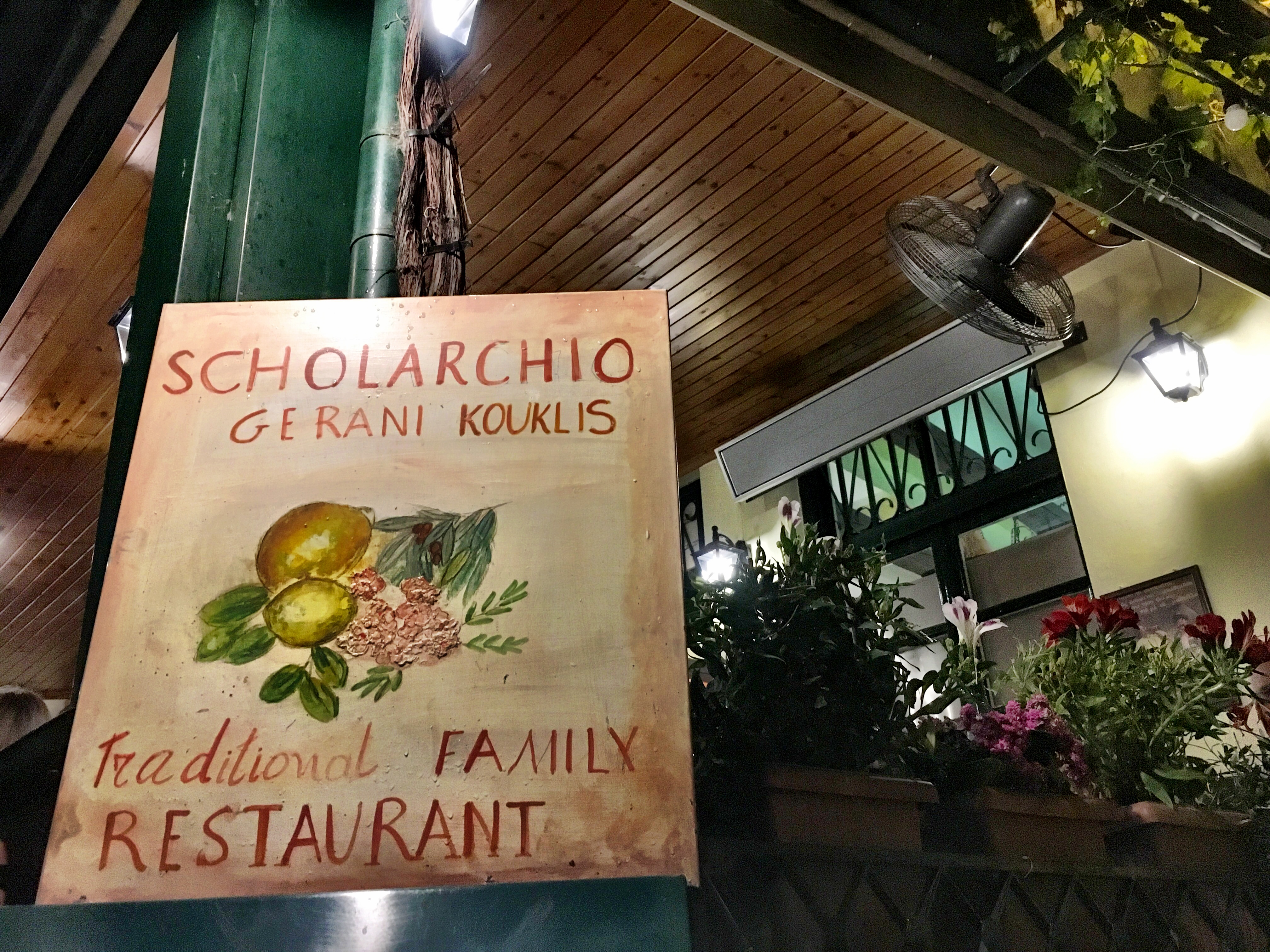 Following dinner, we headed to the top of the A for Athens hotel for a great view of the Acropolis and some delicious cocktails. This bar also had a good DJ playing so it's a good place to stop in the evening.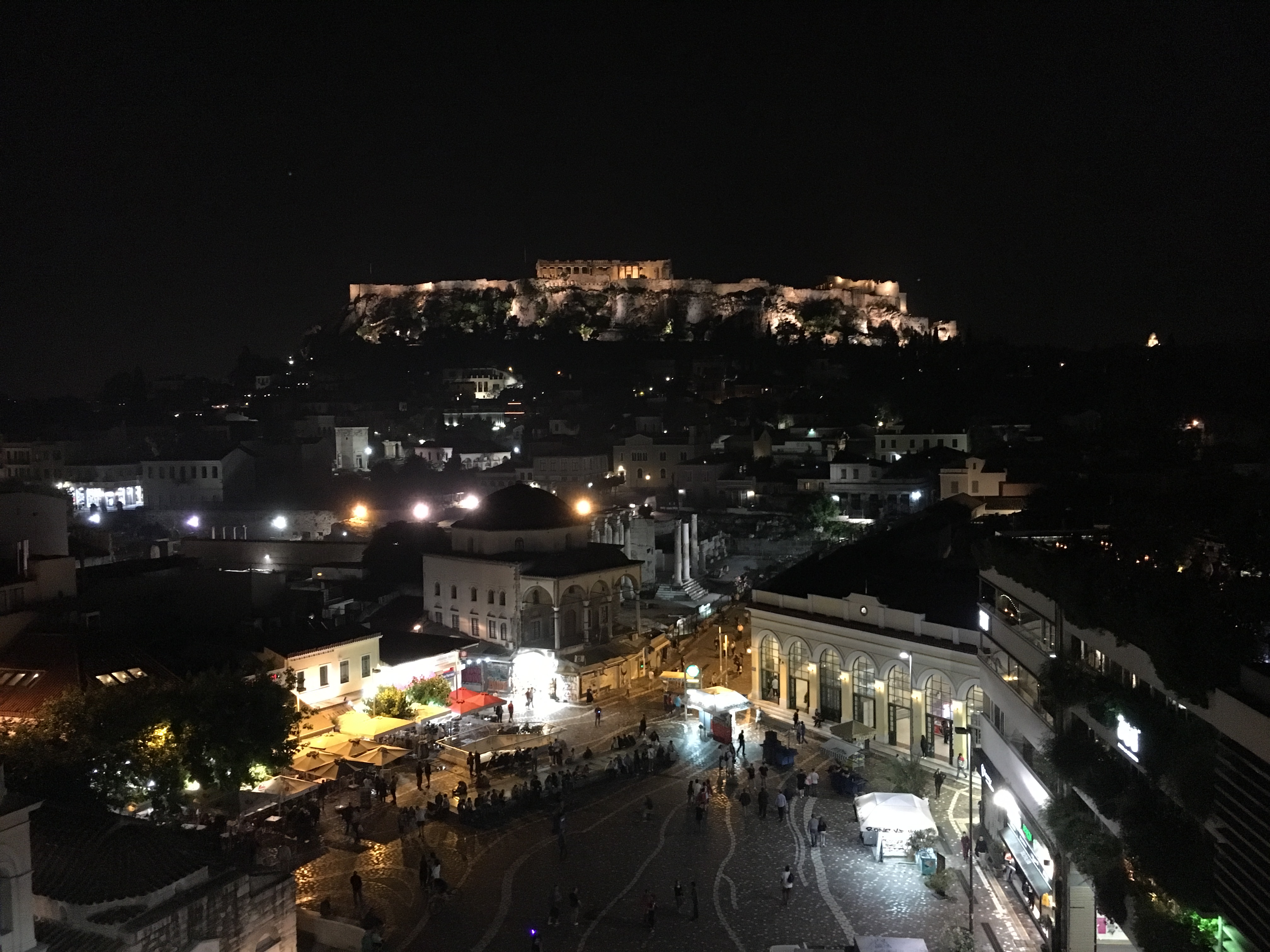 Day 2: Athens
We started our first full day in Athens early, leaving our hotel to walk to the Acropolis by 7:30 am. You'll want to be in line at the Acropolis ticket office when it opens at 8:00 am. This will ensure you get to see the ruins before the huge crowds arrive (and they will arrive). Make sure you purchase the multi-site ticket at the Acropolis which will get you into a variety of the city's other ruins.
TIPS: Give yourself at least 2 hours to explore the Acropolis. Bring water and sunscreen with you as it will get hot and there is not much shade.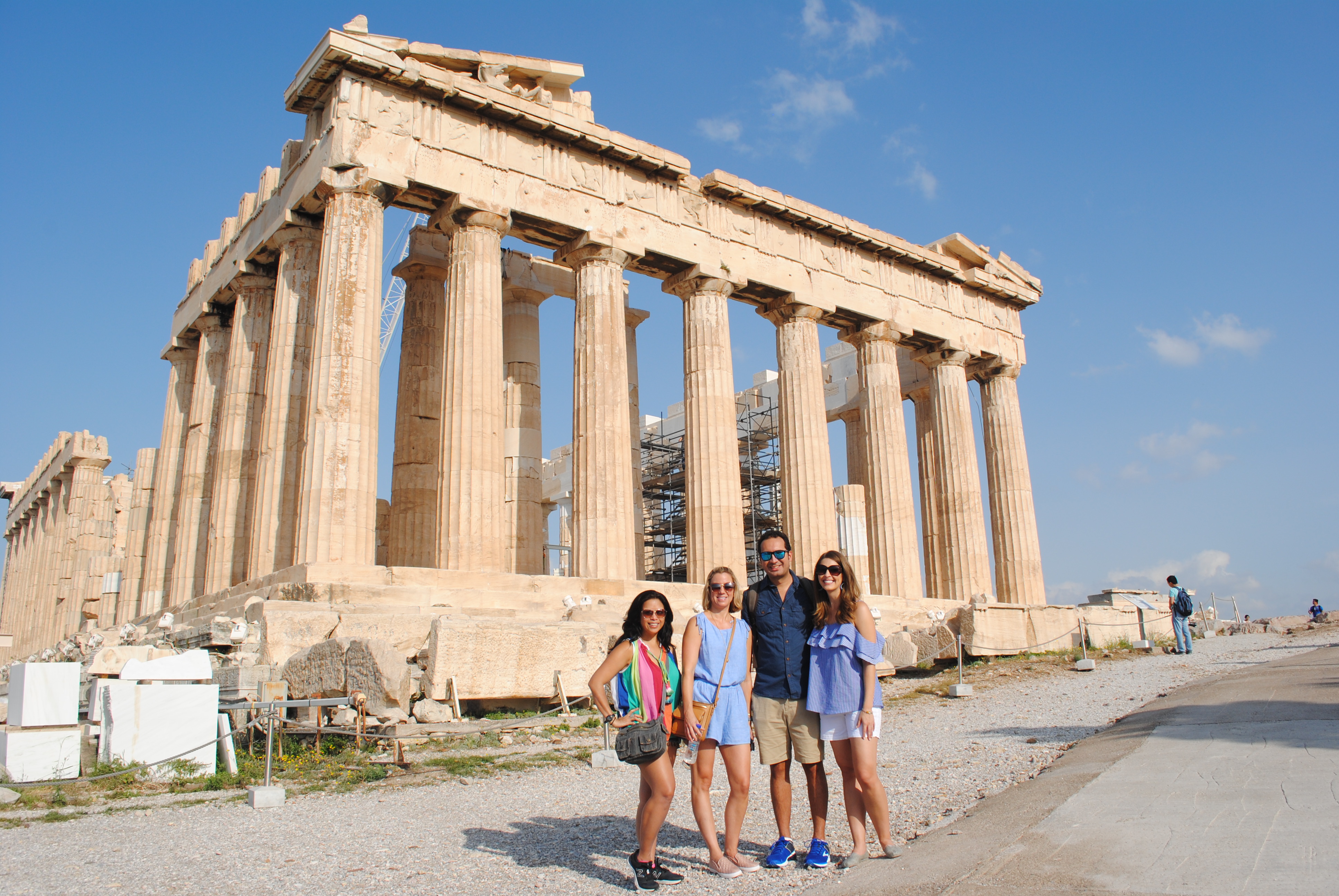 After the Acropolis, you'll have time to visit at least a few other ruins. We squeezed in A LOT  of them, but it was a very full day. If you like to walk, we visited in this order (all are included in the multi-site ticket except the Panathenaic Stadium):
Temple of Olympian Zeus & Hadrian's Arch
Panathenaic Stadium (5€ extra)
Aristotle's Lyceum (if you're tired or pressed for time, you could skip this one)
Parliament Building to watch the changing of the guards at Tomb of the Unknown Solider
Roman Agora
Ancient Agora
You will be hungry with all of this walking! We took a lunch break after the Tomb of the Unknown Soldier and ate in the Plaka area. It was fine, but nothing spectacular and pretty touristy.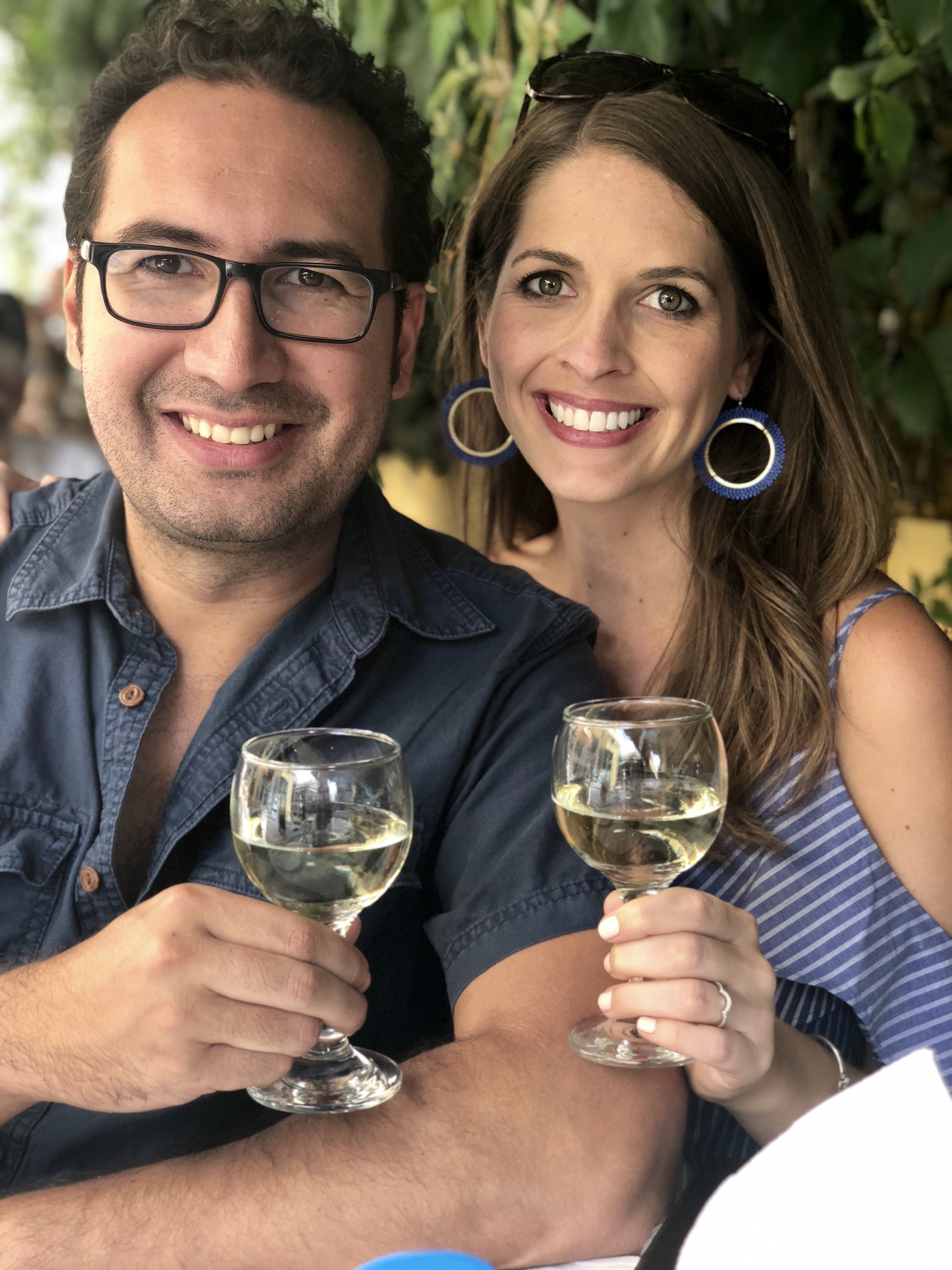 After we wrapped up sightseeing, we took another pit stop in Monastiraki to have a few drinks on the rooftop at Couleur Locale. This is very much a local's bar with more residents than tourists. The cocktails were very good here!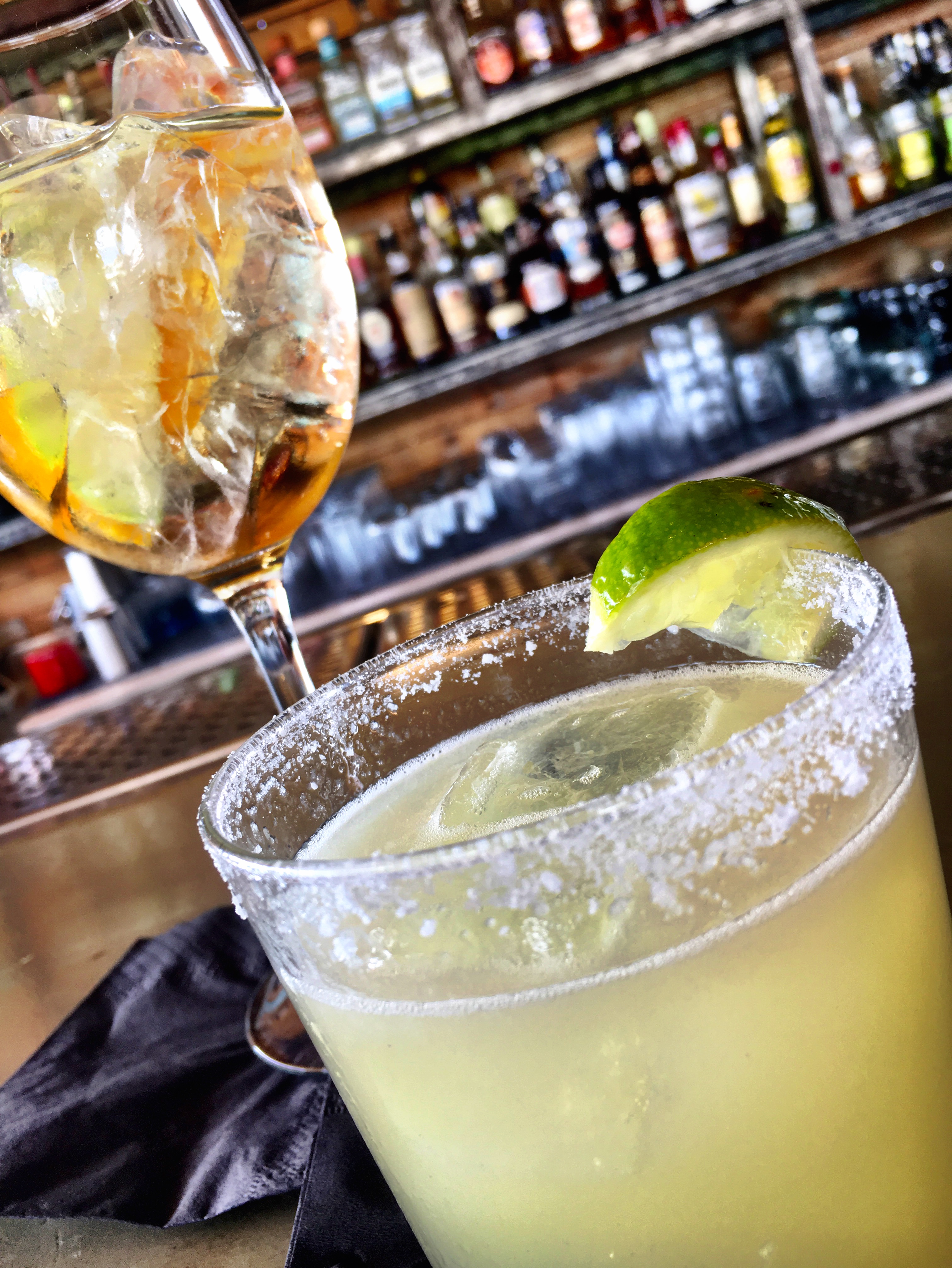 For dinner, we ate at Efxaris and shared some of the variety platters. Definitely recommend the cheese platter!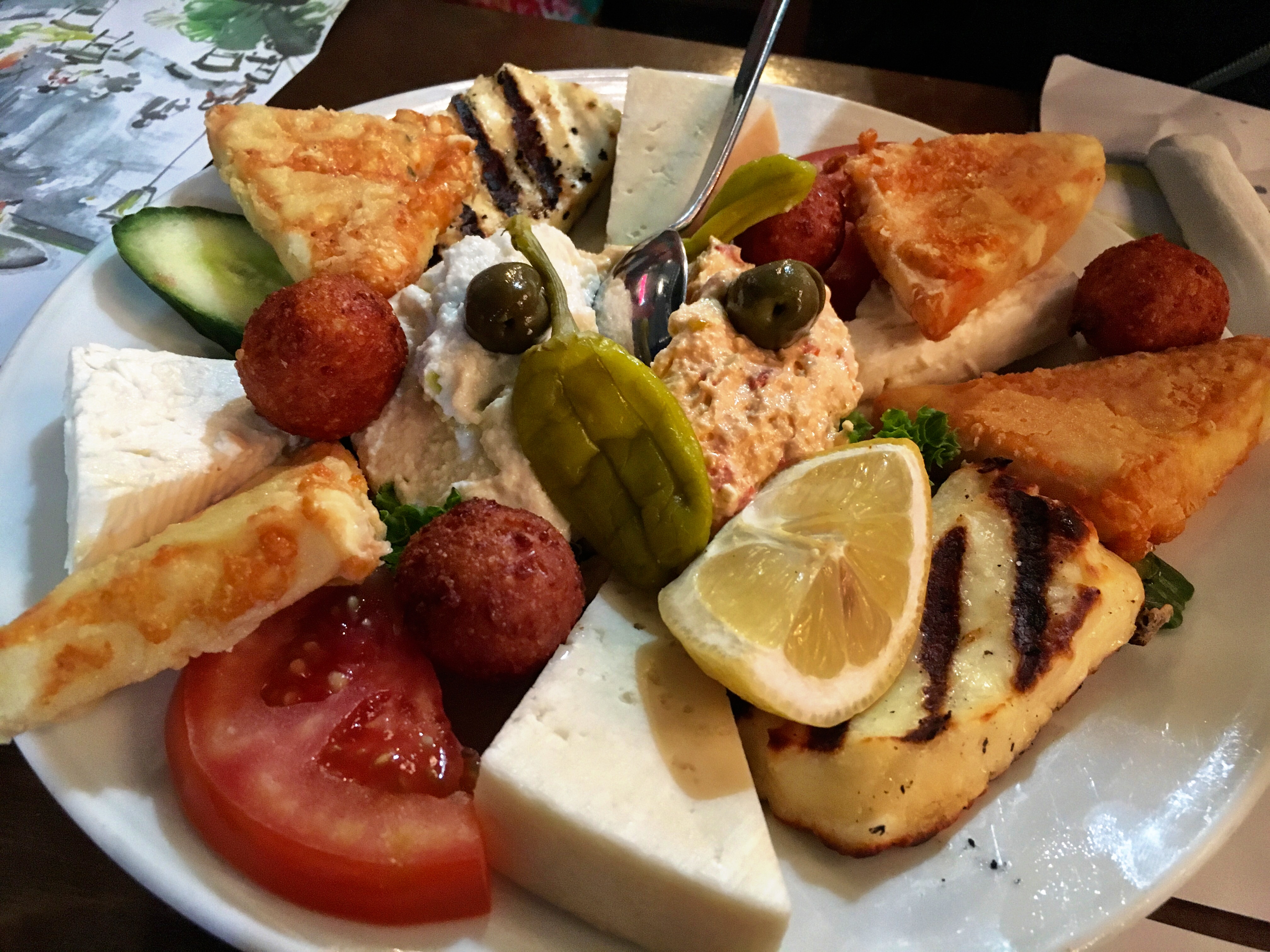 Efxaris is in a touristy area and the service is slow, but we really enjoyed the live music.
After dinner, we headed out for a late night that started at Baba Au Rum in Syntagma. This bar was a lot of fun and we made new friends that we ended up hanging out with later on the trip in Mykonos and Santorini. Baba Au Rum was voted as one of the "World's 50 Best Bars" in 2017. They have a large selection of rum drinks, but also a full bar.
Next, we walked to Borsalino Bar. This is another spot with hand-crafted cocktails and a nice atmosphere.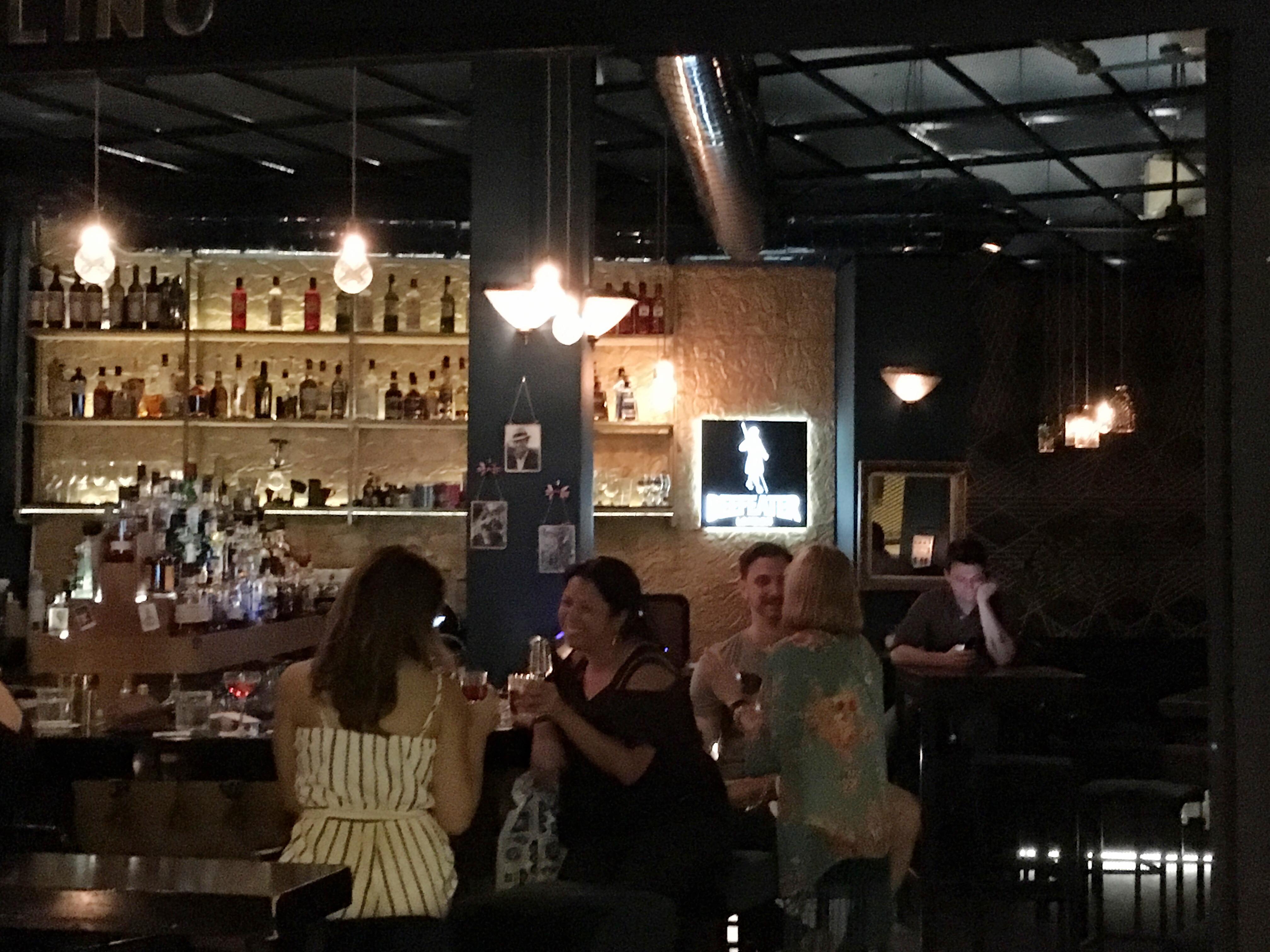 After Borsalino, we had intentions of heading back to our hotel (it was already around 2:00 am). However, we ended up at Six d.o.g.s  in Monastiraki. This would be a really fun bar, but it was closing up when we arrived so we only stayed for one final drink. It has an outdoor bar with a garden where you can sit on benches or swings. Depending on the night, the inside also becomes a music venue.
⇩ 3:00 am and still looking chipper. That's the birthday girl, Harah, on the swing below.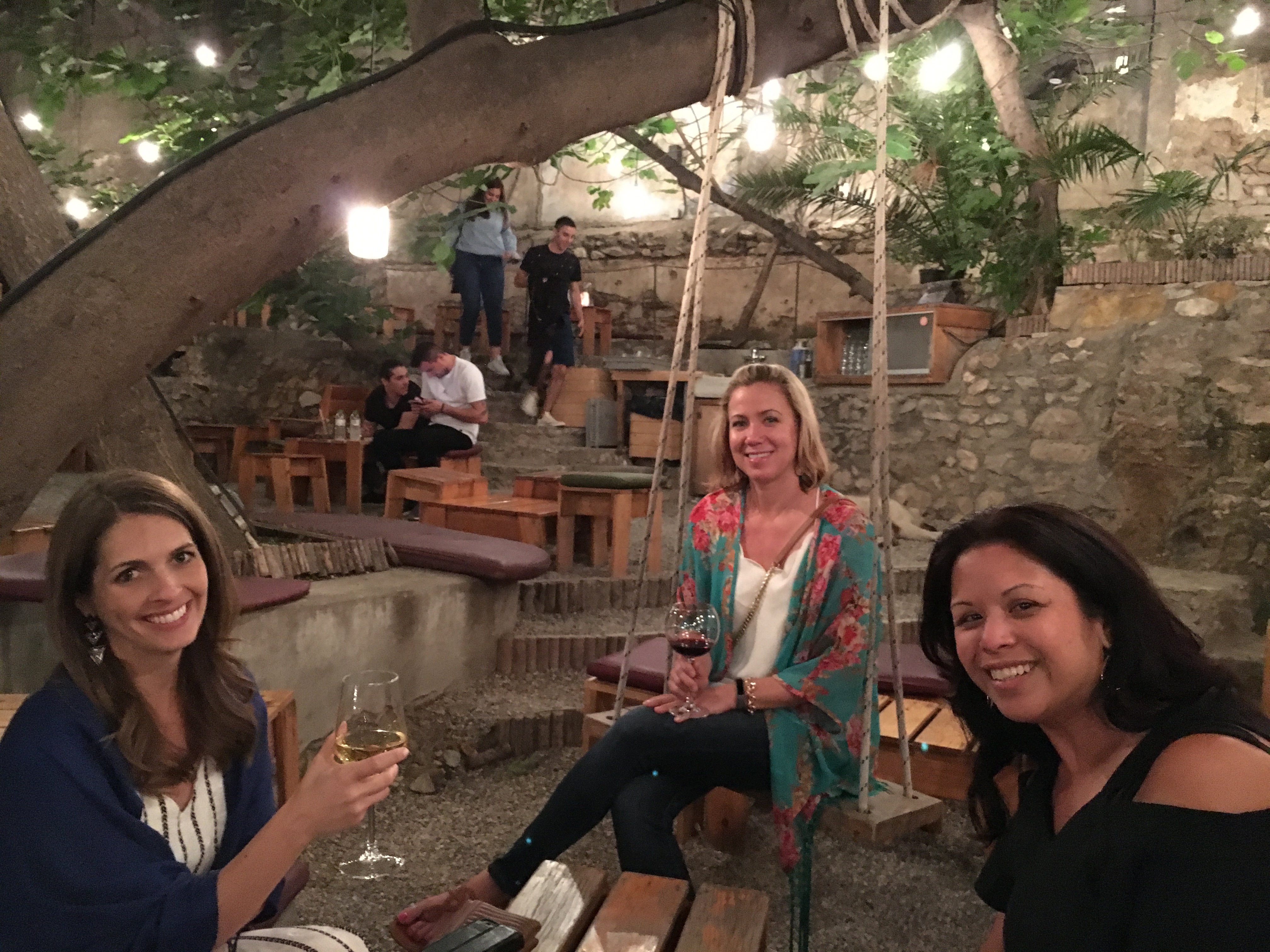 Day 3: Athens/Traveled to Mykonos
We spent the morning in Athens before taking an Olympic/Aegean Air flight to Mykonos in the early evening. This was our souvenir shopping day in the Plaka area.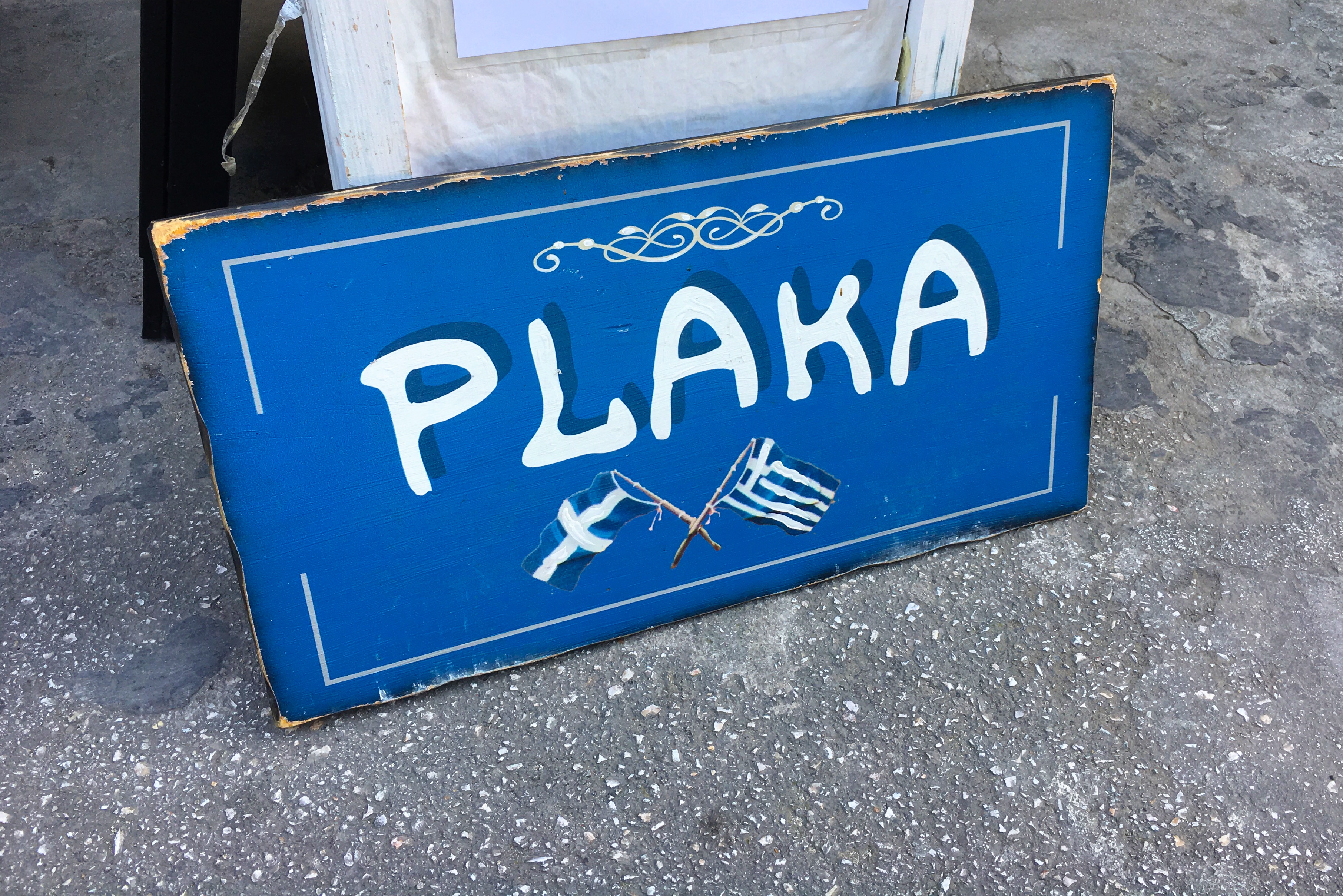 WC and I collect magnets and Christmas ornaments everywhere we go and he also wanted a t-shirt. Plaka is full of shops and you should be able to find whatever you're looking for in this area.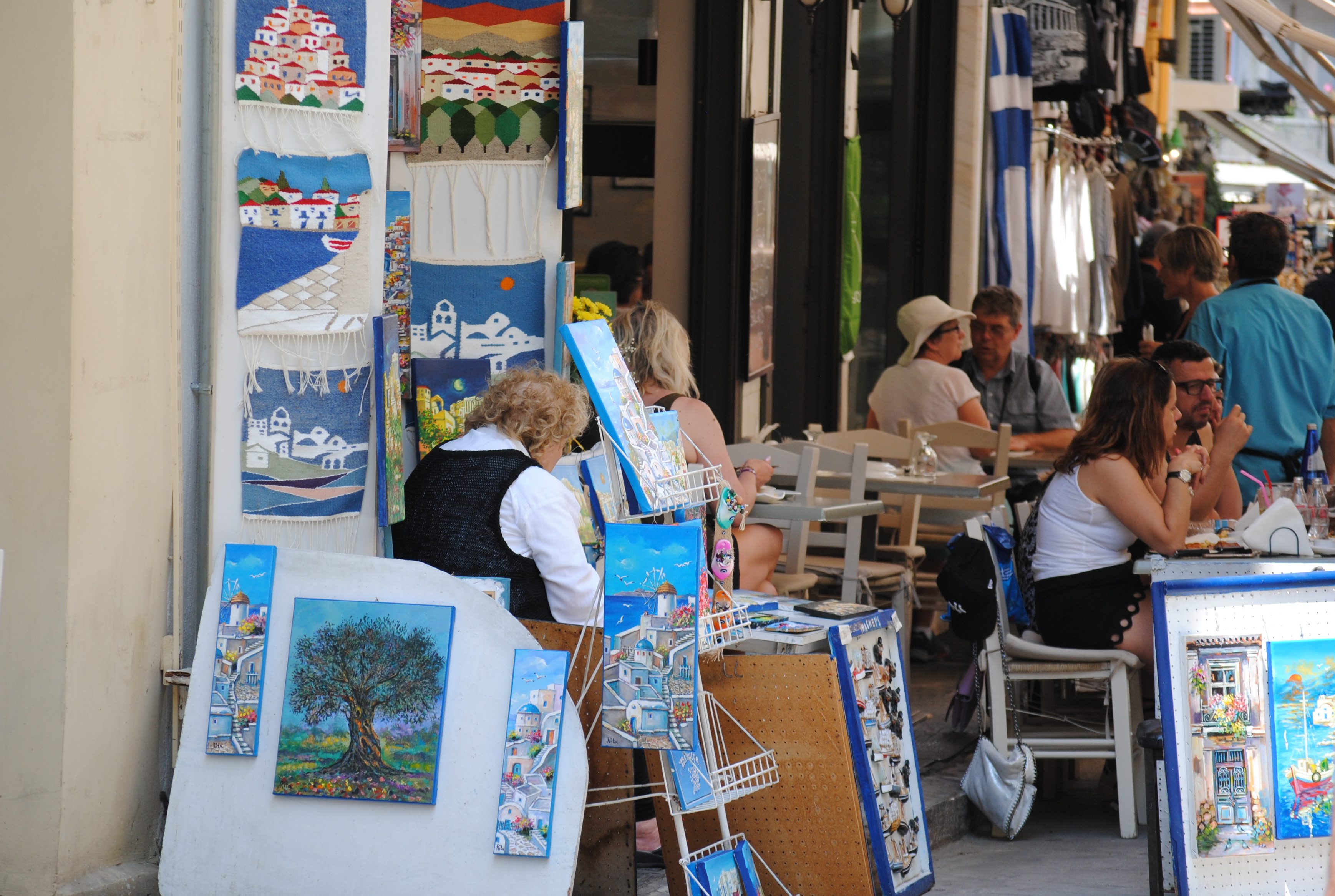 Our last stop before leaving for Mykonos was the MS Roof Garden. We had to get one last great view of the Acropolis! This restaurant/bar has cocktails and coffee drinks.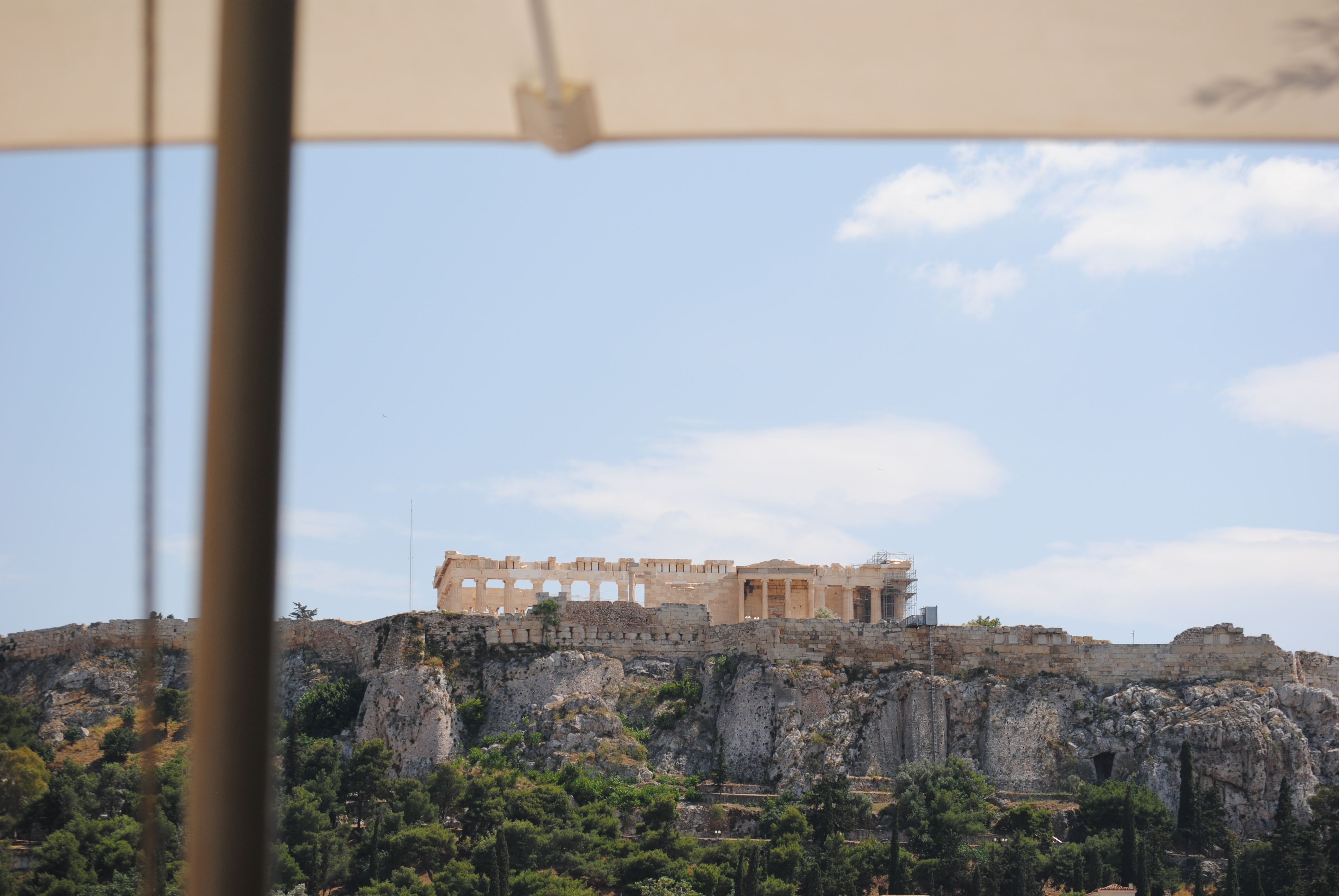 What Did We Miss?
There were a handful of items on our Athens bucket list that we weren't able to get to. If you have more time, consider checking these out:
Take the funicular up Lycabettus Hill for a panoramic view of the city
See a show at Odeon of Herodes Atticus, an open air venue that hosts music performances, theatre, and opera
Visit the Acropolis Museum
Hike up Philopappos Hill to see Aristotle's prison, the Monument of Philopappos, and an old church
Philopappos Hill is home to the National Observatory of Athens (tours are in Greek, but you can contact them in advance to schedule an English tour)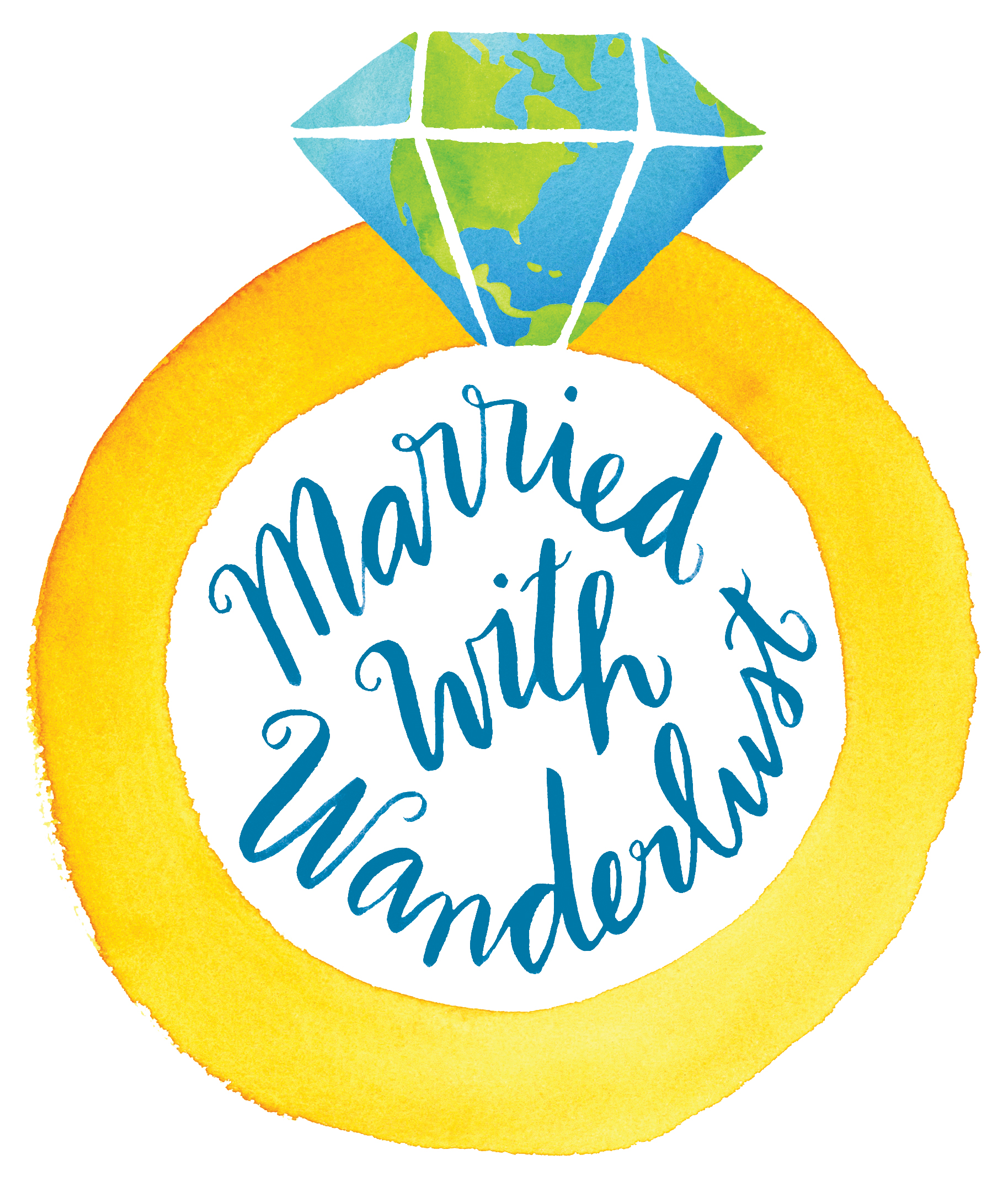 Enjoy our blog post? Pin it to share with others!