Like thousands of travelers, we were heading to Cuba later this year for our first visit. The trip was planned for September as part of a 60th Birthday celebration for WC's dad. We were booked on Royal Caribbean's Majesty of the Seas with two planned stops: Key West and overnight in Havana. Now that President Donald Trump's administration banned cruises to Cuba, we're in the midst of deciding whether to continue with the adjusted cruise schedule or cancel our trip.
Royal Caribbean was quick to respond to the situation, posting an update on Wednesday for travelers booked on the Majesty and Empress of the Seas. In a surprising move (at least, surprising to us), the cruise line is offering a full refund for travelers who wish to cancel the trip, and a 50% refund to travelers who remain booked and go with the adjusted itinerary.
Here is the initial message from Royal Caribbean cruise line: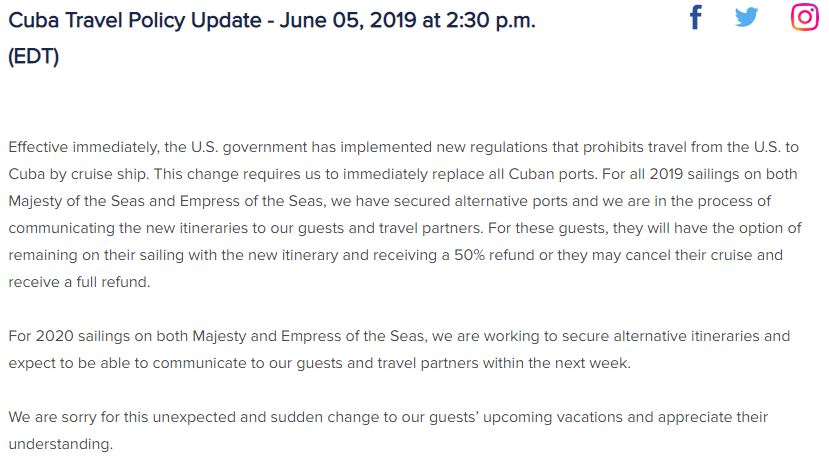 The offer is pretty generous, given that cruise lines have fine print in their booking process warning itineraries are subject to change. Overall, the response on Royal Caribbean's Facebook post about the offer has received very positive feedback.
Carnival is only offering $100 per person onboard credit for remaining on the adjusted cruise or $50 per person onboard credit for moving to another itinerary. Carnival cruisers do also have the same option to cancel for a full refund.
Norwegian Cruise Line is offering the best compensation of the three. Travelers booked on their Cuba cruises not only get a 50% refund for remaining booked on the adjusted itinerary, but they also get a discount on their next cruise with NCL.

Personally, our only dilemma is that RCL replaced Havana (an relatively expensive cruise stop) with Nassau, Bahamas (one of the most inexpensive and easily accessible cruise ports). However, the refund being offered is very much appreciated.
We're still discussing the options with our family since it's a group cruise and hope to come to a decision soon. In the meantime, we'd love to hear about your experience. Were you booked on a Cuba cruise? What did you decide to do?