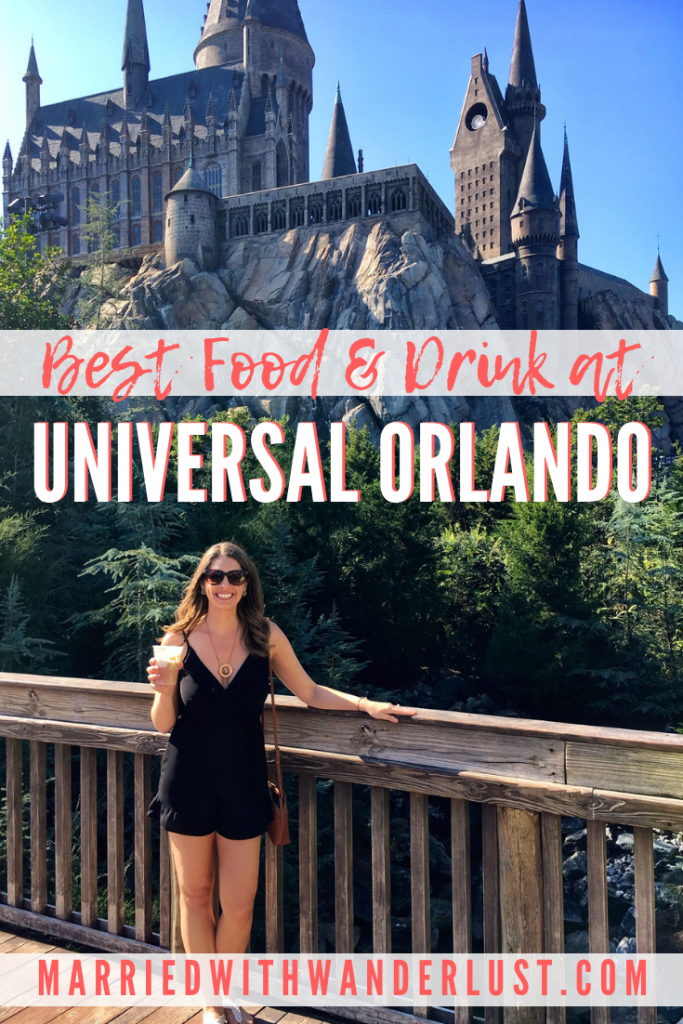 There are dozens of restaurants and bars at Universal Orlando between the two theme parks and City Walk. Where to eat and drink in Universal totally depends on what you're looking for: unique atmosphere, a quick bite vs. a sit-down meal, food or just drinks, etc.
As Florida resident annual passholders for the Universal Orlando parks, we're currently working our way through all the dining options. In this post we're sharing some of our favorite spots, along with our recommendations:
Islands of Adventure:
Hog's Head Pub
If Harry Potter isn't the main reason you have tickets to Universal, what on earth are you doing there?! We're totally kidding, but you probably know we are huge HP fans and could spend the entire day just in the HP sections of the parks without blinking an eye.
If yo're like us and love Harry Potter, you may want to check out our post on Must-Do at the Wizarding World of Harry Potter.
The Hog's Head Pub is typically our first drink stop of the day. We love the atmosphere and the pub has additional beer options that aren't available in some of the other bars and restaurants throughout the park.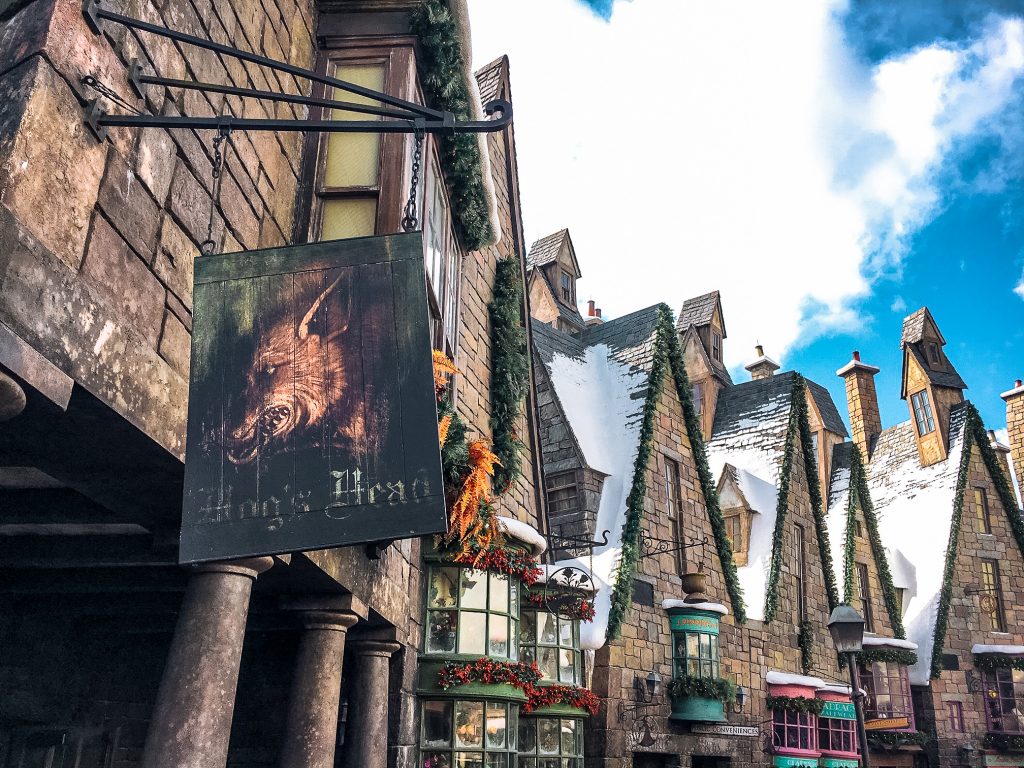 Special brews served here include the Hog's Head (red ale), Wizard's Brew (stout), and the Dragon Scale (amber lager).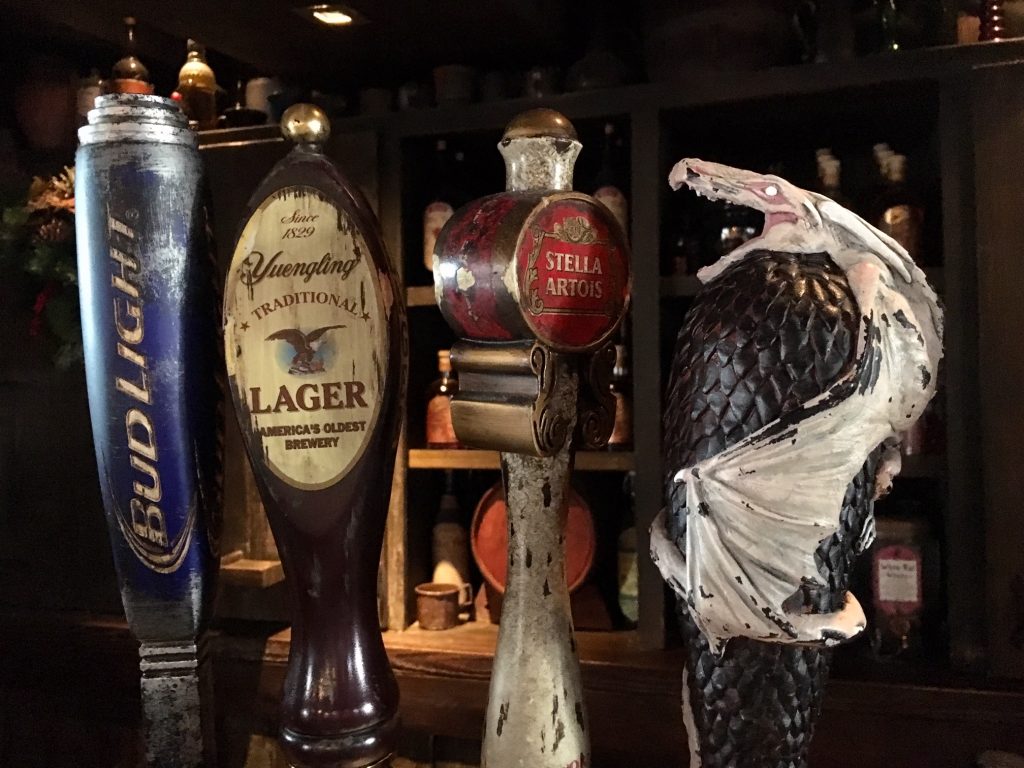 Three Broomsticks
Another Harry-Potter inspired spot, this restaurant is attached to the Hog's Head Pub. In true "London" fashion, you'll find a lot of British dishes on the menu like Bangers & Mash and Fisherman's Pie.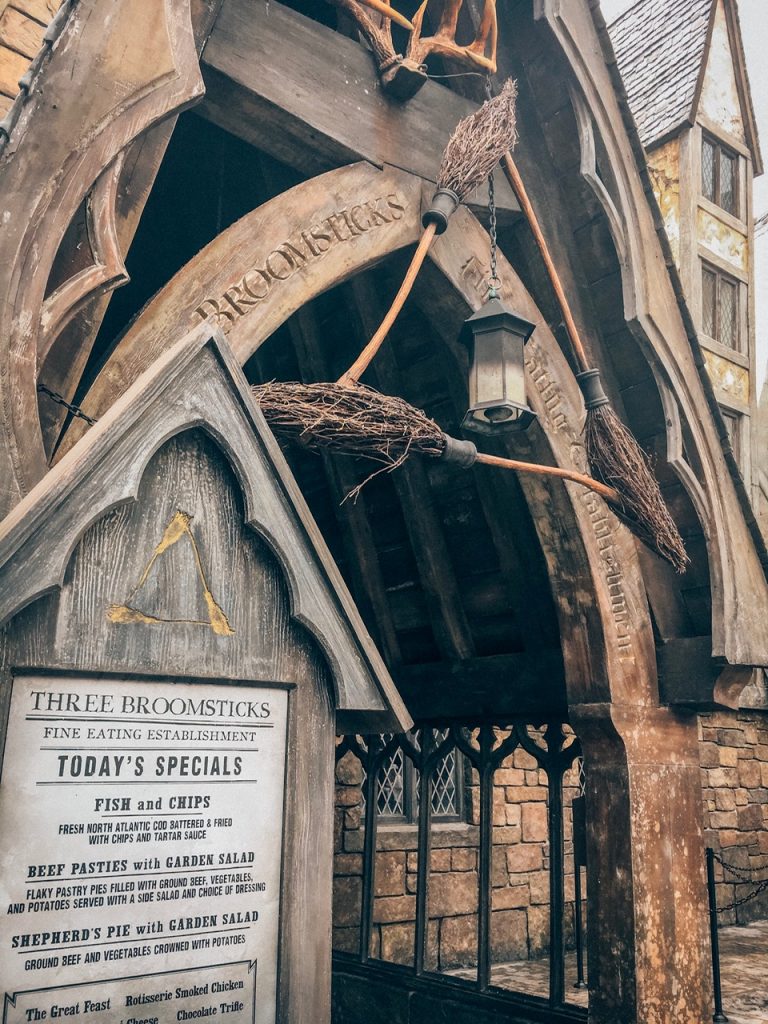 You can also buy a few alcoholic beverages here including the Hog's Head Brew and Dragon Scale, but we recommend heading next door to get your drink from the Hog's Head Pub for the experience!
Backwater Bar
Located near the front of the park, this is one of our favorite spots to grab a drink. The bar is small but usually very quiet. If you're looking to catch a game, don't overlook Backwater. We happened to be at the park during an NFL playoff game and NBC Sports at CityWalk (a huge restaurant) was full! Fortunately, Backwater Bar welcomed us with open bar stools. Plus, there's happy hour from 4:00-7:00 pm!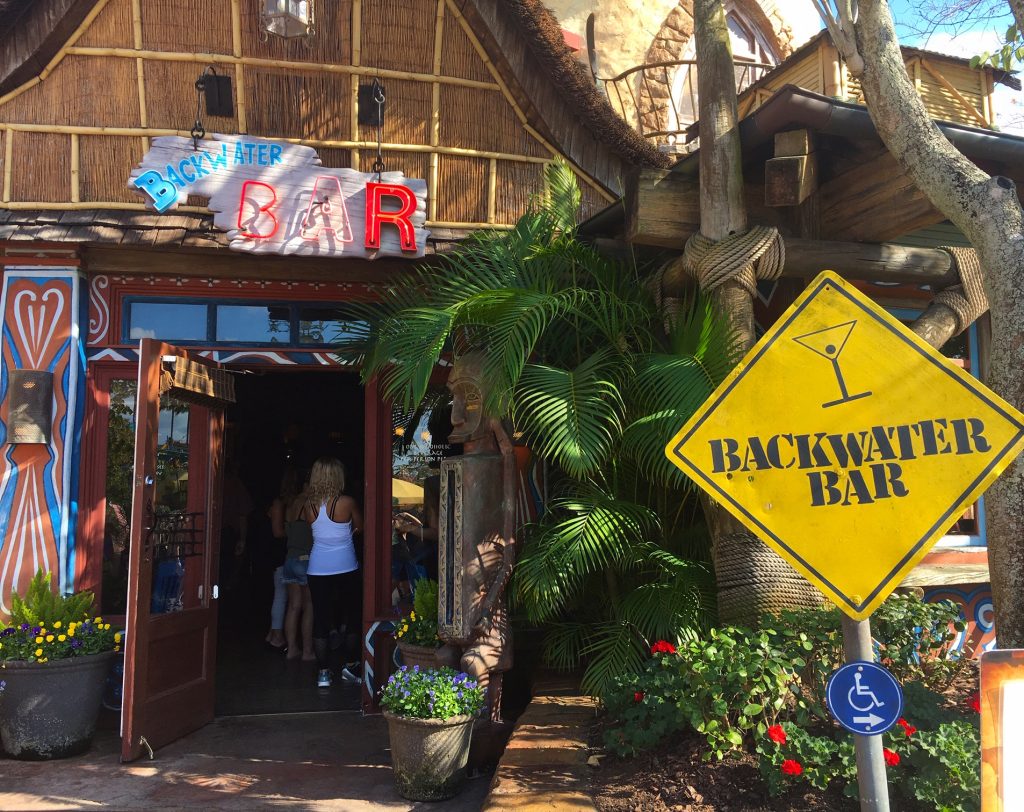 Mythos
This is one of the only spots on this list that we haven't tried yet, but I'm including it because it holds the award of "Best Theme Park Table Service Restaurant" by Theme Park Insider. The menu is a mix of Mediterranean, Asian, and American food.
Universal Studios:
Leaky Cauldron
As the saying goes, "The Leaky Cauldron, that's in London." Yep, this Harry Potter-themed restaurant is just inside Diagon Alley in "London" at Universal Studios. It has a similar (and amazing) vibe as the Three Broomsticks and again offers mostly British fare.
The Hopping Pot
In the Harry Potter world, "The Wizard and the Hopping Pot" is one of several stories featured in the book, The Tales of Beedle the Bard. Tucked away in the back corner of Diagon Alley, you'll find a drink counter that carries the same name.
This a great spot to try a favorite beverage among witches and wizards: fire whisky! We like to grab a drink from the counter and then wander over to the stage to watch one of the daily performances: appropriately, one of the shows is The Tales of Beedle the Bard. The other is a musical performance by Celestina and the Banshees. Both are on our list of Must-Dos at the Wizarding World of Harry Potter!
Finnegan's Bar & Grill
Ever had Scotch eggs? Give them a try at Finnegan's Irish-American Bar & Grill in the "New York" area of Universal Studios. They'll be great coupled with a Guinness. We've also tried their fish and chips which were quite good. Finnegan's has regular table seating as well as a large bar. Sometimes you'll even get to hear live music!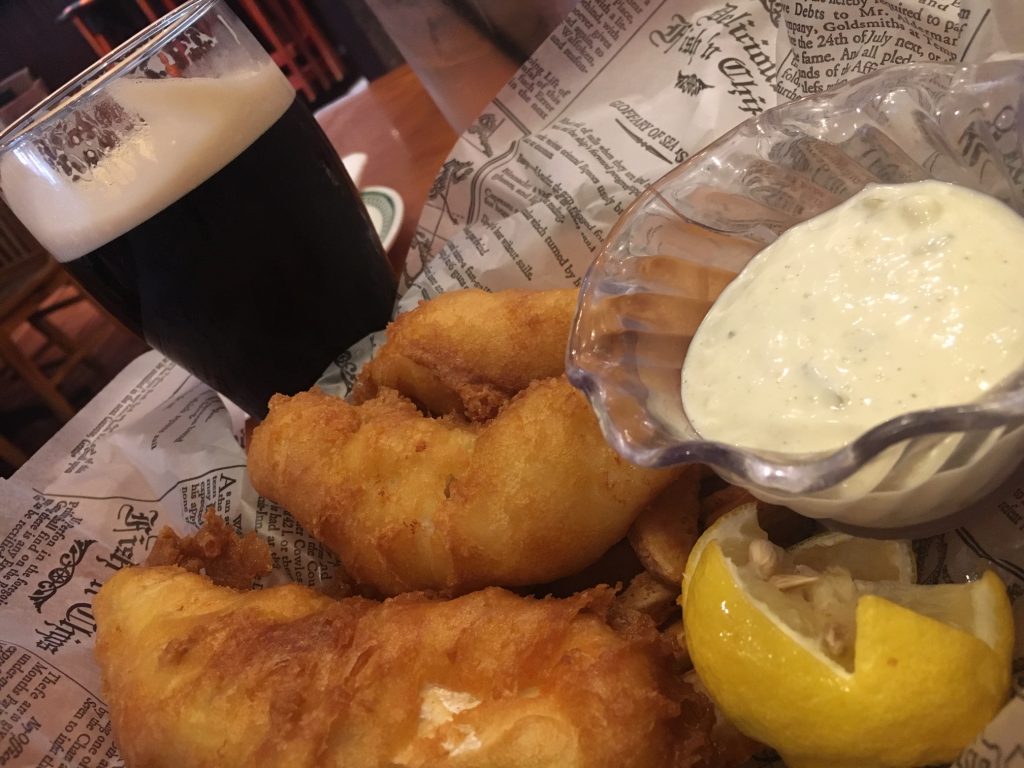 Duff Brewery Beer Garden
If you're a fan of the Simpsons, you'll feel like right at home in Springfield enjoying a drink at the Duff Brewery. The large bar offers plenty of seating to go around and a bonus is the strong fans that provide cool air from above. Though it's called a beer garden, you can also get liquor, wine, and slushees at this spot.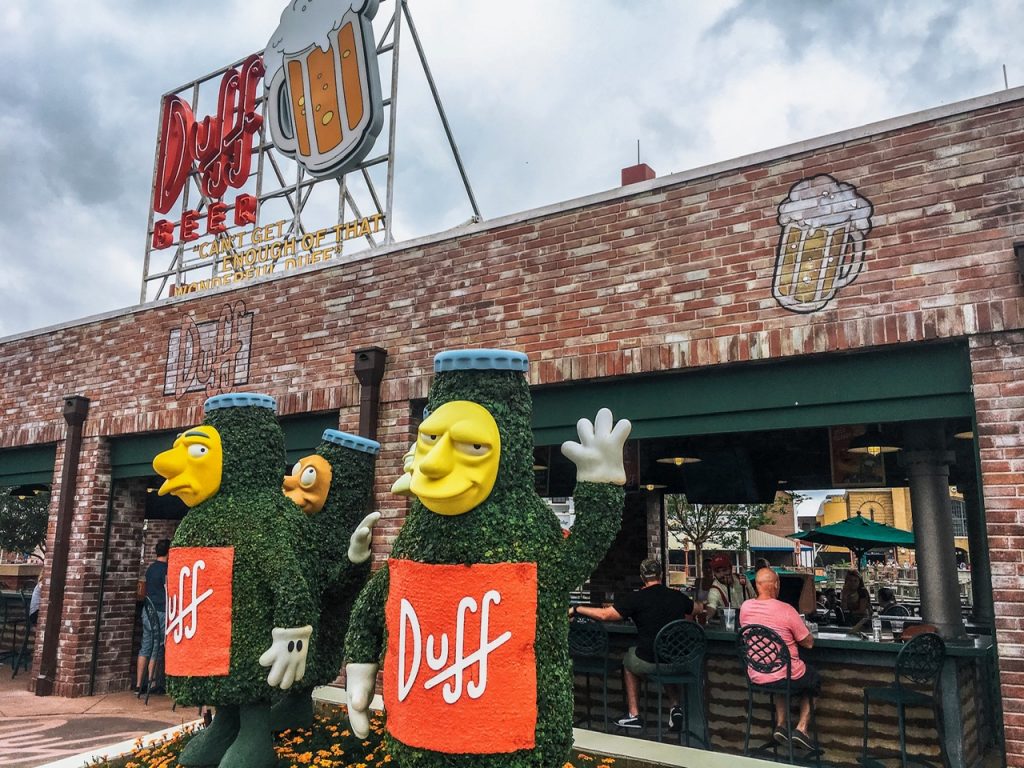 CityWalk:
A lot of the bars and restaurants in CityWalk don't open until the late afternoon, but there are a few you can visit during the day. We like to walk through CityWalk between the parks and stop for a drink along the way.
Lone Palm Airport
Some of the food and drink spots in City Walk do not open until late afternoon, but we love that this one opens at 10:30 am. That's not the only great thing about it, though. The bartenders are friendly and fans above the bar help you cool off on a hot day. Hungry? The 'Lone Palm Nachos' are delicious and it was enough to stuff both of us!
Fun Fact: The 60′ seaplane beside the bar belonged to Jimmy Buffet himself!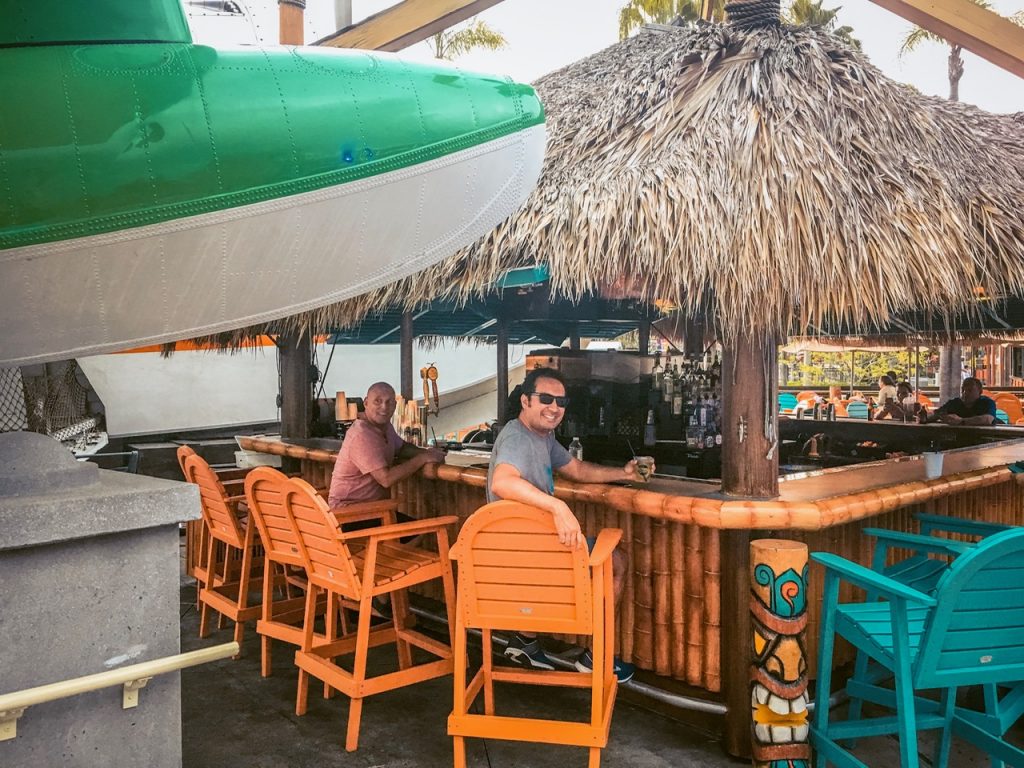 Fat Tuesday
A frozen beverage from Fat Tuesday is a great way to cool off on a hot day in Orlando. The main bar opens at 4:00 pm daily, but there is also a kiosk near Universal Studios in CityWalk that opens earlier (I believe 1:00 pm).
VIVO Italian Kitchen
This Italian restaurant is a great choice for dinner at CityWalk. For an evening spot at Universal, the prices are very reasonable with good portion sizes. I enjoyed the squid ink seafood pasta. The restaurant opens at 4:00 pm daily.
Toothsome Chocolate Emporium
The whole chocolate concept has us drooling every time we walk past this spot but we haven't eaten here yet. This whimsical restaurant seems to offer a little bit of everything with deserts that look to-die-for. Just Google the milkshakes!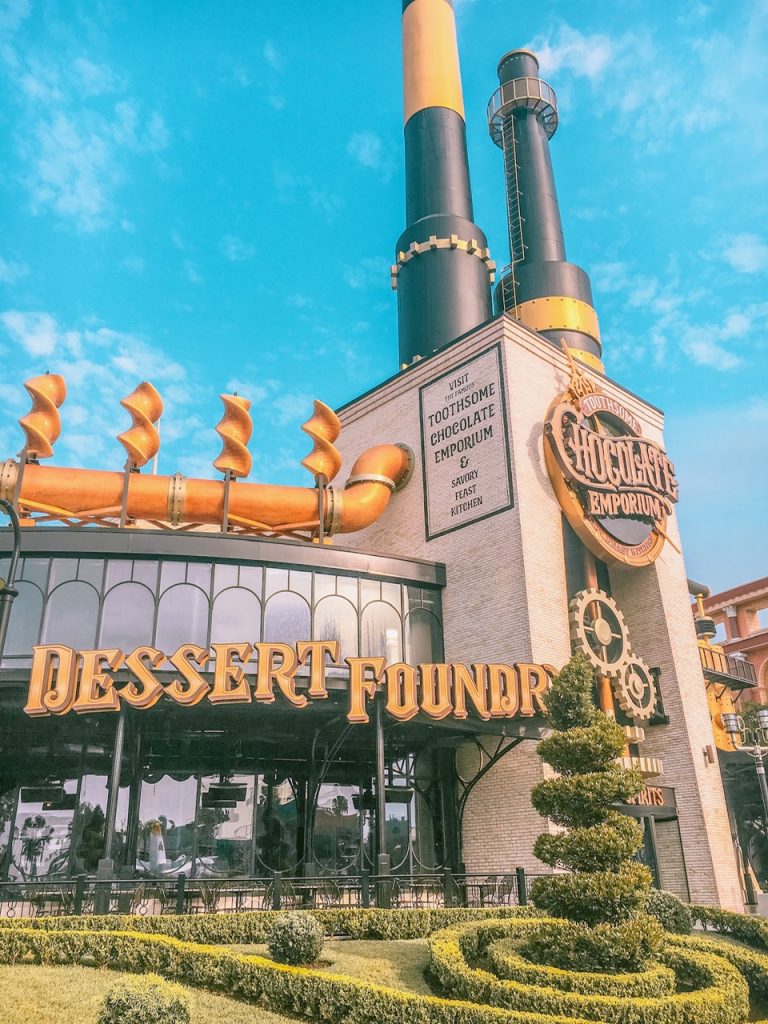 Other Places to Eat and Drink at Universal:
As newer season passholders, we're still working our way through all of the restaurants and finding our favorites. For a complete list of options, click here. Wherever you choose will depend on the experience you're looking for. Here are just a few other suggestions:
There are a variety of stands throughout the parks where you can grab a quick bite, such as Pizza Predattoria at Islands of Adventure.
Prefer chain options? There's a Starbucks at Universal Studios, a Cinnabon at Islands of Adventure, and Panda Express and Burger King at CityWalk.
Other popular sit-down restaurants include NBC Sports, Hard Rock Café, and Cowfish Sushi Burger Bar at CityWalk.
Neded to cool off? Try Florean Fortescue's Ice-Cream Parlour (Butterbeer-flavored ice cream!) or Hop on Pop Ice Cream Shop at Islands of Adventure.
What's your favorite spot at Universal Orlando? Tell us in the comments!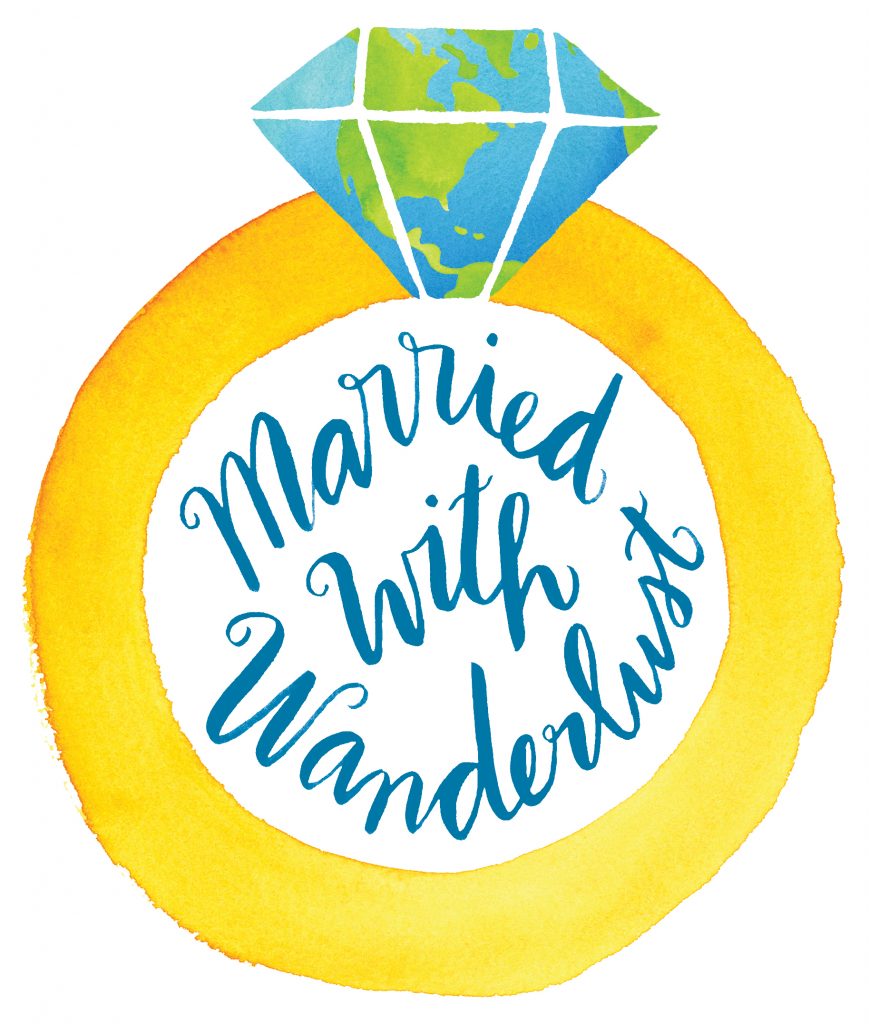 Enjoy our blog post? Pin it to share with others!