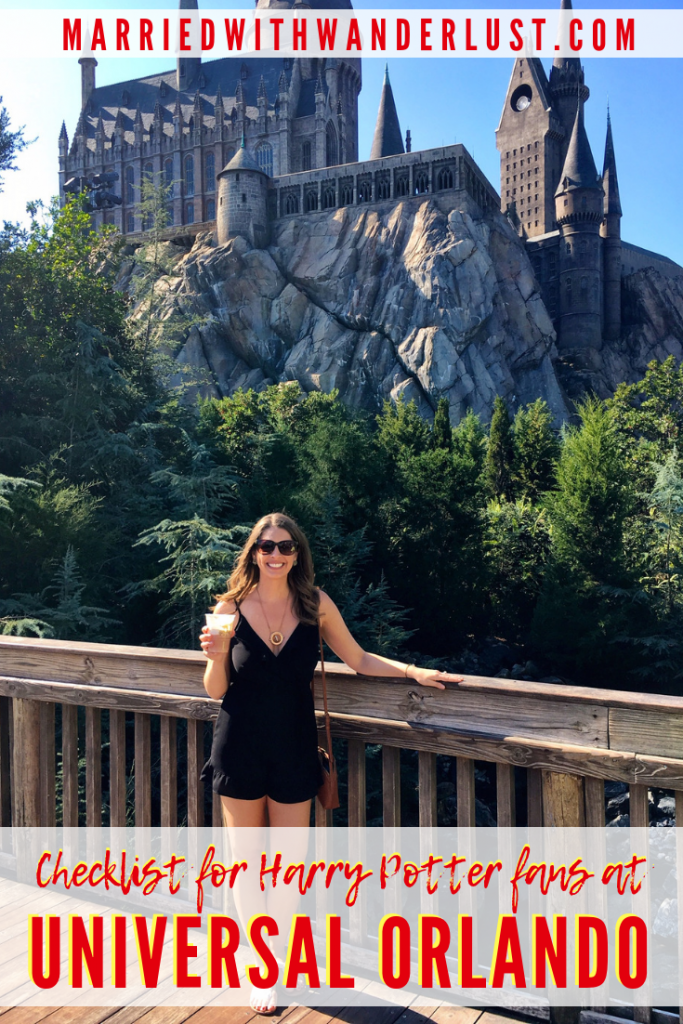 For my last birthday, WC spoiled me with season passes to Universal Orlando and if you know us, you know we are really just going to feed our Harry Potter obsession! (You may remember we planned our honeymoon around seeing Harry Potter & the Cursed Child in London – I told you we're HP fanatics!) The Wizarding World of Harry Potter at Universal Studios and Universal Islands of Adventure is seriously magical. The designers have spared no detail and every nook and cranny makes you feel like you're part of the books and movies.
If you love Harry Potter as much as we do, you'll want to make sure you check off all these items when you visit the theme parks:
Your Must-Do Checklist for the Wizarding World of Harry Potter:
Try ALL the Butterbeer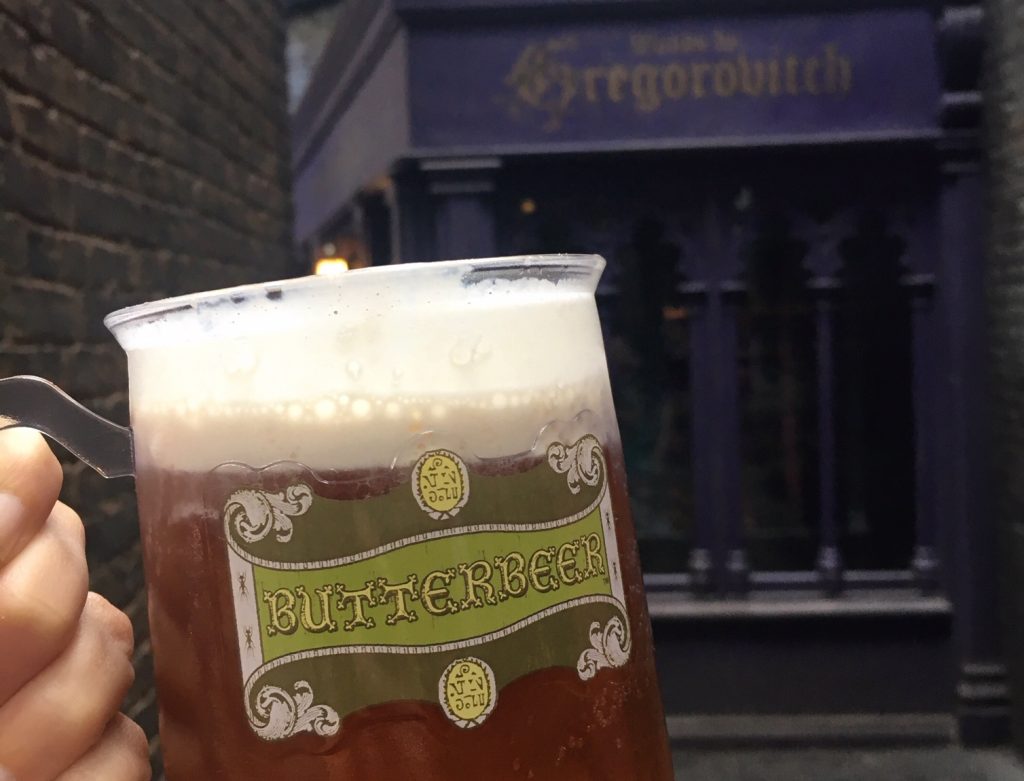 Butterbeer comes in all shapes and sizes at the Wizarding World of Harry Potter and you'll want to try them all! Our personal favorite (so far) is the cold Butterbeer, but you can also get this drink in a frozen or hot form. Not thirsty? Try Butterbeer-flavored ice cream or Butterbeer-flavored fudge.
Watch the Dragon Spew Fire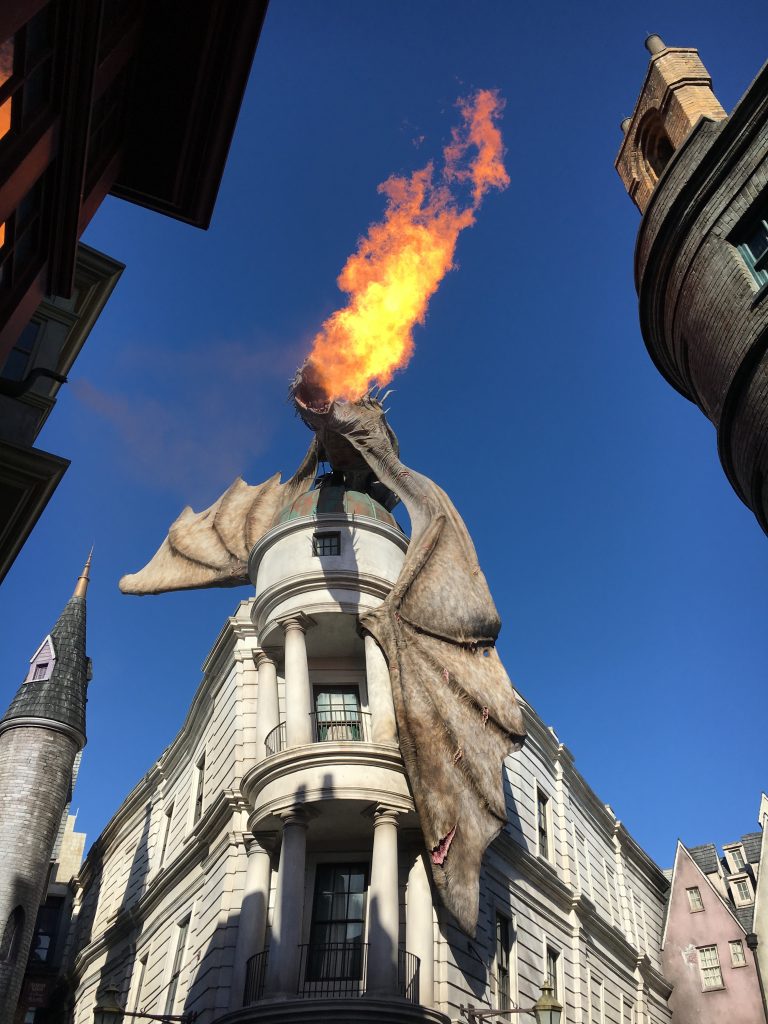 Make sure you hang out in Diagon Alley long enough to watch the dragon breathe fire from the top of Gringotts Bank. (We promise waiting won't be a problem with all the fun things to do in Diagon Alley!) The dragon spews fire about every 15 minutes and you'll know it's coming because you'll hear a gurgling and rumbling sound coming from the creature just beforehand.
Ride the Hogwarts Express (Both Ways)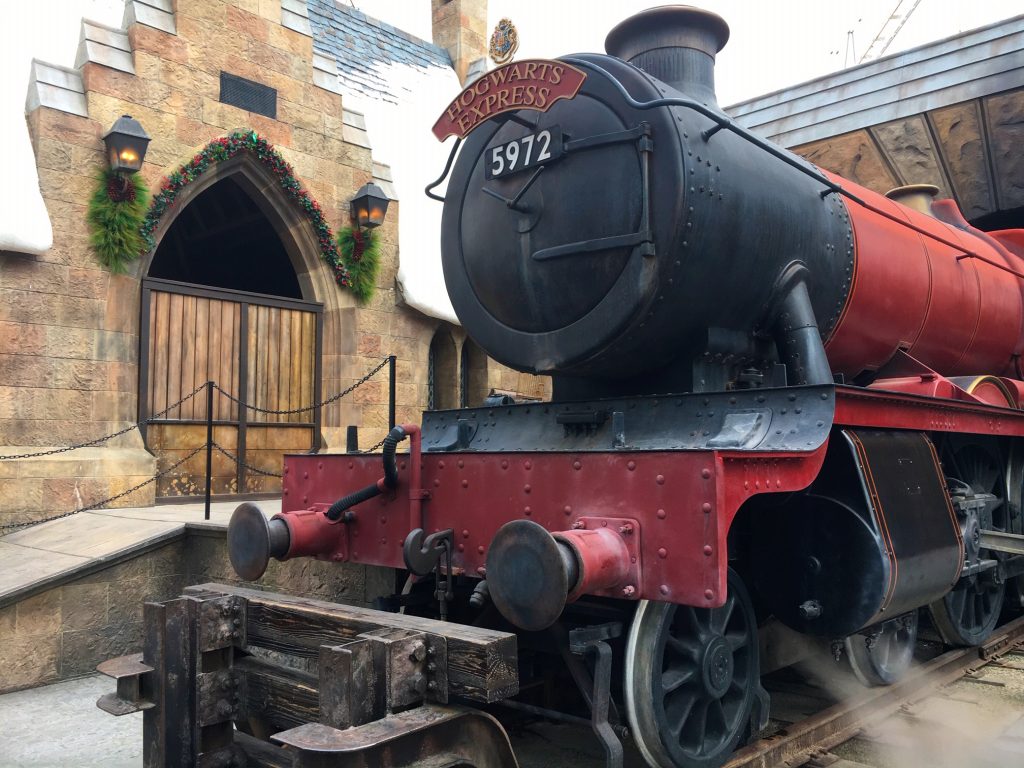 Every HP fan has dreamed of riding the Hogwarts Express and this ride makes that dream come true. The train takes visitors between Islands of Adventure and Universal Studios and the experience is different going both ways. While it's not a "high speed" ride, the train is still fun for both kids and adults. You'll feel like you're riding right alongside Harry, Ron, and Hermoine. Be sure to watch out for Dementors and Death Eaters!
Venture into Knockturn Alley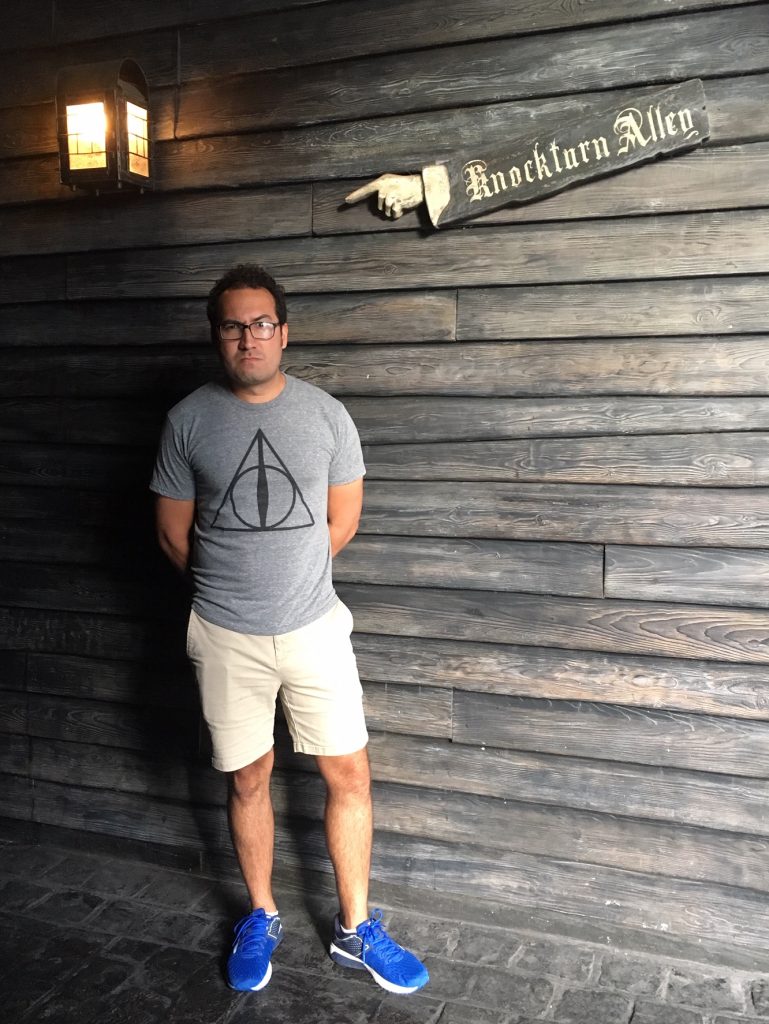 Whether or not you're a dark wizard, you'll want to explore all the dark magic that awaits in Knockturn Alley. Prepare for your body temperature to drop (not a bad thing in summer in Florida!) as you duck into one of the two entrances to the alleyway. Be careful when you step into Borgin and Burkes – you never know what dark wizards or witches might be watching!
Listen for Moaning Myrtle and Other Hidden Sounds
There are many spots at the Wizarding World of Harry Potter where you'll want to listen carefully for some secret sounds. Here are just a few:
Moaning Myrtle – listen for her voice in the women's restroom at Hogsmeade
The Vanishing Cabinet at Borgin and Burkes – You can hear a bird chirping inside the cabinet and it will take you back to Harry Potter and the Half-Blood Prince
Snake at the Magical Menagerie – Stand outside the shop window and listen for Parseltongue
Take Your Photo in Front of Hogwarts Castle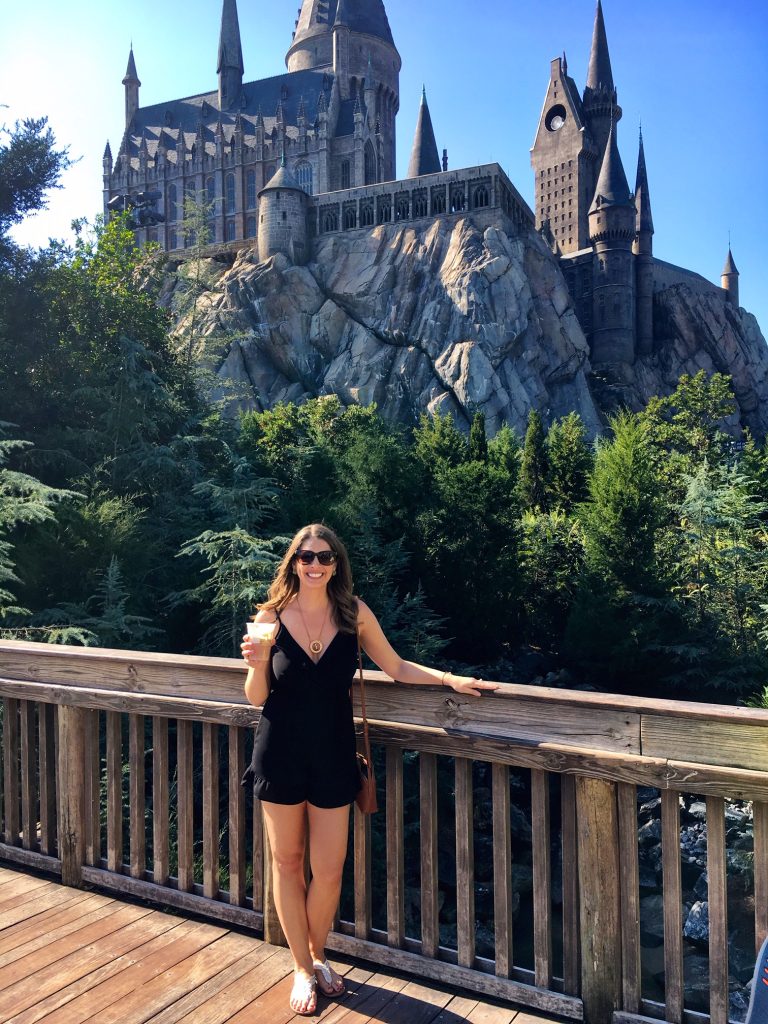 You can't leave Universal Orlando without a photo-opp in front of Hogwarts Castle! Grab your Butterbeer and head over to the wooden platform by the entrance to Hogsmeade to snap this shot. During the busy season, it will be much more difficult to take this photo without other visitors in the background.
Watch the HP-Themed Shows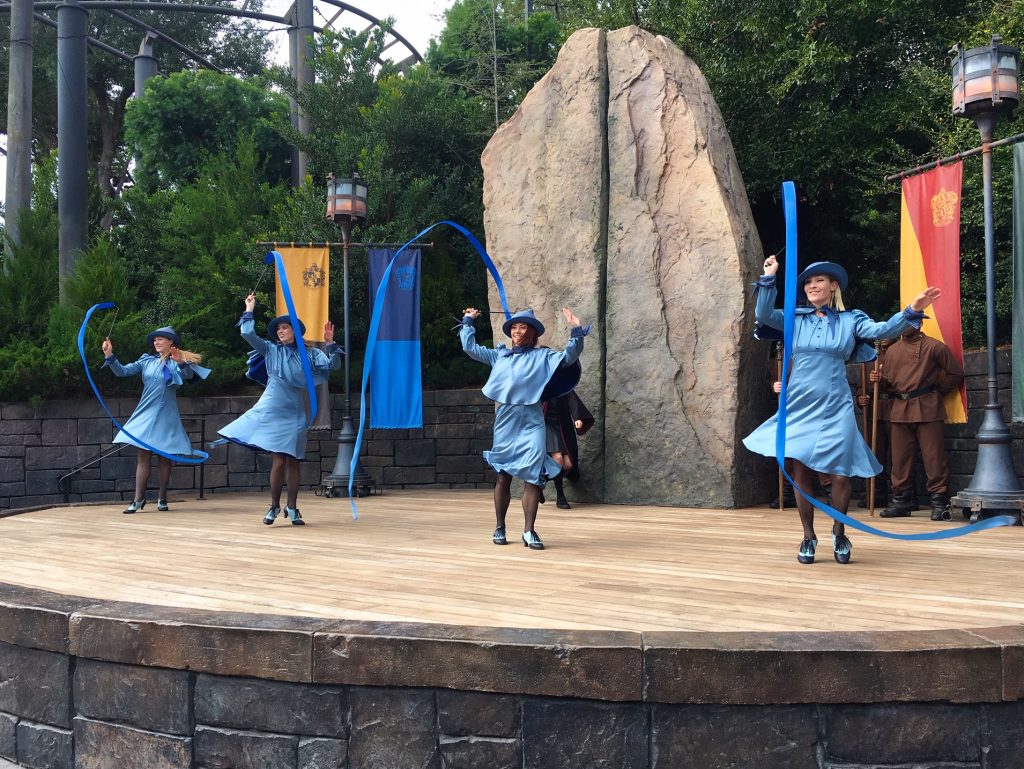 There are so many good shows at the Wizarding World of Harry Potter! There are a bunch of showtimes throughout the day, so if you wanted to catch them all, it should be possible. In Hogsmeade, you'll want to catch a performance by The Frog Choir, a combination of singers from each Hogwarts house and – duh – frogs. The Triwizard Spirit Rally also takes place in Hogsmeade. You'll get to see performances from the students of Beauxbatons Academy of Magic and Durmstrang Institute in anticipation of the Triwizard Tournament (think Harry Potter and the Goblet of Fire).
In Diagon Alley, you can see a reenactment of one of the fables from The Tales of Beedle the Bard. We know they do alternate the tales that they perform because we've seen a couple different ones since getting our season passes. You can also catch a musical performance by Celestina Warbeck and the Banshees in Diagon Alley. Did you know she is Molly Weasley's favorite singer?!
Buy a Wand at Ollivander's
If it's your first time to Universal Orlando and you've never seen "the wand choose the wizard," you'll want to catch the show at Ollivander's in Hogsmeade. Otherwise, if you're looking to buy a wand, we'd personally suggest going to the Ollivander's in Diagon Alley. That's more "by the book" as they would say! (For those who haven't read the books: an Ollivander's does not actually exist in Hogsmeade, just at the theme park.)
Search for Kreacher at Number Twelve, Grimmauld Place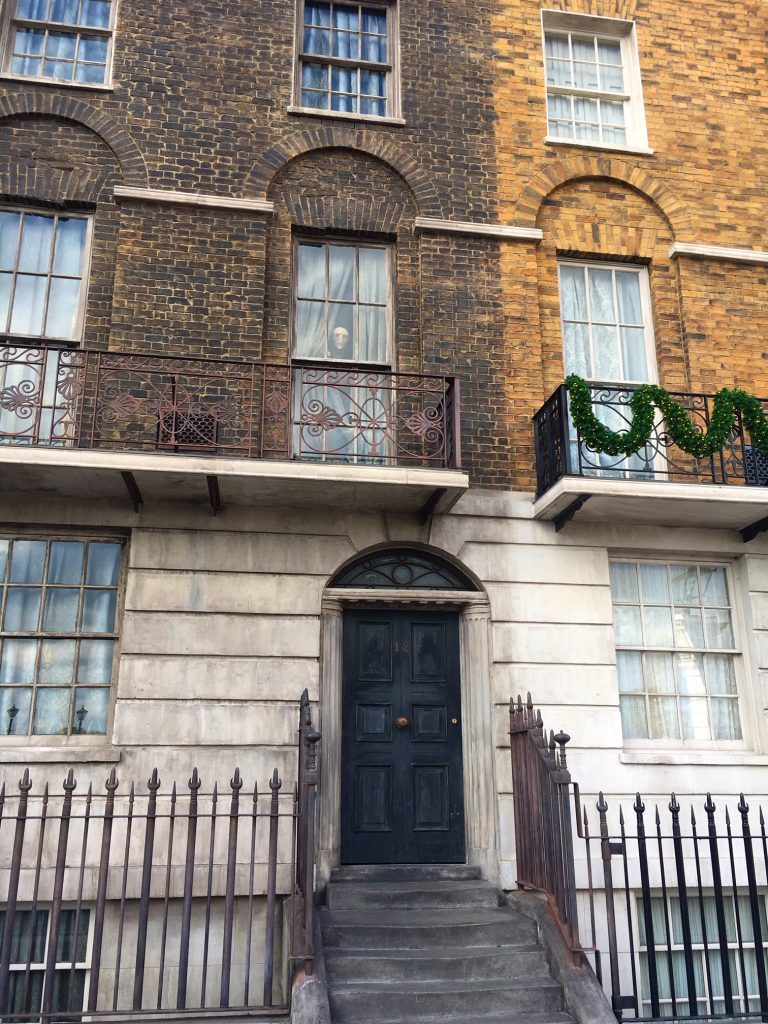 Stand outside Number Twelve, Grimmauld Place and you will catch a glimpse of Kreacher the house elf as he peeks out the second floor window. Grimmauld Place is located just outside Diagon Alley at Universal Studios and Kreacher makes an appearance every few minutes.
Admire the Nighttime Lights at Hogwarts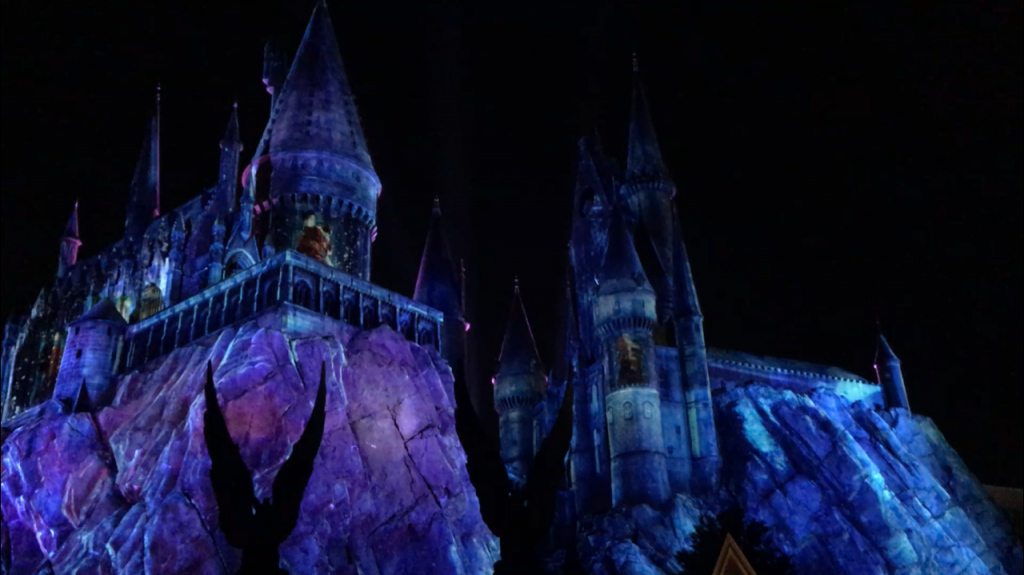 This show is described as a dazzling spectacle of music and lights and it absolutely is spectacular! The projection is cast onto Hogwarts castle during the evening on select nights. We recommend the later evening shows so that the sky is as dark as possible. Visit at Christmastime and you'll see a special show!
Dial MAGIC at the Kings Cross Phone Booth
Just outside Kings Cross at Universal Studios, you'll spot a typical British red phone booth. Step inside and dial MAGIC and you'll be connected with the Ministry of Magic!
Wait in Line for Harry Potter and the Forbidden Journey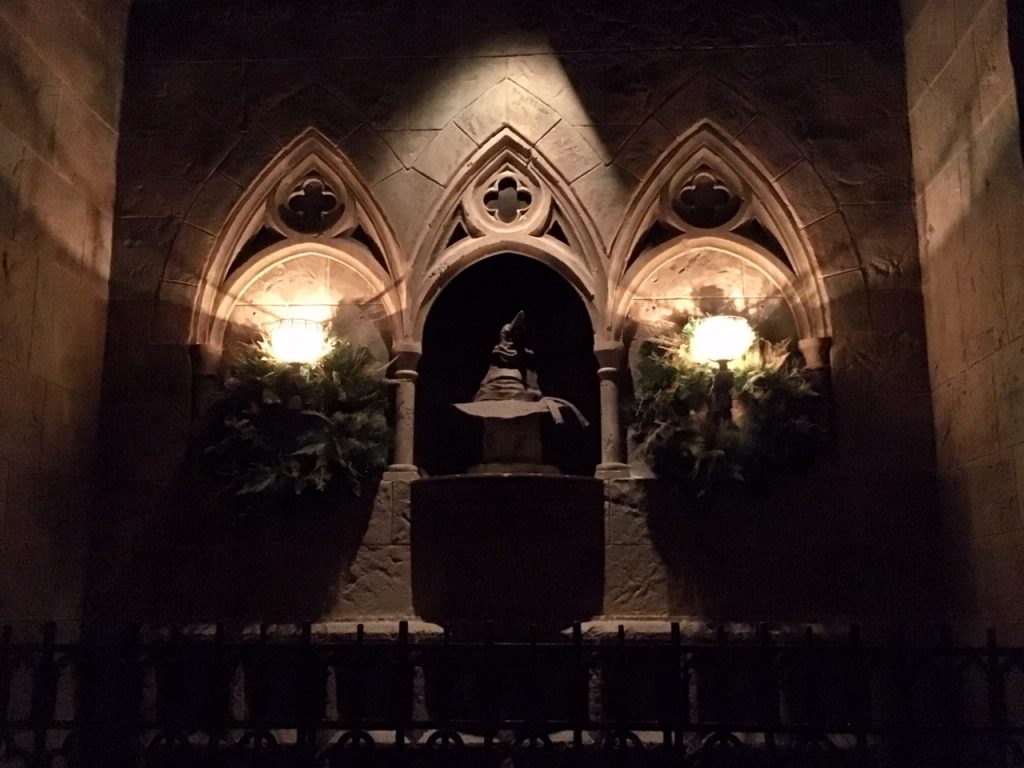 Yep, that's right, we said wait in line! Everyone loves when rides have no wait and you can hustle to the front, but HP fans will actually want to wait for this one. While you're inside the castle, you'll come across talking paintings, Dumbledore's pensieve, the Sorting Hat, the Mirror of Erised, the Fat Lady, and so much more!
Eat at the Leaky Cauldron and Three Broomsticks
After hours of exploring the Wizarding World, you'll love a break at the Leaky Cauldron or Three Broomsticks. Order traditional British food like
Bangers & Mash, Fish & Chips, or Fisherman's Pie and sip some Pumpkin Juice or Fire Whisky. Yum!
Talk with the Knight Bus Conductor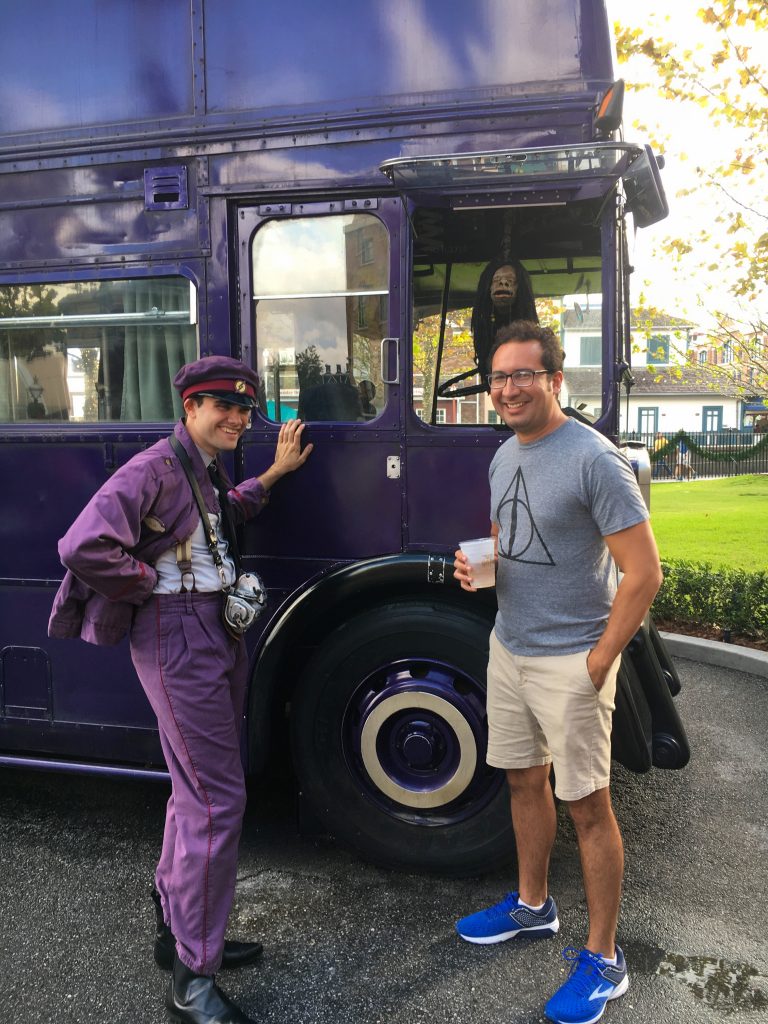 You won't always find Stan Shunpike, but you will always find the Knight Bus and conductor just outside the entrance to Diagon Alley. Step up to meet him and you're in for an interesting conversation with both the conductor and Dre Head.
Enjoy Sweets from Honeydukes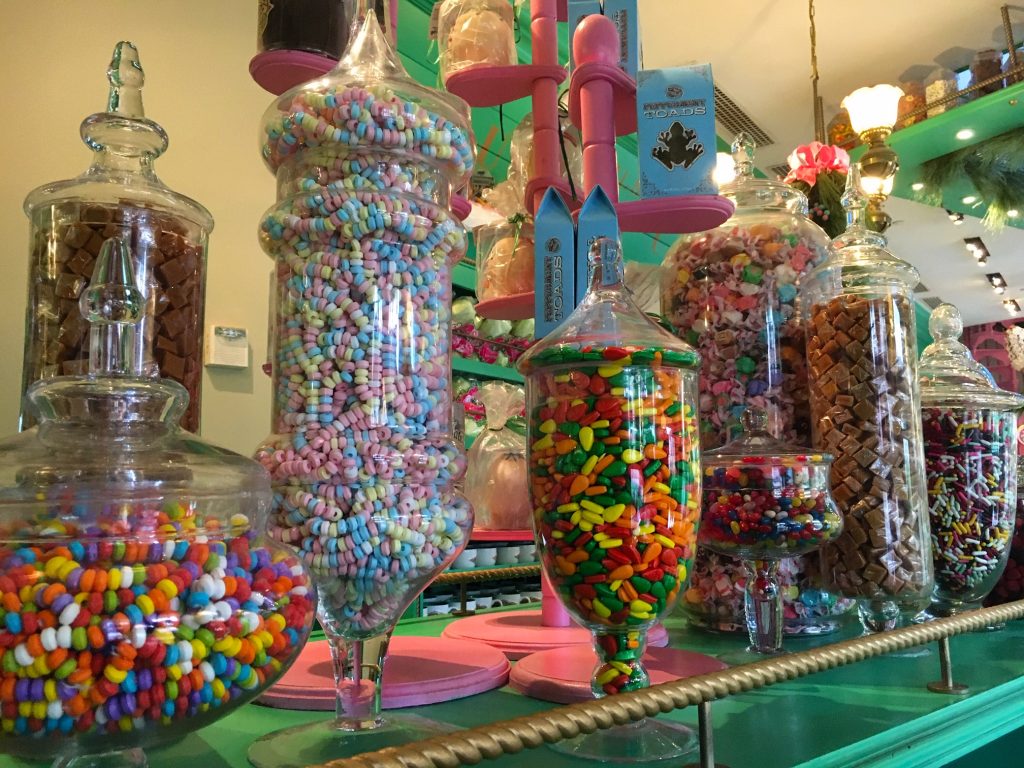 Whether Chocolate Frogs, Bertie Botts Every Flavour Beans, or Fizzing Whizbees are more your style, there is something to satisfy every sweet tooth at Honeydukes. There are dozens of packaged candy choices, as well as bakery items like cauldron cakes and fudge. The shop really makes you feel like you've stepped into the movie so even if you're not craving sweets, you'll want to take a look around.
Perform Magic with an Interactive Wand
We have yet to splurge on one of the interactive wands, but we're tempted every time we see witches and wizards performing spells at Universal! The interactive wands cost $52 (as of early 2019) and allow you to cast spells throughout Diagon Alley and Hogsmeade.
Each wand comes with a map that shows the magical locations throughout the parks. There are also several "hidden" spell locations that are not marked on the map. We won't give an spoilers here but a quick Google search will bring them up (if you don't want the fun of searching for them!)
Try the Exclusive HP Beers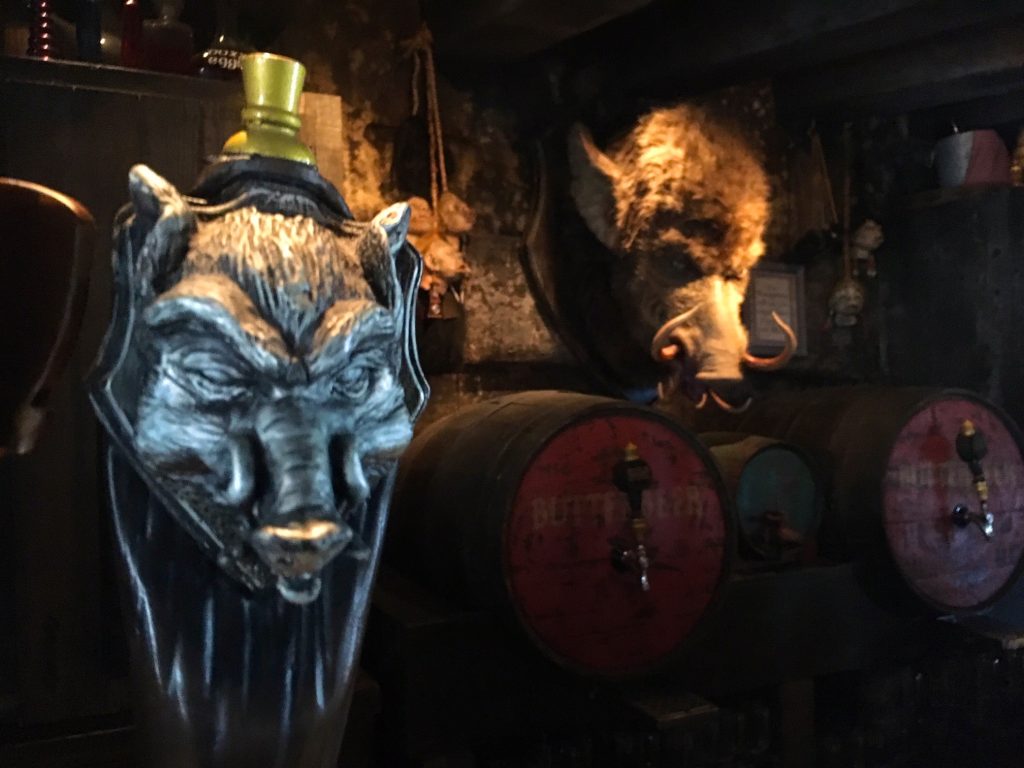 If you're 21+, you'll definitely want to try the Hog's Head Brew while relaxing at the Hog's Head Pub in Hogsmeade. Next you can park hop to visit The Hopping Pot or the Leaky Cauldron where you can try the Wizard's Brew and Dragon Scale (these two are only served in Diagon Alley). Hog's Head is a red ale, Wizard's Brew is a stout, and the Dragon Scale is an amber lager.
Not 21? The pubs also serve Butterbeer so witches and wizards of all ages can enjoy the atmosphere.
Take a Photo on Hagrid's Motorcycle and Get a Great View of Diagon Alley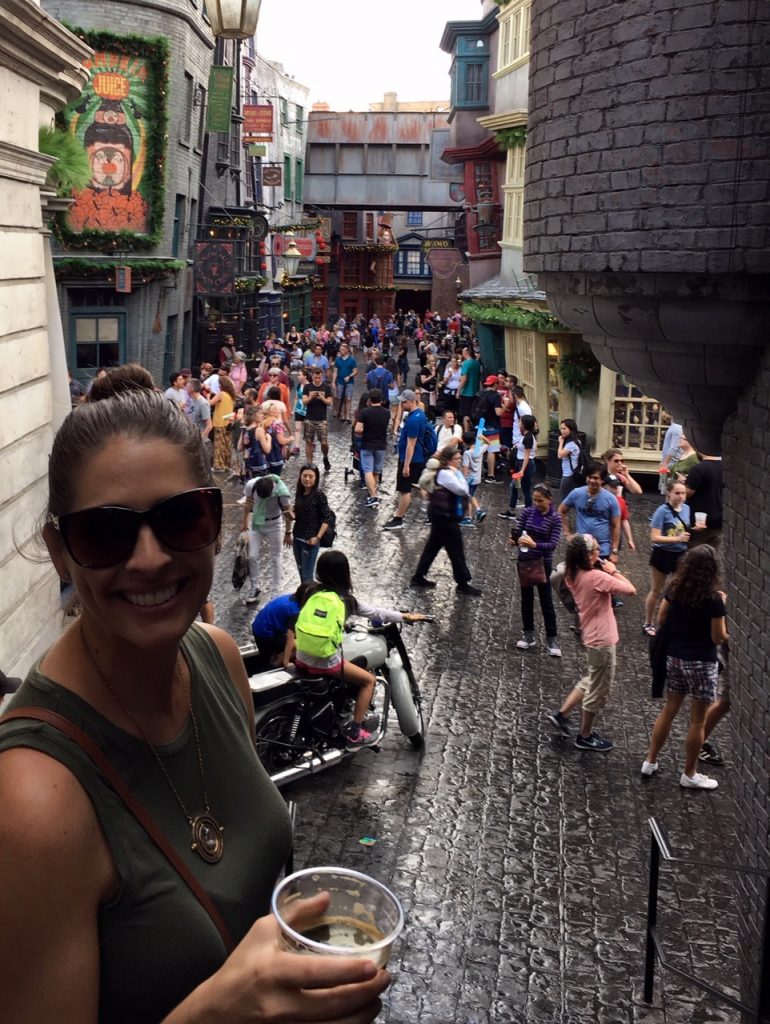 When you're wandering Diagon Alley, keep an eye out for a replica of Hagrid's motorcycle and sidecar. Climb in and snap your picture – it's a fun photo opp! The bike is currently located to the left of Gringotts Bank near a set of stairs. After your photo, climb the stairs for a view of hustle and bustle of Diagon Alley!
Window Shop (or Actually Shop) in Diagon Alley & Hogsmeade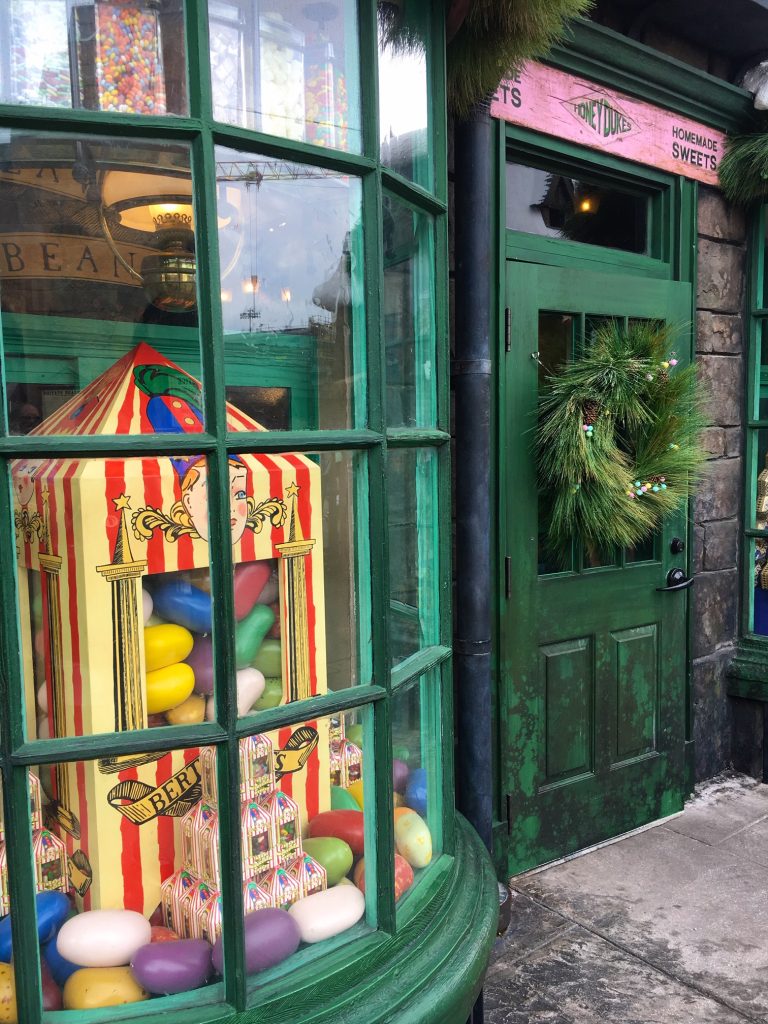 Whether or not you have extra money to spend in the stores, window shopping is half the fun at the Wizarding World of Harry Potter! Many of the stores have interactive window displays such as a floating Firebolt broom at Quality Quidditch Supplies and self-knitting needles at Spindlewarps Wool Shop.
Explore Gringotts Bank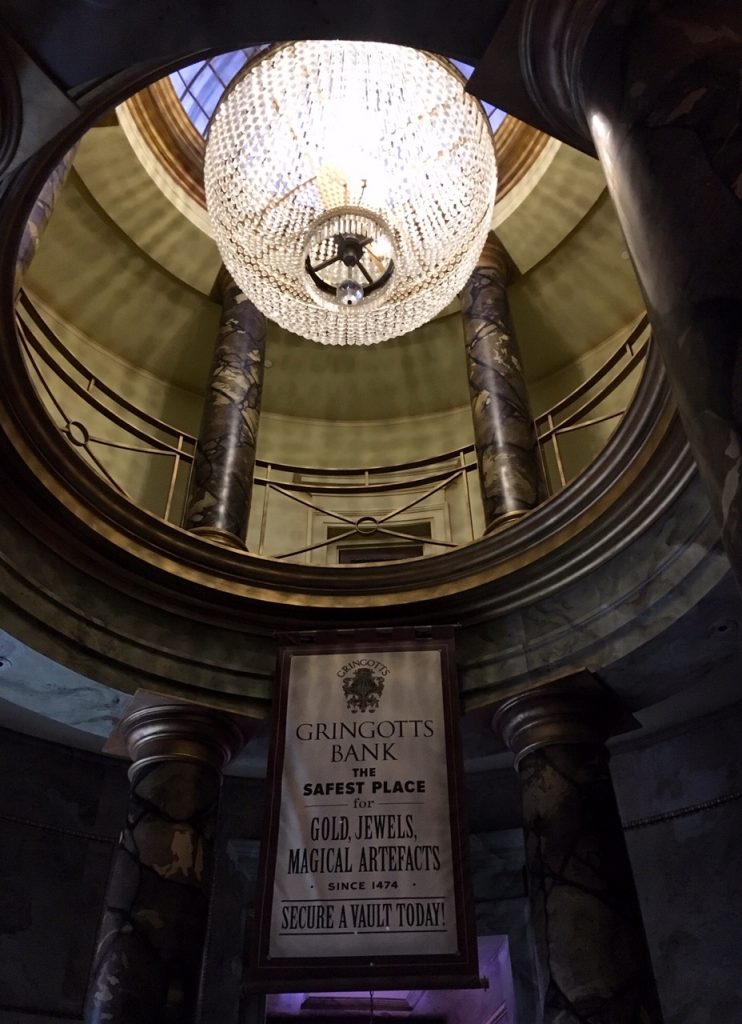 While waiting in line for Harry Potter and the Escape from Gringotts, you'll get to hang out with goblins while they're hard at work protecting the wizarding bank. Like all of the other attractions at the Wizarding World, the details inside Gringotts are stunning. We especially love the chandelier and the moving goblins!
After the ride, head over to the Gringotts Money Exchange. Ask the Goblin bank teller any question you please and wait to see his response.
Need More Harry Potter Inspiration?
Love HP as much as we do? You'll definitely want to visit London and see the spots where the movies were shot! Check out our post on Harry Potter Sites in London for locations and information.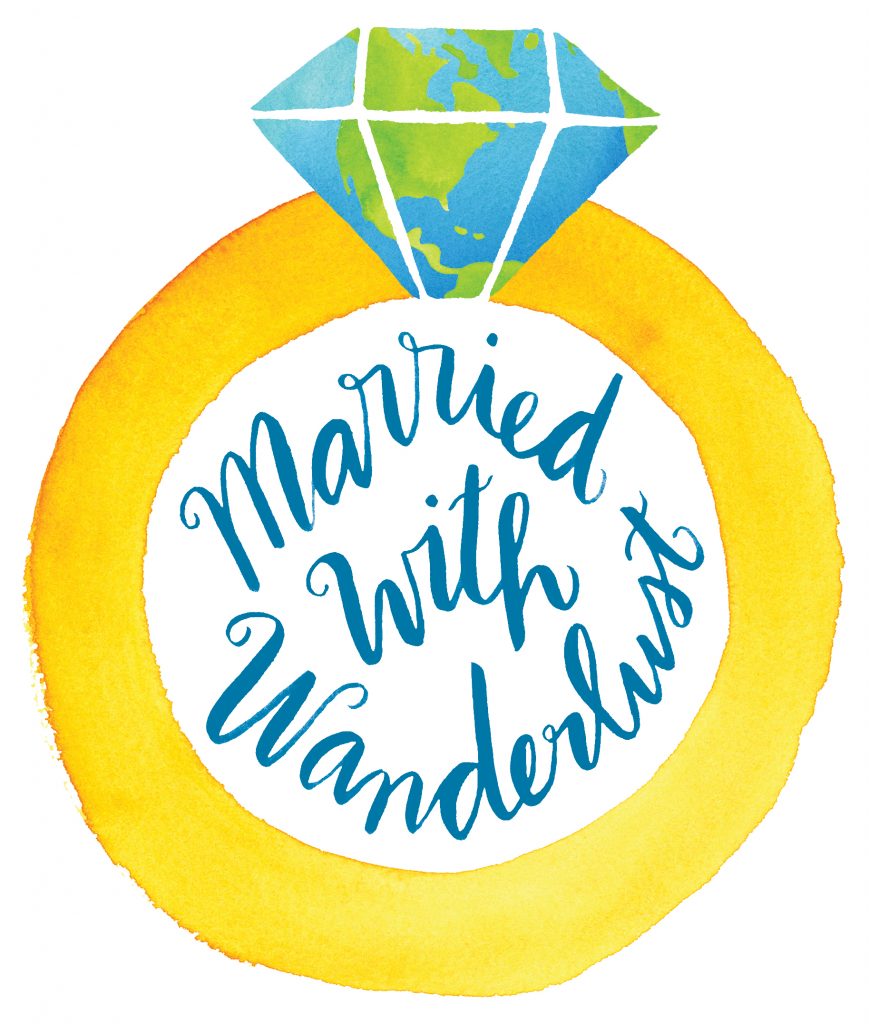 Enjoy our blog post? Pin it to share with others!