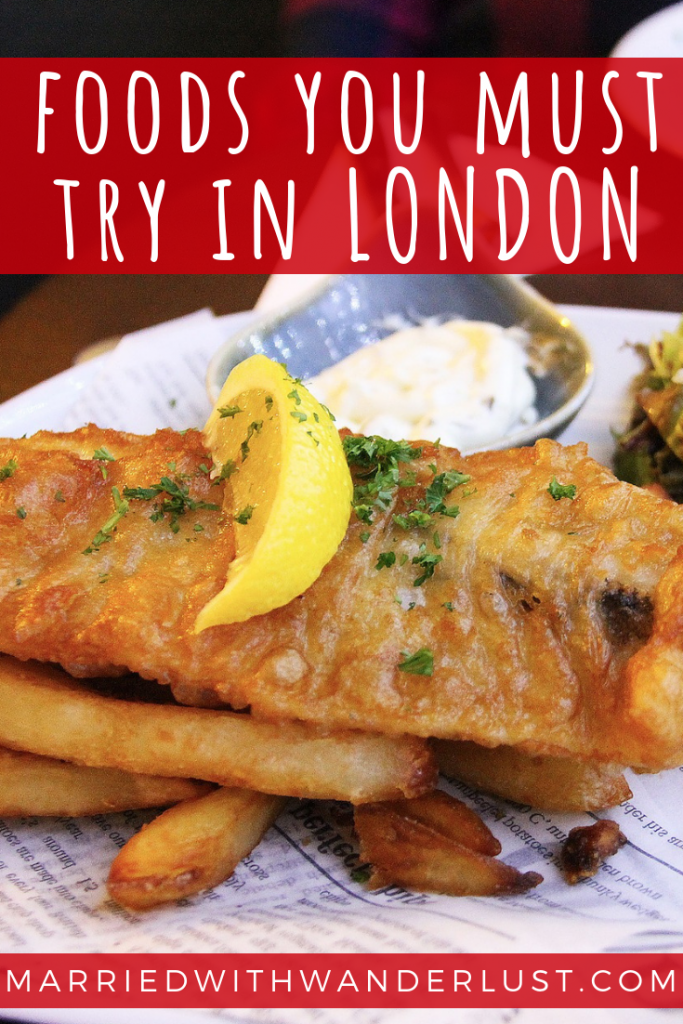 One of the best parts about traveling is eating! We love to try local foods wherever we go, even if they're unusual to us… we once ate guinea pig for Thanksgiving dinner in Peru and tried minke whale in Iceland. While the foods in London are all pretty "normal," there are a few you probably don't find on your typical bar menu back home and some that you'll wish you did! Here's a look at some of the best food to eat in London, along with some of our favorite spots to eat them:
Borough Market
No foodie's experience in London is complete without a visit to Borough Market. This market has been around for over 1,000 years and is open Monday to Saturday (with special Sunday hours during December).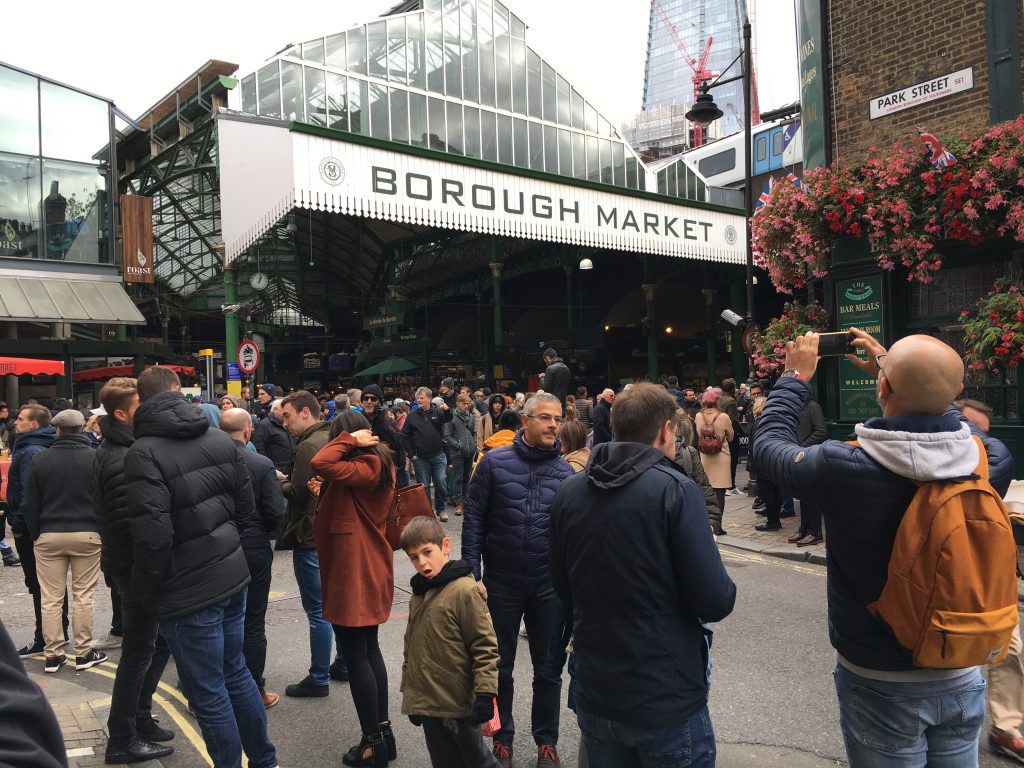 There is something for everyone at Borough Market, but below are some of our favorites:
Scotch Eggs
If you're looking for one unique food to eat in London, try a scotch egg. They are one of our favorite British dishes! WC and I first learned about scotch eggs while watching an episode of Anthony Bourdain's 'Parts Unknown.' The dish is a soft-boiled egg wrapped in sausage (try the chorizo!), and then coated with bread crumbs and fried.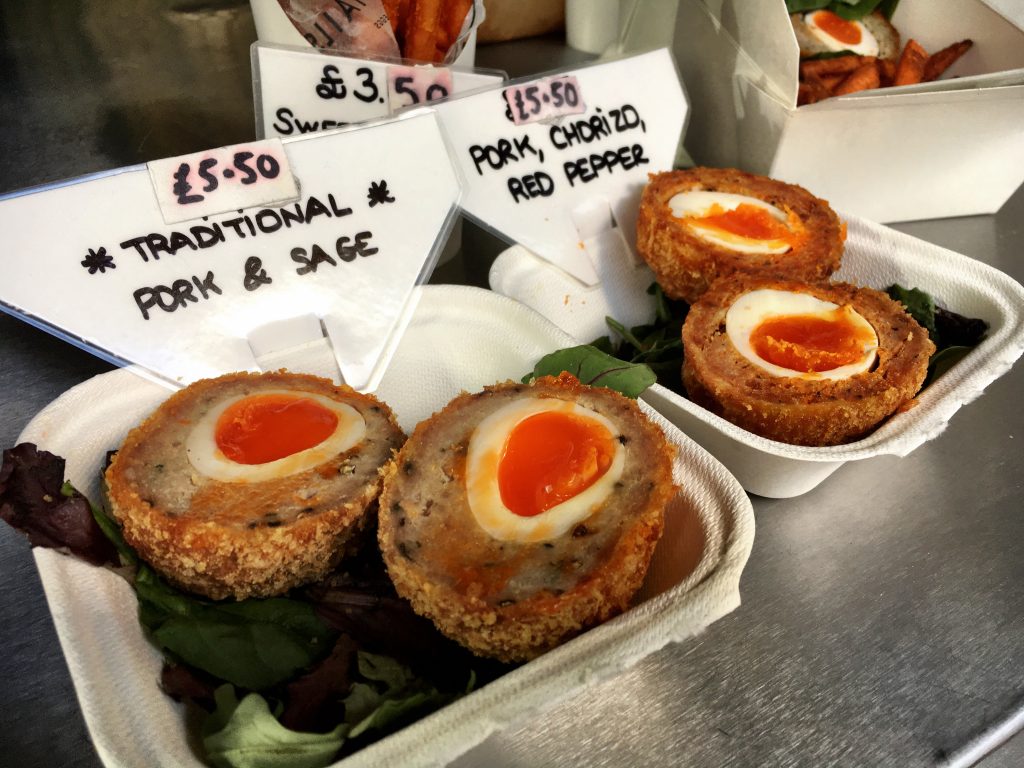 Drunken Cheese
This was our favorite unique find at Borough Market! We LOVE having cheese and wine nights at our house and what could be better than pairing wine with drunk cheese? At L'Ubriaco, the various cheeses are aged in a variety of alcohols including wine, gin, and beer. The best part? They can vacuum seal the cheese so that you can take it home! The staff can provide details on timing, but I believe you have about 24-48 hours to get it into the refrigerator once they seal it.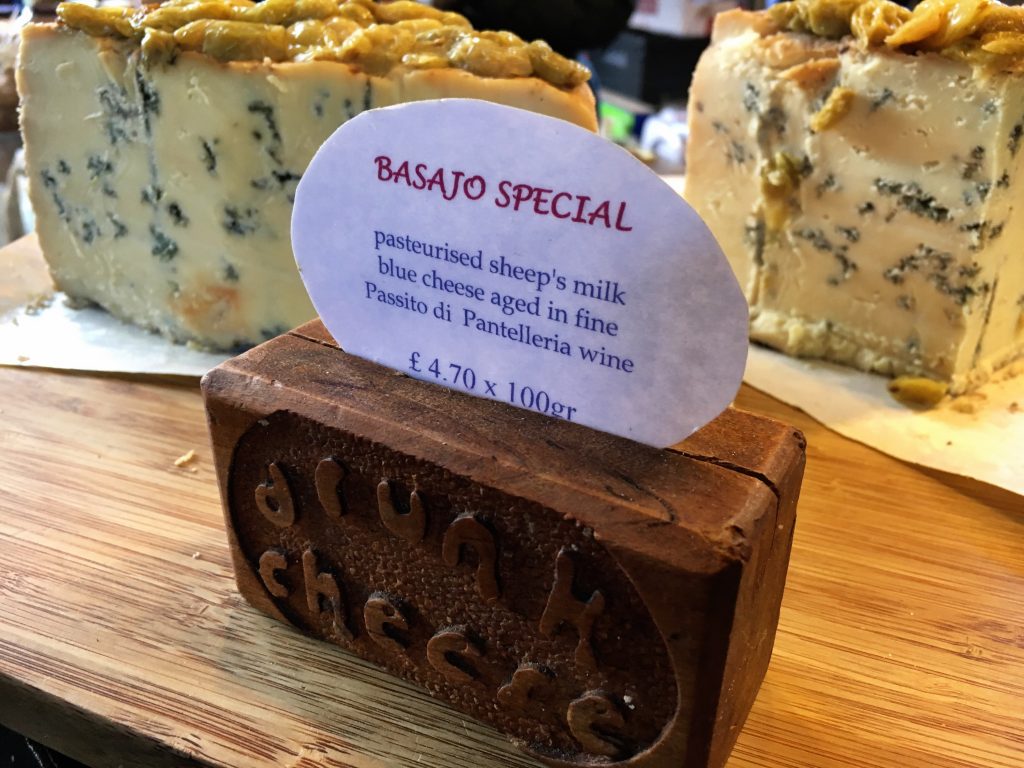 Mulled Wine
On a cold London day, sipping mulled wine at the Market is the perfect way to warm up! We originally were searching for a coffee or hot chocolate booth when we stumbled upon the mulled wine, and what a perfect find. (P.S. – If you're still looking for coffee, our friends tried Monmouth Coffee Company just outside the entrance to Borough Market and really liked it)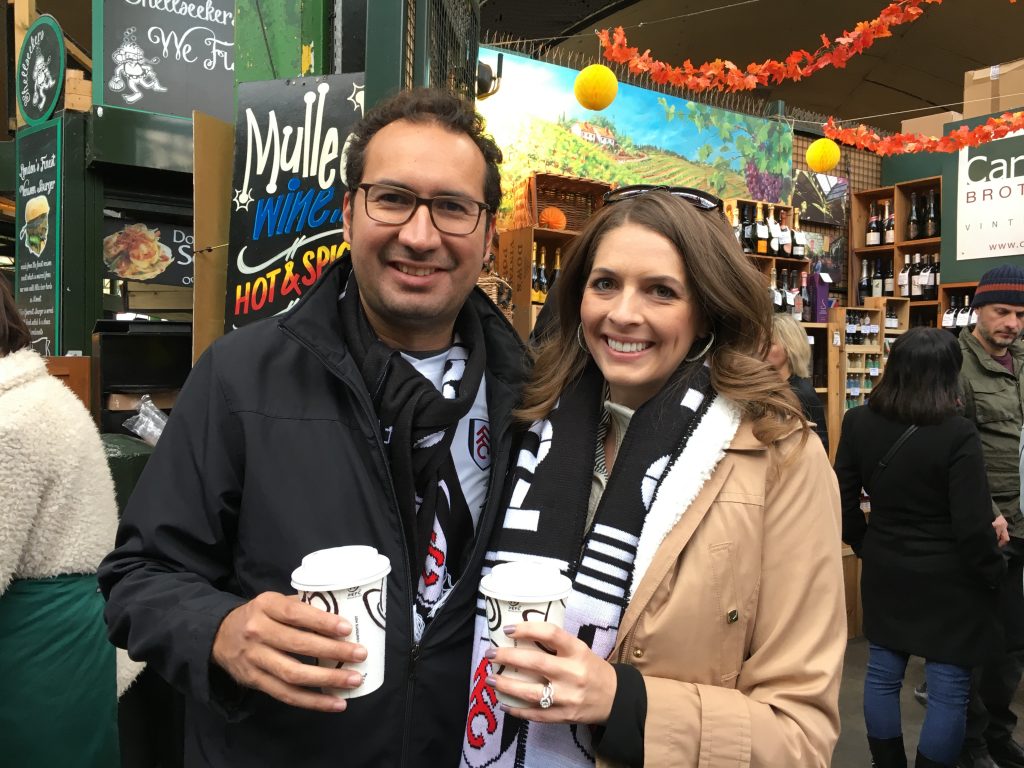 Fish and Chips
Fish and chips is a London staple and though you can get this dish in other places around the world, it's just not the same! We've tried a lot of fish and chips on our visits to London and – by far – our favorite is at the Old Star pub in Westminster. We ate their on our honeymoon and liked it so much that we went back a second time!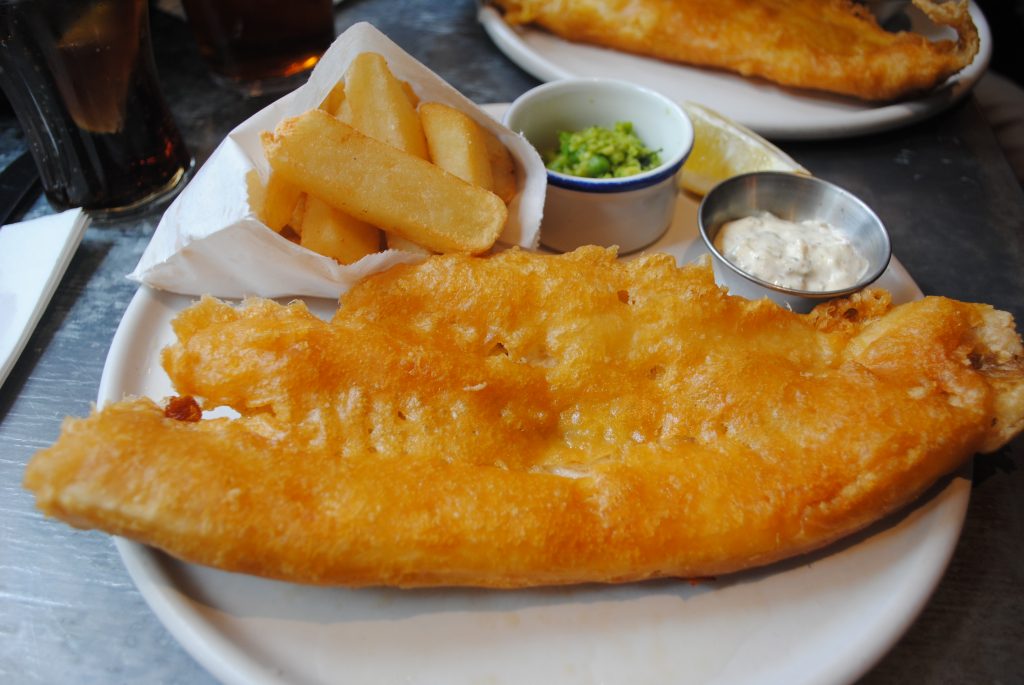 Sip a Pint at a Local Pub
London is home to several thousand pubs (though data from the City of London shows that more than 25% of pubs closed between 2001-2016). Fortunately, the City is working on a campaign to protect the heritage of London's pub culture– and you can contribute by drinking lots of pints while in London. 😉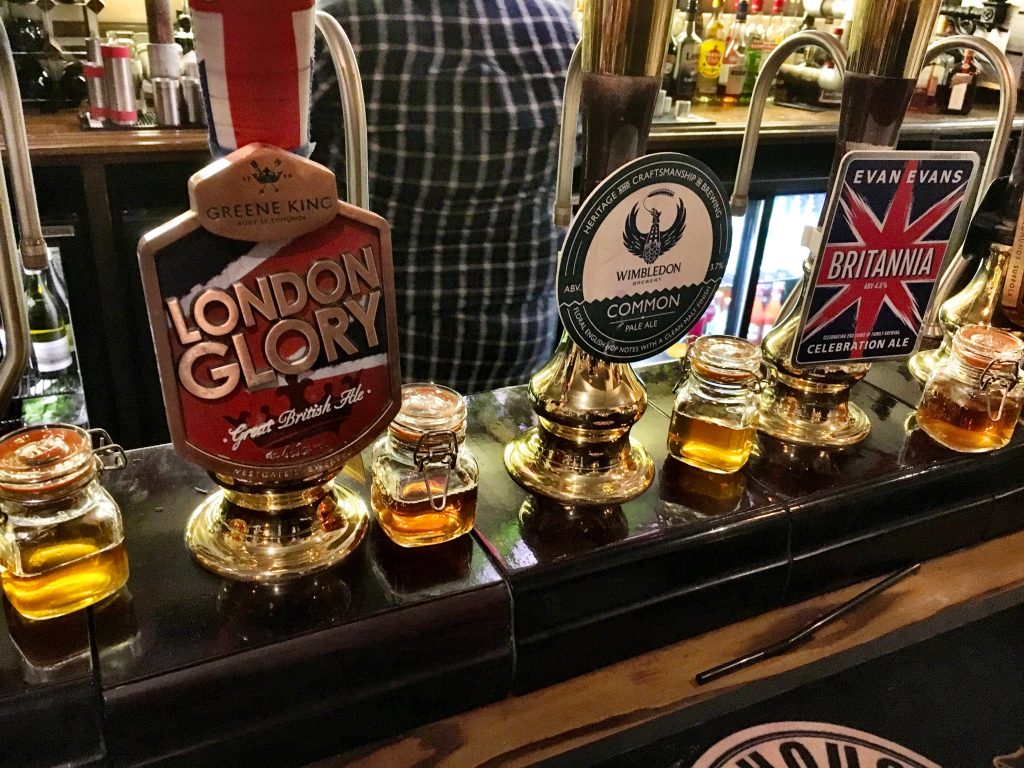 Indian Food
London has a massive Indian food scene and you won't have a problem finding a restaurant to try. We personally love any curry dish and chicken tikka masala is another go-to dish. We've tried a couple Indian restaurants in London and personally enjoyed Indian City in Blackfriars. Many visitors recommend Dishoom as one of the best Indian restaurants in the city, but make a reservation or expect to wait!
Afternoon Tea
This is one of the food experiences we still need to check off our London bucket list! Afternoon tea is a British tradition and there are many restaurants and hotels that offer the experience. If you really want to splurge, visit The Shard for an amazing syline view while you eat and drink. You can also hop on board Brigit's Afternoon Tea Bus tour for a ride around the city while enjoying tea, sandwiches and pastries.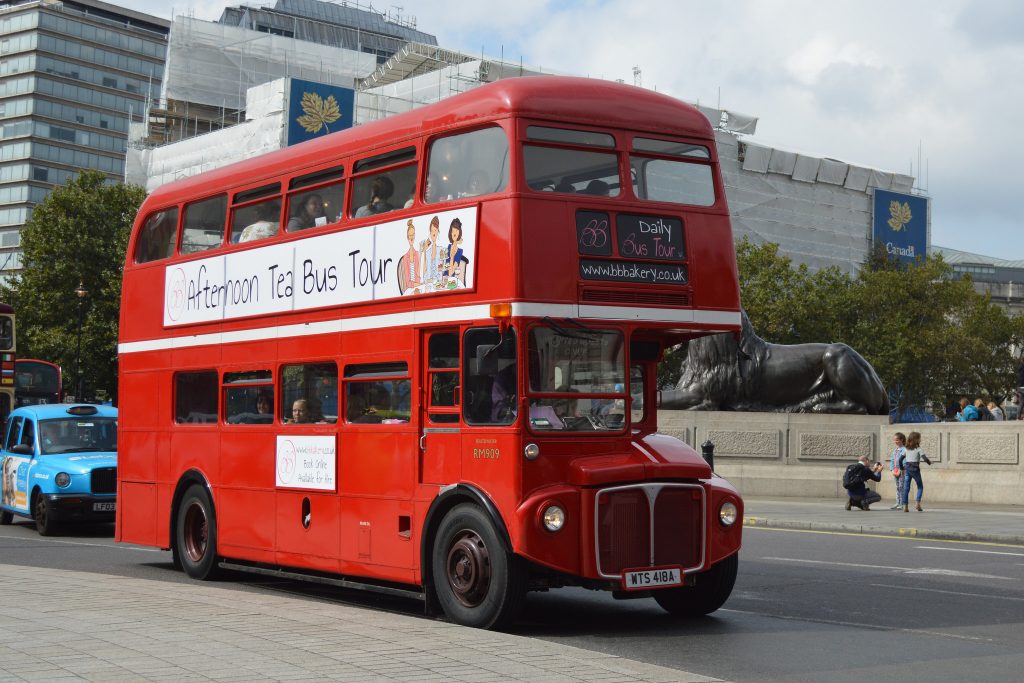 Other British Favorites
You'll definitely also want to make time for some other British favorites while visiting London. Shepherd's pie, bangers and mash, Yorkshire pudding, and sticky toffee pudding to name a few.
Who's hungry???
We are! Just writing about our favorite foods has us hankering for another trip to London. Do you have a favorite food to eat in London or a favorite spot? We'd love to hear about it in the comments!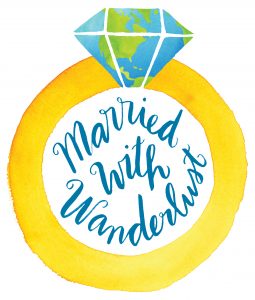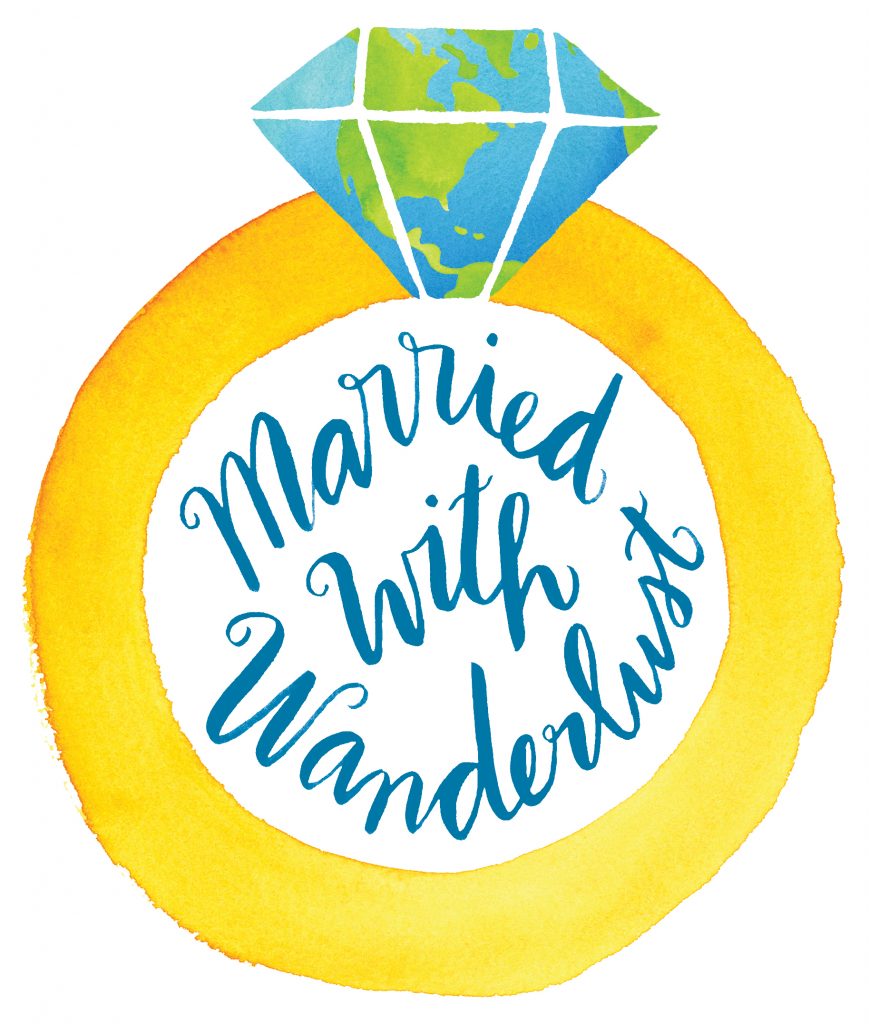 Enjoy our blog post? Pin it to share with others!