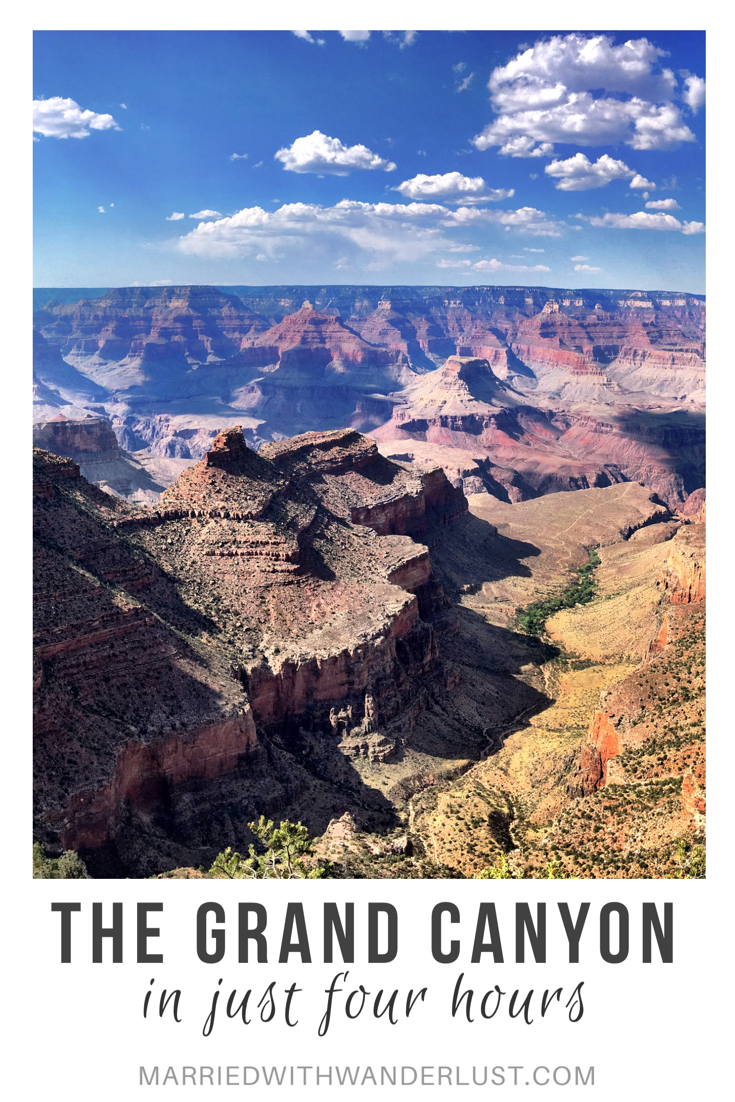 The Grand Canyon is one of the most amazing sights in the U.S. You can spend a week there exploring by foot, Jeep, on mule, or even whitewater raft. But not everyone has a week to explore! In fact, when we saw the Grand Canyon, we were just driving through on our way from Phoenix to Las Vegas and we had only four hours to spare!
Below is what we'd suggest if you have limited time to visit the Grand Canyon.
NOTE: This itinerary does require a good bit of walking.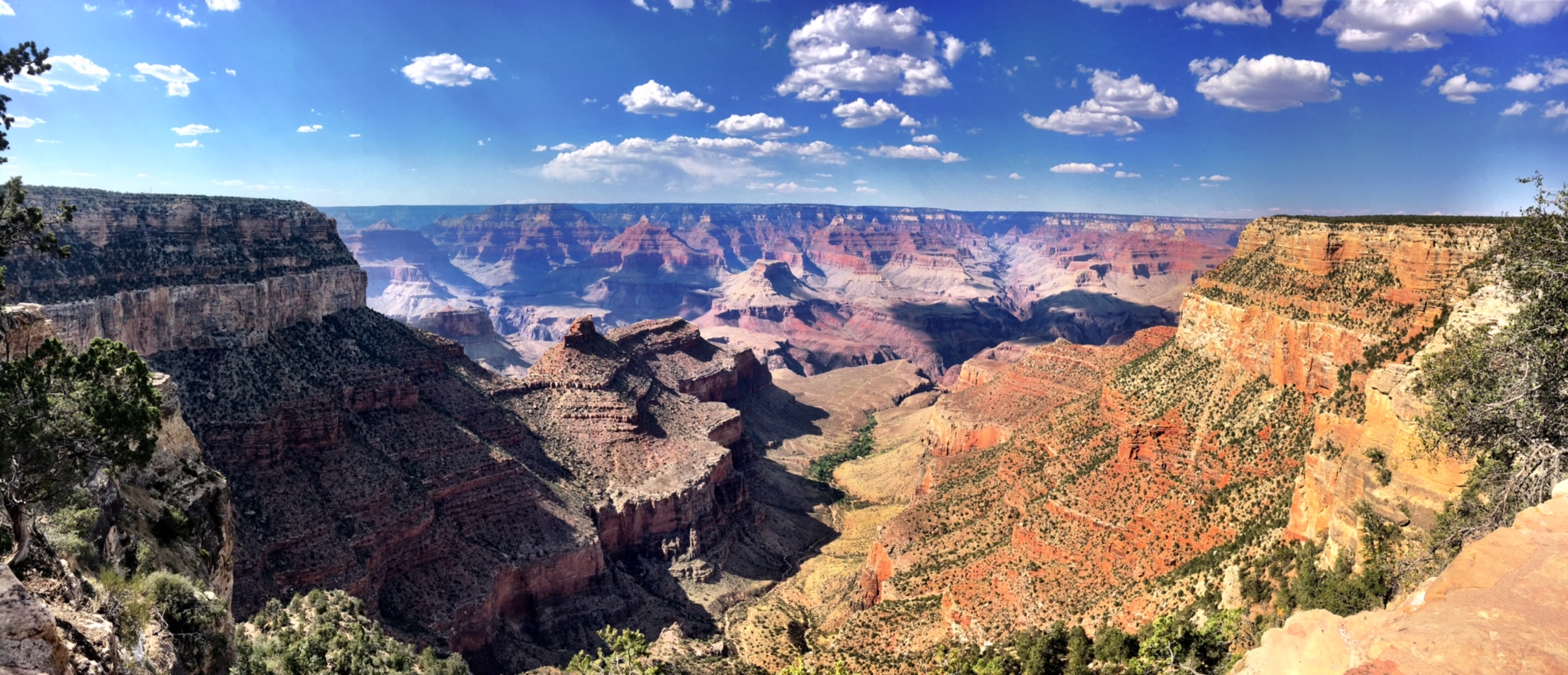 Which Rim should we visit?
In our opinion, first time visitors need to see the South Rim. This is where you will get the view that you've seen photos of your entire life. Of course, you should also expect the largest crowds at the South Rim. This is the most popular area of the Grand Canyon due to not only its view, but also its proximity to large cities and the number of activities available nearby. The Grand Canyon South Rim is also open 24 hours a day, 365 days a year!
That being said, the other rims also have a lot to offer. We'd just suggest checking those out on a return trip, or if you're able to spare more than one day for your visit.
Getting to the Grand Canyon South Rim
Set your GPS for Grand Canyon Village and you'll arrive right at the main entrance to Grand Canyon National Park.
TIP: Have your camera ready a few miles before you reach the park gate. There is a really good chance you'll see elk in a wooded area on the right side of the road. Be careful while pulling off the road and never get too close to these majestic animals!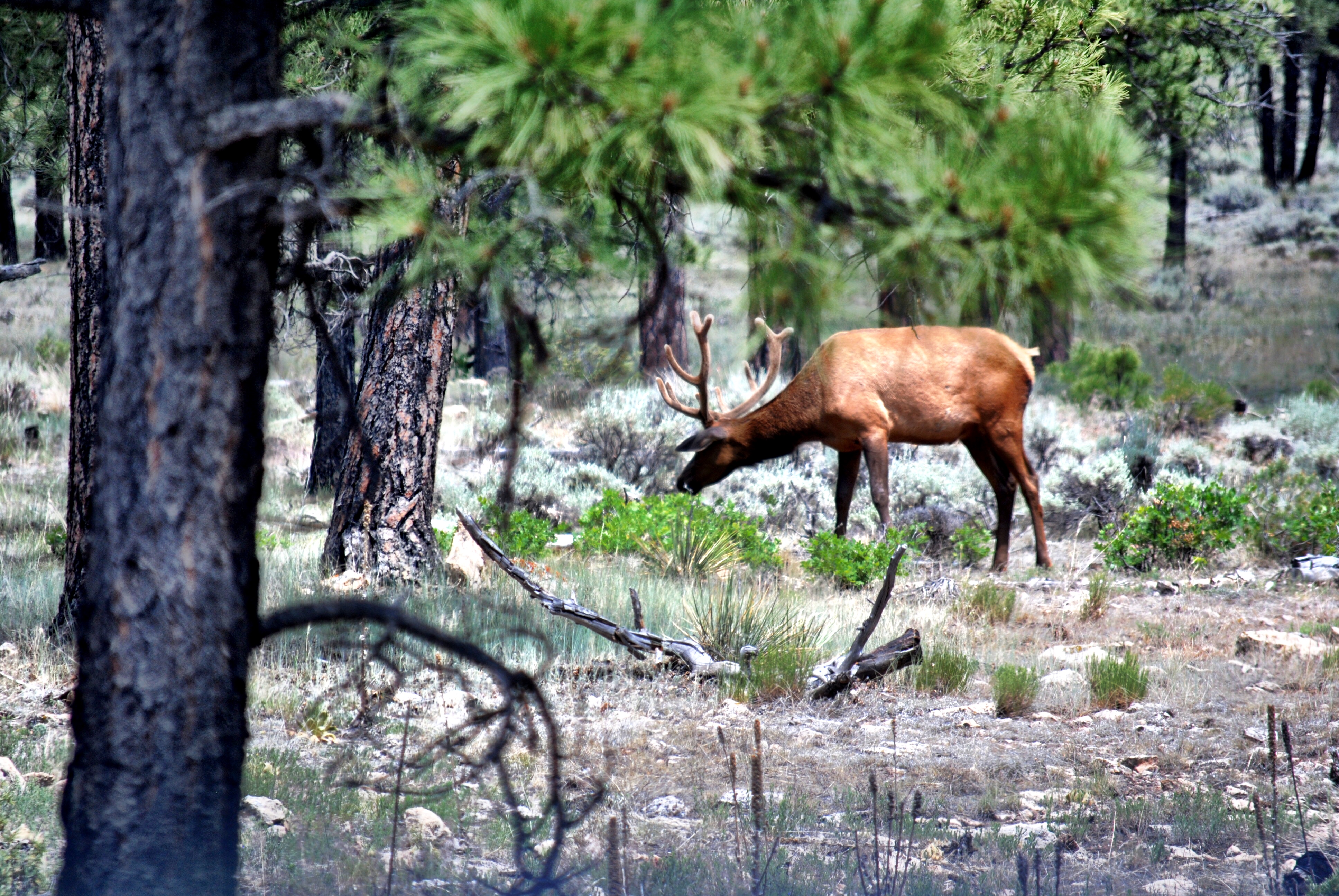 There is a $30 entrance fee to drive into the park ($5 cheaper for motorcycles). The pass is good for 7 days — of course, that won't help you if you're only visiting for a few hours like we were! You can pay with credit, cash or check.
TIP: Visit on one of the following days and you'll get into the park for free: Martin Luther King, Jr. Day, Presidents' Day, weekends of National Park Week, National Park Service Birthday (August 25), National Public Lands Day (September 30), and Veterans Day weekend.
You'll get this park map at the entrance. Head to the Grand Canyon Visitor Center parking lot and grab a spot in Lots 1-3. It will be crowded, but we didn't have trouble finding a spot.
TIP: Make sure you have a refillable water bottle and sunscreen with you! There are a few water bottle filling stations that you will walk by: Grand Canyon Visitor Center, Yavapai Point and Geology Museum, and Verkamp's Visitor Center. There are more, but these are the stations you'll pass on our itinerary.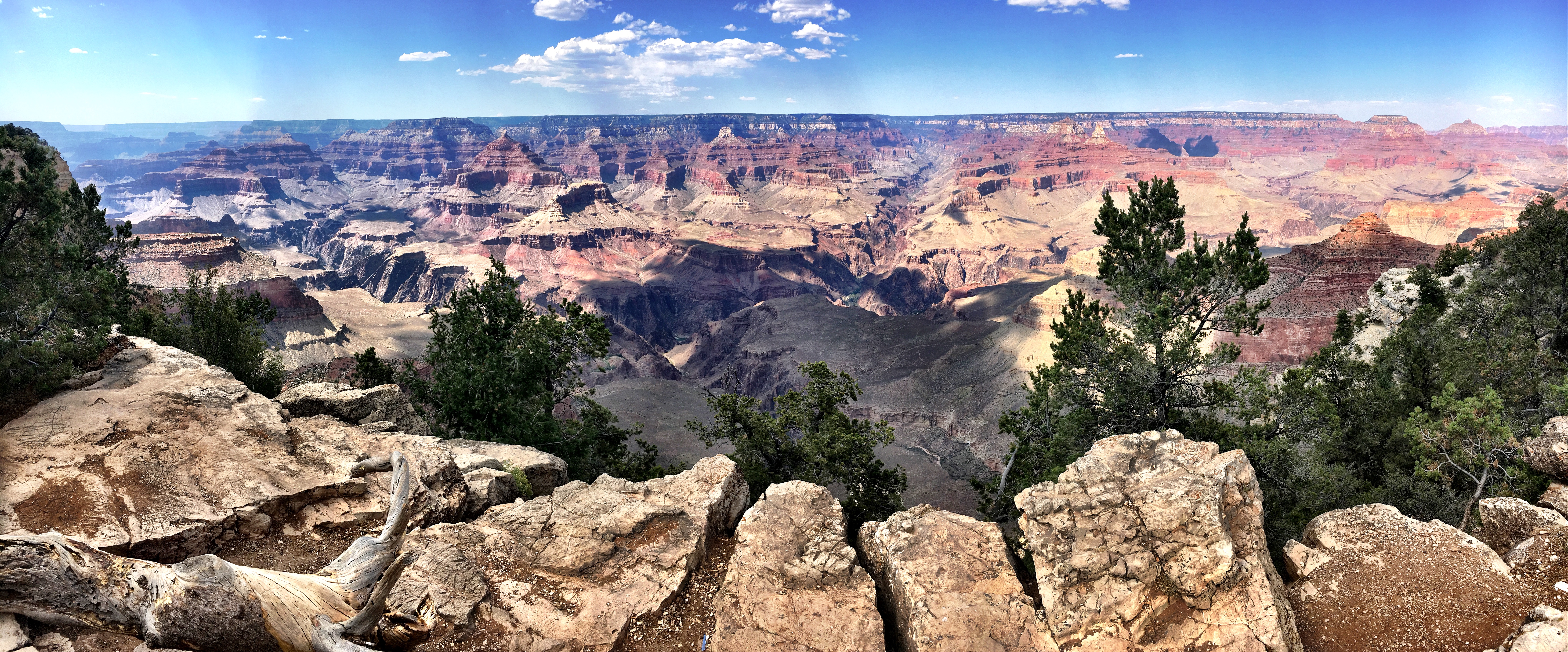 Where to Start?
From the Grand Canyon Visitor Center parking lot, you'll be able to follow the signs (and crowd) to the Grand Canyon. Be prepared to have your breath taken away! The first time you see the Grand Canyon, you'll be surprised by how much bigger and more majestic it is than you imagined!
TIP: It will be very crowded right here! It's the main entrance and for most visitors, they'll be seeing the Grand Canyon for the first time at this overlook. Everyone will be trying to get photos and take selfies, and you'll probably be a little anxious. Don't worry! As you walk farther along the Rim Trail, the crowd will thin out significantly and you'll be able to take plenty of photos without other tourists in the background.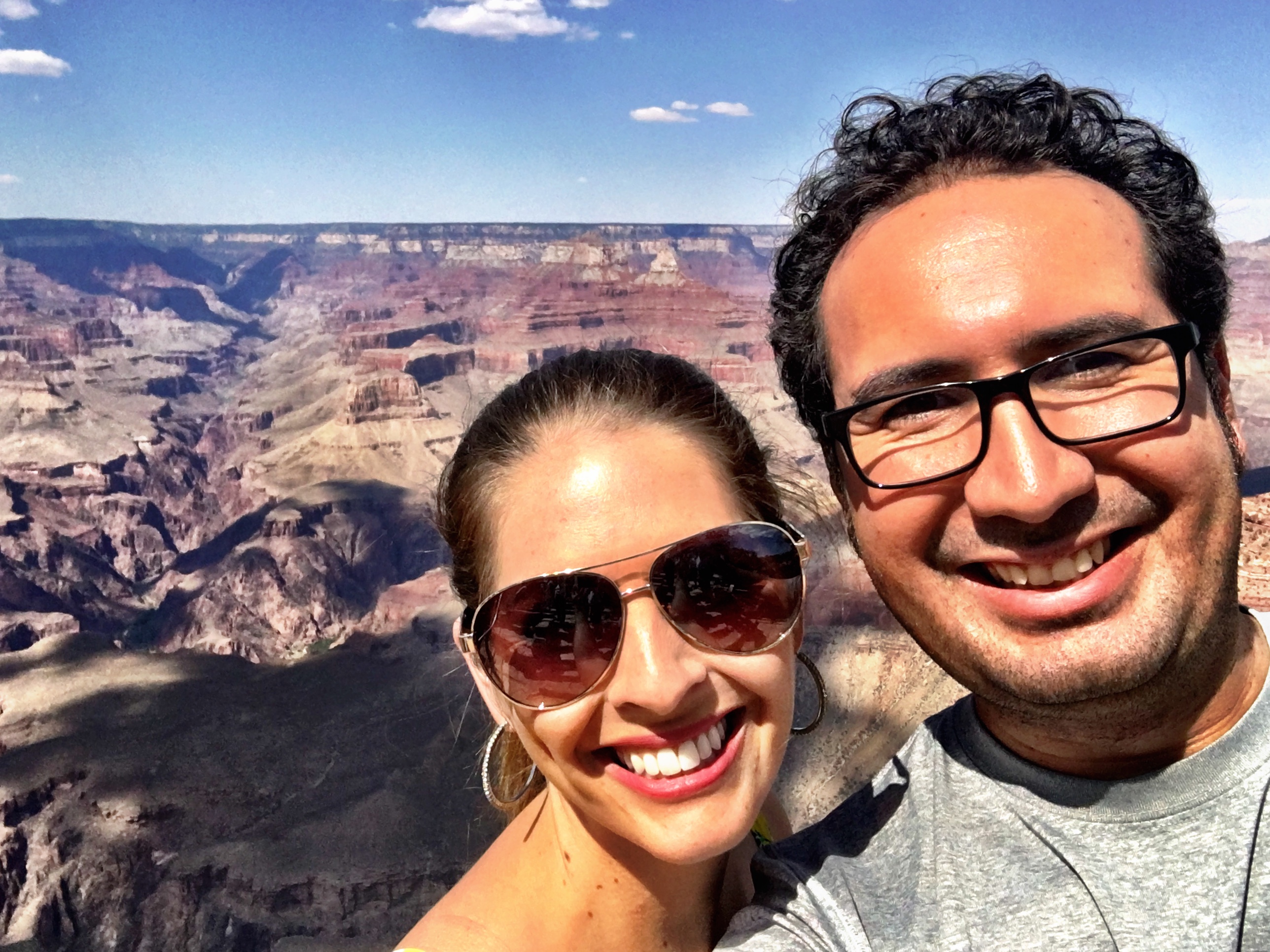 After the First Look
Now that you've had your initial look, you're ready to start making your way along the Rim Trail. Make sure you head toward the Grand Canyon Village. That will be your final stop on the trail and it will be just over a 2 mile walk.
There are a variety of overlooks with a rail and fence that allow you to get a little closer to the edge. Be smart! You will see a lot of crazy tourists going past the rails and standing on the edge to get photos. No photo is worth your life. Plus, it's one of the natural wonders of the world — you're going to get great photos no matter what!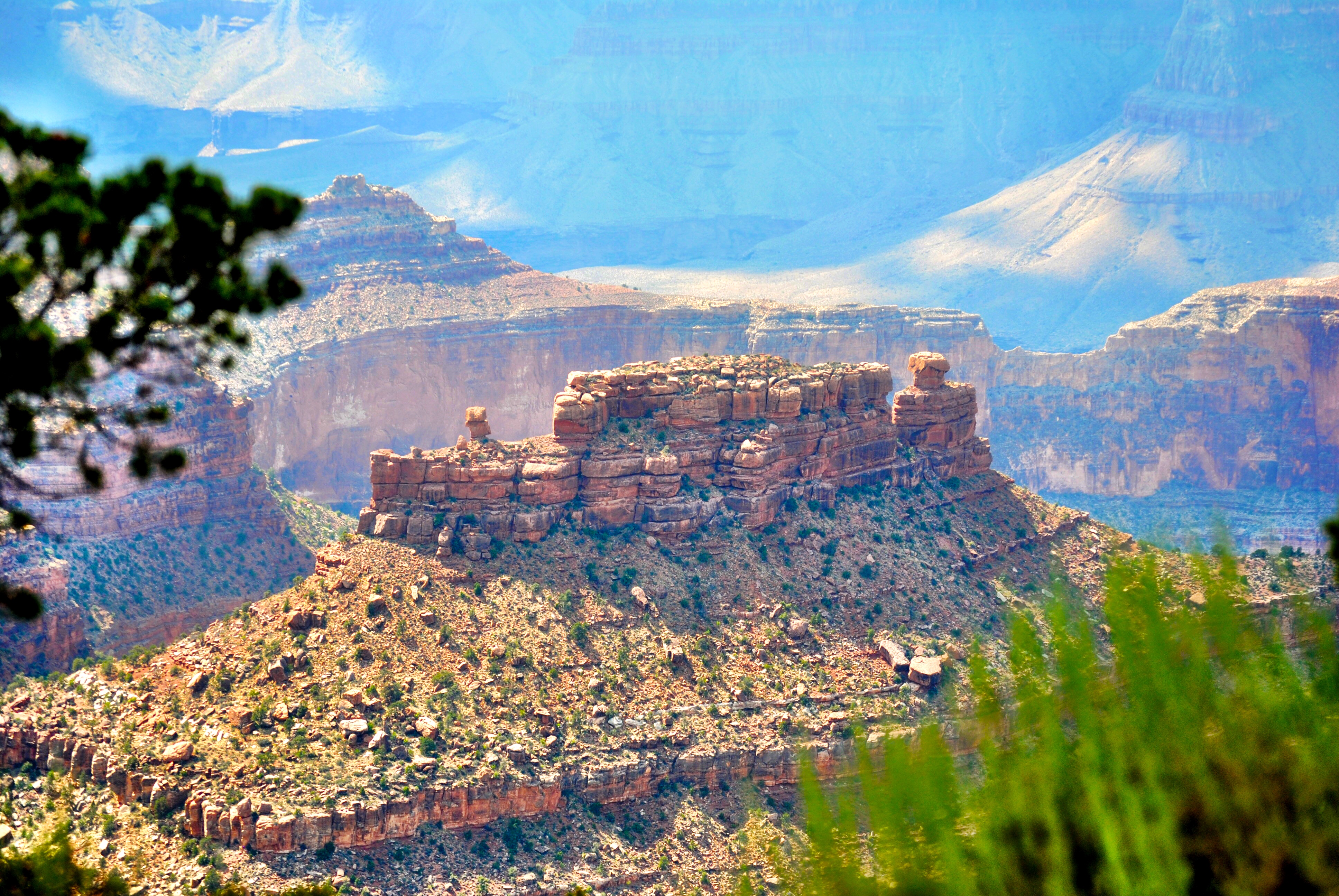 Next Stop: Yavapai Geology Museum
By the time you make it to the Geology Museum, you'll be ready for this brief respite in the air conditioning (or heat if you're here in the Winter)! Inside the Museum you'll see 3-D models and other informational displays on the geology of the Grand Canyon.
The Museum is set on the edge of the Canyon, so you'll get a great view from inside. There is also a small gift shop if you'd like to pick up a souvenir.
Keep Walking
After the geology museum, the crowd will really start to thin out. The next stop will be the Grand Canyon Village and you have a little over another mile to go before you'll be there. At this point, you'll have a lot of open space for photos without other visitors!
Depending on your body, you could get a hint of altitude sickness. I experienced a little bit of a weird sensation along this portion of the walk, but it wasn't anything extreme. WC was fine at this altitutude so it really just depends on your body. Just make sure you're drinking lots of water and take a short rest on a bench, if needed!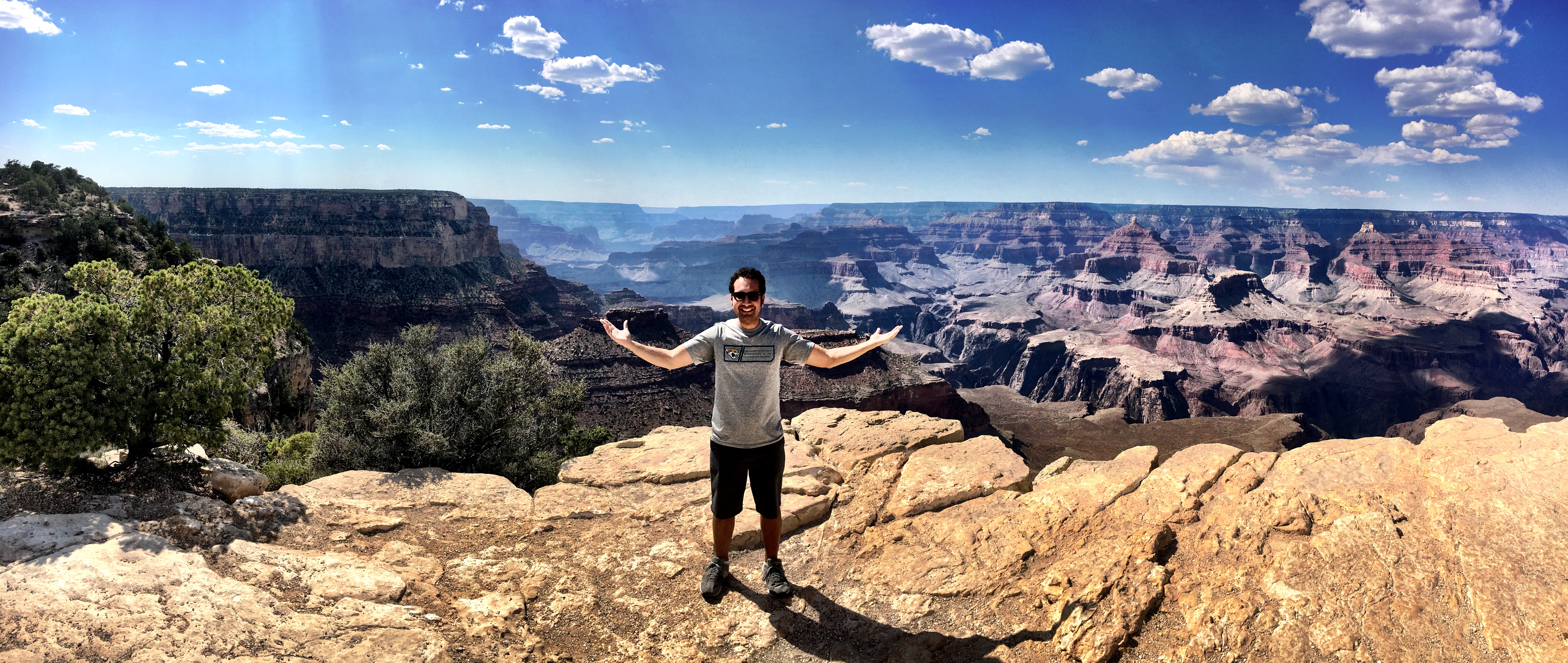 Honestly, the view is so unbelievable that it's worth taking a seat for a bit and just enjoying the view. Time may be limited, but this is what you're here for!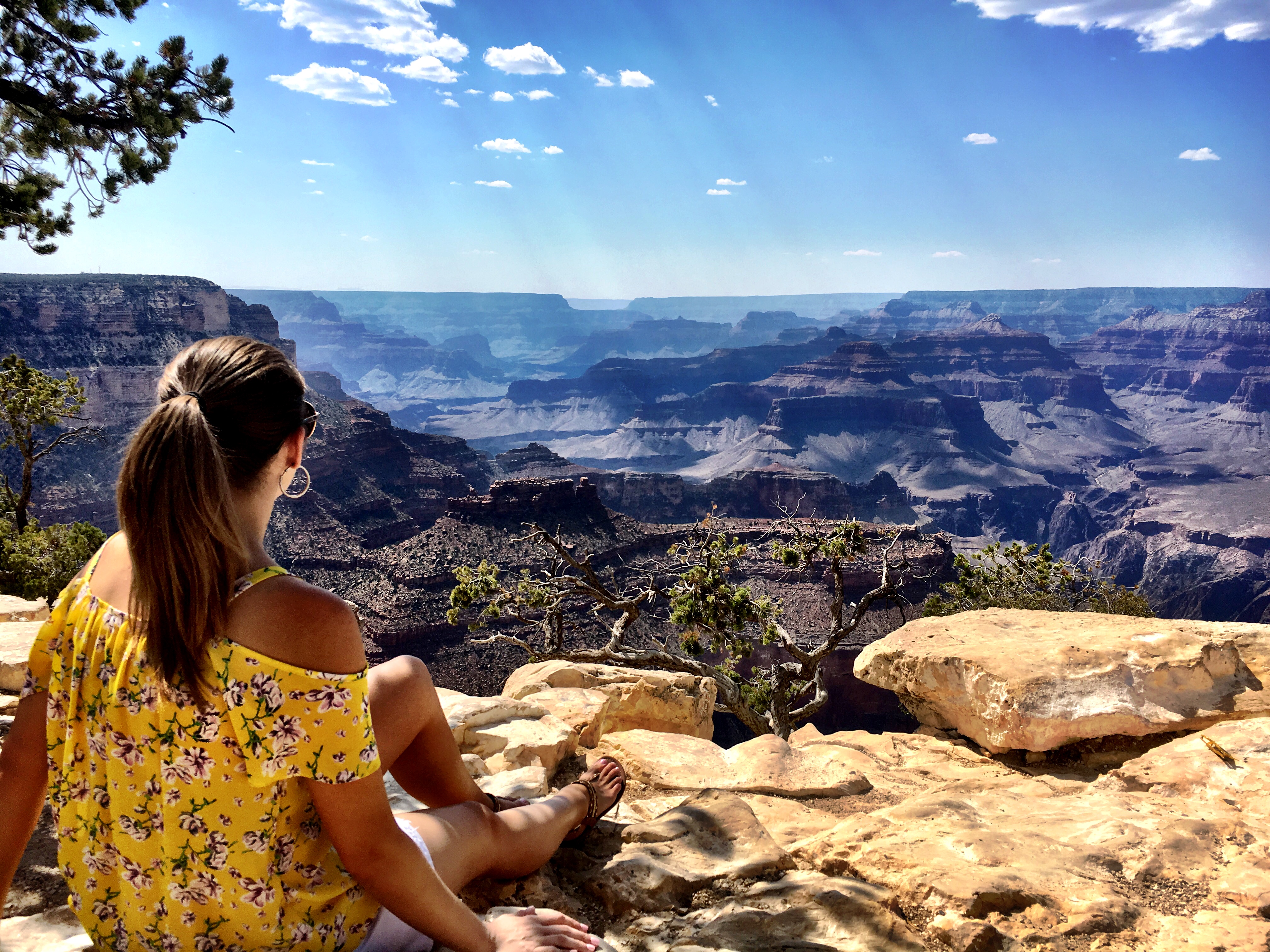 Final Stop: Grand Canyon Village
Once you make it to the Grand Canyon Village, you'll have plenty of options for food, drink, and shopping. We stopped in one of the souvenir shops for a few minutes, and then headed to the Bright Angel Lounge to have a small bite before getting on the road to Las Vegas.
We hope these tips will help you make the most out of your four hours at the Grand Canyon!

Enjoy our blog post? Pin it to share with others!