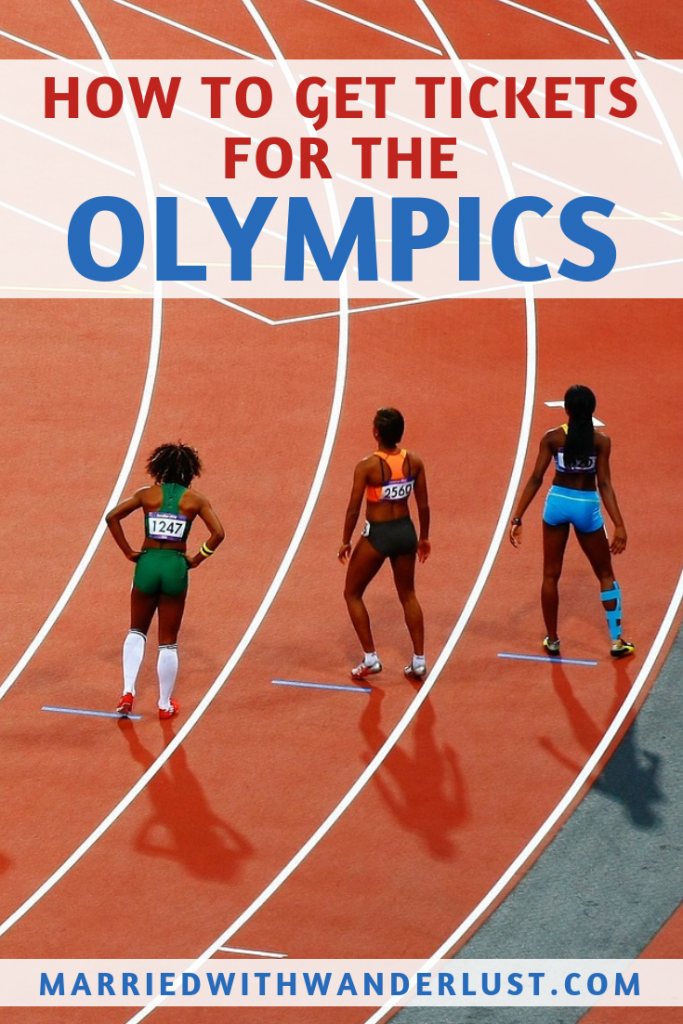 Attending the summer Olympic Games is a bucket list item that's literally at the top of our list. And with the next summer games in Tokyo, we were even more excited! But when we started researching how to get tickets to the Olympics, we realized there wasn't a lot of detailed information out there. And we also didn't realize how difficult it would be.
Let us start by saying, despite our unsuccessful attempt at scoring tickets to Tokyo 2020, this post does include everything you'll need to know about the process. So, here goes: our experience and lessons learned from trying to get tickets to the Olympics for the Tokyo games.
Scoring Olympics Tickets: What You Need to Know
Official Olympic Ticket Information
You'll want to bookmark the official website of the Olympics for the latest news and venue information. The official site usually offers tickets, but they don't usually go on sale until close to the Games so inventory could be limited.
CoSport & Ticketing
CoSport is the official Olympics ticket partner for residents of several countries including the United States. You can see which ticket distributor is assigned to your country, by clicking here.
For residents of the U.S., you should register on the CoSport website to receive updates on tickets and packages. For the 2020 Tokyo Olympics, CoSport posted the Olympic schedule pretty early in 2018, even though the ticket "lottery" or request phase did not begin until May 2019. For future Games, we'd suggest reviewing the schedule well in advance so you know exactly which tickets you want to request when the "lottery" begins.
The Ticket Request Phase
To show the entire ticketing process, we've included a handful of screengrabs from the CoSport website in this article. Hopefully these help you visualize the process for future Games!
The ticket request phase is simply an online request form. For Tokyo, it ran from May 9, 2019 to May 31, 2019. (Keep in mind, this is more than a year prior to the event!) Basically, you select the sport, event date, and number of tickets that you'd like to secure.
Here's the tricky part: There are no prices listed. You have to select from a set of ticket categories which range from A to E depending on the sport (example below). According to the CoSport website, "Category "A" is located closest to the field of play, then category "B", then category "C", and so on."

We found it very difficult to know which category to choose without knowing how much they might end up costing.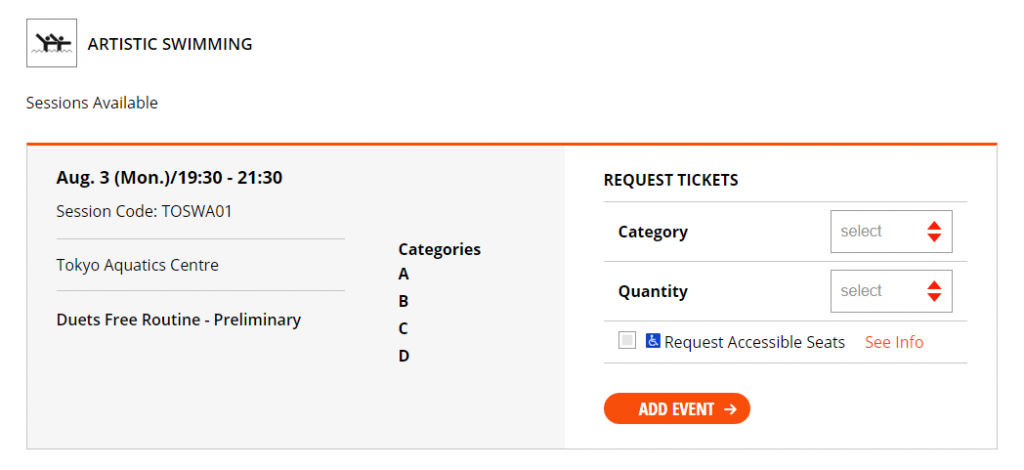 Once you've selected the tickets you'd like to be in the running for, you will submit your request. We were a little concerned because we didn't receive any confirmation emails, but we are able to log back in and see our request and the date and time we submitted it. Below is a screengrab of the top part of the submission page.
Another challenge: "At the end of the request phase, no changes to ticket requests will be permitted." This means if you select tickets that you later can't afford, you're out of luck. Yikes!

We called CoSport to get clarification on exactly what you can change after the request phase: We were told you can't change the number of tickets or the category, but you can turn down specific events you were approved for. For instance: say you applied for a swimming event, a gymnastics event, and a volleyball event and were selected for all of them. If the prices end up being too high for one of those, you can turn down that specific event and still purchase the others.
The Pre-Ticket Purchase Phase
CoSport notified potential buyers in mid June that ticket pricing would become available on June 20, 2019. At that time, you could log into your account and see the events you requested and the pricing for the category you chose. An example of our opening ceremonies ticket request is below.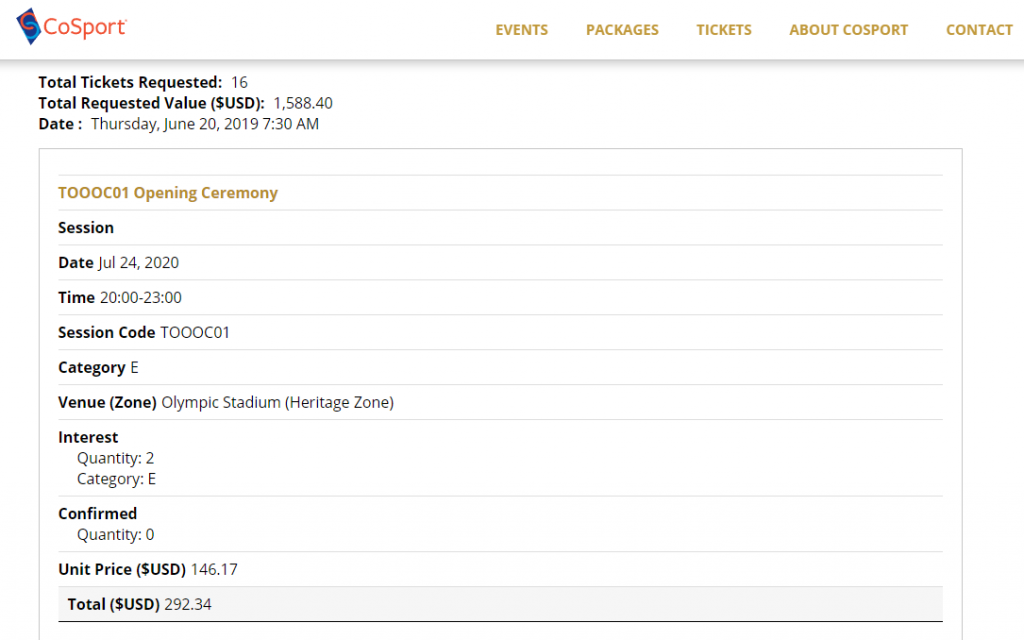 Potential buyers had two days (until June 22, 2019) to remove any tickets they were not interested in and re-submit their request. No tickets had yet been awarded, but you did have to resubmit your request to confirm you were still interested.

Lottery Results & the Ticket Purchase Phase
The Olympic ticket lottery result became available on the CoSport website on June 25. We anxiously logged in with credit card ready to go… only to find the disappointing message below. (WC and I both submitted ticket requests and neither of us was awarded a single ticket!)

The lucky fans who were awarded tickets had until June 27th to purchase. Tickets not purchased by that date were removed from accounts.
What if you didn't win the ticket "lottery"?
Live sales began on the Cosport website on July 9 for fans who did not get tickets during the request phase. The tickets were sold on a first-come first-serve basis and went REALLY FAST.
We didn't realize that you were put in a queue based on when you logged in to the website (tickets officially went on sale at 2:00pm.) As such, I logged in about 40 minutes prior to the sale and was put in the queue. There were more than 4,000 people ahead of us!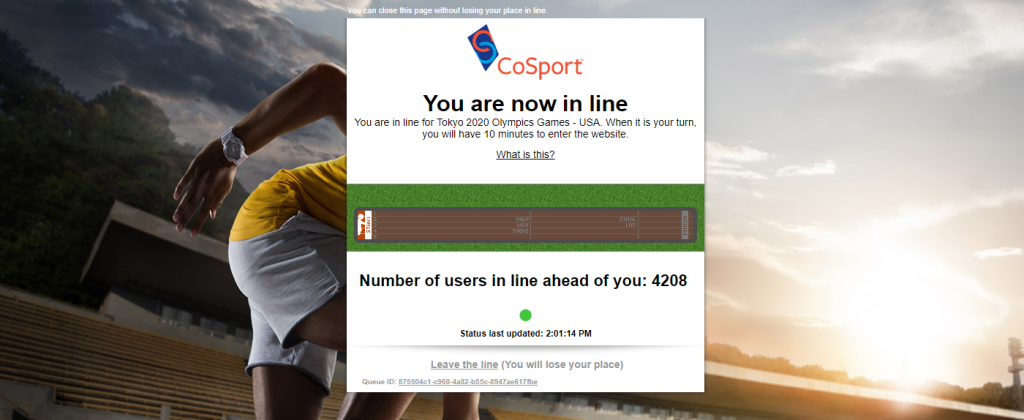 Needless to say, tickets through CoSport sold out before our turn.

A final option: If you don't purchase through the Cosport website during the live sale, you can also keep an eye on the official Olympics website for when live sales begin there. That usually happens much closer to the Games. (We aren't going to count on this as we wouldn't have plane tickets or hotels reserved.)
Lessons Learned
Our biggest lesson learned in this process is not getting your hopes up for a popular event like this. Especially when the Games are in a popular city, demand will be high and it will be the luck of the draw, literally. Be prepared before the ticket sales began and don't set your expectations too high!
Did you score tickets to the Olympics? Did you do anything differently? We'd love to hear about it!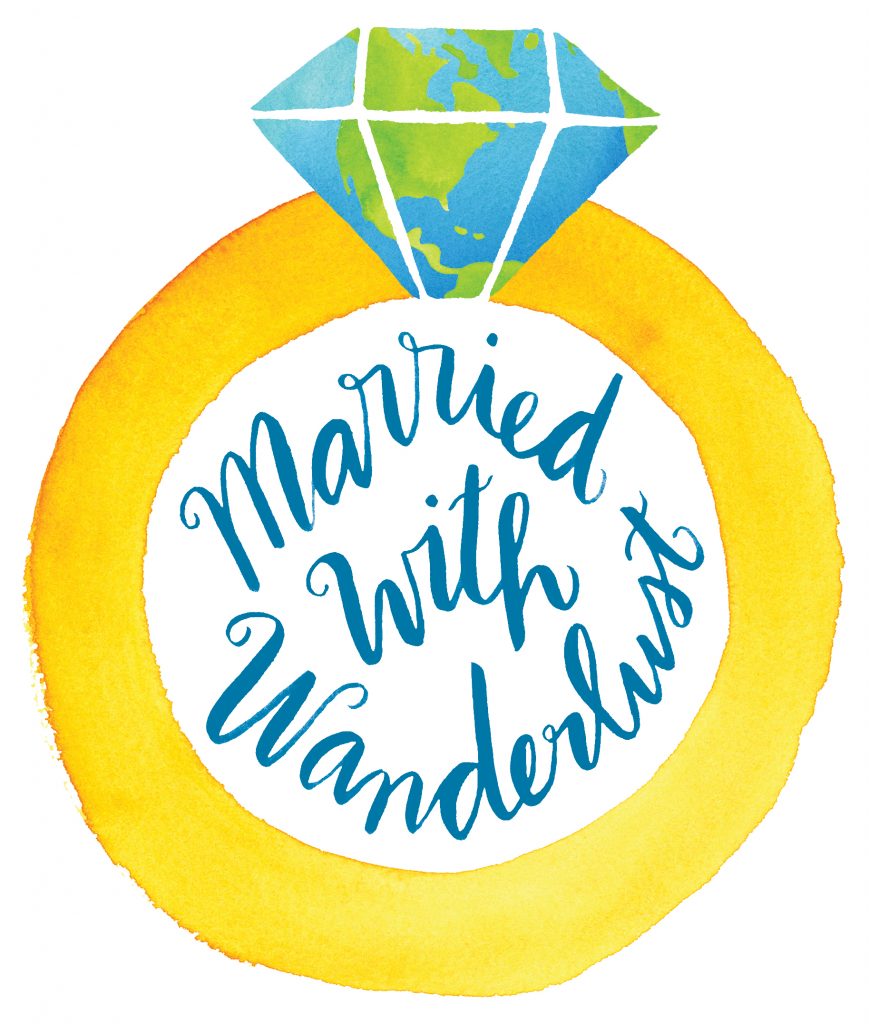 Enjoy our blog post? Pin it to share with others!