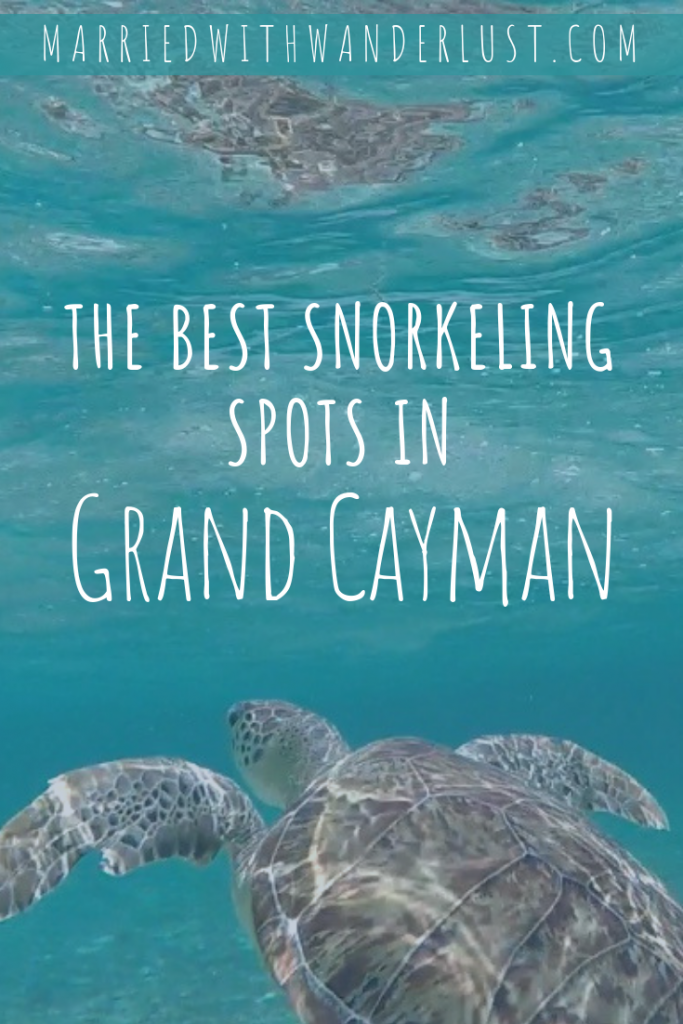 NOTE: This blog contains some affiliate links. Should you use our links, we may receive a small compensation at no extra cost to you. We greatly appreciate your support of Married with Wanderlust! As always, all opinions are our own.
Our Favorite Spots for Snorkeling in Grand Cayman:
Heading to Grand Cayman? From sea turtles, to stingrays, giant tarpon, vibrant fish, and colorful coral, you'll have plenty to see to keep you busy. Bring your snorkeling gear with you… you won't regret it! (TIP: We bought two Seavenger snorkeling sets from Amazon specifically for this trip and they worked perfectly.)
Below are our favorite spots for snorkeling in Grand Cayman:
Wreck of the Cali & Swimming with Tarpon
This was our favorite snorkeling spot on the island and you get to have two interesting experiences in one place! The main event is the Wreck of the Cali, a schooner that sunk off the coast in 1944. It is located offshore in between Diver's Down dive center and Rackam's restaurant.
TIP: The water near the shipwreck isn't too rough but it is about a 40 yard swim from shore. Unless you're a good swimmer, you may want to use a noodle. Also, there is a little bit of boat traffic so keep your eyes peeled.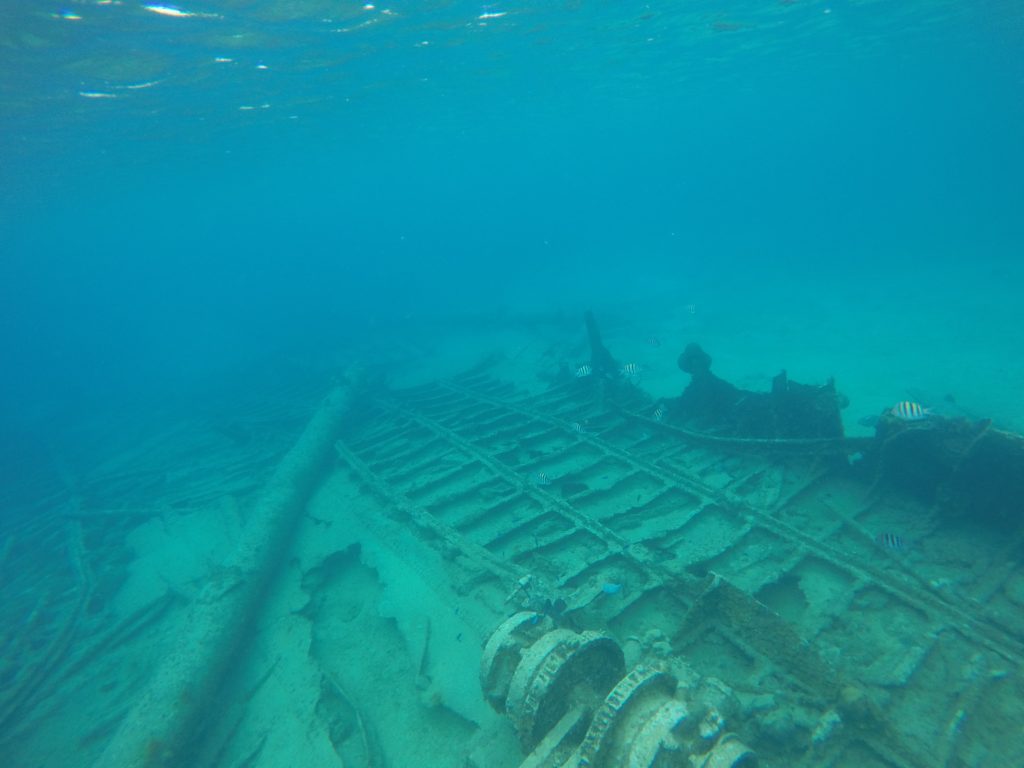 We recommend grabbing a bite at Rackam's and then using the ladder on the left side of the restaurant. You can leave your bags and other items at the restaurant for free while you're snorkeling.
On your way into the water, you'll get another awesome experience: swimming with giant tarpon! The fish hang out near the restaurant because there is a daily feeding each evening (seeing the feeding is also one of our Grand Cayman Bucket List items).
Spotts Beach
This is the best spot for snorkeling on Grand Cayman with sea turtles! The turtles like to swim and feed in the sea grass just off the shore of the beach. We snorkeled this spot twice and found turtles both times. Check out the video below — the turtle has two remora fish clinging to its belly! Isn't that so cool to see?
TIP: Keep in mind the water at Spott's Beach can be a little rough (at least for my swimming level). I was much more comfortable snorkeling here with a noodle.
Cemetery Beach
To be honest, we had a mixed experience at Cemetery Beach. Our first visit was spectacular! We were telling the guests at our Bed & Breakfast it was the best snorkeling we'd experienced on the island. There was a long cluster of large rocks filled with fish, many that just followed alongside us as we swam. It was so colorful!
BUT, we forgot our GoPro so we decided to return two days later. This time our experience was completely different. No joke we swam around for at least 45 minutes in search of the same rocks and couldn't find them! We were totally stumped and felt like we were the same distance from shore.
TIP: We think our difficulty had to do with the tides and would recommend visiting at low tide so you don't have to swim as far to reach the action. (This, of course, is not an expert opinion, just our experience.)
On our return trip, we did find these interesting formations that look like old mines that were sunk. We're honestly not sure what they are. Do you know? Please share in the comments!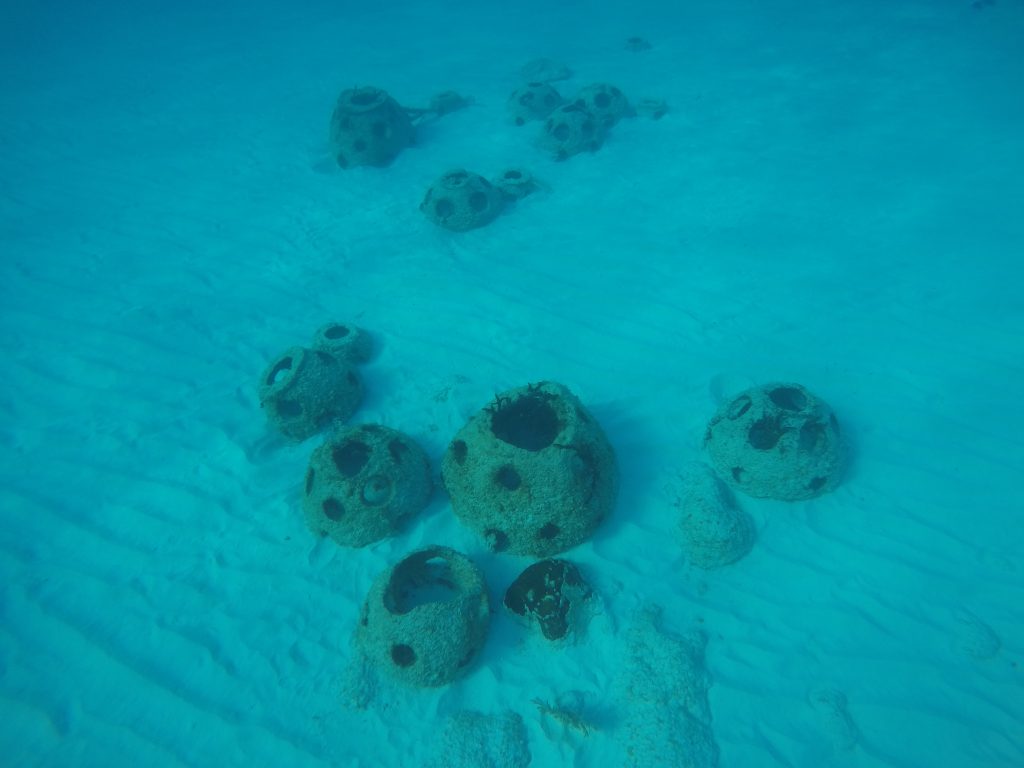 Smith's Cove
Located a short drive south of the cruise port, Smith's Barcadere or Smith's Cove is a popular snorkeling spot with a combination of locals and tourists. There are public restrooms with showers, picnic tables, and grills at this spot making it very family friendly.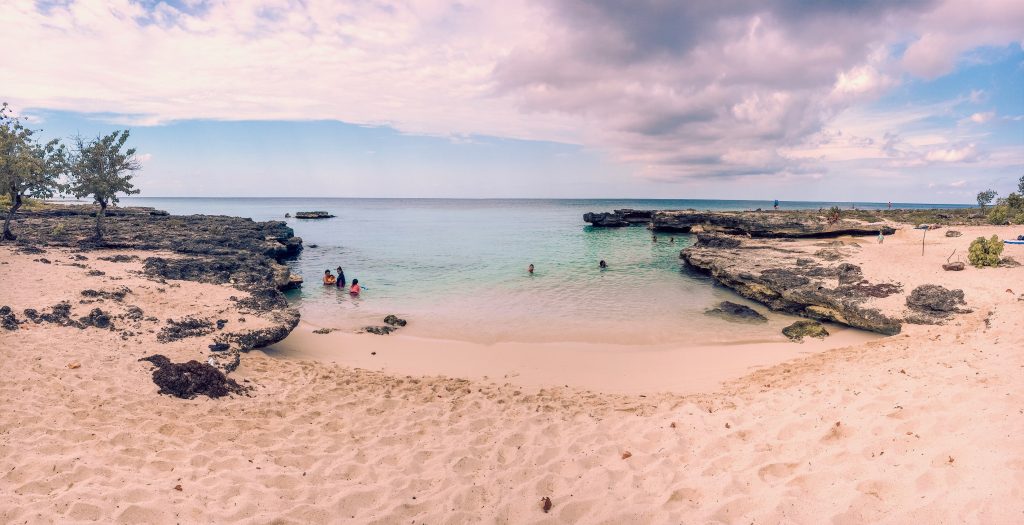 Travelers we met at our Bed & Breakfast spotted an octopus while snorkeling here! We didn't get that lucky but did see huge schools of colorful fish.
A great part about snorkeling here is you don't have to go far from shore for the reef. Be careful though, some of the rocks come up pretty high and you could run into it if the waves are strong.
BONUS: Another bonus of this beach? Free WiFi!
Eden Rock
Eden Rock is a spectacular diving and snorkeling spot, but I would definitely recommend you be at least an intermediate to strong swimmer. You have to swim out pretty far to reach the reef and the current can be strong. To be honest, it was too much for me and I got a little worried about getting back to shore while I was out at the rock! If you have any hesitation, bring a noodle with you.
As far as the effort goes, it really is worth it! The reef is huge and to see how deep it drops off is pretty amazing.
TIP: Visit the Eden Rock Diving Center and ask about using their ladder. The staff was very friendly and allowed us to store our bag and towels on one of their picnic tables.
Starfish Point
This is not necessarily a "snorkeling" spot but I'm including it because we did use our snorkel masks to get a better look at the starfish. As you walk along the shore, you'll begin spotting them in the shallow water. I really enjoyed relaxing in the water near the starfish.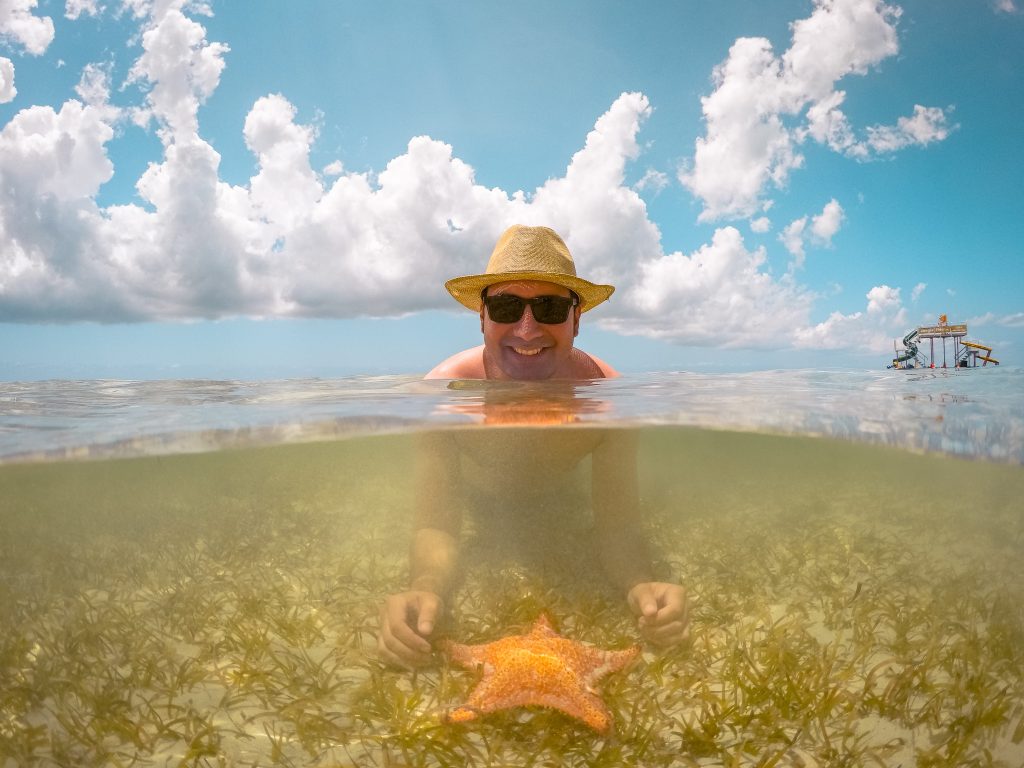 One note about this spot: unlike some of the photos you may see online, the starfish are not in groups. We actually witnessed a tour guide collecting the starfish and moving them all near his boat for his guests. He even took the ones we were looking at! My guess is this is how people get photos of them in groups.
Please respect the starfish and the environment! Whatever you do, don't take them out of the water.
Turtle Reef at Macabuca Bar
If you've read our 4 Day Grand Cayman Itinerary, you know how much we loved Macabuca Bar! So it will probably be a surprise that this is one of the few spots in Grand Cayman we didn't get to snorkel at. (Were we just too busy sipping cocktails every time we were here? We may never tell!)
Despite missing out, we decided to include this spot anyway, because we saw a lot of divers and snorkelers here. There's a ladder on the side of the restaurant which provides easy access. There's also a dive shop here should you want to try diving. We even saw divers going out here at night for a totally different experience!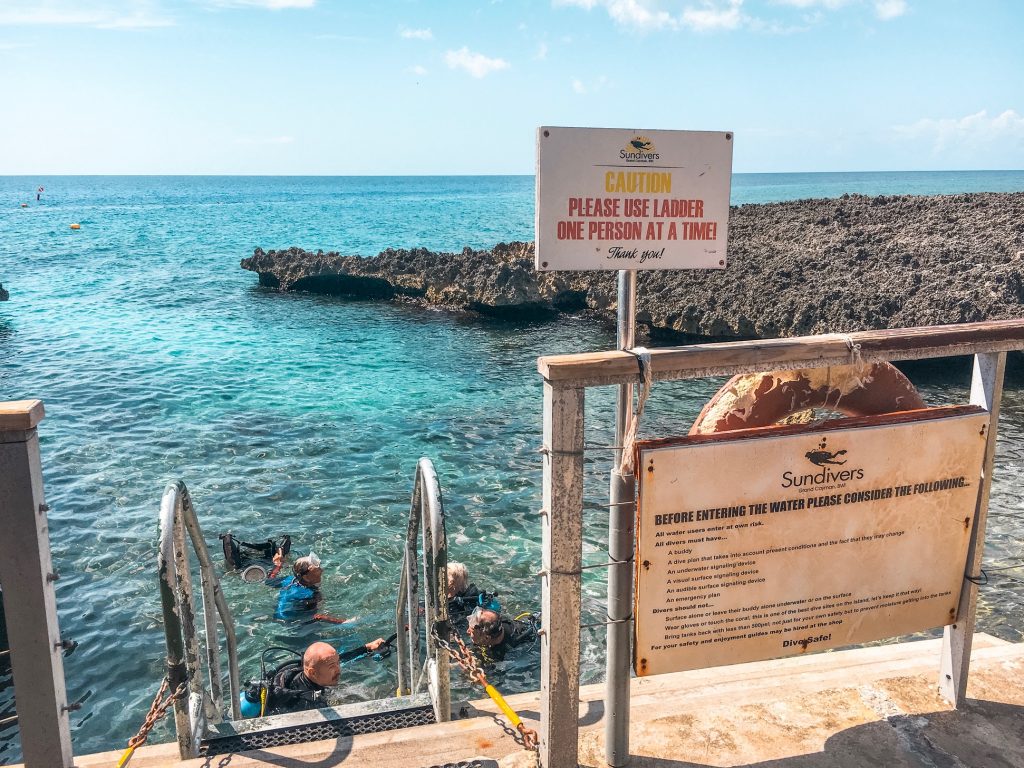 Wreck of the Gamma
We had read good reviews of this wreck, which is visible from land, but getting to it actually proved a little difficult. There are public beach accesses that can get you to the spot. However, it's really rocky where you would need to enter the water to swim out to the ship. There's not a sandy area nearby or a ladder (that we could find).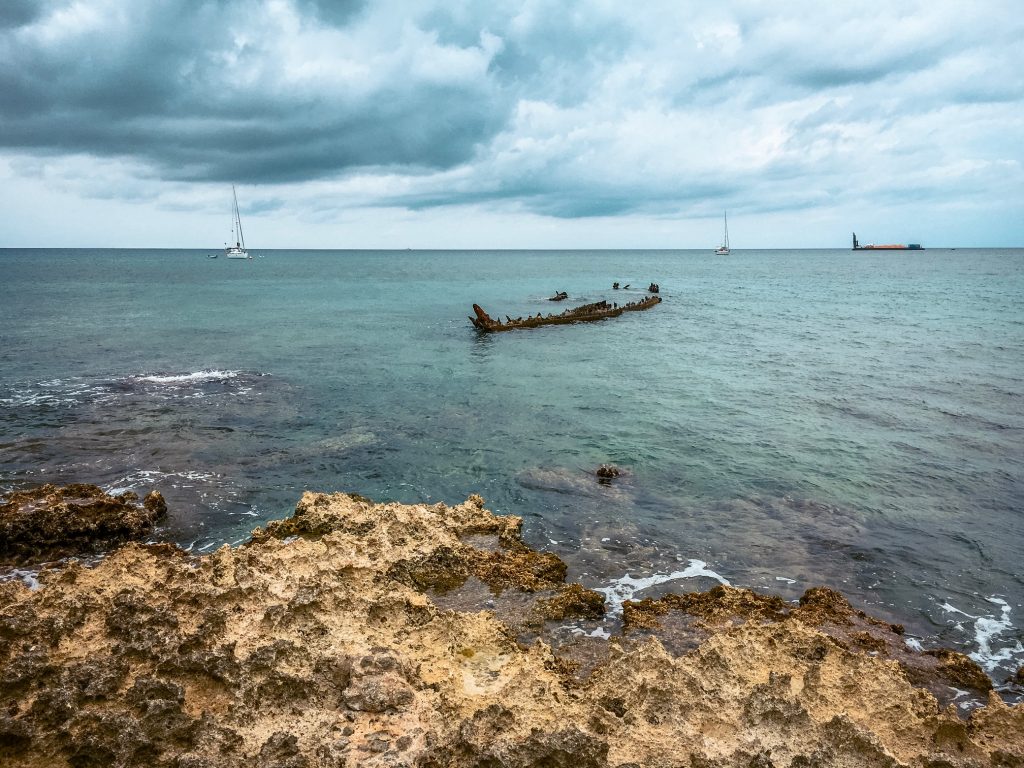 Cheeseburger Reef
This is one final spot we wanted to include because we read some decent reviews, but we didn't get a chance to give it a try. (Some people staying in our hotel told us the ladder is really falling apart, so be careful if you try it!)
The reef gets its name from its location: located off the coast by the Burger King that's near the cruise port.
Need more Grand Cayman inspiration?
Check out these other articles that may help you plan your trip to Grand Cayman!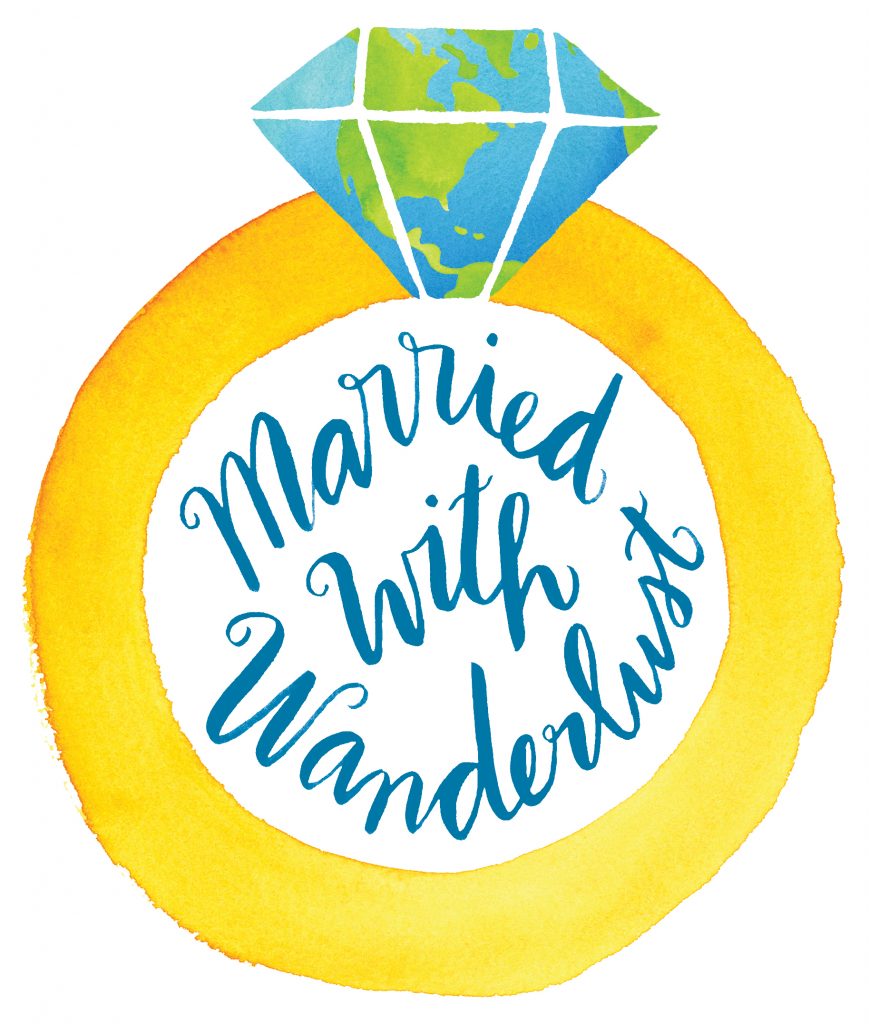 Enjoy our blog post? Pin it to share with others!