If you're visiting Caye Caulker, Belize, the one thing you absolutely must do is snorkeling! We booked a full day 7 Epic Stops "Bucket List" tour with Salt Life Eco Tours and had the best experience! The tour departs from the Salt Life Eco Tours dock on the east side of Caye Caulker. Our boat had five guests on board plus two crew members, Rene and Gersan.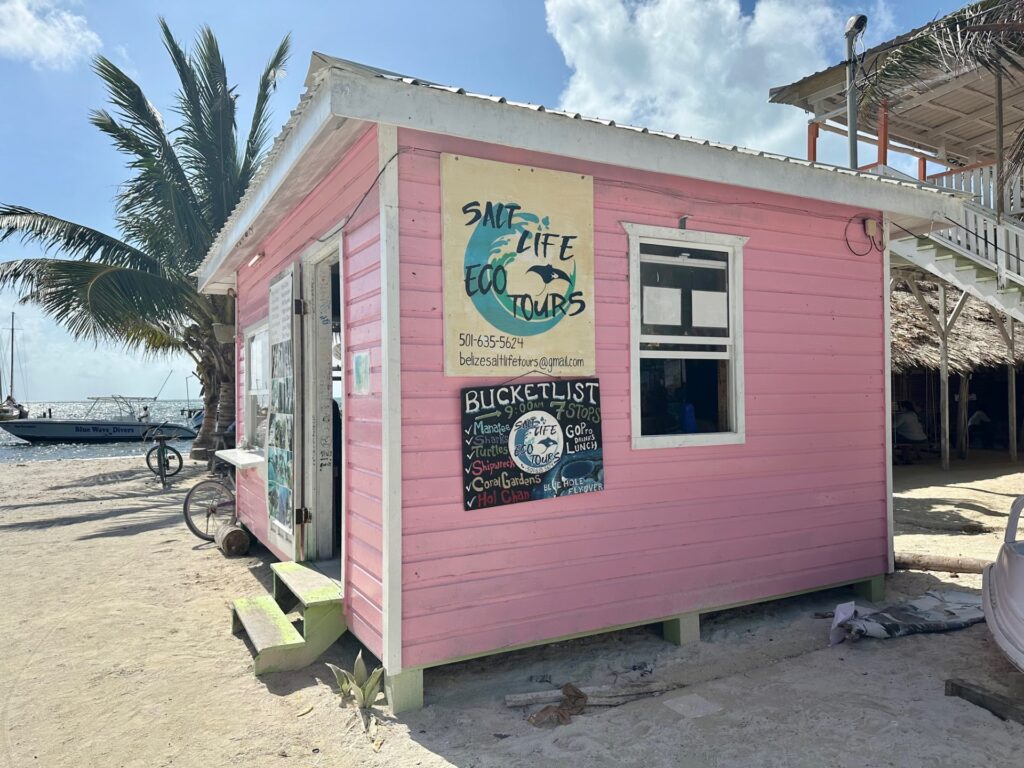 A Few Notes About Salt Life Eco Tours:
There are several tour options available. The full-day (approx. 9:00am-3:30pm) 7 Epic Stops "Bucket list" tour is $90 USD per person. There is also a 3-hour tour with fewer stops for $45 USD with morning and afternoon options.
The full-day tour includes lunch, your guides, the fees for the reserve, water, rum punch, an afternoon snack of fruit, and GoPro photos/videos from tour. Most of the photos and videos in this post are from our tour day, except where mentioned.
Traveling to Belize by cruise ship? There is also a cruise package that includes pick-up from Belize City at 9:00 am with return between 3:30-4:00 pm!
Additionally, there is a mainland tour which includes cave tubing, zip lining and more.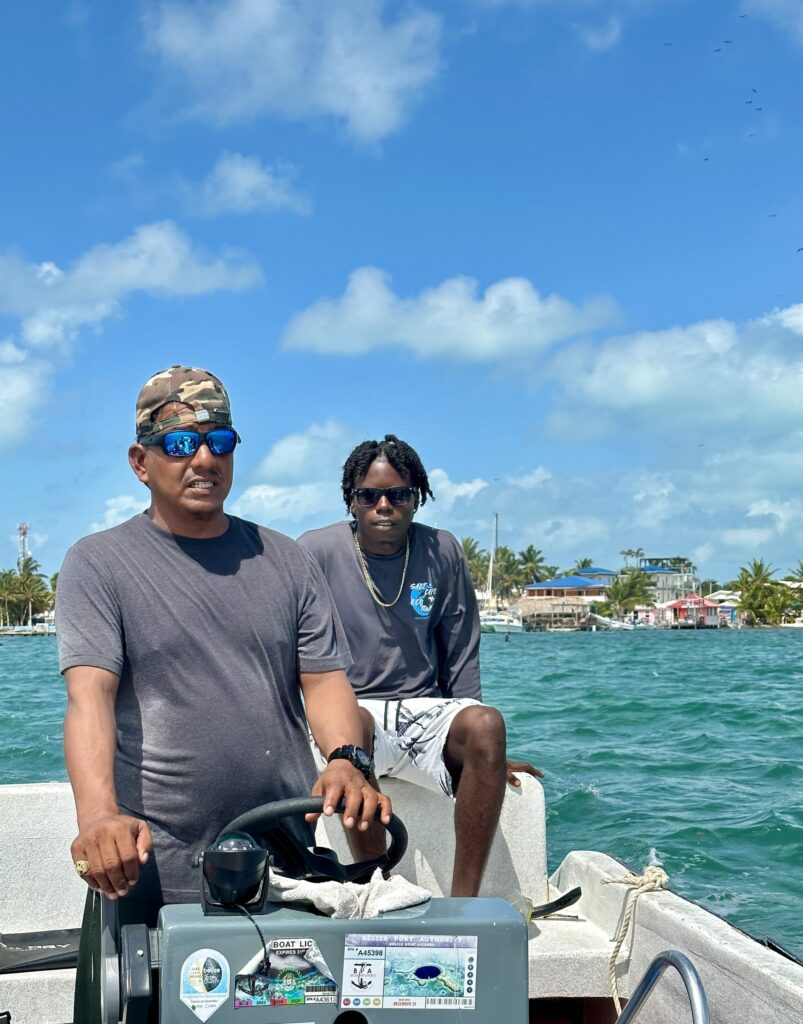 What You'll See Snorkeling with Salt Life Eco Tours:
Every day and every tour is likely to be different but if I could describe our day, it would be, "sharks, sharks, and more sharks!" Here's a recap:
To start the day, Rene took us out to two spots in search of first manatees and then turtles. Rene and Gersan are both excellent at spotting wildlife just from shapes and shadows in the water. They searched pretty diligently with Gersan even jumping in for a look underwater. We didn't see anything at the first two stops but the view during the boat ride was fantastic.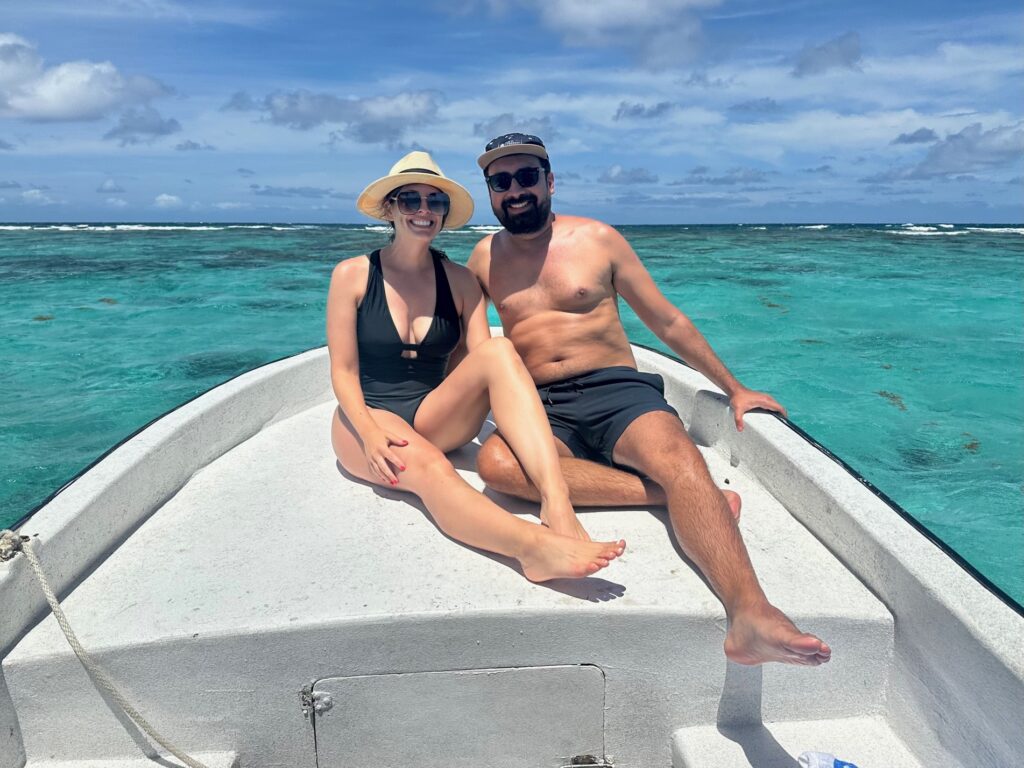 Belizean Titanic
Rene assured us we'd keep searching for turtles and manatees throughout the day and, in the meantime, we headed for the "Belizean Titanic," a ship that sank 40 years ago in a storm. Sure enough, once we hopped in the water, we swam a short distance and found ourselves right above a sunken boat. We don't have any underwater photos from the first spot but we saw lots of fishes darting in and out around the sunken ship.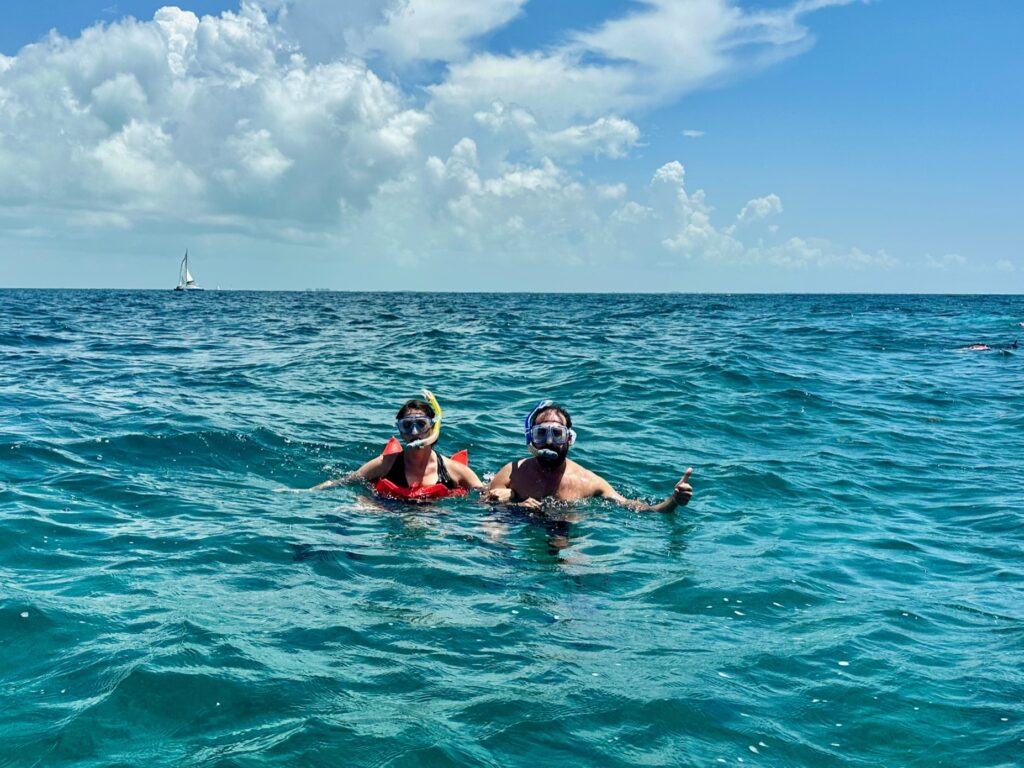 Don't feel any embarrassment if you need or want a life jacket for easier floating! WC is a strong swimmer so he was fine without. While I'm not a bad swimmer, I always feel much safer with a life jacket or a noodle. The crew helped me tie the life jacket around my waist and it worked perfectly.
Hol Chan Marine Reserve
The highlight of the day and our next stop was the beautiful Hol Chan Marine Reserve. "Zone A" of the reserve is made up of the coral reef and it's one of the most spectacular (if not the most) we've snorkeled in the world. The Belizean Government established the reserve in 1987 to protect the reef, and visitors must be with an approved guide. Your tour cost typically covers the fee for the reserve (as is the case with Salt Life Eco Tours).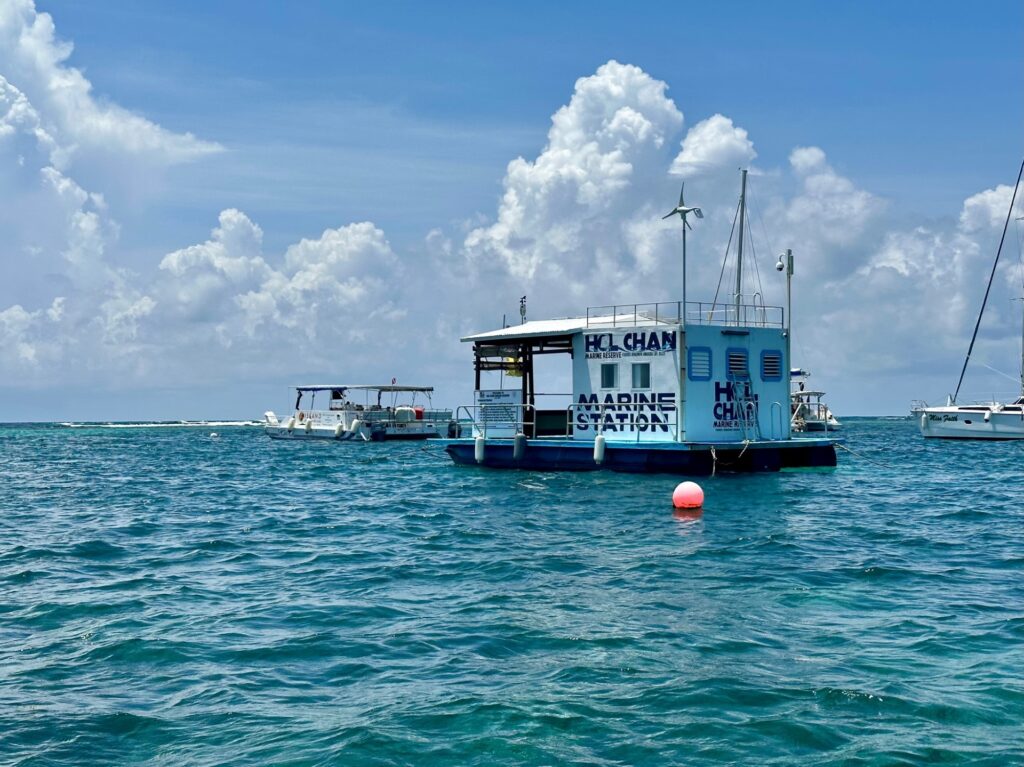 This is where we got our first look at nurse sharks, as well as a wide variety of fish and coral. Rene led our group on the swim, pointing out the various wildlife. He also snapped all of the great photos and videos you see here.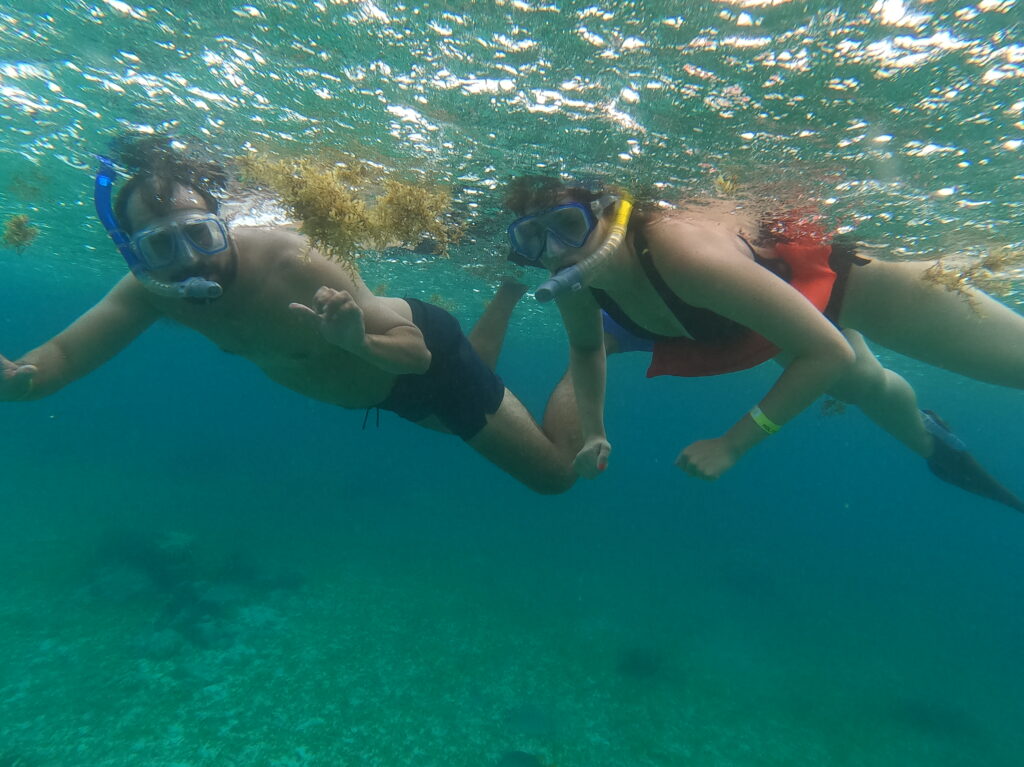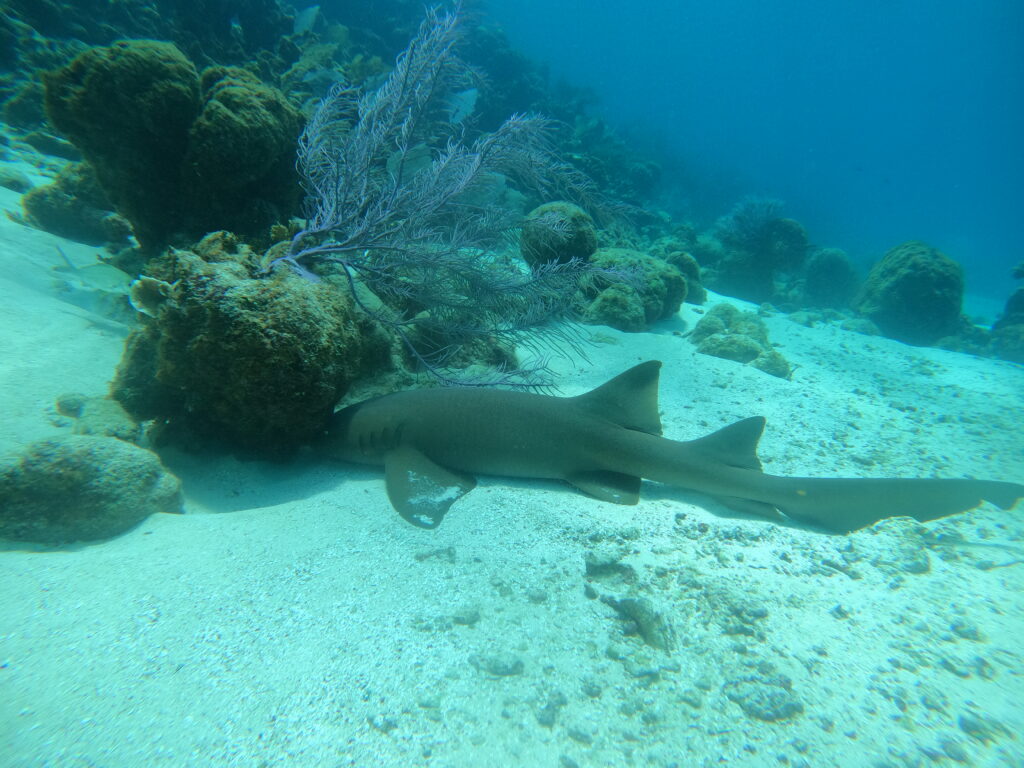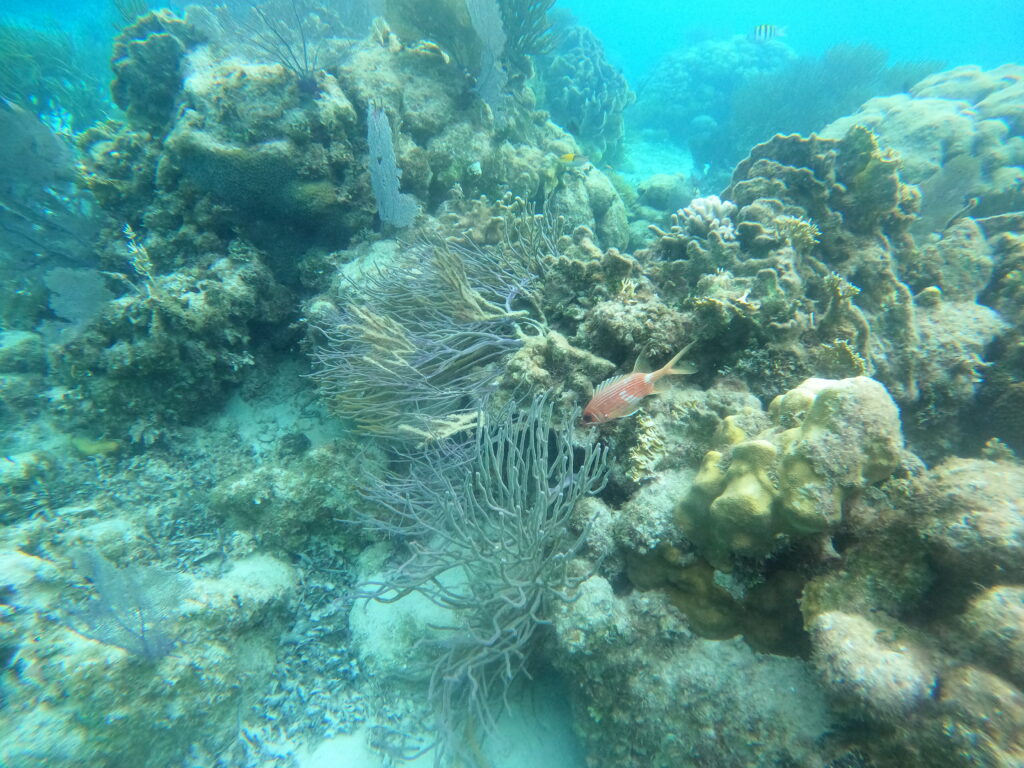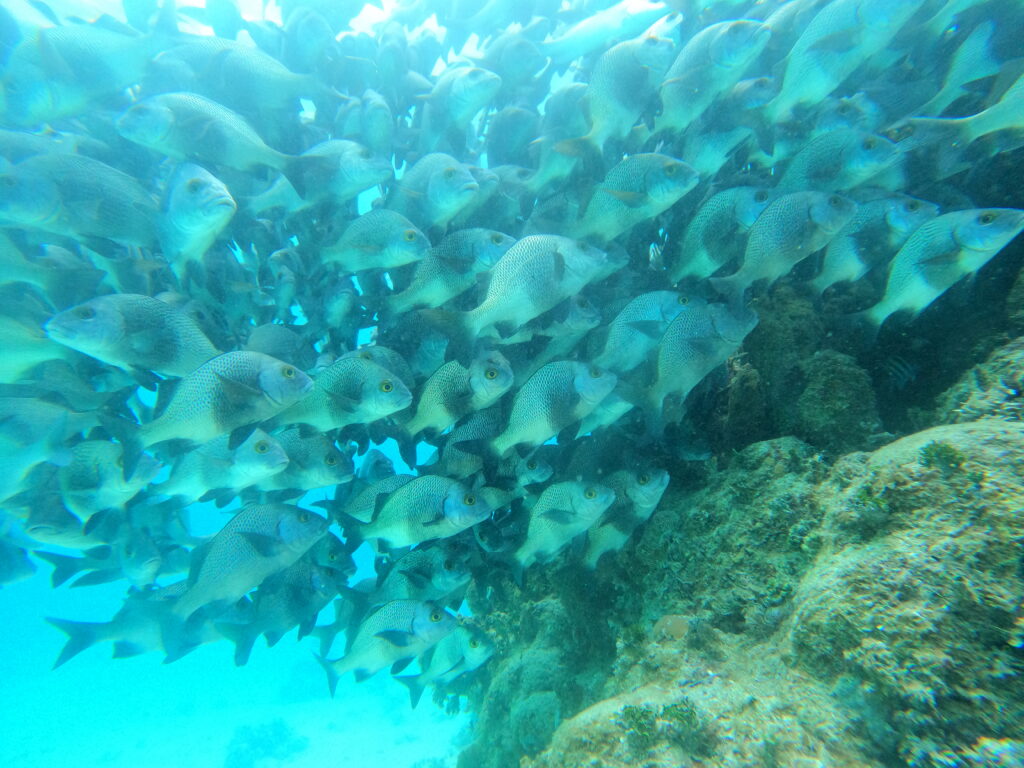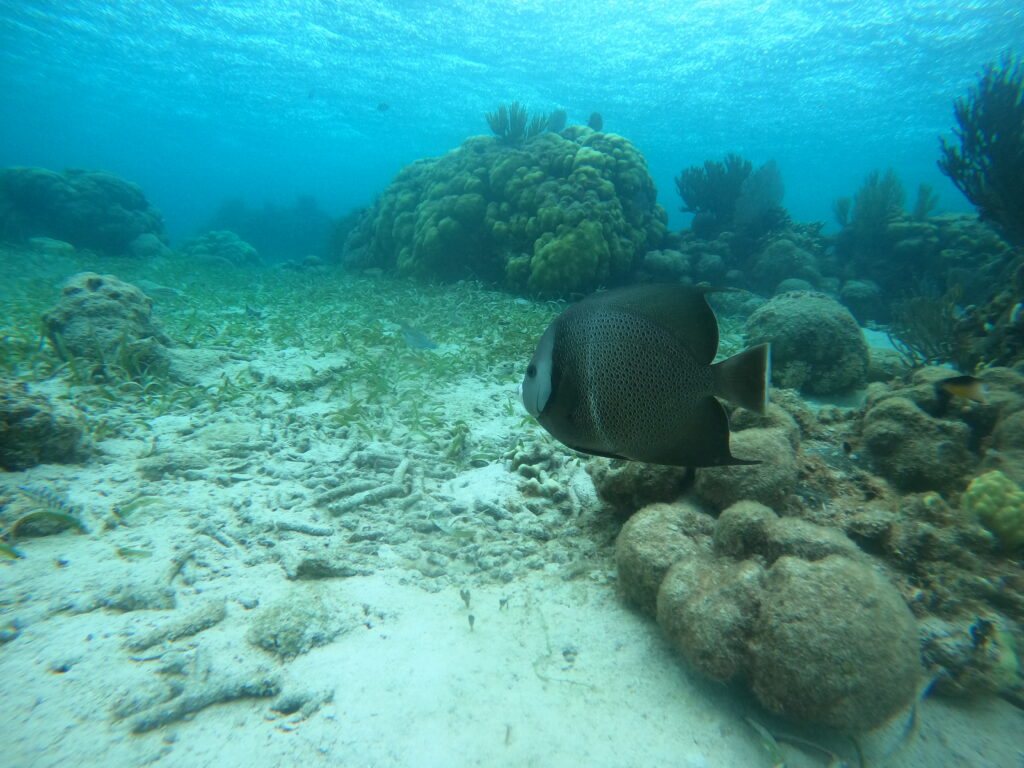 Along with sharks and lots of fish, we also saw several southern stingrays.
Shark Ray Alley
Our third major stop was Shark Ray Alley. Shark Ray Alley is also part of the Hol Chan Marine Reserve but it's outside of the main coral reef area we snorkeled prior. In the past, local fishermen cleaned their catch here and the fish scraps attracted nurse sharks and southern sting rays. Today, the sharks and rays still congregate in large numbers making it a popular snorkel and dive spot. As soon as the boat pulls into the area, you'll see the sharks coming to the surface.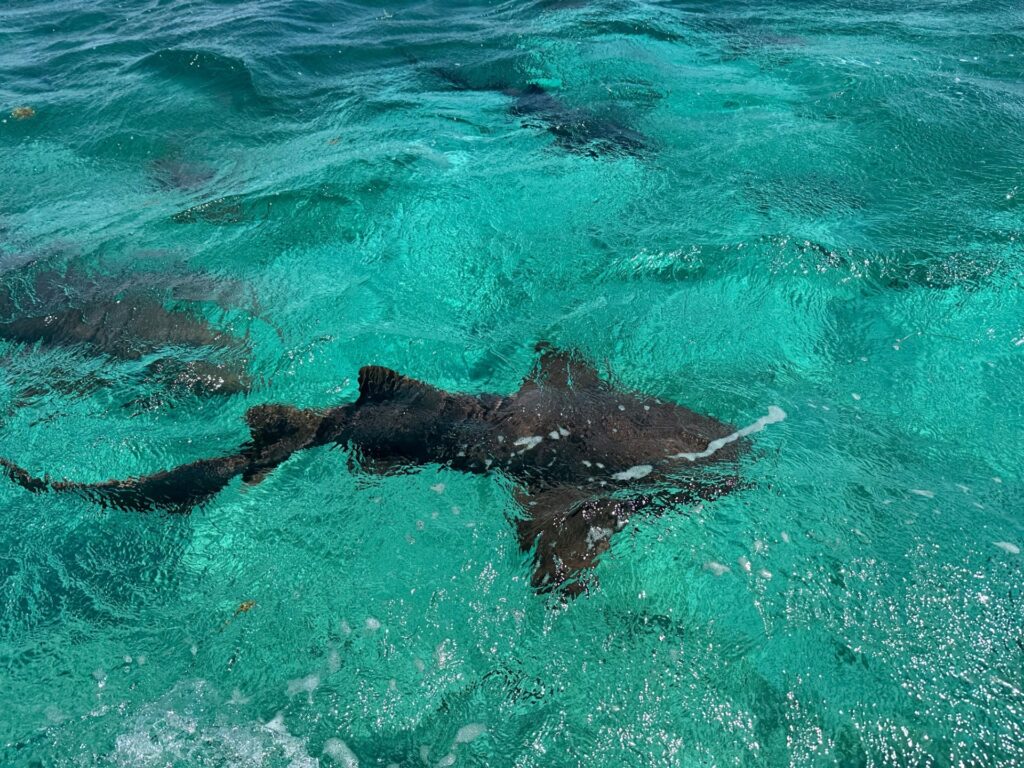 The sharks are mostly passive and shouldn't bother you as long as you don't bother them. Just hop in, float along, and observe!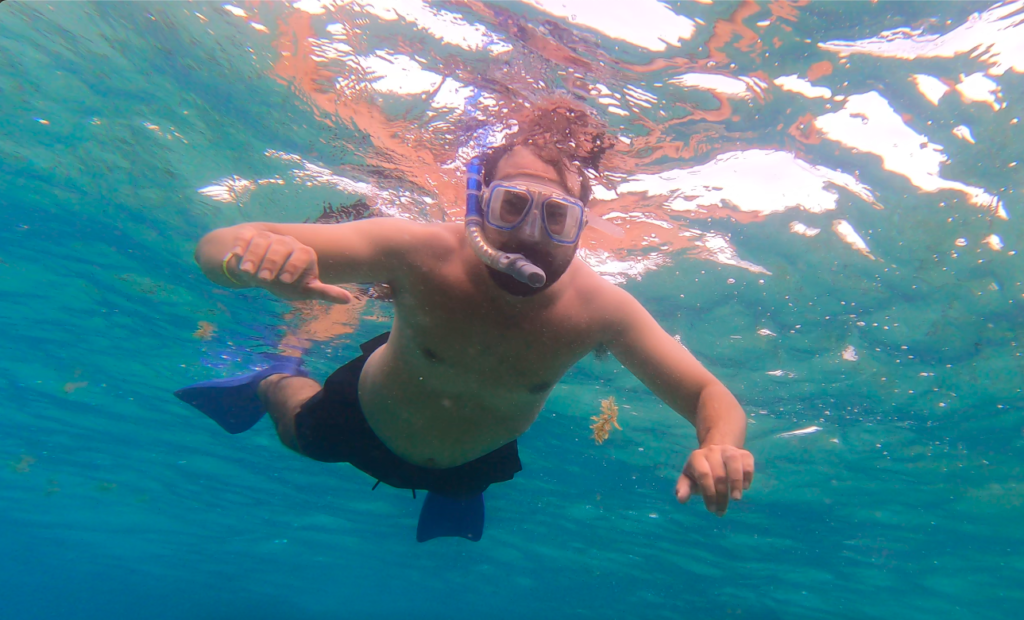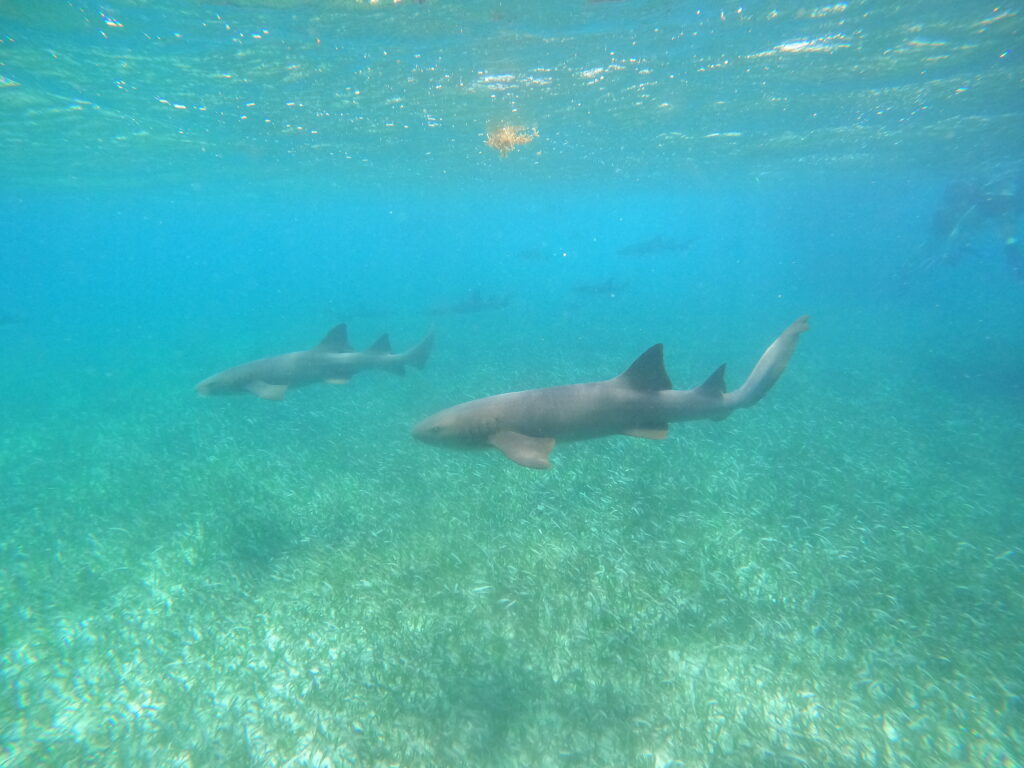 Note: if you're with a reputable tour company, your guides WILL NOT feed the sharks.

Conch Shell Graveyard
After Shark Ray Alley, we stopped for lunch above what's known as the "conch shell graveyard." While our guides got lunch ready, we hopped in for a swim to check it out. We don't have any underwater images from here but the area is home to more conch shells than I've ever seen in my life! Renee explained that a Belizean fisherman would come to this specific spot to clean the conch shells and leave them here. From how we understand it, you don't typically want to clean your catch in the same spot where you fish. Now these shells are home to hermit crabs and octopi.
Once back on board, we dined on a lunch of stewed chicken, macaroni salad, and rice and beans. It was plenty of food, and there was also a fruit salad for a snack/dessert.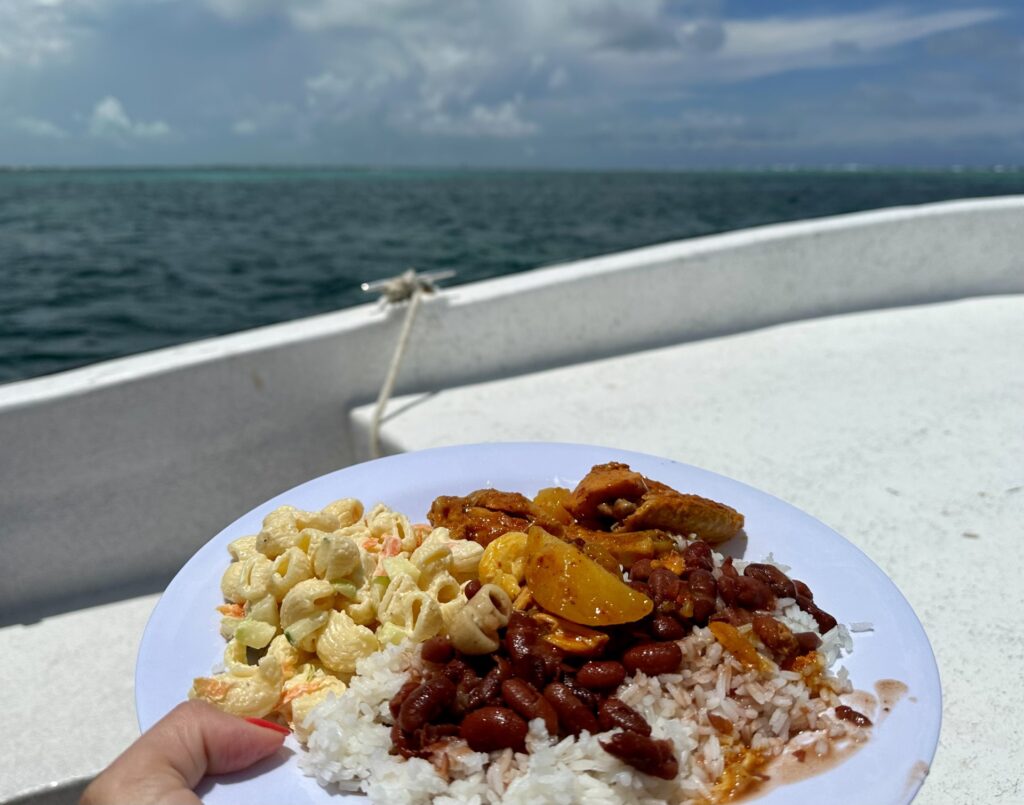 And – of course – you can't forget the rum punch! There's plenty of punch for the entire day. If you decide you've had enough snorkeling or just need a break, you can always hang out on the boat and just sip some punch and enjoy the view.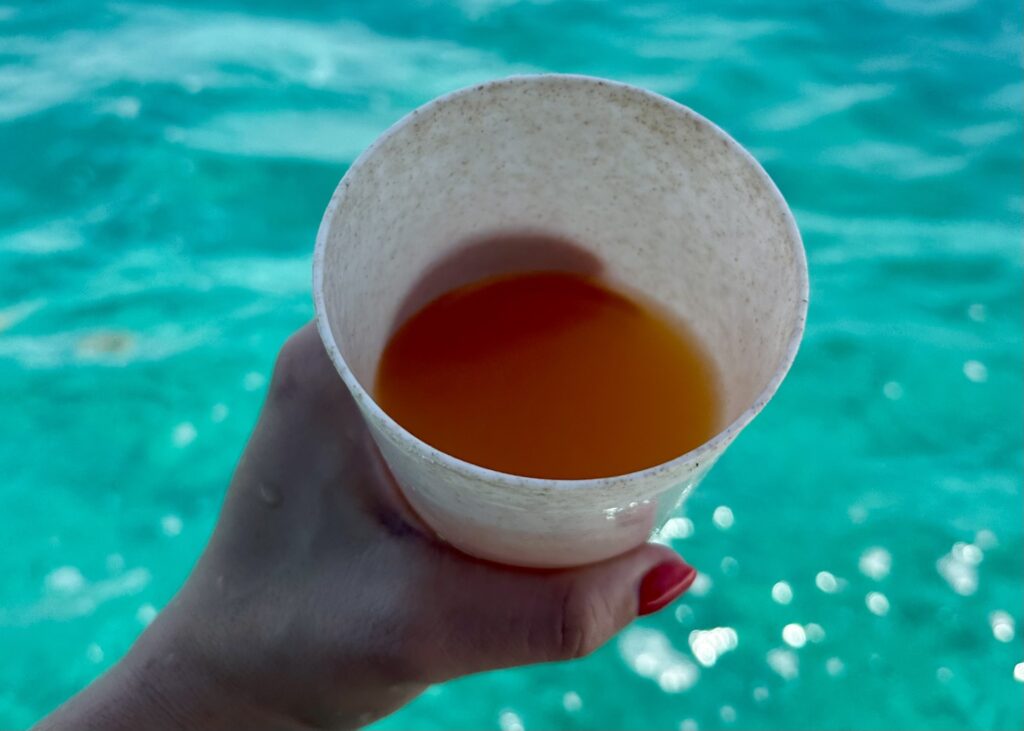 Manatees
Multiple locals in Caye Caulker told us manatees are quite elusive in Belizean waters. If that's true, we were quite lucky to spot one on our Salt Life Eco Tours trip near the very end of the day! After lunch, Rene took us back to one of the popular manatee areas and spotted one from above the surface. Unfortunately, the GoPro battery had died so we don't have photos of the exact manatee we swam with but below is a photo of a manatee from another tour (taken on the same day) just so you can have an idea of the size of these gentle giants!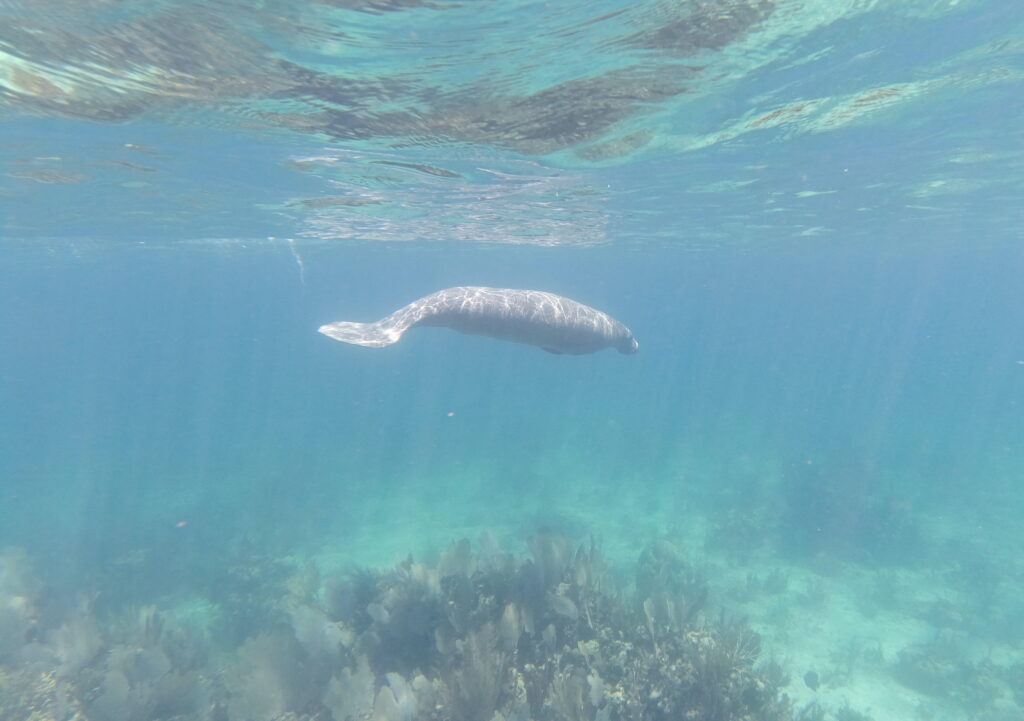 Coral Gardens
The second to last stop on the tour was the Coral Gardens and the name pretty much speaks for itself. It's a beautiful place to swim and check out the various corals and fish.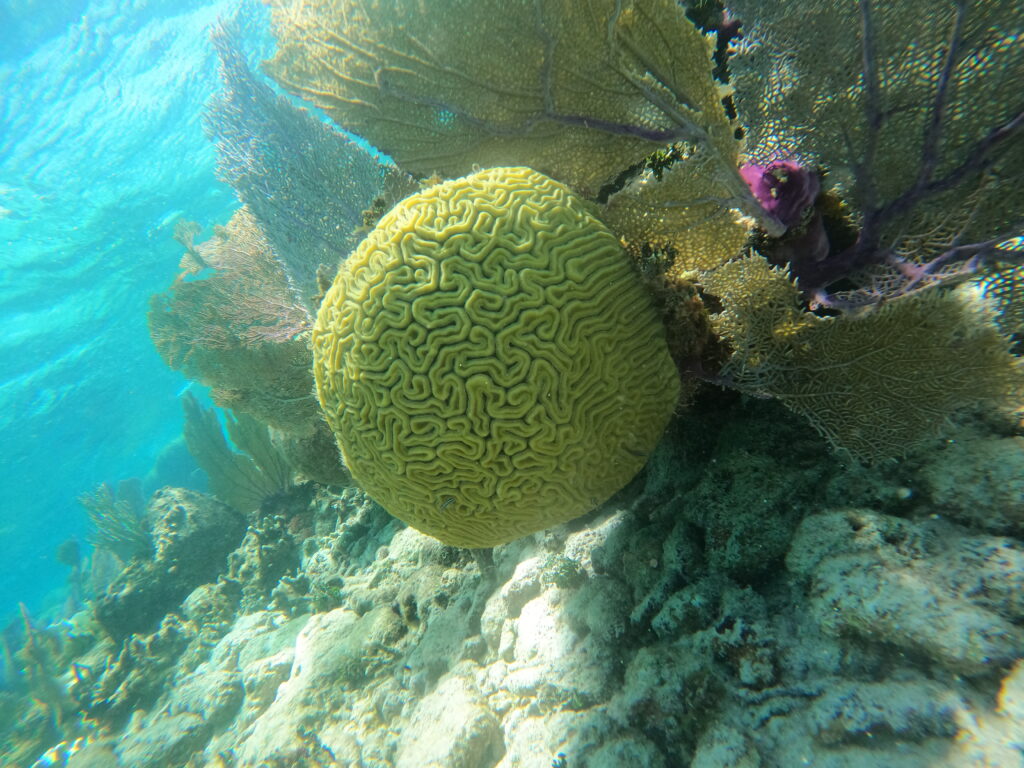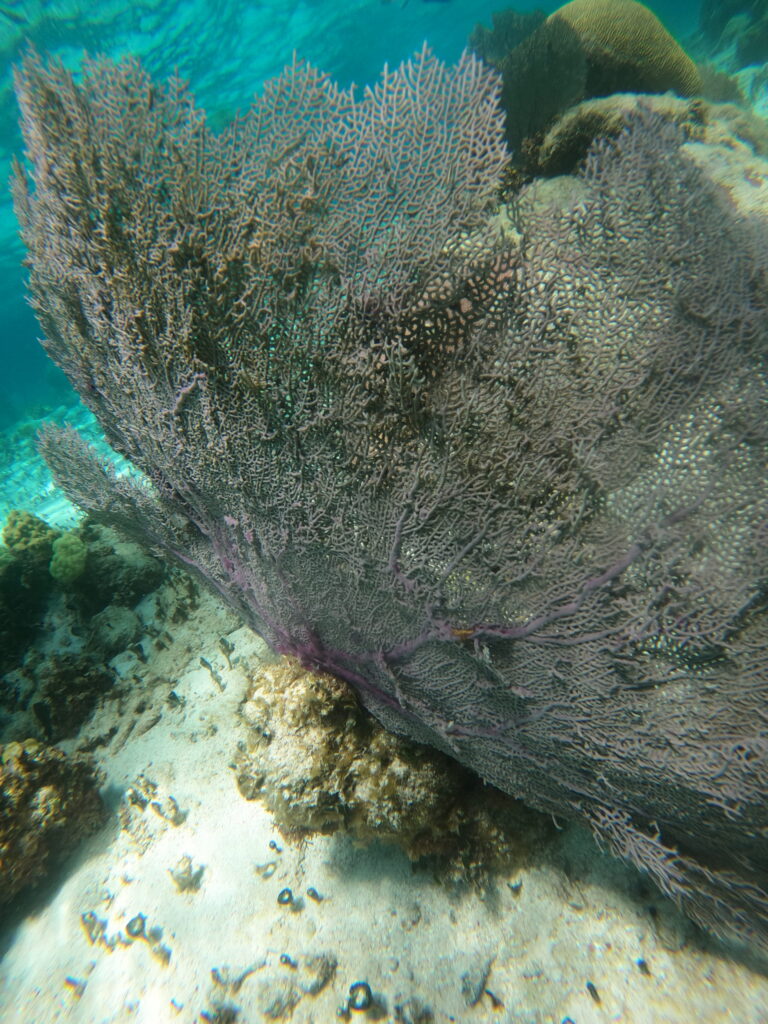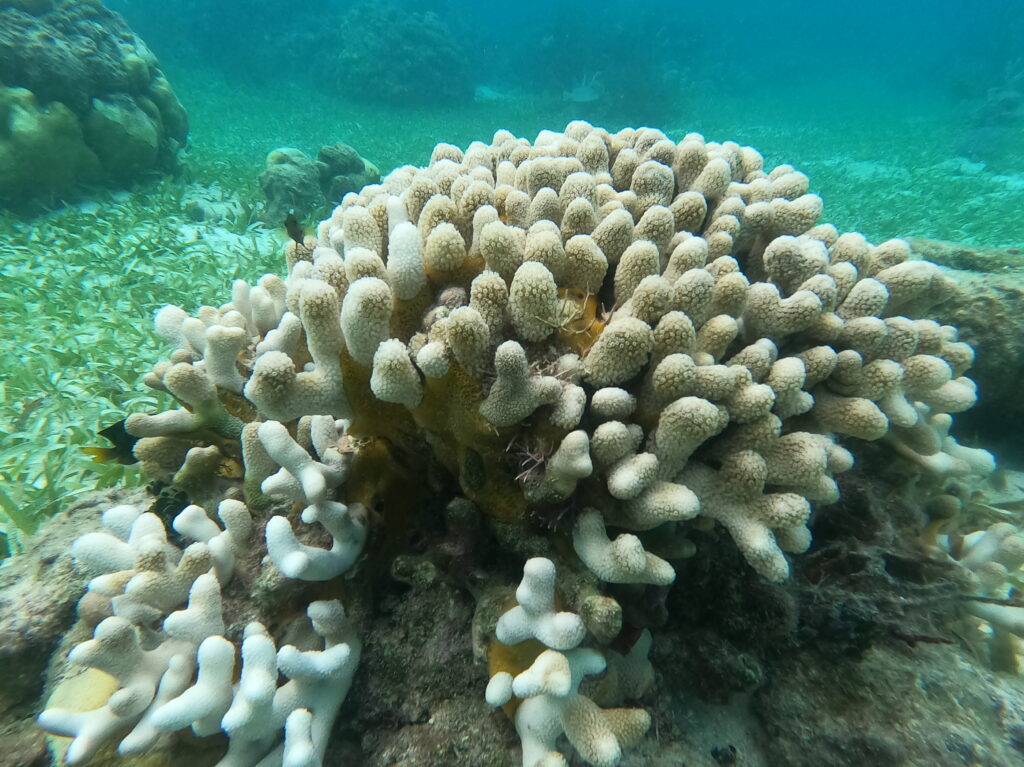 Turtles
Sea turtles (green, hawksbill, and loggerhead) are common in Belize but, turns out this was shark day! We searched several different spots the turtles are known for inhabiting, but didn't see any on our particular tour day. But the search is part of the fun right? It's like being on safari!
Tarpon Dock
For our last stop, Rene pulled the boat alongside Caye Caulker's tarpon feeding dock. The dock is located on the west side of the island. Visitors pay $5 BZD to feed the tarpon sardines making them jump out of the water. We did not feed the fish, but if you hold your hand near the water, they will jump out of habit.
After you're back on dry land, it's time to sign your name to the wall of fame at the Salt Life Eco Tours shop! We, of course, signed marriedwithwanderlust.com — if you book a trip with Salt Life Eco Tours, look for us above the door!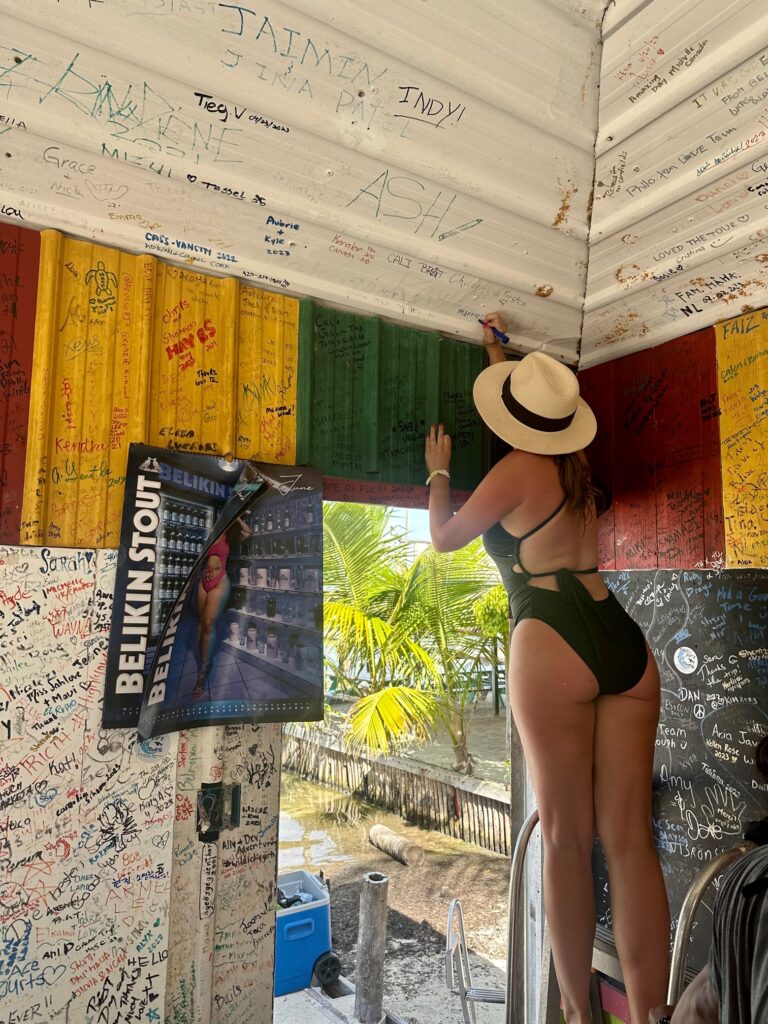 And that's a wrap on the 7 Epic Stops "Bucket list" Tour! If you're interested in learning more about Salt Life Eco Tours and what they offer, click here.
Oh, and one last bit of advice: Make sure you reapply your sunscreen throughout the day and bring a reef-safe sunscreen!
Disclosure: This tour was offered at a discount in collaboration with Salt Life Eco Tours. As always, all opinions are our own and we only promote accommodations we personally love.
Need more Belize inspiration?
Check out these blog posts to help you plan your trip:
Enjoy our blog post? Sharing is caring!