We spent 4 days on the Big Island, Hawaii and even that wasn't enough to do everything the island has to offer. But, as our usual, we did pack quite a lot in and loved every minute! This Big Island bucket list includes some of our favorite highlights plus a few others suggestions we weren't able to get to!
25+ Things To Check Off Your Ultimate Big Island Bucket List:
Nature, Parks, & Beaches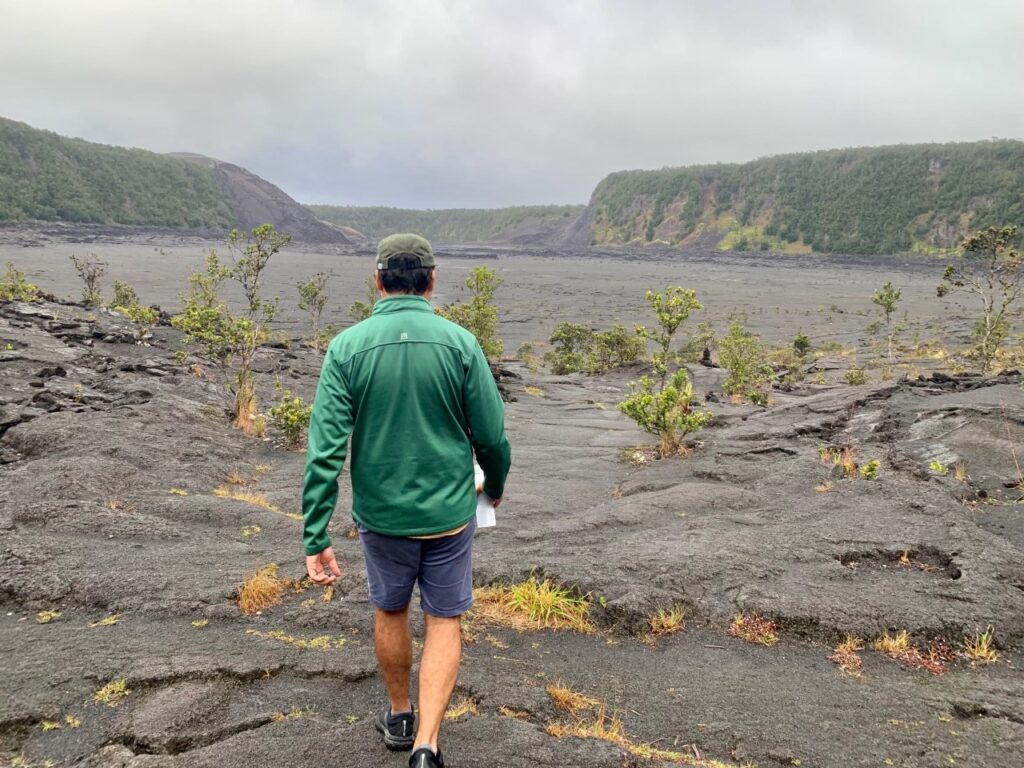 Hawaii Volcanoes National Park – This is the biggest of the must-dos for your Big Island bucket list. At night and early morning before sunrise, you can watch the lava over the Halemaʻumaʻu crater. Follow it up with a hike across Keanakākoʻi Crater, walk through a lava tube and so much more!
Chain of Craters Road – Located inside the national park, the drive takes you past numerous craters and ends at the sea arch. You'll also pass by a trailhead that takes you to the Puʻuloa petroglyphs.
South Point Complex – A short hike takes you to the southernmost tip of the United States.
Akaka Falls State Park – It's just a short hike down stairs to see the impressive 442-foot Akaka Falls. The park opens at 8:00 am and there is a $5 entrance free per person. Parking is $10 per vehicle.
Wailuku State Park – This state park is home to Rainbow Falls and the Boiling Pots.
Kaumana Caves – The caves were formed by lava flow from the Mauna Loa volcano in the 1800s. It is now a free park to visit. Step inside the lava tube for a quick photo near the entrance, or bring a head lamp and go father inside. (We didn't have lamps so we can't give much detail about the hike inside)
Hawaii Tropical Botanic Gardens – We had a pretty packed day and decided not to visit after seeing the $25 per person entrance fee. However, the gardens are very highly rated so definitely stop if you have time.
Two Step Beach – Two Step is probably the most popular snorkeling spot on the Big Island. Everyone raves about it but it's another spot we didn't get to!
Punalu'u Black Sand Beach – This is a great spot to see sea turtles basking in the sand. The area where they like to rest is blocked off from the public but you can still get a good look. Be sure not to disturb them!
Carlsmith Beach Park – This was our favorite snorkeling spot! Located in Hilo, there is a quaint cove where you can hang out for a relaxing swim without the waves and currents of a lot of other spots. Also, a sea turtle swam right by us!
Mauna Kea – We didn't get to this during our trip but it is a top Big Island bucket list item. You can only get to the summit on a tour and most of them require a full day so prepare accordindly.
Liliʻuokalani Gardens – This Japanese Garden is so quaint and has bridges, fishponds, pagodas, and bonus: it's free to stroll through!
Shows, Snorkeling, Scenic Drives, & More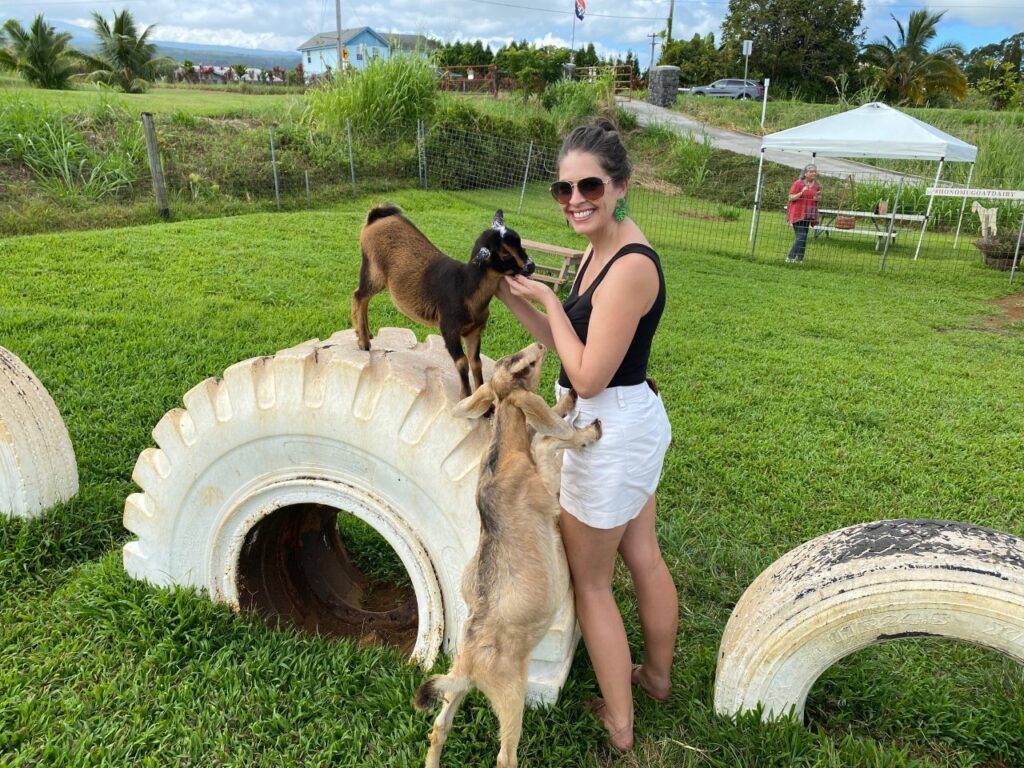 Luau – We saw the luau at Royal Kona resort and it was fantastic but there are several to choose from on the Big Island.
Honomu Goat Farm – This is such a fun stop-off. Located near Akaka Falls, you can buy a small scoop of goat food and feed the baby goats on the farm. They are so sweet!
Banyan Tree Drive – Located near the Japanese Garden, this is a short drive or walk along a road surrounded by –you guessed it– banyan trees. The banyan trees are each named after celebrities who helped plant them during the 1930's. This article has some good information and history.
Pepeekeo Scenic Drive – This is a gorgeous drive along the Old Mamalahoa Highway through tropical forest. Make sure you park at the Onomea Trailhead and take the short hike downhill. The lookout is so worth it!
Food & Drink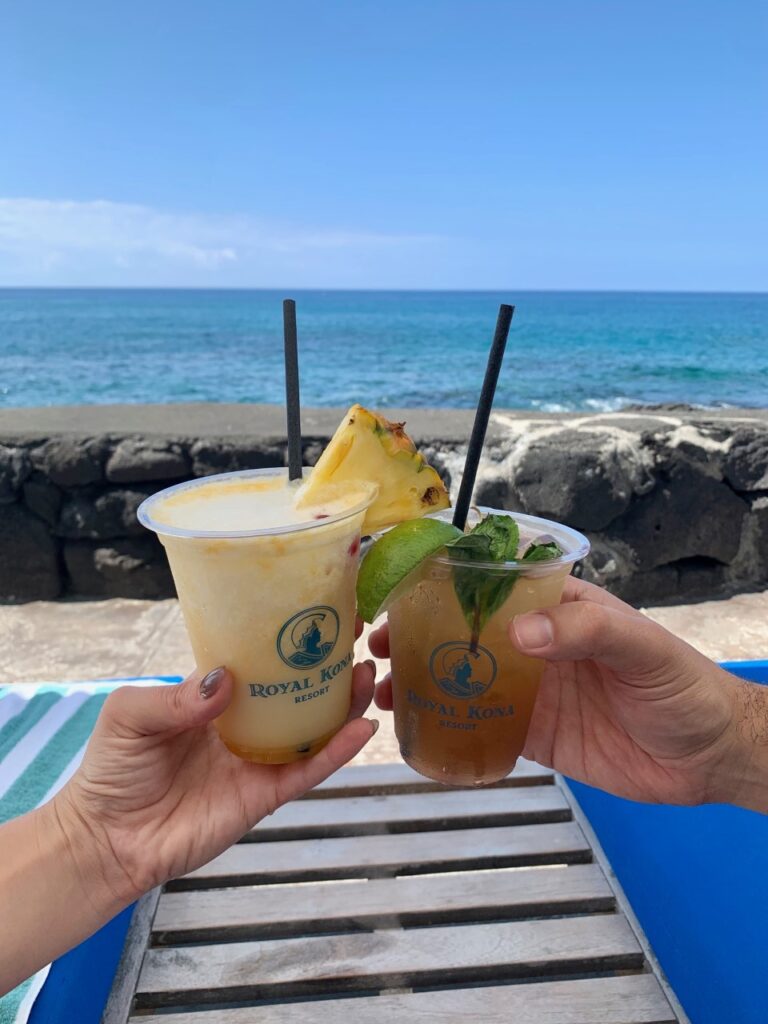 Volcano Winery – The winery offers wine tastings and small cheese plates, as well as tea tastings.
Volcano Lodge – This is a great spot inside the National Park to have dinner while getting a view of the glowing crater at night. Ask for a table near the window if available.
Hilo Farmer's Market – The Hilo Farmer's Market has a tent for produce and other tents for art and souvenirs. The biggest day is Saturday.
Kona Brewing Co. – The most well-known of the Big Island breweries, Kona lived up to the hype for us. The beer brewed there is actually not the same as the beer that is available in the states which is now brewed on the mainland U.S.
Ola Brewing Co. – Ola Brewing has one taproom is Kona and one in Hilo. They had a great variety of beer, cider, and hard seltzers to choose from.
Hilo Brewing Co. – We honestly were not big fans of the beer at Hilo but if you like beer and visiting breweries, you may want to check it out.
Two Ladies Kitchen – You must stop at Two Ladies Kitchen in Hilo if you want to try mochi but be prepared to wait in line!
Pineapples Bar & Restaurant – Try a piña colada sampler! The "local plate" was also delicious.
Volcano Farmers Market – The farmers market in town of Volcano is open until 10 am on Sundays but we didn't wrap up in the park until after it was done so we can't provide many details!
Don's Mai Tai Bar – Located at the Royal Kona Resort, Don's Mai Tai Bar offers flights of mai tais and mojitos. The piña colada also hit the spot by the pool!
Enjoy our blog post? Sharing is caring!