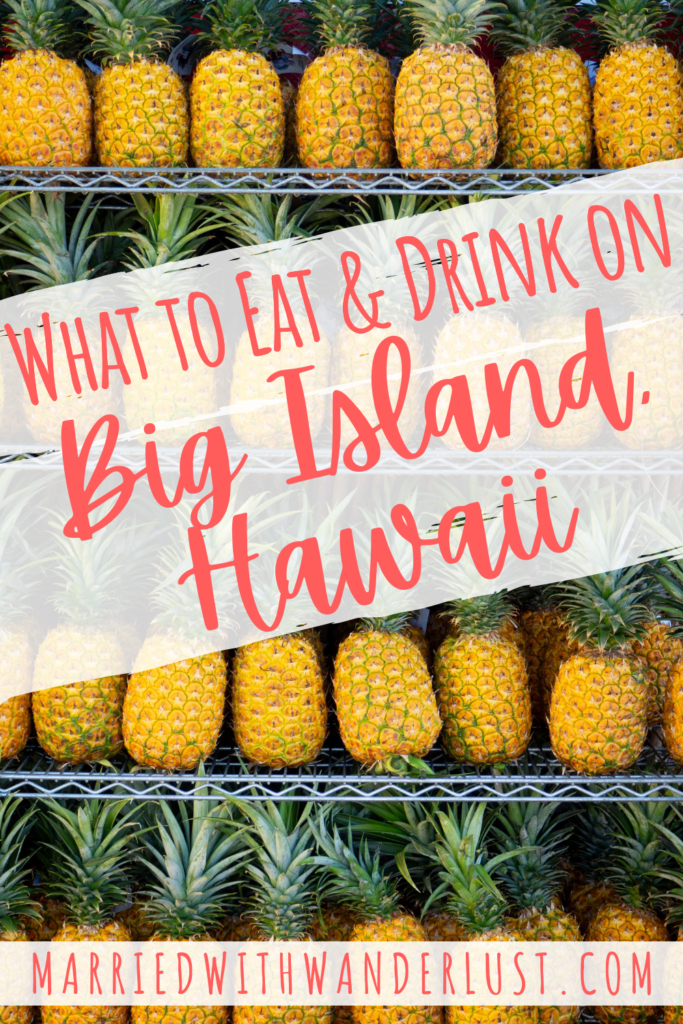 One of our favorite parts of traveling is trying new foods from around the world. And we especially love it when there's unique flavors which is exactly what you'll find in Hawaii! We spent four days on the Big Island in 2022. Most of our time was spent on the Hilo side, but we also spent about a day and a half in Kona. The following spots are our recommendations for where to eat and drink on the Big Island for big flavor!
Our Recs for Where to Eat and Drink on Big Island:
Kona Brewing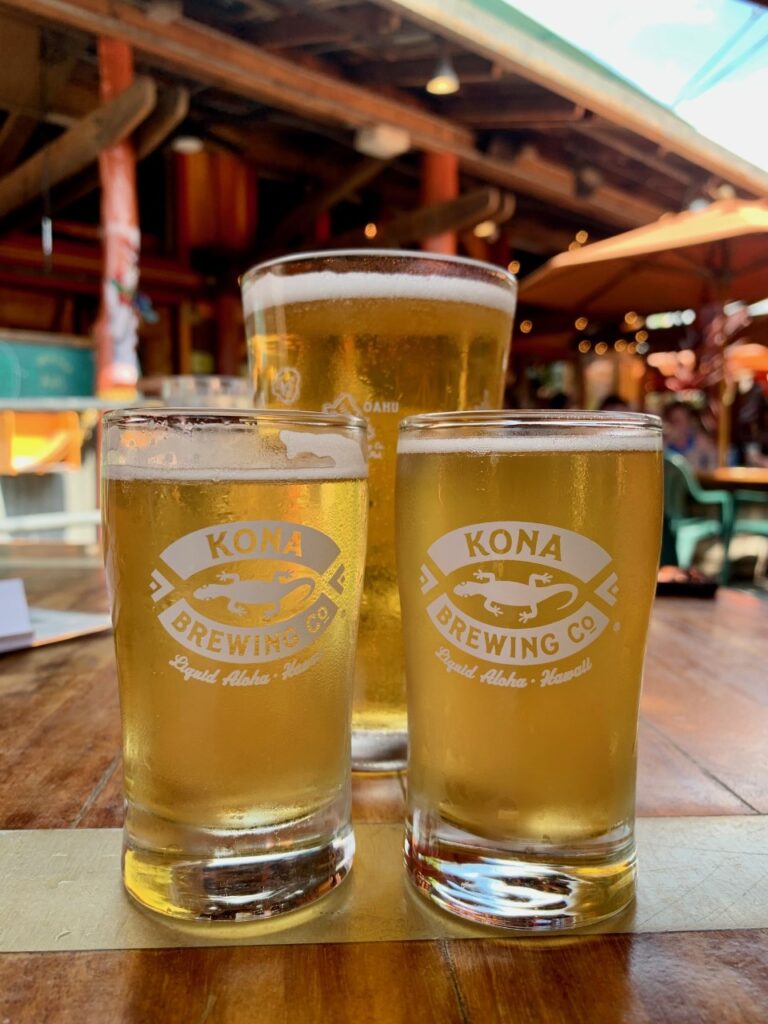 Kona Brewing was our very first stop after arriving to the Big Island and snagging our rental car. After the long flight and departing Denver super early, we were ready for lunch and a beer! The brewery is only about 15 minutes from the Kona airport which made it a great pitstop before we headed across the island to our home base in the town of Volcano. The restaurant doesn't take reservations and tends to be busy so you may have to wait for a table. Fortunately, it didn't take long and they do serve beer in the courtyard while you wait. Our favorite beer was the Lemongrass Luau! The pizza also hit the spot.
Poke N Sides – Hilo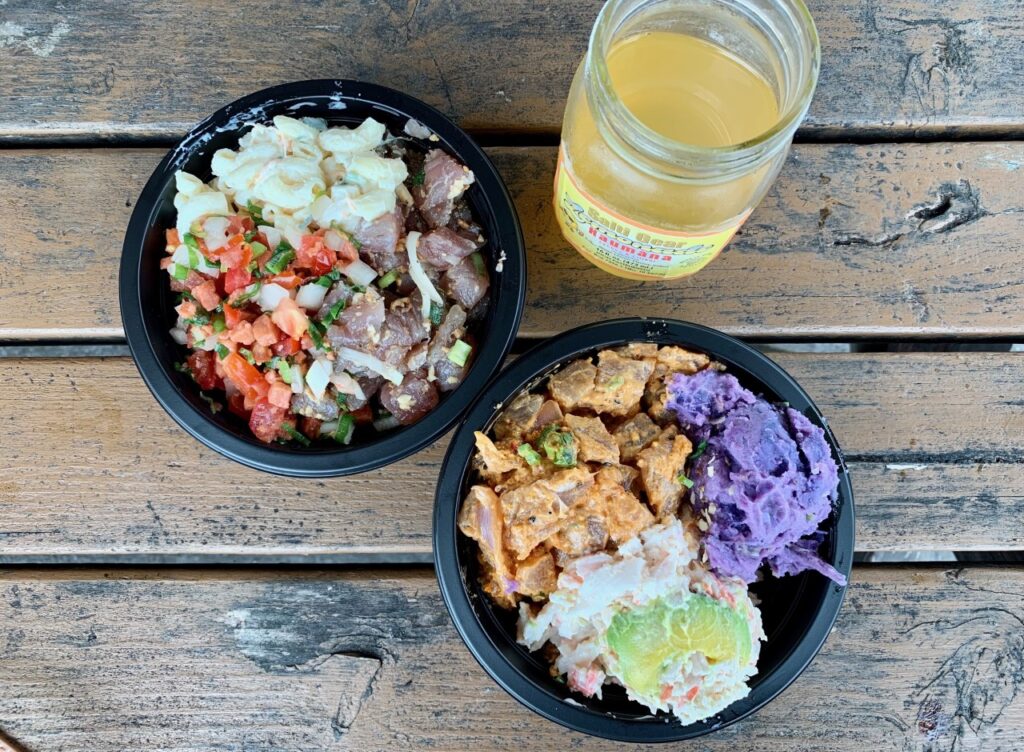 My must-have meal while in Hawaii was a poke bowl and I had planned to search for the best one. But the first one we tried was so good, we ended up visiting twice! Poke N Sides is in Hilo at the Hilo Farmers Market. You can mix and match your pokes and side dishes but make sure you try the uala (sweet potato) and macaroni salad, two Hawaiian classics. We paired our meal with a local Big Island-made lychee and lilikoi lemonade. This was definitely one of our favorite places to eat and drink on Big Island.
Kula Shave Ice – Hilo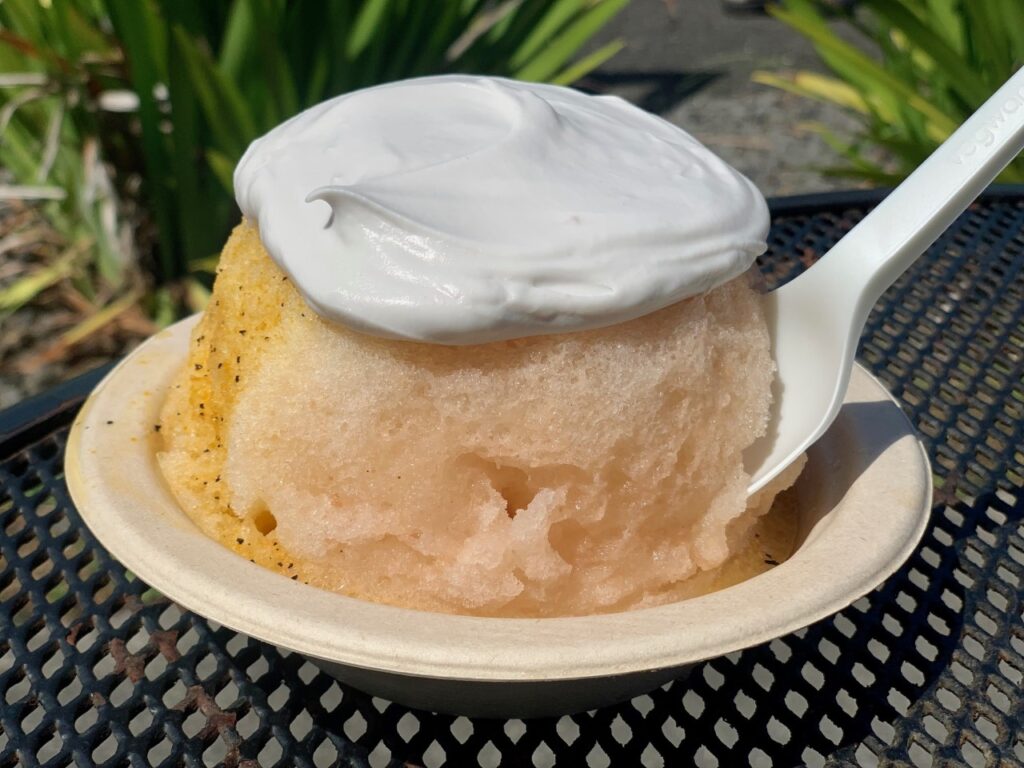 If you can, save room for dessert from Kula Shave Ice, located in the same building as Poke N Sides. We recommend trying one of their suggested combos. We had "The Local" and it was divine, bursting with Hawaiian flavors. It's soursop and lilikoi topped with Haupia cream.
Volcano Winery – Volcano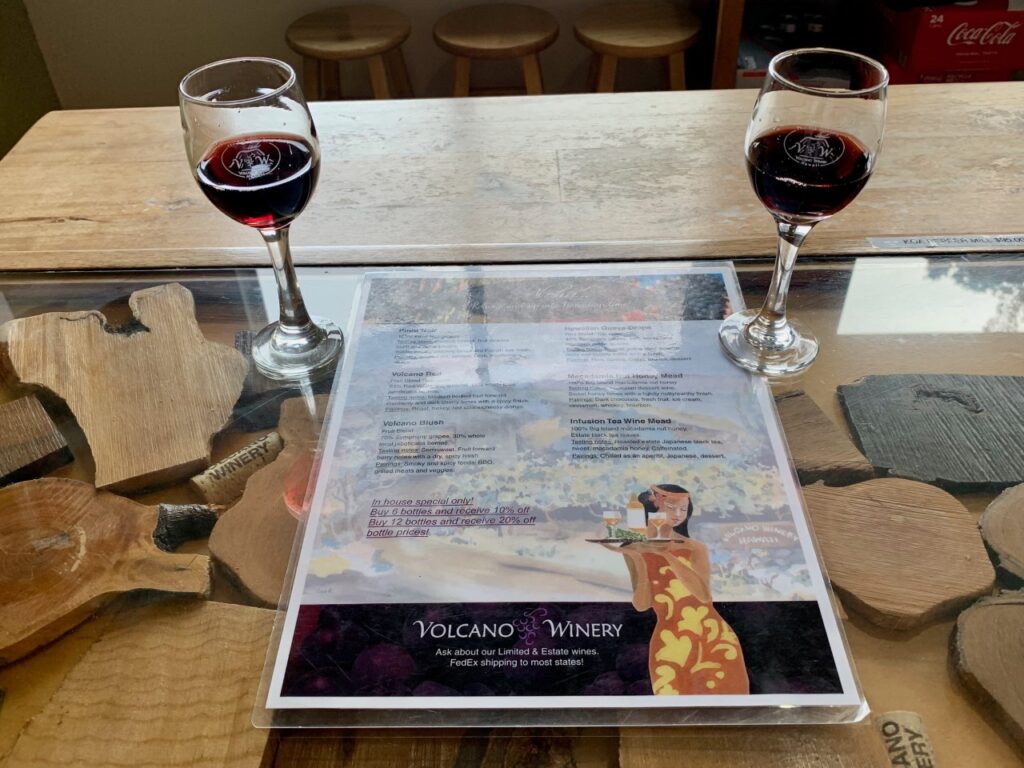 If you like visiting wineries as much as we do, you'll want to stop by the Volcano Winery while you're near Hawaii Volcanoes National Park. We stayed in this area so it was quite convenient. But if you're just visiting the park for a day or two, the winery is just a few minutes drive from the park entrance. Obviously you'll want to try a flight of their wines, but we also recommend the estate tea tasting!
Two Ladies Kitchen – Hilo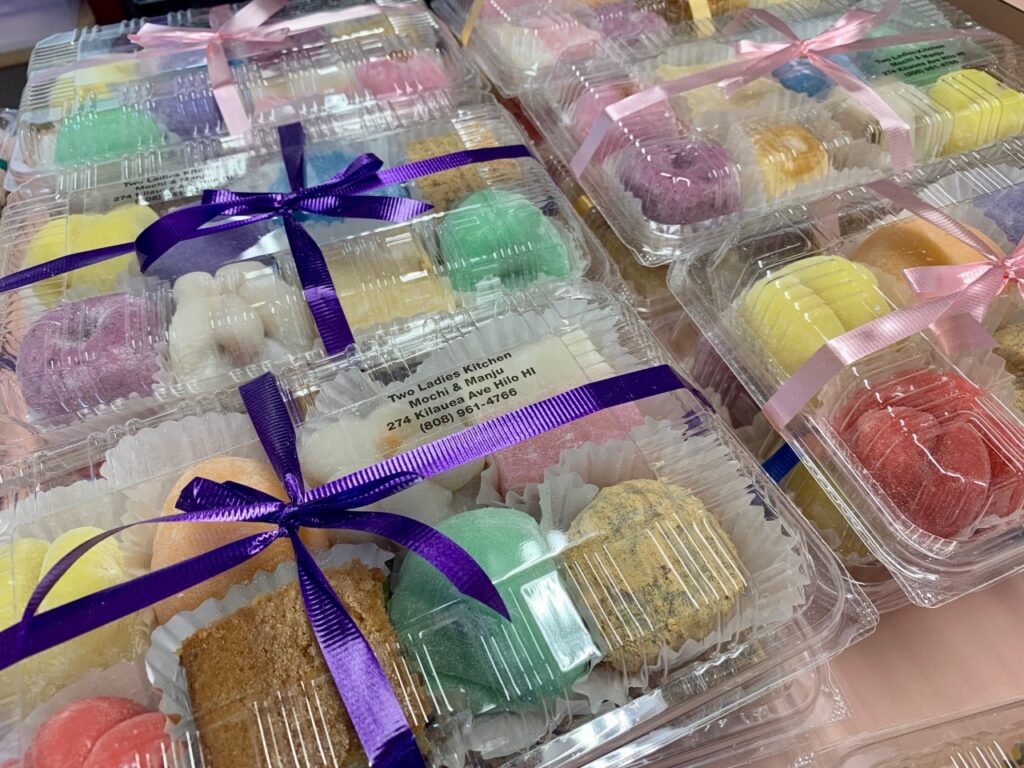 You have to try the mochi from Two Ladies Kitchen but be prepared: you will wait in line. The menu includes almost two dozen mochi and manju flavors. You can snag a pre-made assorted box or create your own.
Tip: If you're planning to bring a box back to the states, don't not order any pieces with fruit. Those can't go through customs.
Hilo Farmer's Market – Hilo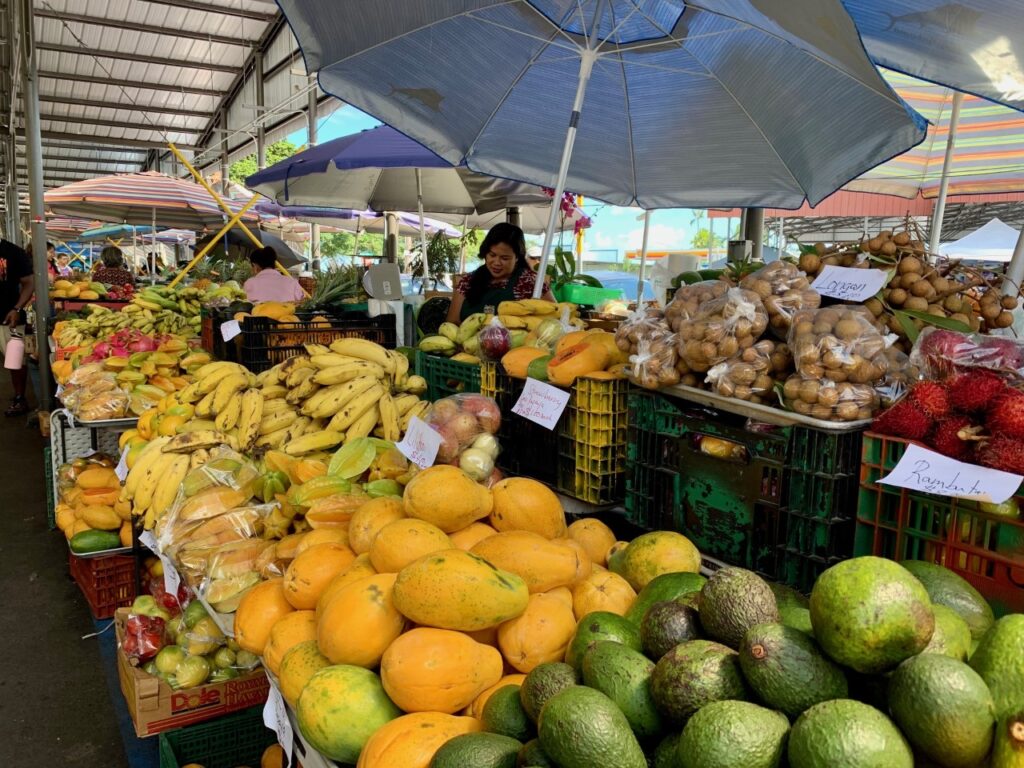 If you're spending an extended time on the Big Island and/or planning to cook your meals, you'll want to visit the Hilo Farmers Market for fresh produce. There is such a variety of Hawaiian fruits and veggies including bananas, pineapple, lilikoi, papaya, longan, rambutan, and so much more. You can also snag local coffee, chocolate, macadamia nuts, and other local specialties. Wednesday and Saturday are the full market days with hours from 6:00 am to 4:00 pm.
Ola Brew Company – Hilo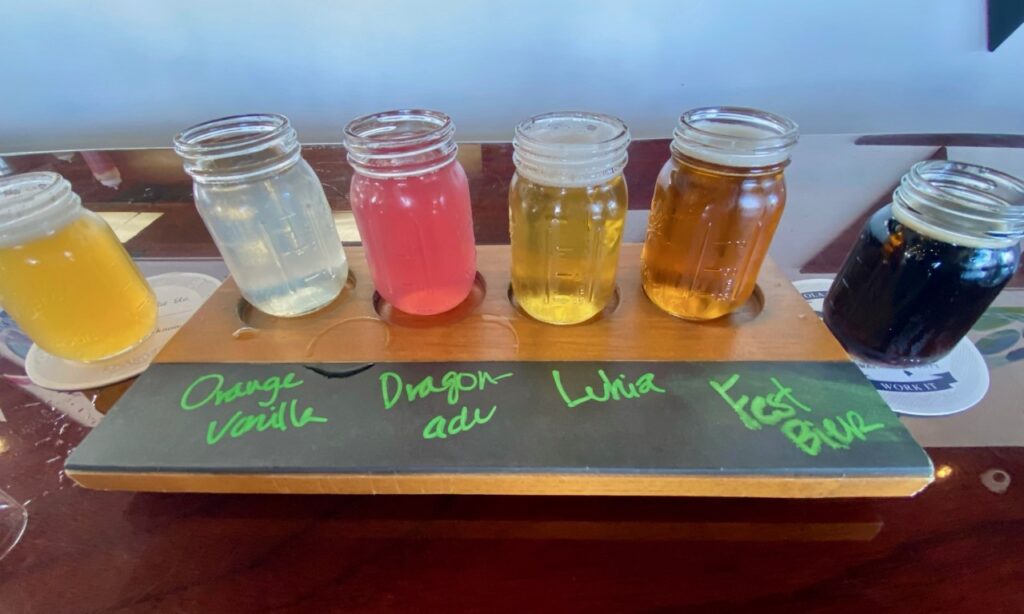 Ola Brew has taprooms in both Hilo and Kona. We visited in Hilo and enjoyed not only the drinks but the food as well. They have a good variety of beer, and hard seltzers, ciders, and tea. It's easy to create a flight with the tasters ranging between $2-3 each.
Don's Mai Tai Bar at Royal Kona Resort – Kona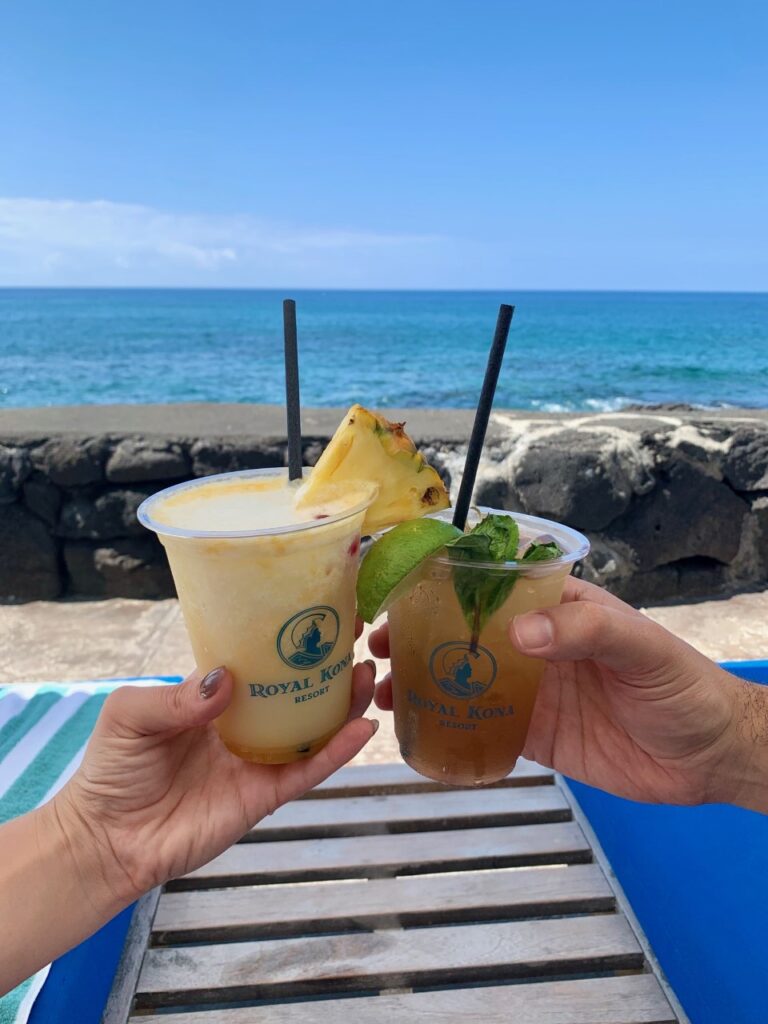 On our last day, we headed to the Kona side early morning to check in to the Royal Kona resort. We wanted to spend our final afternoon poolside and relaxing after a busy few days of hiking and exploring. We snagged a cabana along the water and ordered cocktails from Don's Mai Tai Bar located in the hotel. The pina colada was fantastic and WC enjoyed the signature mai tai. Bonus: The prices are actually surprising reasonable given that it's a resort.
Voyagers of the Pacific Luau – Kona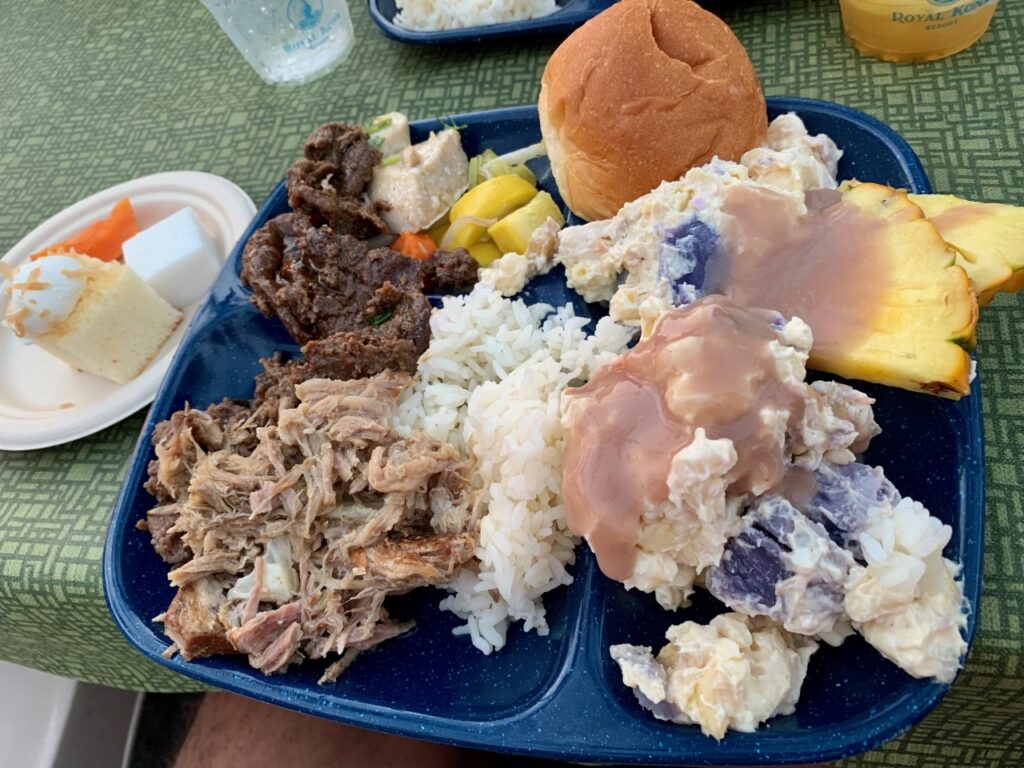 After our day by the pool, we spent our evening experiencing the Voyagers of the Pacific luau at the Royal Kona resort! The luau includes a buffet with Hawaiian flavors: roasted pig, sweet potato and macaroni salad, poi, local pineapple, and more. The food was good but the luau itself steals the show, as should be expected!
What are your favorite places to eat and drink on Big Island?
Did we miss a spot that you love? We'd love to know for next time! Share your favorite places to eat and drink on Big Island in the comments so our fellow travelers can add it to their travel plan!
Need more Hawaii inspiration?
Check out these blog posts to help you plan your trip:
Enjoy our blog post? Sharing is caring!