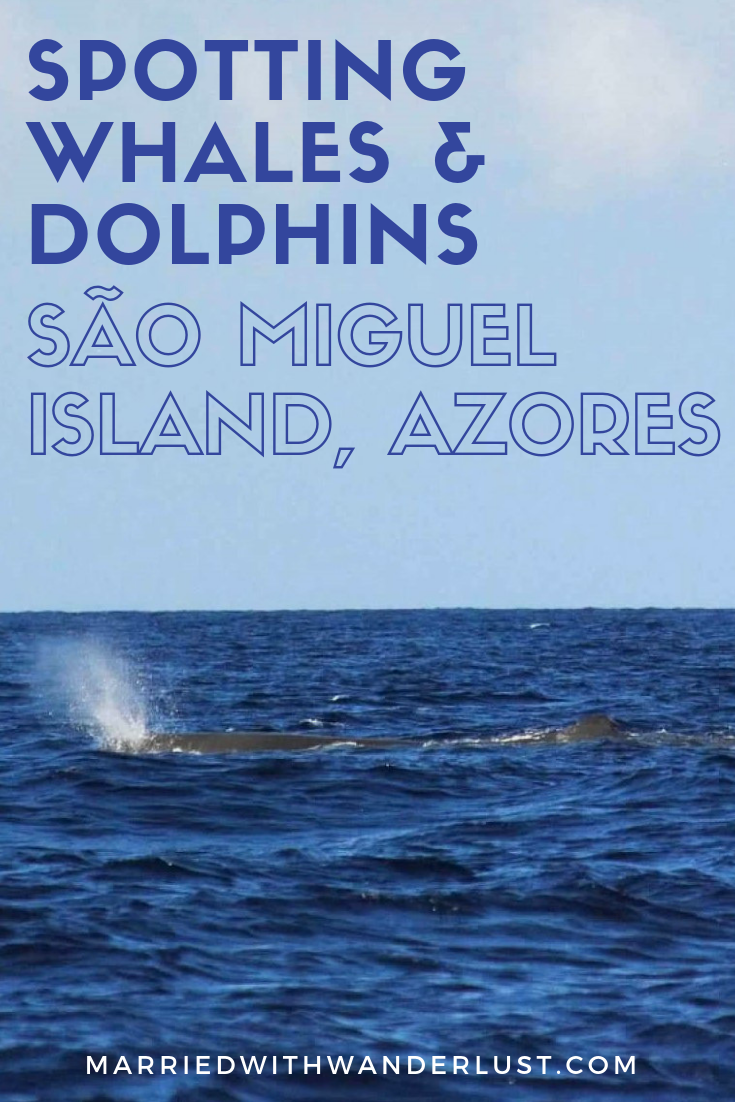 More than 20 different types of marine mammals can be spotted in the Azores so it's no wonder that whale and dolphin watching is one of the most popular excursions. Plus, there aren't many things more exciting (at least to us) than seeing wildlife up close! While Pico Island is known as being the best for whale watching, São Miguel Island is the most visited island and offers whale watching tours all year long.
Depending on the time of year of your visit, you can see a variety of different species. Sperm whales and several types of dolphins are commonly spotted throughout the year. Other whales such as baleen, blue, and pilot are more often spotted during the spring or summer months.
Choosing a Tour Operator
It is very important to choose a reputable tour operator for whale and dolphin watching. You'll want guides that are trained and knowledgeable on the species, but also a team that respects the animals.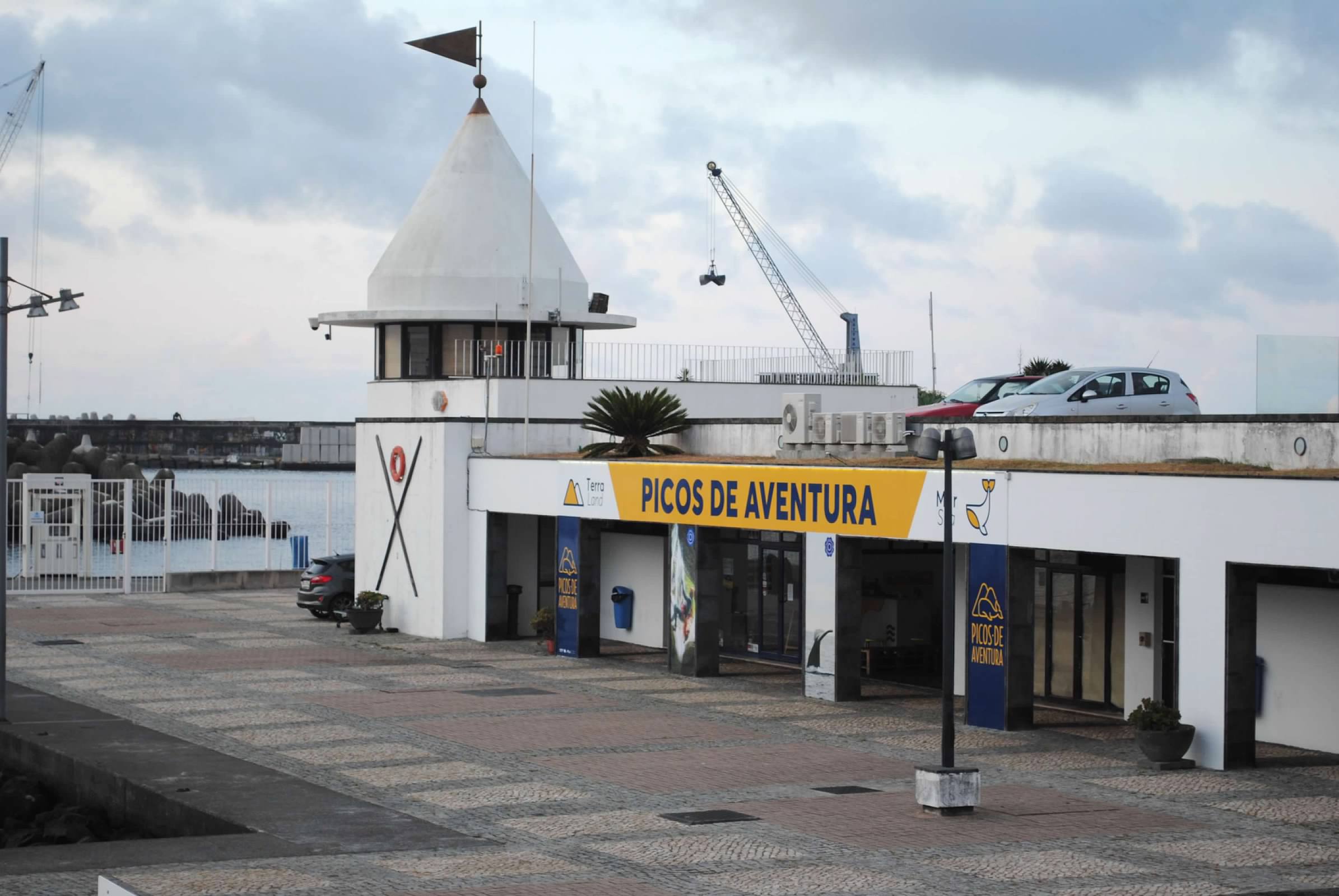 Picos de Aventura is a well-established company (created in 2003) that operates on São Miguel Island and Terceira Island. They offer tours not only for whale watching, but other adventures including canyoning, diving, horseback riding, rock climbing, canoeing, and mountain biking.
Picos de Aventura follows a whale watching code of conduct regarding the distance the boats stay back from the animals. This is for both the safety of the animals and for your safety. The employees care about the well-being of the animals, while also making sure you have a great experience. We had two well-trained crew members on our boat including marine biologist Maria Vilà and skipper Rodrigo Cabral.
Preparing for Whale Watching in the Azores
The main dock for Picos de Aventura is located along the waterfront in the heart of Ponta Delgada. Arrive a few minutes before your scheduled departure time so you can get checked in. All guests are receive heavy duty raincoats and life preservers. You might get wet but don't worry– that's part of the fun!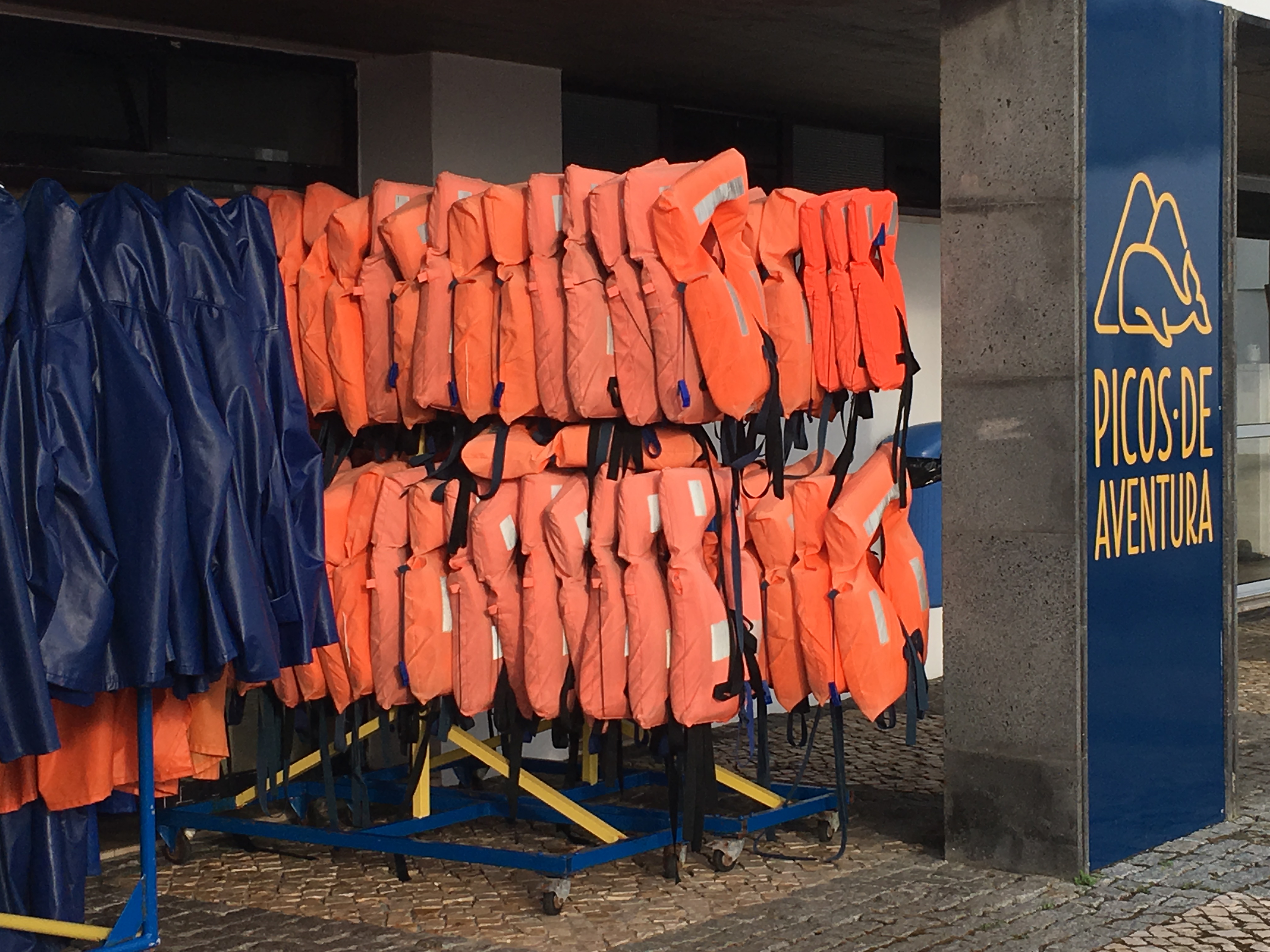 Once on the boat, Maria gave a safety briefing and taught us a little about the types of whales and dolphins that we might see on the trip. She also provided a little on the history of whaling in the Azores (whales are no longer hunted there).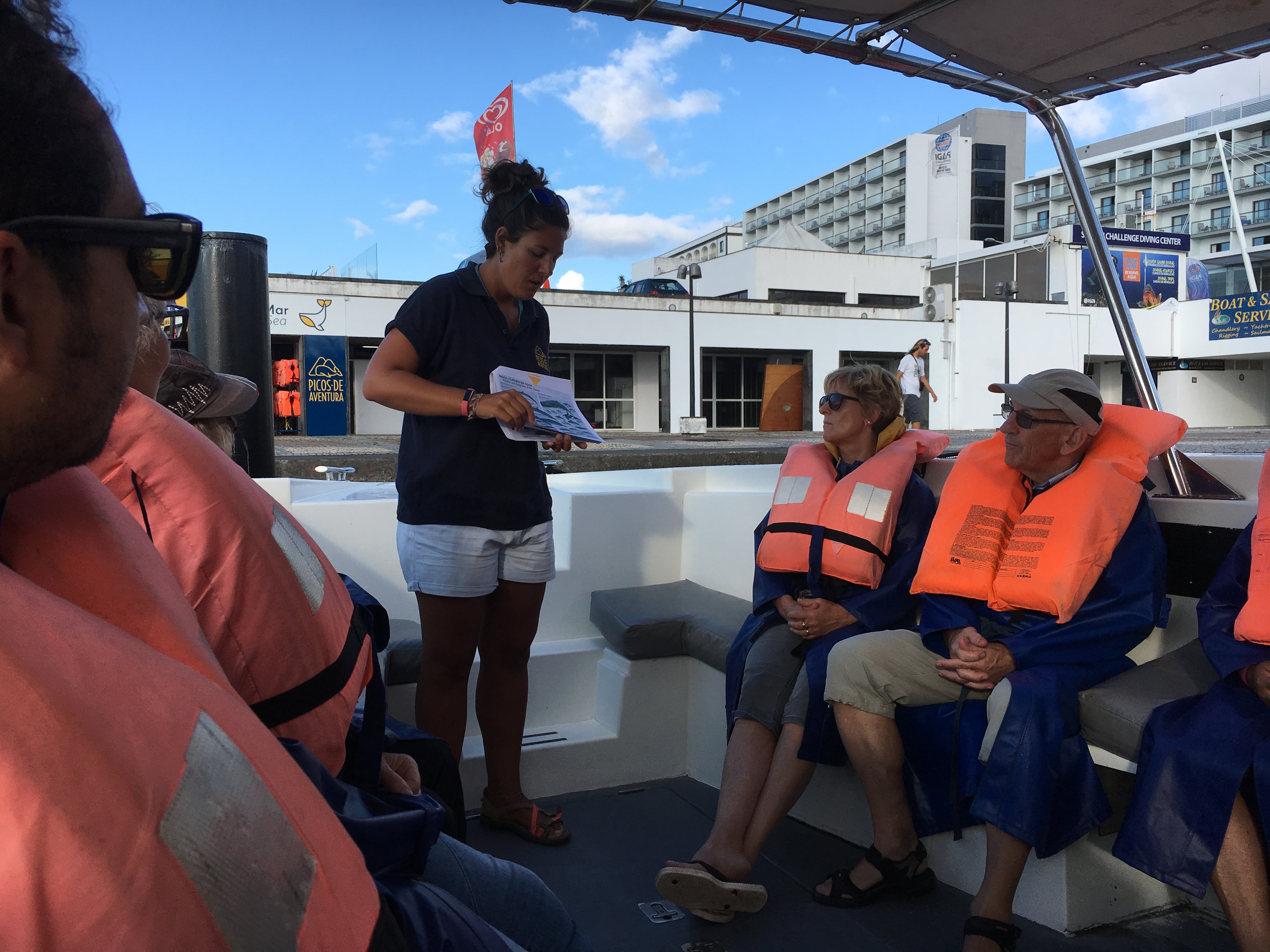 Our whale watching tour took place on one of the company's fiber boats. These are a little more spacious and have a roof that provides a little bit of shade from the sun. The company also has semi-rigid boats that provide a little more adventurous experience and can get you a little bit closer to the animals. Make sure to double check when booking your whale watching trip if you have a preference!
Adventure Time!
On the boat ride out into the ocean, you'll be eager with anticipation! Picos de Aventura has trained "spotters" at lookouts on the island that can spot the whales from miles away. Once the spotters see a whale, they call the location to the boat crew. WC and I can't understand Portugese, but we knew when they saw something because of the excitement over the radio!
This is when the real fun began. Our boat, with Rodrigo at the helm, took off full speed towards the location where the animal was spotted. Boats from other tour companies also took off in the same direction. We knew it was just minutes before we would see something special!
Once the boats get close, they come to a stop and the search begins. It is truly exciting looking around at the ocean to try to spot a whale! Sperm whales, we learned, can take shallow or deep dives. That means by the time your boat gets to the area, they could be underwater for a period before they come back to the surface. This is where your eyesight and patience comes into play.
We promise that once you see that first whale it will all be worth the wait and anticipation! The easiest way to spot a whale is when they blow. A large plume of water will rise up from the surface. Once you see it the first time, it will be much easier to spot throughout the rest of the trip.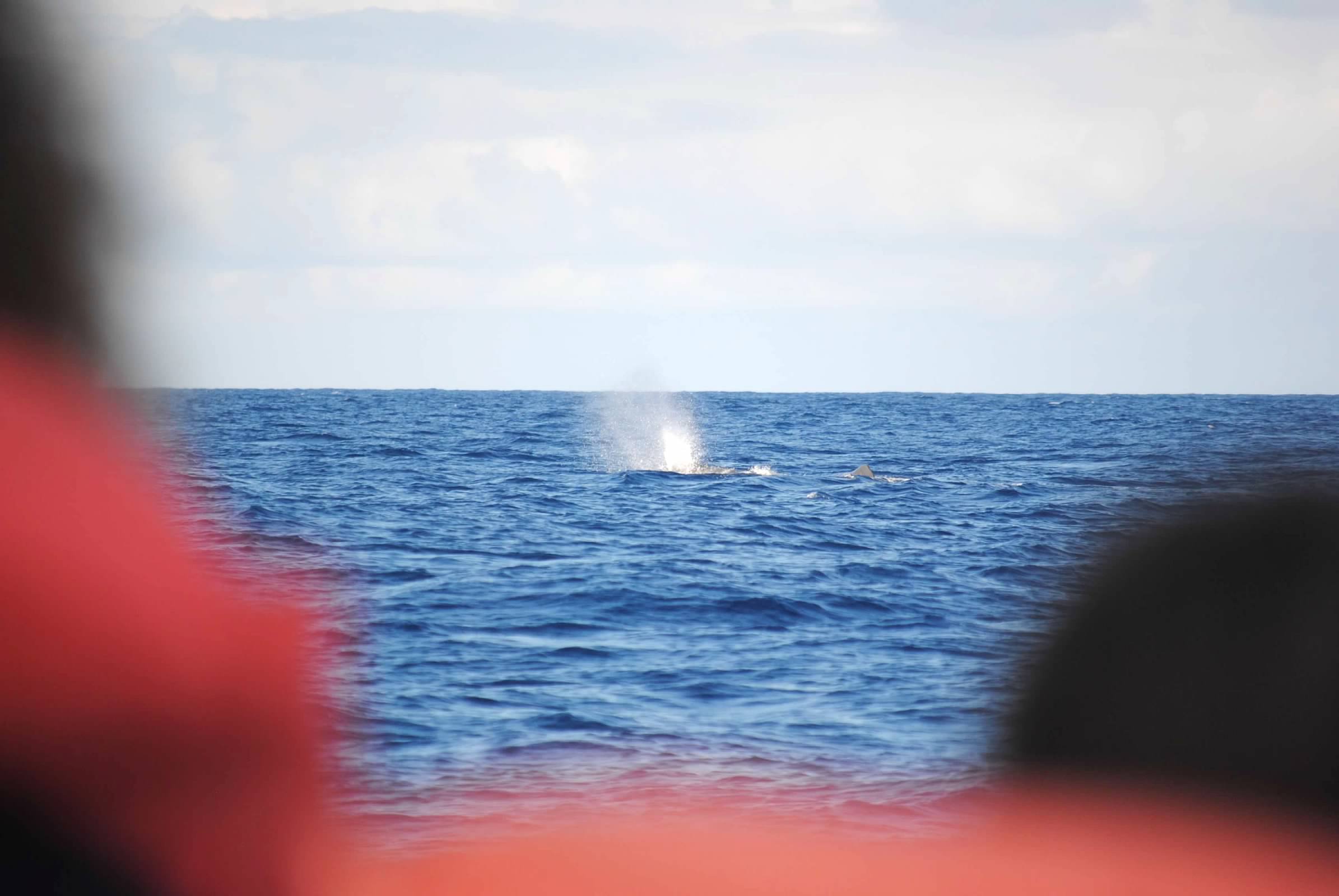 We watched the first sperm whale for several minutes before it took a dive and disappeared into the Atlantic Ocean. Sperm whales are common to the area in the summer, but can be seen throughout the year.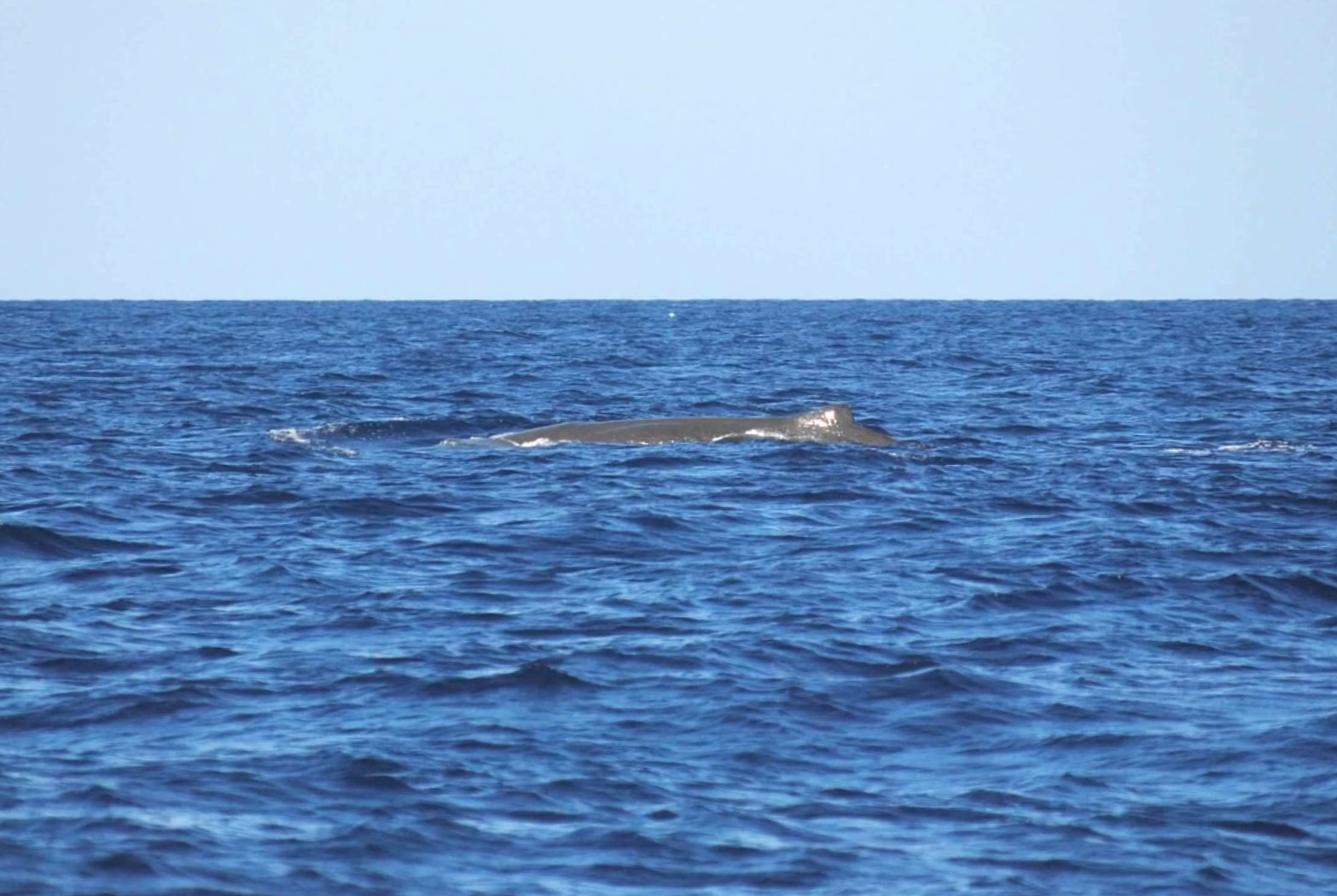 After that first whale sighting, Maria walked around the boat to teach us a bit more about the sperm whale and what we were seeing above the water (back and dorsal fin). She spoke both English and Portugese making the tour very visitor friendly.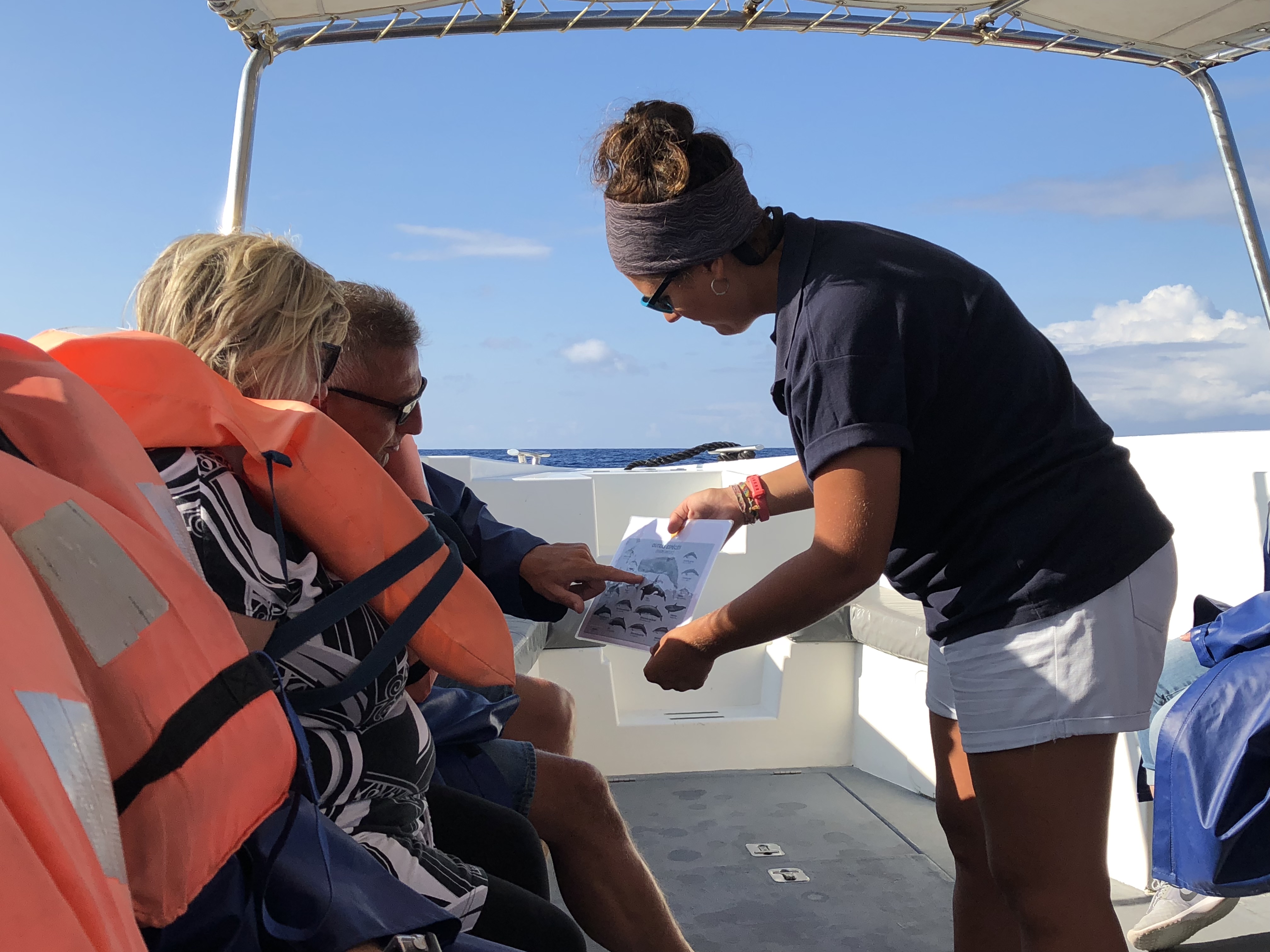 If we thought seeing one whale was lucky, our next two sightings were even better! We saw a pod of two whales and then a pod of three whales!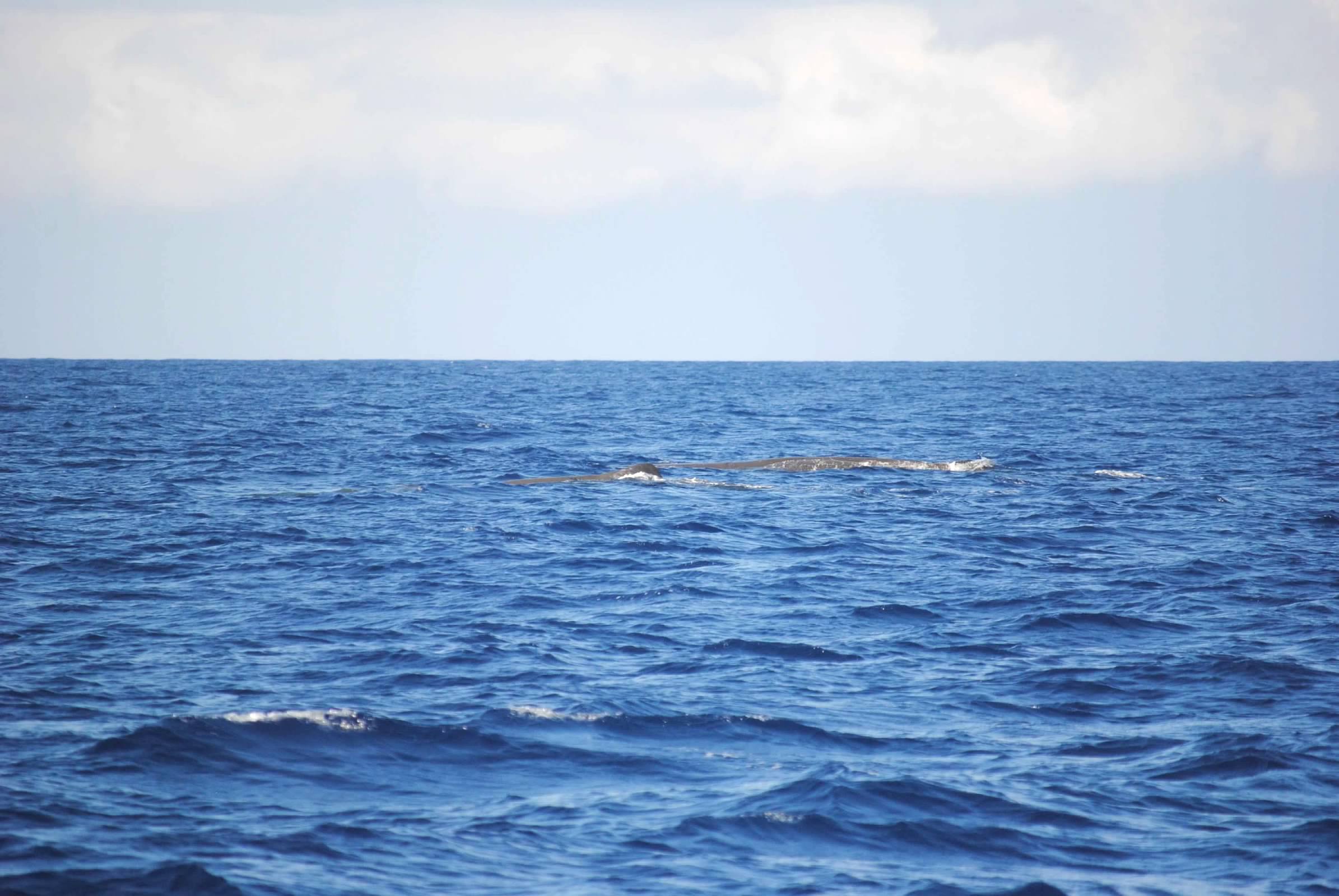 In between our whale sightings, we also got to watch several pods of dolphins swimming and playing in the water.
Being from Florida, we didn't think we'd be that excited about seeing dolphins, but these dolphins were so much fun! Prior to this trip, we'd never seen one do a flip out out of the water (of course, we missed it on camera) and it made the end of an already great day.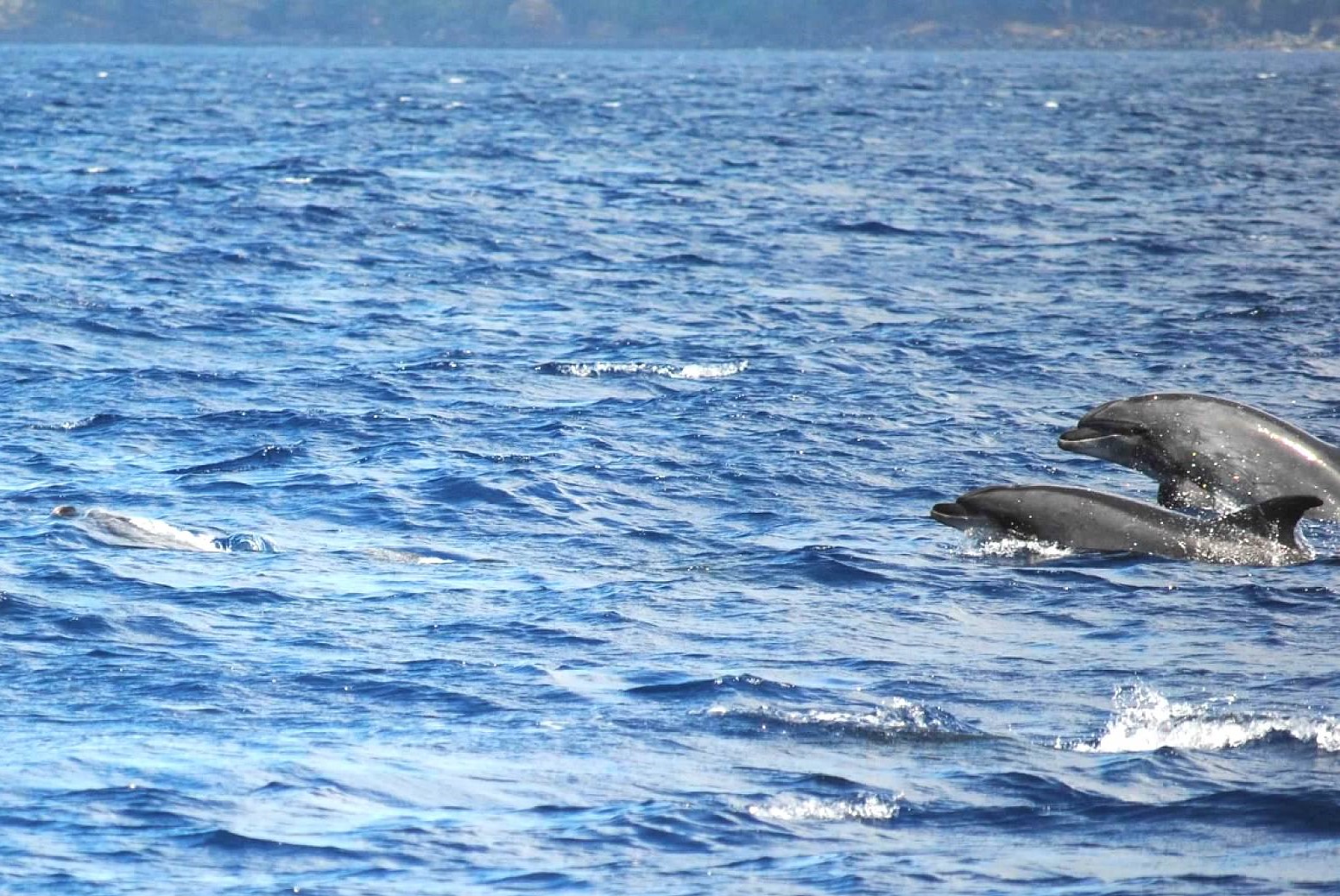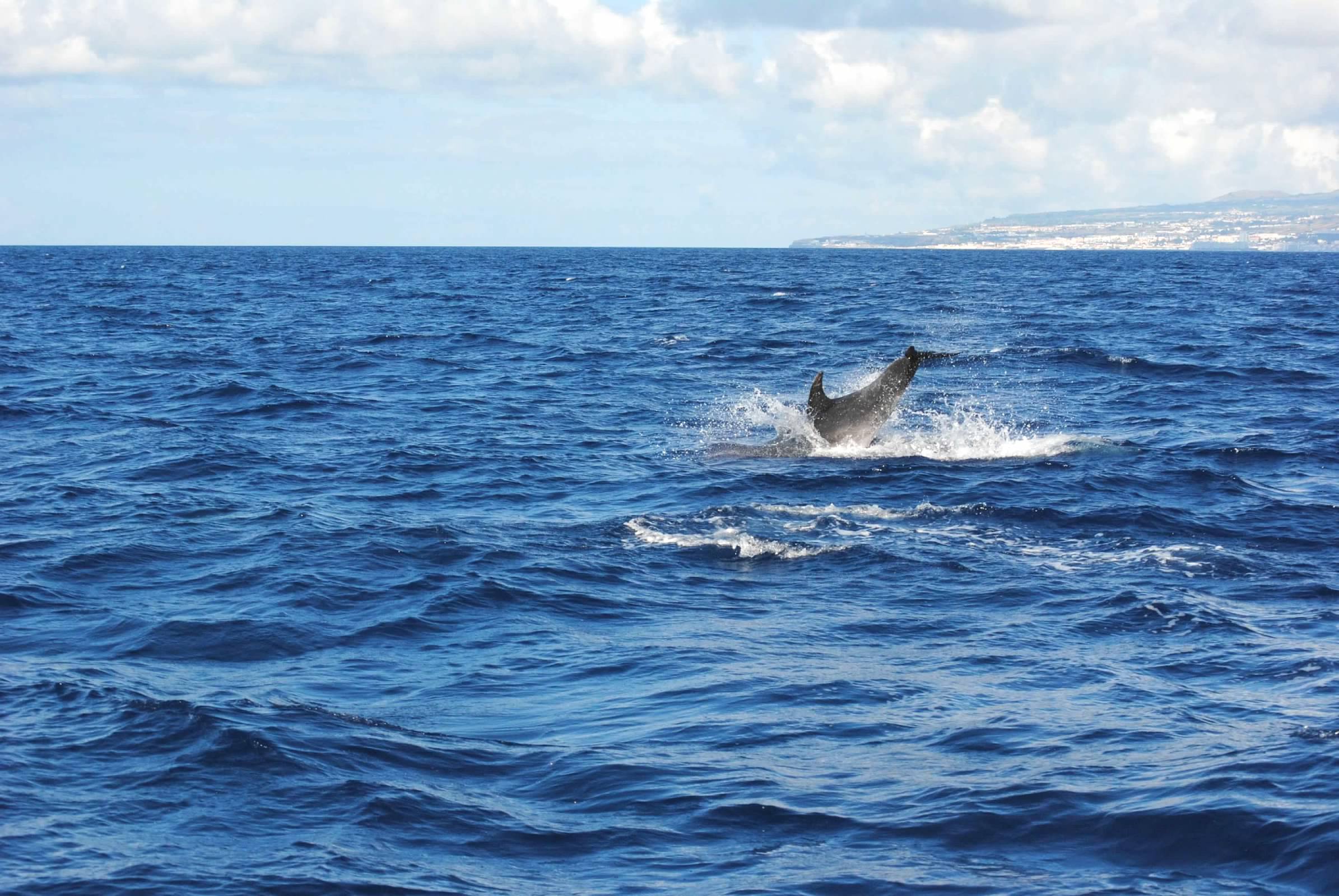 Thank you to Maria and Rodrigo for providing us a great experience whale watching in the Azores!
Booking with Picos de Aventura
You can learn more about Picos de Aventura on their website. For questions, contact reservas@picosdeaventura.com. The whale and dolphin tours range in price from €50 to €80, depending on the length of time and the areas of the island you'd like to visit on the tour. Children receive a discount. The company also offers a variety of land tours and adventure trips, so check out all of their options before booking any of your Azores adventures.
Don't miss out on whale watching in the Azores and definitely consider booking Picos de Aventura as your guides!
Note: Our whale watching tour was provided complimentary from Picos de Aventura. As always, our opinions are completely our own!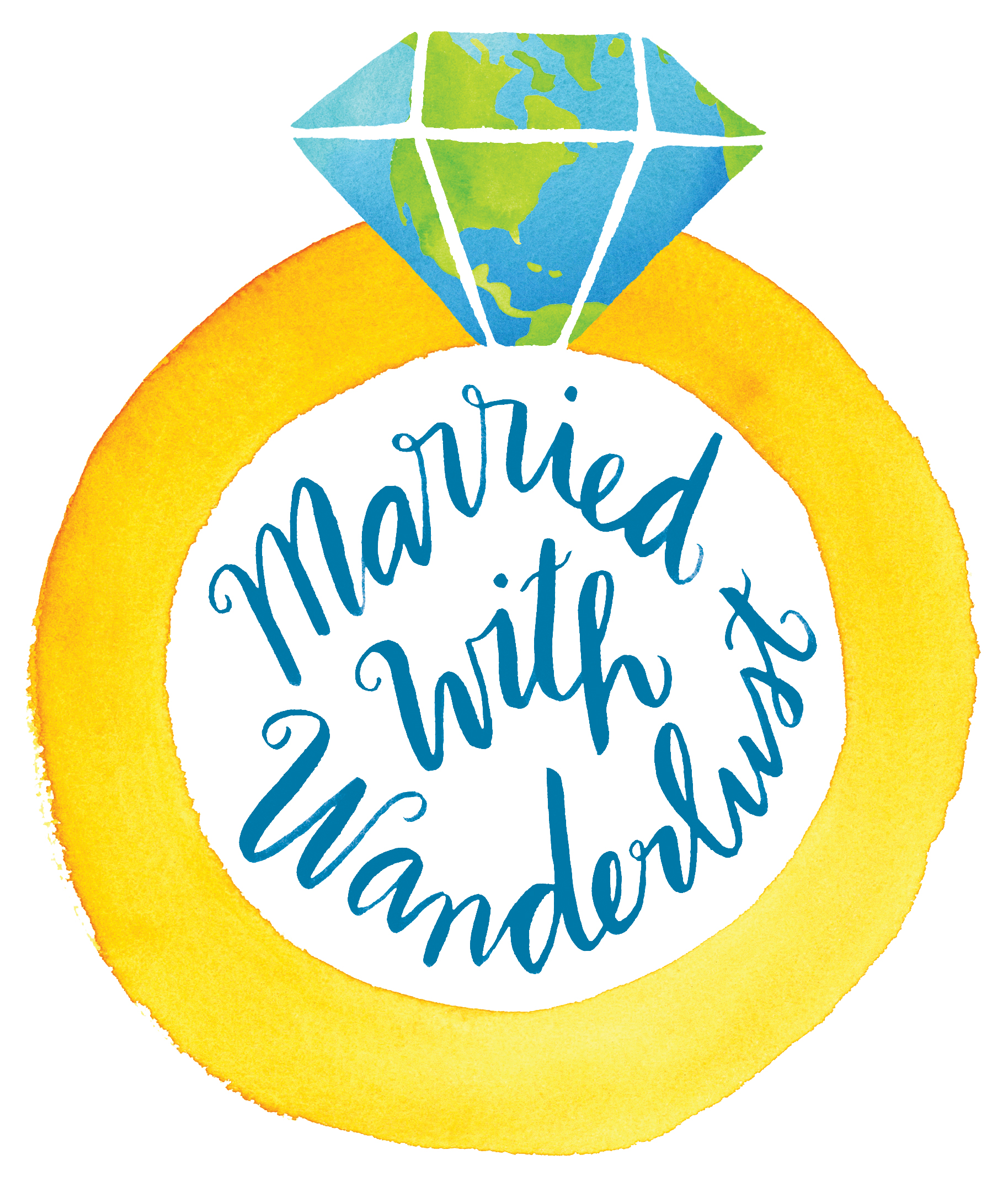 Enjoy our blog post? Pin it to share with others!