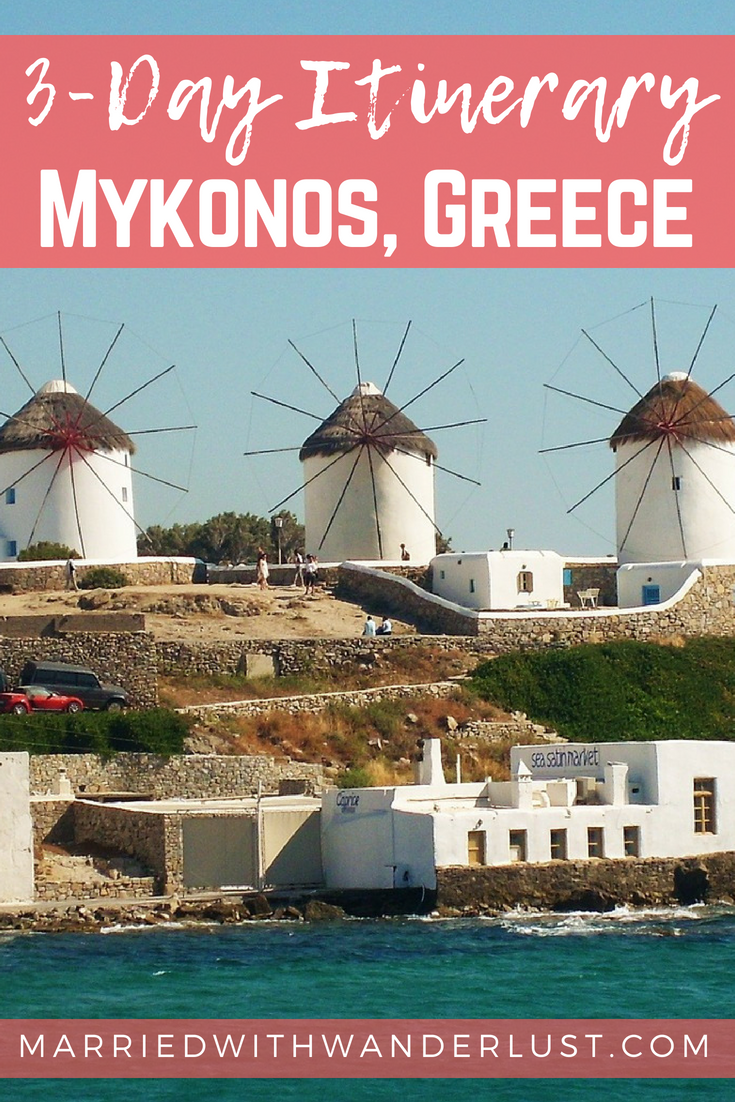 If you're heading to the Greek isles, Mykonos is likely on your list. It was definitely the most lively of the three cities we visited in Greece, and we were definitely ready to relax in Santorini afterwards! Below is an itinerary for our 3 days on the island.
Day 1: Travel Day/Mykonos
We spent the morning in Athens before taking an Olympic/Aegean Air flight to Mykonos in the early evening. Our hotel in Mykonos offered free transportation from the airport so make sure you double check and schedule this before arriving.
We stayed at the Argo Hotel located in Platys Gialos. It's a great location and there is also a bus stop to downtown Mykonos right out front. The bus to downtown takes about 15 minutes.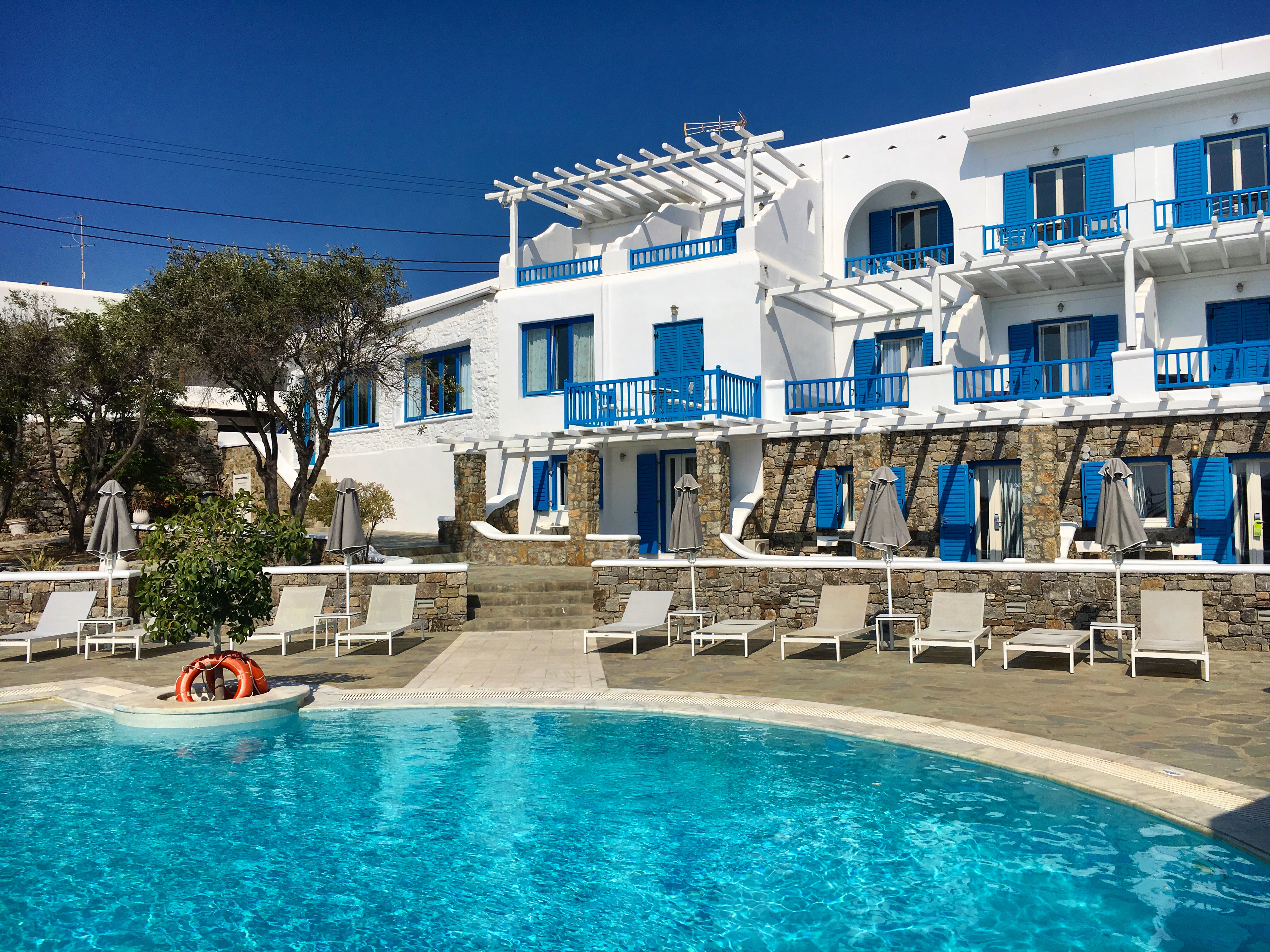 Since it was kind of late by the time we settled in, we headed to dinner at our hotel restaurant, Avli Tou Thodori. It is a short walk from the hotel and located on the beach. WC and I shared a fish dish and weren't that impressed (in comparison to some other restaurants we tried), but some of our friends claimed this was one of their favorite meals in Greece!
Day 2: Platys Gialos, Paraga Beach, & Paradise
On our first full day in Mykonos, we headed to the beach for a morning walk. Platys Gialos was perfect at that time of day without all the crowds.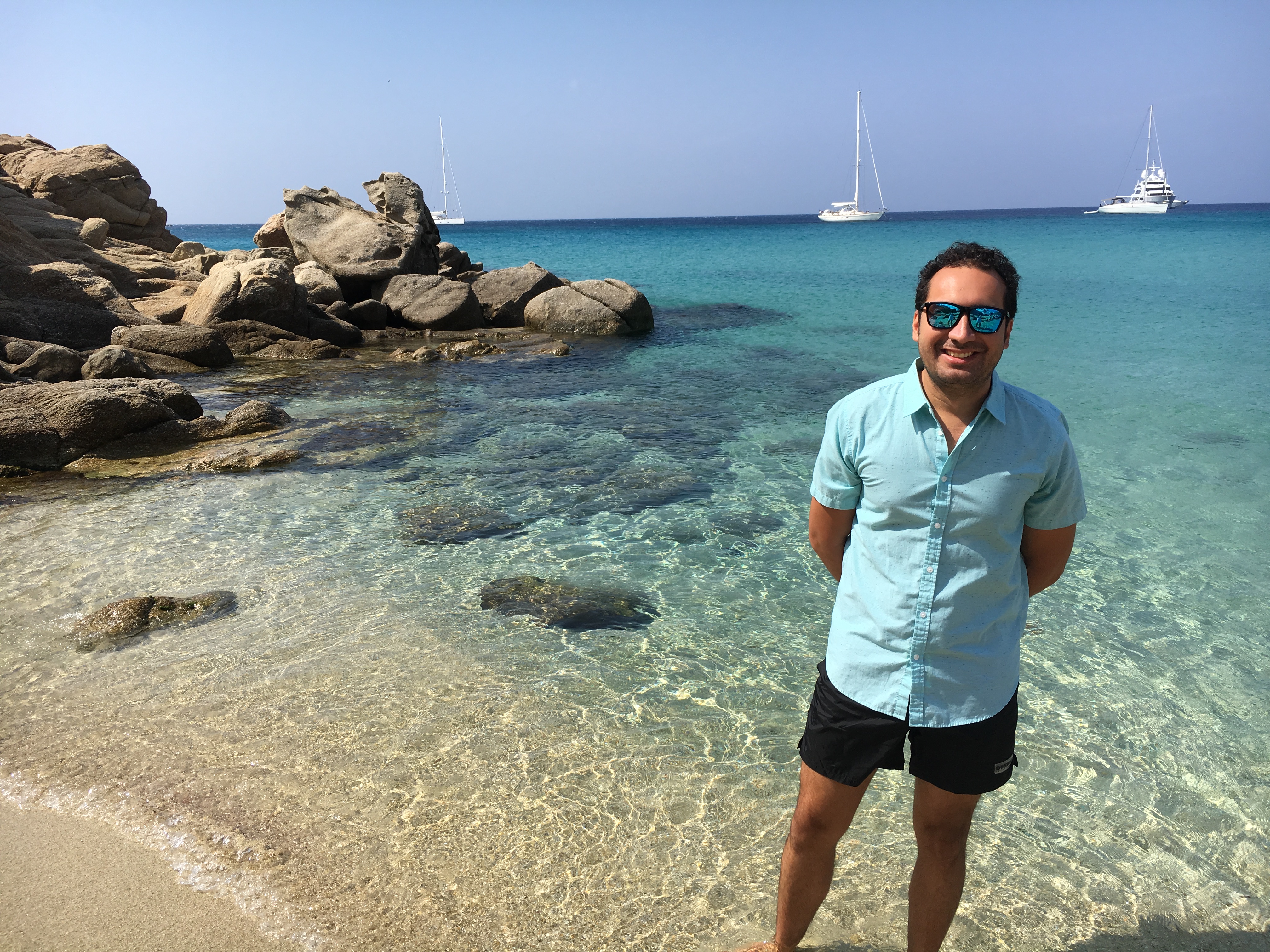 We grabbed some beach chairs from one of the hotels and relaxed for a few hours. At some hotels, the chairs are free as long as you are ordering food or drinks. Other hotels charge for the chairs. We'd recommend asking around before choosing a spot.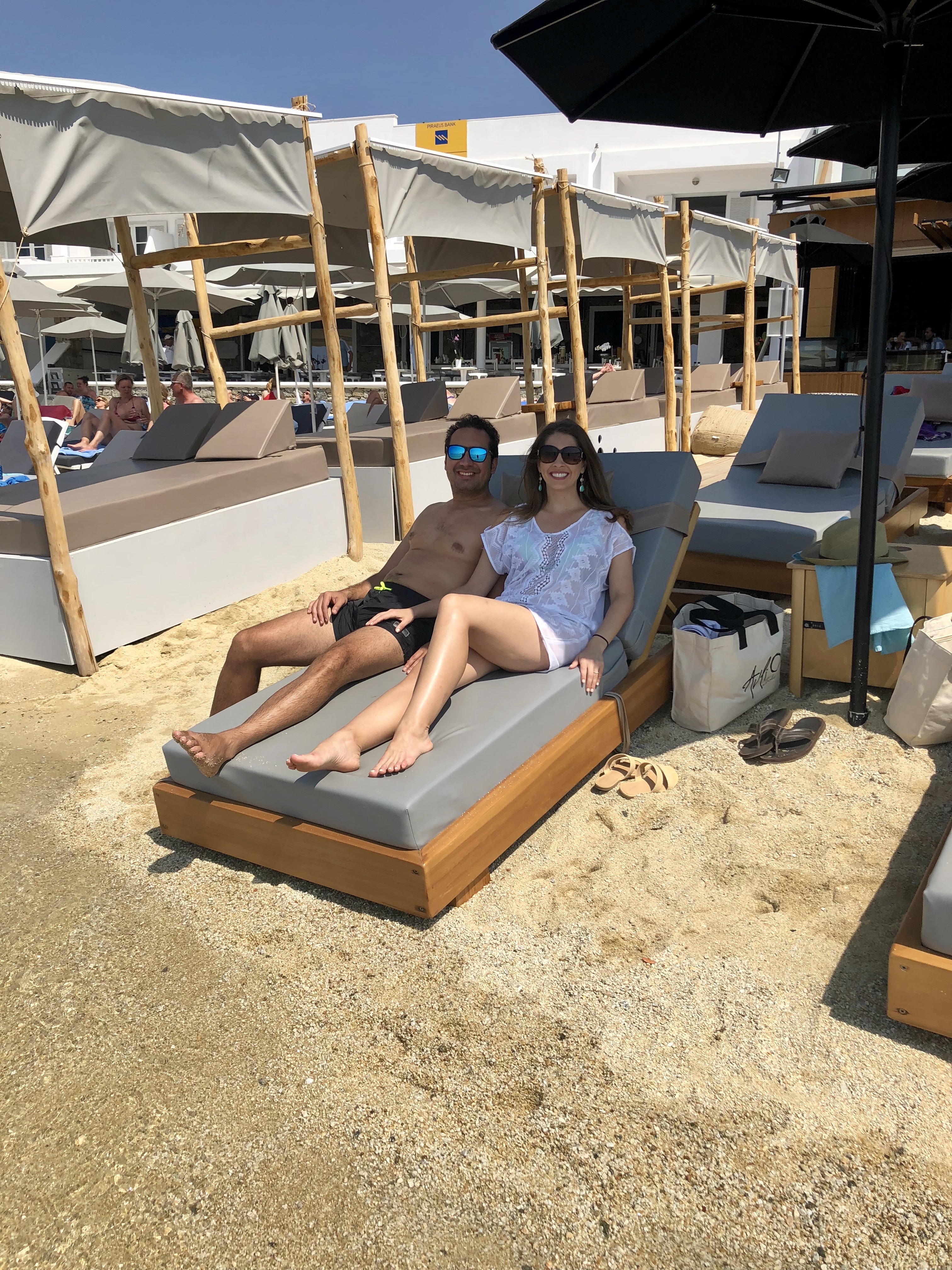 For lunch, we stayed on Platys Gialos and ate at Yialo Yialo. This was one of the BEST meals we had in all of Greece. Their pot of mussels is to die for! We ended up going back to order them again before leaving Mykonos.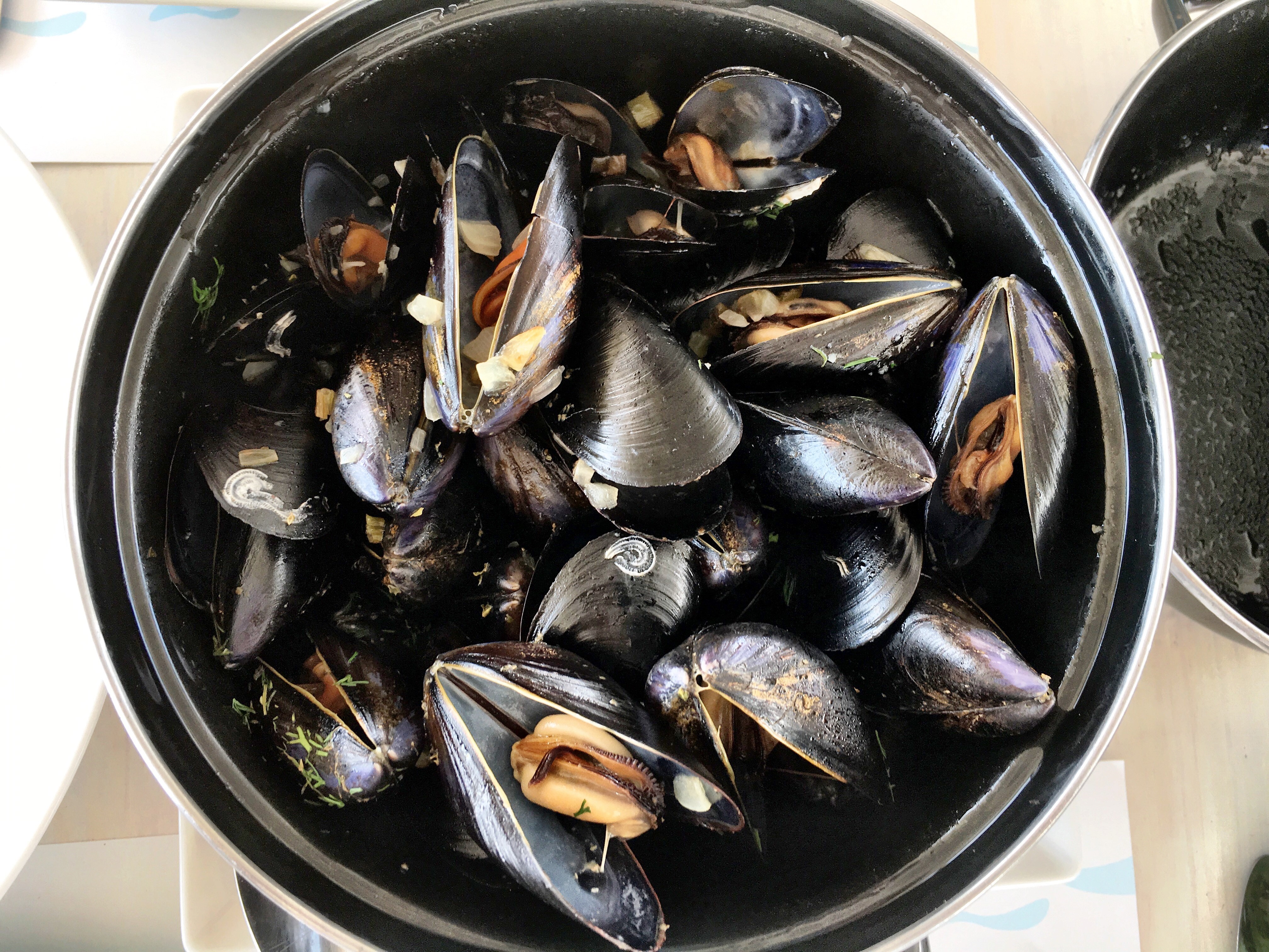 After a morning of relaxing, we decided to head over to Paraga Beach where there are some fun bars. You can easily grab a cab, but we decided to hike and enjoy the view. There is an easy path to follow from Platys Gialos to Paraga Beach. Note: Don't do this walk if you are drunk! The cliffs are steep.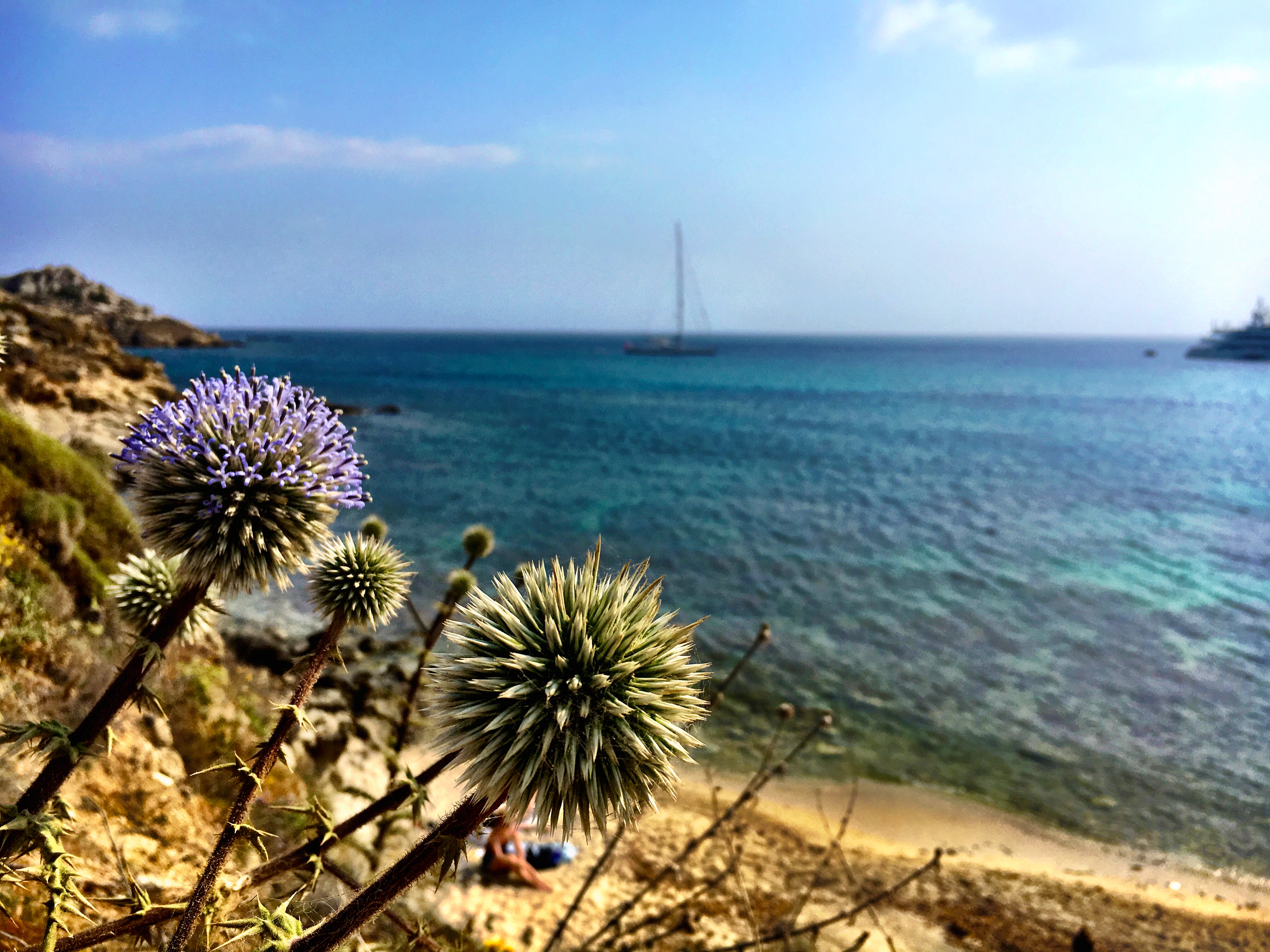 There are a few fun bars at Paraga Beach:
Scorpios: This is an upscale bar that is very popular and throws fancy parties. We went for one drink, but, to be honest, that's all we could afford!
Kalua Beach Club: This was our favorite bar in Mykonos. There was live music and a lively crowd. It was also a more relaxing atmosphere than Scorpios.

To wrap up the evening, we headed to Tropicana Club on Paradise Beach. This can be wild, so put your party pants on! We danced and had a really good time there.
Day 3: Little Venice & Super Paradise
We spent the morning exploring Little Venice. This is such a cute town and definitely a must-do in Mykonos! Visit the iconic windmills and snap some photos before heading into the downtown area.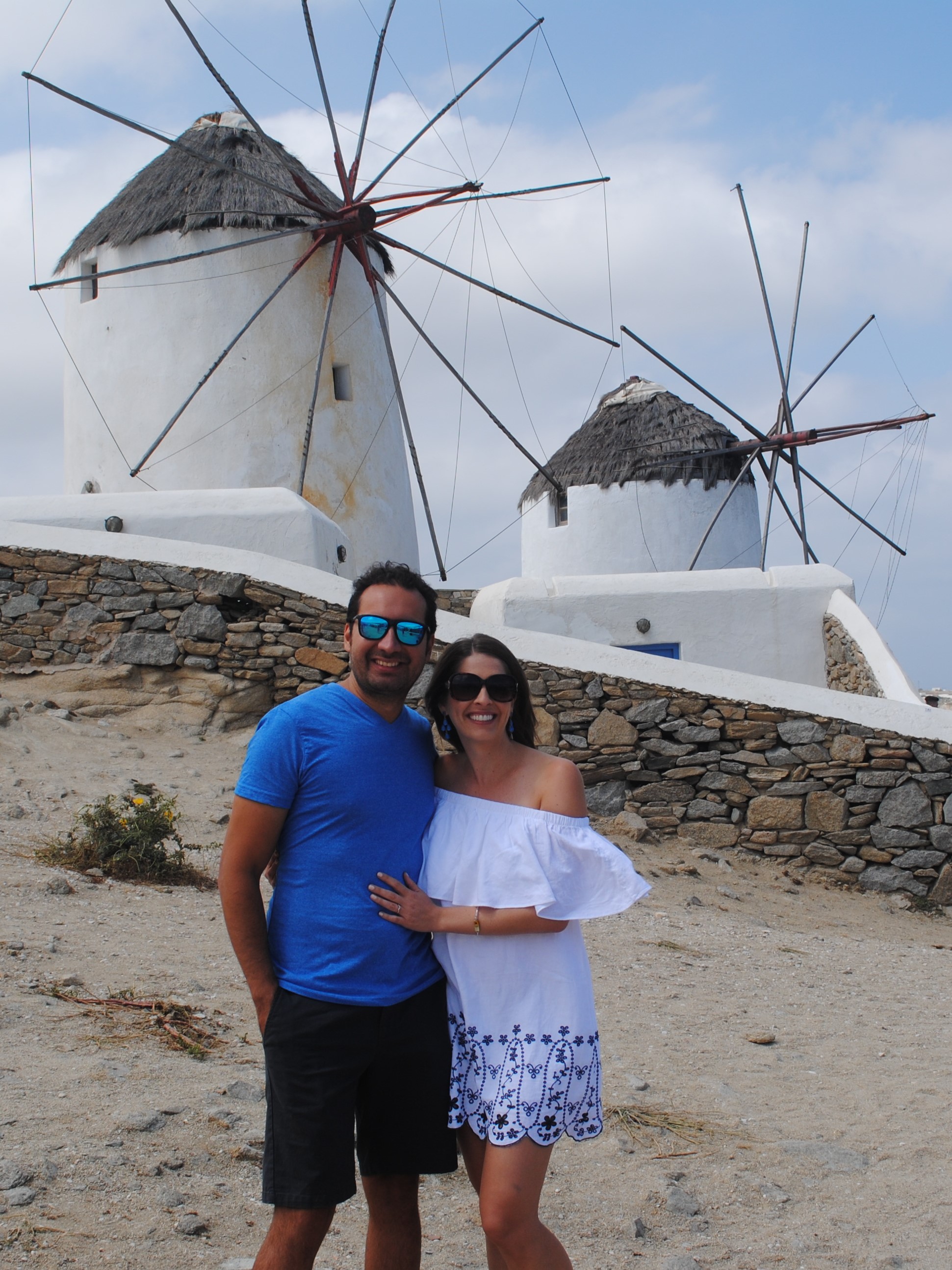 We spent most of the morning wandering the cute streets of Little Venice. There are lots of cute shops if you're looking for souvenirs.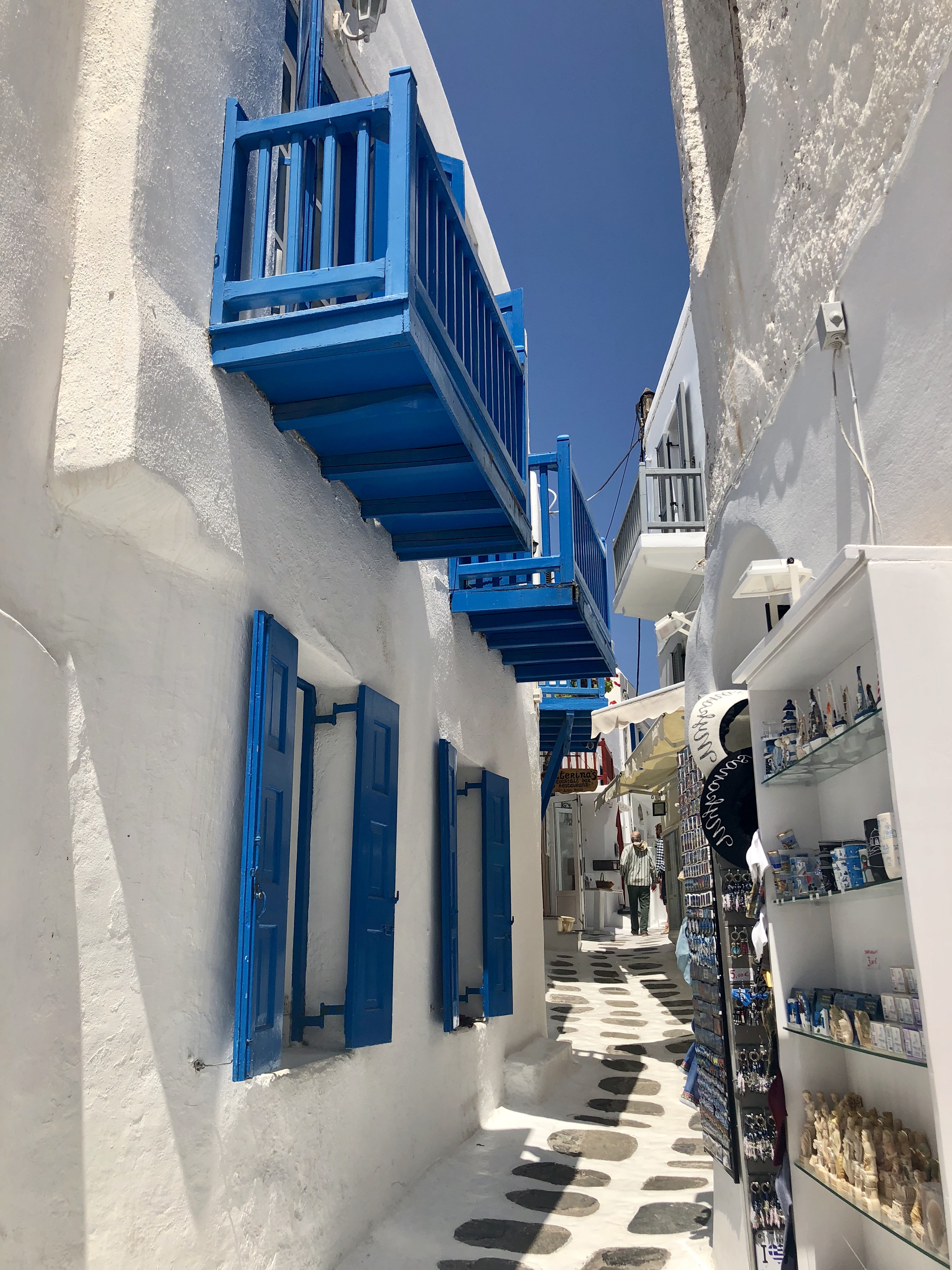 You may want to stop for a coffee or drink at one of the restaurants along the water. You can get a great view of the windmills.
By early afternoon, we were really hungry from the morning of sightseeing. Our group grabbed lunch at Nice n Easy in Little Venice. It  is a cute outdoor spot with a view of the water. After lunch, we headed to Super Paradise for drinks at Jackie O's. We ended up having so much fun that we never made it to any of the other spots in Super Paradise!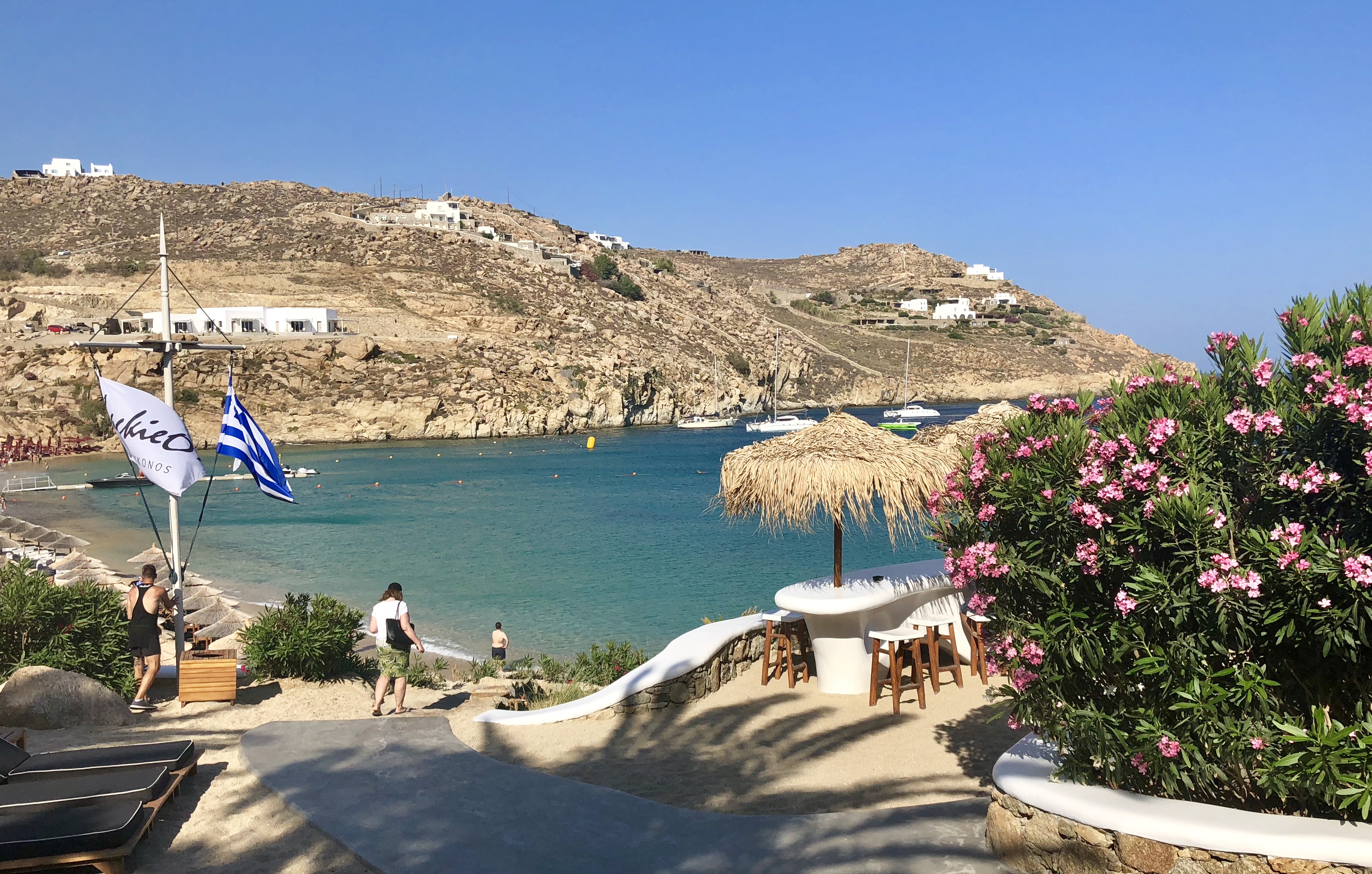 For dinner, we headed back to Little Venice to eat at Eva's Garden and then went to Skandinavia club for drinks and dancing.
Day 4: Travel Day to Santorini
We took the ferry to Santorini and it's an inexpensive option if you don't want to fly. We've been told it's typically an easy process, but in our case it was delayed a few hours. Just keep that in mind when scheduling activities for once you arrive in Santorini. Definitely take one of the high-speed ferries- it is worth the extra few bucks!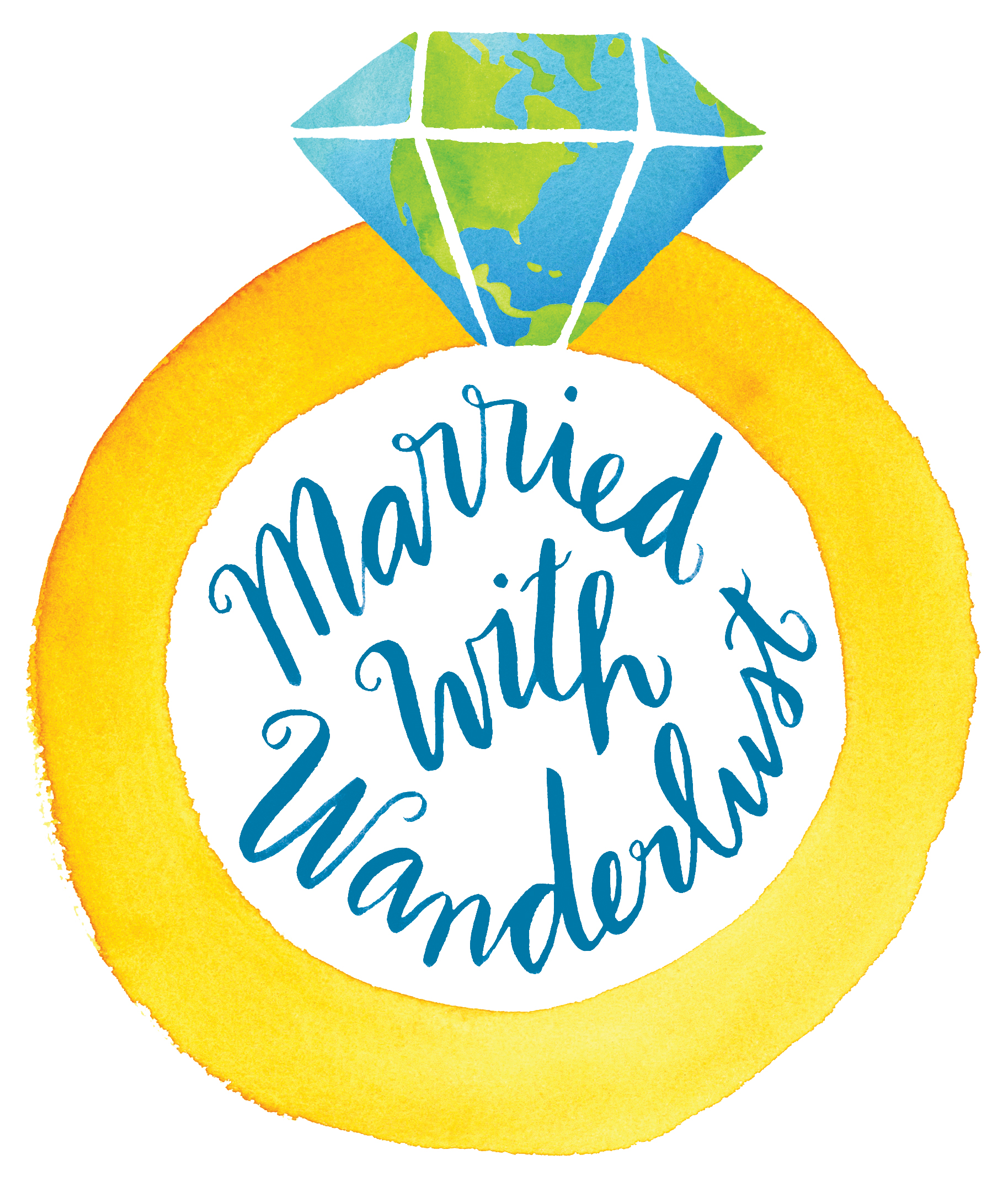 Enjoy our blog post? Pin it to share with others!