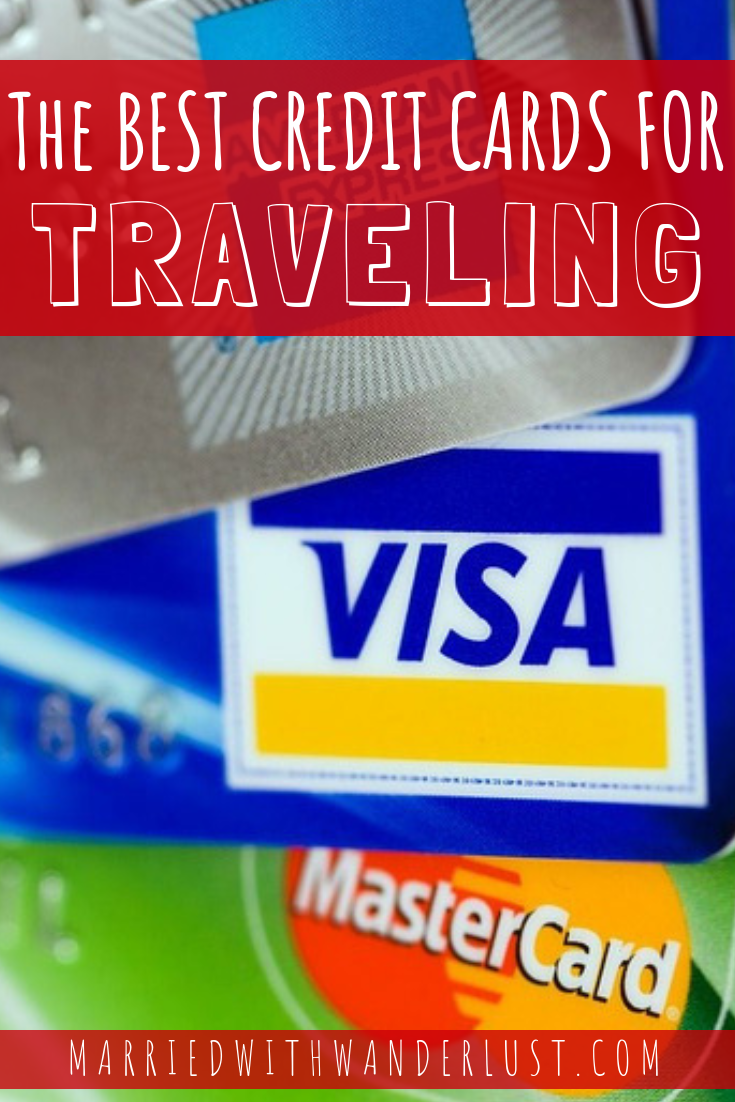 Friends and family members are always asking us how we afford to travel so often. And our answer is always simple: rewards points. With points, we typically earn several free flights each year, as well as free hotel stays.
NOTE: This travel blog contains some affiliate links. Should you use our links, we may receive a small compensation at no extra cost to you. We greatly appreciate your support of Married with Wanderlust! As always, all opinions are our own and we only promote products that we personally love.
Choosing Travel Rewards Credit Cards
The number one way to earn airline points is through credit cards. Outside of credit card points, there are several other ways to earn free airline and hotel points and we shared those opportunities in our post How to Earn Airline Points (Without Signing Up for Credit Cards).
By using a travel rewards credit card for regular purchases such as your monthly bills, you'll quickly add up rewards for things you already have to spend money on. Below is a look at our favorite travel rewards credit cards and what we use each one for.
NOTE: We started with the Southwest Airlines card years ago, but moved to the Chase Sapphire card more recently. Now we almost exclusively use the Sapphire, but still keep the Southwest card for reasons you'll read below. We also use a few other cards noted below.
Southwest Airlines Rapid Rewards® Card
When we first started traveling together many years ago, we knew nothing about accumulating airline points. However, at the time we were in a long distance relationship from San Diego, CA to Jacksonville, FL and we needed all the help we could get paying for flights! We started with the Southwest Airlines Rapid Rewards® Card because it was the airline we used the most and it had a great sign up bonus.
Southwest typically offers 40,000 bonus points for signing up for their cards, but if you keep an eye on it, this will periodically bounce to 50,000 points! To earn the points you must spend a certain amount within the first few months. This was pretty easy to do by switching normal bills to that card. Depending on your destination, 40,000 points can get you multiple round-trip flights and that's just for signing up! Of course, cross country flights will require more points.
The Southwest cards do have annual fees, but they both provide bonus points each year on your card-member anniversary. The Plus card has a $69 annual fee and you receive 3,000 bonus points on your anniversary. The Premier card has a $99 annual fee, but awards 6,000 bonus points on your anniversary. We personally prefer the Priority card which has a $149 annual fee but includes 7,500 anniversary points, a $75 annual Southwest travel credit, four upgraded boardings per year, and has no foreign transaction fees!
Chase Sapphire Preferred® Card
Our favorite of all the travel credit cards is the Chase Sapphire Preferred® Card. Signing up for this card will earn you 50,000 points for spending $4,000 on purchases within the first three months. This card is also great for international travel as it does not have foreign transaction fees.
The card earns 2 points for each $1 spent on purchases in the travel category or dining at restaurants (one additional point on top of the 1 point per $1 earned on every purchase). PLUS, the points earned with this card transfer 1-to-1 to Southwest Air and many other travel-related companies (more on this in a minute).
You can use the points earned with the Chase Sapphire Preferred® card in a variety of ways (not just airline purchases). Options include cash back, travel purchases through the Chase Ultimate Rewards website, and transfer to other travel programs. Your points are also worth 25% more when redeemed for travel through the Chase Ultimate Rewards website! We've done this for hotel bookings for London and Las Vegas. Both times we could not find a cheaper deal for those hotels than what we got on the Chase Ultimate Rewards website.
Not only can you transfer your Sapphire points to Southwest Airlines Rapid Rewards®, but you can also use them at a variety of other participating frequent travel programs. This includes United MileagePlus®, British Airways Executive Club, Virgin Atlantic Flying Club, World of Hyatt®, IHG® Rewards Club, Marriott Rewards®, and more! Personally, we only have experience transferring our points to Southwest and it is really easy to do on the rewards website.
Cards with No Annual Fee & 0% Interest Rate
Another technique we have for traveling is alternating in new cards that have no annual fee and a temporary (such as 15 to 18 months) 0% interest rate. We like to use these cards to book a trip and then pay it off before the 0% interest rate runs out. This helps build up your total available credit line, and ensures that you never pay interest on your travel purchase!
Our favorite cards for introductory 0% interest rate and no annual fee are:
Chase Freedom Unlimited – This card provides a $150 bonus after you spend $500 in the first 3 months. It also has no annual fee and 0% intro APR for 15 months on purchases.
Capital One® Venture One® – This card provides 20,000 bonus miles after you spend $1,000 in the first 3 months. It has no annual fee and 0% intro APR for 12 months on purchases.
Favorite Card for Restaurants & Bars (and Hotels & Airfare!)
Yes, we do have a card just for restaurants and bars! And you might be surprised by it.
The Uber Visa gets 4% back on dining, 3% back on hotels and airfare, 2% back for online purchases, and 1% back on everything else. We only utilize the cash back feature with this card and are actually saving all of it to visit Tokyo for the 2020 Summer Olympics. It is on our Ultimate Travel Bucket List, after all!
Start Travel Hacking!
You're now equipped with travel rewards credit cards that will start racking up the points! If you utilize the Chase Ultimate Rewards program, keep your eye out for discounts on hotels- this is a great way to make your points go even farther!
Keep in mind, you should always pay off your balance each month to avoid fees.

Enjoy our Blog Post? Pin it to share with others!