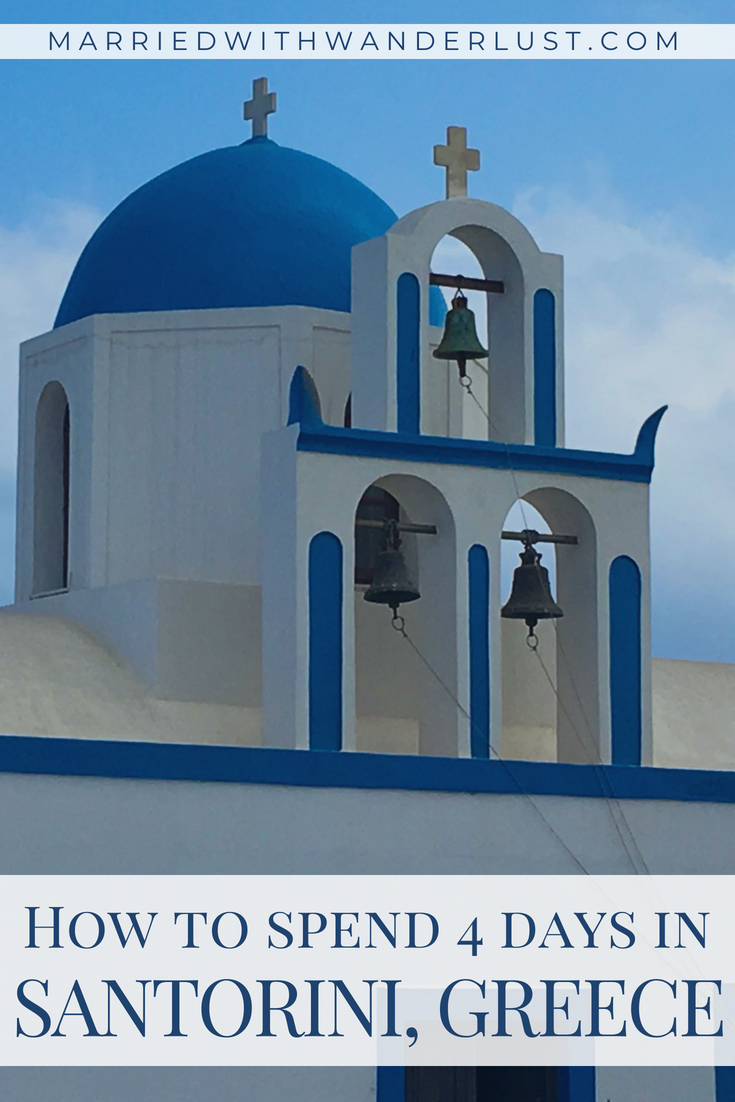 We arrived in Santorini on the sixth day of our Greek adventure that started with 2 nights in Athens and 3 nights in Mykonos. We traveled with a group of four to celebrate the 40th birthday of our friend, Harah. Hopefully our itinerary and suggestions will help you plan an amazing visit to this beautiful island!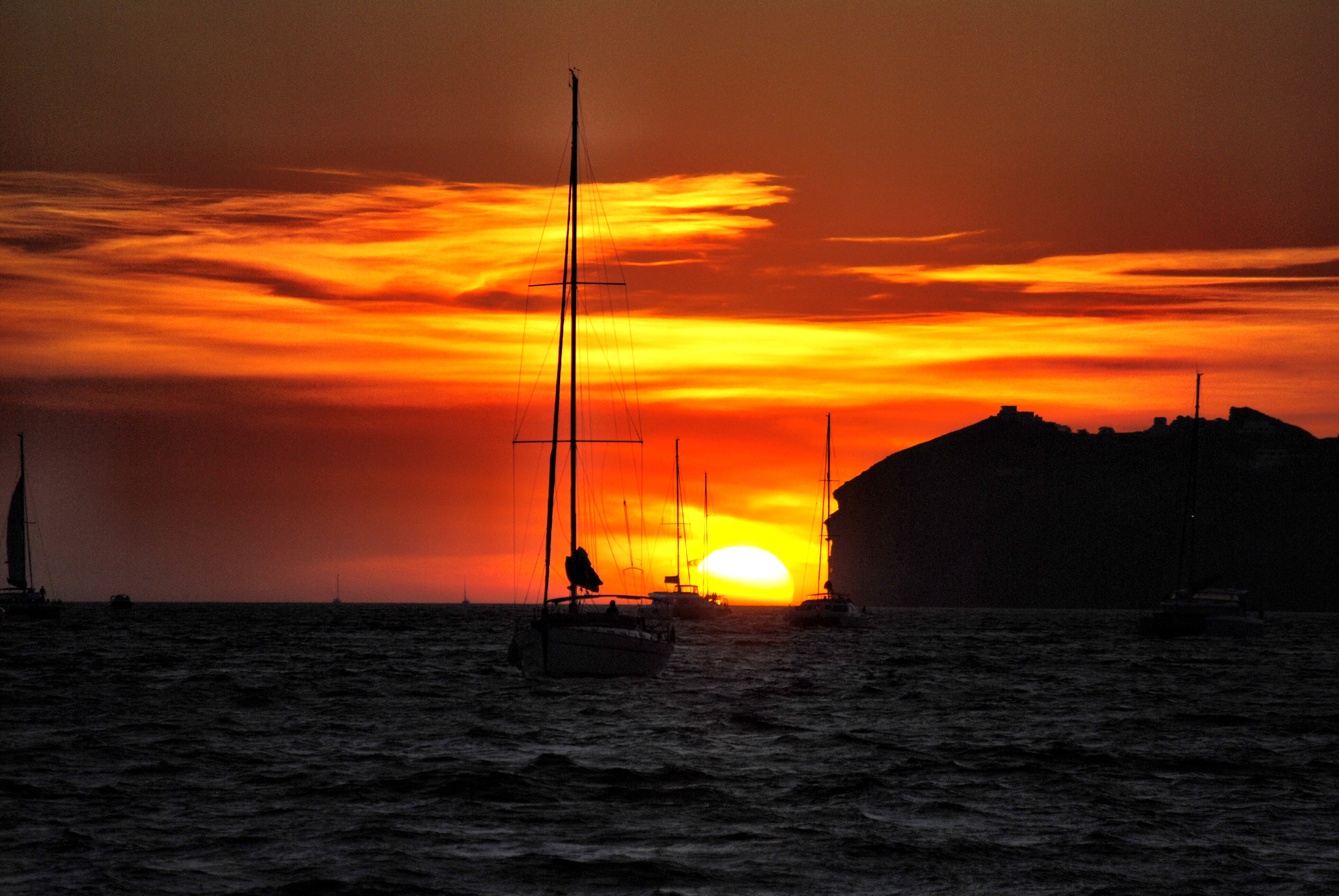 Since the sunset side of Santorini can be pretty pricey, we divided our stay on the island with two nights in Fira and two nights in Perissa Beach. Fira and Oia are more expensive areas than other parts of Santorini, but offer the iconic postcard views you've seen in photos.
TIP: Splitting your stay is a great option to save money. However, if you decide to do this, we'd actually recommend flopping the order that we chose. On our travel day to Santorini, our ferry was delayed and we didn't get there until pretty late. That meant our first day at the more expensive part of the island was cut a few hours short.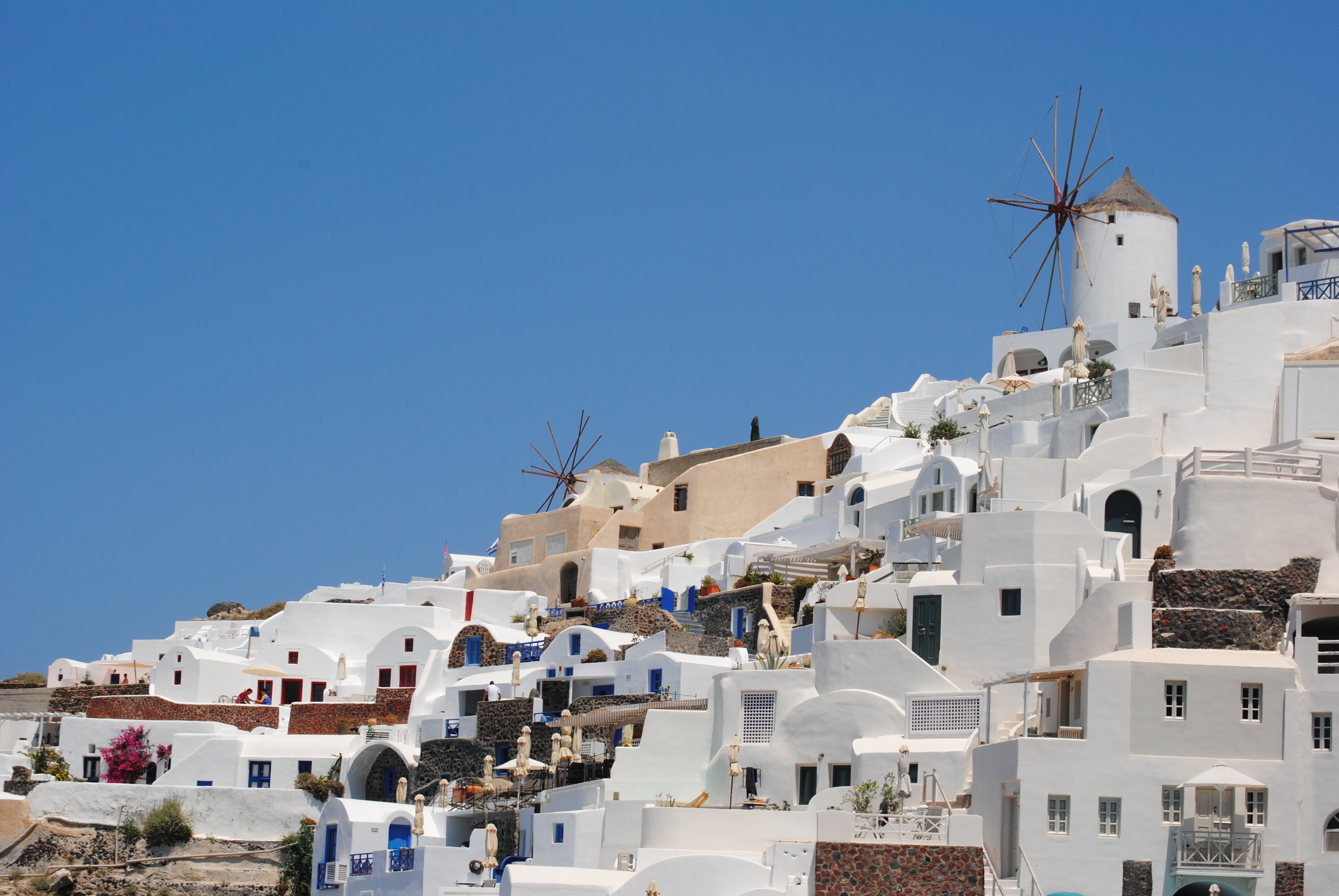 Day 1: Travel Day from Mykonos to Fira, Santorini
Ferry from Mykonos to Santorini – Our ferry to Santorini was supposed to depart before 2:00 pm, but got delayed for several hours. We took Hellenic Seaways Highspeed 7 booked through Let's Ferry. Getting on the boat is kind of crazy and fast so be ready to board when your ferry arrives!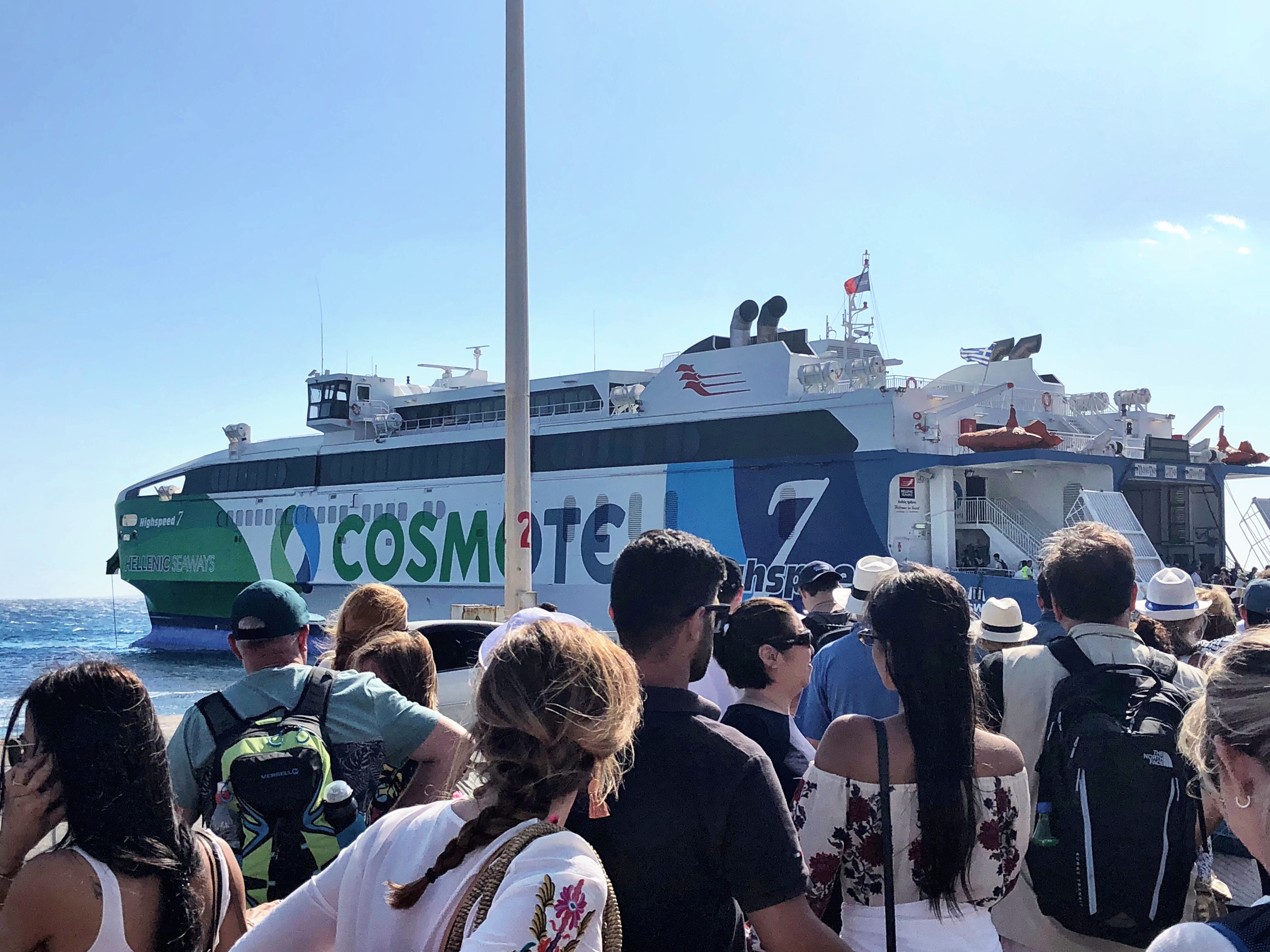 The ride itself was pretty enjoyable. I had worried about getting seasick, but didn't have any issues.
Dinner at Argo Restaurant – After checking into the Majestic Hotel, we showered and headed out for dinner. We were starving! Argo is a cute spot in Fira that with a great view of the caldera. It would be great at sunset, but it was long past that time when we arrived.
We ordered a bottle of Chardonnay with our meal (the first local Chardonnay we came across on a menu in Greece) and it was really good!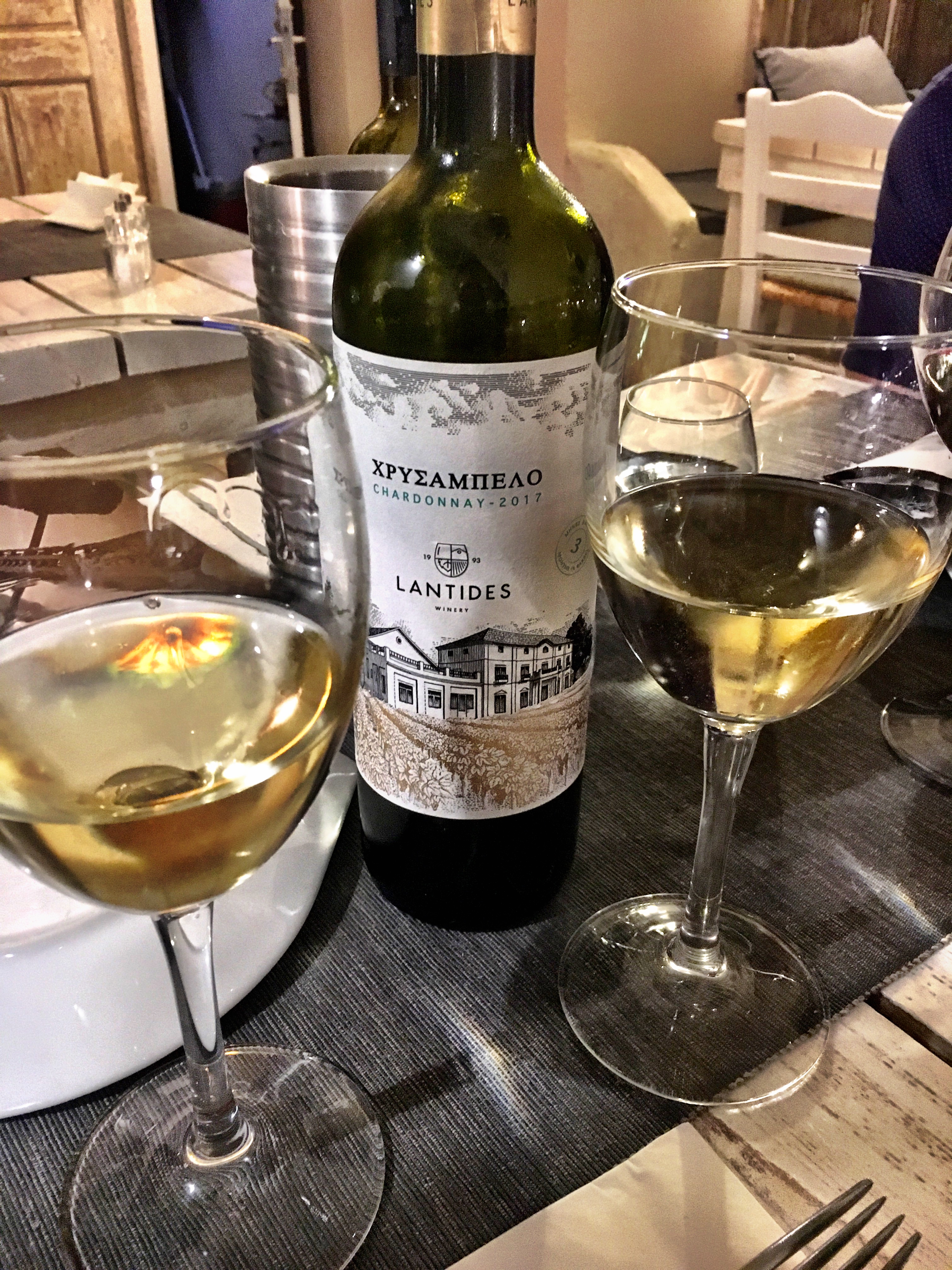 Aestas bar – After dinner, we headed to Fira to enjoy the nightlife. The bartenders at Aestas make unique handcrafted cocktails and the DJ mixes really good music. The cocktails are not cheap here, so just keep that in mind.
Day 2: Fira, Santorini
Morning Hike from Fira to Oia – Start the day early and hit the cliffside trail for a hike from Fira to Oia. Depending on how many stops you take, the hike could take anywhere from 2 1/2 to 5 hours.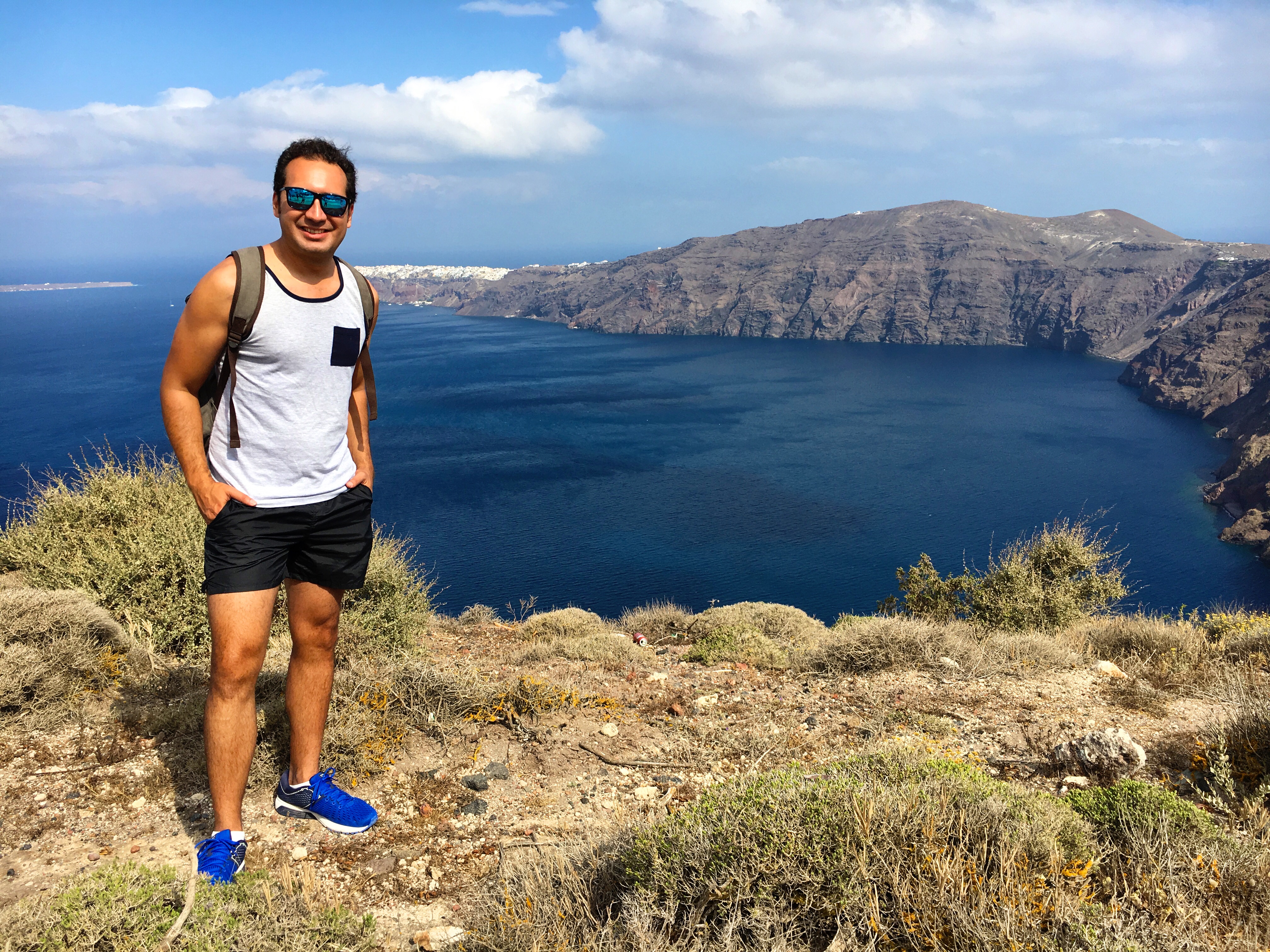 Lunch in Amoudi Bay – You'll be ready for a good lunch after the hike and Amoudi Bay is a picture-perfect spot for a meal. We ate at Sunset Taverna, but were told that all of the restaurants are good in the area. The restaurant will also call you a taxi back to your hotel if needed (just give them a heads up before you finish eating).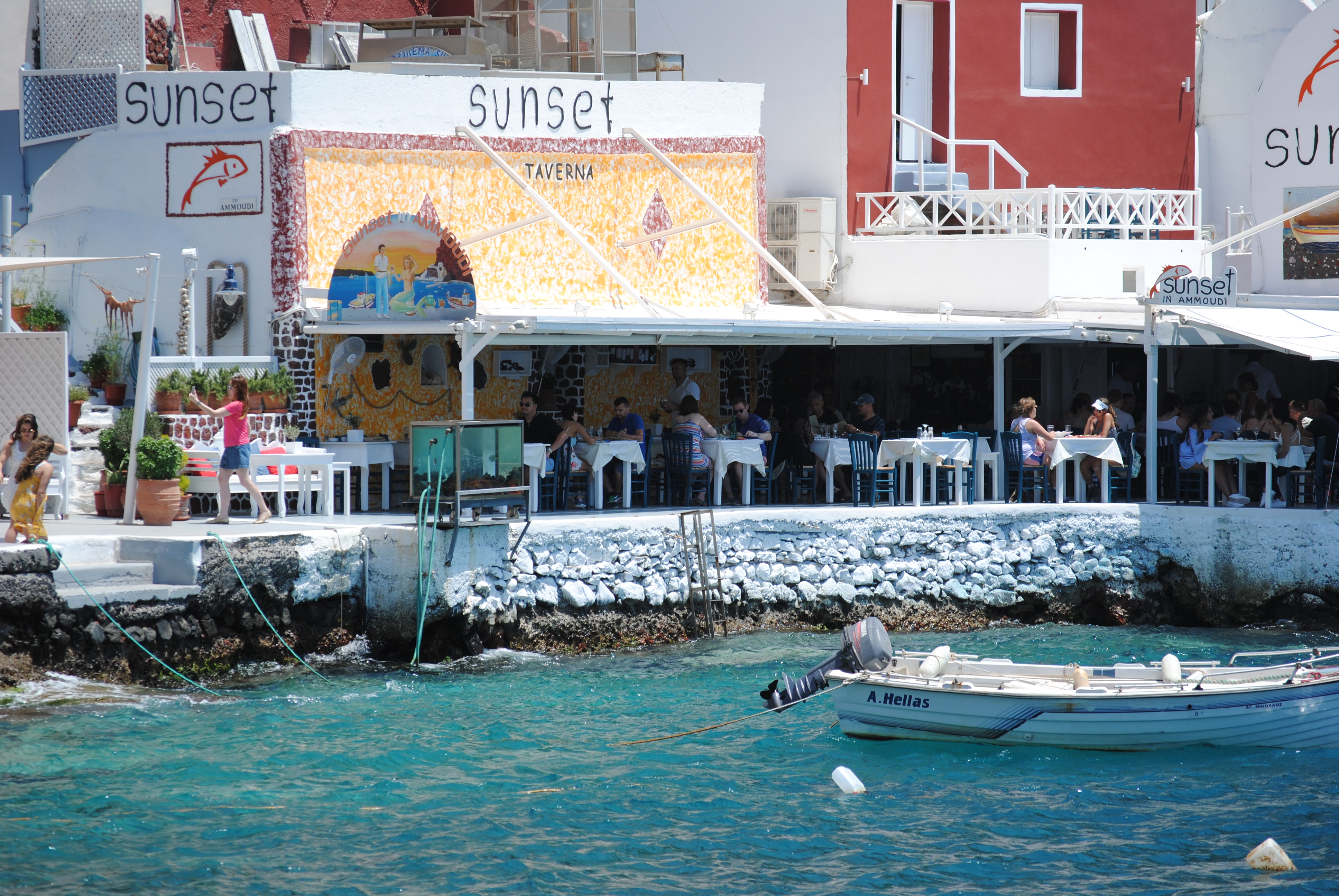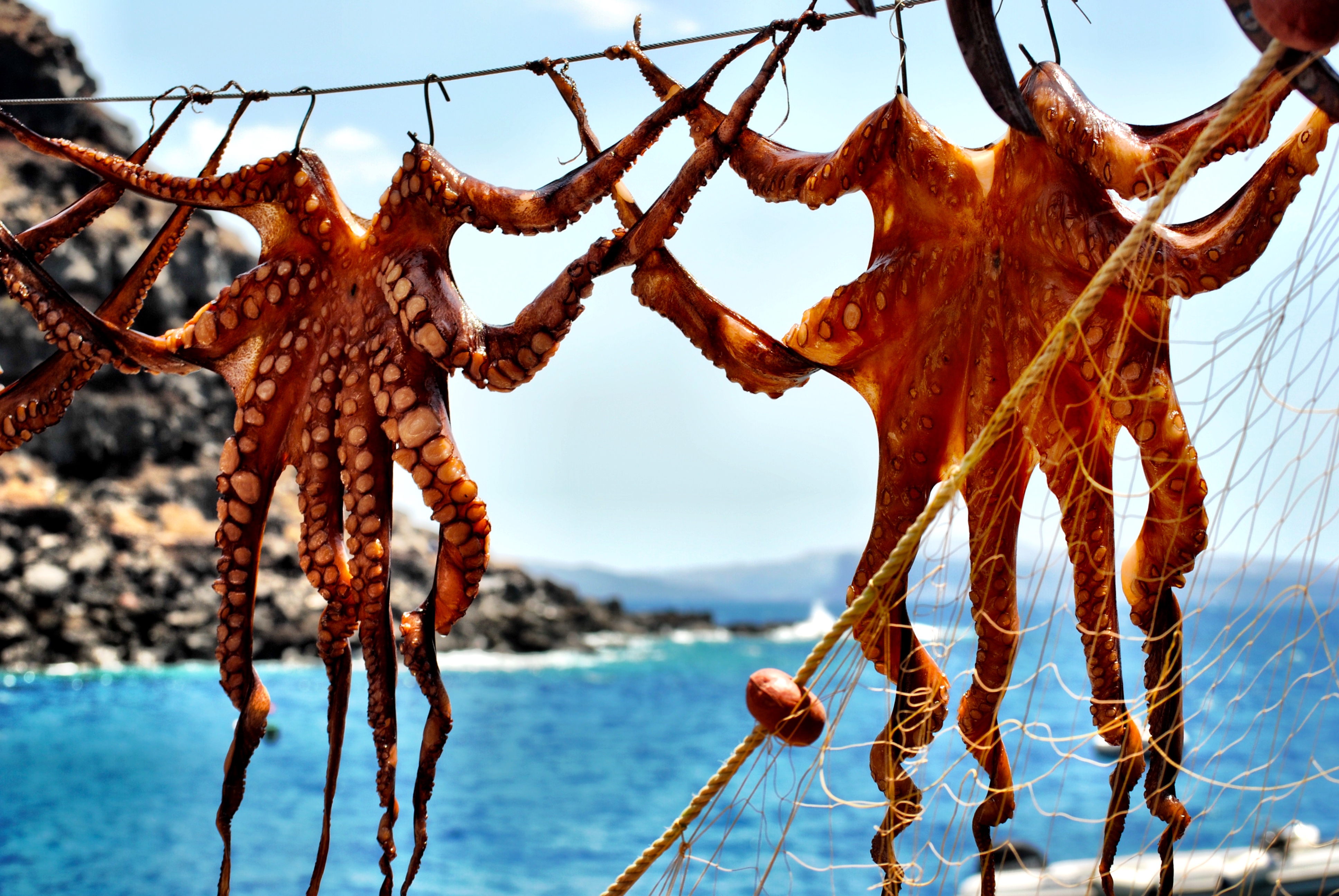 Afternoon by the Pool – Many of the hotels in Fira and Oia have fantastic pools (some with a view of the caldera). After the long hike, you'll probably want to relax for a bit before heading out on the town for dinner and nightlife.
SantoWines at Sunset – We'll start by noting that the sunset is incredible from this winery. It is very popular in the evening, so make sure that you make a reservation. We didn't feel that the service matched up to the expectation, but the view made it worth the visit.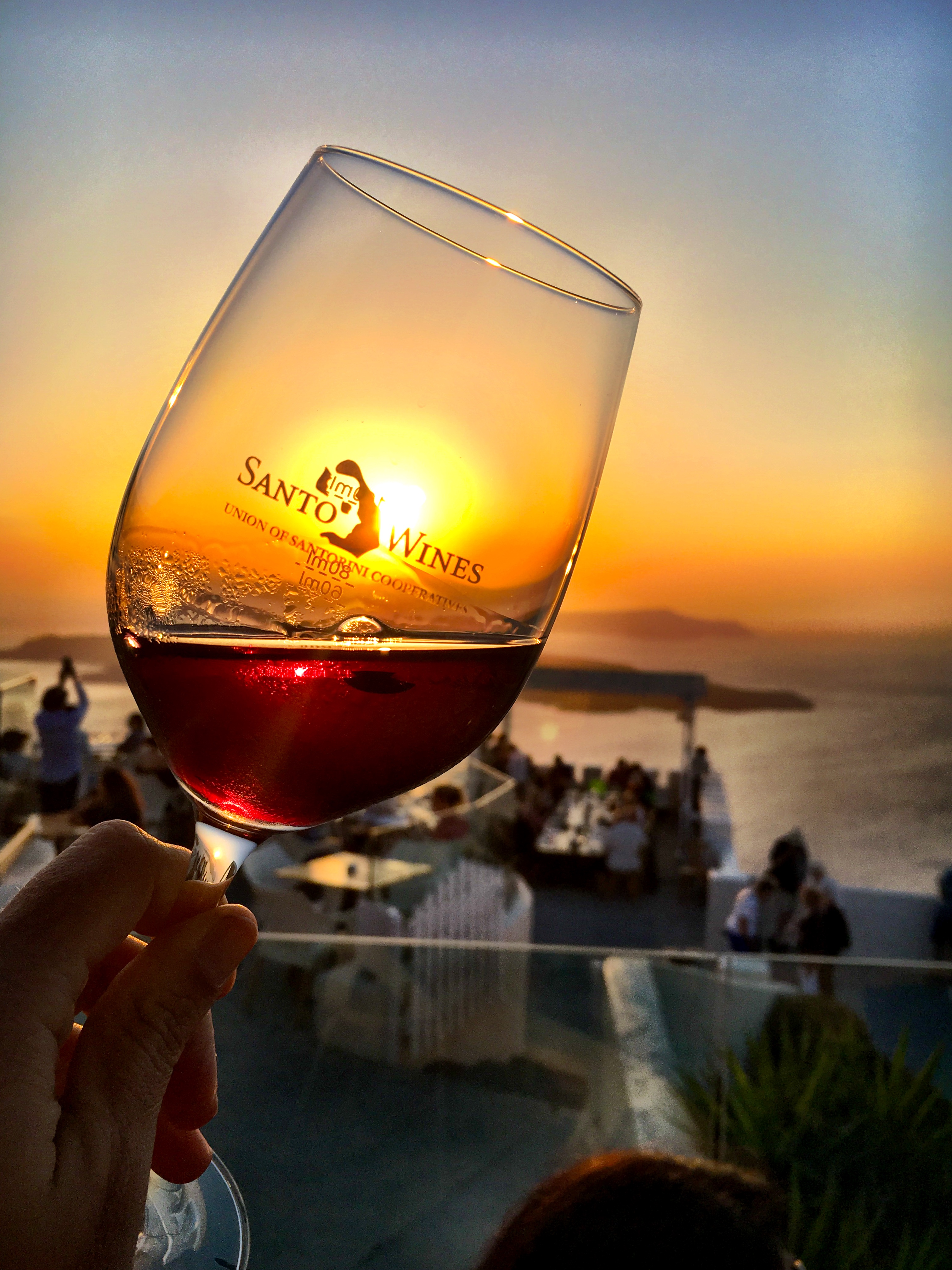 As far as the wines, SantoWines has a good selection. You can order up to 16 wines for tasting. Naturally, we went all in!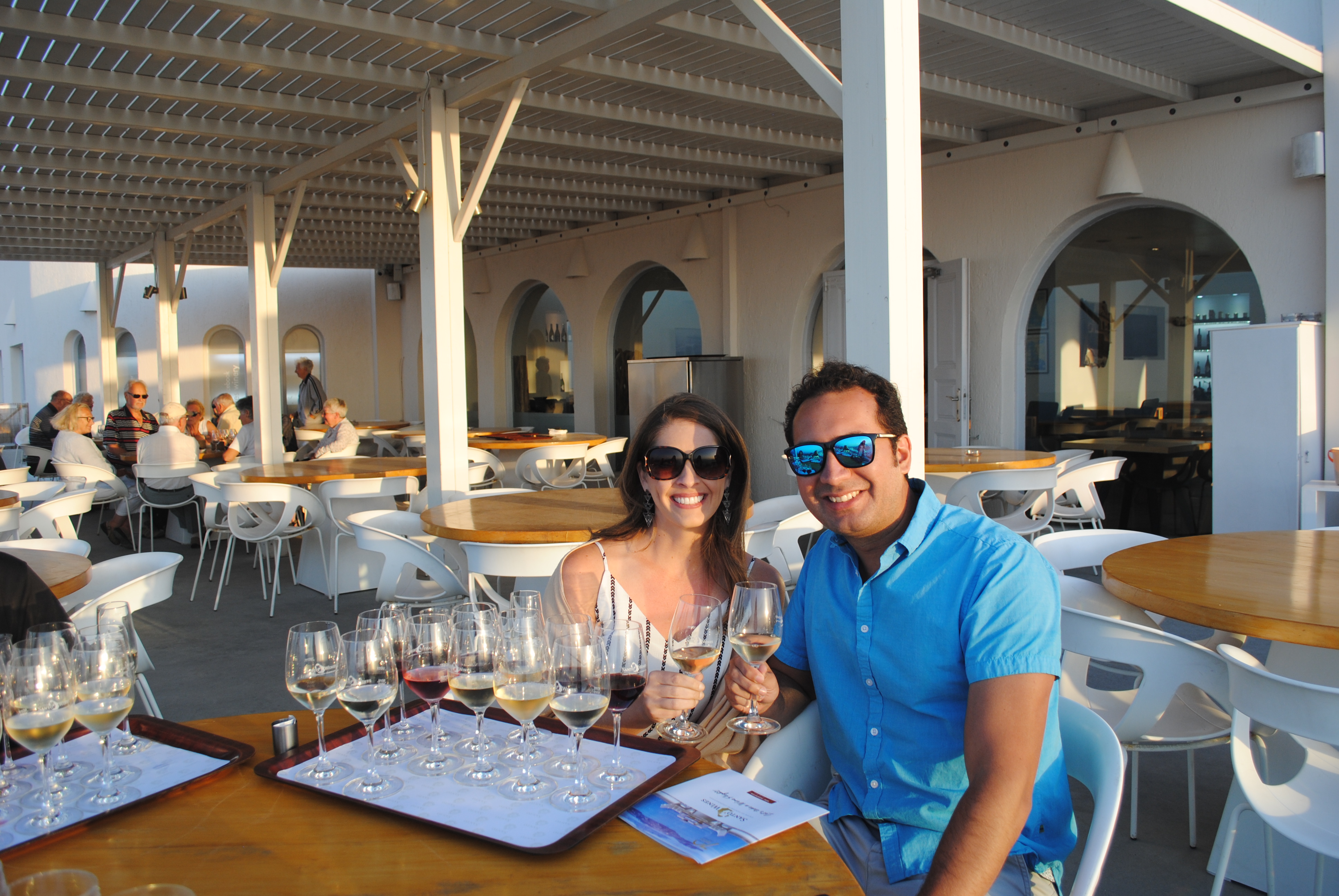 Dinner at Naoussa – If you like live music, you might enjoy hearing the Greek musicians at Naoussa. This is also the only restaurant in Greece where we also saw (and participated in) plate smashing. Plate smashing is not really common today and it's more of a tourist thing, but if you want to see it, this is an option.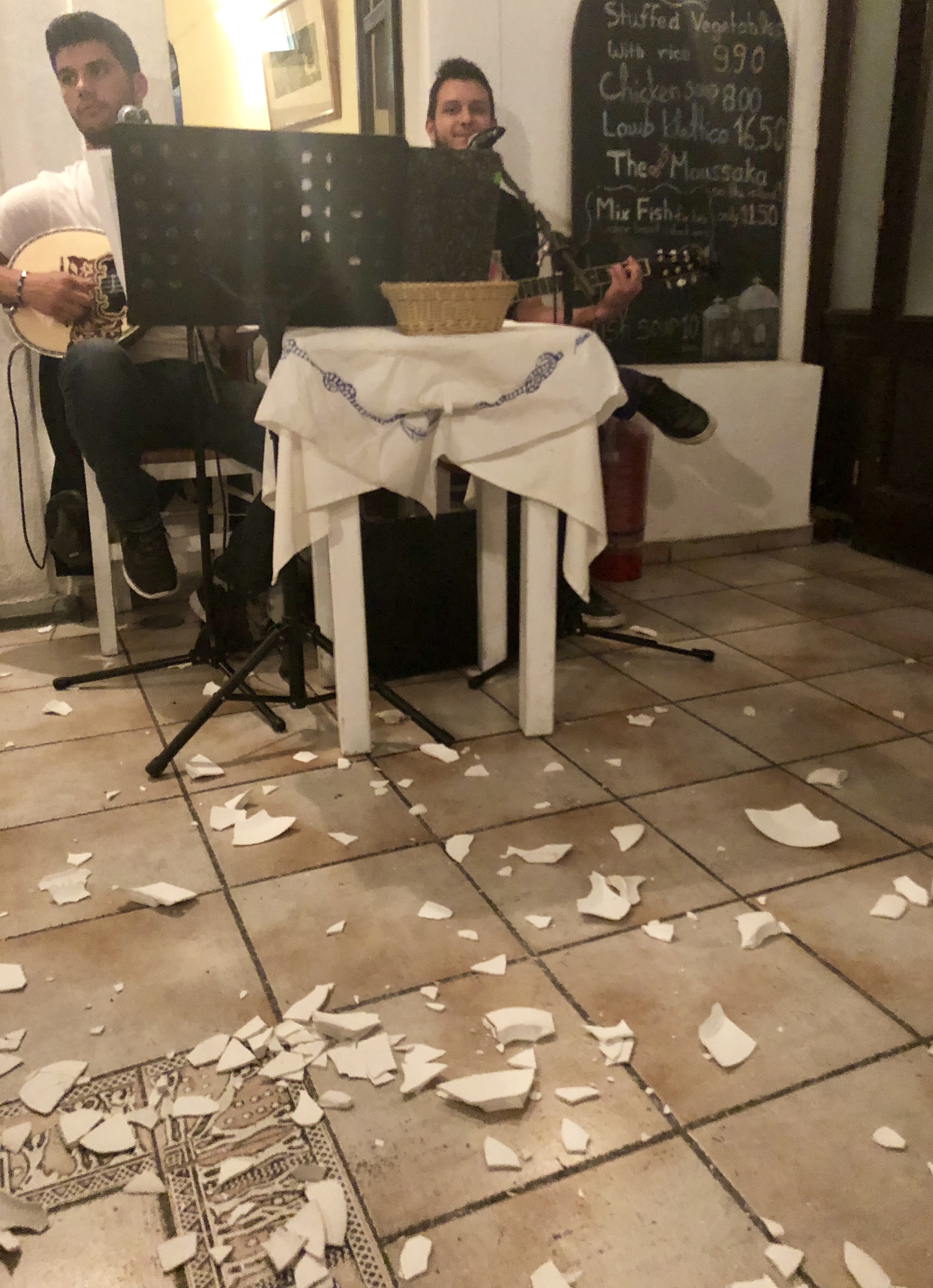 Day 3: Fira and Perissa Beach
Morning Shopping & Baklava in Fira – We spent the morning wandering around Fira before moving to Meltemi Village hotel in Perissa Beach.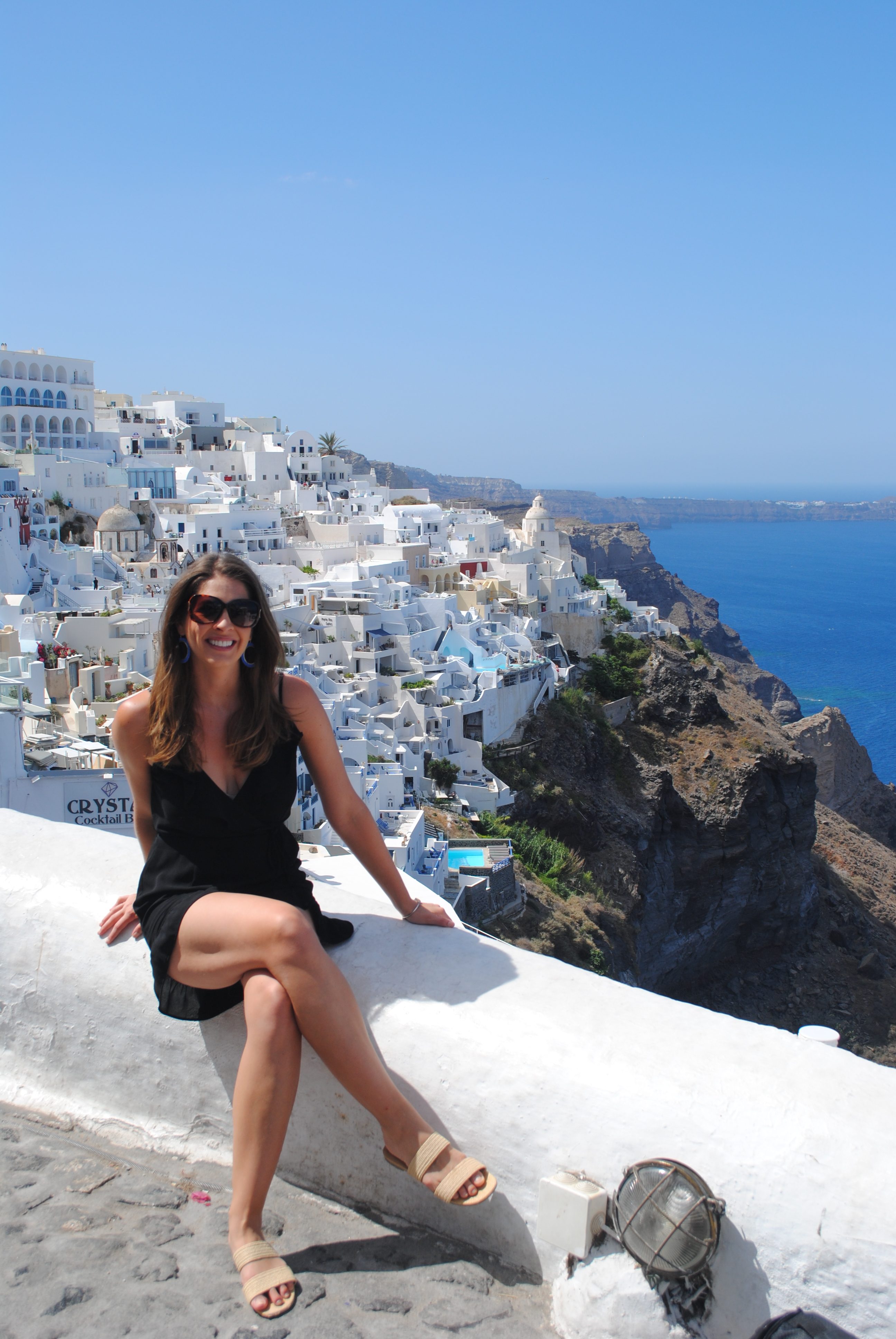 There is an adorable sweets shop in the town that I'd had my eye on for the last two nights. WC and I stopped by in the morning and picked up some baklava to go. We snacked on the dessert as we wandered the shops in search of our favorite souvenirs.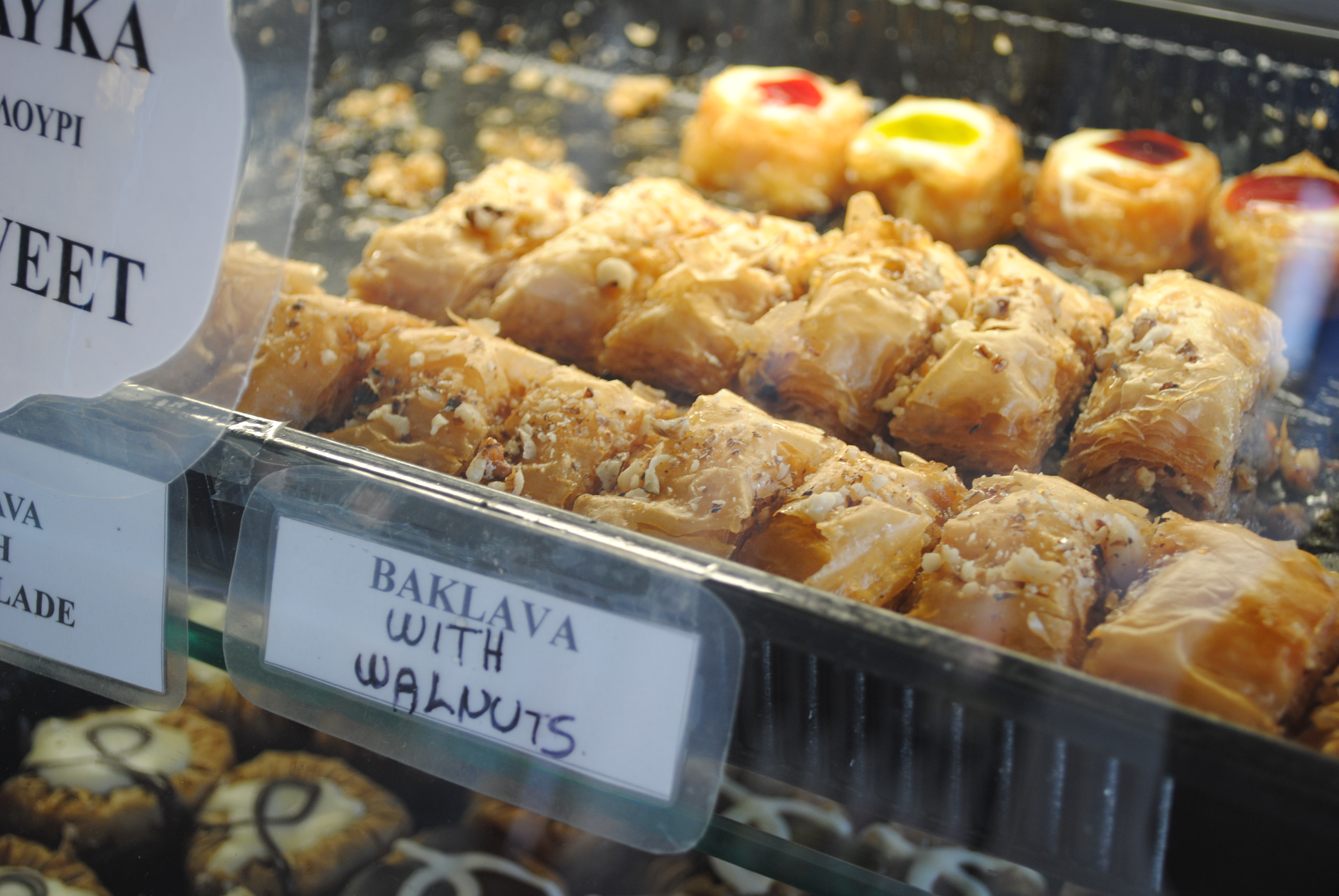 Sunset Cruise with Santorini Sailing – This was another highlight of our visit to Santorini. To thank us for celebrating her birthday with her in Greece, our friend treated us all to a cruise on the Dreamcatcher catamaran. The tour company is Santorini Sailing and the cruise lasts about 4 1/2 to 5 hours.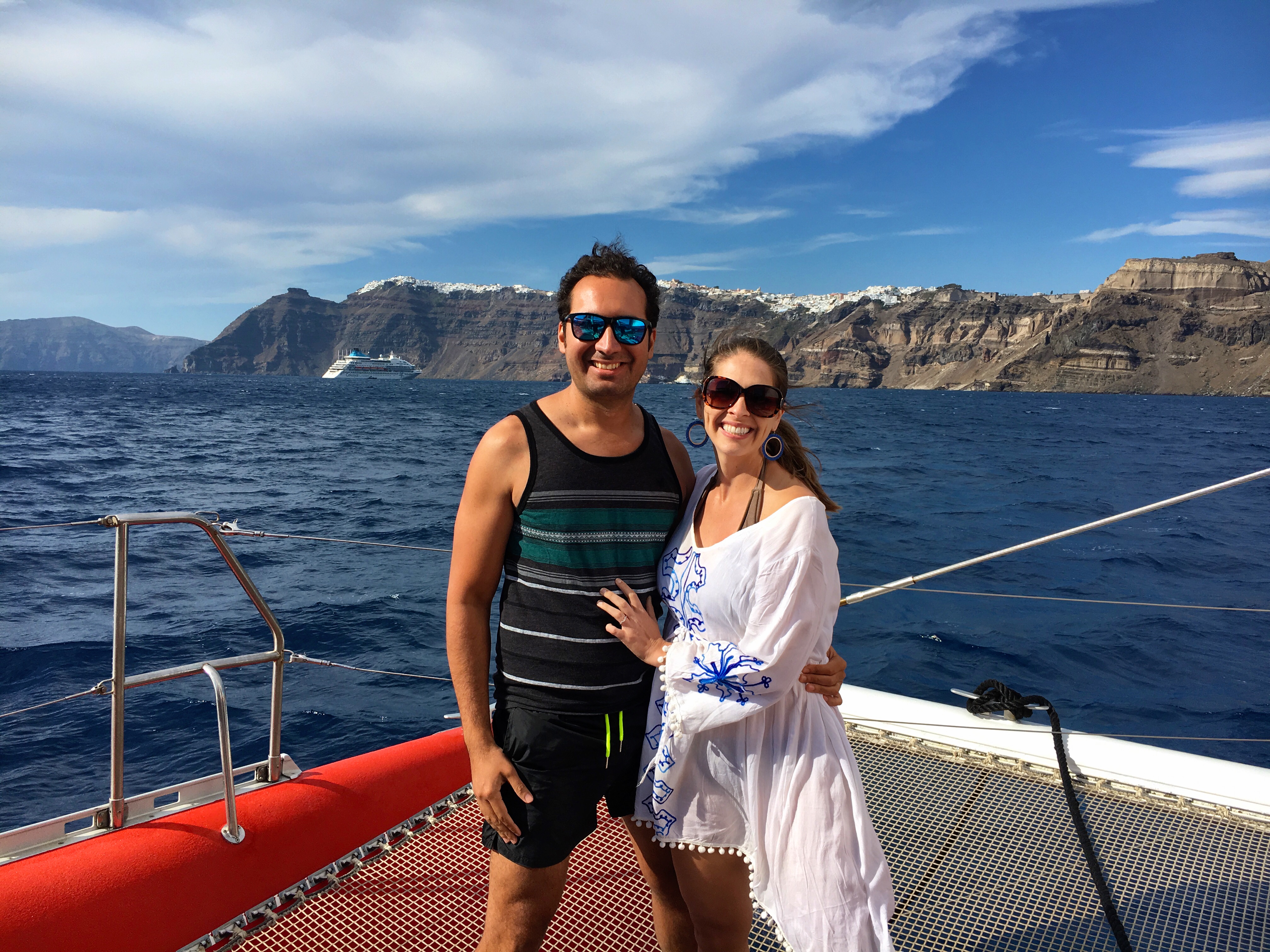 The catamaran sails into the Caldera giving you great views of the red and white sand beaches. It also visits the "hot springs," but take note that these are not your typical hot springs. It might be a little warmer than the rest of the water, but definitely not "hot." WC, of course, jumped right in, but most of us stayed on board and just enjoyed the view!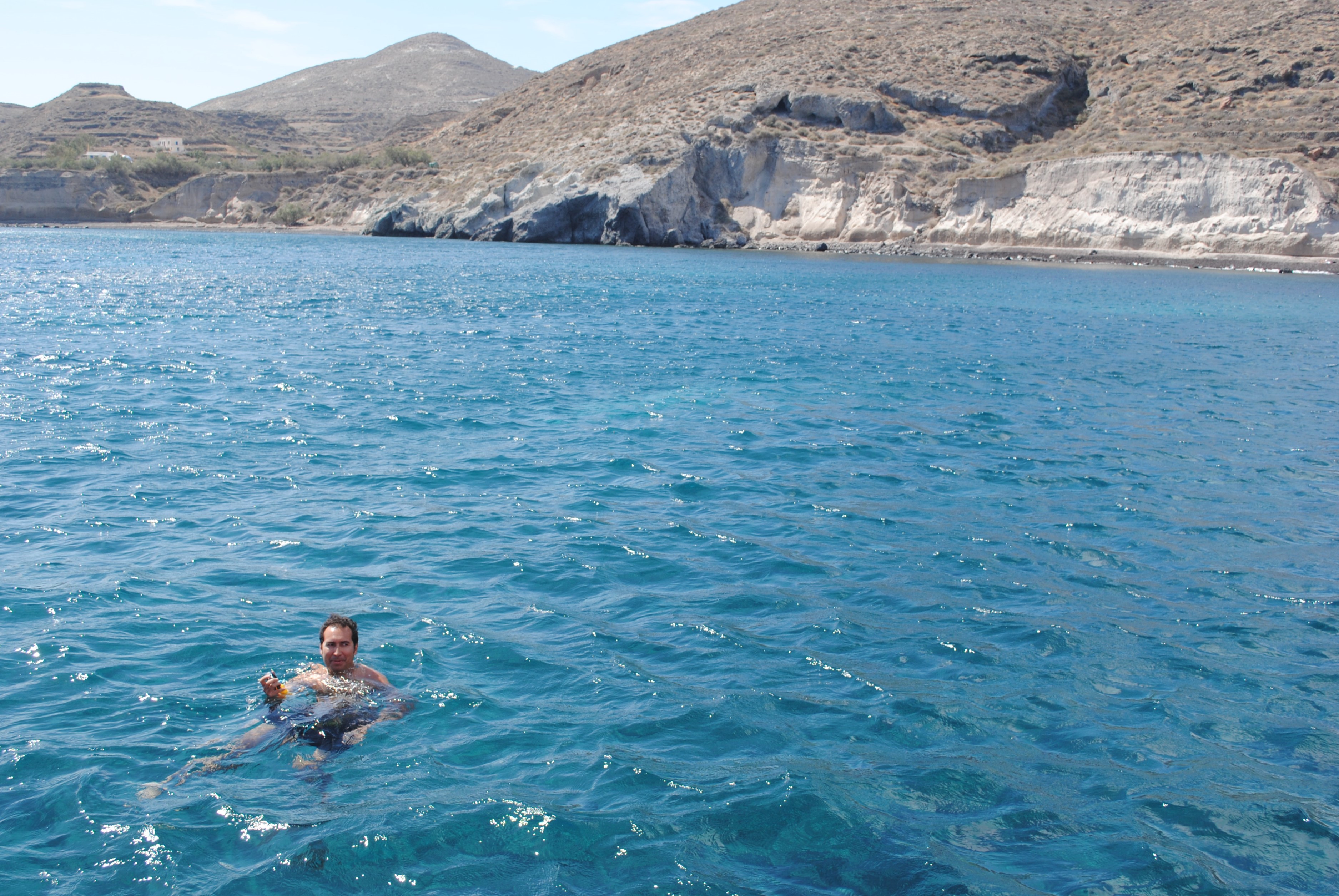 Beer and wine are provided throughout the cruise and the crew also serves a delicious BBQ dinner just before sunset. While those daytime views are great, the sunset is definitely worth waiting for!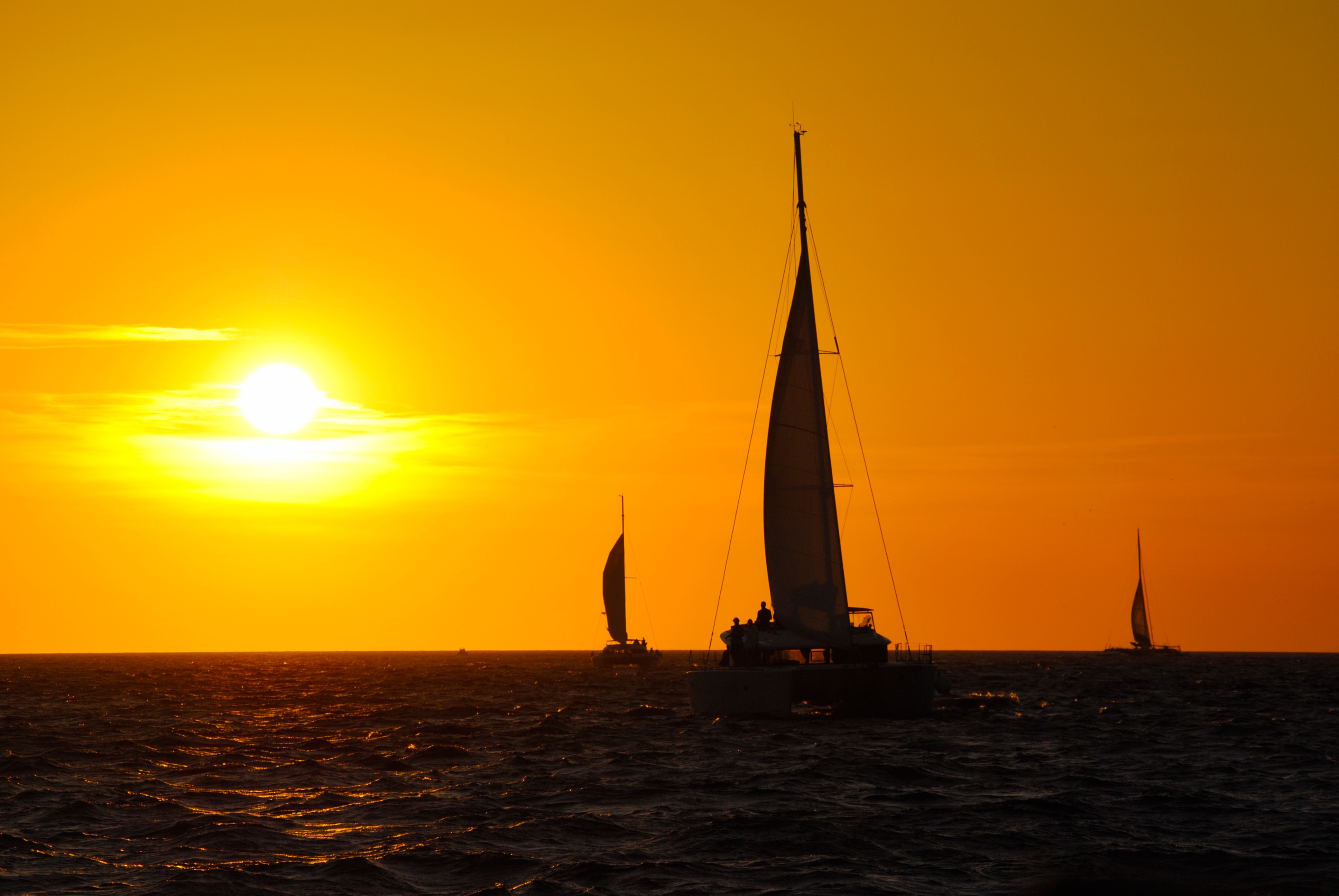 Day 4: Perissa Beach, Santorini
Vineyard Tour at Estate Argyros – If you really enjoy wine, Estate Argyros offers a much more authentic tasting experience. We started our day with a vineyard tour and wine tasting.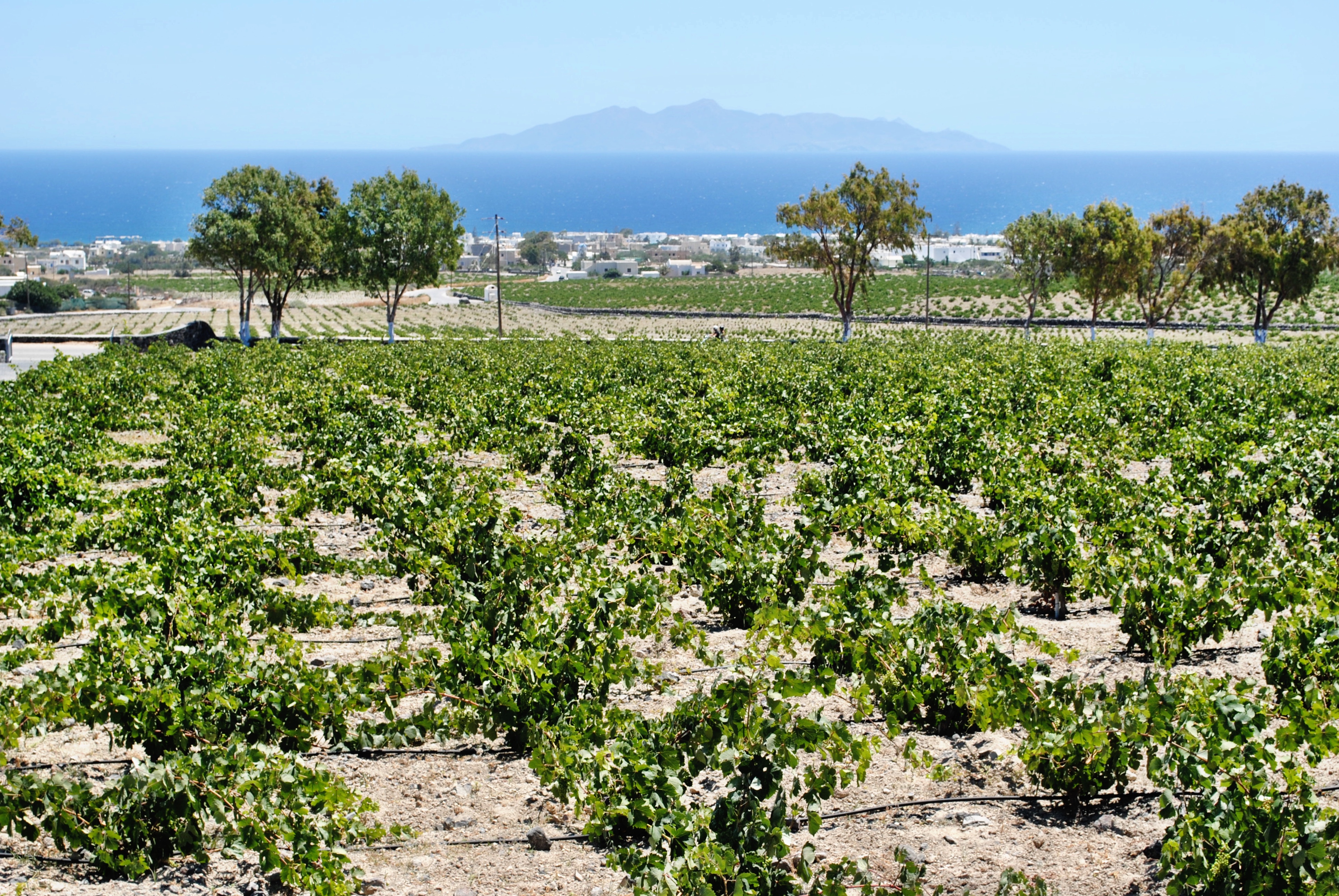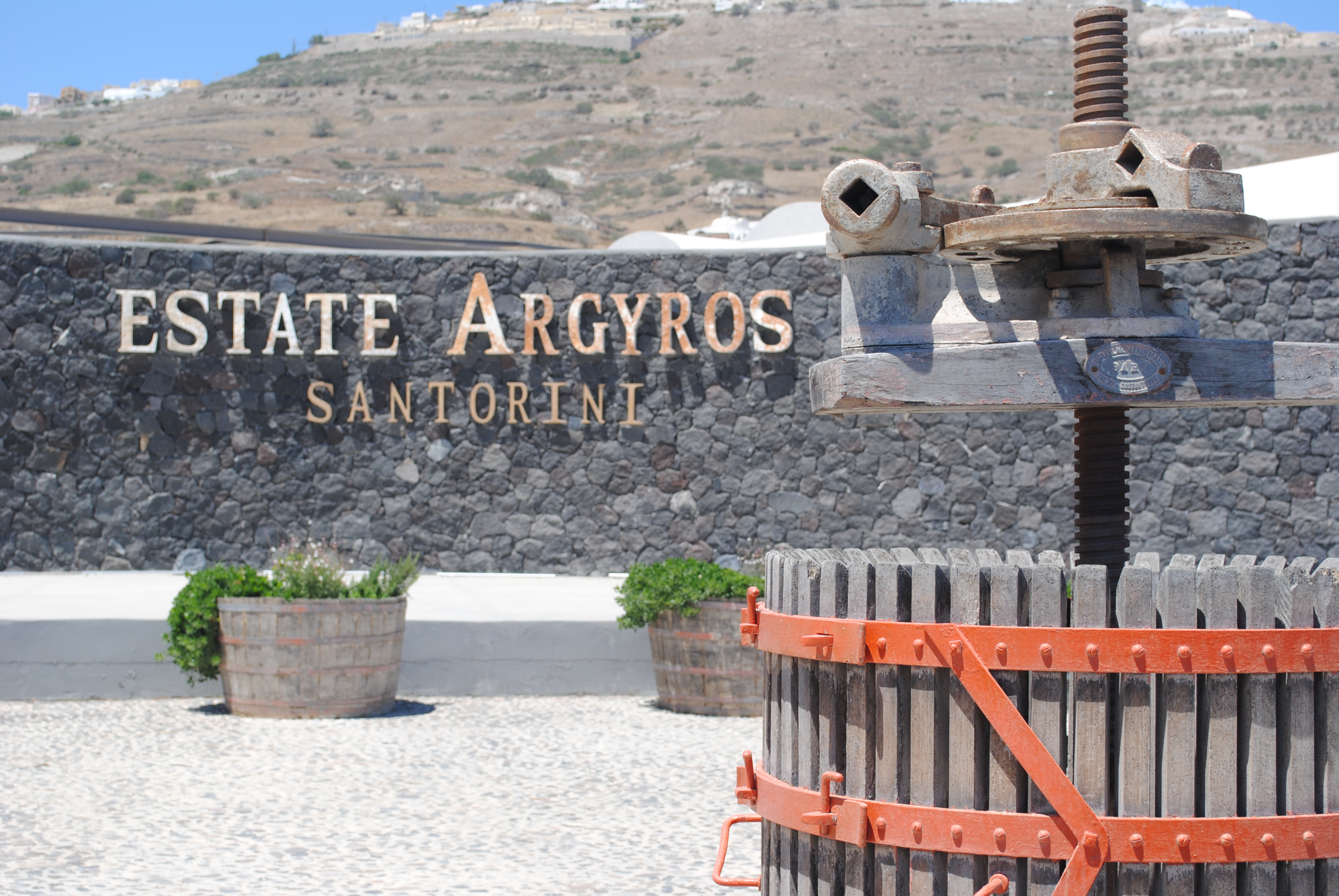 Santorini Brewing Company – Right next door to Estate Argyros is Santorini Brewing Company so (of course) we followed up our wine tasting with a beer tasting!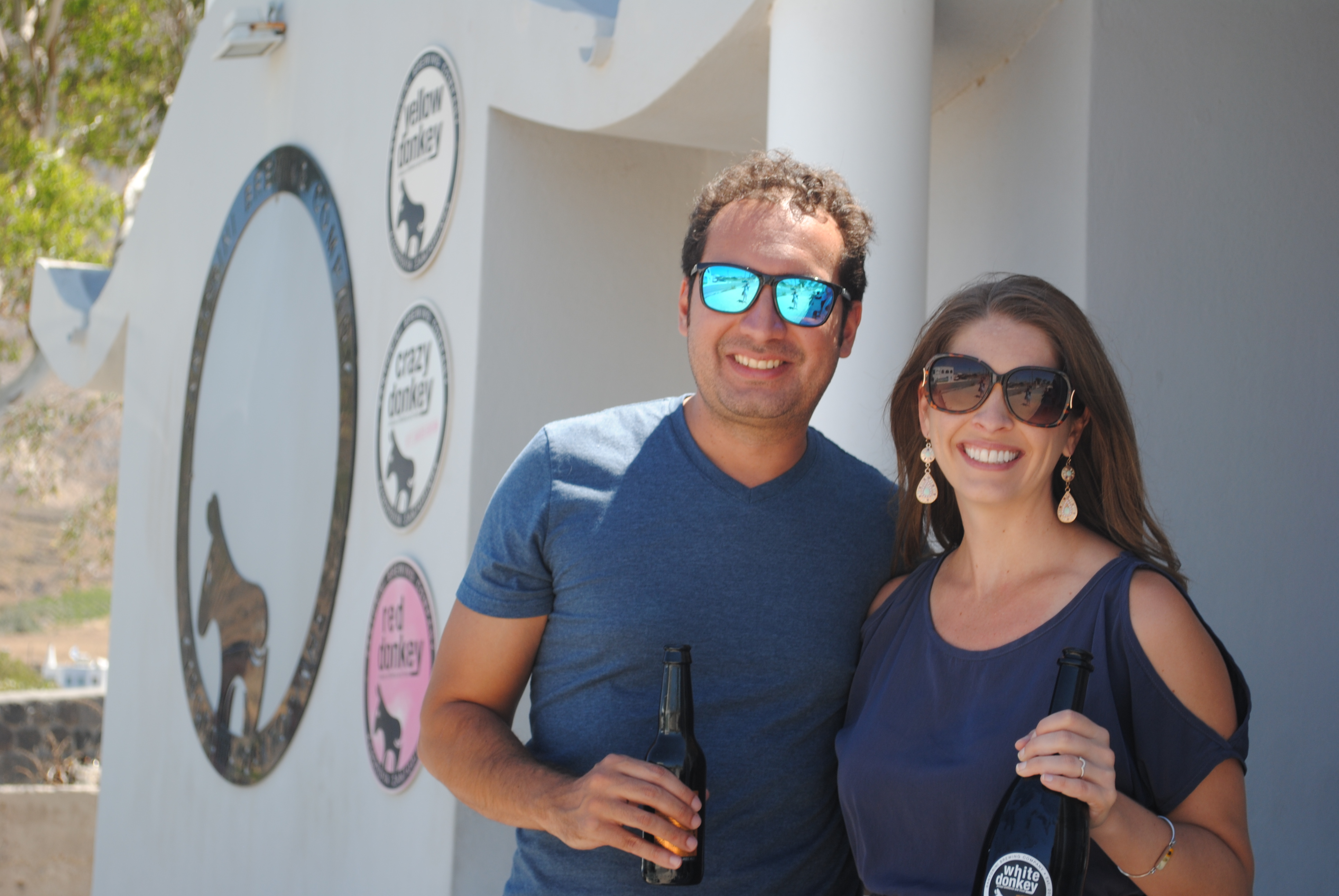 Inside you can taste a handful of their craft beers. You can then purchase some for "take-away." You can't drink them inside the building, but you once you're outside. We hung out on the front steps to enjoy them.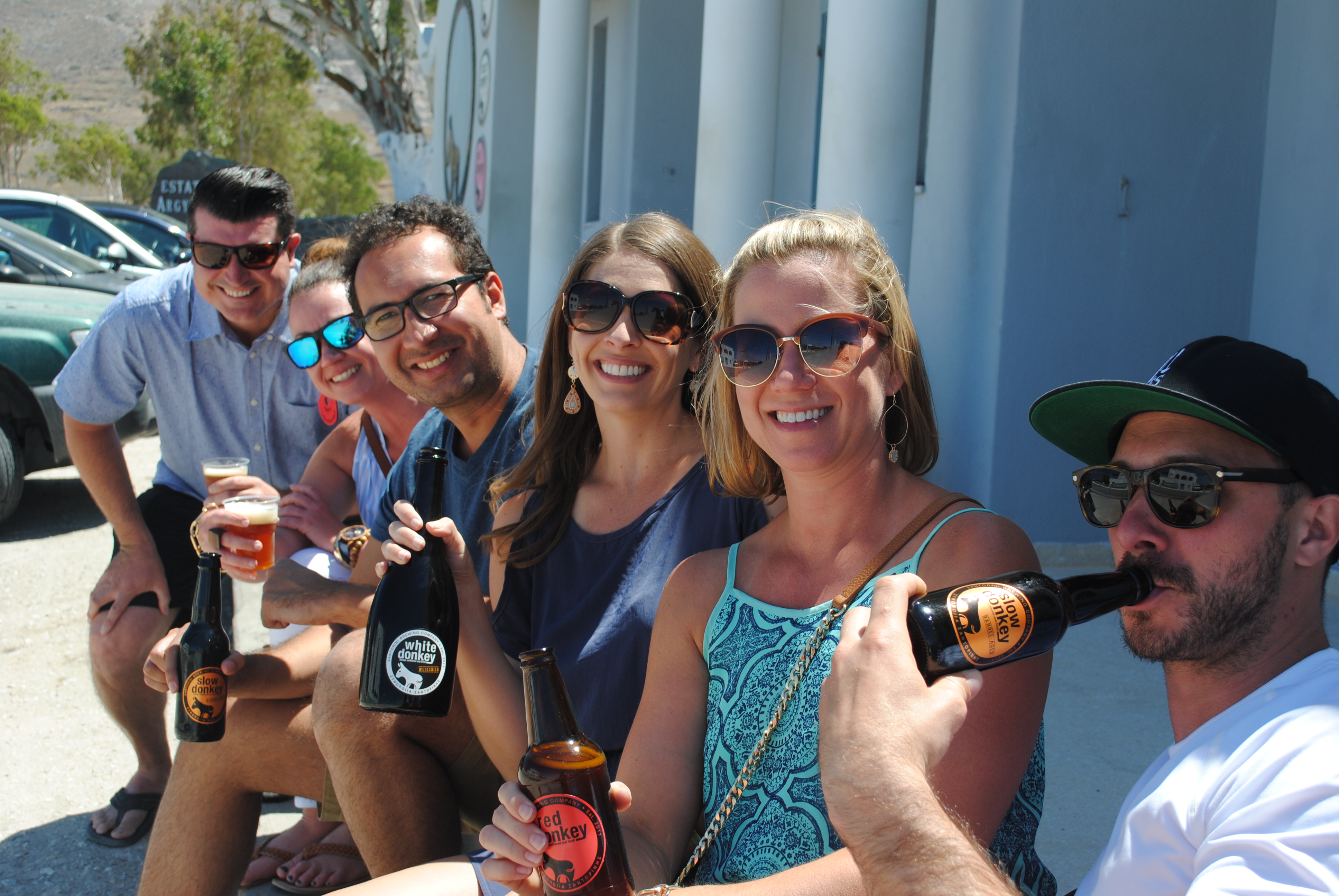 Dinner at Mezzo – This was probably the best meal we had in all of Greece. Everyone at our table ordered different menu items and we shared everything. There was not a single dish that we didn't like!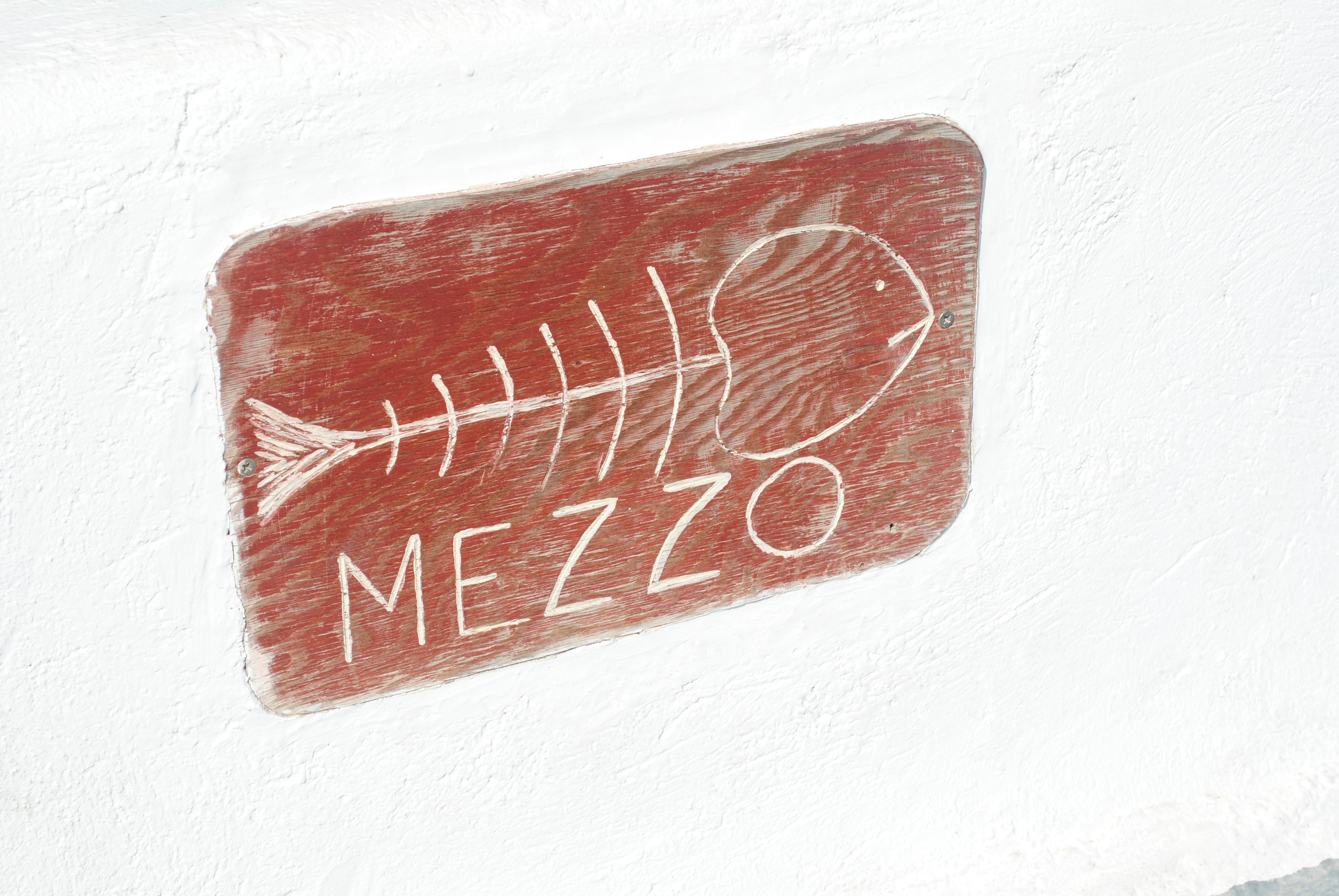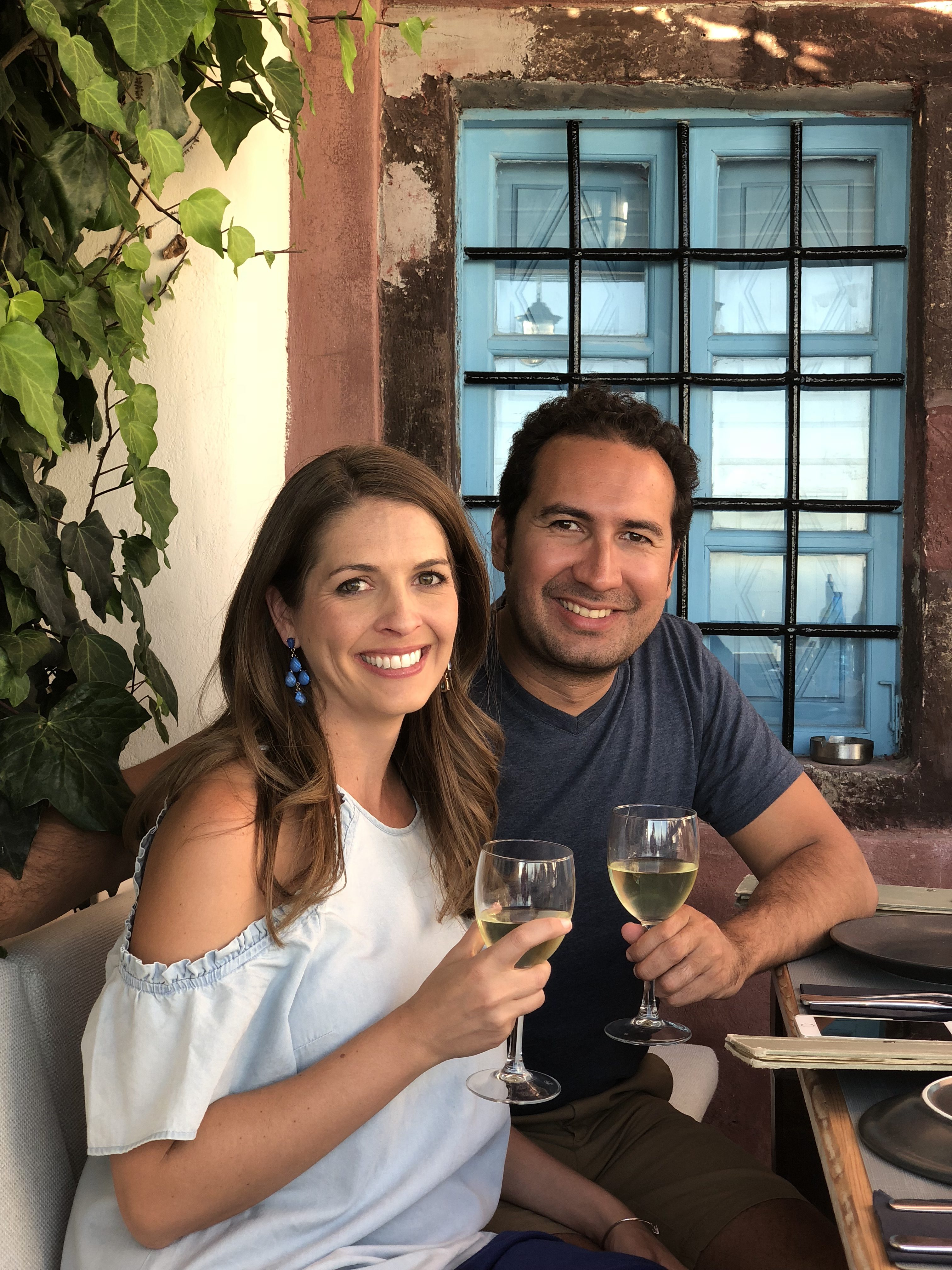 Plus the view at sunset is phenomenal!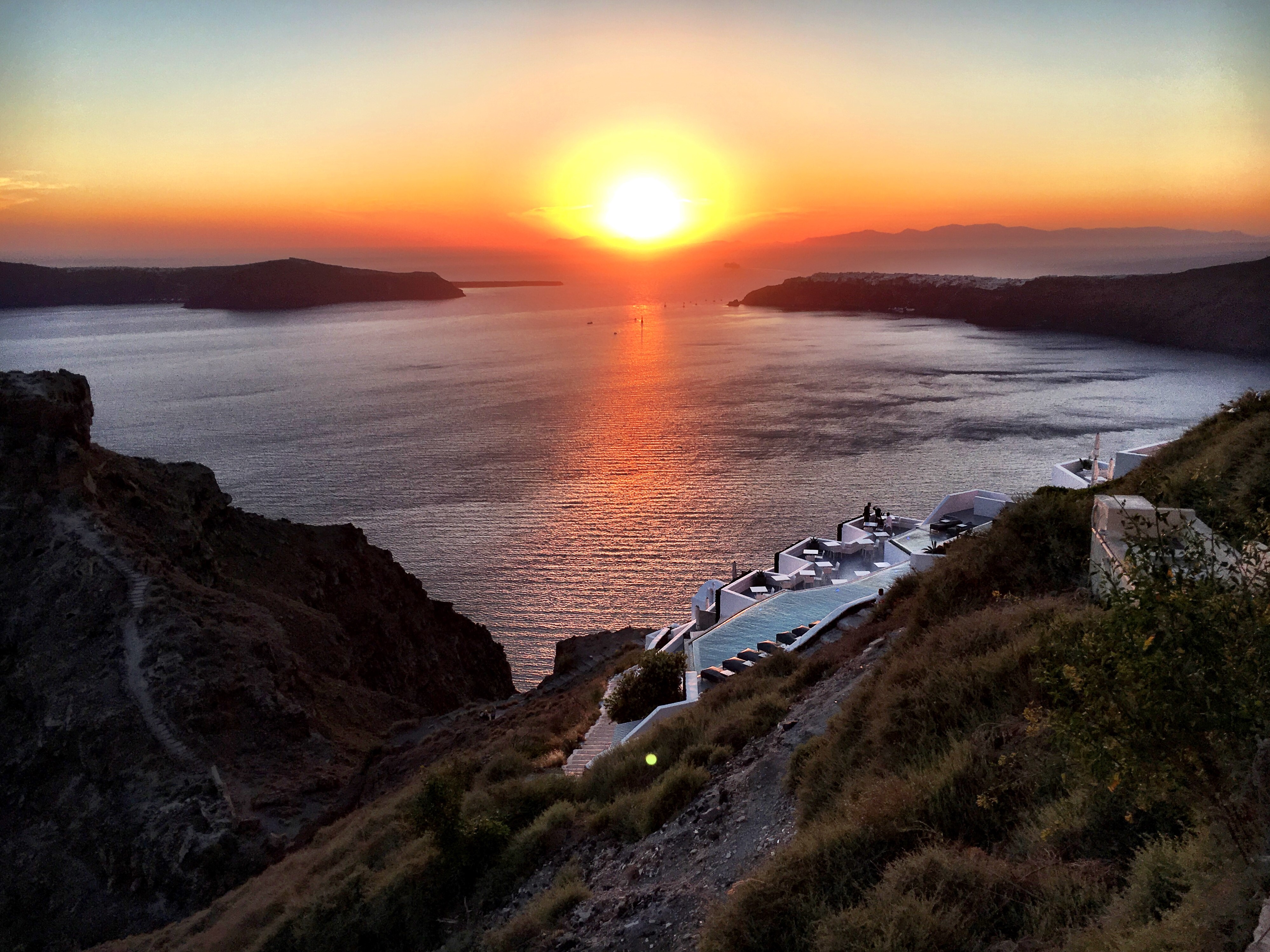 Day 5: Perissa Beach, Santorini
Relax on the Black Sand Beach – We spent the morning relaxing on the black sand beach in Perissa.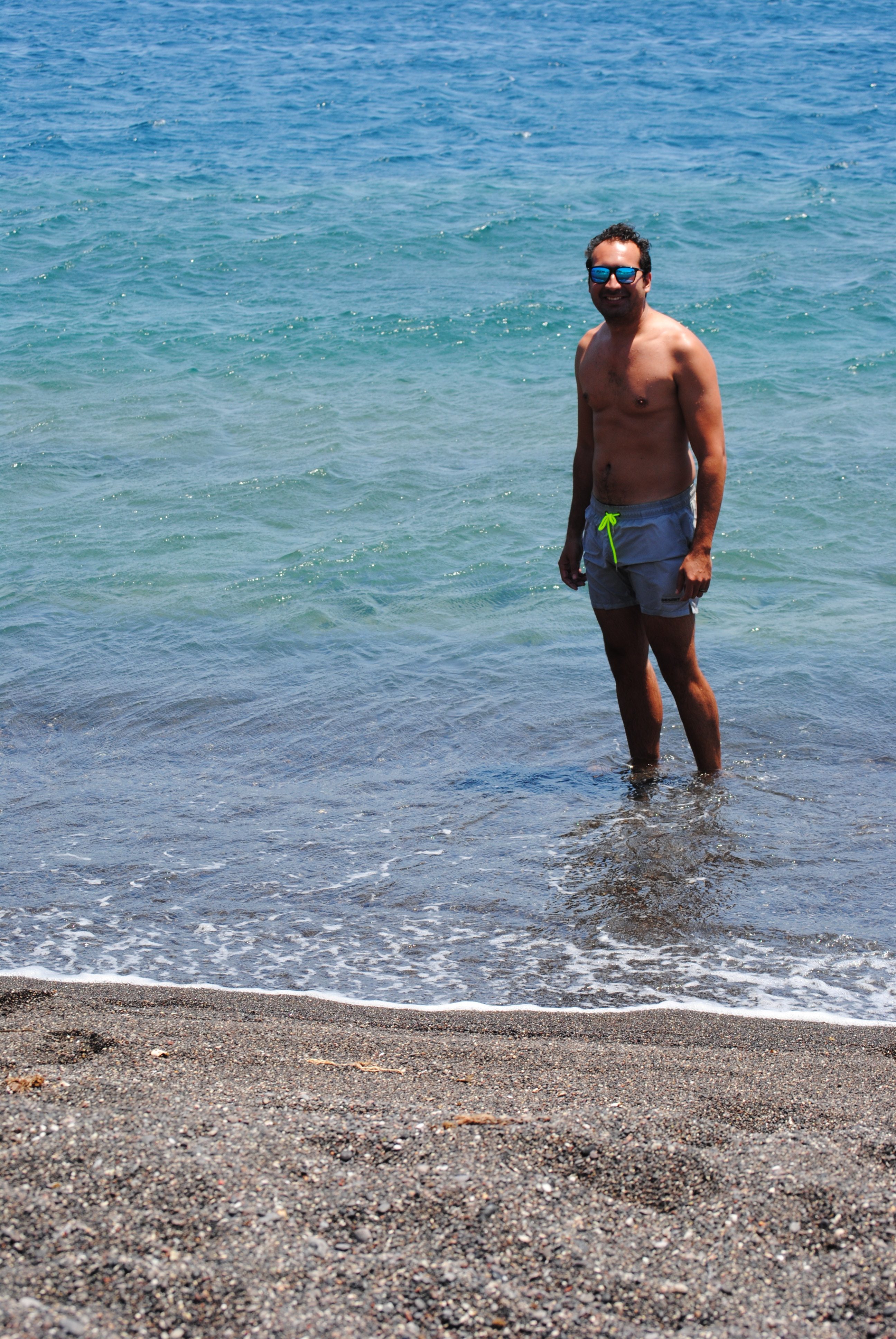 WC braved the water, but I thought it was way too cold!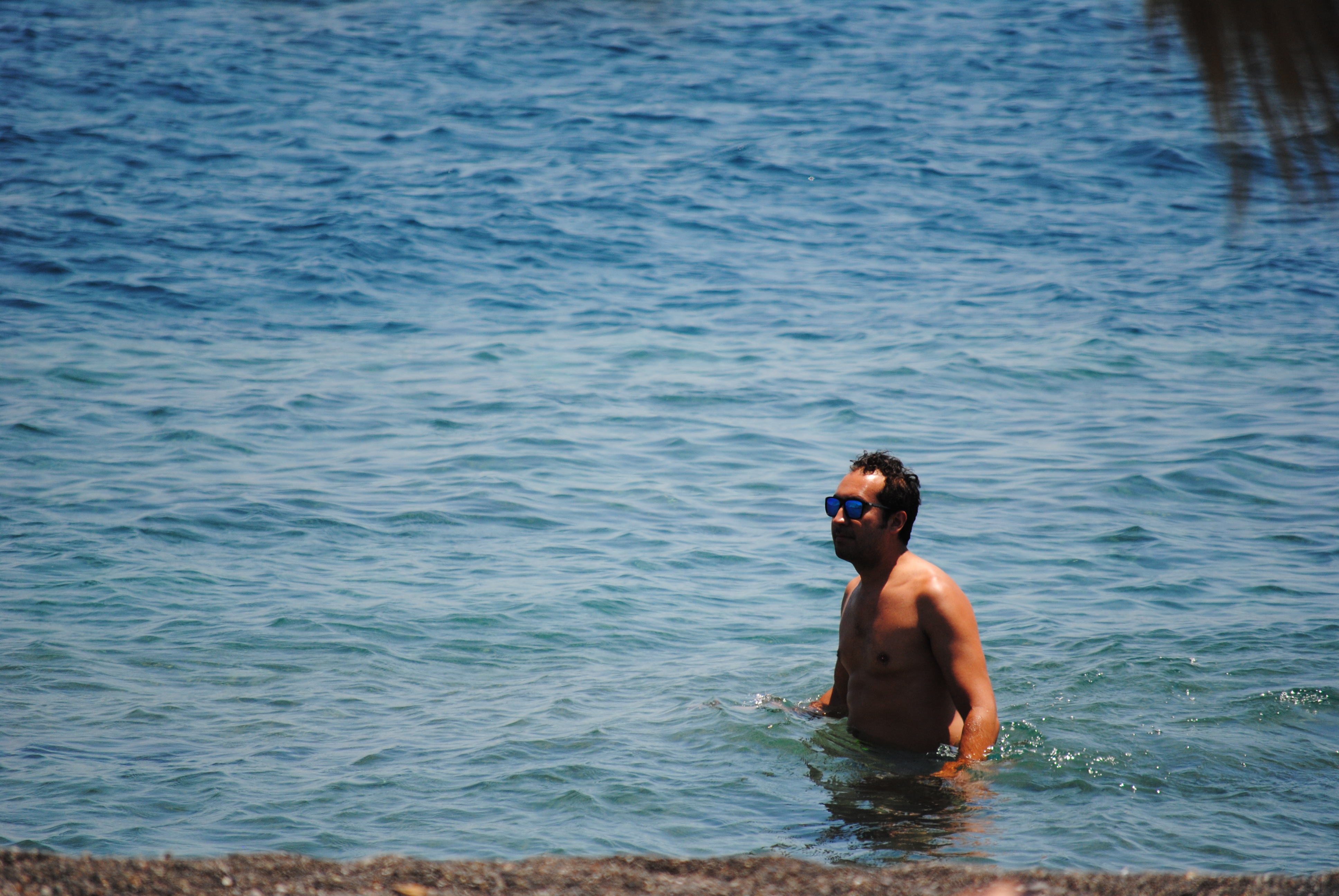 Evening Flight Home – This was the worst part of our Santorini visit: saying goodbye!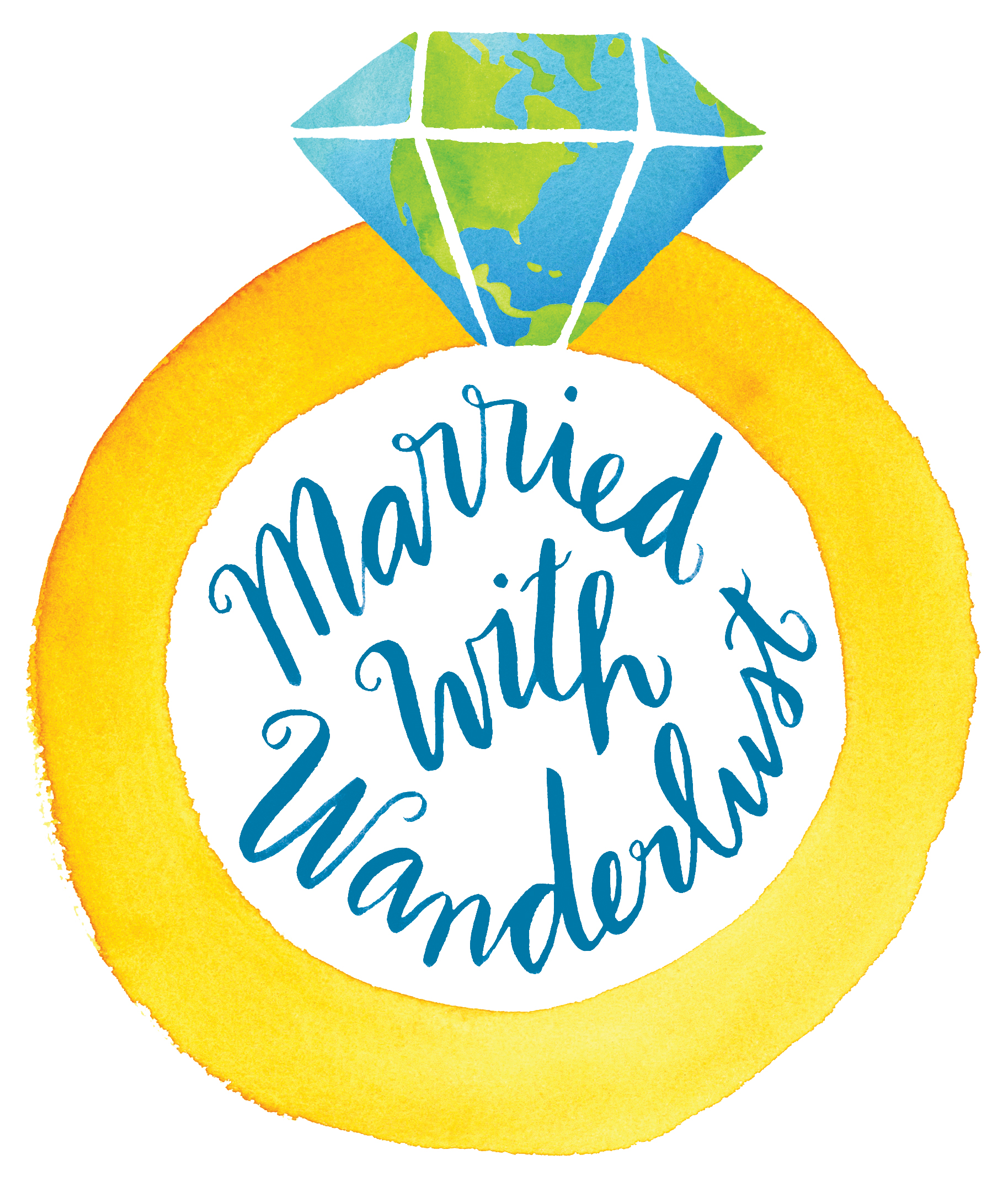 Enjoy our blog post? Pin it to share with others!