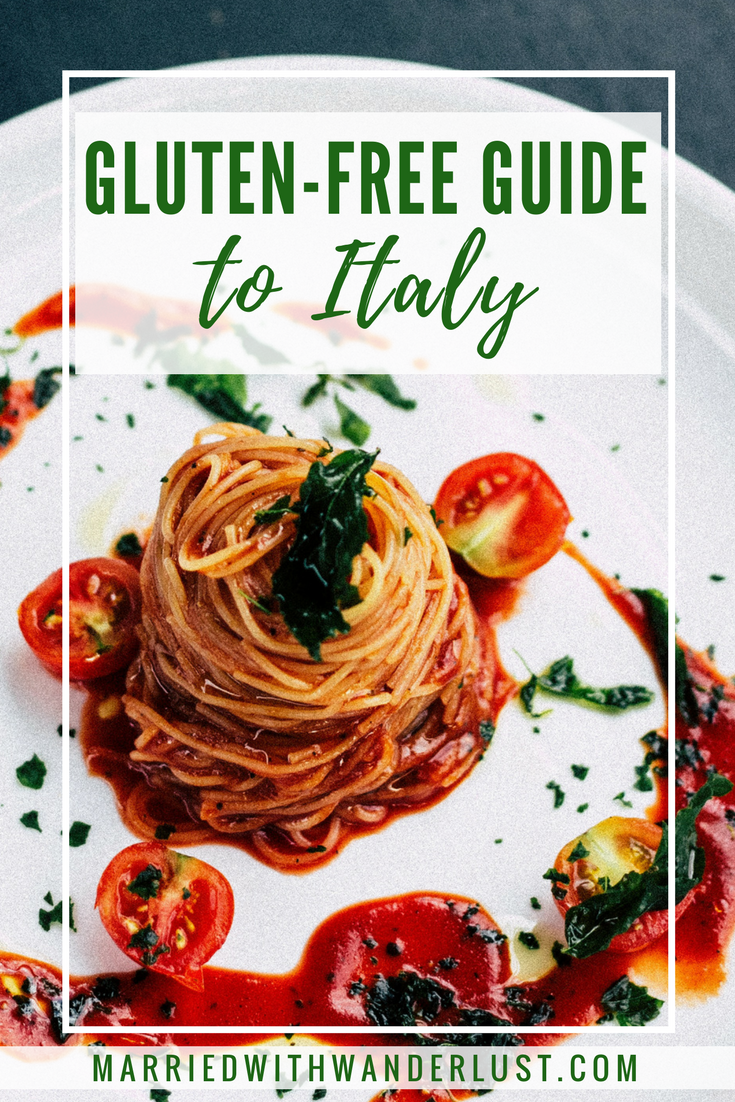 Today's guest post is from a dear friend of ours, Jennifer Ryan, who loves to travel with her husband, Jason! Jennifer lives with celiac disease and runs the blog, Gluten-Free Jacksonville. Today she's sharing about her experience eating gluten-free in Italy. Enjoy — and prepare to be hungry once you're done reading her post!
Guide to Eating Gluten-Free in Italy
In November of 2015, my husband, Jason, and I went to Italy on our honeymoon. Everyone thought I was crazy going to Italy with celiac disease. There is pasta, bread, pizza EVERYWHERE. So I did a little research and it turns out every child in Italy is tested for celiac disease by the time they turn one. Food is such an important part of their lifestyle that it is in their law that every restaurant has to accommodate a gluten-free diet.
It didn't matter where we went they always had gluten-free pasta, crackers, meats, cheeses or veggies to choose from. If you were really lucky, you got bread or PIZZA!
We ate a lot more than this but here are a few of my favorites from eating gluten-free in Italy:
Florence, Italy:
Cacio Vino Trallalla
This is the Italian dream restaurant. Reservations are definitely recommended as there are only 4 tables. The owners speak a good amount of English and they have a small menu each day.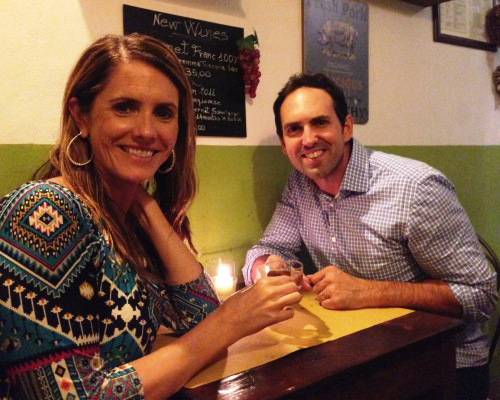 We shared the world's largest plate of meat and then my husband had lasagna (not gluten-free) and I had steak with truffle oil. It was so wonderful! We didn't want this meal to end so we decided to stick around for an after dinner sweet wine.
La Giostra
This place came highly recommended by locals and other travelers. They are known for their Florentine Steak.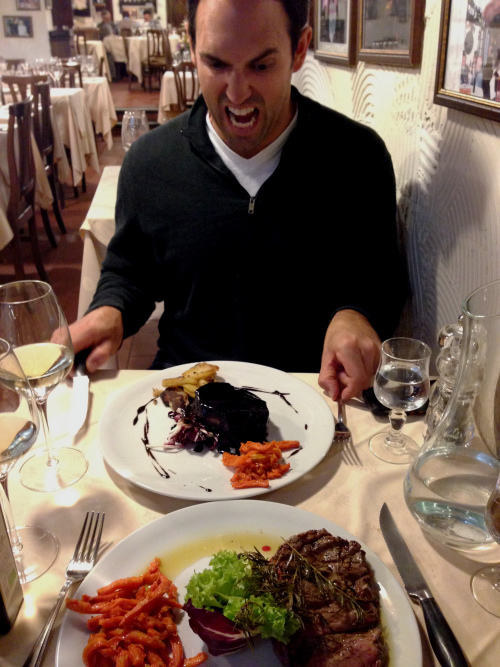 We went at lunch so I think we missed the liveliness that this place offers. We enjoyed steak, a delicious meat plate and wonderful local veggies. I particularly liked that they gave us a welcome glass of prosecco.
Ciro and Sons
This was our first gluten-free pizza experience in Italy and it was awesome. The restaurant had many gluten-free options and they were very knowledgeable about what I could have and what I could not have. They had cozy outside seating which was great for people watching. We were a little late to lunch but they were very welcoming (in Italy locals never eat lunch after 2pm).
Lucca, Italy:
We just loved this cozy quiet little town. Located 1 hour from Florence and next door to Pisa, it is quaint and a great place to rent bikes and tour the city. We love riding bikes so this was right up our alley. But before biking we stopped for a bite to eat.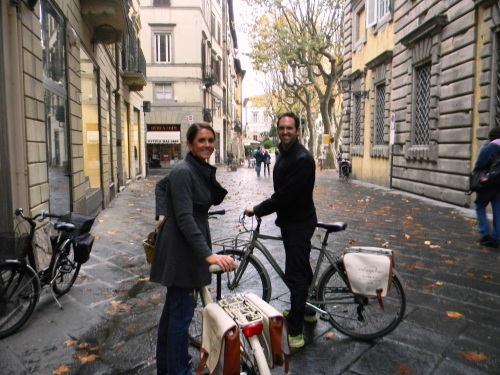 Buca di Sant'Antonio
This place had some of the best pasta! Jason had fresh handmade tortellini that we watched being made by two non-English speaking Italian women (not gluten-free).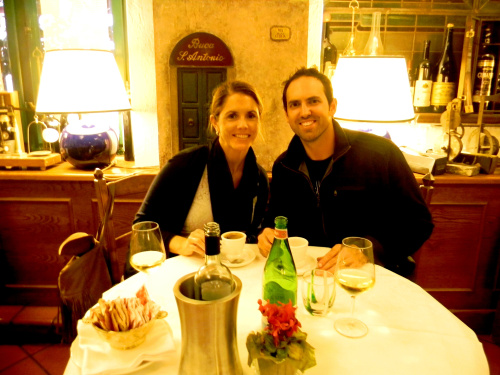 I was able to have some gluten-free crackers and a delicious gluten-free pasta dish that was to die for. This restaurant was very romantic: candles, low light and very warm and cozy. It was a chilly and rainy day and this was a nice little respite tucked away off a side street.
Montepulciano, Italy:
You must stay at La Locanda San Francesco in Montepulciano and you must eat at Osteria Acquacheta when you go to Montepulciano! I absolutely loved this town and the views from our room.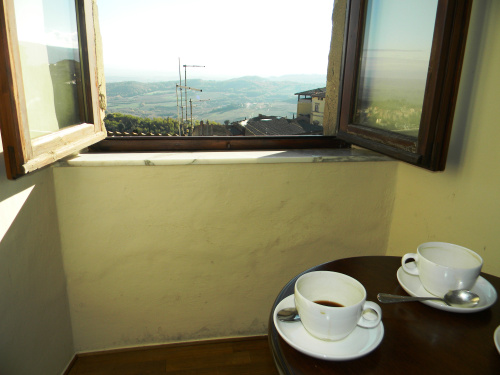 There are many wine bars and restaurants in the area that you can visit but you can't miss Osteria Aquacheta.
Osteria Aquacheta
This place is known for their owner and for huge pieces of steak (oh, and they only give you one glass for wine or water). While steak is their main focus, they have great sides including pasta dishes.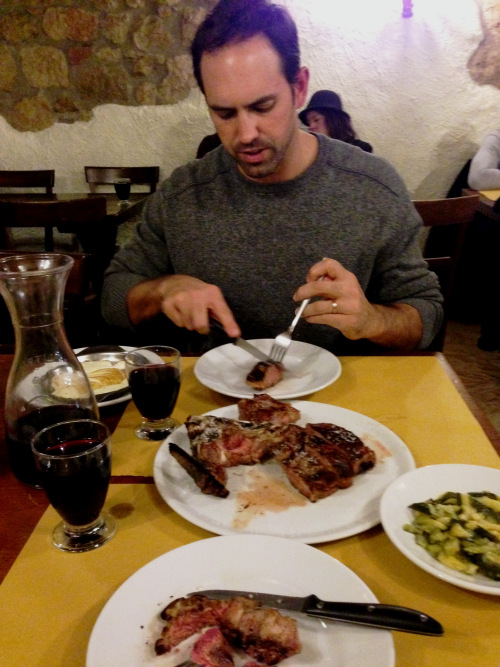 They actually searched to see if they had gluten-free pasta but they had run out so I settled for some yummy fresh veggies. Their menu is small and changes with the season. There are two dinner seatings each night and reservations are a must. We got a huge steak to split, some fresh veggies, apples and pecorino cheese and a $6 liter of Un Bottella de Vino Rosso de la casa (a bottle of House Red Wine we said this a lot). We lingered a little to finish our wine and watched the cross table conversations and the staff sitting to enjoy a family style meal at the end of the night.
Montalcino, Italy:
Castello Banfi Winery
A friend of ours coordinated a tour of Banfi Winery during our Honeymoon. Following the tour, we decided to stay for lunch at their restaurant and enjoy a tasting of their wines. They, too, had gluten-free pasta offerings. This was probably the nicest meal we had the entire trip and one of the tastiest.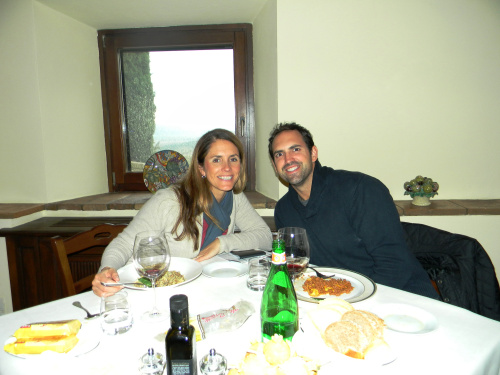 We had a lot of dishes with wild boar in them in the Tuscany Region. While it sounded odd, it was actually quite delicious. It looked like ground beef but had a richer flavor to it that wasn't too gamey.
Rome, Italy
Mama Eat!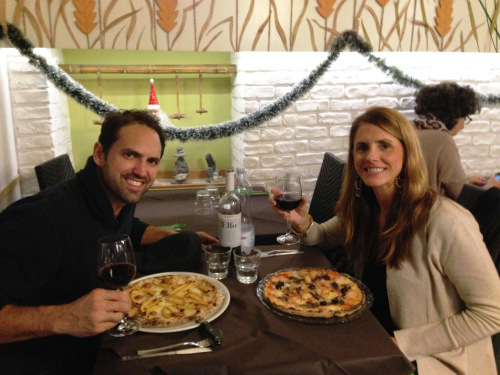 This is gluten-free heaven located in my favorite part of Rome: Trastavere! I encourage you to walk around after eating because this is such a neat part of Rome. They have pizza, pasta, beers: you name it, they have it gluten-free. The staff speaks great English and it is a very fun lively place. They even made gluten-free bruschetta for us which was the only place I could get bruschetta and it was awesome; olive oil dripped everywhere! My husband was very impressed with their beer selection, too; I had him drinking way too much wine on the trip.
La Soffitta Renovatio
This was my very favorite gluten-free pizza in Italy. The toppings were fresh and the sauce was to die for. It was very easy to find gluten-free pasta, but pizza was always a challenge.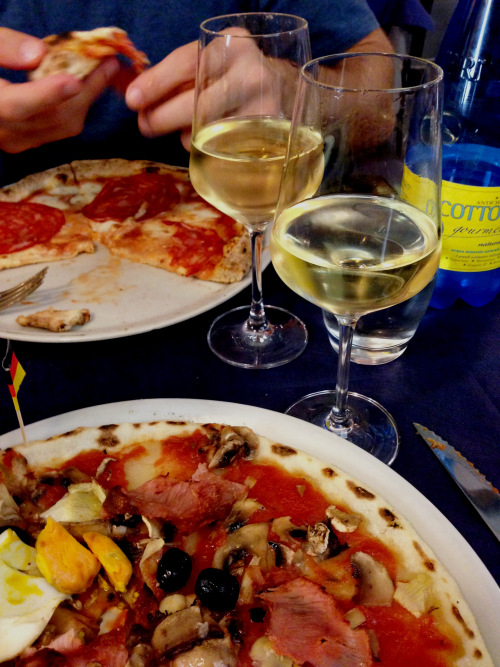 La Soffitta Renovatio is located very close to the Vatican. We went in prior to our tour since it takes an entire day pretty much to see everything at the museums and the Basilica. This is a nice gem in quite a touristy area. It is a bit hard to find but well worth it.
La Carbonara
This place was tucked away in a locals-only area not far from the Colosseum. They actually discourage TripAdvisor reviews, they want to stay a place for locals only.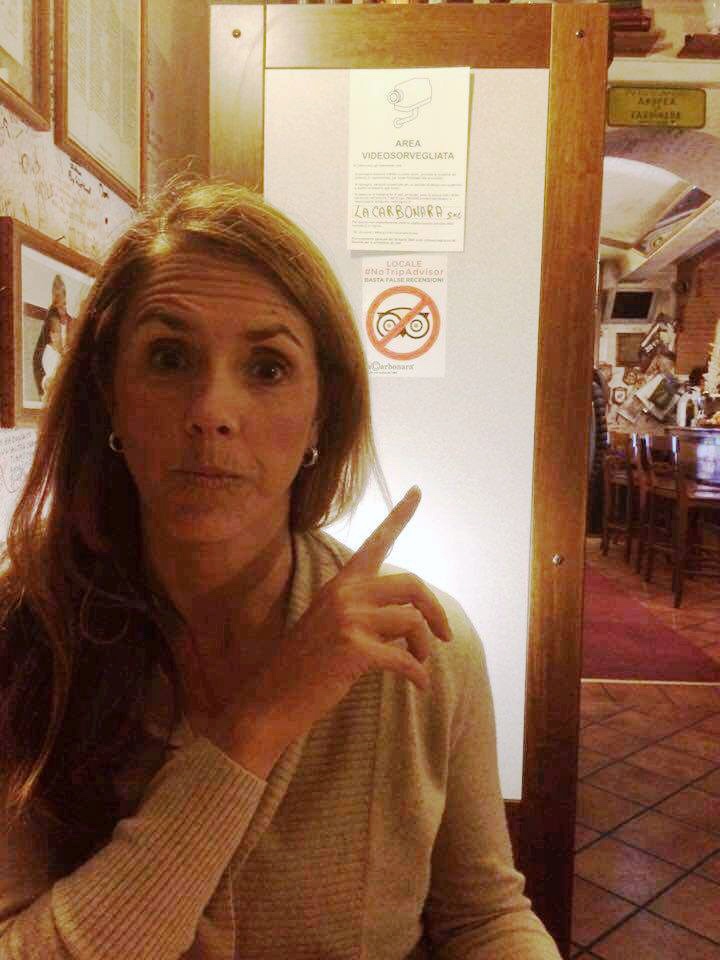 Even though we were not locals they were very friendly but do not go if you are in a hurry. Do not go to any restaurant and sit down and expect to be in a hurry. It was recommended to us by another local restaurant as a place to get gluten-free pasta. I got the Carbonara Pasta and it was made with egg, pancetta, olive oil, and garlic. SO GOOD!
Taverna Trilussa
This was our last dinner in Italy and it was wonderful. Taverna Trilussa was more than accommodating. They make their pasta in individual pans so I didn't have to worry about cross contamination!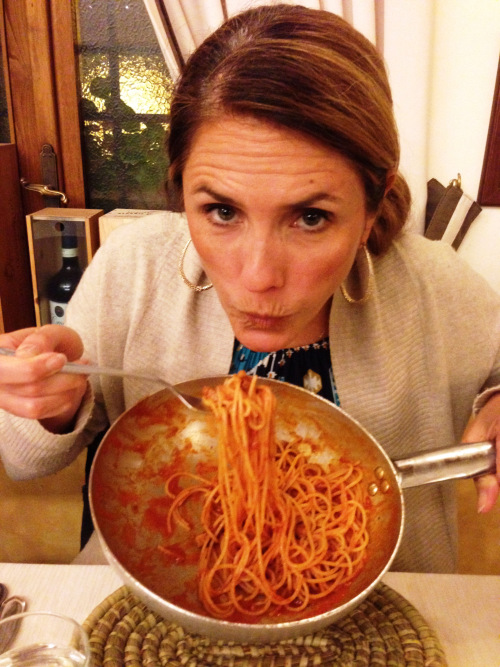 We also had the most amazing roasted artichokes. They were sooo good. We ate so much food here and we went to aperitivo (you'll learn about this in a minute) beforehand!
You will need to make reservations. We recommend having your hotel do it because they gave us an early dinner time since we were American. We were fine with eating late. Most Italians don't eat until around 9.
Other Tips for Eating Gluten-Free in Italy:
Check out Gluten-Free Travel Guides Before You Go
Do your own research; TripAdvisor and Yelp are a big help and do some generic "Gluten-Free in Italy" searches on Google. I suggest doing research before you go and download the TripAdvisor City Guides. That way you don't have to scramble to find something to eat last minute. You can pull up your City Guide (which works without wi-fi) and see which of the restaurants you already pre-saved are nearby while you are sightseeing.
Aperitivo
This is one of my favorite Italian traditions. It is kind of like happy hour but you pay a little more for your drink in exchange for snacks and appetizer type food. The very best we found was Freni e Frizioni in Rome. They had a whole buffet. Then you go eat dinner afterwards.
Gelato
My favorite gluten-free Italian gelato was at Gelateria Valentino. It is around the corner from the Trevi Fountain in Rome. They also had dairy free gelato.
Ok- who is hungry?
*A version of this post originally appeared on Gluten Free Jacksonville. You can follow Jennifer's Blog on Twitter, Facebook and Instagram!
Enjoy our blog post? Pin it to share with others!