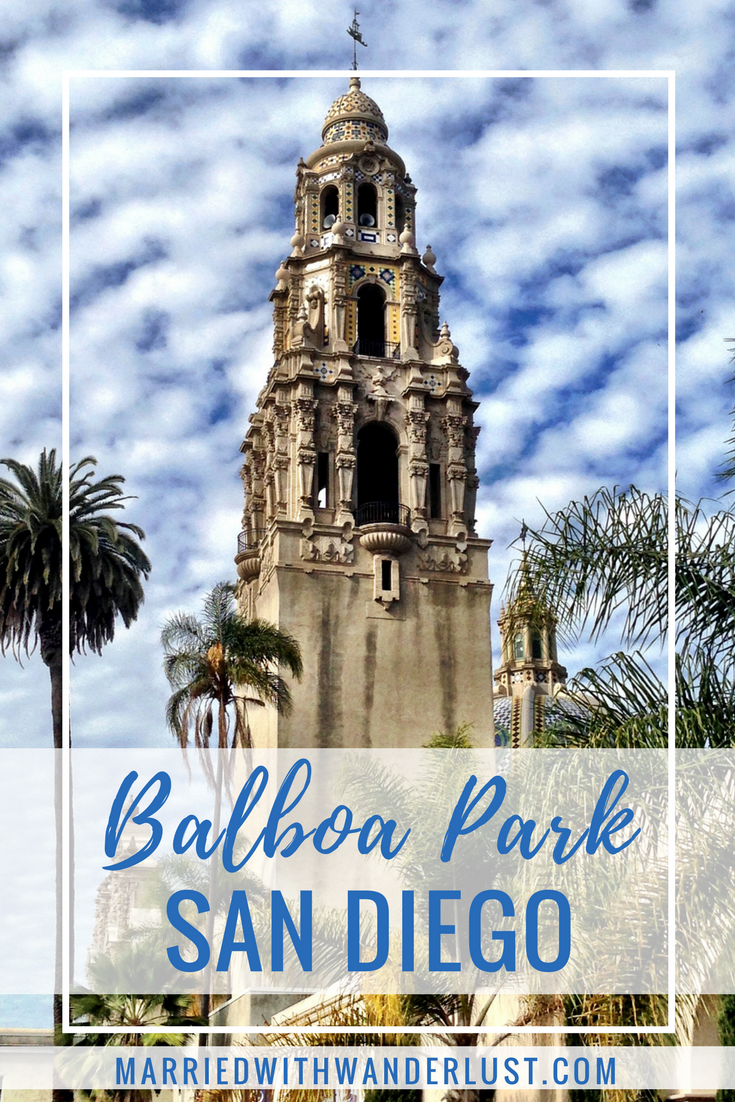 It was during my first ever visit to Balboa Park in 2011 that I decided I was moving to San Diego. I was in California to visit a friend who had moved there a few years earlier. She took me to the park as part of a whirlwind two days of San Diego sightseeing and we stopped for a break on the perfectly green grass near the park's rose garden. While staring up at what I now call "my tree of inspiration," I vowed to move there within a year. And I did!
Later that next year, WC came to visit me and also fell in love with the city and Balboa Park! So much so that he later proposed to me just steps away from that spot where I first decided to move there. (Of course my tree of inspiration was hovering above us as I said YES!)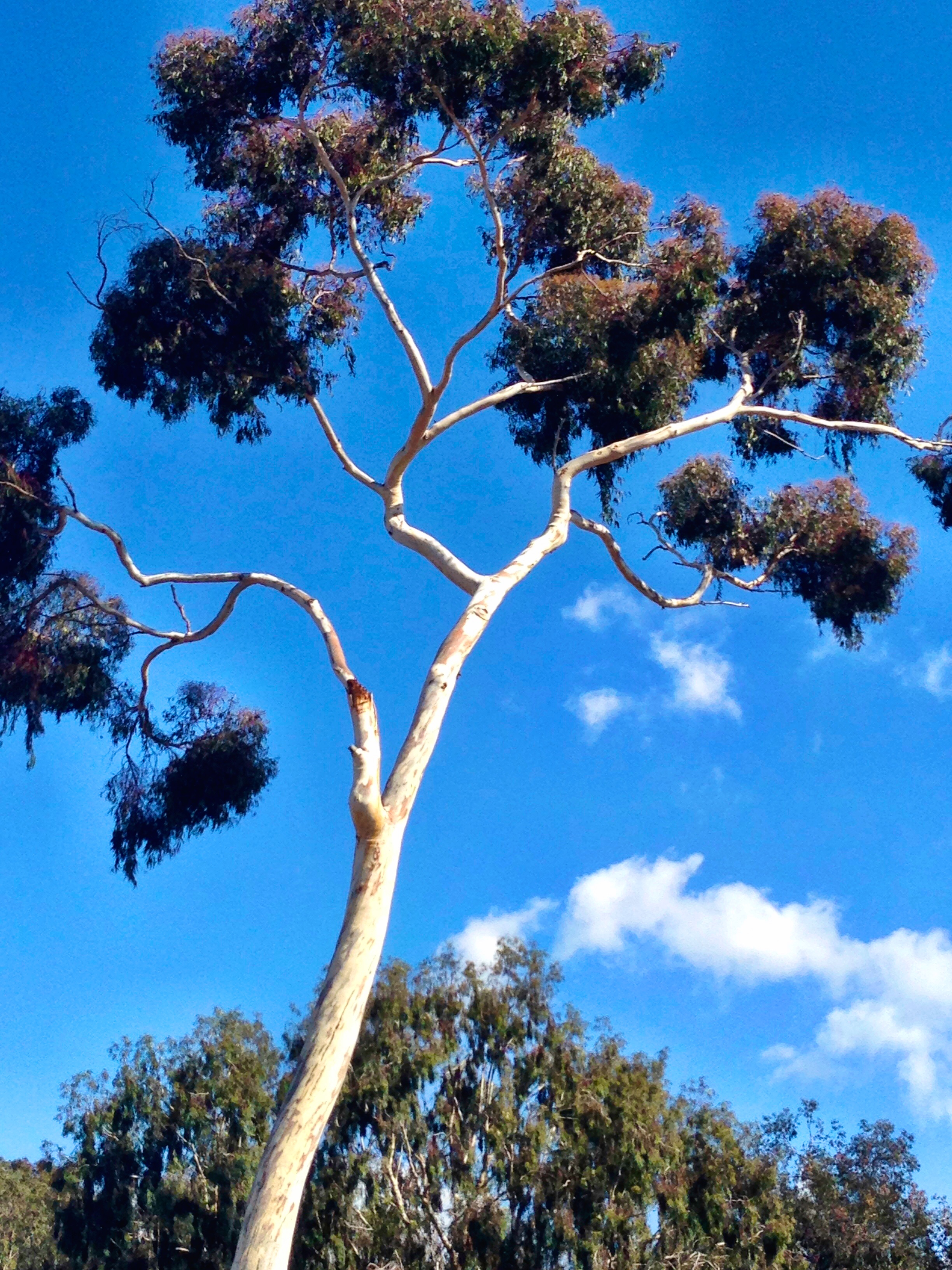 Balboa Park is the most beautiful park I've visited in the United States, but also the most diverse! With museums, architecture, a variety of gardens, dog parks, restaurants, and even a zoo, there is really something for everyone. The best part: a lot of the activities are FREE!
What to See & Do in Balboa Park
The Botanical Garden is one of my favorite free spots in Balboa Park! No pets allowed, however, so if you have your pooch with you, you'll have to skip this one. Inside the Botanical Garden, you'll find more than 2,100 plants.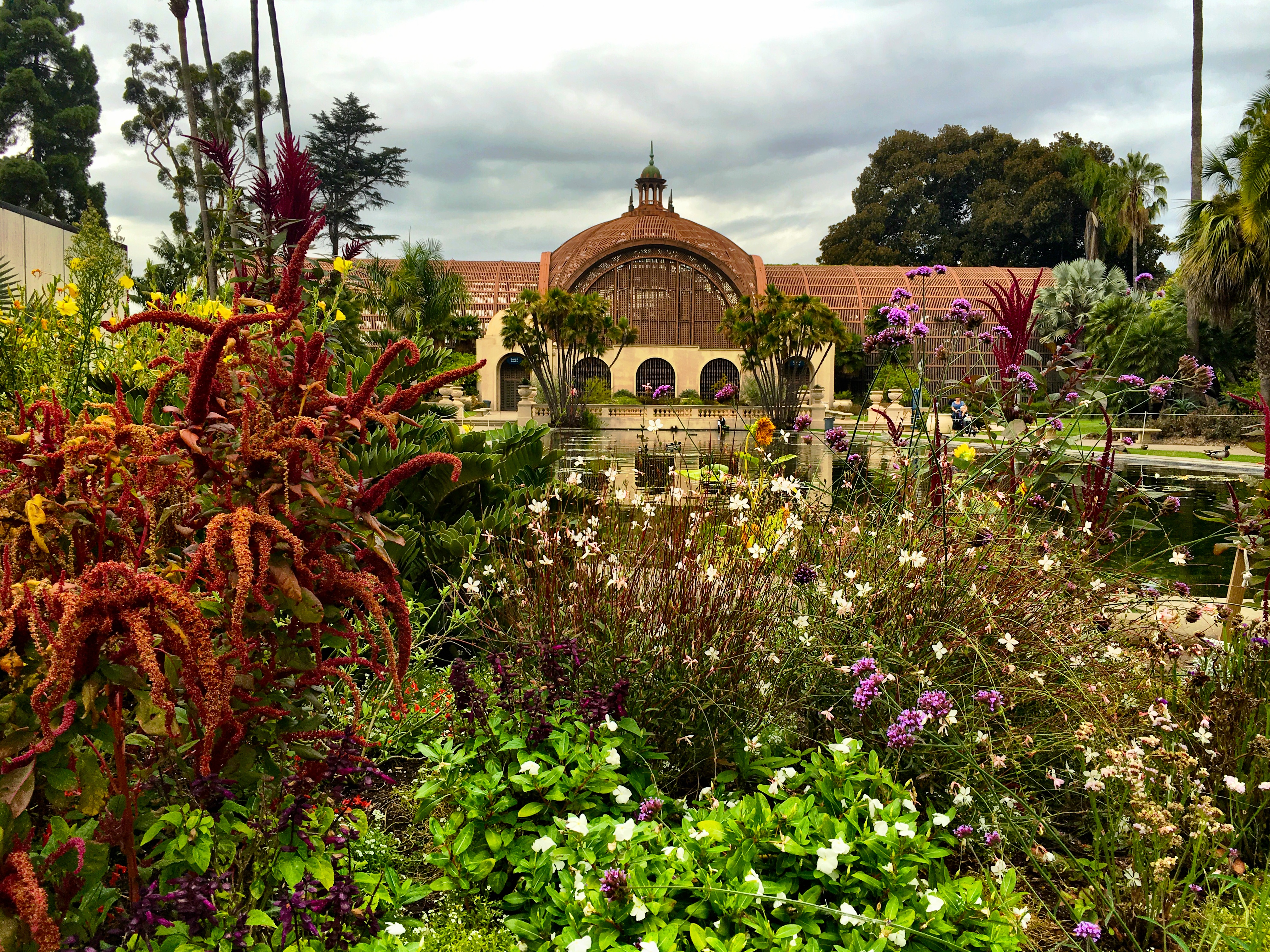 Out front of the Botanical Garden is the iconic koi pond, one of the most photographed spots in the park.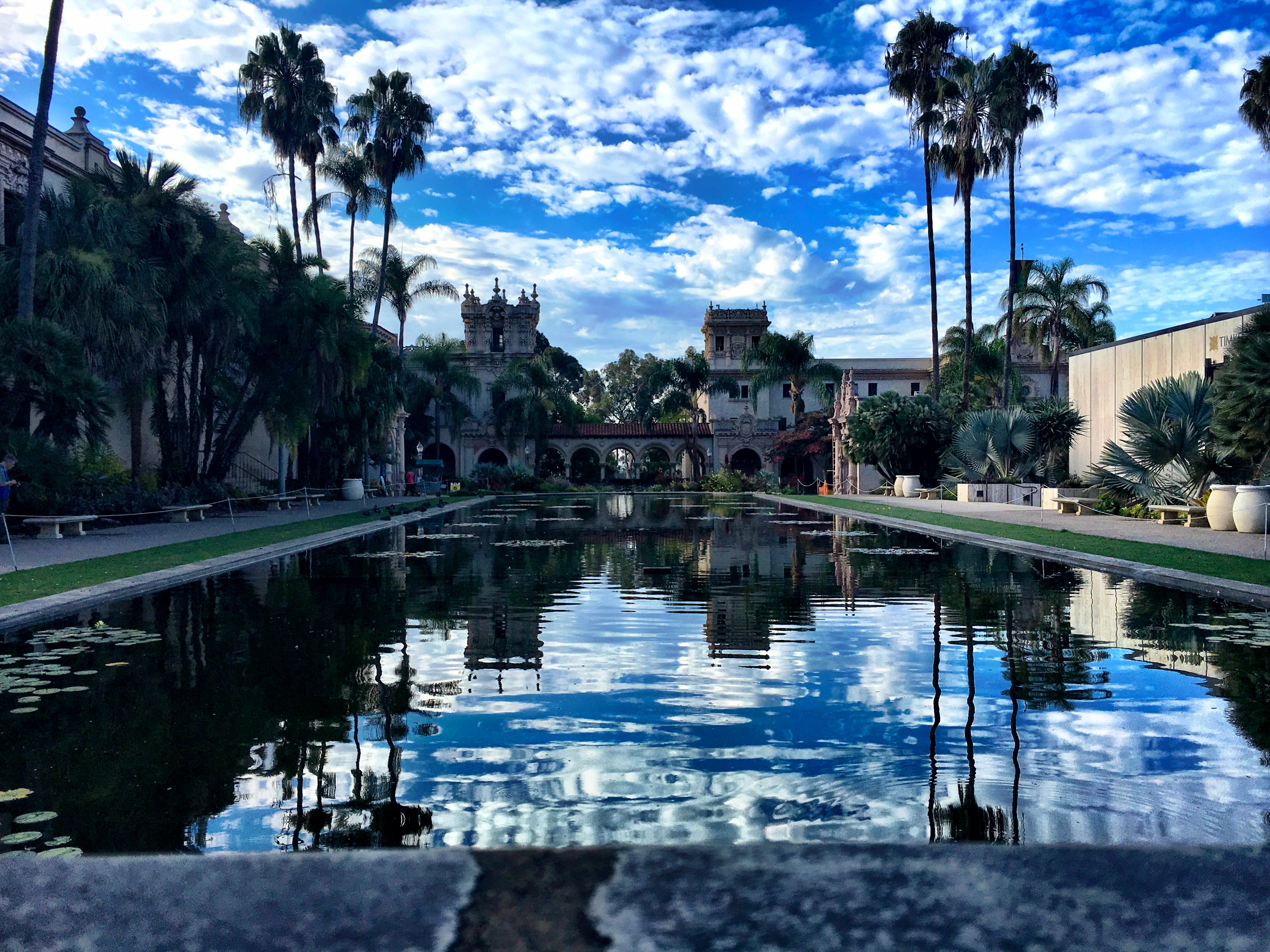 When I first visited Balboa Park, the koi pond was full of fish and plants.
If you keep walking along the main strip past the koi pond, you'll come to the Bea Evenson Fountain which sits in front of the San Diego Natural History Museum and the Reuben H. Fleet Science Center. This is one of the best spots in the park (in our opinion) to stop for a rest and enjoy the view!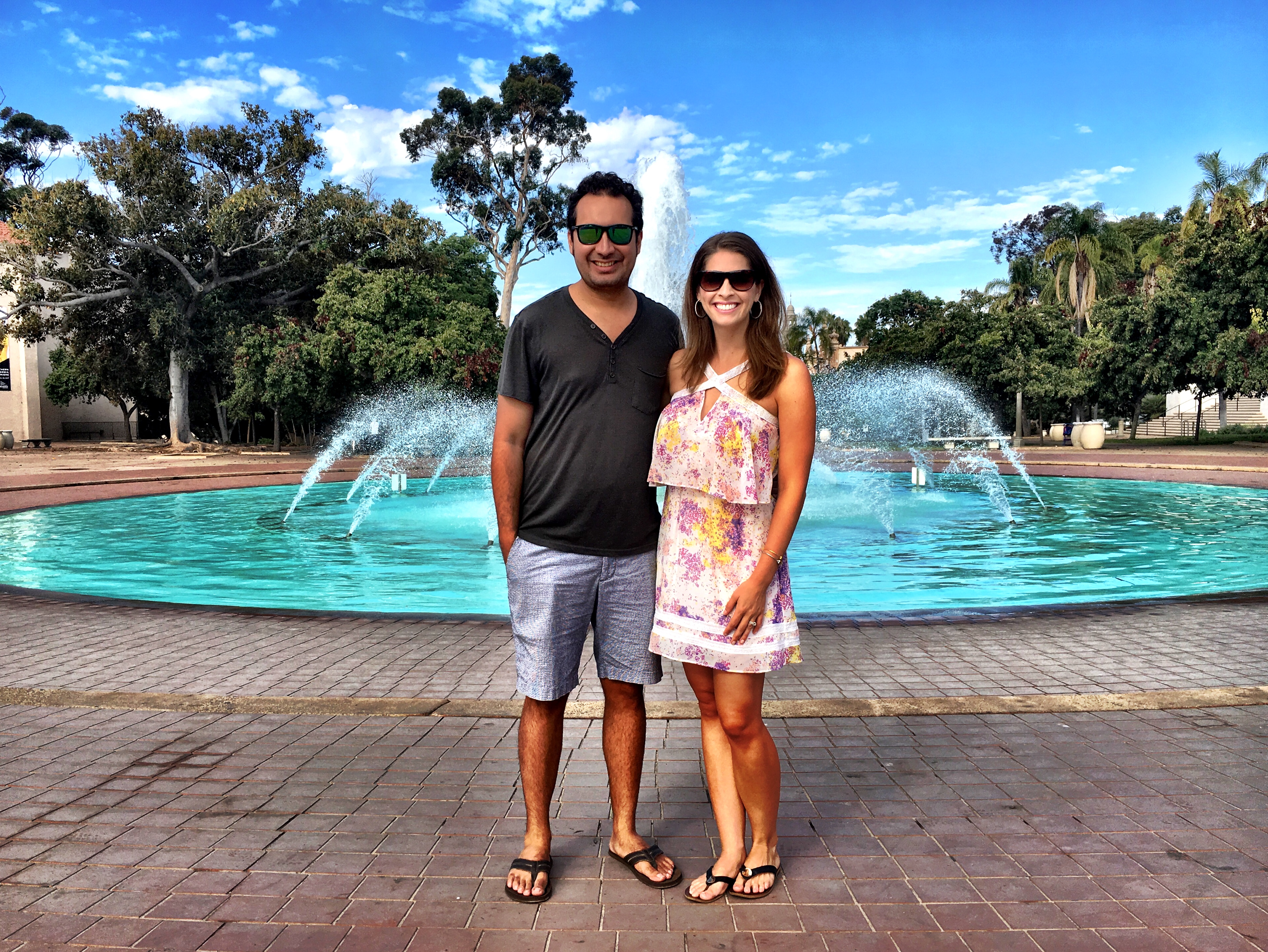 From here, you can cross a short pedestrian bridge to a spot that holds a special place in our heart! As we mentioned earlier, we got engaged in Balboa Park and the special spot was in the Inez Grant Park Memorial Rose Garden. The rose garden is home to more than 130 varieties of roses. Our special spot was next to the "Apricot Drift" variety! ❤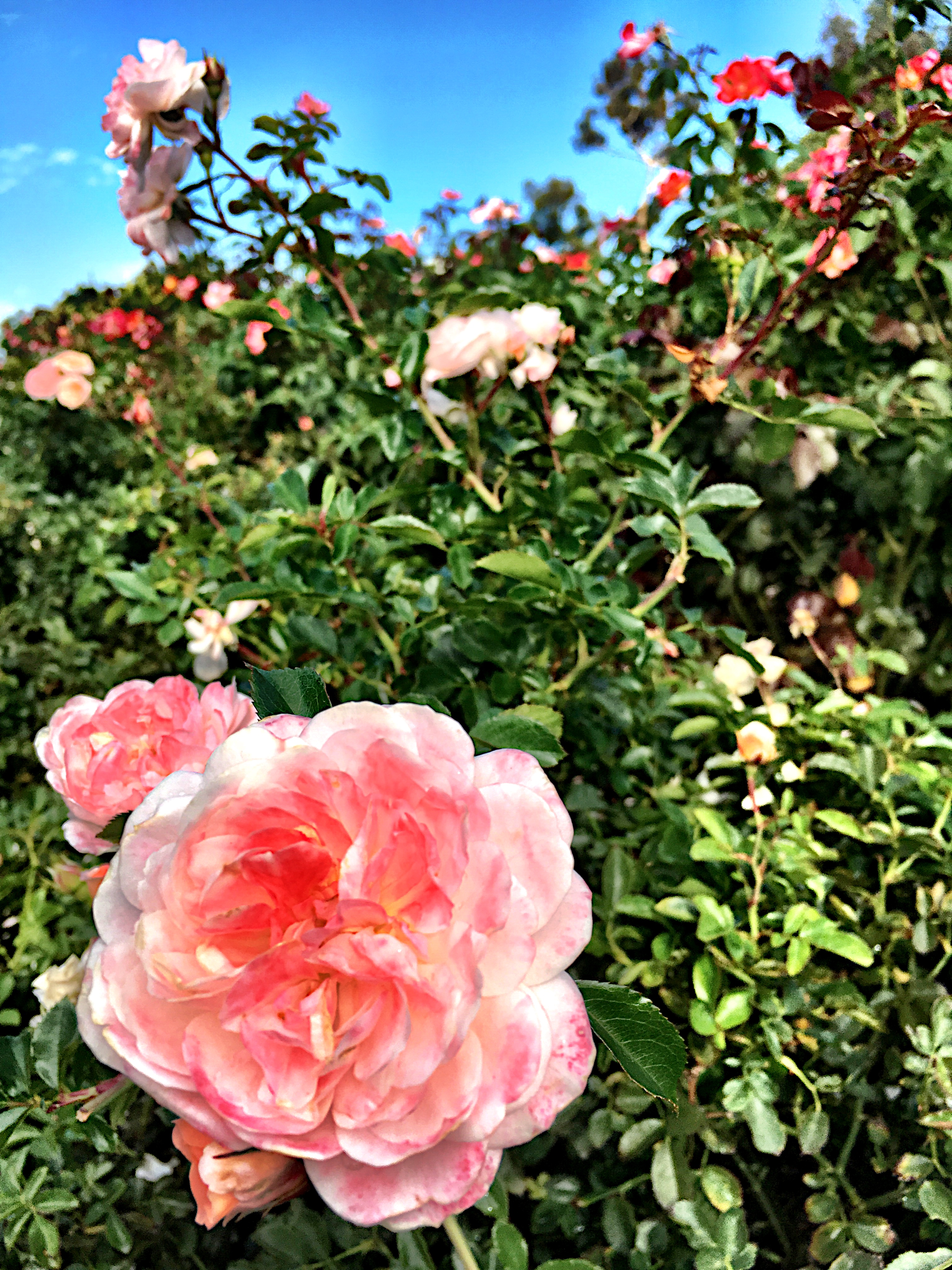 Another iconic spot in Balboa Park is the California Tower at the Museum of Man.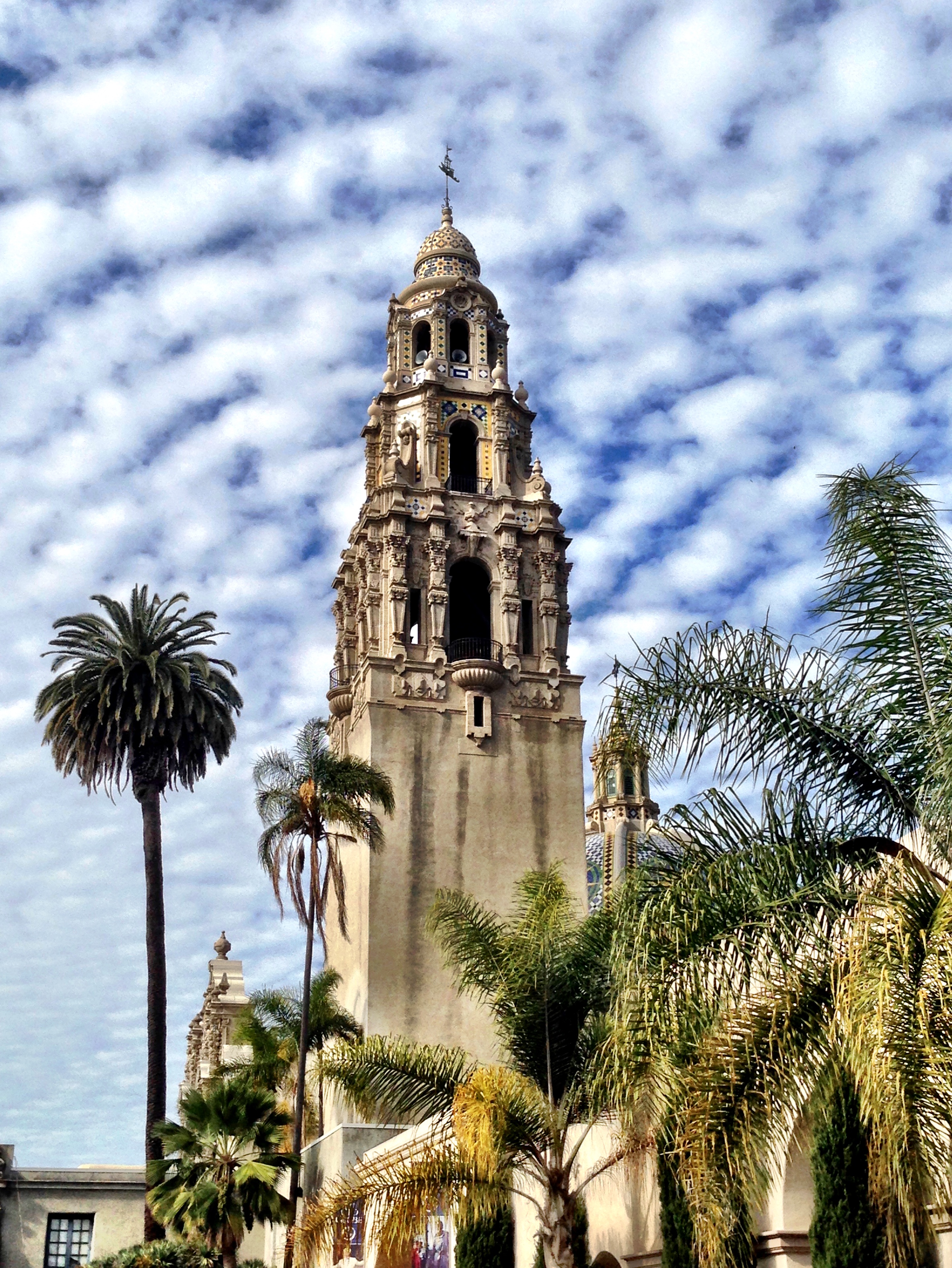 Just a short walk from the California Tower is the center of Balboa Park which offers another great spot for a rest. This open plaza in front of the San Diego Museum of Art has a lot of tables and chairs and snack carts are available nearby. We took a break in this spot with a group of our friends a few years ago.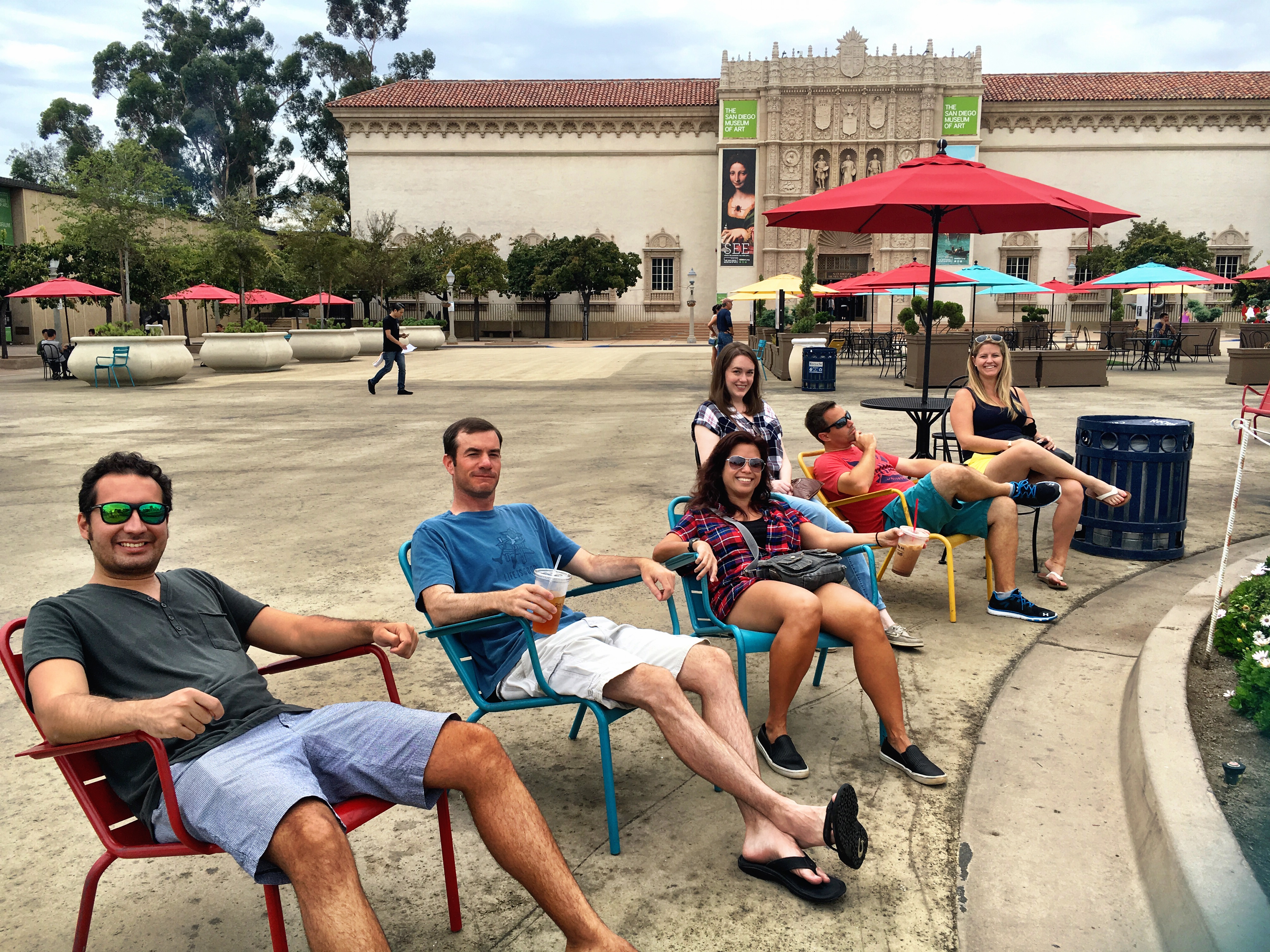 The view from this rest area is really pretty, too!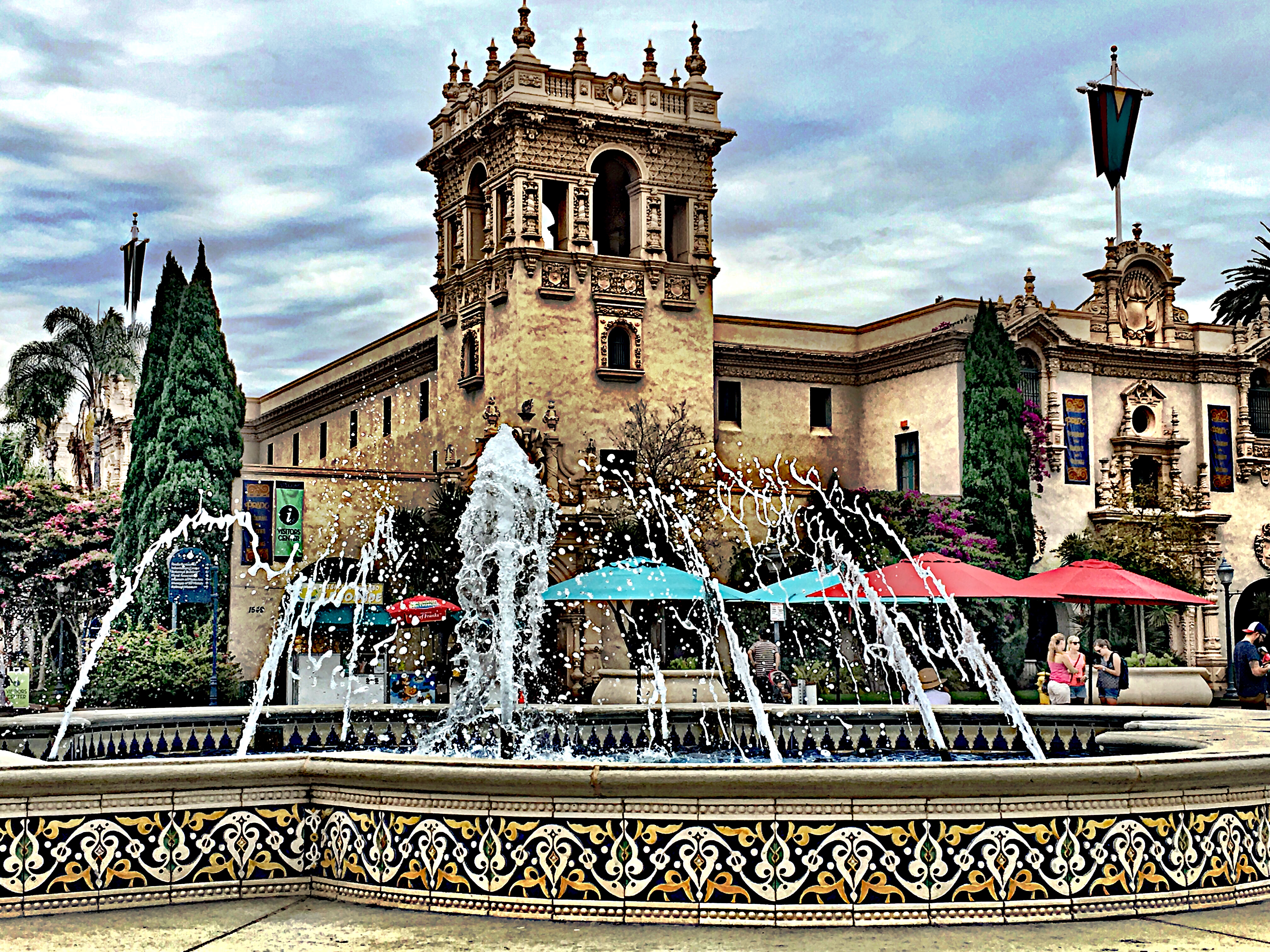 You'll probably need a separate day for this next stop in Balboa Park!
The world famous San Diego Zoo is also part of Balboa Park and is open 365 days a year. Tickets start at $44 for children and $54 for adults, and can cost as much as $850 if you want to be a zookeeper for the day!
Home to more than 3,700 animals, you really need a full day to see the entire zoo! Some of the major exhibits include the polar bears, Australian Outback, monkeys, and elephants. However, the pandas may be the most popular attraction: think "Panda Watch" from the comedy movie, Anchorman!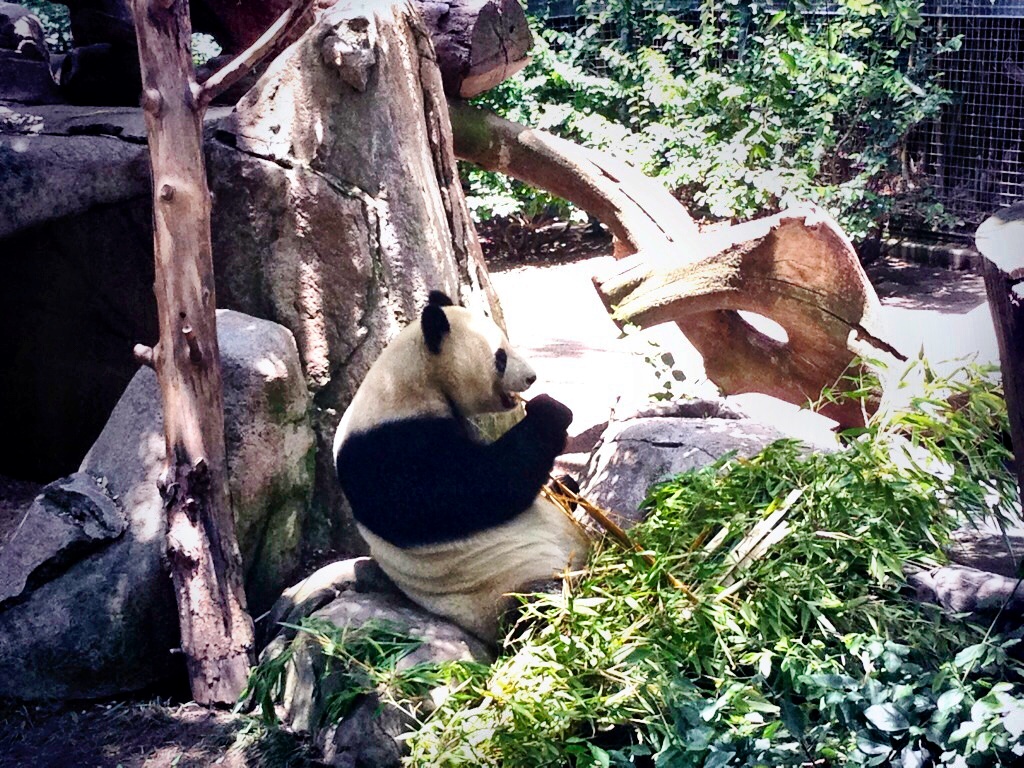 Have a dog? Balboa Park is super dog friendly!
If you live nearby (which I was lucky enough to for two years!), you'll really enjoy the free dog parks at Balboa Park. Morley Field Dog Park is located near the Balboa Park Tennis Club. The Grape Street Dog Park is close to a residential area at the corner of Grape Street and 28th Street.
Our personal favorite, Nate's Point Dog Park, is located just off the main strip of Balboa Park on El Prado/Laurel Street. This park is more than 2 acres in size and our dachshund Bentley (below) loved visiting here!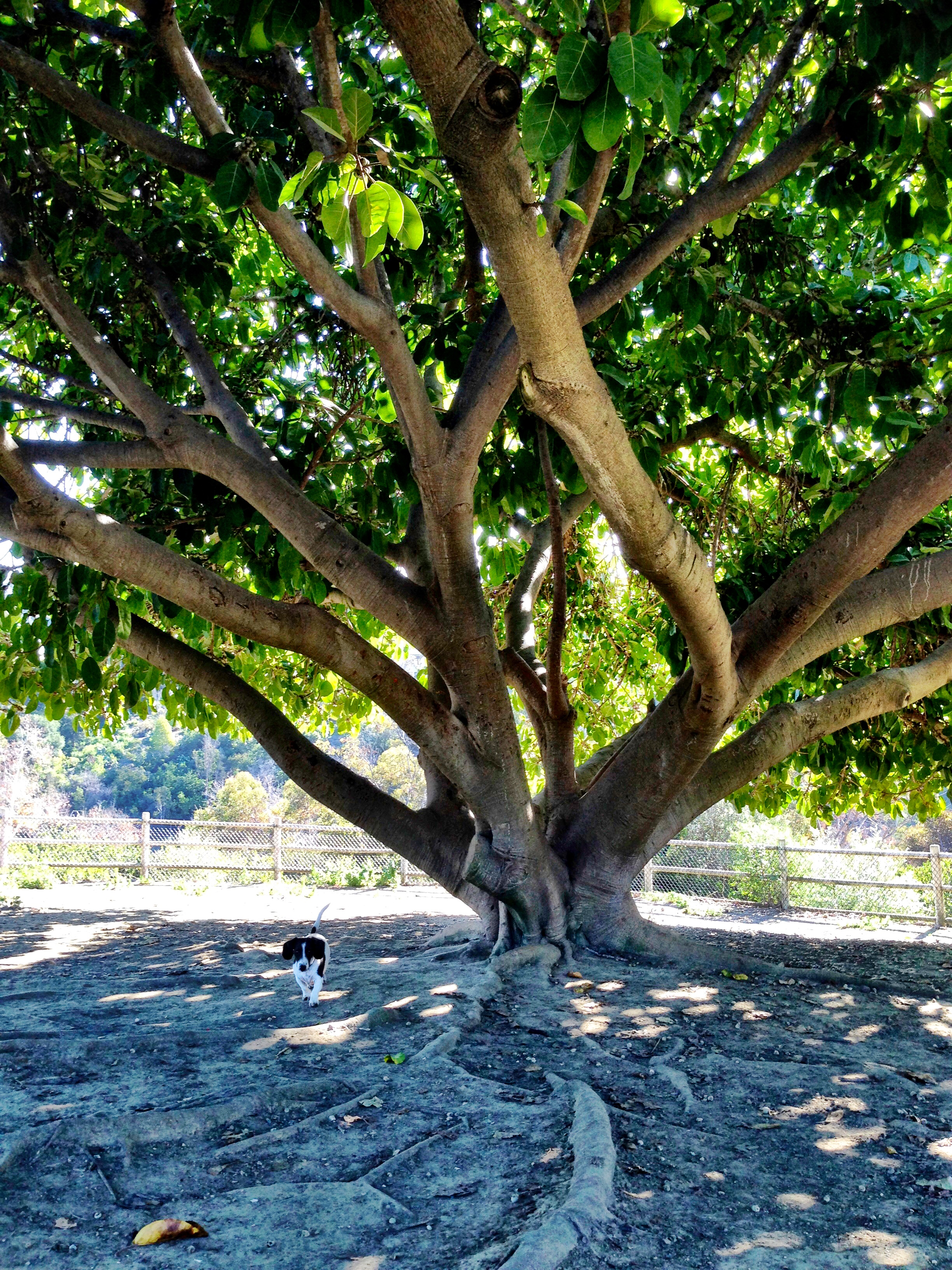 Some of our other favorite free spots include the Cactus Garden, the colorful Spanish Village Art Center, and the May S. Marcy Sculpture Garden. There are also miles of walking trails around the park.
Other popular spots (with an admission charge) include the Japanese Friendship Garden, San Diego Museum of Art and San Diego Air & Space Museum.
TIP: Balboa Park offers Residents Free Days every Tuesday. On these days, the museums and attractions take turns offering free admission for San Diego city and county residents.

Not a Resident? The Explorer Pass is valid for 7 consecutive days. It includes general admission to each of the the 16 participating museums PLUS one admission to the San Diego Zoo!

If you visit during December Nights, the museums offer free admission to everyone from 5-9 pm!

Enjoy our blog post? Pin it to share with others!