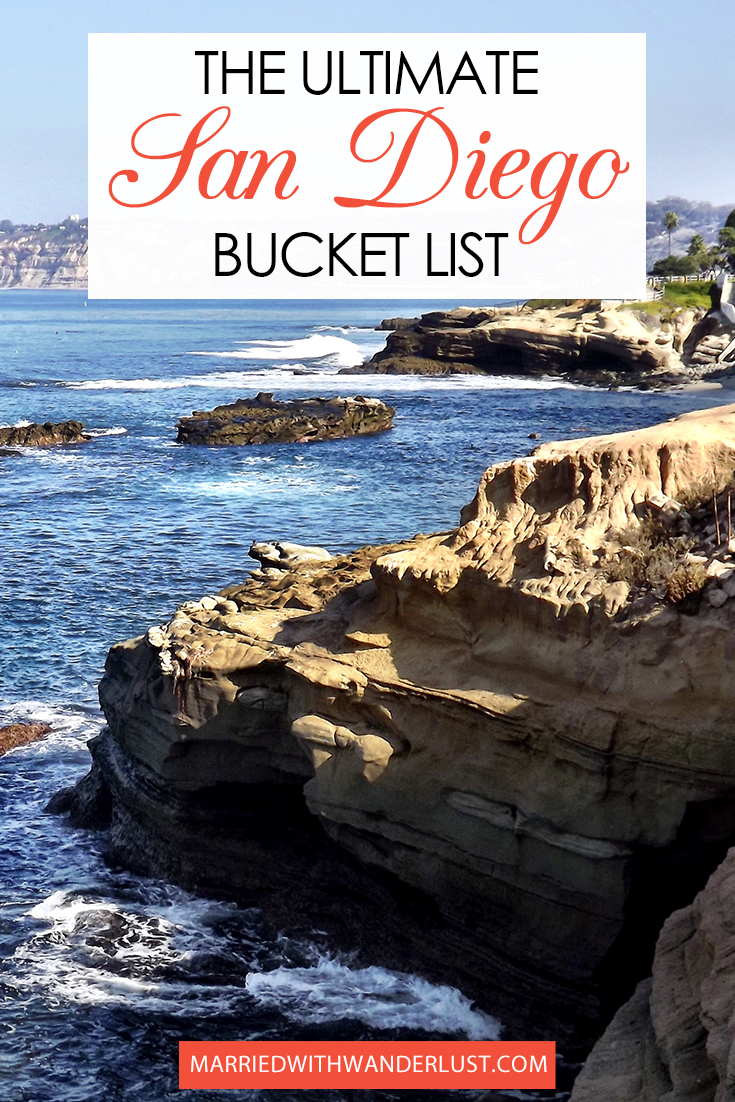 If you've never been to San Diego, pack your bags and go tomorrow. Seriously! I fell in love with the city my first time visiting in 2011, and moved there within a year. WC fell in love with it his first time visiting me.
Whether you're moving to San Diego, already live there, or just love to visit, we've put together a bucket list (in no particular order) of 100 things for you to do in San Diego (and San Diego County). Many of these ideas are from my experience living there, others are activities WC enjoyed during his many visits to see me! And a few are ideas we didn't get around to yet, but hope to do on future trips to SD.
On a budget? Check out our post on free things to do in San Diego.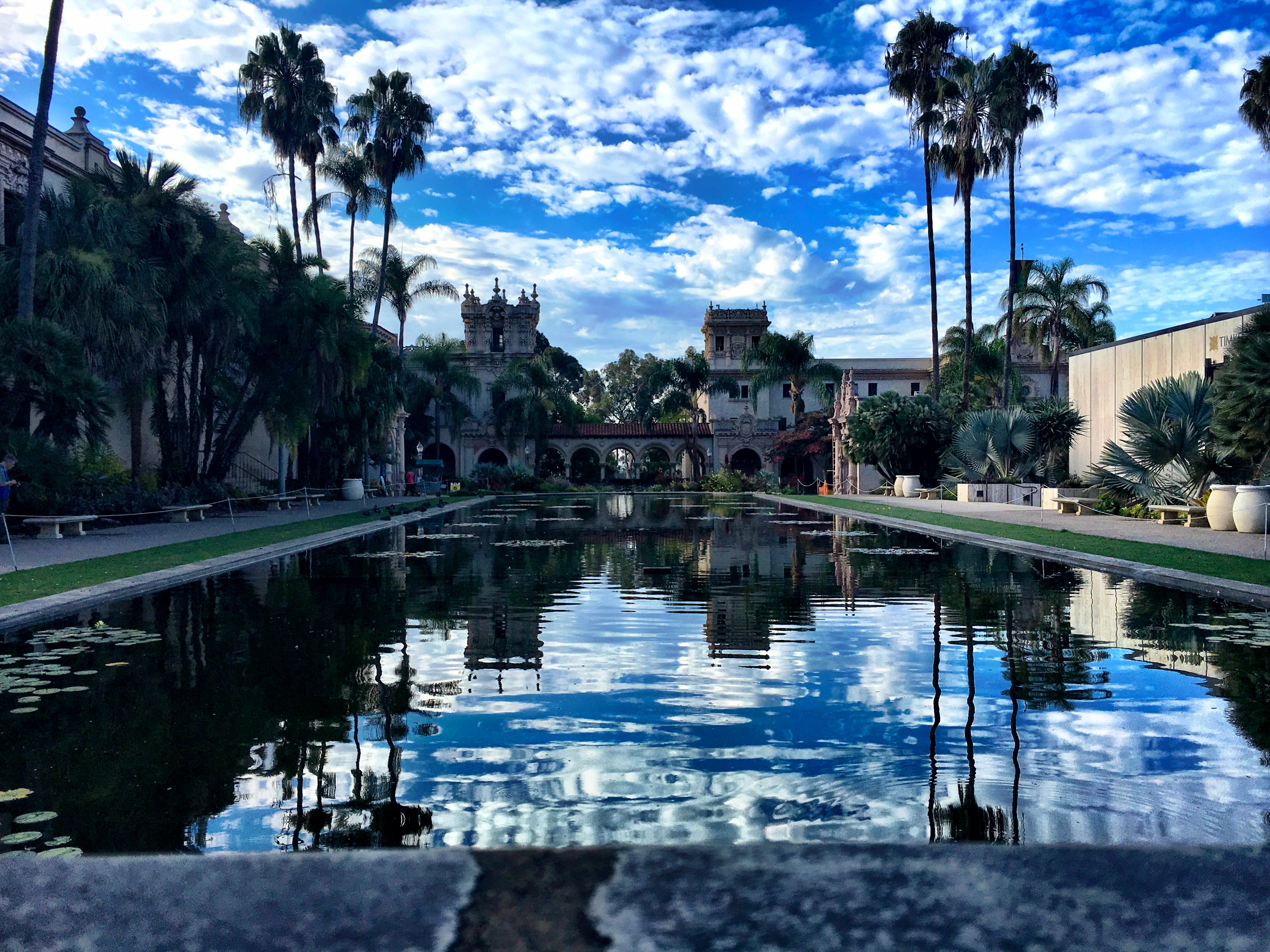 San Diego (and San Diego County) Bucket List
✔ 1.) Take in the view from La Jolla Cove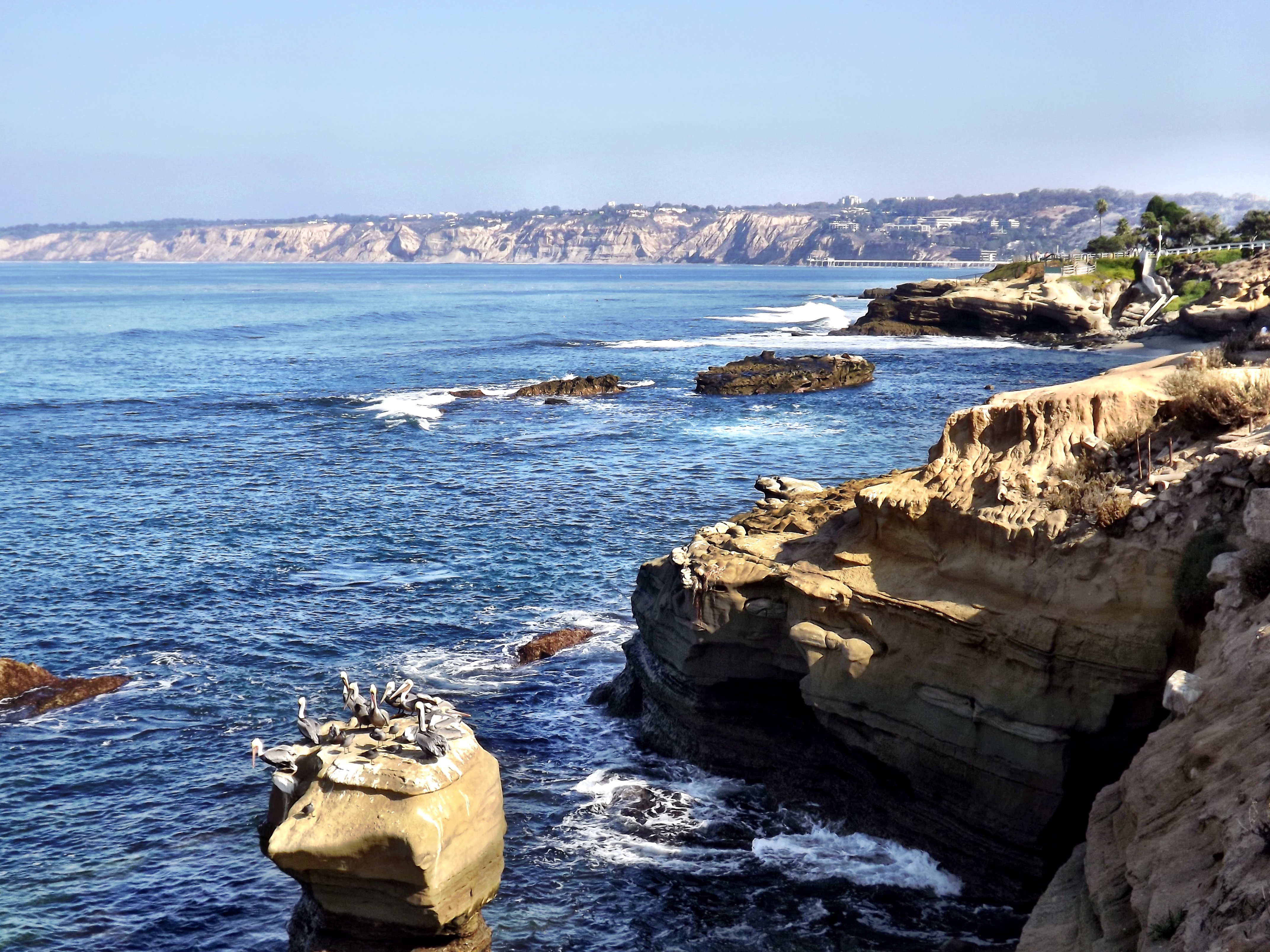 2.) Climb the California Tower at the Museum of Man
✔ 3.) Geek out at San Diego Comic-Con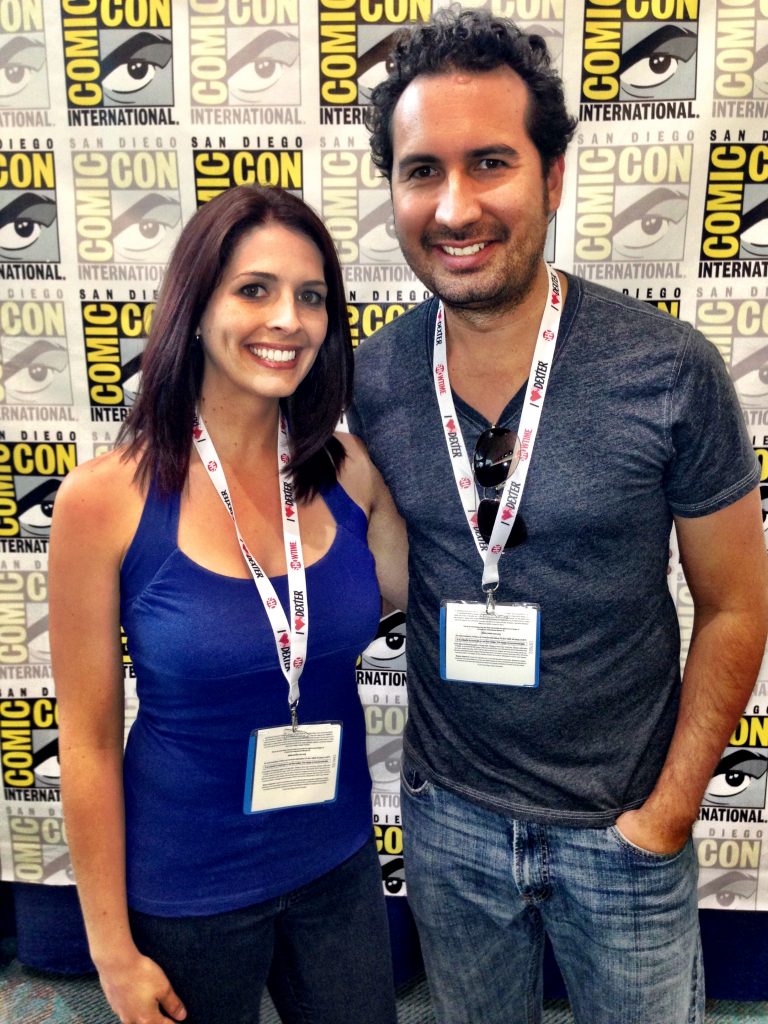 4.) Tour the U.S.S. Midway
✔ 5.) Visit the San Diego Zoo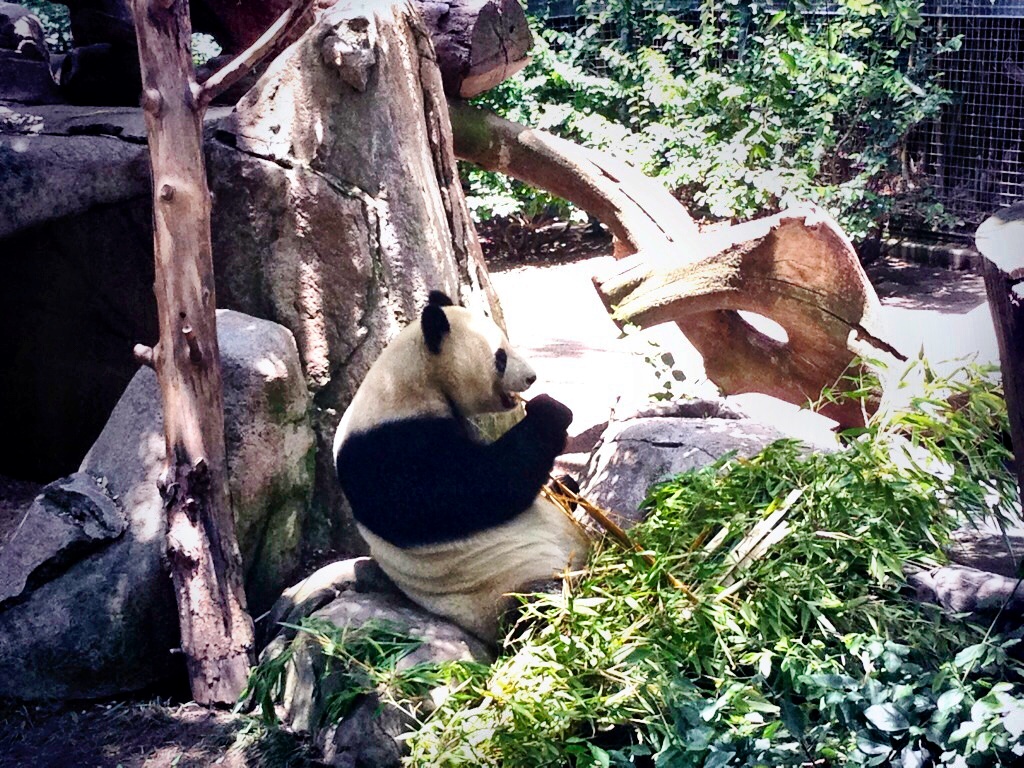 ✔ 6.) Explore the Torrey Pines State Natural Reserve
✔ 7.) Watch a baseball game at Petco Park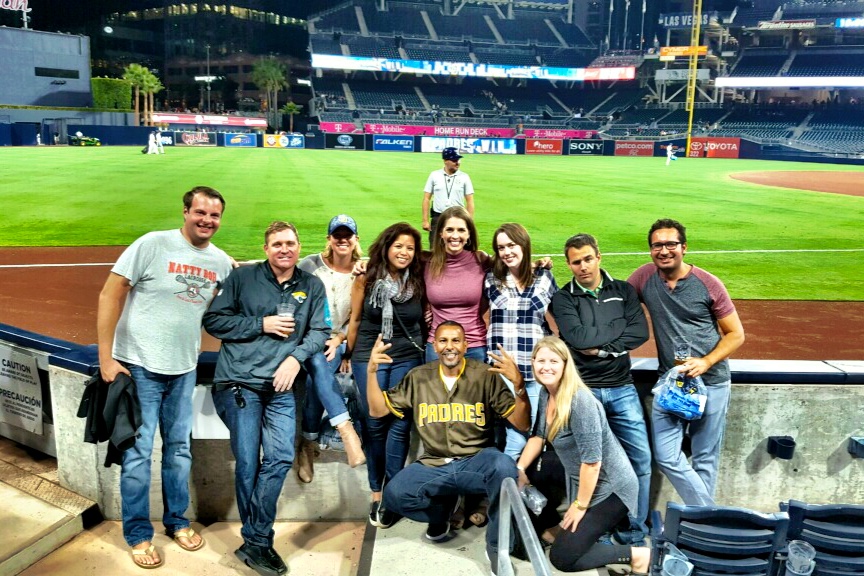 8.) Attend opening day at the Del Mar Racetrak
✔ 9.) Hike to the top of Cowles Mountain
✔ 10.) Indulge at Extraordinary Desserts
11.) Drink tea in the Japanese Friendship Garden at Balboa Park
✔ 12.) Visit the Mt. Soledad National Veterans Memorial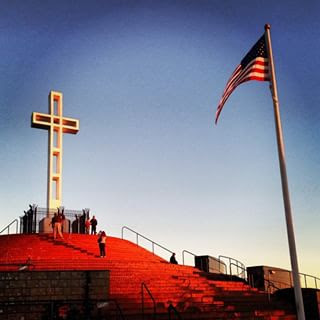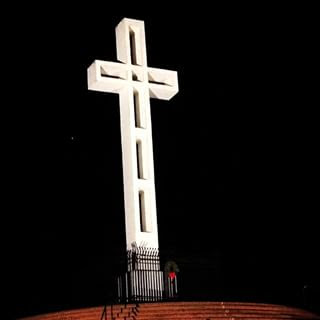 ✔ 13.) Spend an afternoon at the Hotel Del Coronado
✔ 14.) Eat pho at OB Noodle House in Ocean Beach
15.) Stand-up paddleboard on Mission Bay
16.) Watch the hand-gliders at the Torrey Pines Gliderport (or try it, if you're brave!)
✔ 17.) Visit the seals at La Jolla Children's Pool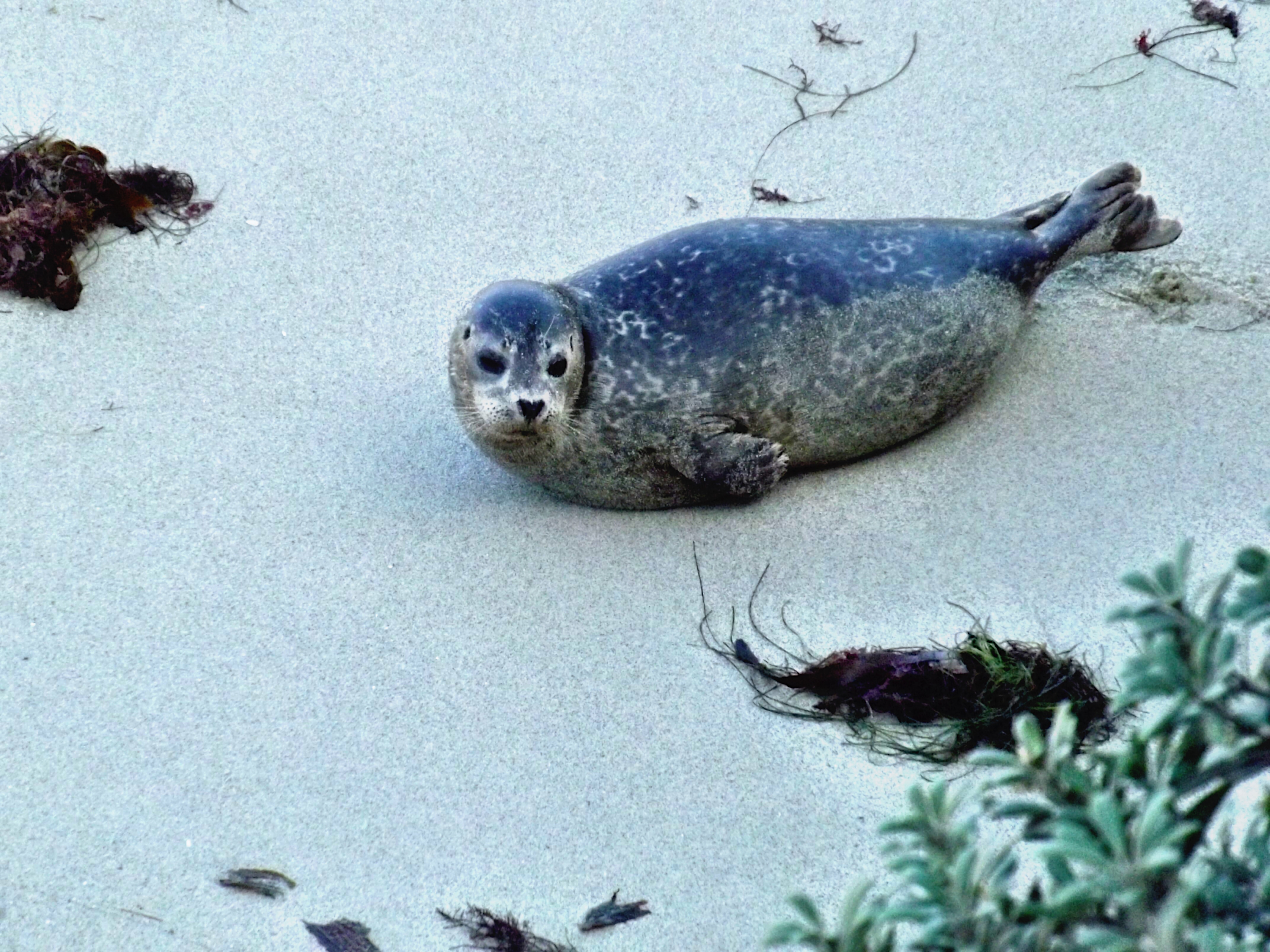 ✔ 18.) Sip a Mai Tai at Bali Hai
19.) See a concert at Belly Up in Solana Beach
20.) See a performance at The Old Globe Theatre
✔ 21.) Attend the Pride Festival in Hillcrest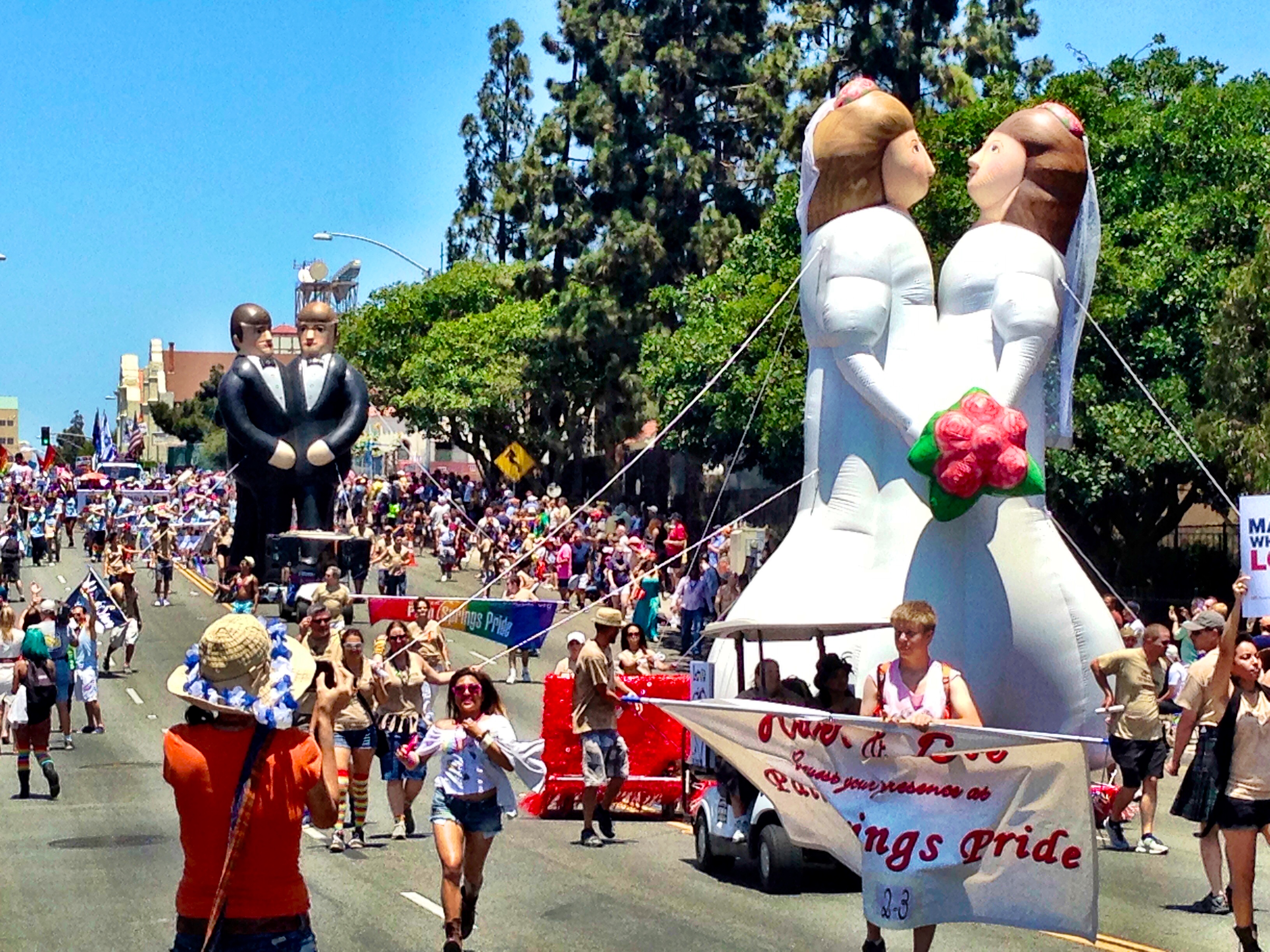 22.) Pick apples in Julian
✔ 23.) Stroll through the Farmer's Market in Little Italy
✔ 24.) Walk the Boardwalk from Mission Beach to Pacific Beach
✔ 25.) Stroll through The Prado at Balboa Park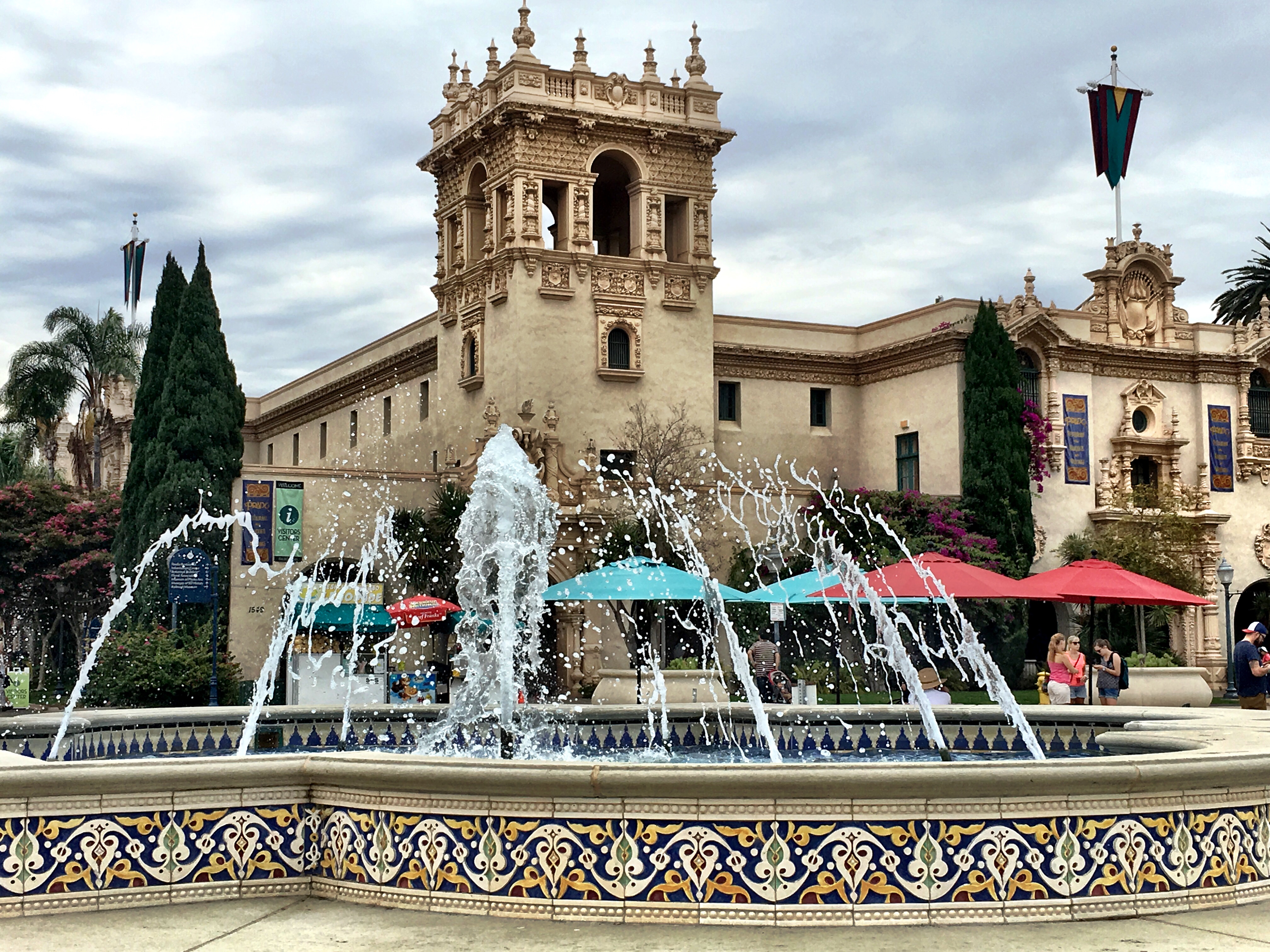 26.) Rent bicycles on Coronado Island
27.) Take a whale watching cruise
28.) Visit Cabrillo National Monument
29.) Check out the Old Point Loma Lighthouse
✔ 30.) Go tidepooling
✔ 31.) Have a giant breakfast at Hash House A Go Go
✔ 32.) Walk or jog along the Embarcadero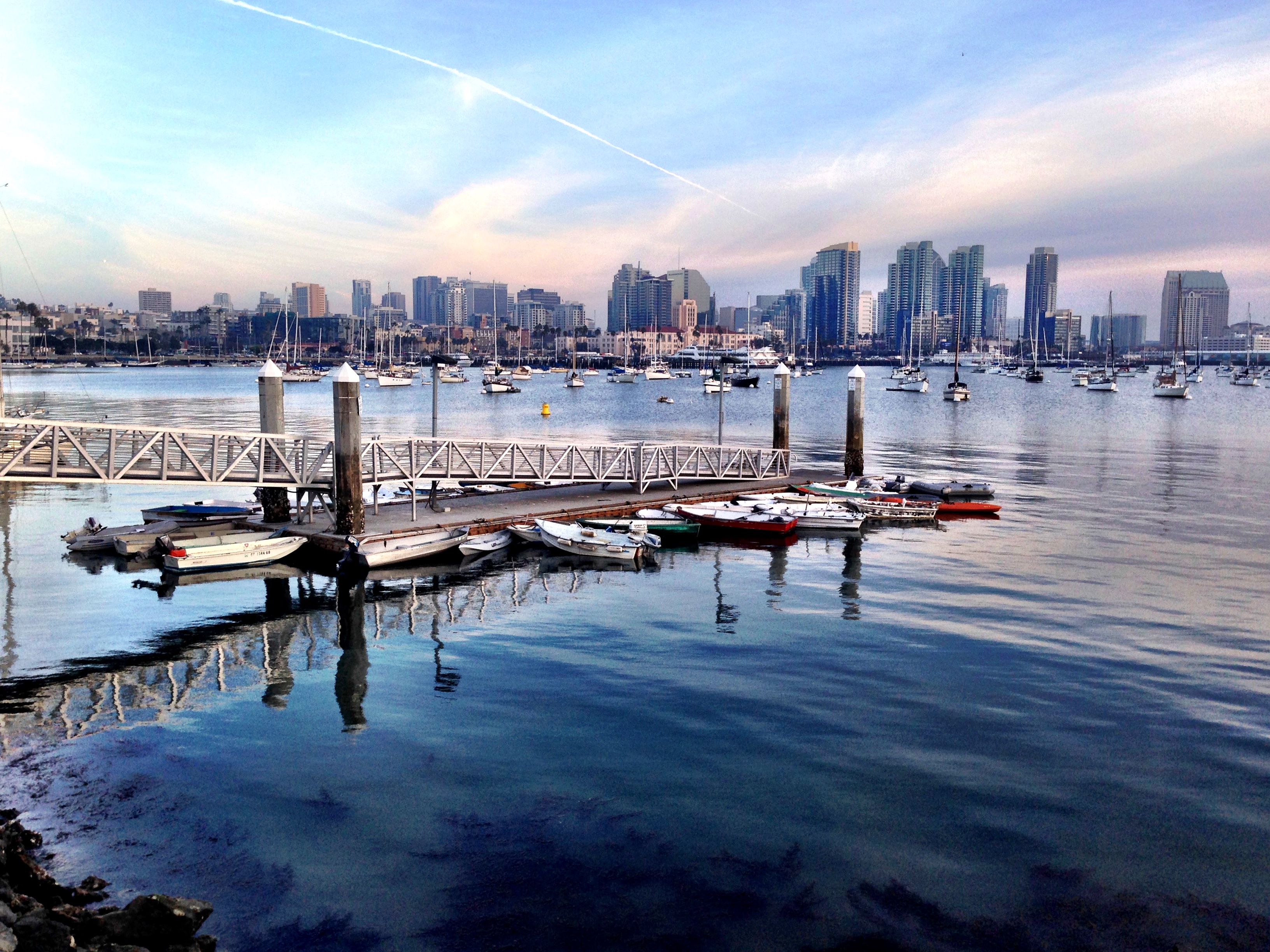 33.) Strike a pose in front of the Unconditional Surrender "Kissing Sailor" statue
✔ 34.) Visit the San Museum of Art in Balboa Park
✔ 35.) Watch the Big Bay Boom on July 4
✔ 36.) Take your photo on Potato Chip Rock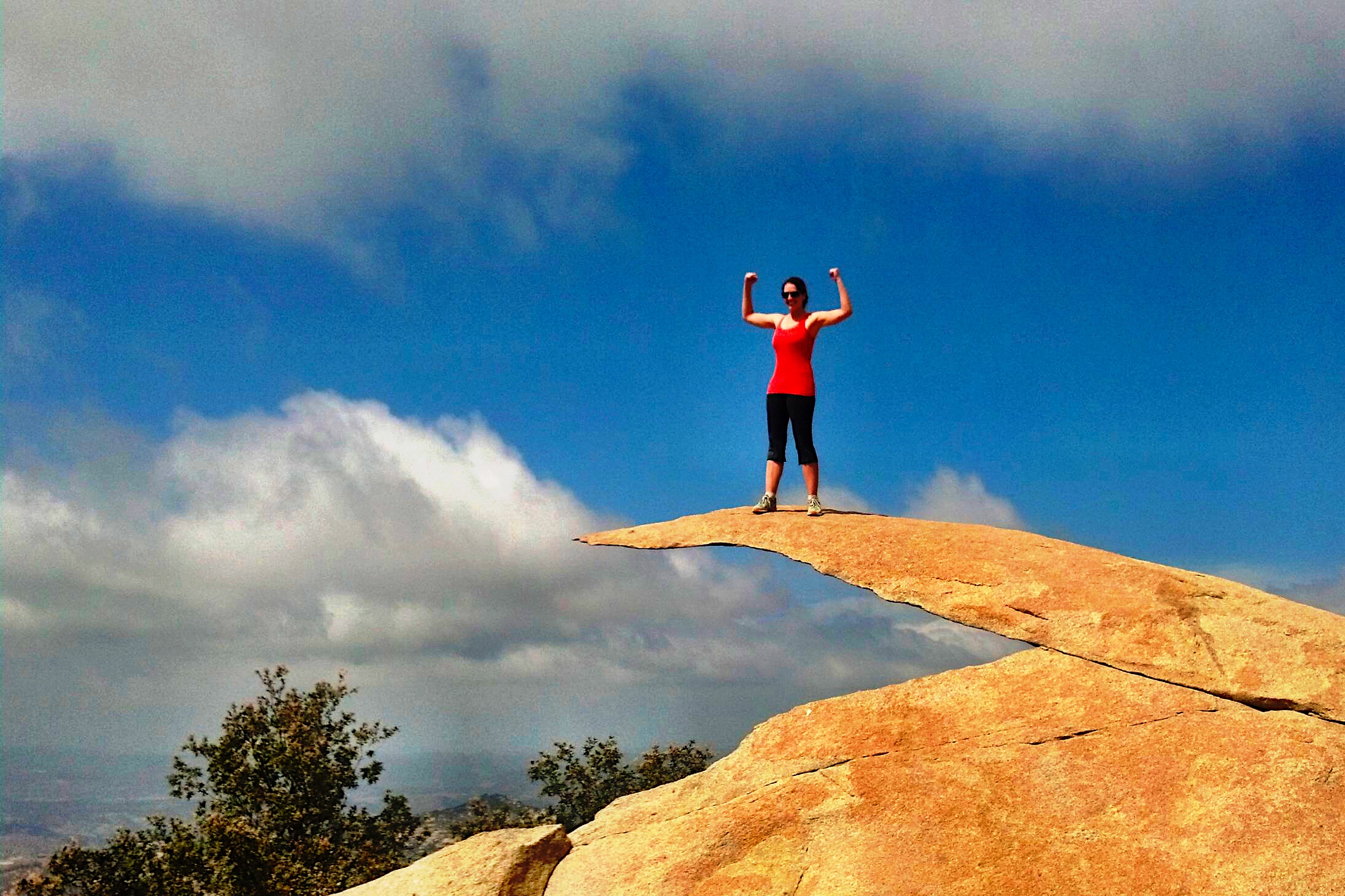 37.) See a show at La Jolla Playhouse
38.) Catch a college basketball game at SDSU or USD
39.) Attend the Miramar Air Show
✔ 40.) Watch the sunset at Sunset Cliffs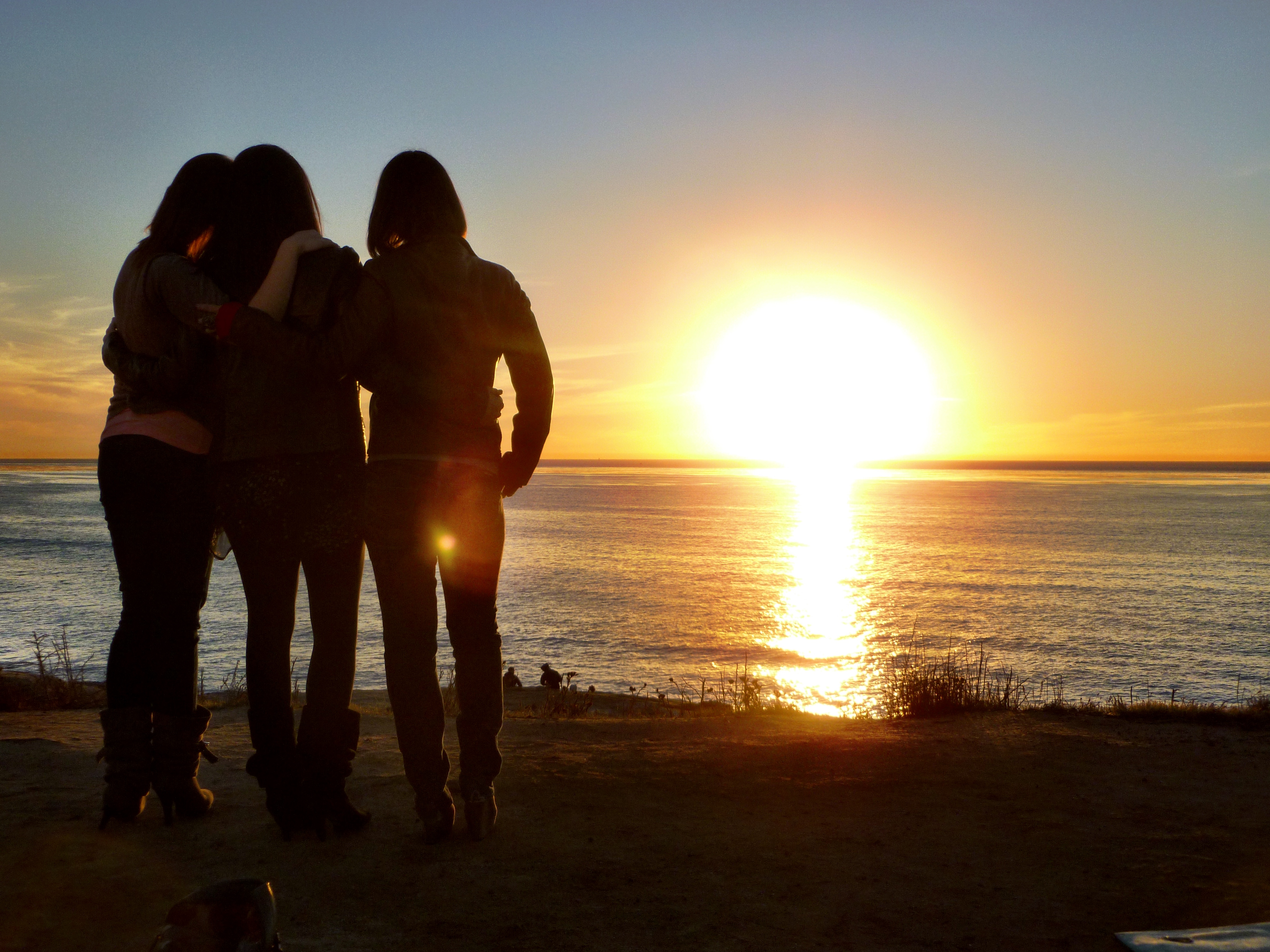 41.) Ride the roller coaster at Belmont Park
✔ 42.) Drink a beer at Ballast Point
43.) Go wine tasting in Temecula
✔ 44.) Climb down the embankment at Sunset Cliffs to the beach (Be careful!)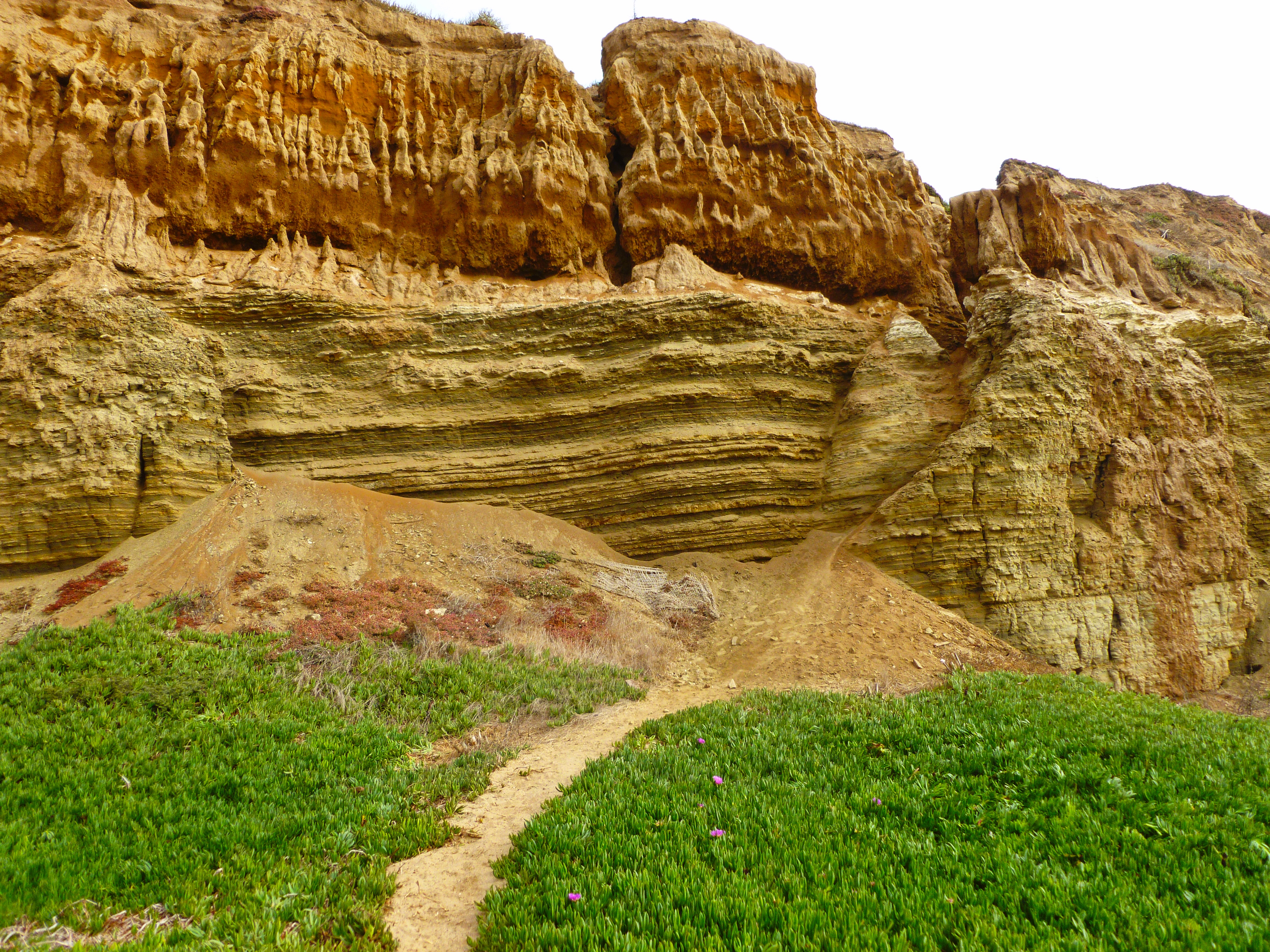 45.) Kayak through the caves in La Jolla
46.) Splash around in the fountains at Waterfront Park
✔ 47.) Eat a burger at Hodad's
✔ 48.) Experience December Nights at Balboa Park
✔ 49.) Go on "safari" at the San Diego Safari Park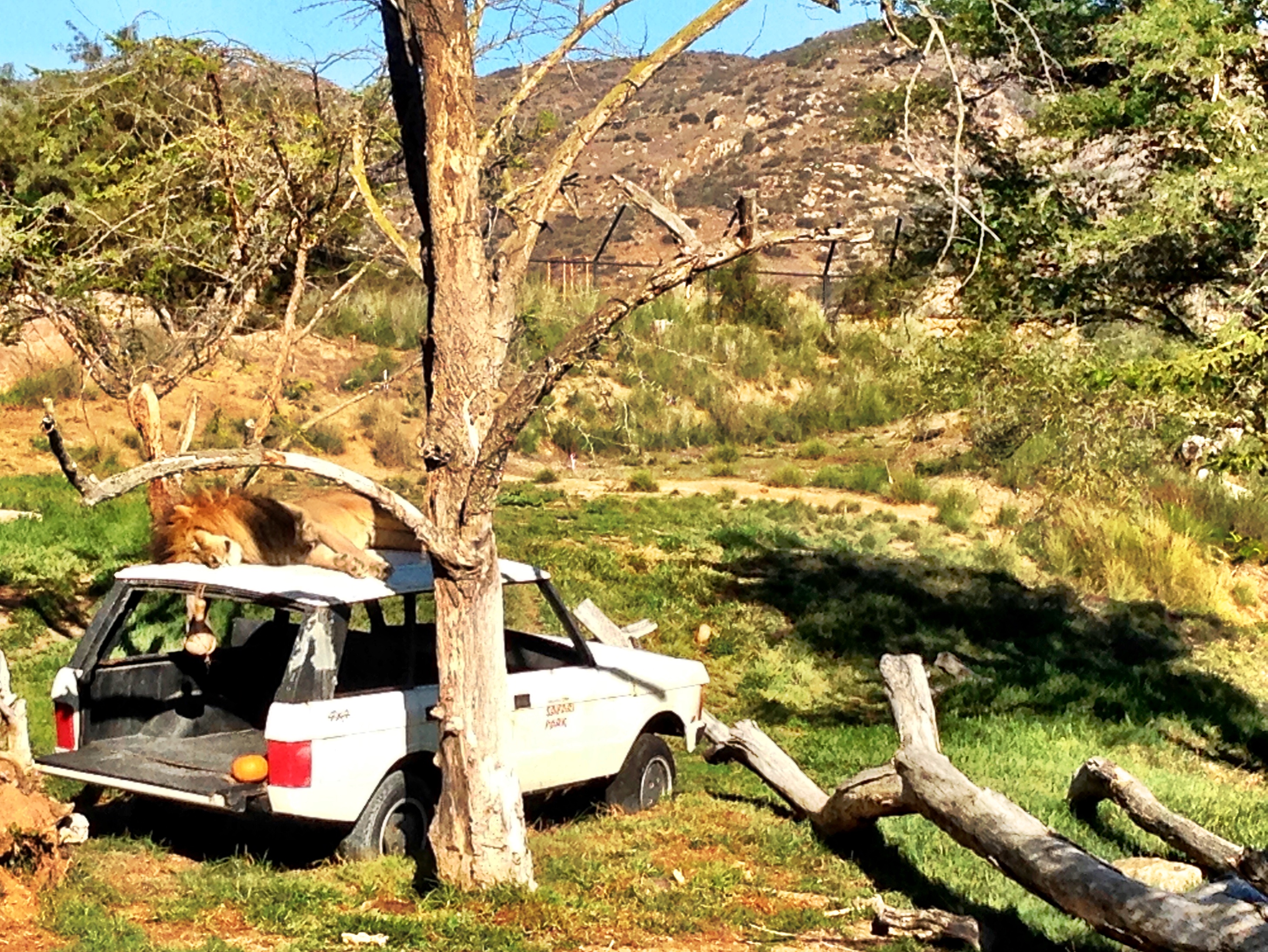 50.) See the Apollo 9 Command Module spacecraft & more at the San Diego Air & Space Museum
✔ 51.) Eat tacos at Taqueria Revolucion and TJ Oyster Bar
✔ 52.) Check out the botanical garden at Balboa Park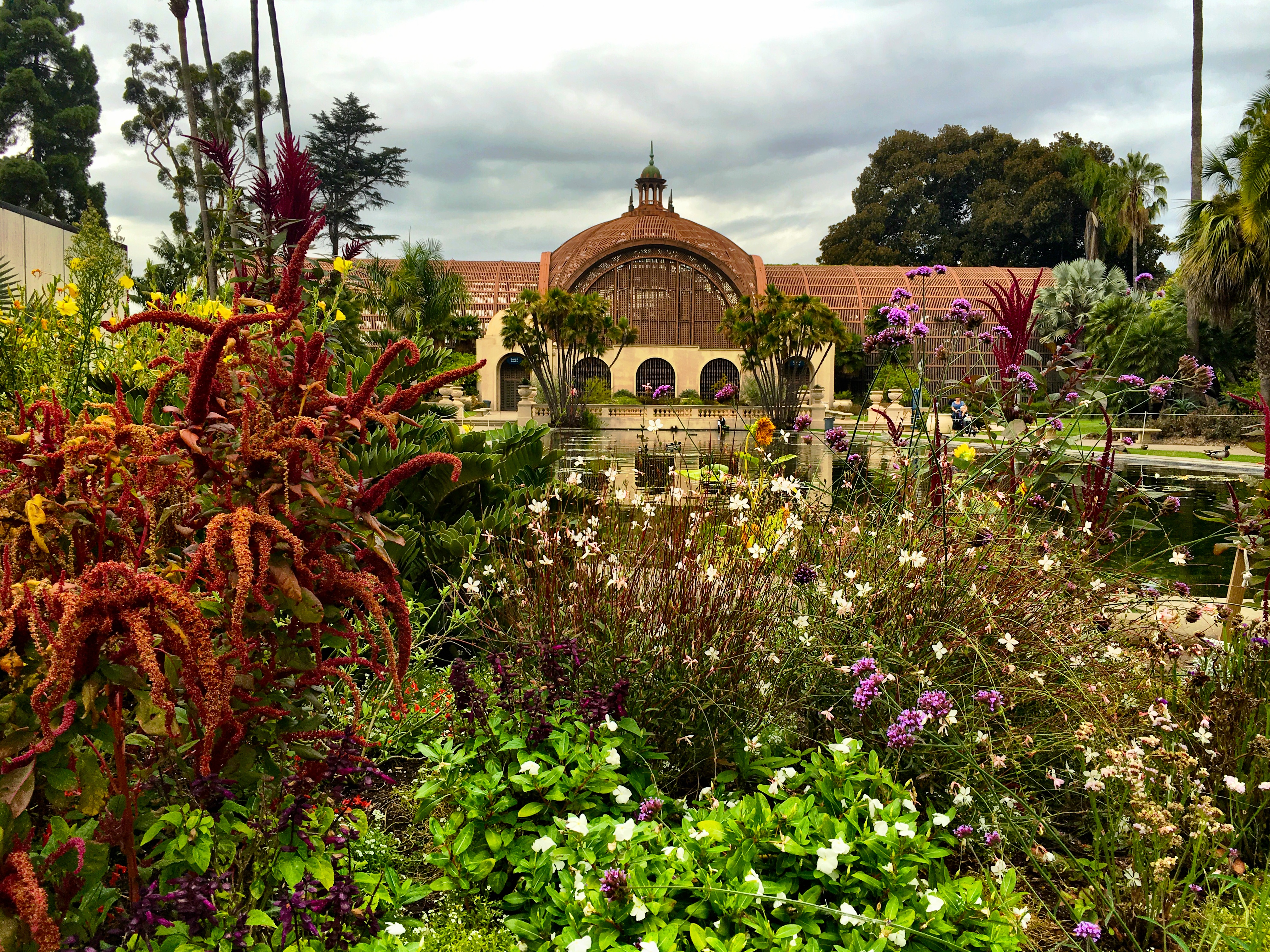 53.) Dine or shop in Seaport Village
✔ 54.) Visit the Gaslamp District
55.) Learn to surf at the Wave House
56.) Go stargazing at Palomar Observatory
✔ 57.) Explore Old Town
✔ 58.) Eat pasta in Little Italy
✔ 59.) Hear a concert at the Spreckels Organ Pavilion
60.) Make a bonfire on the beach
✔ 61.) Explore the exhibits & see an IMAX film at the Fleet Science Center
62.) Visit the Birch Aquarium
✔ 63.) Snap photos with the sculptures in Balboa Park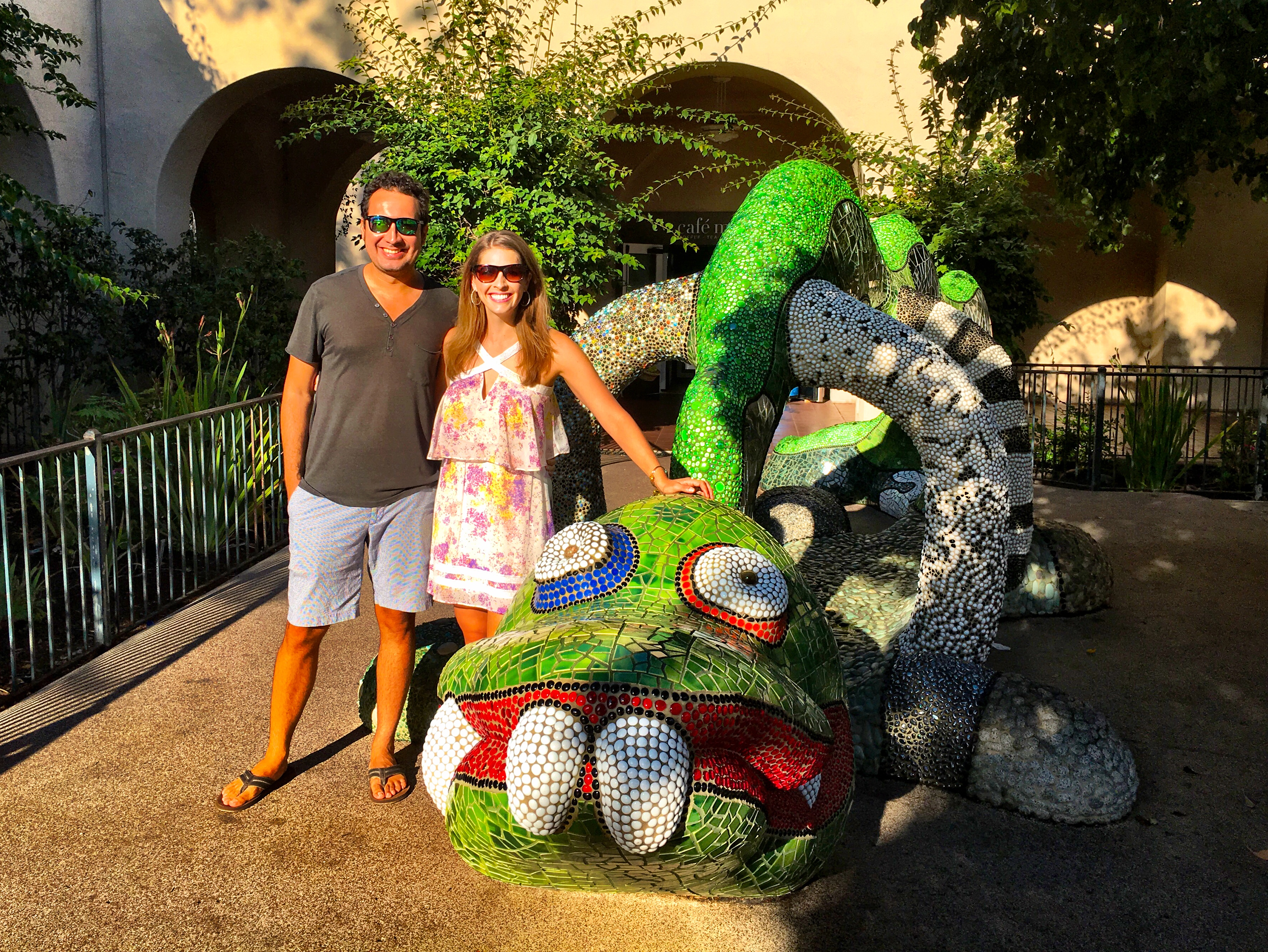 64.) Go skiing at Mount Laguna
65.) Visit the Carlsbad flower fields
66.) Drink a beer at Stone Brewing Co.
✔ 67.) Watch the evening fireworks from Sea World
68.) Explore the San Diego Natural History Museum
69.) Spend the day at Mission Trails Regional Park
✔ 70.) Stop and smell the roses in the Rose Garden at Balboa Park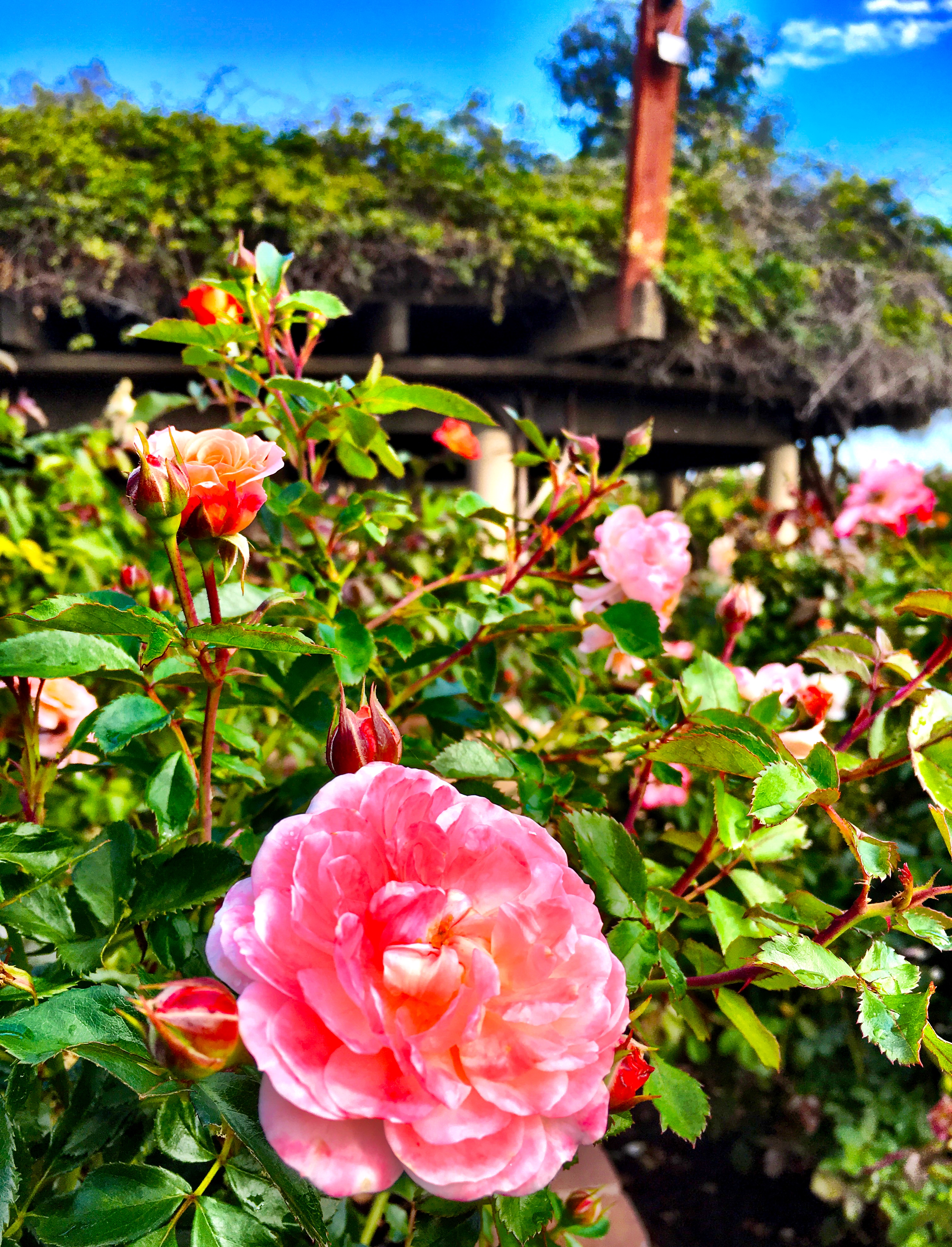 71.) Get a tan in the buff at Black's Beach (also for the brave!)
✔ 72.) Hang out at Liberty Station
73.) Pay respects at Fort Rosecrans National Cemetery
74.) Take a cruise on the Hornblower in San Diego Bay
✔ 75.) Get a coffee and cupcakes at Babycakes in Hillcrest
76.) Drink a beer at Green Flash Brewing Company
✔ 77.) Experience the San Diego County Fair
78.) Go lawn bowling in Balboa Park
79.) Staycation in a cottage on Crystal Pier
80.) Walk over the Spruce Street suspension footbridge above Kate Sessions Canyon
✔ 81.) Enjoy the view from the rooftop at Mister A's restaurant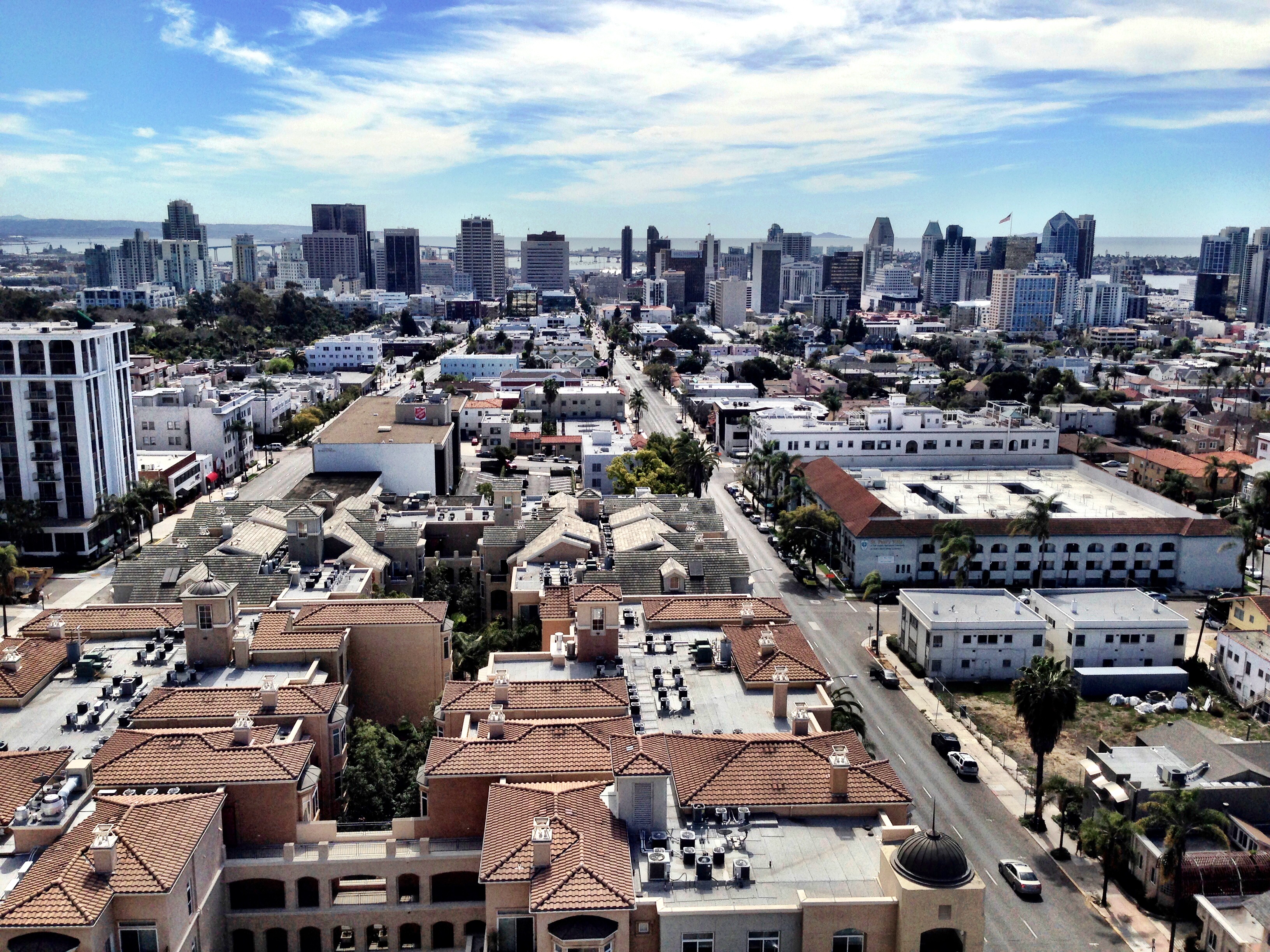 ✔ 82.) Eat the sliders at Waterfront Bar & Grill
83.) Tour the Olympic Training Center in Chula Vista
✔ 84.) See a variety of cacti and succulents in Balboa Park's Desert Garden
85.) Hit the trails in Cuyamaca Rancho State Park
86.) Ice skate at the Hotel Del Coronado (late November to early January)
87.) Experience the Grunion Run
✔ 88.) Spend the day at SeaWorld
89.) Try your luck at Viejas or Sycuan casino
90.) Visit Anza-Borrego Desert State Park in Borrego Springs
Outside San Diego County
These ideas are not in San Diego County, but only require a day trip or weekend getaway!
91.) Go camping in Joshua Tree National Park
✔ 92.) Hike to see the Hollywood Sign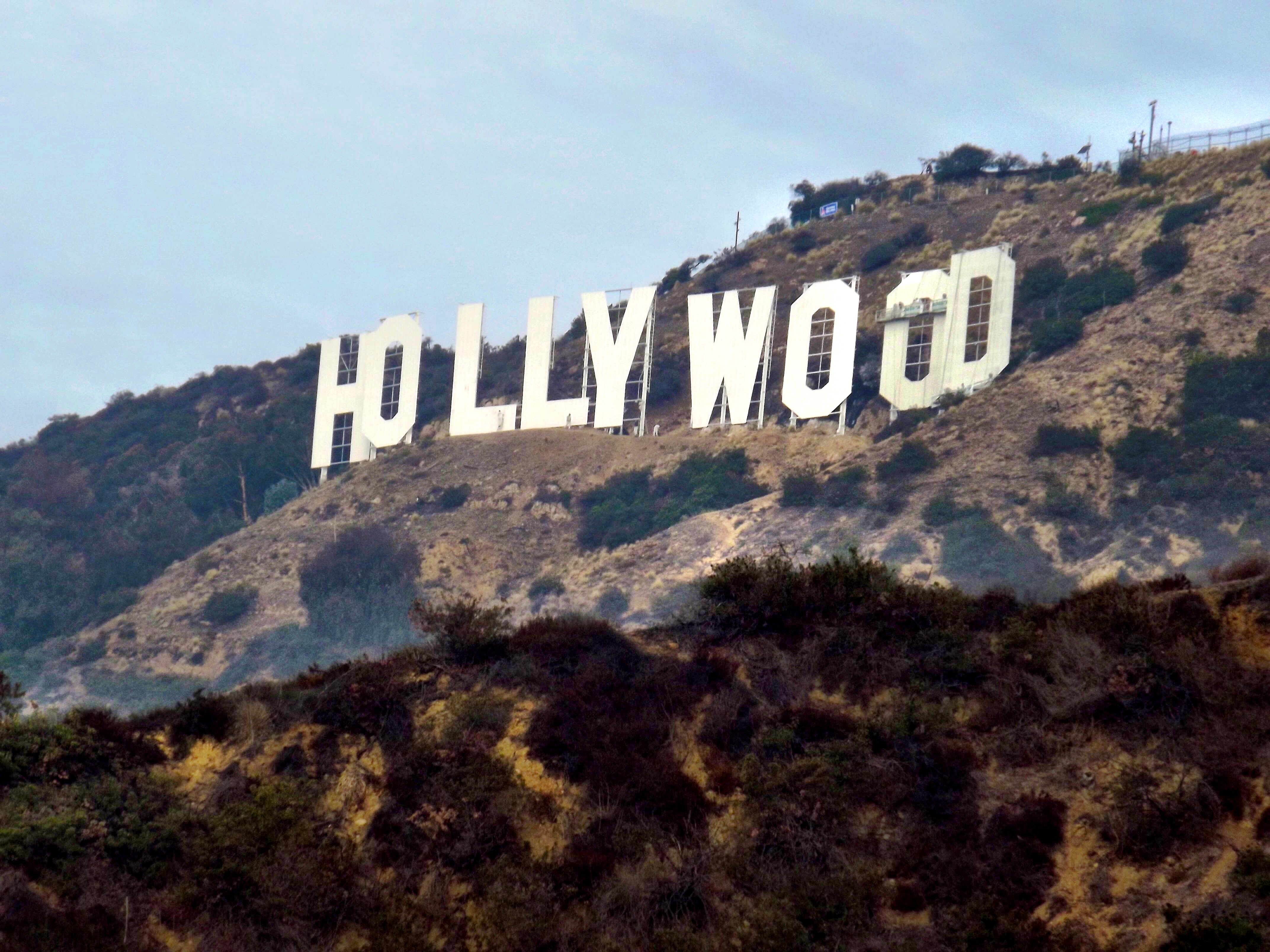 93.) Relax in Palm Springs
94.) Attend the Rose Bowl Game
95.) Ride the Amtrak Pacific Surfliner up the coast
✔ 96.) Hang out with Mickey at Disneyland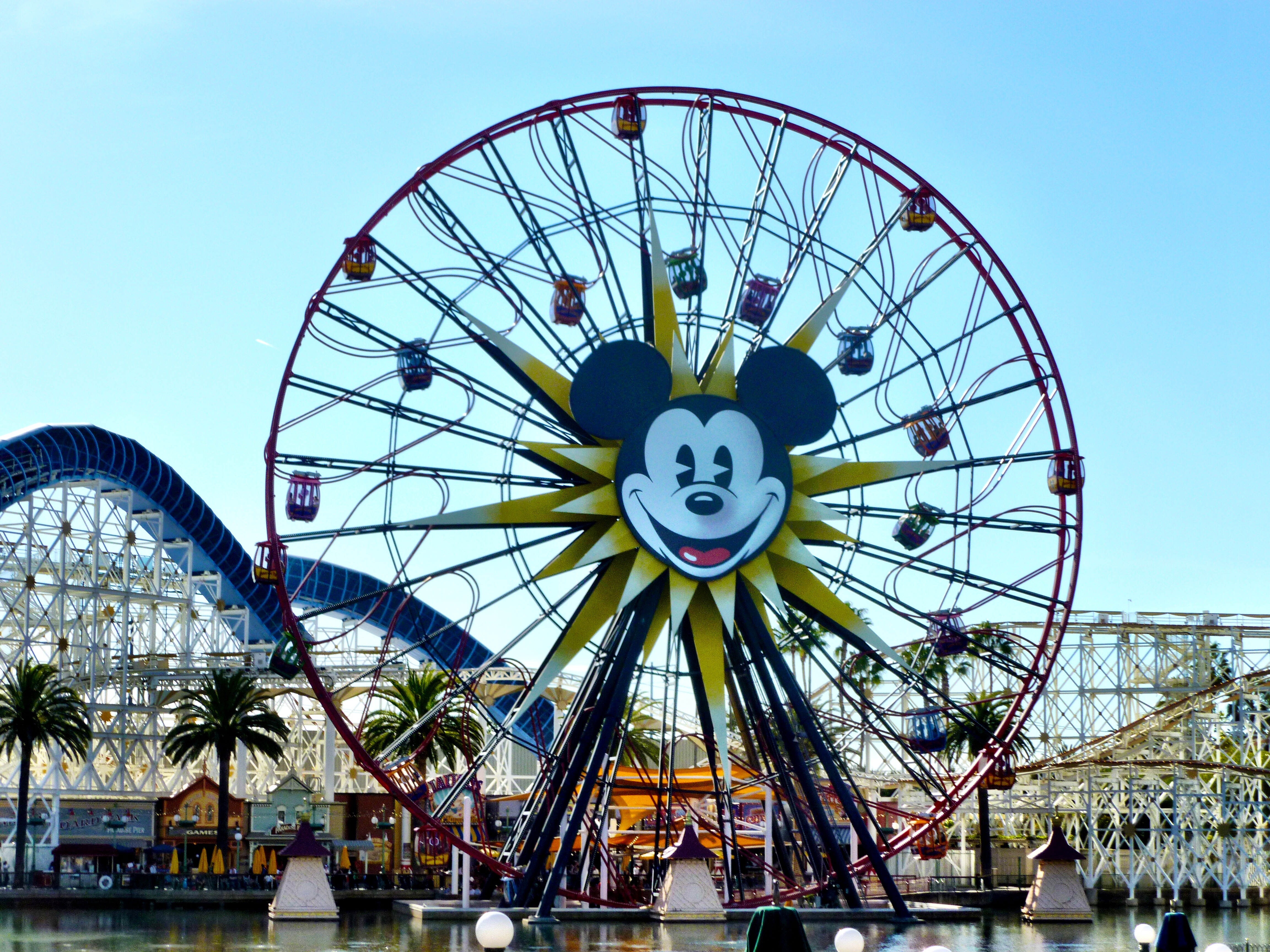 97.) Ride the ferry to Catalina Island from Dana Point
98.) Attend a live show taping in Los Angeles
99.) Take a cruise to Mexico, Hawaii, the Panama Canal, or Alaska
✔ 100.) Have a weekend getaway in Rosarito, Mexico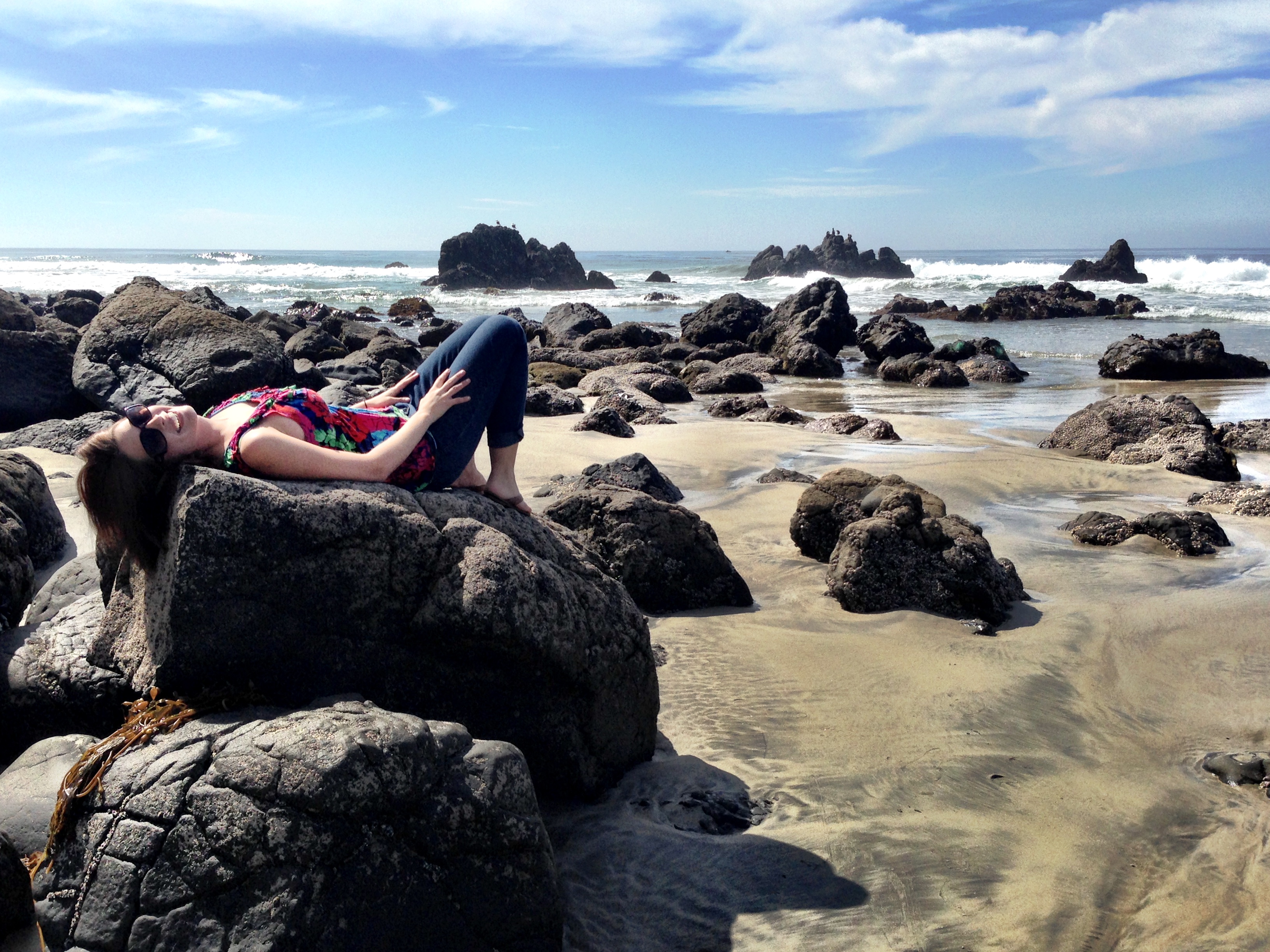 How many of these have you done? Have other ideas to add to the list? Leave us a comment!

Enjoy our blog post? Pin it to share with others!