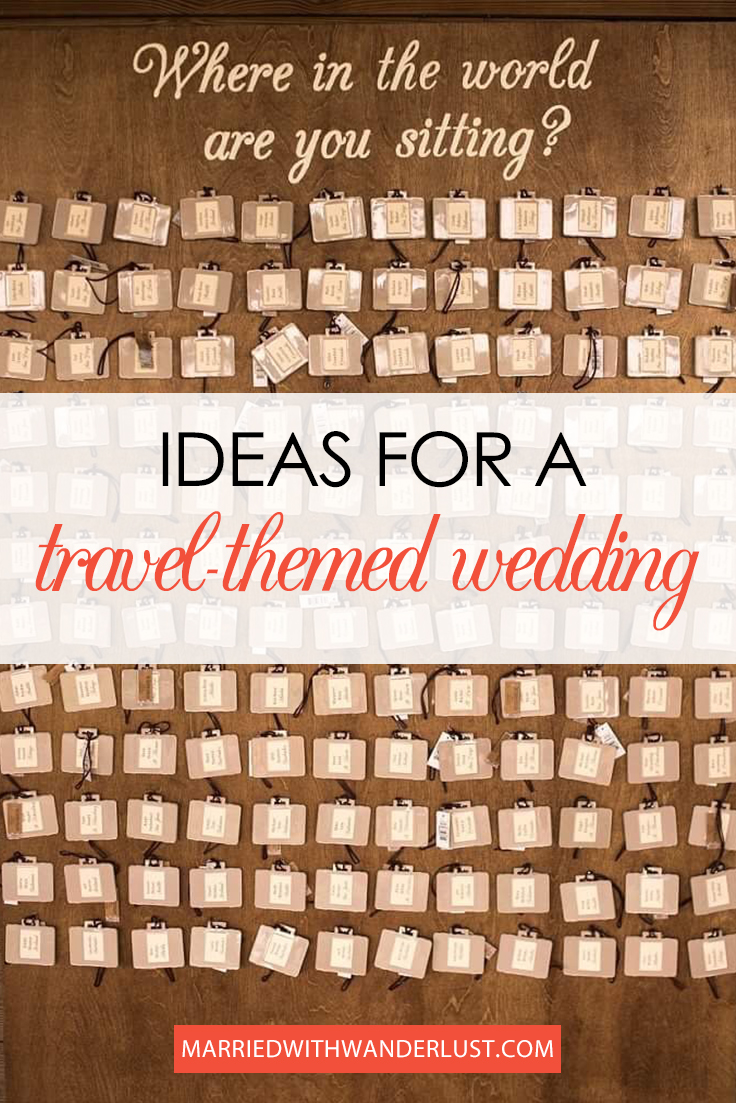 If you love seeing the world as much as we do, you might be thinking about how to plan a travel-themed wedding. We love how our travel-themed décor turned out and hope that we can inspire your planning process!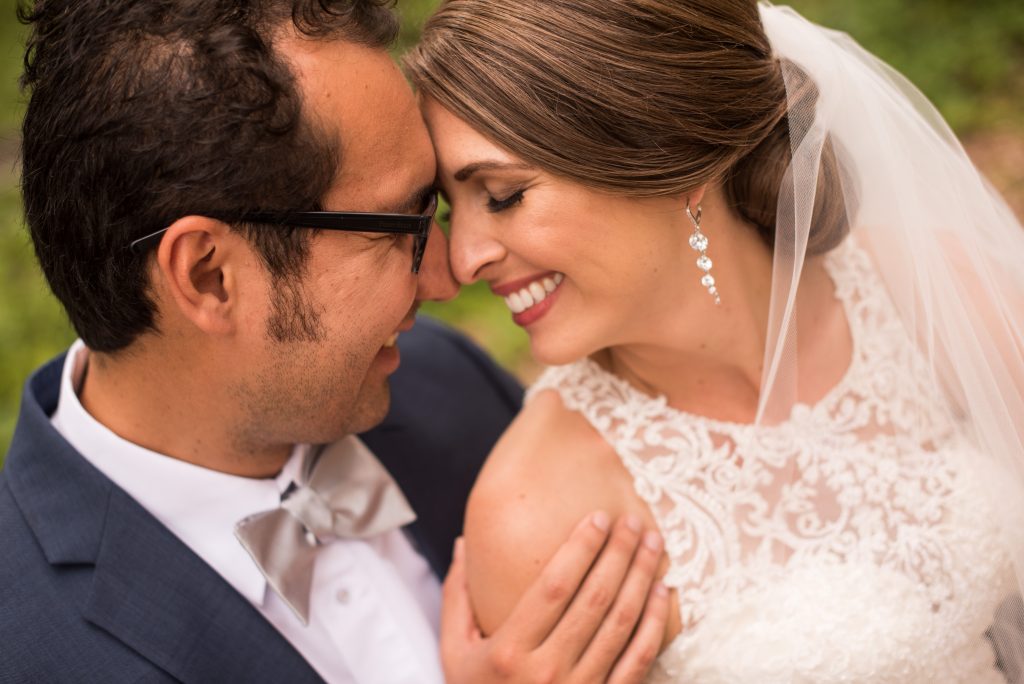 "I love that you want to see the world with me."
Yep, that was actually a line from my wedding vows to WC! We are definitely serious about our love for each other and our love for traveling. We knew from the start of planning that we wanted to incorporate a travel theme! Since our family and friends know traveling is a huge part of our relationship, we thought it would be unique to have little travel touches in the wedding details.
How to Plan a Travel-Themed Wedding
I had so many ideas but with a tight budget, I had to narrow it down! Pinterest is amazing for inspiration and many of my below suggestions started with a photo I found there. I'm so excited to share with you all of our ideas for how to plan a travel-themed wedding!
Destinations Instead of Table Numbers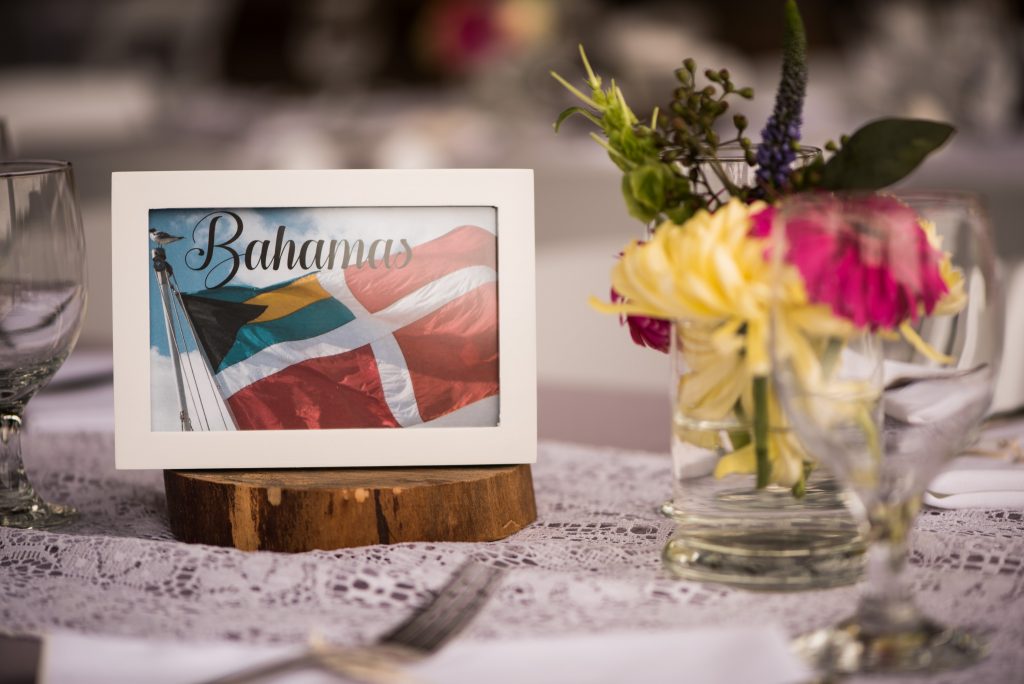 Instead of numbering our tables, I took photos from places we'd visited and labeled each table as a city or country. I made these with Microsoft Word (it's what I had) but you could use Photoshop or another editing software. We had table "numbers" for places including Ireland, Iceland, Alaska, San Diego, and more!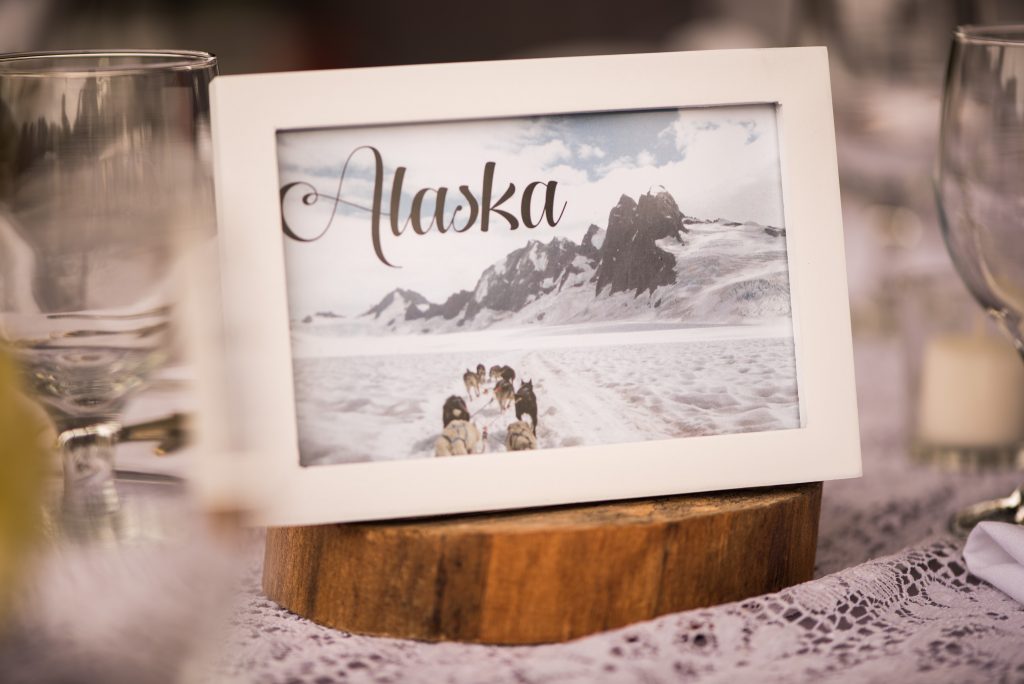 Luggage Tags as Placecards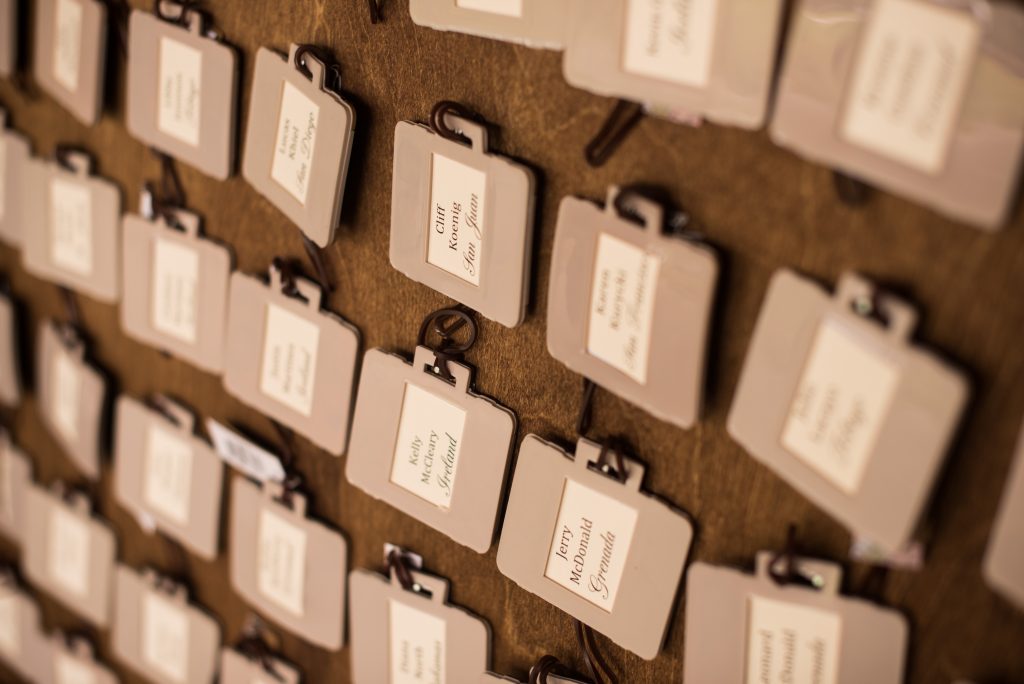 This was probably my favorite part of the travel-themed wedding! We decided that instead of placecards, each guest would receive a luggage tag with their table "destination." I made the labels on Microsoft Word and cut them so that they easily slid into the luggage tag. You have to wait until almost the last minute to do this (as with any wedding placecards) because guest counts can change.
Where in the World Are You Sitting?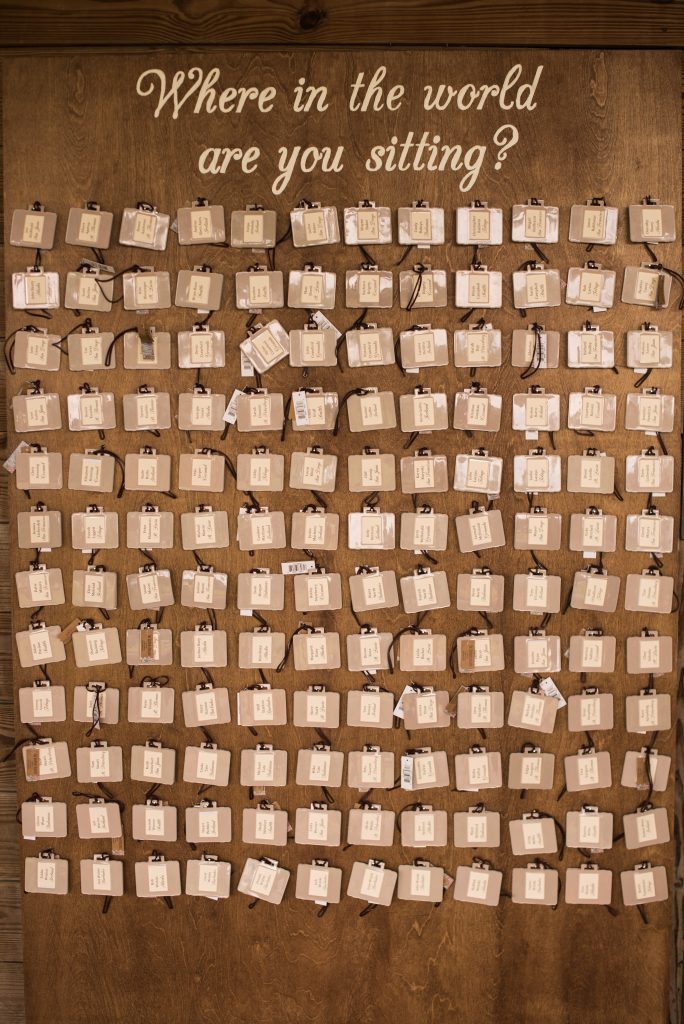 WC and I built this "where in the world are you sitting" board to hold the luggage tags and loved how it turned out! It also was fun to have a wedding project that we could work on together. I sent him to Lowes with my order (48" by 72" piece of plywood, ¾" thick) and his friend's truck. He stained the board while I worked on creating a stencil for the wording. I had to do two coats of the white paint to get the wording to stand out, but it turned out perfect. After that, WC did a little math for me so I could figure out how far apart I needed to place the nails. I just love how the finished product turned out and we got so many compliments on the unique idea! Thank you to this website I found on Pinterest post for the inspiration!
Favors with a Travel Theme
To finish off our travel theme, we decided we wanted two other favors to go with the luggage tags. I did a google search for travel themed favors and there were so many ideas to choose from! Ultimately, I liked these airplane bottle openers the best– they are classy and useful!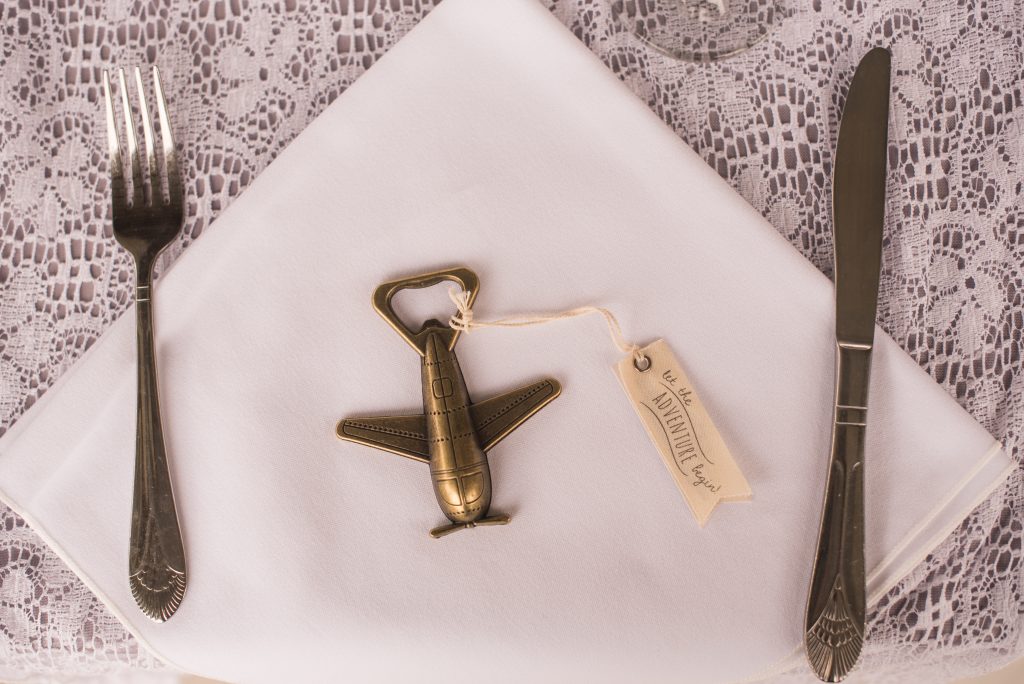 WC also has a massive collection of can coolers and so, naturally, he wanted some for our wedding. I decided to order them as a favor for the rehearsal dinner. However, we had enough extras that we put a basket at the bar on wedding day. I ordered mine from the 42 North Designs Etsy shop and the shop owner was great.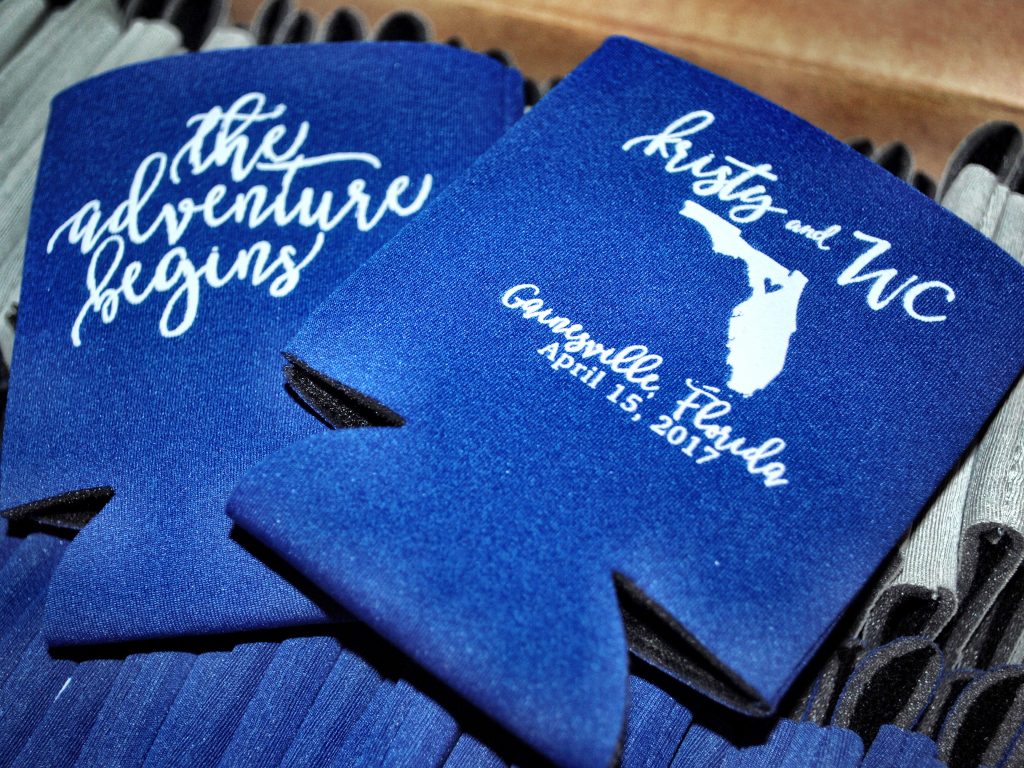 Need Honeymoon Inspiration?
Now that you have a lot of ideas on how to plan a travel-themed wedding, you may be thinking about the next best part of a wedding: the honeymoon! We took a three-part honeymoon that included London sightseeing, relaxing at an overwater bungalow in the Maldives, and going on a leopard safari in Sri Lanka.
Making this happen meant we decided we didn't want the typical wedding registry. Instead, we opted for a honeymoon registry with Zola! Our family and friends contributed to our honeymoon experience, rather than buying typical gifts for our wedding. This was PERFECT for us as we prefer experiences over things anyway!
Check out our post on how to afford your dream honeymoon for more tips and inspiration!
With a honeymoon registry, you can start a cash fund that allows your guests to contribute to whatever experiences you set up on the site. For example, our funds included Snorkeling Trip in the Maldives, Couples Massage & Spa Treatments, Tower of London Tour, and more!
Another great thing about Zola is that you can earn extra credit by referring friends! If you invite someone to register, you'll both get $50 credit once they sign up and start receiving gifts with their registry. Use our referral link to get started now!

Enjoy our blog post? Pin it to share with others!