We've been living in the Mile High City for about a month now and we've only scratched the surface of things to do here. Before moving from Jacksonville, FL, we began creating our Denver Bucket List and we're still adding to it as we go.
Here are 60+ things we're planning to check off the list (in and around Denver). We'd love to hear your ideas for what we need to add!
60+ Things To Check Off Your Denver Bucket List (Denver & Nearby)
Parks & Nature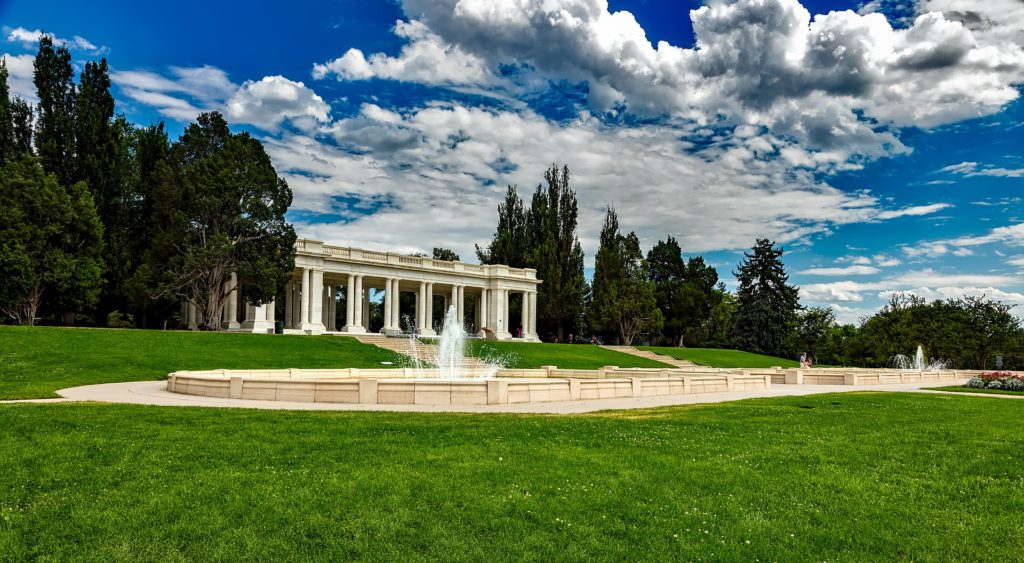 ✓ City Park – Along with being home to the Zoo, Museum of Nature & Science, sports fields, nature trails and more, you can also enjoy the Sunday concert series, City Park Jazz, from June to August.
✓ Denver Botanic Gardens – Located on 24 acres, the York Street Gardens include a variety of plants unique to Colorado's climate as well as plants from around the world.
Chatfield Farms – Also part of the Denver Botanic Gardens, Chatfield is a 700-acre native plant refuge and working farm in Jefferson County, according to the Botanic Gardens description.
Cheesman Park – A popular green space with jogging and biking trails. Legend has it this park is haunted and is built where a cemetery used to be… I guess we'll see?!
✓ Sloan's Lake Park – Walk the 2.5 mile loop or take your paddleboard or kayak out on the water.
Rocky Mountain Arsenal Wildlife Refuge – According to the official website, this 15,000-acre expanse of prairie, wetland and woodland habitat that's home to a bison pasture and more than 10 miles of hiking trails.
✓ Clear Creek – Located in Golden, this is a great spot for whitewater rafting.
Mount Falcon Park – Home to the ruins of John Brisben Walker's "castle," what he had hoped would be a "summer home" for the U.S. presidents.
Plains Conservation Center – Located in Aurora, this is a chance to explore the prairie and learn about pioneer and Native American life in the 1800s.
✓ Disc Golf (many courses) – In WC's first few weeks of living in Denver, he already got into disc golf. There are many courses throughout the city so now he's excited to keep trying them out.
Hiking & Biking Trails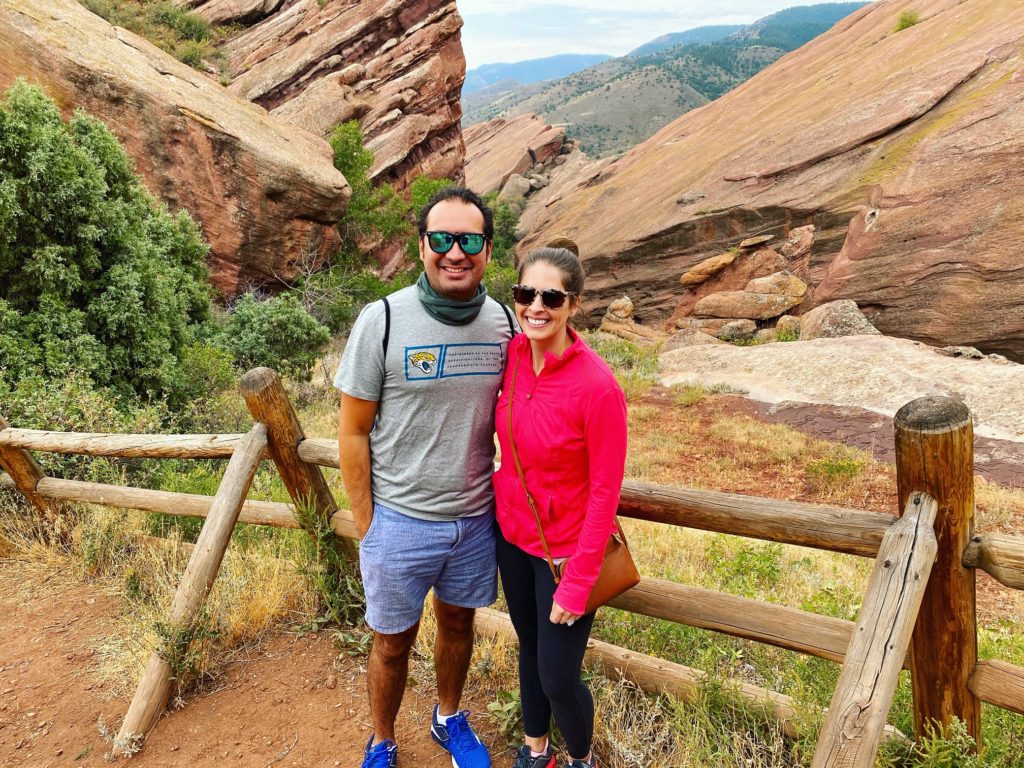 Wow, there are a lot of trails in and around Denver! Here are just a handful we've heard about (or experienced) that should be on your Denver Bucket List:
✓ Red Rocks – The famous amphitheater is surrounded by some pretty (and not too difficult) hiking trails. This was our first hike in Denver!
✓ South Platte River Trail –  A more than 36-mile bike trail that runs along the South Platte River.
Green Mountain Trail – There are 3 trailheads to Green Mountain and the trail itself is a six mile loop.
Bear Creek Trail – A bike trail that runs from Englewood to Morrison with views of Bear Creek and the countryside.
Mount Falcon Trails – There are a few trails at this park (mentioned above in the nature section) including the Castle Trail and Tower Trail.
Roxborough State Park – The park is home to 8 trails that range from easy to difficult.
✓ Castlewood Canyon – There are 13 trails at Castlewood Canyon State Park that each range from 1 to 4 miles.
✓ North and South Table – North Table Mountain is an enjoyable hike (approximately 1.5 miles) that starts and ends near one of Denver's best breweries, New Terrain! You can make the hike longer by detouring onto an adjacent trail. South Table Mountain takes you to the top of the mesa with panoramic views. During the warmer months, beware of rattlesnakes on these trails.
Art, Culture, & Museums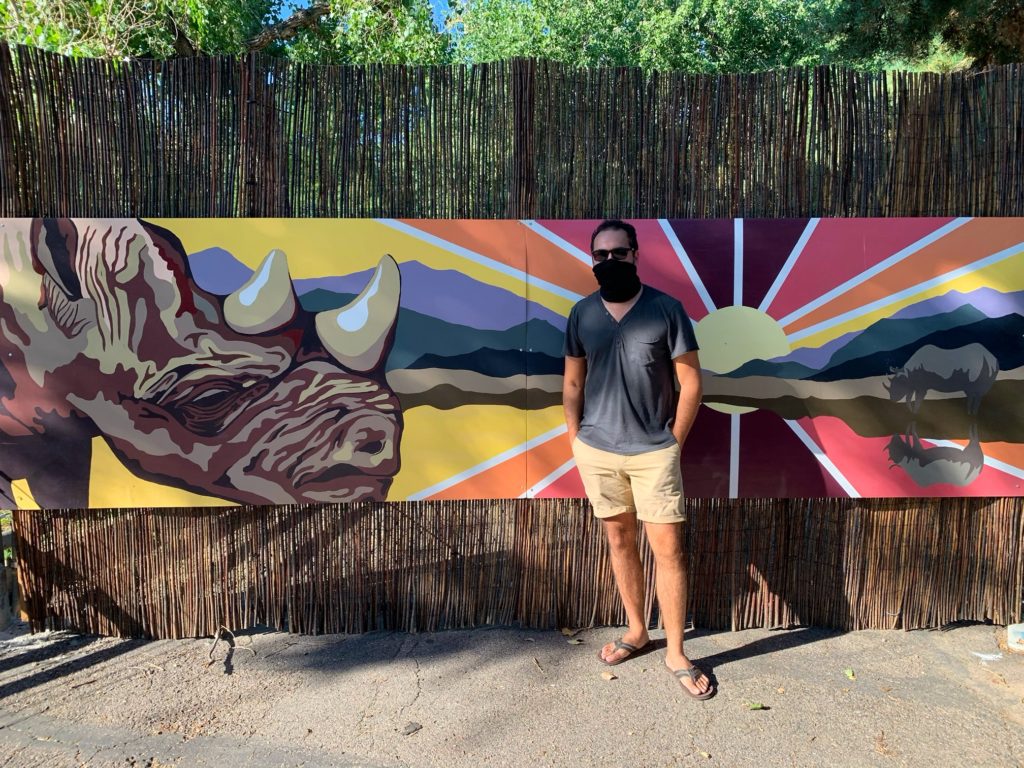 Please note that many of the museums and attractions mentioned below are free or discounted on certain days of the week or month.
✓ Denver Zoo – We became Zoo members our first day in Denver! It's a very nice zoo and we love the adorable hippo, Mahali.
Denver Art Museum – The collection includes more than 70,000 works of art.
Museum of Contemporary Art – The contemporary art museum includes rotating exhibits that explore current culture.
Wings Over the Rockies Air & Space Museum – The museum is home to more than 50 aircraft, plus interactive exhibits and flight simulators.
History Colorado Center – This museum explores the history of Colorado and the American West.
✓ Downtown Aquarium – Along with the aquarium exhibit, there is also a restaurant where you can dine surrounded by floor-to-ceiling tanks.
Denver Museum of Nature & Science – Museum exhibits provides nature and science exhibits that focus on Colorado, as well as the entire world.
Molly Brown House Museum – Tour the home of Titanic survivor Margaret Tobin Brown.
Children's Museum of Denver – The outdoor adventure course that you see from the highway makes me wish I was a kid!
✓ RiNo Art District – River North or River North Art District is home to art galleries, breweries, jazz bars, and lots of other fun stuff.
Art District on Santa Fe – Another artsy area with lots of galleries to peruse, and restaurants and bars to enjoy. The First Friday Art Walks are popular.
Adams Mystery Playhouse – If you like theatre and you like mystery, you'll want to visit Denver's longest running interactive comedy murder mystery dinner show.
Denver Mint – You can tour U.S. Mint Denver facility and learn how billions of coins are produced each year. Tours are free!
Butterfly Pavilion – Touted as the first stand-alone, Association of Zoos and Aquariums-accredited non-profit invertebrate zoo, you can see thousands of animals including dozens of butterfly species.
There are so many more museums in Denver. See a complete list here.
Food and Drink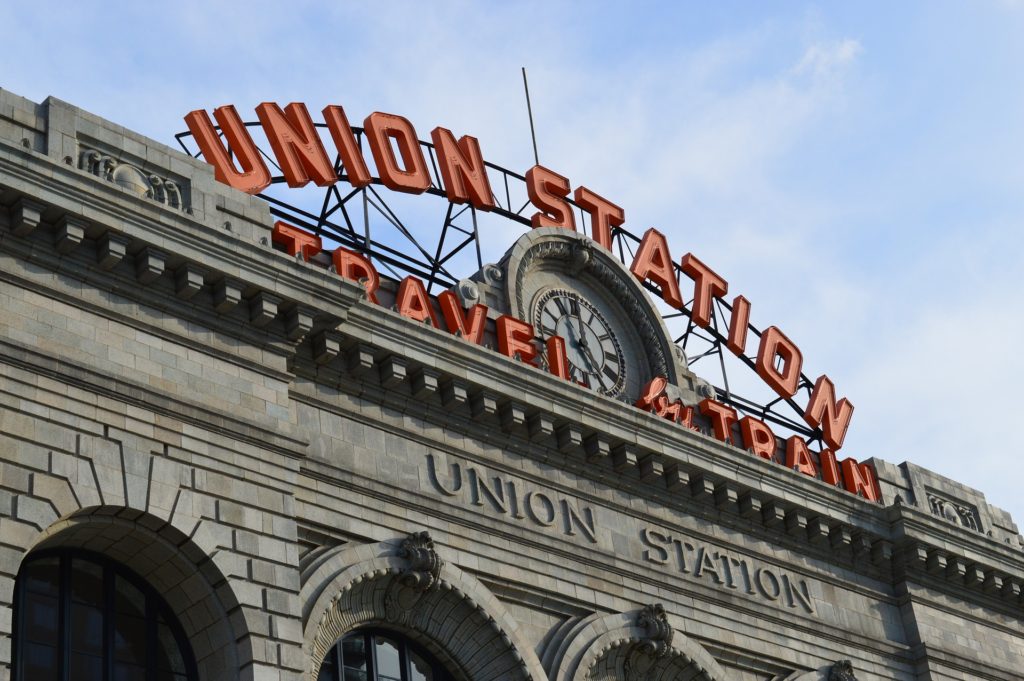 ✓ Denver Central Market – A market with ten different vendors offering a variety of food choices.
✓ Edgewater Public Market – Located just outside the Denver city line near Sloan's Lake park, we love the variety of food and drink options at this indoor/outdoor market.
✓ Breweries – There are too many breweries in Denver to list them all but if you like craft beer, you'll love Denver.
Union Station – This historic train station has been renovated into a space for dining, shopping, and staying (the Crawford Hotel is housed inside). It's also home to a Saturday farmer's market.
Coors Brewery – A 30-minute tour where you learn the malting, brewing and packaging processes. At the end, you get to drink some free beer!
Distilleries – There are nine distilleries in Denver producing whiskey, gin, vodka, and more.
✓ Wineries – Yes, Denver has wineries, too! There are more than a dozen vineyards and tasting rooms just in the metro area according to Denver.org.
✓ Cideries – Denver cideries range from having cider gardens for outdoor enjoyment to tasting rooms with a variety of flavors on tap.
And Mead, Too! – You can find Queen Bee Brews in Denver itself and there are a handful of other meaderies in the nearby area stretching from Boulder to Castle Rock.
✓ Golden Mill – Golden Mill is a food hall in -you guessed it- Golden with pour-your-own beer taps and a variety of food vendors including BBQ, sushi, Mexican, and more.
Buckhorn Exchange – Located in the city's oldest neighborhood, this is Denver's original steakhouse. It's known for the unique taxidermy decor and for having some "exotic" menu items.
Sports, Music, & Entertainment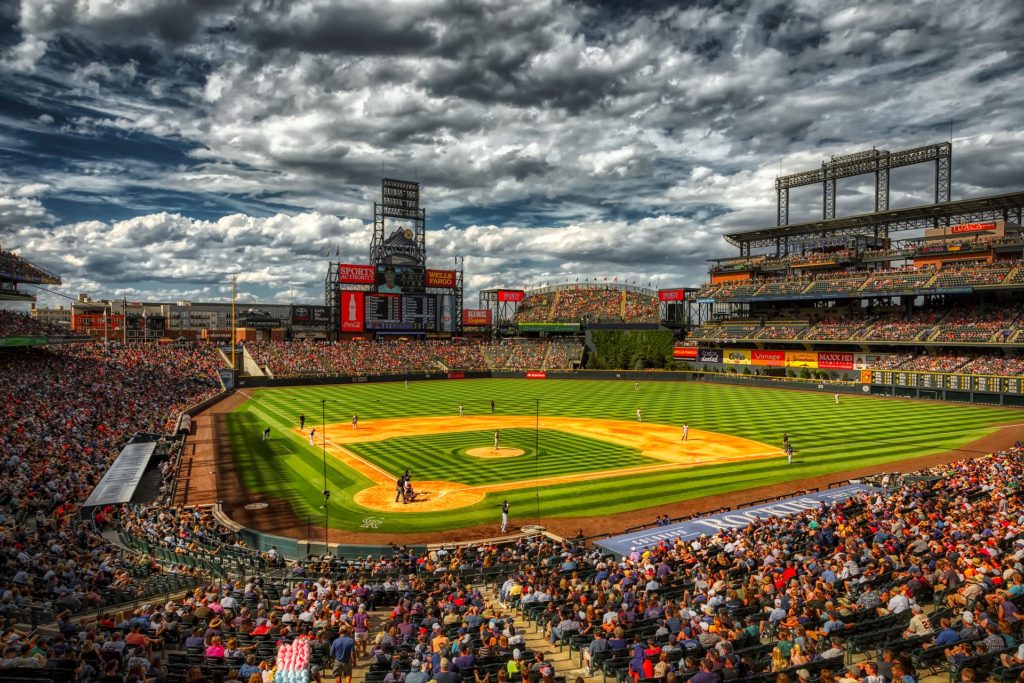 ✓ Colorado Rockies – Coors Field is home to Denver's major league baseball team.
✓ Denver Broncos – Empower Field at Mile High is home to the city's NFL team and we'll be able to walk there from our new home!
✓ Colorado Avalanche – Denver's NHL team plays at the Pepsi Center.
Denver Nuggets – This will be the first time either of us have lived in a city with an NBA team. The Nuggets also play at the Pepsi Center.
Concert at Red Rocks Amphitheater – This iconic concert venue is a must-do for music lovers. The amphitheater also hosts Yoga on the Rocks, as well as other events.
Casinos – If you like to gamble, check out the casinos in Black Hawk or Central City. Both are about 45 minutes from Denver.
Elitch Gardens – An amusement & water park in downtown Denver.
Lakeside Amusement Park – An "old school" amusement park with a merry-go-round, spinning rides, and wooden coasters.
University of Colorado Athletics – Since we love college sports, we might have to go cheer on the Buffs at an athletic event.
Colorado Rapids – The Rapids are the professional soccer team in Denver.
Colorado Mammoth & Denver Outlaws – Both of these are professional men's lacrosse teams based in Denver.
National Ballpark Museum – This collection of baseball paraphernalia recognized by Smithsonian Books as "one of the top 21 finest private baseball collections in the world," according to the museum's website.
Special Events
✓ Great American Beer Festival – This annual festival brings together the top breweries nationwide.
✓ Denver Christkindl Market – Open from the Friday before Thanksgiving through the 23rd of December, the Christkindl Market brings German and European holiday tradition to Denver. Admission is free!
Denver PrideFest – Annual event held in June is the largest celebration of LGBTQ pride in the region.
Denver Oktoberfest – A 6-day festival that brings Germany's Oktoberfest to Denver with stein holding and other competitions, live music, and German brews and food.
Unique to Denver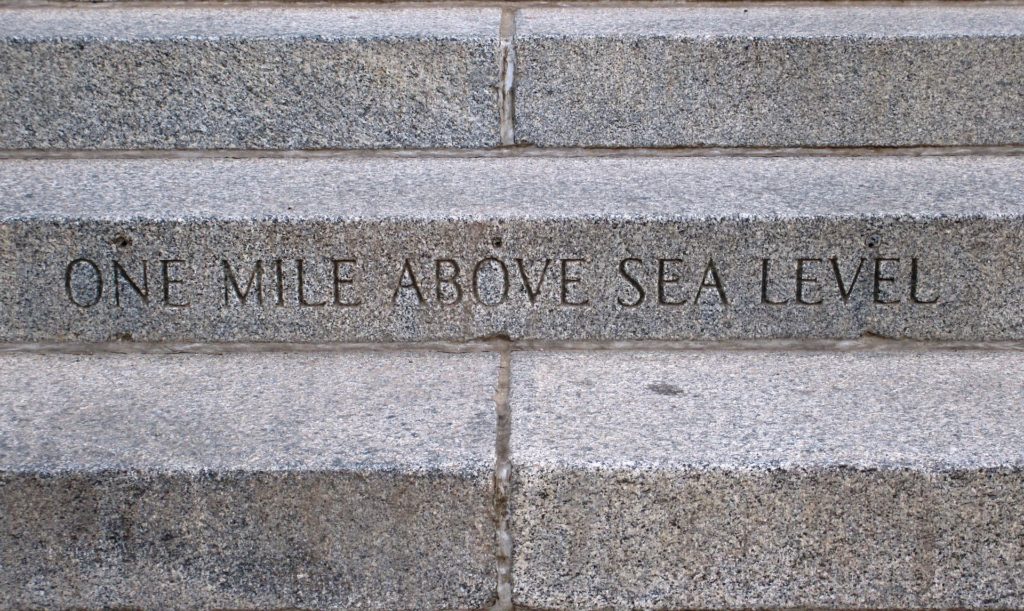 ✓ Buffalo Bill's Grave – Drive up Lookout Mountain to get a look at the final resting place of William F. "Buffalo Bill" Cody. A museum is also located here if you'd like to learn about his life.
Colorado State Capitol – On the west steps, you can stand exactly one-mile high! Free tours area available.
✓ Stanley Hotel – Located in Estes Park, this hotel was the film location for The Shining.
✓ Dinosaur Ridge – See more than 250 dinosaur tracks and learn about the dinosaurs that used to roam the area. Guided walking tours are available.
✓ Big Blue Bear – The bear is a 40-foot art piece located at the Colorado Convention Center. You'll want to snap a photo for your Instagram feed!
✓ Blucifer – The deranged-looking blue mustang located at Denver International. I don't think you can stop to take photos but definitely keep an eye out for him when you're coming or going!
Do you have other ideas for us?
We know there are probably a lot of cool things we've missed despite all our research! Share your Denver (and surrounding areas) ideas for us in the comments!
Enjoy our blog post? Sharing is caring!