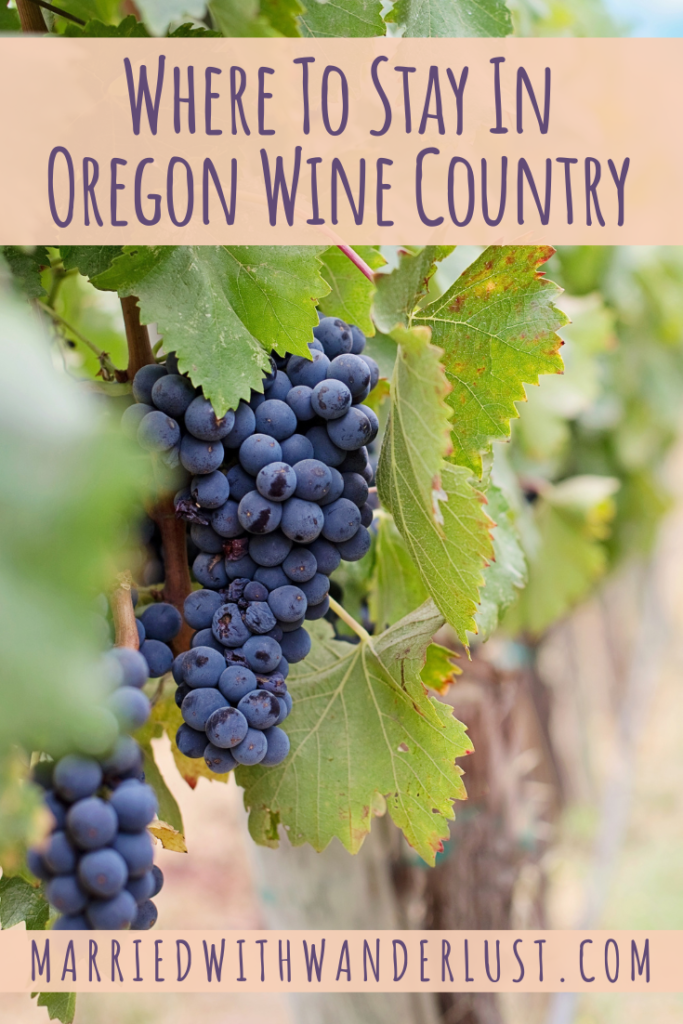 If you're trying to figure out where to stay in Dundee, Oregon, we have the answer! In 2022, we had booked the La Bastide Bed & Breakfast, but had to cancel when our cat ended up in the ER. The owners were very kind and offered to move our deposit whenever we could re-book. It didn't end up happening for almost a year and they still rolled over the deposit to our new dates. We visited in early March and it ended up being the perfect jumping off point for wine tasting in Dundee. Here's what we loved about it:
Where to Stay in Dundee: La Bastide Bed & Breakfast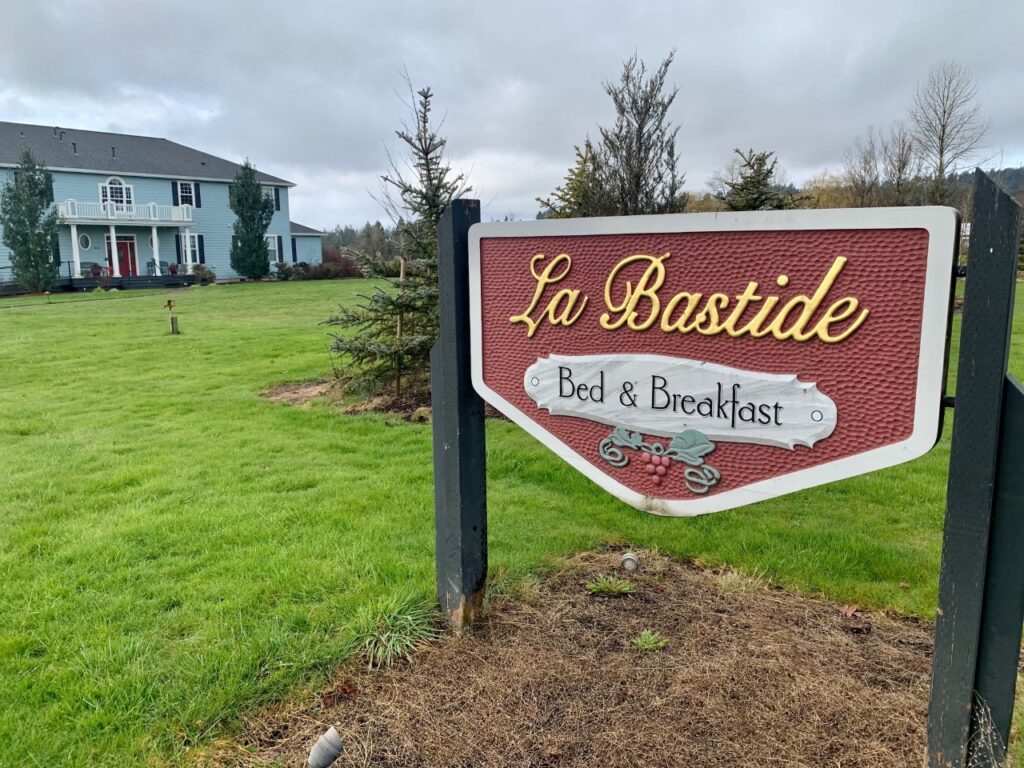 La Bastide is a quaint bed & breakfast owned and operated by Mark and Elizabeth Moisa. They are so sweet and happy to share what to do and experience locally.
La Bastide B&B: The Room
The rooms are named after regions in Paris and we stayed in the Provence room. The Provence is on the main floor with a queen bed. It was just what we needed for a quiet place to sleep after a day of wine tasting and the bed was comfortable. Some of the rooms have a fireplace and vineyard views.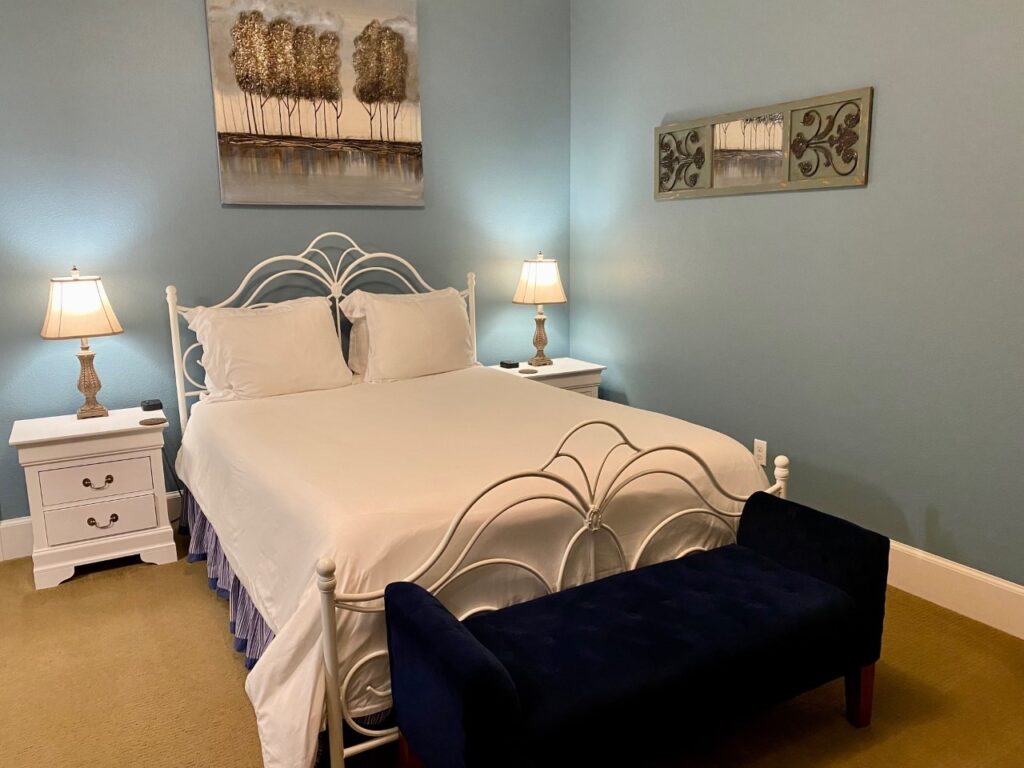 La Bastide B&B: The Food
Each afternoon, you'll fill out an online order form with your breakfast requests for the next day. And let us tell you, the food was above and beyond our expectations! Options during our stay included an apple cranberry dutch pancake, breakfast sandwich with bacon, egg, cheddar, and spinach, maple bacon hazelnut biscuit, cinnamon scones, among many other delicious items. They also have vegetarian options.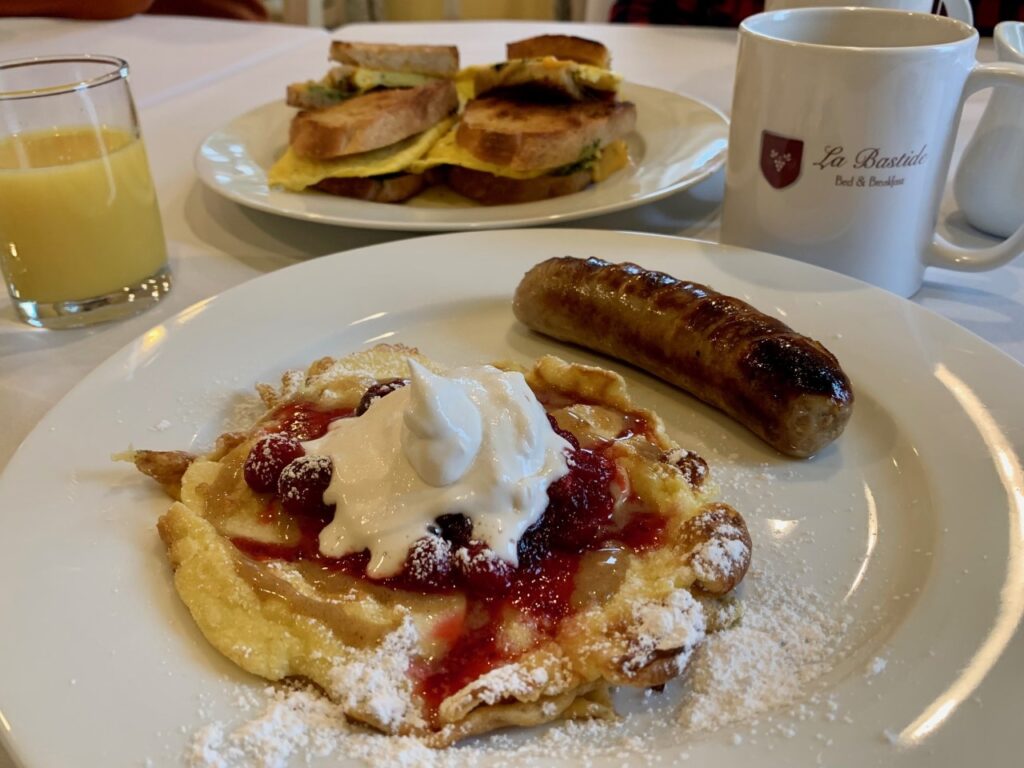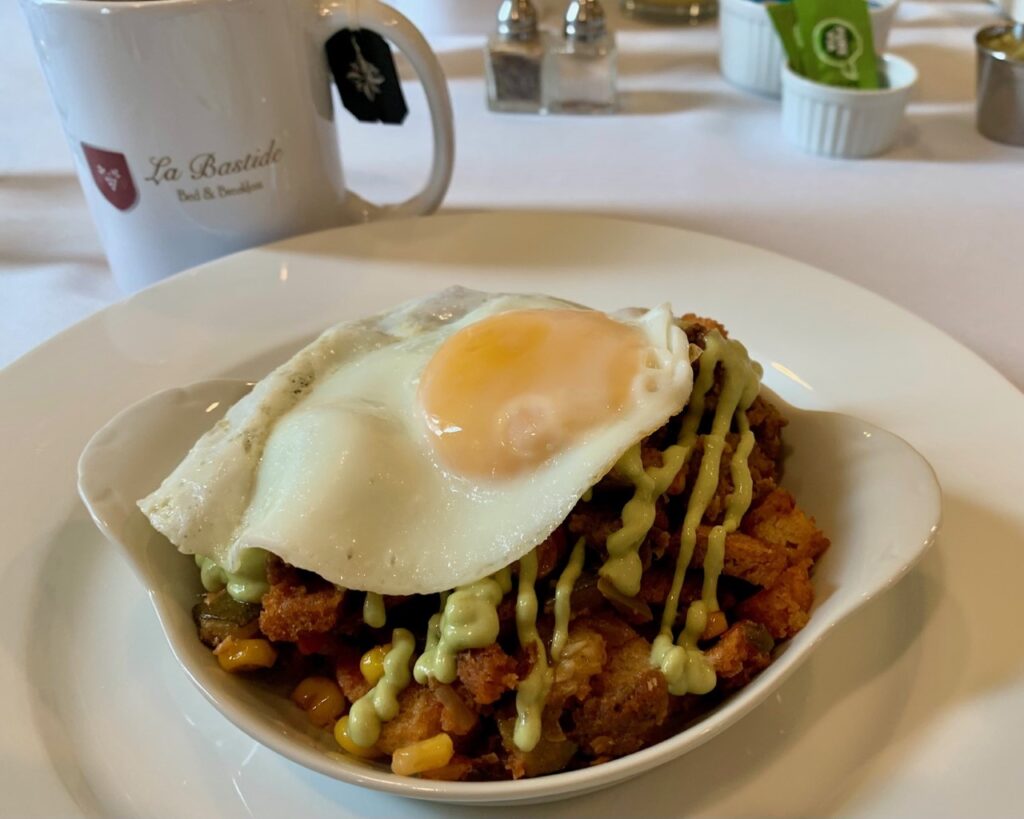 You can opt to have your breakfast in the dining room, outside on the patio, delivered to your room, or packaged to go! We ate in the dining room and the service from the staff was exceptional.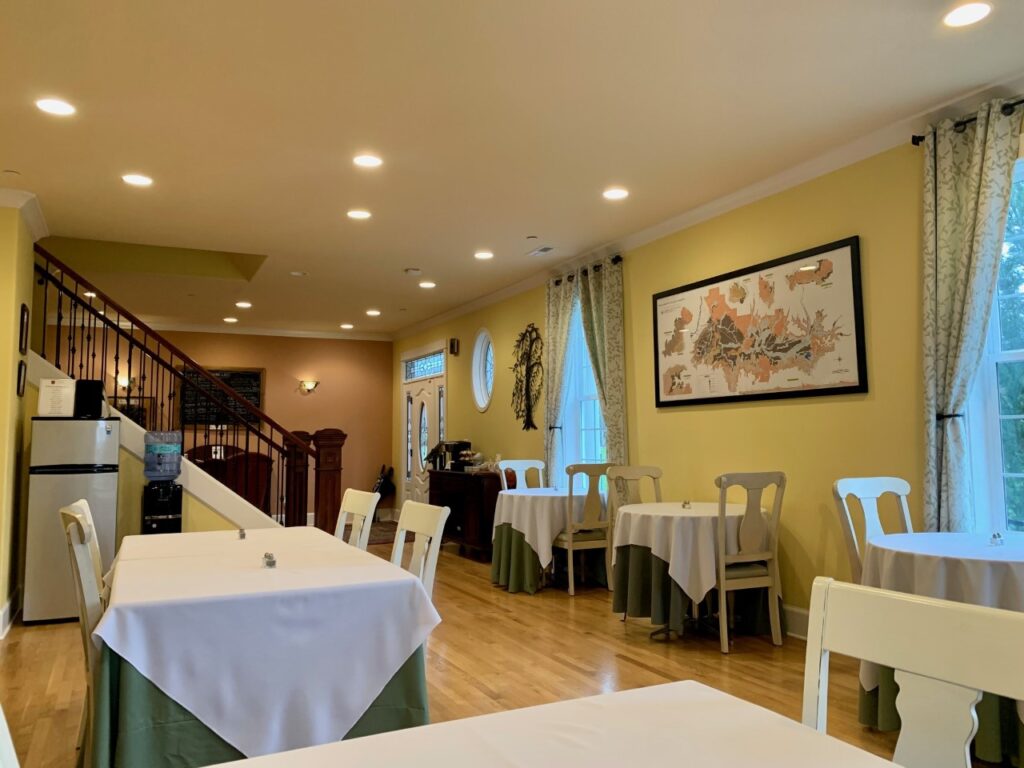 On top of the breakfast meal, refreshments are available for guests 24/7! There is a coffee/tea station, as well as a refrigerator with water, sparkling water, and juice. All are complimentary.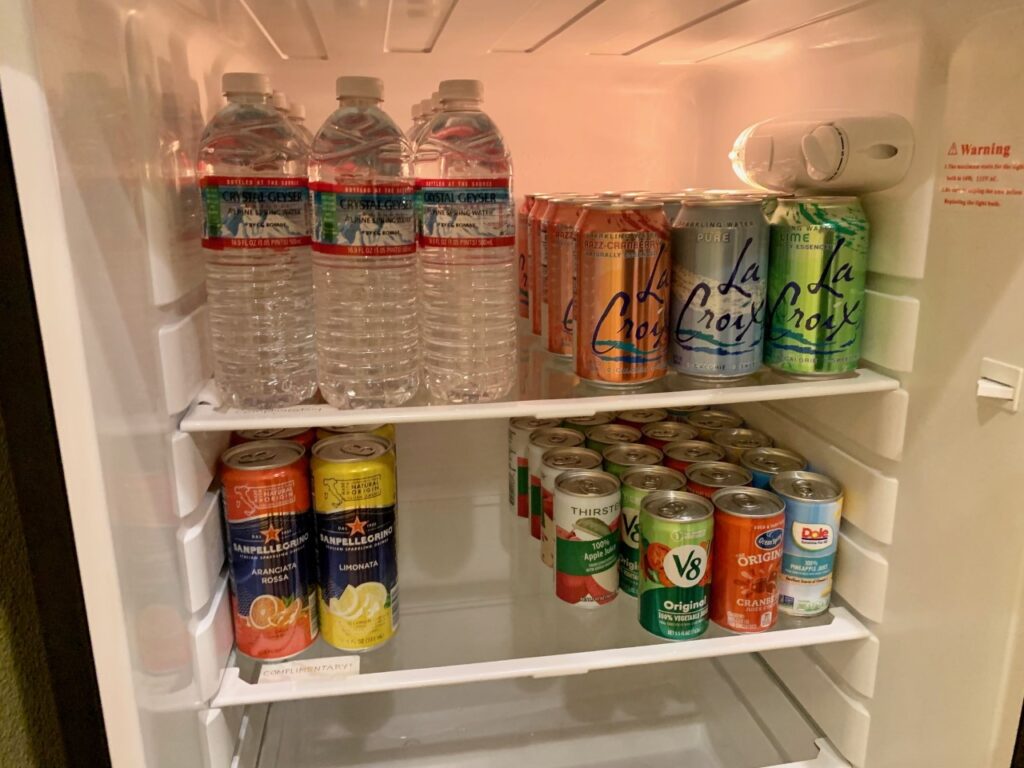 And, if you're not wined out from a day of wine tasting, the B&B also has wine bottles available for purchase. Many of the options are from the local wineries.
La Bastide B&B: The Location
La Bastide is not far from Dundee town and there are some tasting rooms, restaurants, and bars walking distance. We walked to Barn Door Brewing, La Sierra Mexican Grill, and Lumpy's Tavern. As mentioned in the next section, there are also several tasting rooms you can walk to.
Note: Ubers are available but few and far between. We'd recommend staying fairly close to the B&B in the evening just in case you're unable to snag one.
Where to Stay in Dundee: Dundee Hotel
Some of our group opted to stay at the Dundee Hotel and had good things to say about it. The hotel is slightly closer walking distance to town. Several tasting rooms are located within the hotel itself including The Dundee Wine Library and Cougar Crest, among others.
Need more Oregon inspiration?
Check out this blog post to help you plan your trip:
Enjoy our blog post? Pin it to share with others!