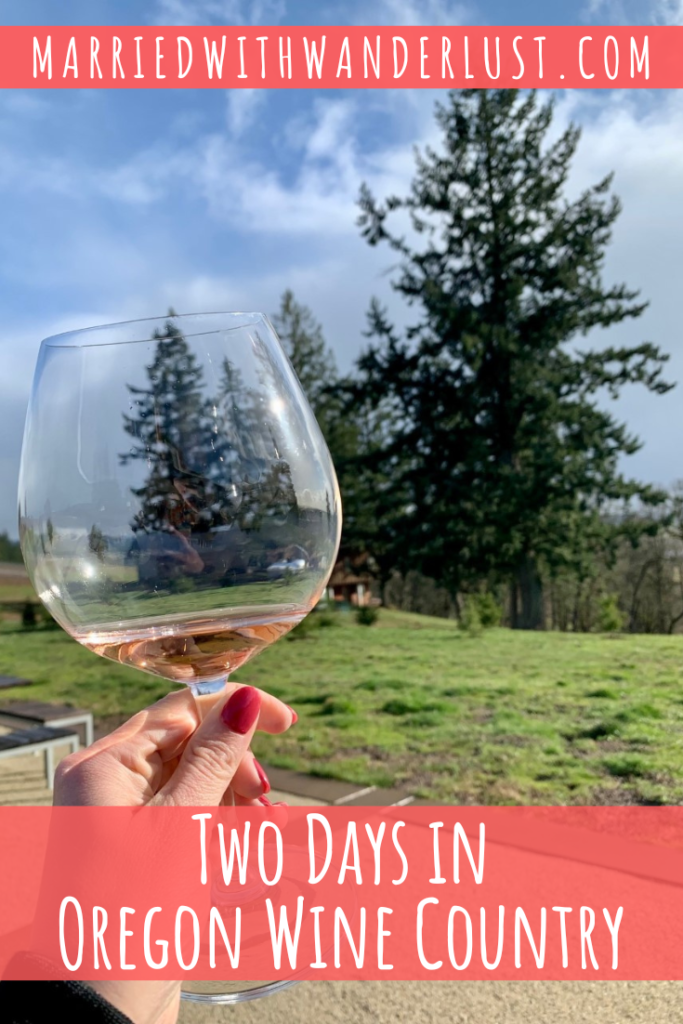 A couple years ago, we traveled with friends to California wine country with visits to Napa, Sonoma, and Healdsburg. Recently, we traveled with the same group to the Willamette Valley, Oregon wine country! Our home base was Dundee, Oregon and we spent two days visiting nearby wineries. Here's a look at our itinerary:
Day 1 in Oregon Wine Country
Lange Estate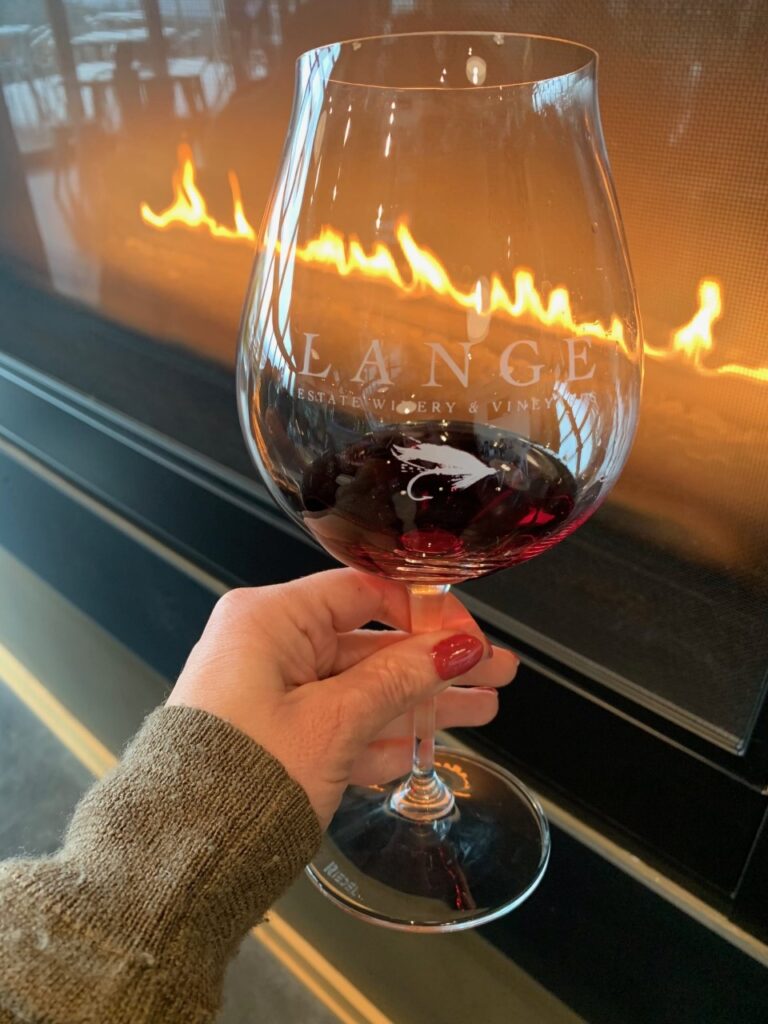 Our first stop in Oregon wine country was to Lange Estate and it was the perfect start! It honestly ended up being one of my favorite wineries. Our table was situated in front of a cozy fireplace creating the perfect ambience for the first Oregon wine country tasting. The featured tasting flight included five wines, two chardonnays and three pinot noirs. At the recommendation of our driver, we also asked to try the tempranillo which is bottled by their sister winery, Domaine Trouvère. We took home a bottle of the Lange Estate Pinot and the tempranillo, but held off on additional bottles since we still had two full days of wine tasting to go. Looking back we wish we'd also snagged the Yamhill-Carlton Assemblage Pinot Noir, which had a rich smokiness we enjoyed!
Keep an eye out for the winery cat, too! He'll hop right up in your lap if you allow it!
Furioso Vineyards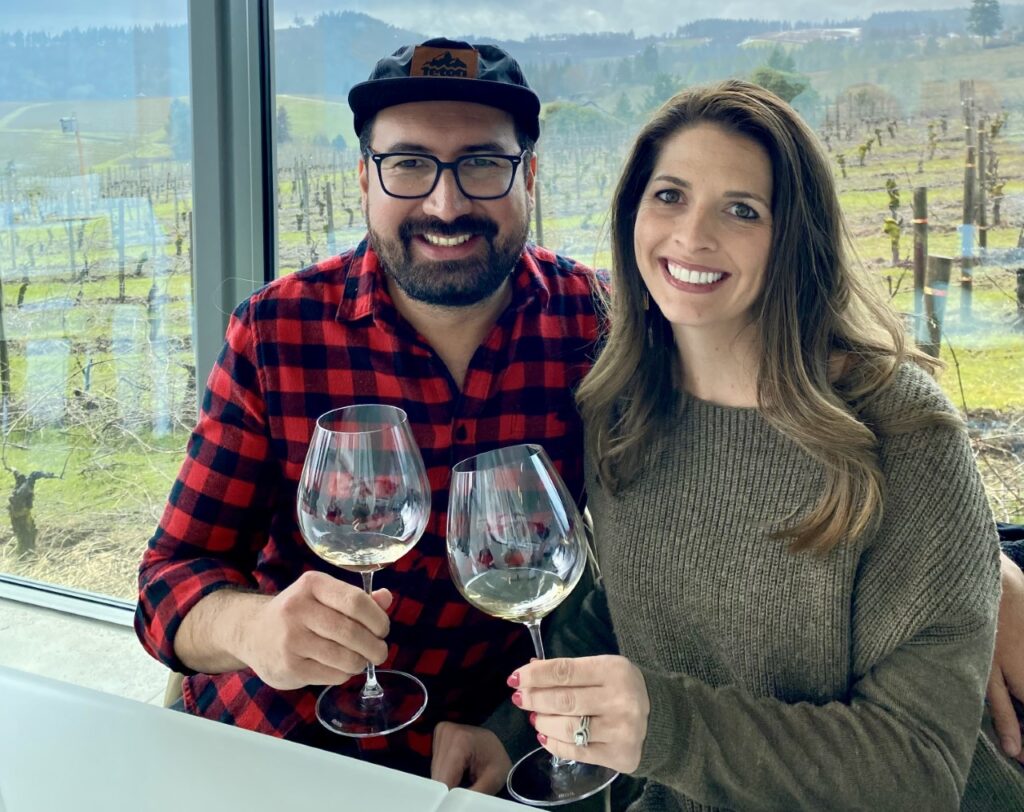 Our second stop on day 1 was to Furioso Vineyards and – wow – what a view they have from their tasting room! The floor to ceiling windows overlook the vineyard and mountainscape. It was rainy during our visit but I can only imagine the view you'd get on a sunny day. For the tasting, we tried five wines including chardonnay and pinot noir. Our favorite was the Pietro pinot and we bought a bottle to bring home. Side note: the artwork on the bottles is some of the best we've seen!
Soter Vineyards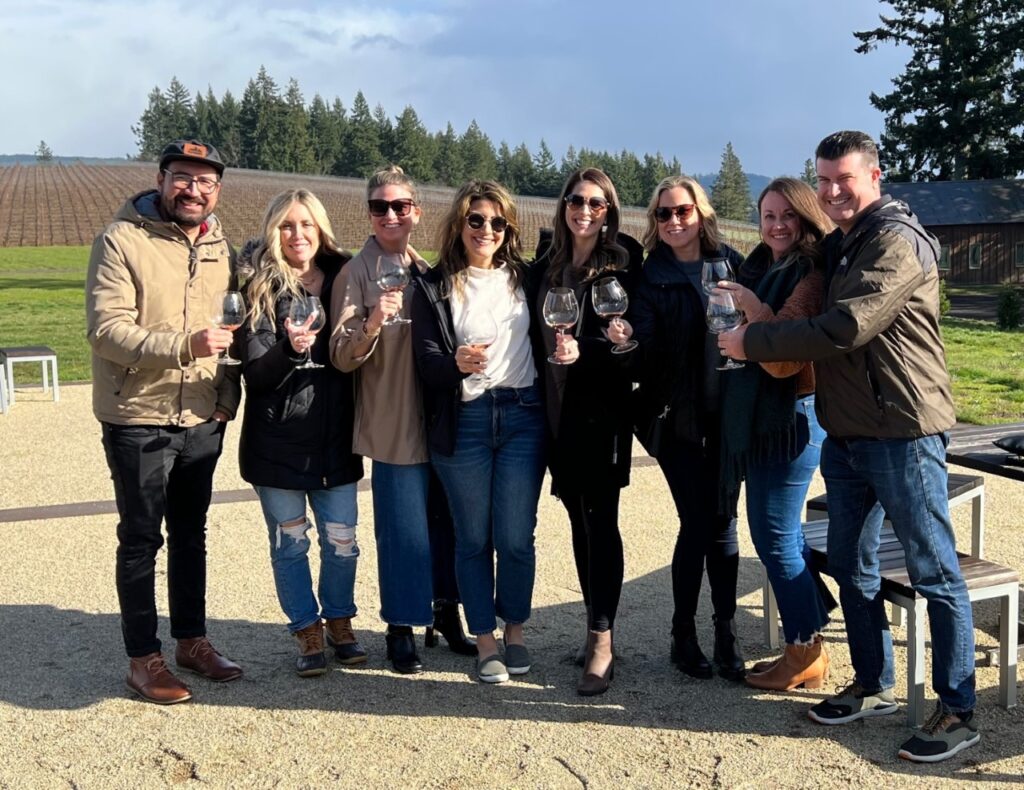 Our final stop of the day was to Soter Vineyards at Mineral Springs Ranch and the sun actually peeked out for a bit allowing us to enjoy a welcome taster of rosé outside! The property is gorgeous and it's a biodynamic farm, as well as vineyard. Inside, the tasting room was super cozy with a fireplace that looked out of Game of Thrones. The tasting experience was well-guided and our group ended up buying a magnum bottle of one of the pinots at the end to share as we weren't ready to leave yet!
Soter Vineyards at Mineral Springs Ranch even has highland cattle, though we unfortunately didn't spot them during our visit!
Day 2 in Oregon Wine Country
Argyle Winery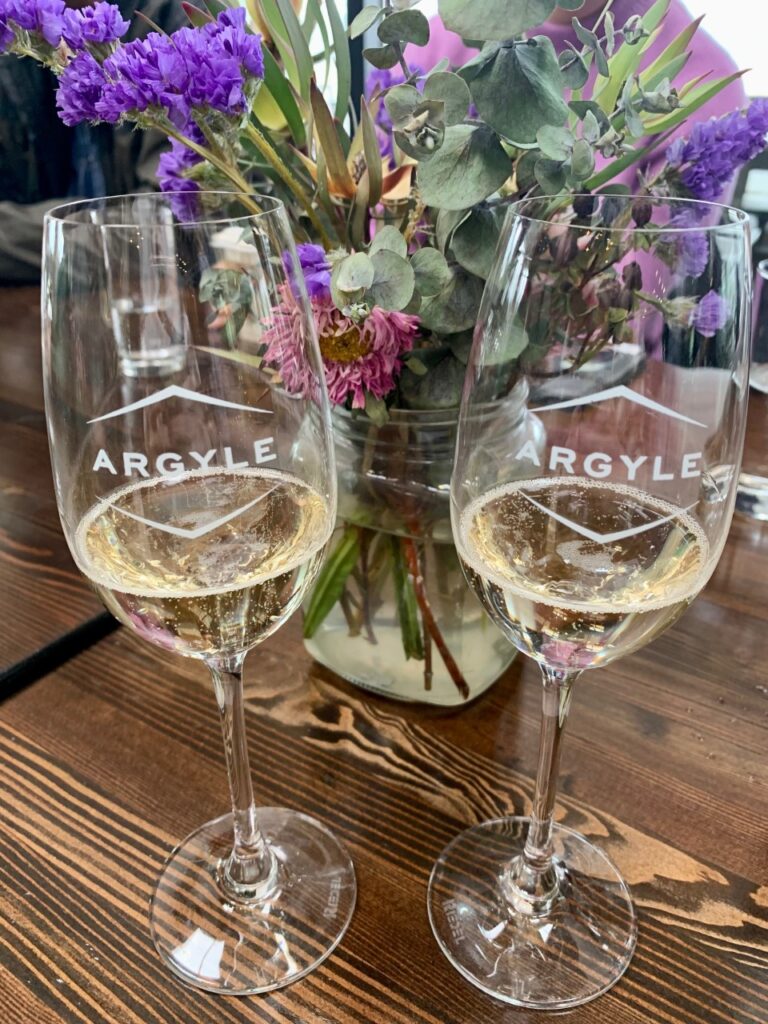 Argyle is the winery in the Willamette Valley known for its sparkling wines which makes it a great spot for starting your day. They welcomed us in the door with a taster of one of their bruts. From there, we had the choice of two tasting flights: five sparkling or still vintages. Most of our group chose the sparkling flight, but WC and I chose the still. We tried a riesling, two chardonnays, and two pinot noirs. The tasting room is one of the prettiest we saw and it's located in downtown Dundee so it's easy to walk to if you don't hire a driver.
Domaine Willamette
We chose Domaine Willamette for our midday tasting on Friday because they're also one of the wineries with a food menu. The tasting is the lowest cost of those we visited at just $25 and you can opt for still or sparkling. You can also order wines by the glass and skip the tasting. Our favorite wine was the Elton Eola-Amity Hills chardonnay and we took a bottle home. We plan to open it before leaving for London in May to see Elton John in concert! (Absolutely no relation but it worked out for us haha). The food menu was a good variety of lighter and heavier options so it seemed to satisfy everyone in the group.
Archery Summit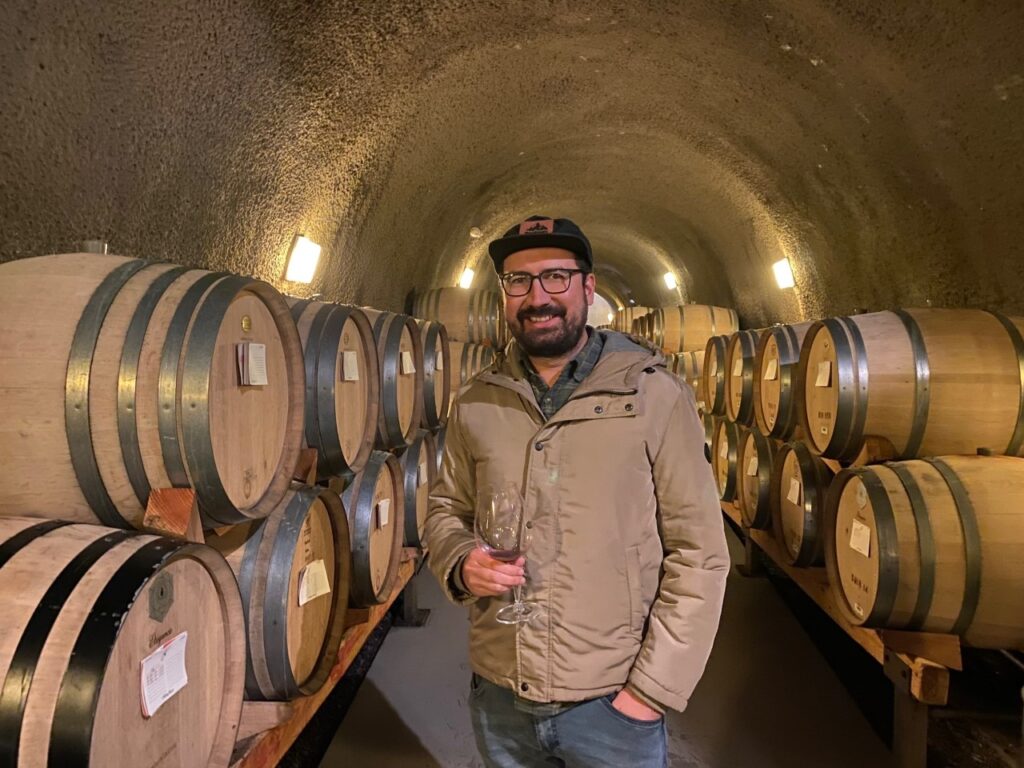 Archery Summit is the only winery in the Willamette Valley offering cave tastings and tours which makes for a unique experience. We opted for the tour & tasting which is a little pricier than the other wineries we visited at $80 per person. We enjoyed the tour, our guide, and the wine. However, you taste the wines while touring the facility. This means your actual time enjoying their wines at a table in the cave ends up being limited to just the final wine. If we were to do it over, I think I would opt for the estate tasting which is a seated tasting in the cave (versus the facility tour). It's such a cute spot to enjoy wine, I'd want more time there!
Other Info for Dundee, Oregon:
If you haven't gone on a wine tasting trip yet, it might be hard to believe but three wineries actually makes for a pretty full day! Four is doable but can make your schedule pretty tight. We think five would be nearly impossible as most of the tasting rooms close by 5:00 pm.
In our upcoming posts about Oregon Wine Country, we're planning to share some tips for where to stay, getting around, restaurants to try, and more. And we'd love to hear about your Willamette Valley experience, Dundee or otherwise! Let us know in the comments.
Enjoy our blog post? Pin it to share with others!