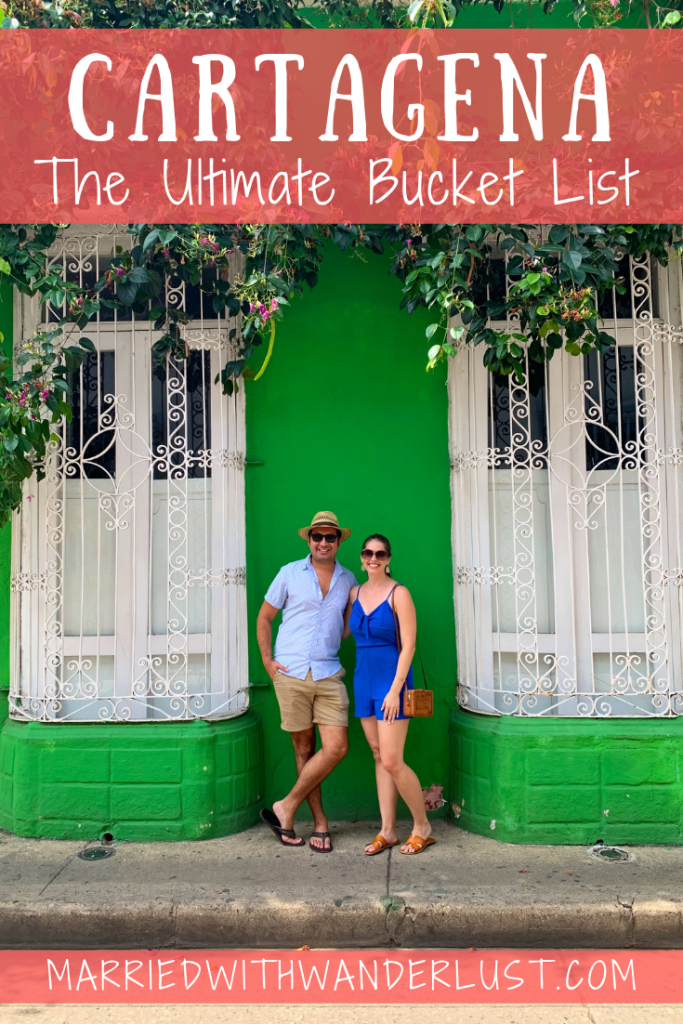 We recently visited Cartagena with Gate 1 Travel after seeing a deal way too good to pass up. This colorful and lively city seriously knocked our socks off and we're already wishing we could go back!
There is so much to do, see, and eat (you know we love to eat!) but we've narrowed down some of our favorites for this list of 40 things to do in Cartagena:
Best Things To Do In Cartagena:
In the Walled City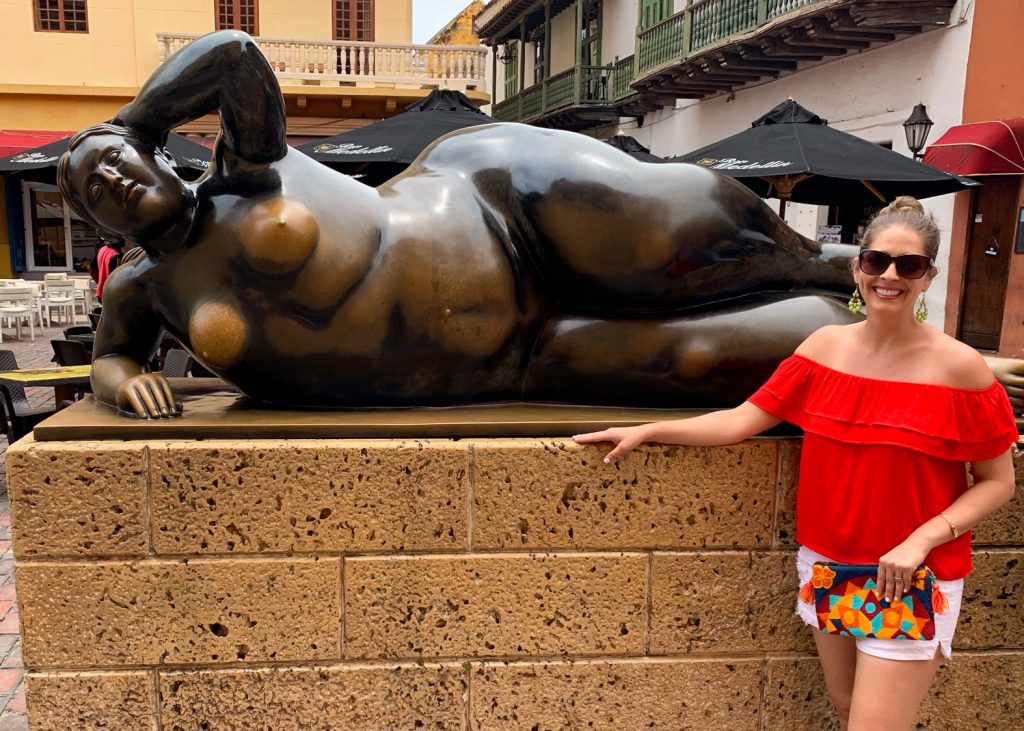 Walk along the city walls – The historic wall surrounds the old town of Cartagena and a walkway along the wall allows for a great view of both the city and water.
Admire the colored buildings – The colorful buildings are one of the best parts about Cartagena! Find your favorite spot and pose for photos.
Sip drinks on a rooftop bar – There are a ton of fun rooftop bars. One of the best views is from the Movich. We also enjoyed late night drinks at the Townhouse Rooftop.
Photograph the La Gorda Gertrudis statue (and touch her breast!) – Apparently it's good luck to touch her left boob (we didn't know this when we took our photos and touched the wrong one… oops!).
Take a photo with (or of) the palenqueras – The palenqueras or "fruit ladies" are iconic in Cartagena and you'll see them selling fruit and taking photos with tourists throughout your visit.
Go shopping at Las Bóvedas – This old prison vault turned shopping center is a popular spot to wander for souvenirs.
Tour the city with a guide – Book a private guide or sign up for a free walking tour with Beyond Colombia to get an introduction to the city and learn some of the history.
Watch the street performers – You'll see everything from mimes and rappers to super heroes and musicians while hanging out in the popular plazas like Plaza San Pedro Claver.
Stay in a boutique hotel – The hotels in the walled city range from former Colonial homes to a former convent. There are a variety of price ranges from affordable to luxury.
Relax by a pool – Many of the city's boutique hotels feature stunning pools. It's a great way to cool off from the heat.
Enjoy the sunset – LOTS of blogs recommend Cafe Del Mar as the best spot but we personally disagree unless you can get a reservation along the wall (it's just way too crowded with everyone taking photos instead of enjoying the view). Instead, find a spot along the wall and buy a beer from a vendor!
Look for metal statues – You'll spot metal sculptures throughout the walled city (and in Getsemani). The art pieces show local "slices of life" like a palenquera carrying a fruit bowl or people playing dominoes.
Visit a museum – There are many to choose from including the Gold Museum (Museo de Oro), Rafael Nuñez Museum, Museum of Modern Art, and Saint Peter Claver's Museum.
Wander the oldest church in Cartagena – It is free to visit the Iglesia de Santo Domingo. You can attend mass for a different experience.
Ride a Horse Drawn Carriage – We don't do many animal-related tours anymore (this included), but we're including since these are popular in the walled city.
In Getsemani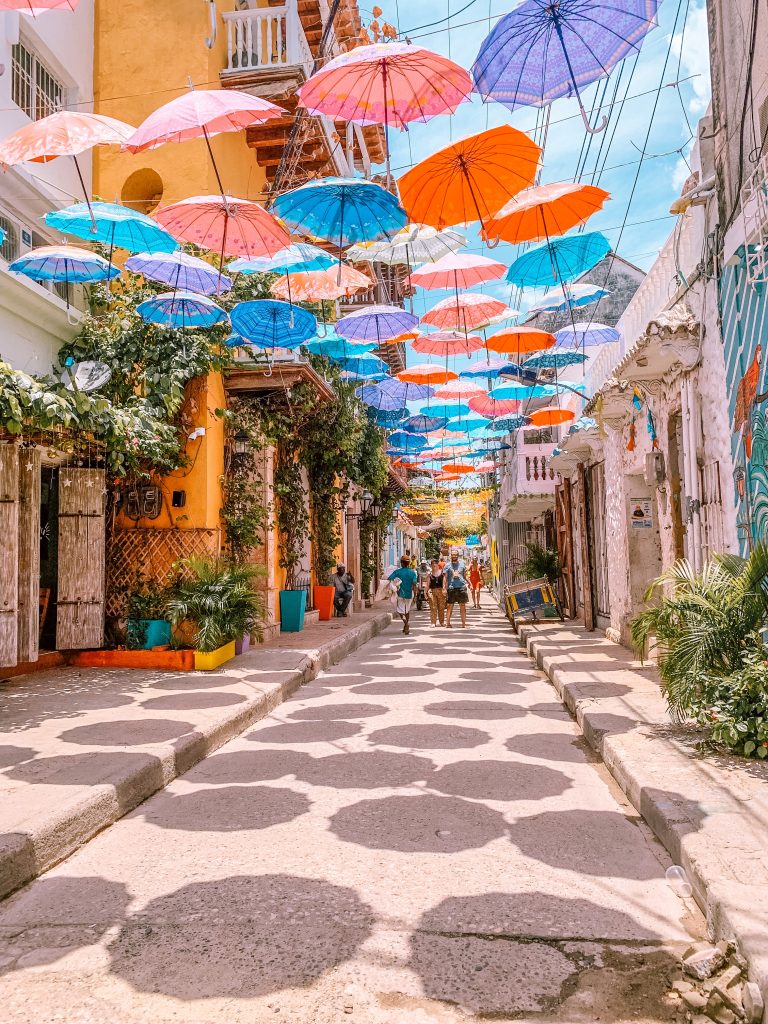 Parque del Centenario – This park is more so located on the way from the walled city to Getsemani. Keep your eyes peeled for wildlife! You can see sloths, iguanas, and monkeys.
Wander under the umbrella canopy – Located on Calle 31, you won't want to miss this photogenic (and adorable) spot!
Search for street art – Getsemani is a hot spot for street art. There are so many beautiful murals, we wrote an entire post about it.
Hang out in Plaza de la Trinidad – This is the hot spot of Getsemani where you'll find street vendors and lively bars and restaurants.
Cafe Havana – A popular spot to salsa dance.
Take a walking tour – This is your chance to get a better understanding of the people of Cartagena and their fight for independence, plus a look at the current culture and arts scene in Getsemani. Free tours are available through Beyond Colombia.
Other Spots Outside the Walled City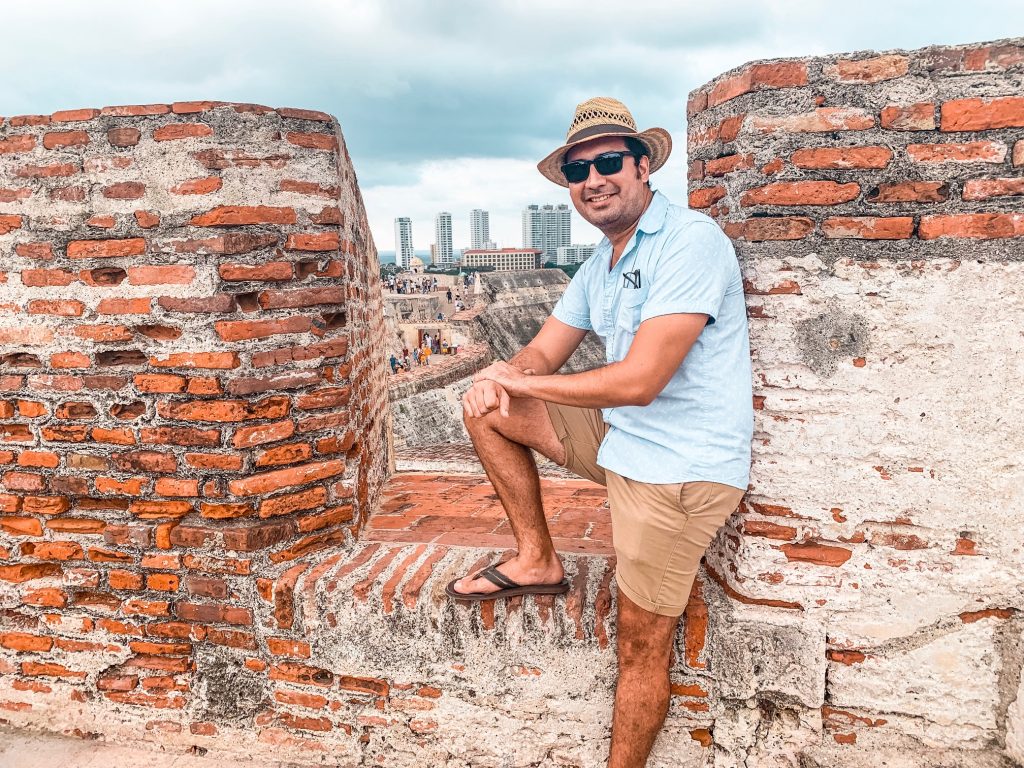 Castillo San Felipe de Barajas – This Spanish-built castle was built in the 16th century and is now a UNESCO World Heritage site.
La Popa Monastery – Nuestra Señora de la Candelaria de la Popa is a monastery located at the top of Mount Popa.
Monumento a los Zapatos Viejos – These boot statues are walking distance from the castle but we didn't know about them when we were there. The boots are honor poet Luis Carlos López.
Pose at the Cartagena sign – There's a colorful Cartagena sign on the beach near Playa Marbella when heading to the walled city from the airport. Your taxi driver should know how to get there!
Ride a Chiva Bus – Like to party? Ride a Chiva at night to listen to live music, drink rum, and visit a nightclub.
Bazurto Market – We're told this is only for the adventurous (we considered doing it, but ran out of time). Described by many as dirty and gritty, this is a real local's market. You can book a tour (recommended) if you want to see it up close.
Take a sunset boat ride – See the city from a different perspective as you cruise the bay at sunset.
Food and Drink
On this list we've included some of our favorite foods and drinks to try while in Cartagena. We hope to share another blog post soon to highlight our favorite restaurants and bars!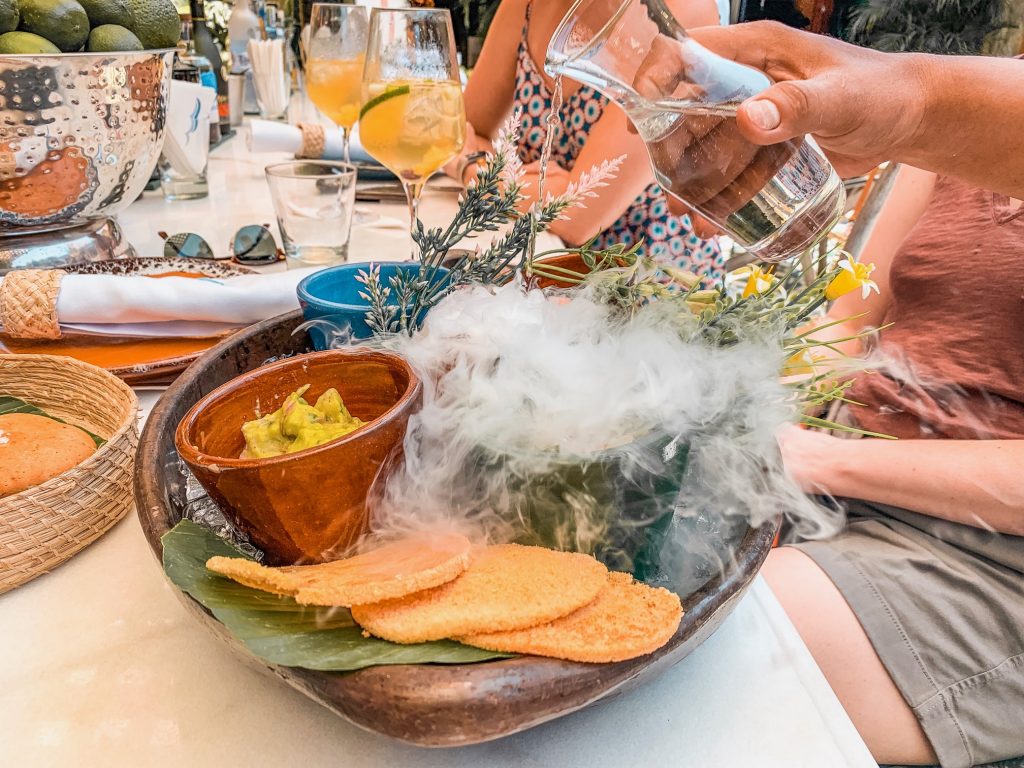 Ceviche – This was one of our favorite meals in Cartagena and we tried it at SO many places. Some of our favorite ceviche meals were at La Perla, Mardeleva, Zaitún, and La Cevicheria.
Limonada de coco – This Colombian drink is delicious on a hot day! Plus there are a variety of other flavors like mango, cucumber, and mint.
Colombian cerveza – There are a handful of Colombian beers to try while in Cartagena. Our favorite was 3 Cordilleras.
Kola Román – This is a Colombian soda that was developed in Cartagena by a local. Our guide told us about it and we went in search of it (there is a ceviche made with it at Le Cevicheria).
Sip Colombian coffee – Because when in Colombia, drink Colombian coffee. Try a coffee cocktail at Epoca.
Sangria – Yum! We had some really great sangria in Cartagena and the bartenders put a lot of effort into making them, adding lots of fresh fruit.
Local fruits – Speaking of fresh fruit, you have to try some in Colombia. There are a variety of unique fruits native to Colombia and you'll see them at the street carts.
Eat at a fine dining restaurant – There are some ah-ma-zing restaurants in Cartagena and you shouldn't dismiss them because you see $$$$ beside the description. With the exchange rate, we had dinner, drinks, and desert at Carmen and the total came out to about $50 per person including tip.
Satisfy your sweet tooth – Walk along El Portal de los Dulces and you'll see a handful of vendors selling a variety of local treats.
Take a street food tour – We didn't get a chance to do this, but really wanted to! There is also a free street food tour available from Beyond Colombia.
Day Trips from Cartagena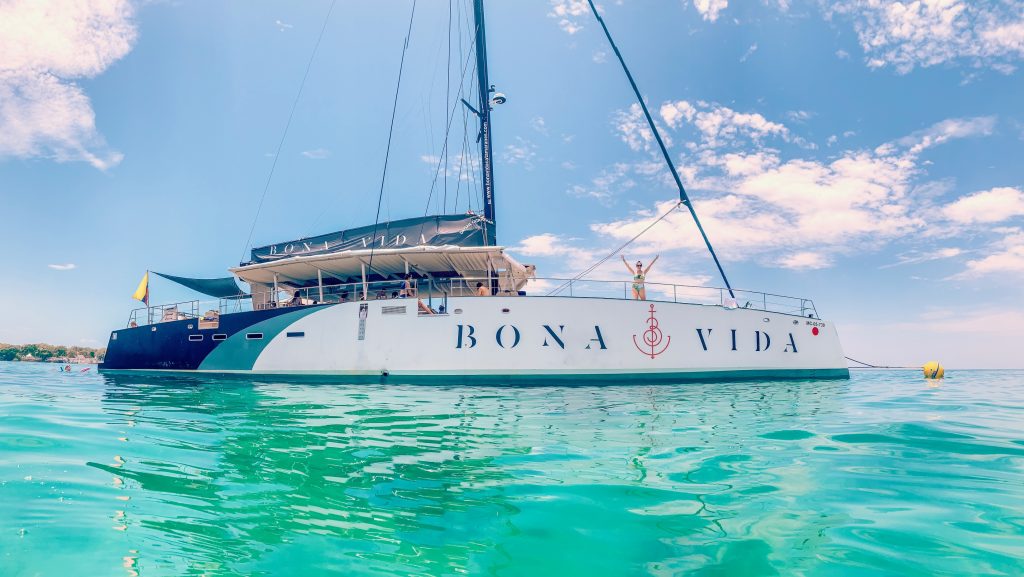 Rosario Islands – The are a bunch of options for visiting the islands: take a speedboat and relax on the beach of one of the islands, take a catamaran and ride around the islands. We opted for the day trip with Bona Vida Catamaranes.
Volcan del Totumo – We'll be honest, this didn't really appeal to us but we're including anyway since it is quite popular. Climb the stairs of the 15-meter high volcano and take a dip in a mud bath.
La Boquilla – This tiny fishing village is about 20 minutes north of Cartagena. Canoe tours through the mangroves are a fun way to see the wildlife and vegetation up close.
Get away from it all at a floating hostel – Casa en el Agua is located among the San Bernardo Islands, two hours by boat from Cartagena. With no WiFi, bucket showers, and dry toilets, you'll get a whole new experience while relaxing in the middle of the Caribbean!
Need more Cartagena inspiration?
Still looking for more trip inspiration after reading our ultimate Cartagena bucket list? Check out these other articles: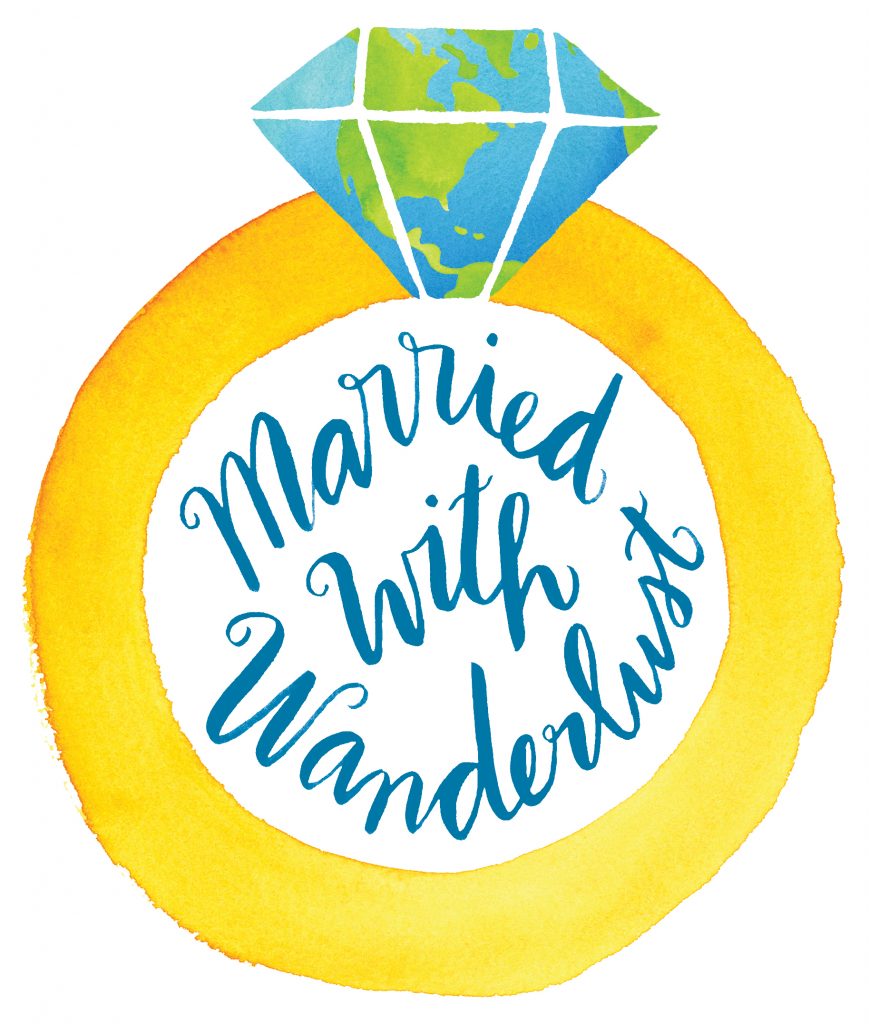 Enjoy our blog post? Sharing is caring!