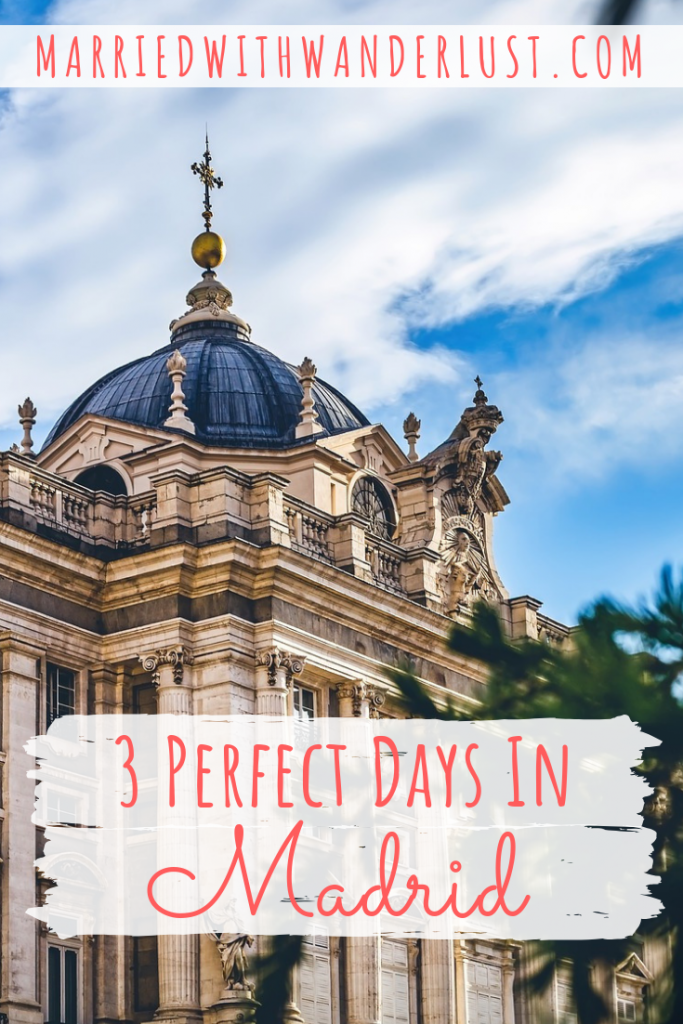 Madrid is a bustling city full of life, art, history, and romance. We were fortunate to have a close friend living there when we were visiting and we got a bit of a 'local's look' at the city. Of course, we always like to squeeze in the touristy stuff, too!
With just 3 days to spend in Spain's capital, we had a packed schedule (per our usual), but we think our Madrid itinerary will give you all the highlights plus a bit of local flavor!
Madrid Itinerary Day 1:
Puerta del Sol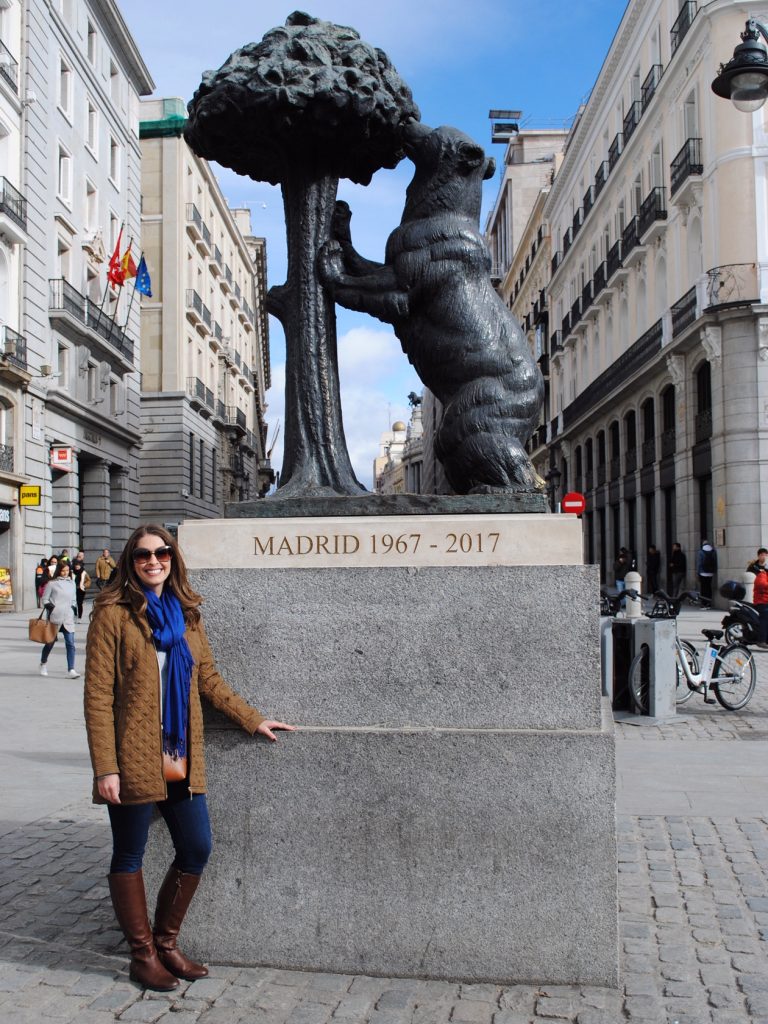 We started our Madrid vacation in Puerta del Sol simply because it was close to our friend Luci's home who was living in the city at the time. Puerta del Sol also happens to be home to the famous Bear and the Strawberry Tree statue of which the city gets its nickname!
While you're here, you'll also want to search the ground for the marker at Kilometre Zero – the official starting point for Spain's national roads. Need a hint where to find it? Check out our post on 15 Things You Must Do in Madrid!
Mercado de San Miguel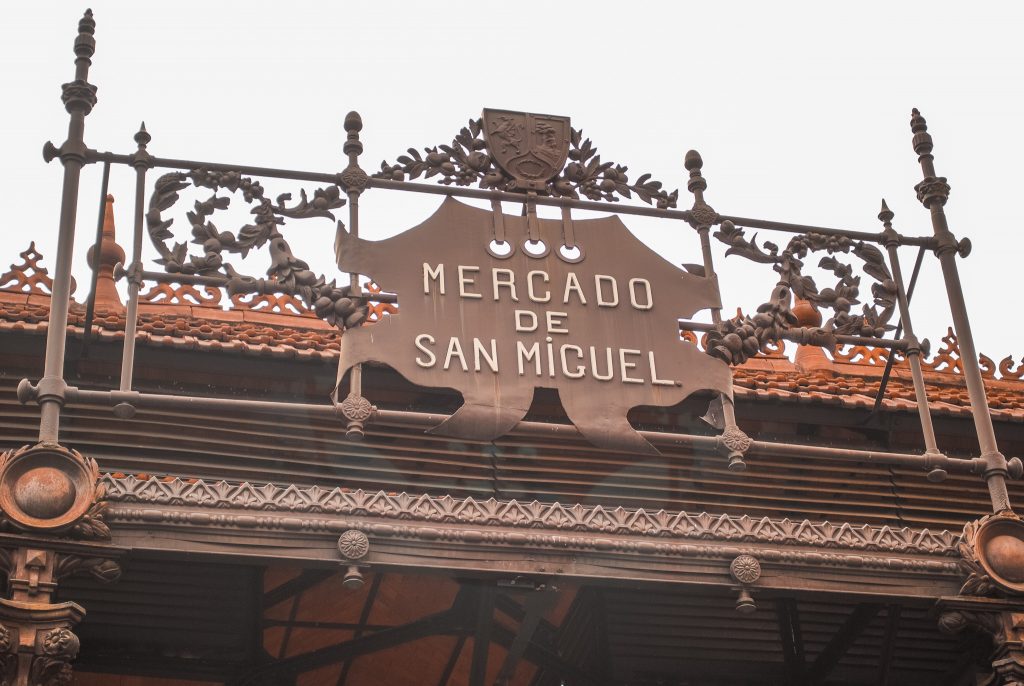 Just a short walk from Puerta del Sol, Madrid's famous food market is full of delicious Spanish foods. Tapas galore, Iberian ham, fresh seafood, sangria, Spanish wines, vermouth, coffee… you name it, you can find it at Mercado de San Miguel. Go hungry and leave happy!
Palacio Real & Royal Gardens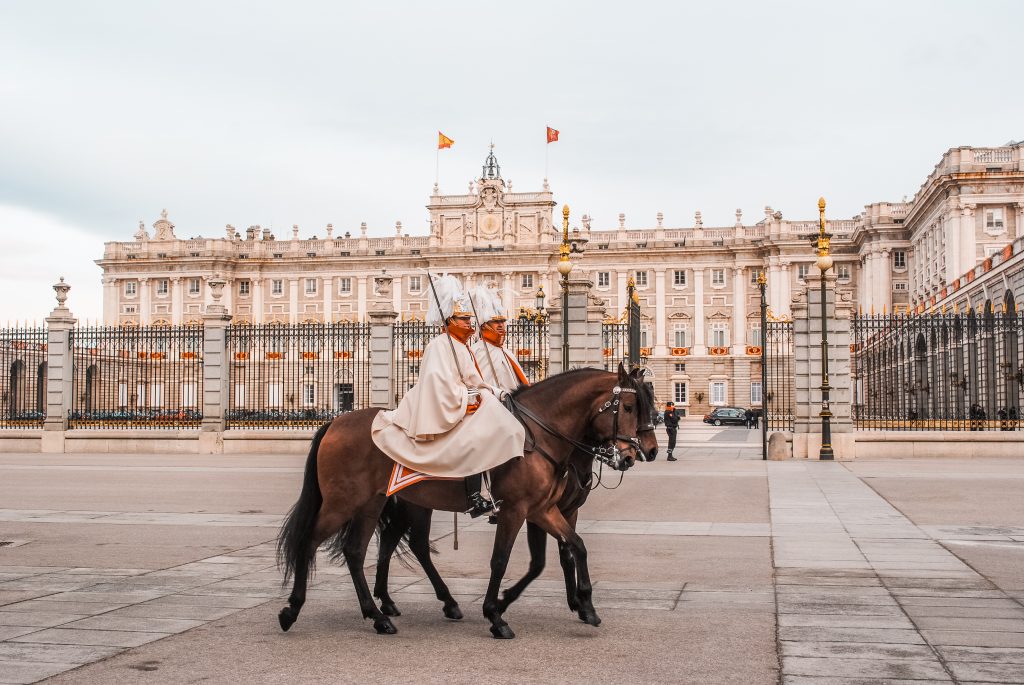 Next stop: the Royal Palace! While Palacio Real is the official home of the royal family, they don't actually reside there. It's spectacular from the outside and, if you have the time, you many want to book a guided tour to see it up close. A variety of the 3,000 rooms are open to the public including the Royal Kitchen, Halls, and Royal Armoury (prices vary depending on what you want to see).
Once you've gotten your fill of the palace, head out back to explore the Sabatini Gardens. There are a variety of plants, statues, fountains, and more.
Almudena Cathedral and Crypt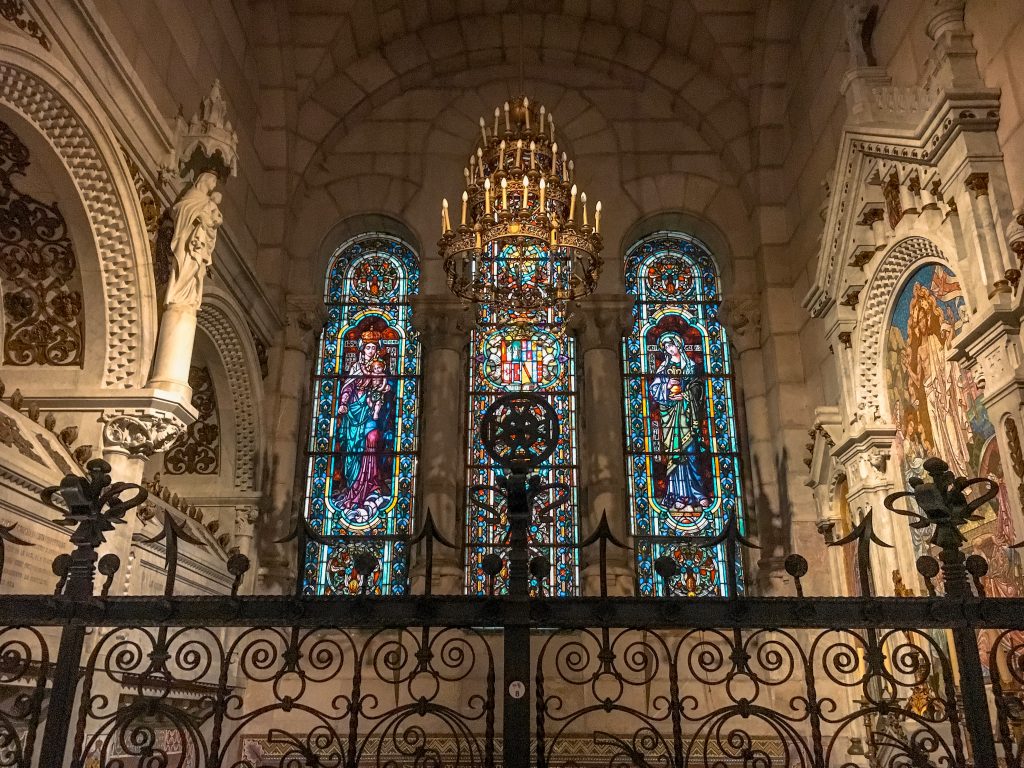 This doesn't have to be a long stop, but with its close proximity to the Royal Palace, it's worth a visit. Access o the cathedral and crypt are free, but a donation of 1€ is requested.
Flamenco Show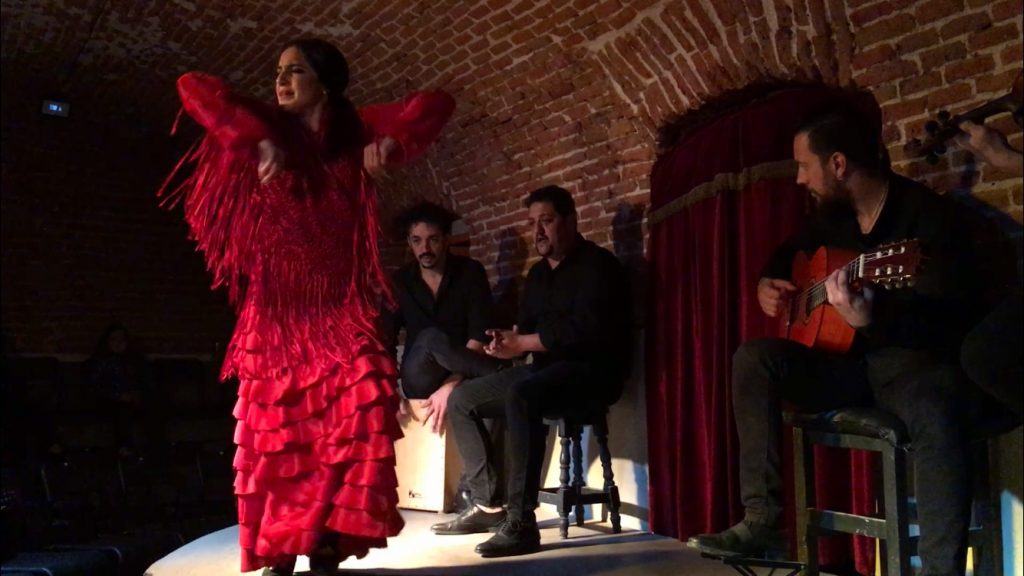 We loved flamenco so much that we wrote an entire post about it. It was perhaps one of the most moving (if not the most) musical experiences we've ever had. You may hear some people tell you that Madrid is not the right city to see flamenco, but we disagree. Yes, it may have originated in Andalusia, but what if you're not visiting there?! Read our flamenco recommendations and then go see the show for yourself and let us know what you think!
Madrid Day 2:
Temple of Debod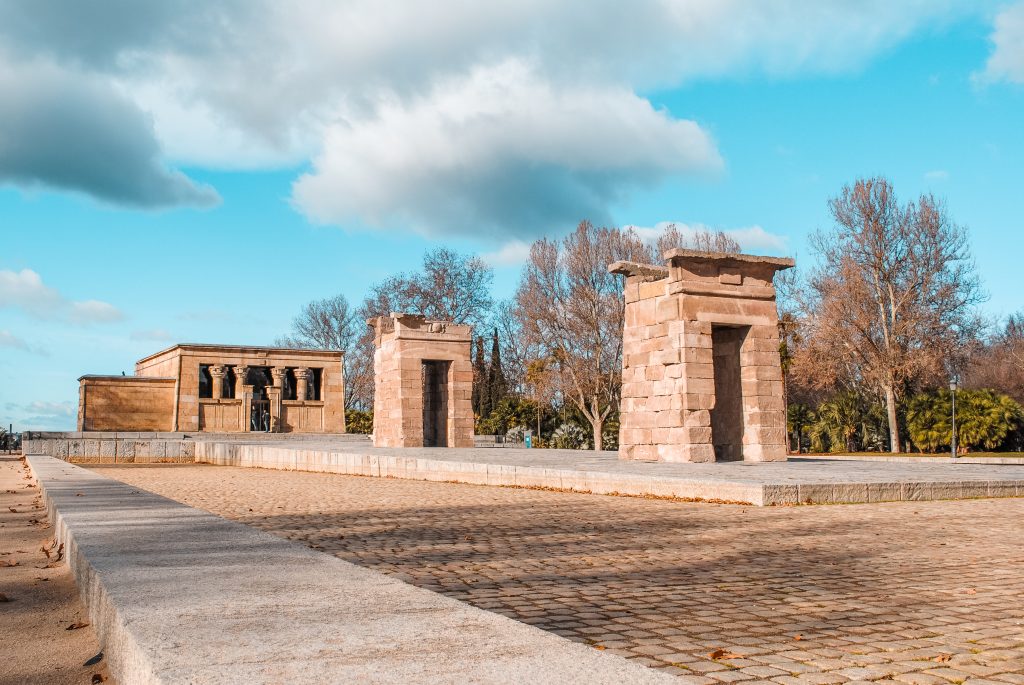 Depending on where you're staying, you may want to hop on the metro to get to the Temple of Debod. Located in Parque del Oeste, you'll have plenty to do here to occupy your morning. The temple itself was a donation from the Egyptian government and opened to the public in 1972. It dates back to the 2nd century BC.
While you're in the park, you can also:
Get a great view of the city from behind the Temple
Wander the Rose Garden of Ramón Ortiz
Hop on the cable car to Casa de Campo
Lunch at Los Caracoles
You'll be hungry after all that walking around the park and what better snack than… snails! Yep, this is the most unique food item we found in Madrid and it was surprisingly delicious. The snails or "caracoles" are the restaurant's specialty, but we also recommend the sardines.
El Retiro Park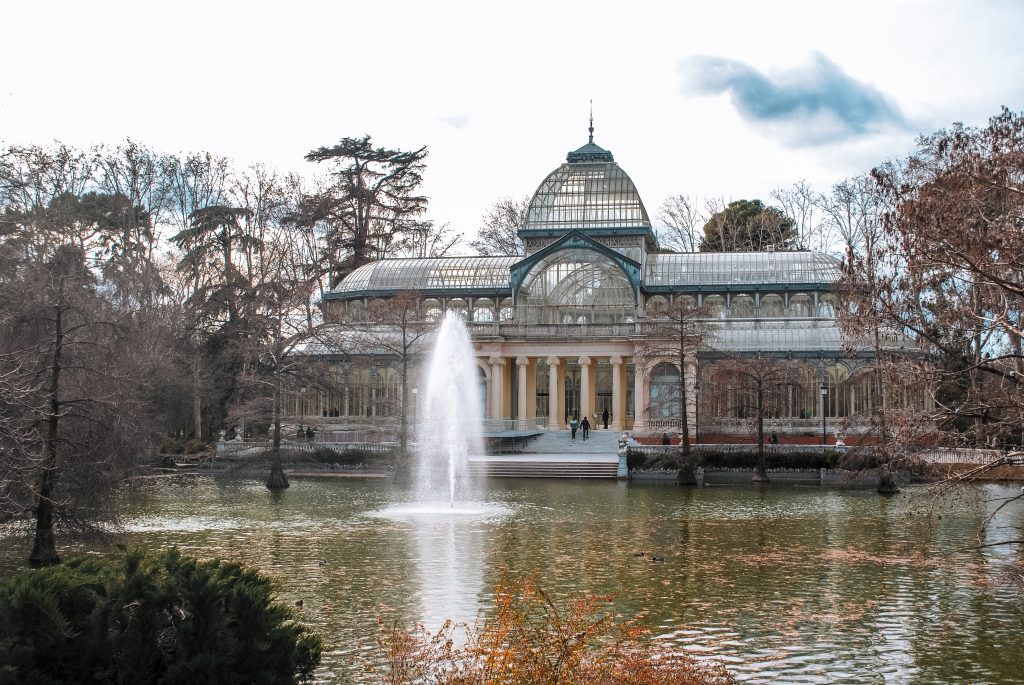 You could spend a couple hours or a full day at El Retiro Park so it all depends on how much time you have to spare! Among the many things you can see and do in Retiro:
Rent a row boat and paddle around the lake
Admire the art exhibitions at the Crystal Palace and Palacio de Velázquez
Look for peacocks in Jardines de Cecilio Rodríguez (this garden was unfortunately closed while we were visiting)
Wander through the rose garden
Reina Sofía Museum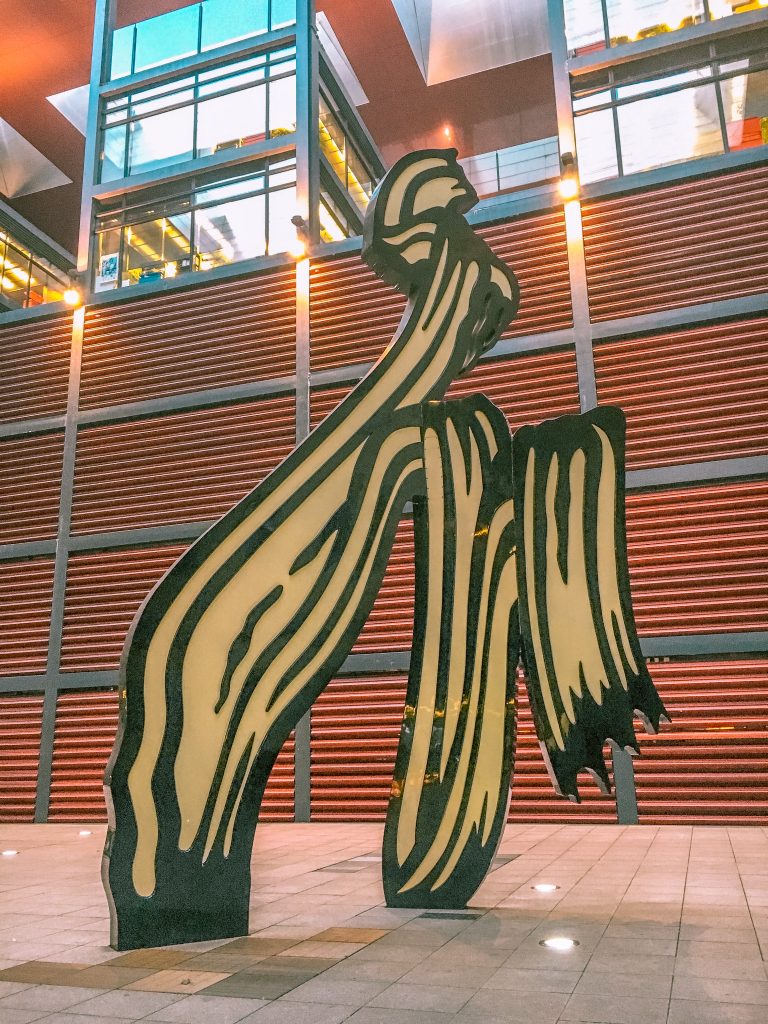 The Reina Sofía art museum is open until 9:00 pm making it a perfect early evening spot before you hit the town for dinner and drinks. The most famous painting at the Reina is Pablo Picasso's "Guernica," with a full room dedicated just to it (no photos allowed!).
Bonus: The museum is FREE on Mondays and Wednesdays-Saturdays from 7:00-9:00 pm.
Dinner at El Caldero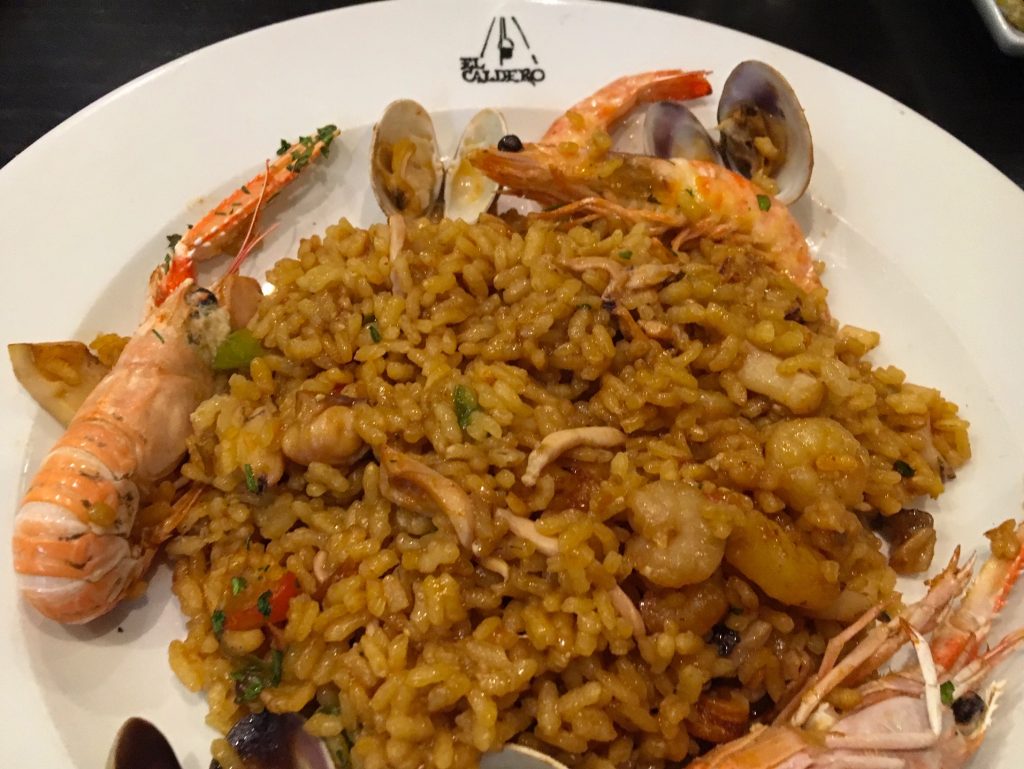 Not too far from the Reina, you'll find El Caldero: the only restaurant we visited in Madrid where we really enjoyed the paella. It comes out in an enormous skillet and needs to be shared between at least two people.
Drinks at El Imperfecto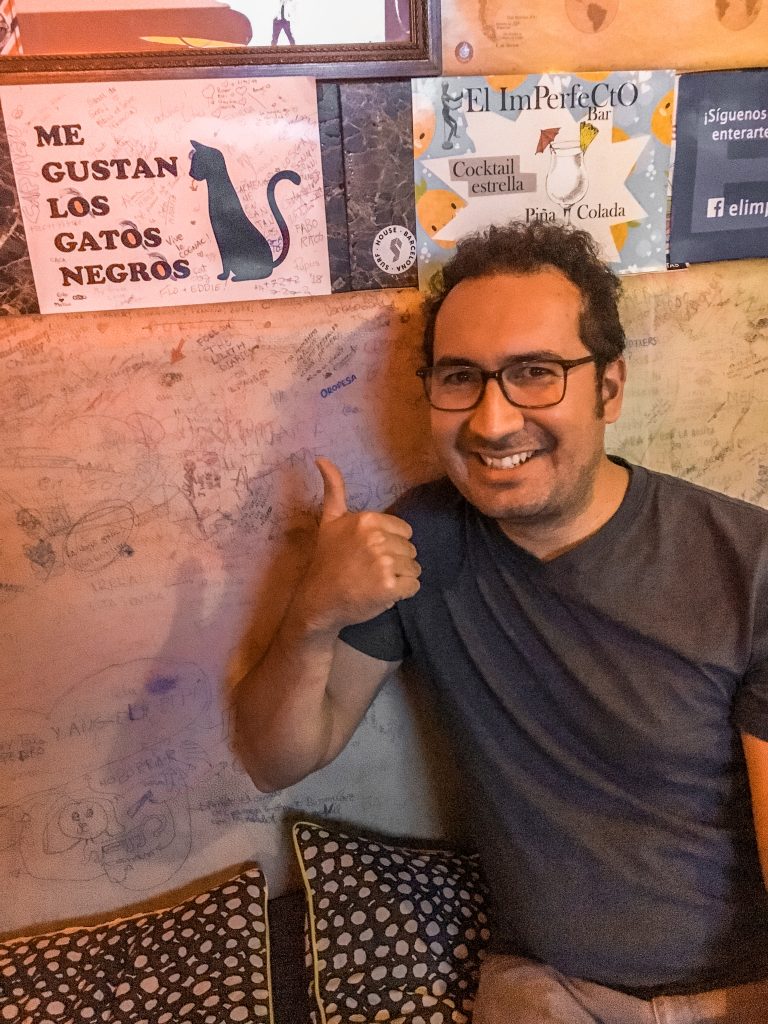 Just steps away from El Caldero, we stumbled upon El Imperfecto bar and it ended up being one of our favorite little gems of Madrid. This quirky spot has lots of fun signs on the walls, yummy cocktails, and enjoyable music.
Chocolateria San Gines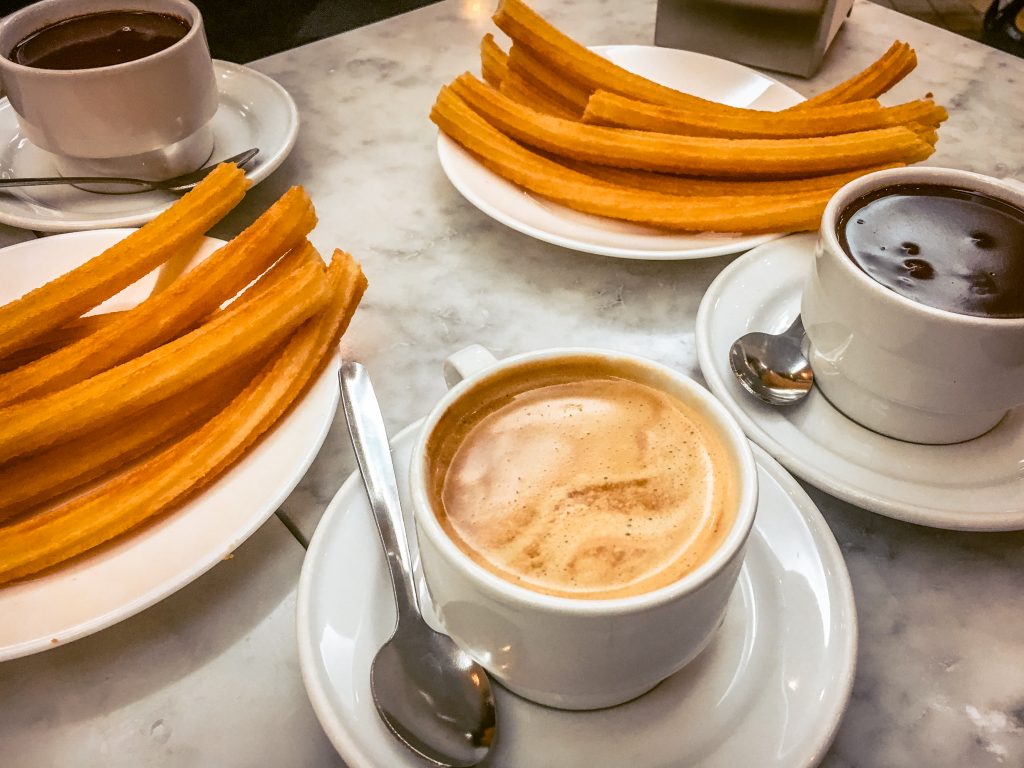 Churros and chocolate is a Madrid specialty and what better way to cap off your night than by satisfying your sweet tooth? Chocolateria San Gines is open 24-hours a day and served the most delicious of all the churros and chocolate we tried during our stay.
Madrid Itinerary Day 3:
Plaza Mayor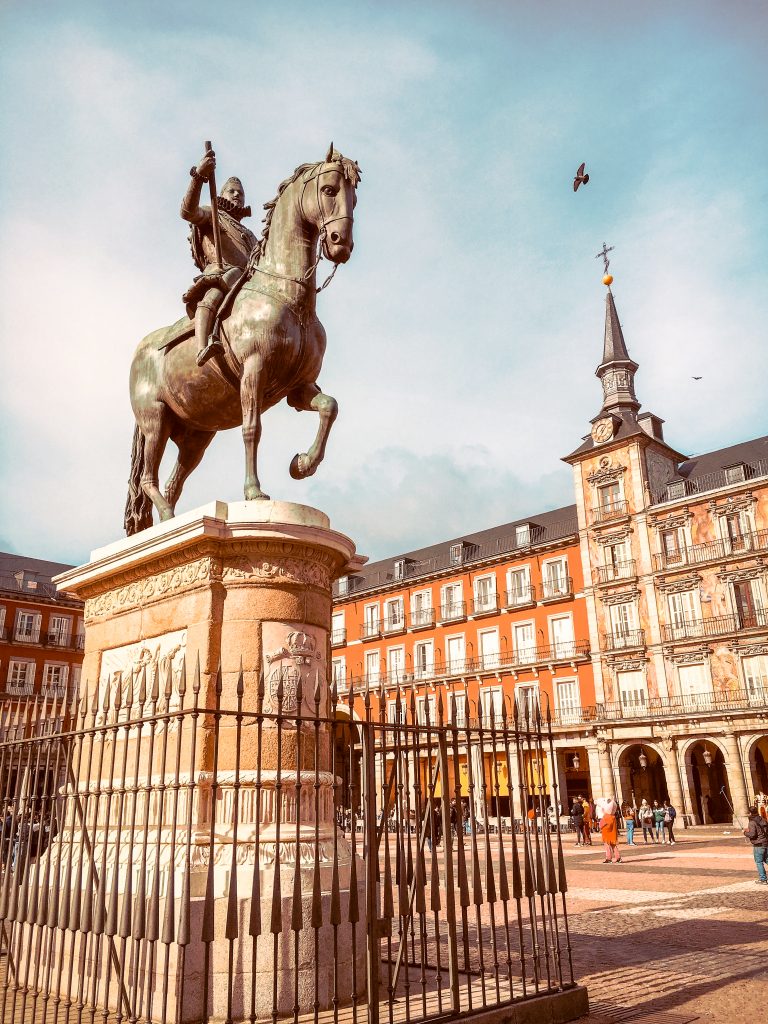 Bustling Plaza Mayor is one of the most popular spots in the city. This public square is full of restaurants, coffee shops, and tourist photo opps (pose as a matador or snap your photo with a cartoon character, for instance). In the center of the square you'll find the statue of King Phillip III on horseback.
Sobrino de Botín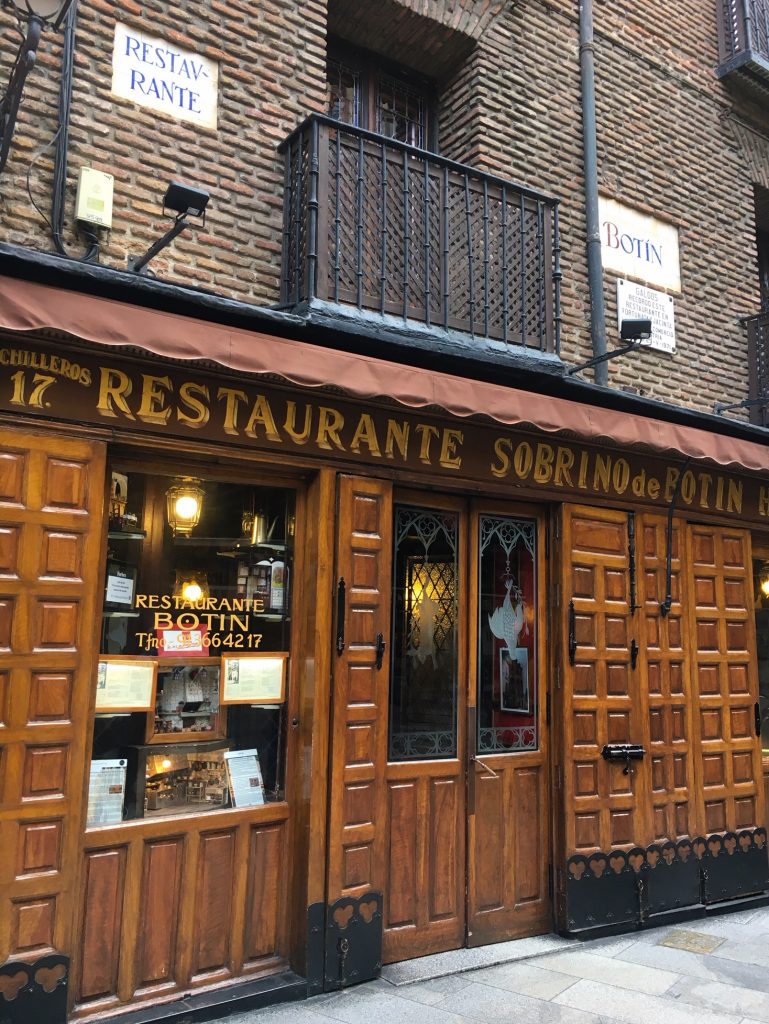 Ready for lunch? Sobrino de Botín is the oldest restaurant in the world according to the Guinness Book of World Records. It certainly won't be your cheapest meal of the trip, but it's definitely worth it for the experience. The most famous dishes are the suckling pig and roast baby lamb, but we personally loved the baby squids in their own ink. Make a reservation to guarantee your spot!
Real Madrid Match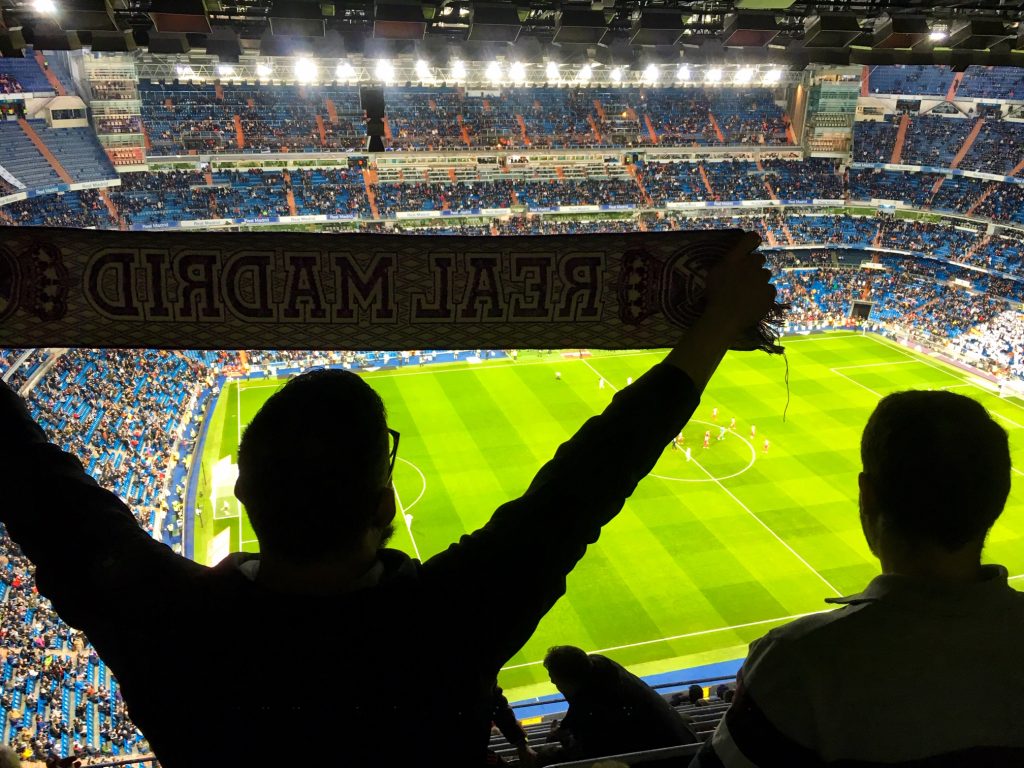 Catch the home team in action at a Real Madrid match for a real Madrid experience. These fans are passionate to say the least, and you'll find yourself cheering right along with them. Getting tickets is something we have not mastered yet. We bought ours online and ended up at the very top of the stadium!
Need more Madrid inspiration?
Check out these other articles to help plan your trip to Madrid: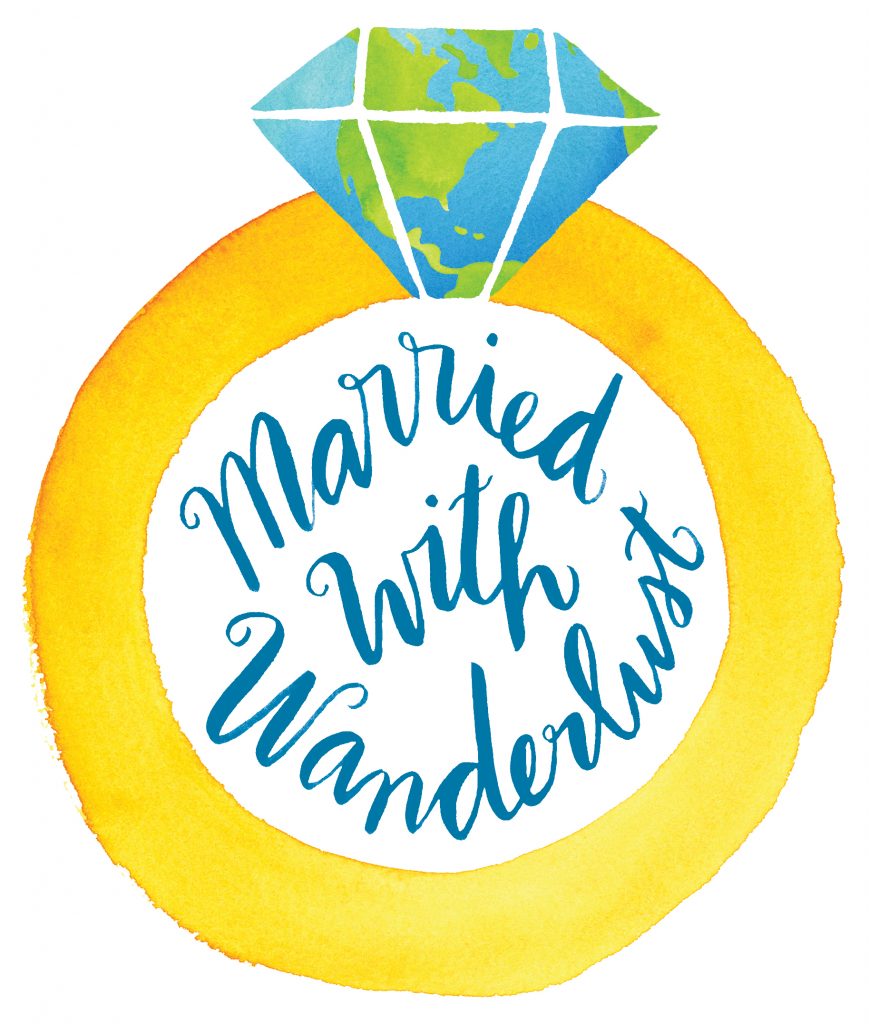 Enjoy our blog post? Sharing is caring!