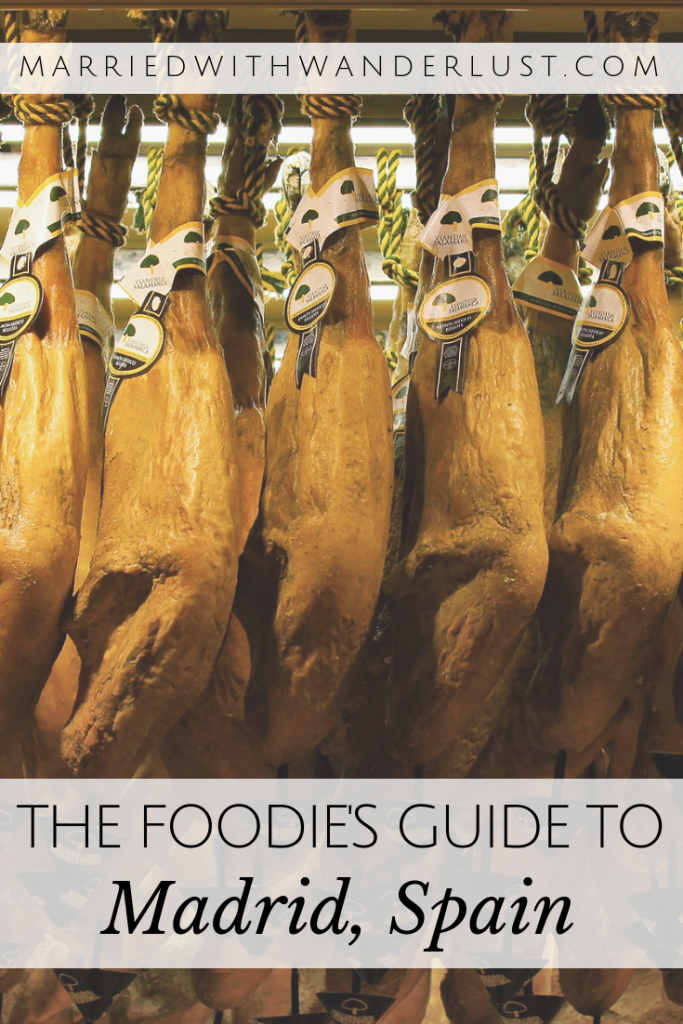 Madrid is a foodie's paradise and if you love to eat (who doesn't?), you'll love this city. Before you go, make sure to add these restaurants, foods, and drinks to your bucket list!
Our Favorite Restaurants in Madrid:
Mercado de San Miguel
This food market HAS to be on your bucket list for food in Madrid!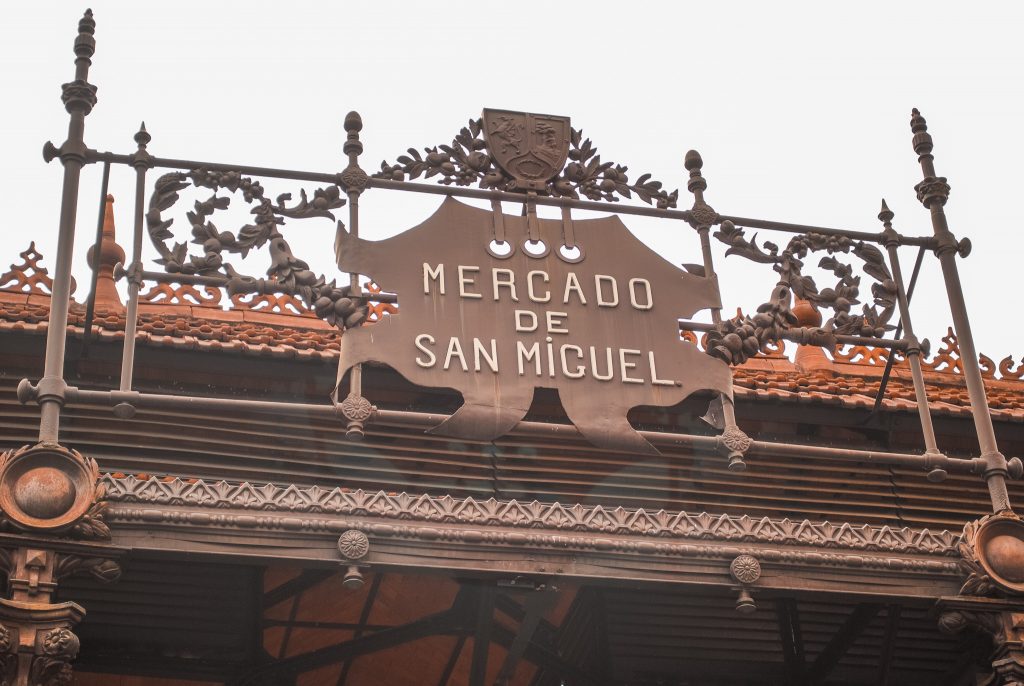 Mercado de San Miguel has a little bit of every Spanish flavor imaginable: fresh seafood, cheeses, tapas, bocadillos, and so much more! There are also stands serving vermouth, Spanish wines and coffee. You won't leave here hungry and if you do, you're doing something wrong!
Sobrino de Botín
The oldest restaurant in the world (according to the Guinness Book of World Records) is in Madrid and while it's not inexpensive, it is well worth the splurge. Sobrino de Botín is known for the roast suckling pig and roast baby lamb dishes. Personally, one of our favorite dishes was the baby squids in their own ink.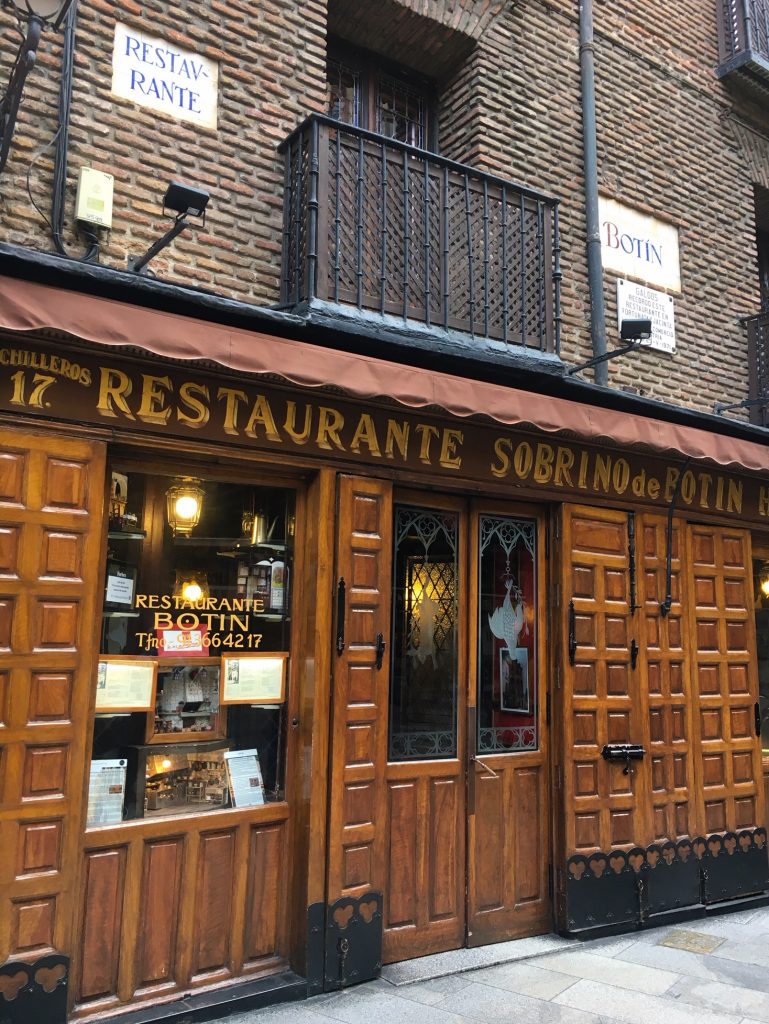 Reservations are definitely recommended and you can also book a tour followed by a tasting.
Los Caracoles
If you know how to speak Spanish, the heading "Los Caracoles" probably already has you surprised! What does it mean? Snails. Yep, that's right, snails! We enjoyed lunch at Los Caracoles so much that we actually included it on our list of 15 Things You Must Do in Madrid!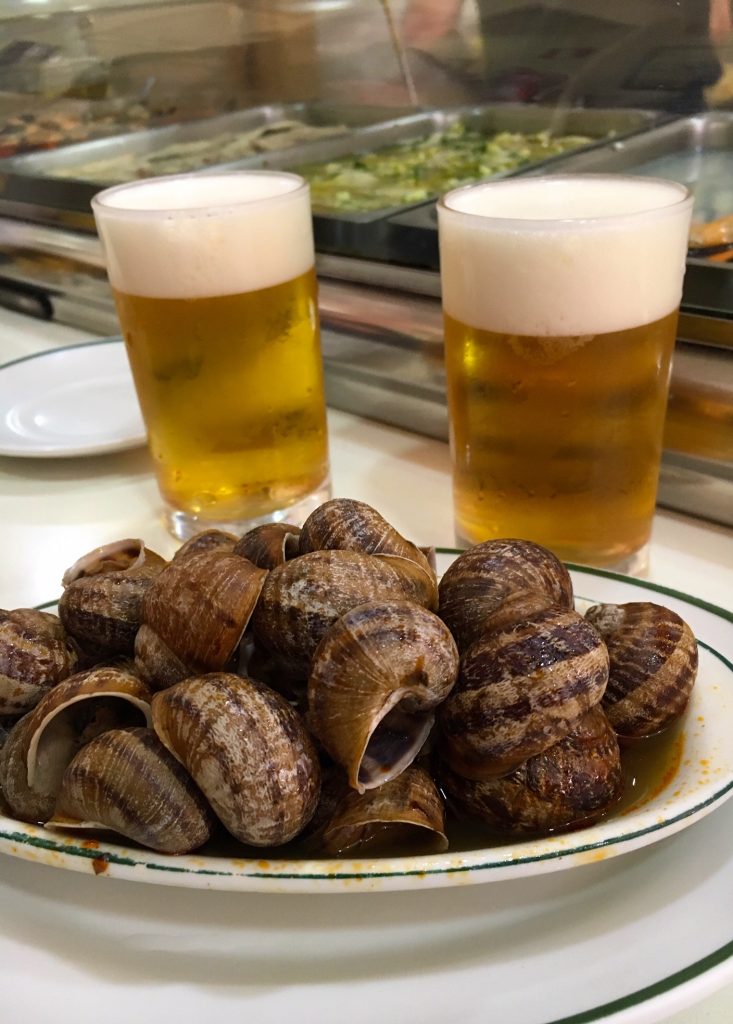 The sardines also came suggested by the staff and we were so surprised by how great they both were! Definitely order both of these when you go.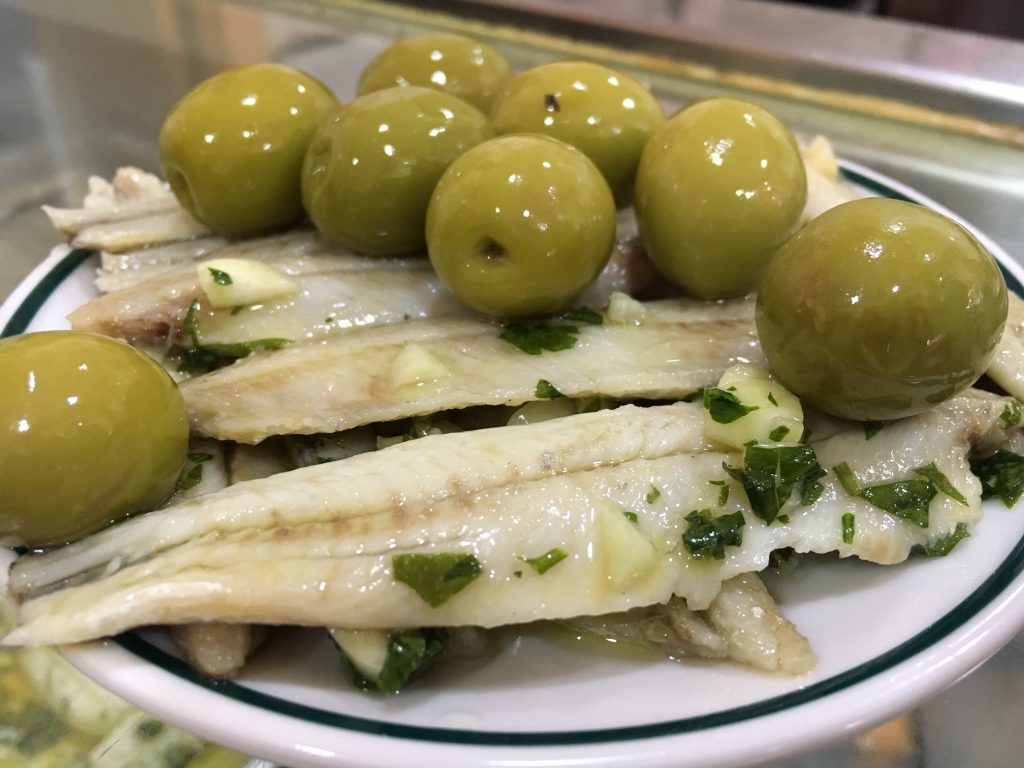 Other Must-Try Food in Madrid:
We've included a few restaurant suggestions for the below foods, but these can be found at a variety of restaurants in Madrid. Bon Appétit! Or should we say disfrute de su comida?!
Bocadillo de Calamares
This famous sandwich is a must-try food in Madrid! Bocadillo de calamares means calamari (squid) sandwich. The fried calamari rings are served on a roll with a sauce.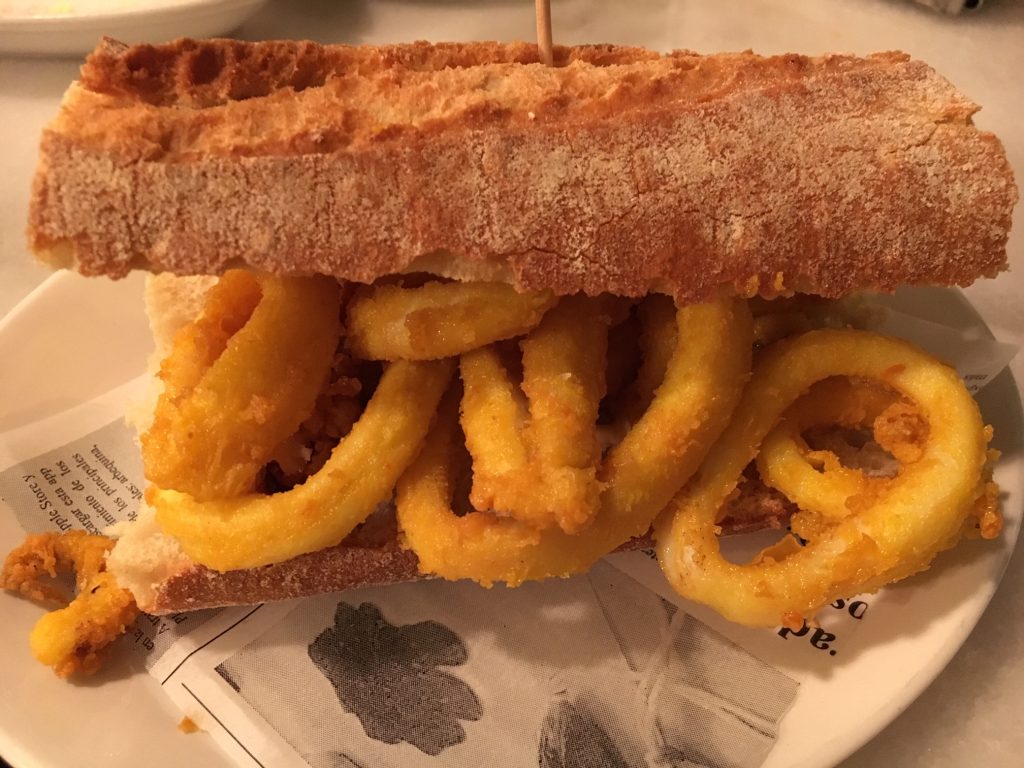 I couldn't say that this is traditional, but the version we liked the best had a lot of the sauce and a little softer bread. The one pictured above was a little dry for our taste.
Churros con Chocolate
If you don't like chocolate and churros, well, you're crazy. And you're going to miss out on one of the best things about Madrid! This is one city where you don't need an excuse for dessert.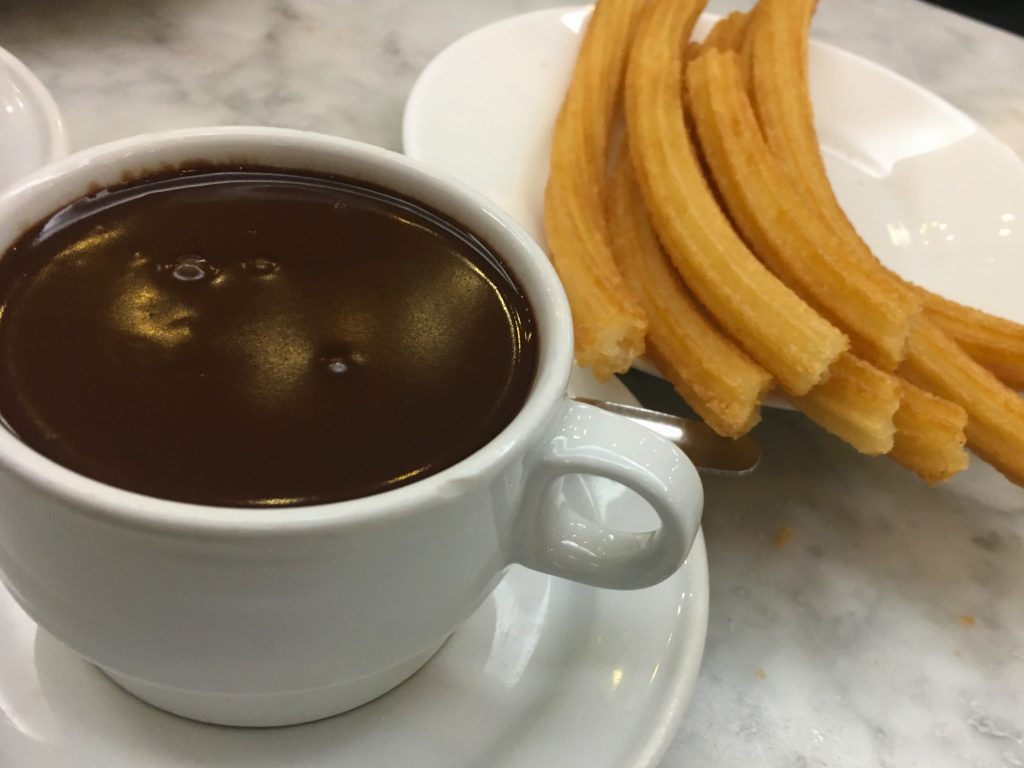 Our favorite spot for churros con chocolate was the Chocolateria San Gines (open 24-hours!), but you can find these delicious treats in shops all over town.
Jamón Ibérico
You'll find jamón ibérico or "Iberian ham" all over Madrid and a lot of places serve it as a free tapas dish when you order drinks. You'll see the pig legs at bars and restaurants and the cured ham is carved off into thin slices. It may simply have been a matter of seeing the leg while eating it, but I just couldn't get on board with the taste of this one. WC, on the other hand, couldn't get enough!
Vermouth
There is a huge vermouth scene in Madrid and it is… really enjoyable! (WC likes vermouth in the U.S., but I can't say that I do.) The vermouth in Madrid comes in a variety of flavors including dry, semidry or sweet. Try them all and see what you like!
Paella
We mentioned our mixed feelings about paella in our article on the best things to do in Madrid. We visited both Madrid and Barcelona and LOTS of restaurants in both cities advertised paella. The tough part (we think) is finding a good paella. We tried this dish in several restaurants and really only loved it at El Caldero.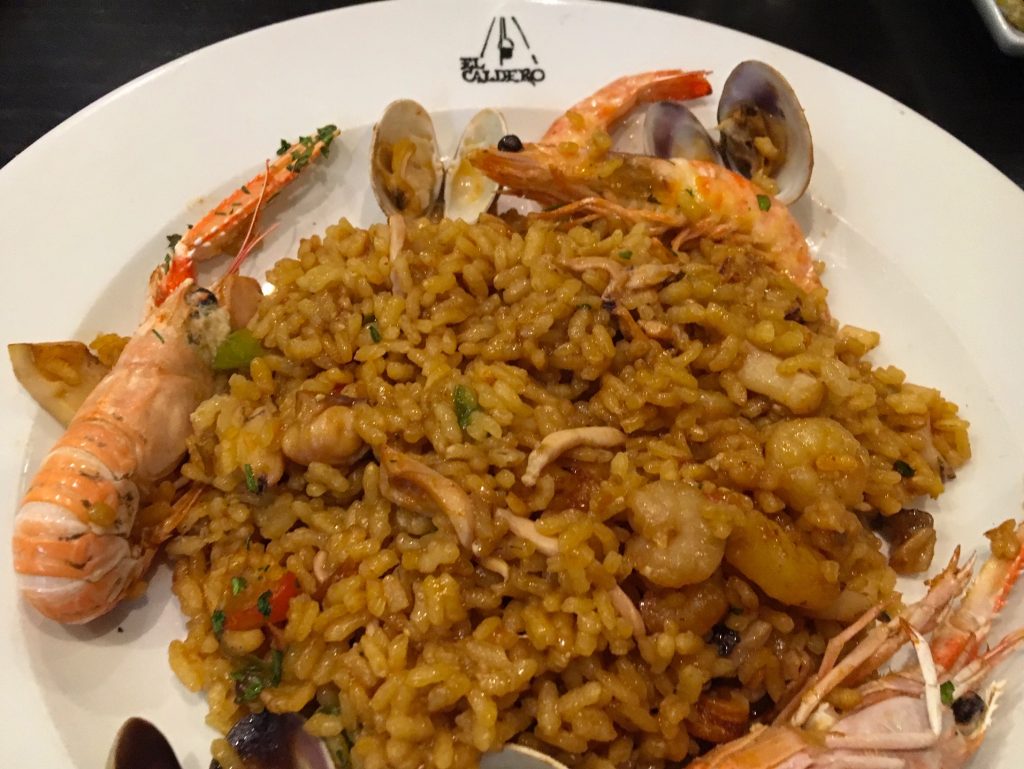 Have you found a great paella restaurant in Madrid? Let us know!
Sangria
Sangria is delicious and there's something even greater about drinking Sangria while in Spain. Technically, this isn't a drink that is native to Madrid. However, if you like Sangria, we say go for it! Yum!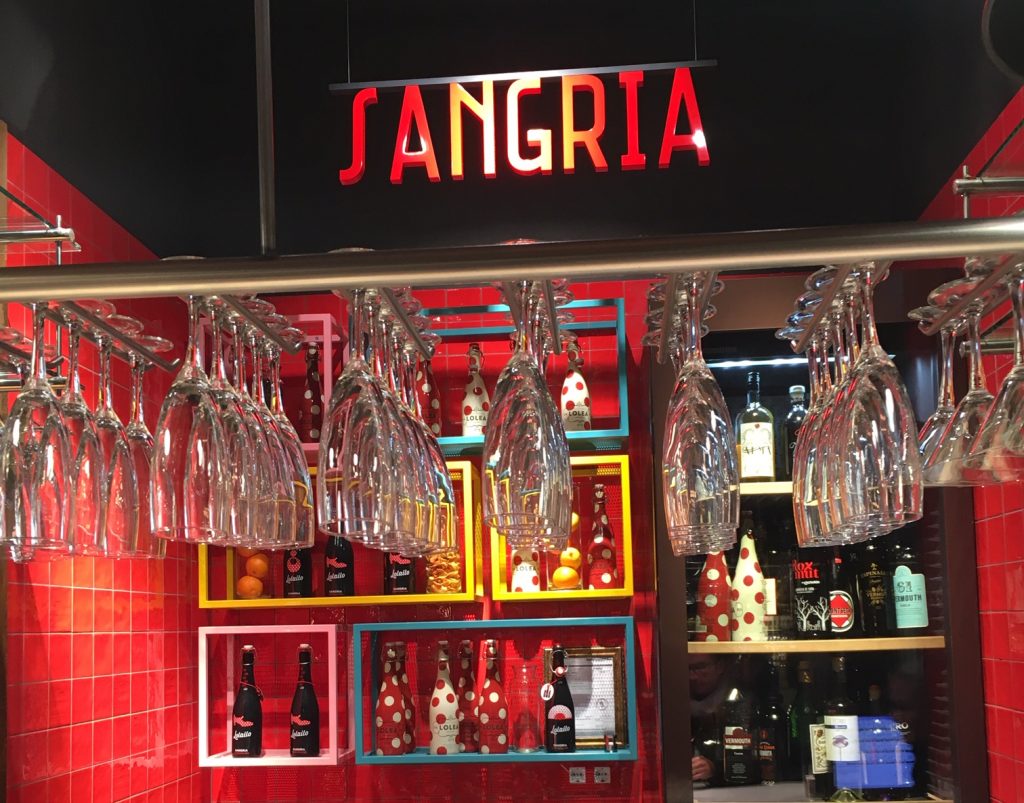 Cocido Madrileño
This is the only bucket-list food item that we didn't get to try on our trip to Madrid! This chickpea-based stew originates from Madrid and a lot of the ingredients make me think of cozido stew in the Azores (the chickpeas are the major difference). Cocido madrileño includes pork belly, chorizo, jamón serrano, potatoes, carrots, cabbage, and more, along with the chickpeas.
Are You Hungry Yet?
'Cause we're starving just writing this! We hope you enjoy trying these delicious foods while traveling in Madrid. Let us know your favorites – we'd love to hear from you!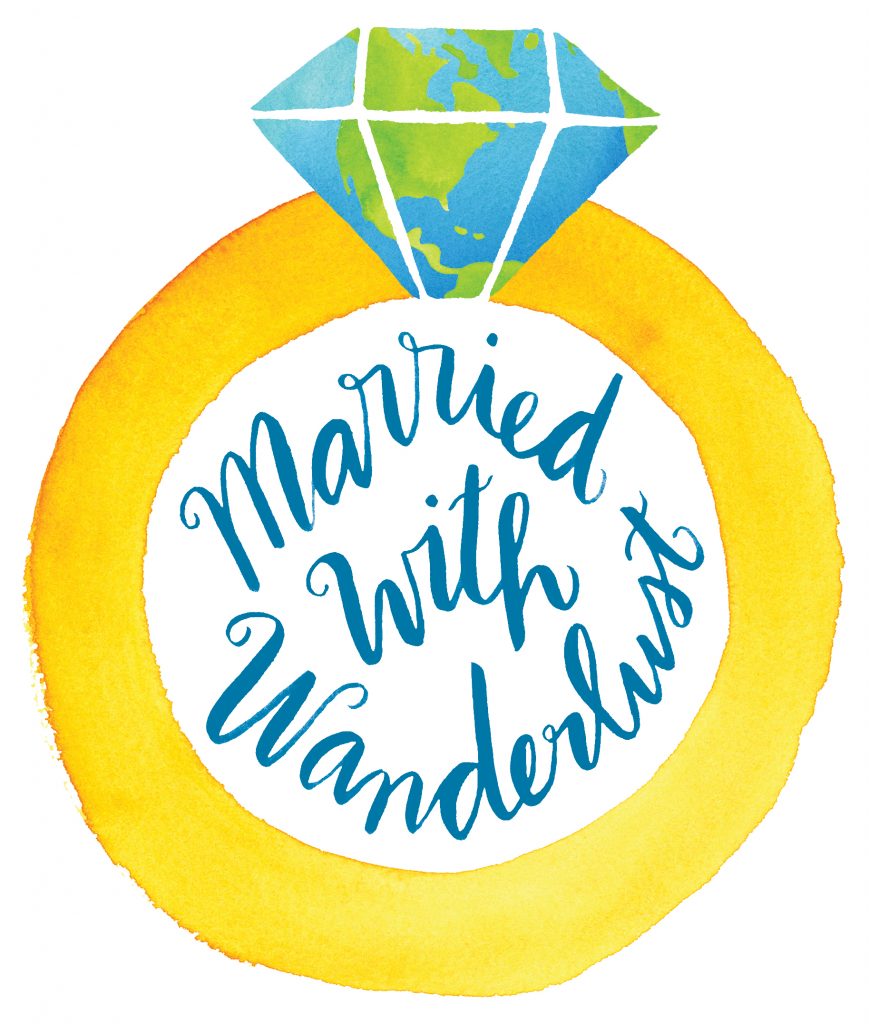 Enjoy our blog post? Pin it to share with others!