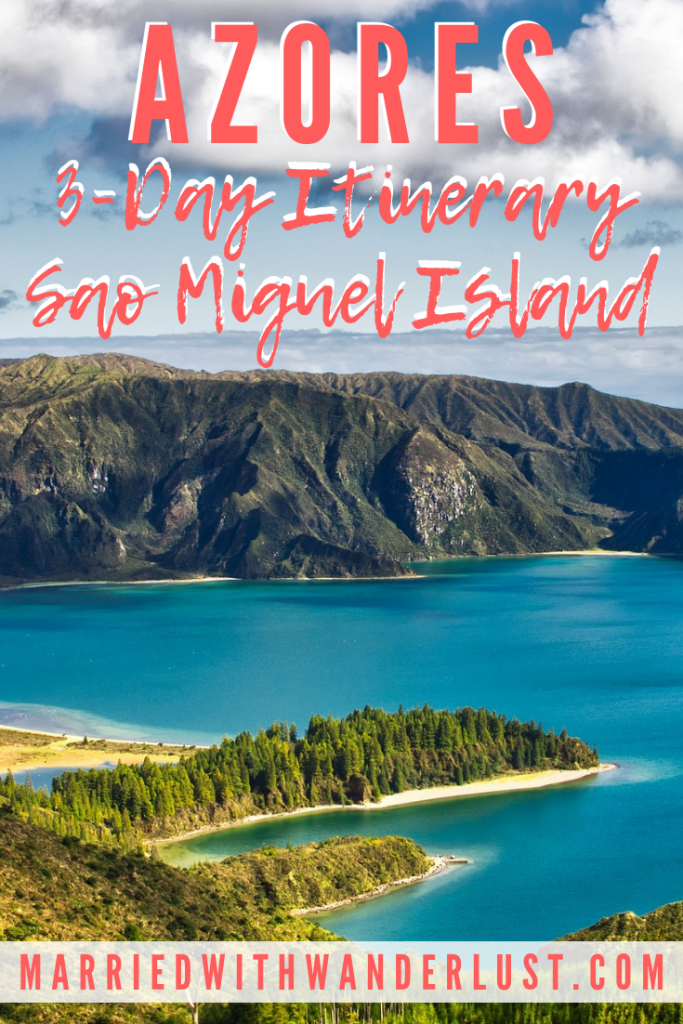 If you're considering a trip to the Azores, you absolutely must – and we mean must – spend at least a few days on São Miguel Island. The "Green Island" has so much to offer: waterfalls, hot springs, valleys, lakes, cliffs, geysers, and so much more!
For the next 3 blog posts, we'll be sharing a suggested driving itinerary to see these sites. Some take just a few minutes: hop out at a viewpoint, take it in, and head on to the next location. Others require some hiking or taking your time to enjoy the attraction. Pick and choose what sounds the best to plan your perfect Azores road trip!
This post focuses on the central portion of São Miguel Island but be sure two check out our Day 2 and Day 3 itineraries for a complete road trip guide!
São Miguel Island Driving Itinerary – Day 1
Breakfast & Hit the Road
We actually arrived at the airport on Day 1 around 6:45 am, so our morning was a little rushed but worked out just fine. Arrive early if you're hoping to get a full day of sightseeing in on your first day. You can grab your rental car at the airport and hit the road, or drop your luggage off at your hotel (whichever you prefer).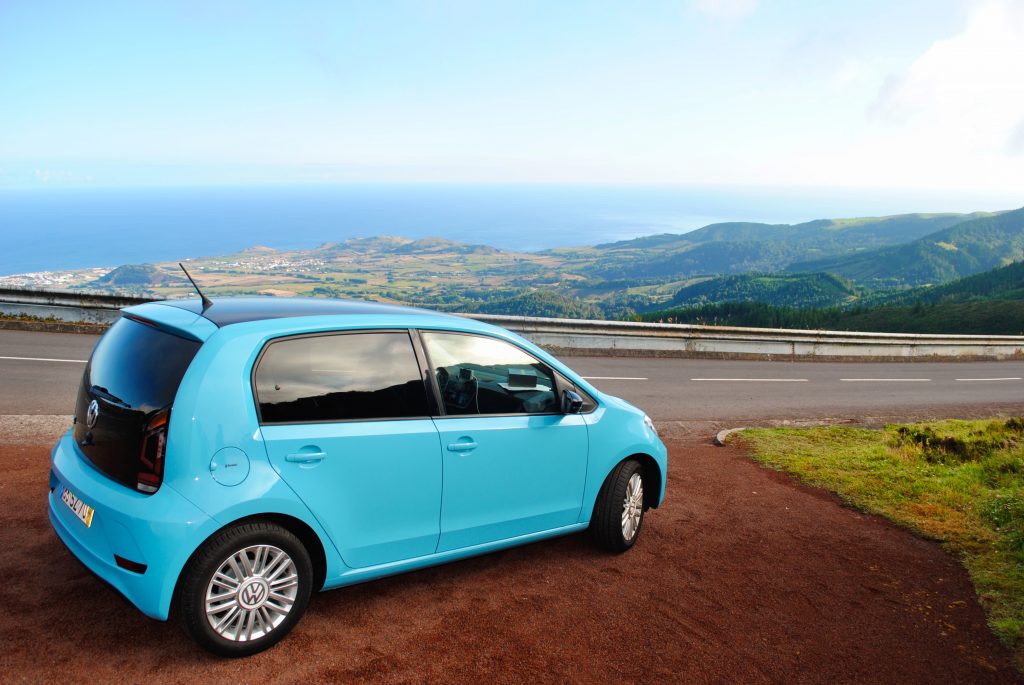 Another suggestion? If you drop your luggage off (as we did), you may want to stop in one of the Ponta Delgada bakeries and grab some
pastelerías (pastries) or sandwiches to keep in the car… we snacked on them throughout the day and it saved time from stopping for a sit down meal.
Miradouro do Pico da Barrosa
Miradouros are viewpoints and you'll see them all over the Azores. There are so many that we even shared a blog post with our favorites! Miradouro do Pico da Barrosa will give you an impressive view from above of Lagoa do Fogo (which you'll see even closer on your next stop). Supposedly in good conditions you can see the north and south coast of the island from this point but it was quite foggy while we were here.
Miradouro da Lagoa do Fogo
This next miradouro is just a few minutes drive away and will be a lot closer to Lagoa do Fogo.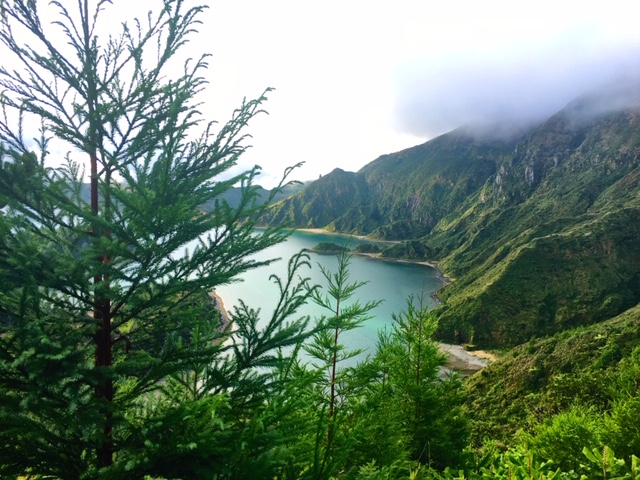 From this point, you can follow the path to hike down to the beach below (if time allows). This photo was taken just a few minutes hike down the trail (we didn't have time to go all the way to the beach). We loved all of the shades of green that you can see from this spot!
Caldeira Velha Hot Springs
On Google Maps, these hot springs are marked as Centro de Interpretação Ambiental da Caldeira Velha. Entrance into the park is €8 and includes access to all three thermal pools.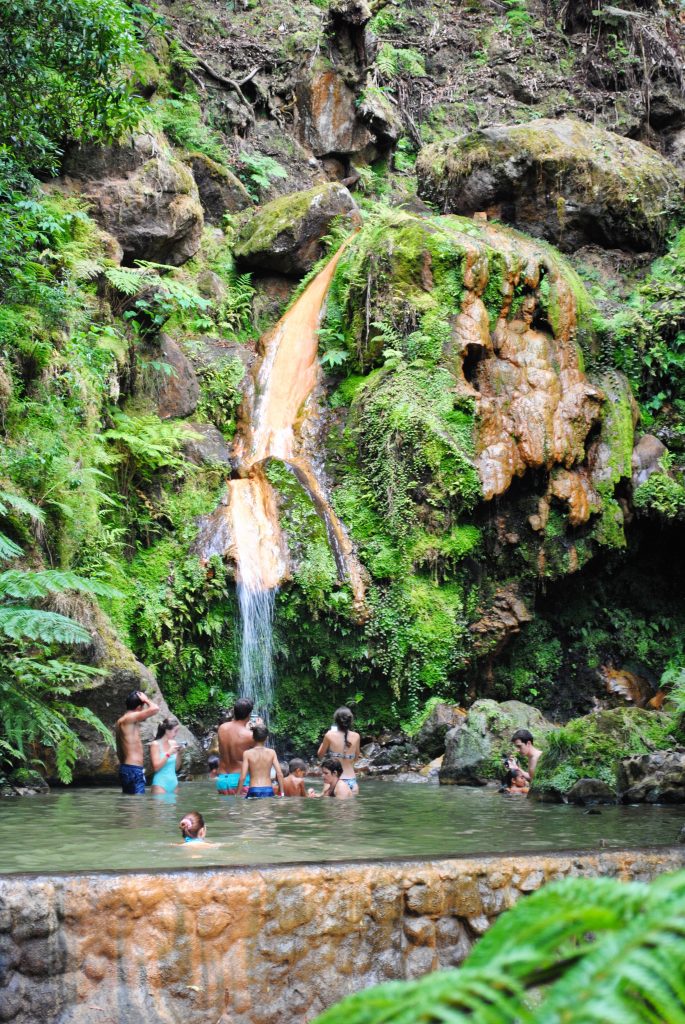 Caldeira Velha sort of feels like you're stepping into Jurassic Park. It's a great way to relax after a long day of sightseeing so you could consider moving this to the end of the schedule. It would be a little out of the way, but not significantly.
For more information about this and the other thermal pools on the island, check out our post on Hot Springs of the Azores.

Salto do Cabrito Waterfall
This was one of our favorite stops on São Miguel Island, but it does take some work to get to. To reach the waterfall, you'll follow the PRC29SMI trail which takes you along an old power plant pipeline. Even though the trail guide calls this hike easy, it does require climbing stairs and could be a little much if you're afraid of heights.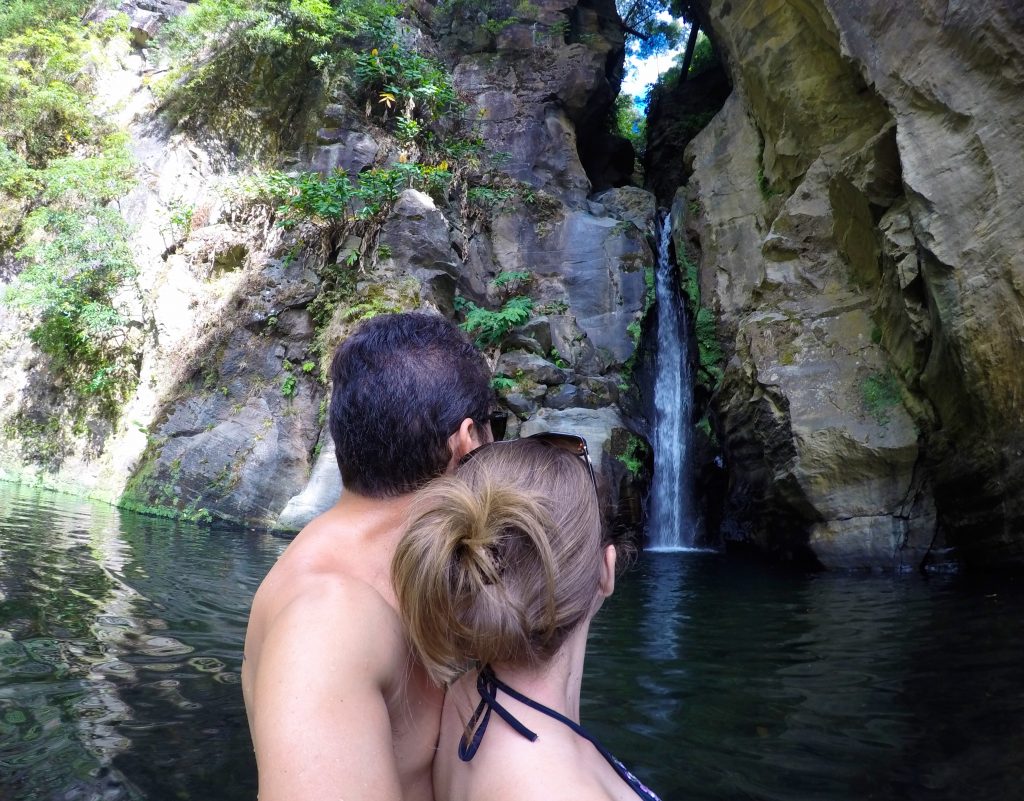 Give yourself about 2 1/2 hours for this stop. You'll need at least 45 minutes each way for the hike and plenty of time to enjoy the waterfall. For more information, visit our post on Magical Waterfalls of the Azores.
Miradouro de Santa Iria
This viewpoint is near the main road and offers expansive views of the north coast cliffs and ocean. Yet another "miradouro" that will take your breath away!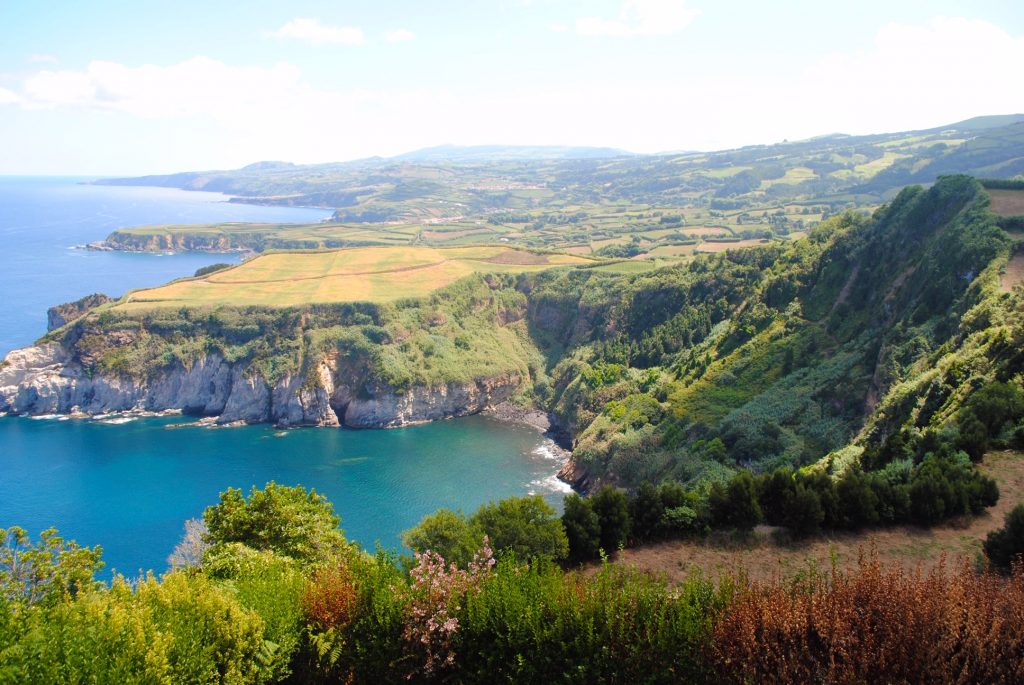 Gorreana Tea Factory
Did you know the only tea plantations in Europe are in the Azores? Well then, you have to stop by and visit, right?! We think so and that's why we included it on our list of 10 things you must do on São Miguel Island.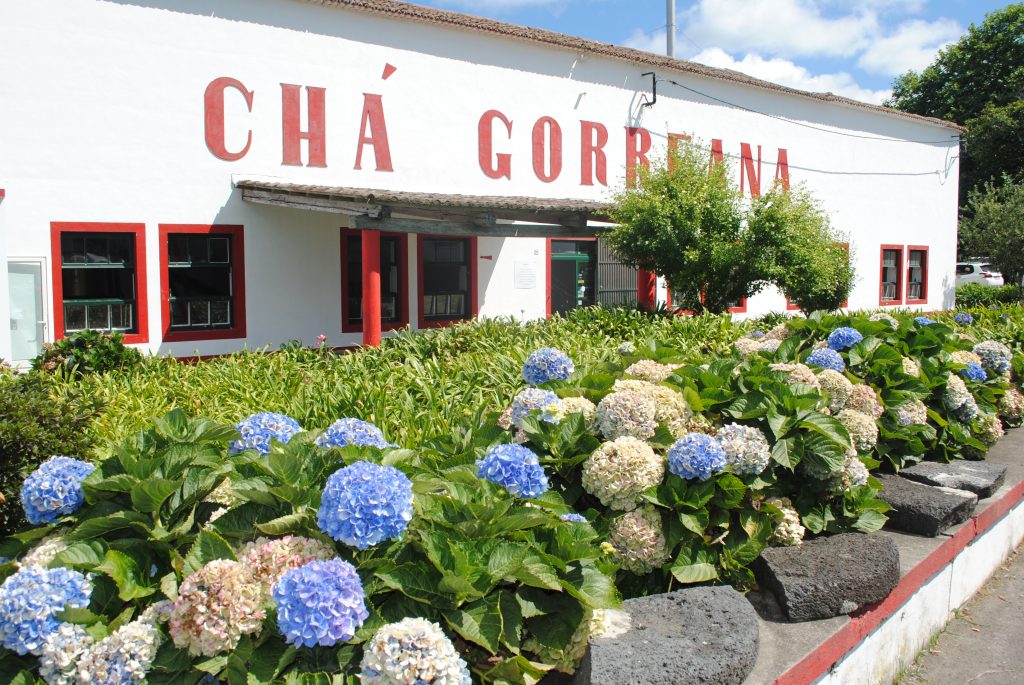 Gorreana Tea Factory has a small museum with free tastings and a shop where you can buy their tea. But what we like the most about this spot are the views of the tea fields!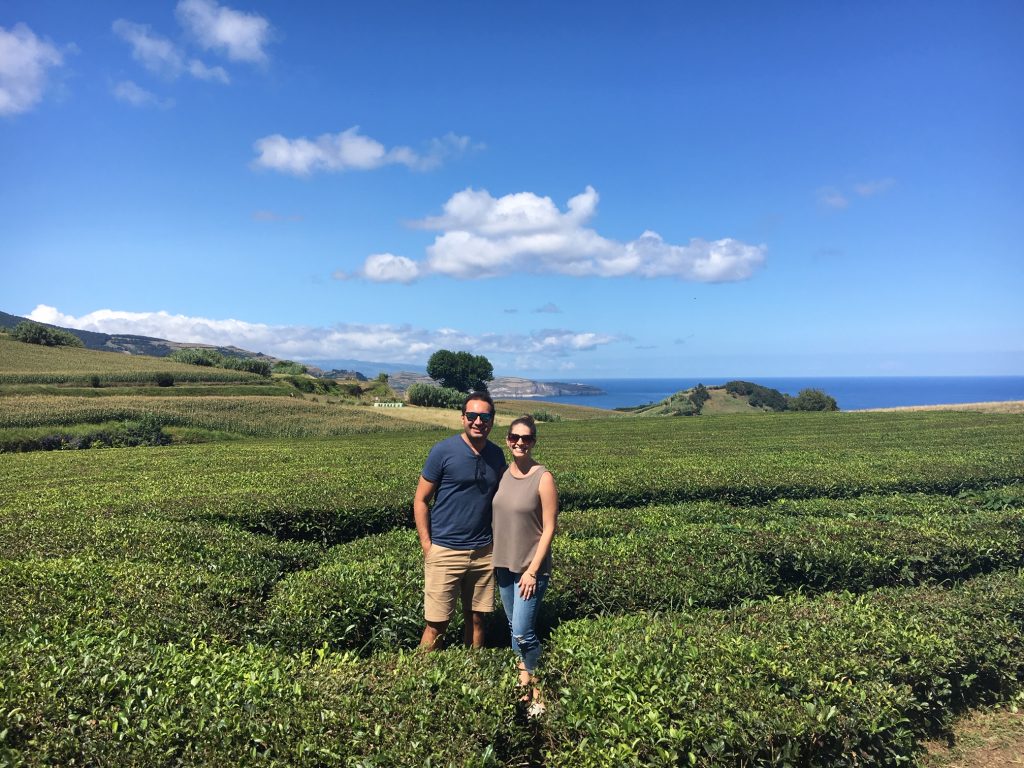 Feel free to wander. About an hour should be plenty of time to see the plantation and try some tea. You're welcome to stay longer and there are hiking trails through the area, as well.
Miradouro do Frade
This could be just another "viewpoint" (albeit a gorgeous one) or it could be a dip in the sparkling Atlantic Ocean. It's all up to you and how much time your schedule allows.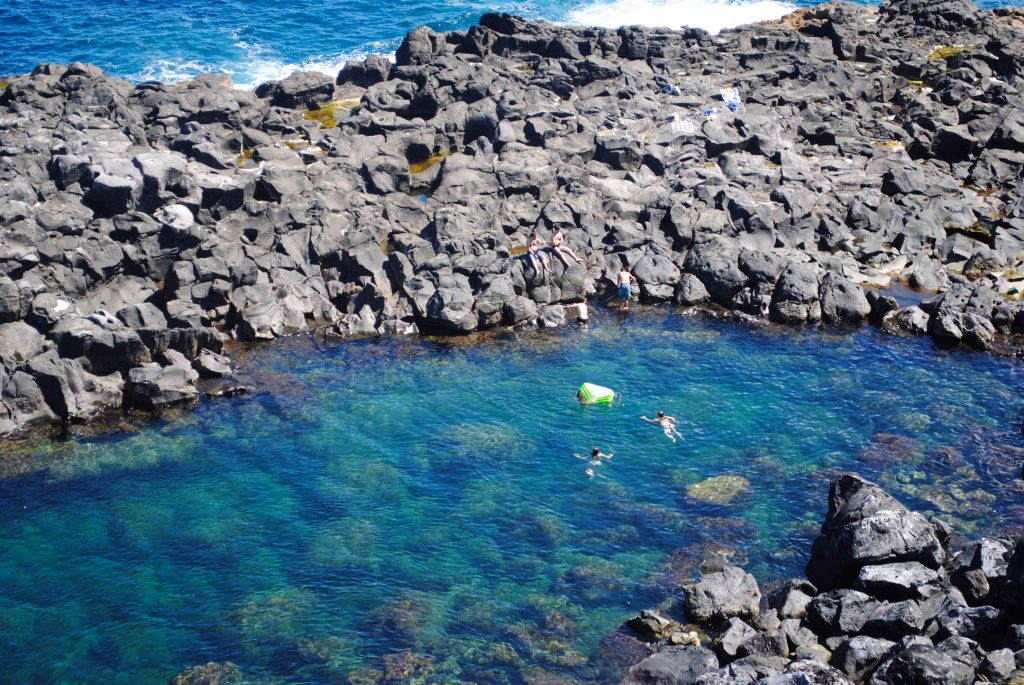 If you want to swim, you'll need to hike down from the overlook. We didn't try it, so I'm not sure how long it would take. It looked lovely, though!
Lagoa do Congro
This stop will require about a 15 minute hike, but its worth every minute. You'll follow a dirt path downhill to the most beautiful emerald-colored lake.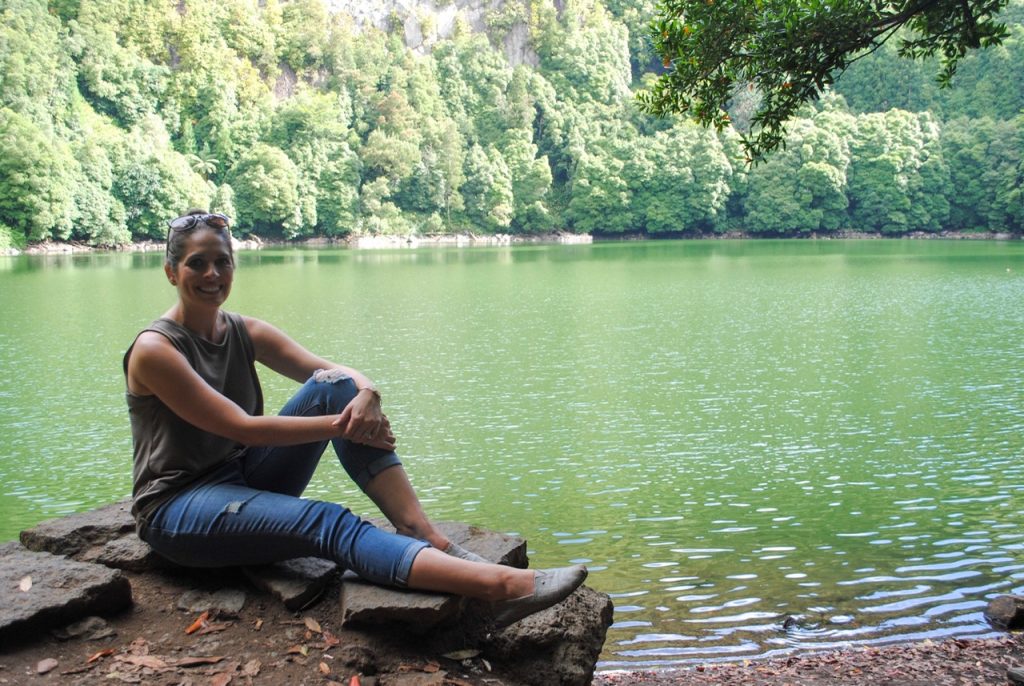 This is a pretty quiet spot and would be great for a picnic – we only saw a few other visitors during our time here.

Nossa Senhora da Paz
Nossa Senhora da Paz (Our Lady of the Peace) chapel is located in Vila Franca do Campo and overlooks the south side of the island. The drive up the hill to get here is pretty steep but doable.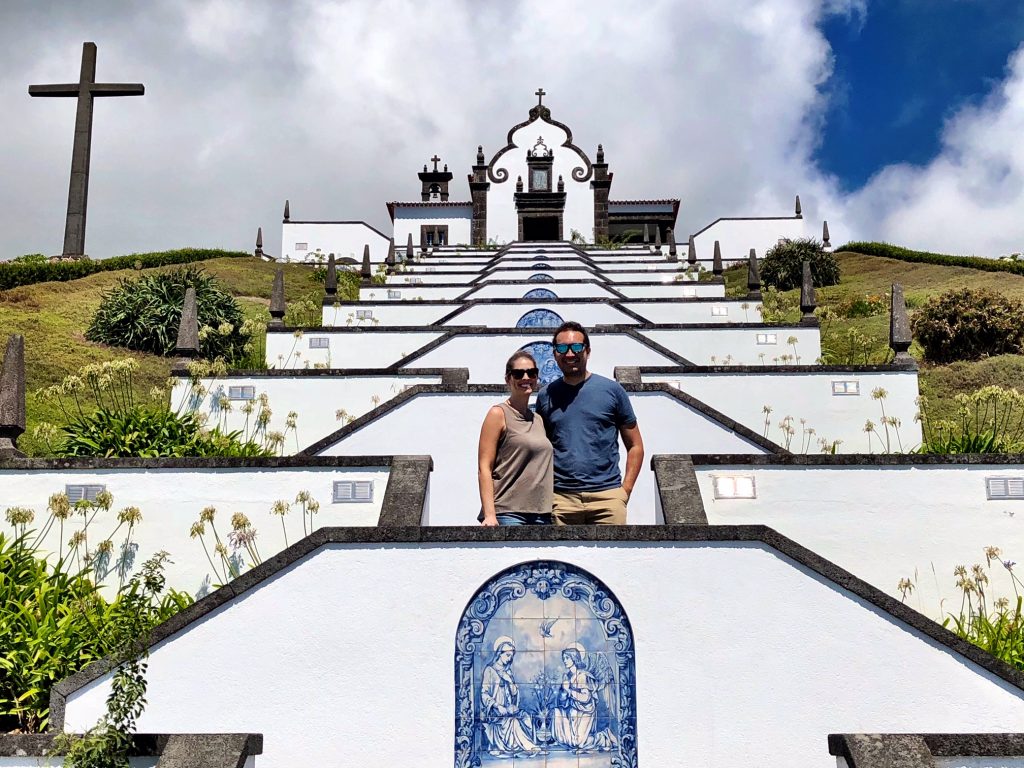 Not only is the church stunning, but you get an awesome view of the ocean and the south side of the island from this spot.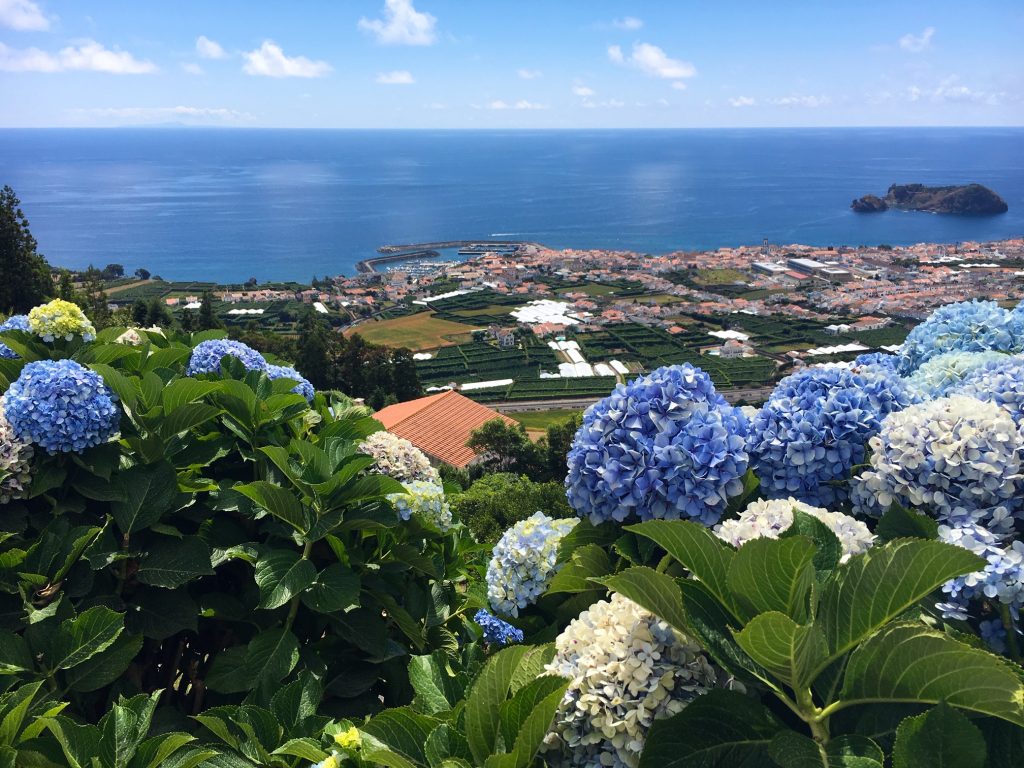 Return to Ponta Delgada
You'll likely be staying in the town of Ponta Delgada so this is where you'll end your day. Despite being a small town, there are many great restaurants and options for nightlife! Check out our post on things to do in Ponta Delgada.
It's Time for Your Azores Road Trip!
As previously mentioned, you'll need at least 3 days to see all that São Miguel has to offer. Be sure to check out our guide to the western side of
São Miguel Island and our guide to the eastern side of the island!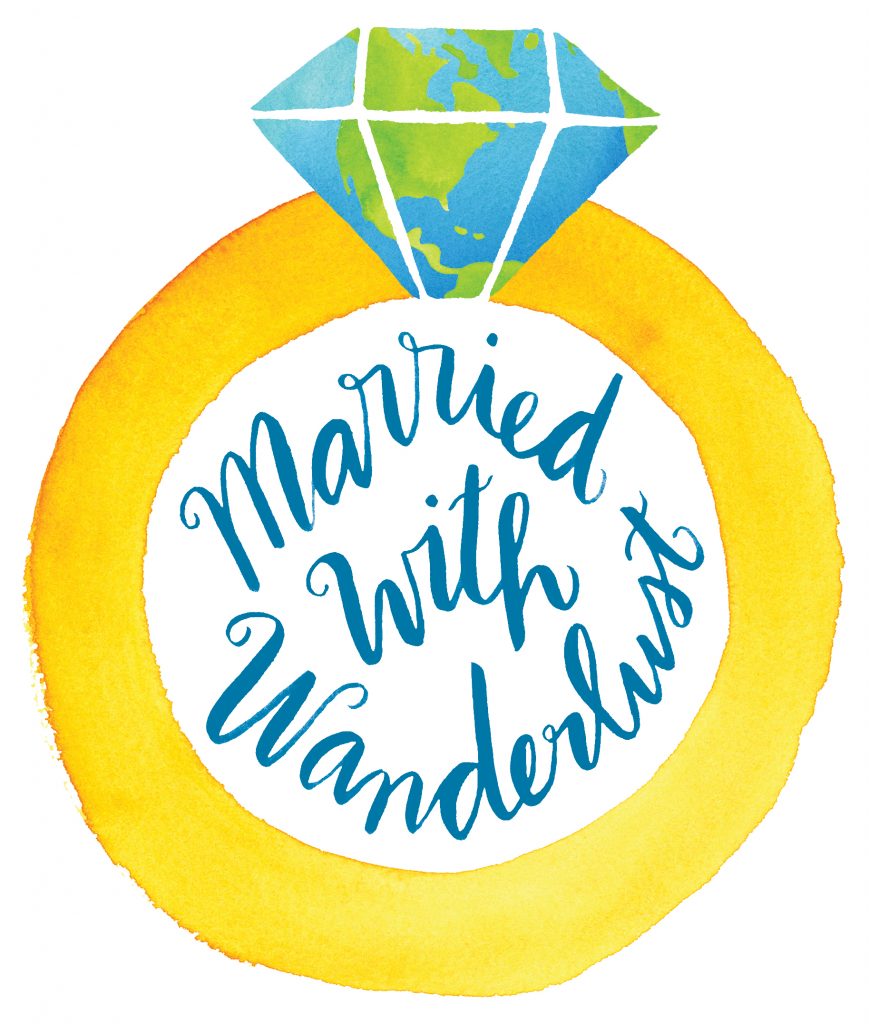 Enjoy our blog post? Pin it to share with others!