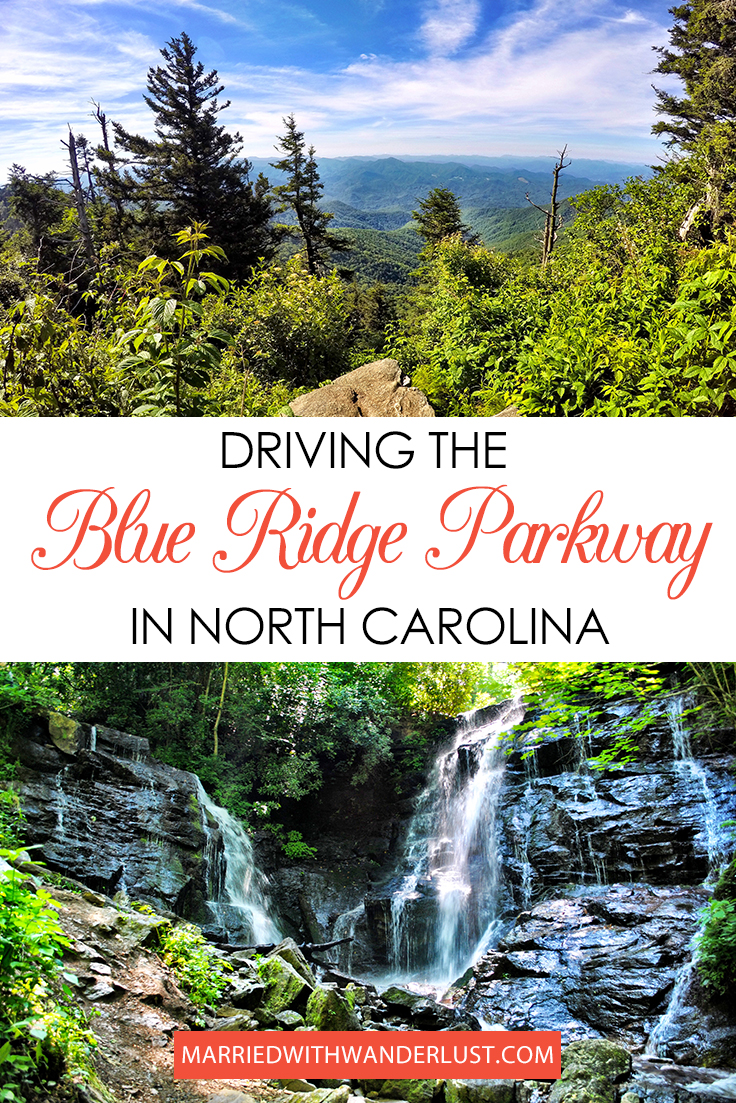 A few years ago, WC and I knew almost nothing about the Blue Ridge Parkway and Mountains. But when we saw a week's stay in a Waynesville, North Carolina cabin at a silent auction, we decided, why not?
We invited my parents and grandparents and made it a family affair for a week in June. The weather in the mountains that time of year is an amazing escape from the heat of Florida! But what we liked best (aside from getting to spend time with our family) was the scenic drive along the Blue Ridge Parkway and surrounding areas. We hiked, visited waterfalls, even saw a bear (fortunately while in the car and not on foot)!
Below is a guide to our favorite spots and our suggestions for visiting the Blue Ridge Parkway in North Carolina!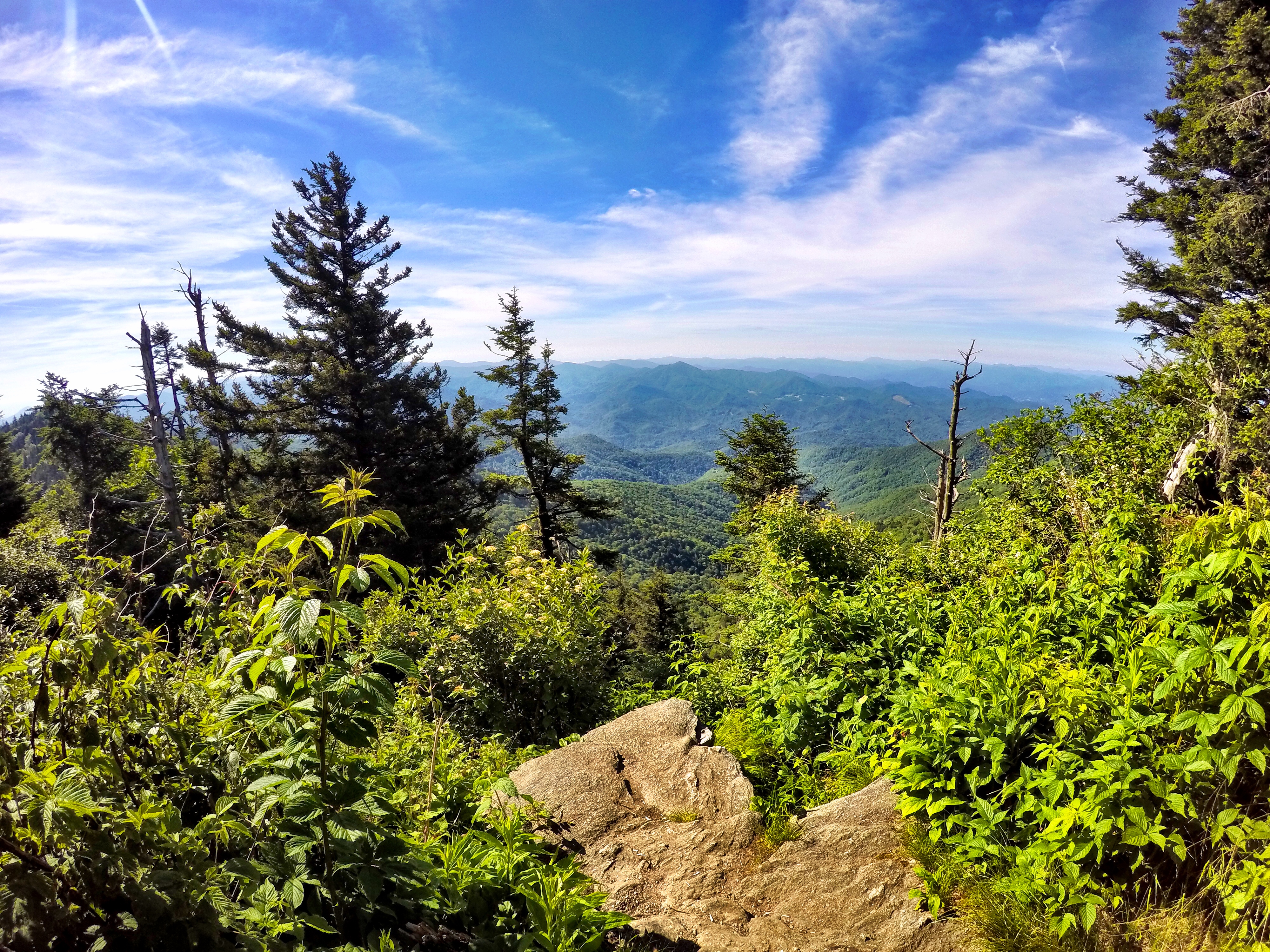 Where is the Blue Ridge Parkway?
The Blue Ridge Parkway is a scenic drive that takes you from North Carolina to Virginia linking Great Smoky Mountains National Park to Shenandoah National Park.
The Blue Ridge Parkway in North Carolina
Since we stayed in Waynesville, North Carolina, we drove only a short route near the beginning of the Blue Ridge Parkway (or end, depending which direction you're heading). We scratched only the surface of this 469 mile drive!
This National Park Service map will give you a better idea of the area we covered. Scroll to the bottom and you'll see the city of Waynesville on the map.
GETTING THERE: From Waynesville, NC, we took US-74 W (Great Smoky Mountains Expressway) and followed signs to the Blue Ridge Parkway. You'll turn right onto the Parkway for our route, which continues in North Carolina. If you turn left, you'll be on the Blue Ridge Parkway route that heads toward Asheville, North Carolina and, eventually, Virginia.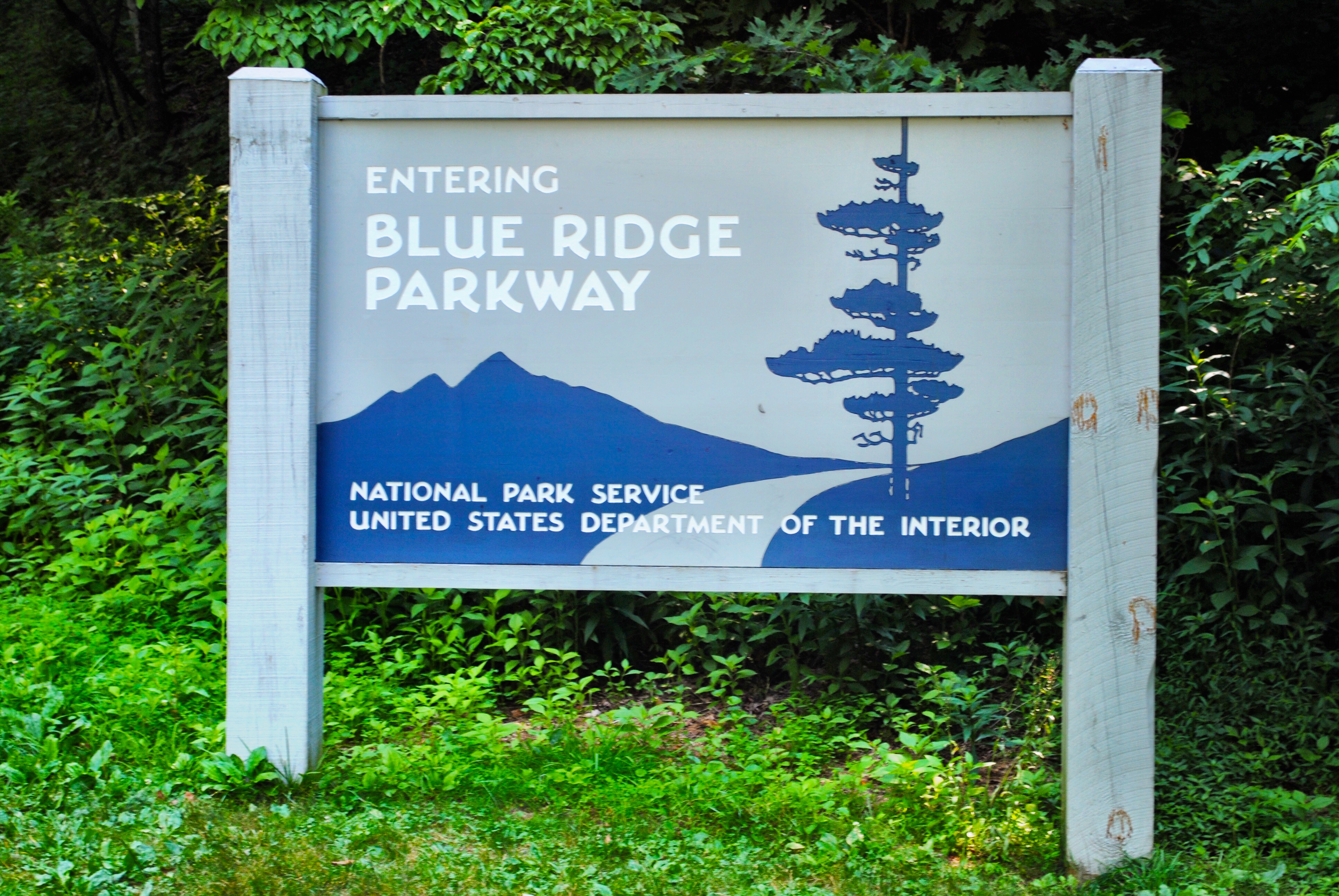 Our Blue Ridge ParkwayRoute
We split up our Blue Ridge Parkway exploration over two days, but you could easily do all of this in one day. (We wanted time in the morning and evening to spend with my grandparents at the cabin, so it just made sense for us to do two days).
Day 1:
Mt. Lyn Lowry Overlook & Woodfin Cascades Overlook
Once on the Blue Ridge Parkway, your first stop is Mt. Lyn Lowry overlook and Woodfin Cascades Overlook at mileposts 445/446.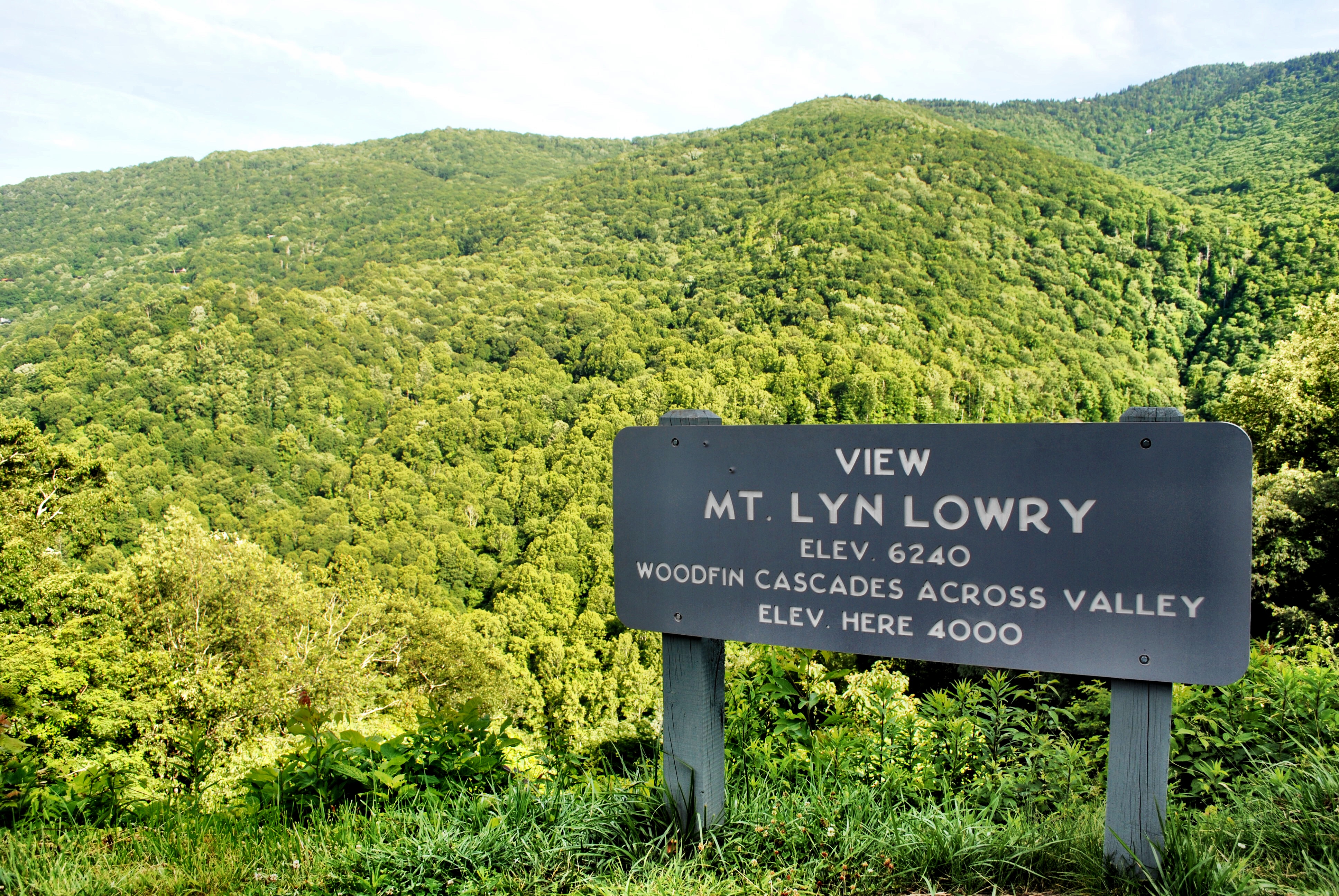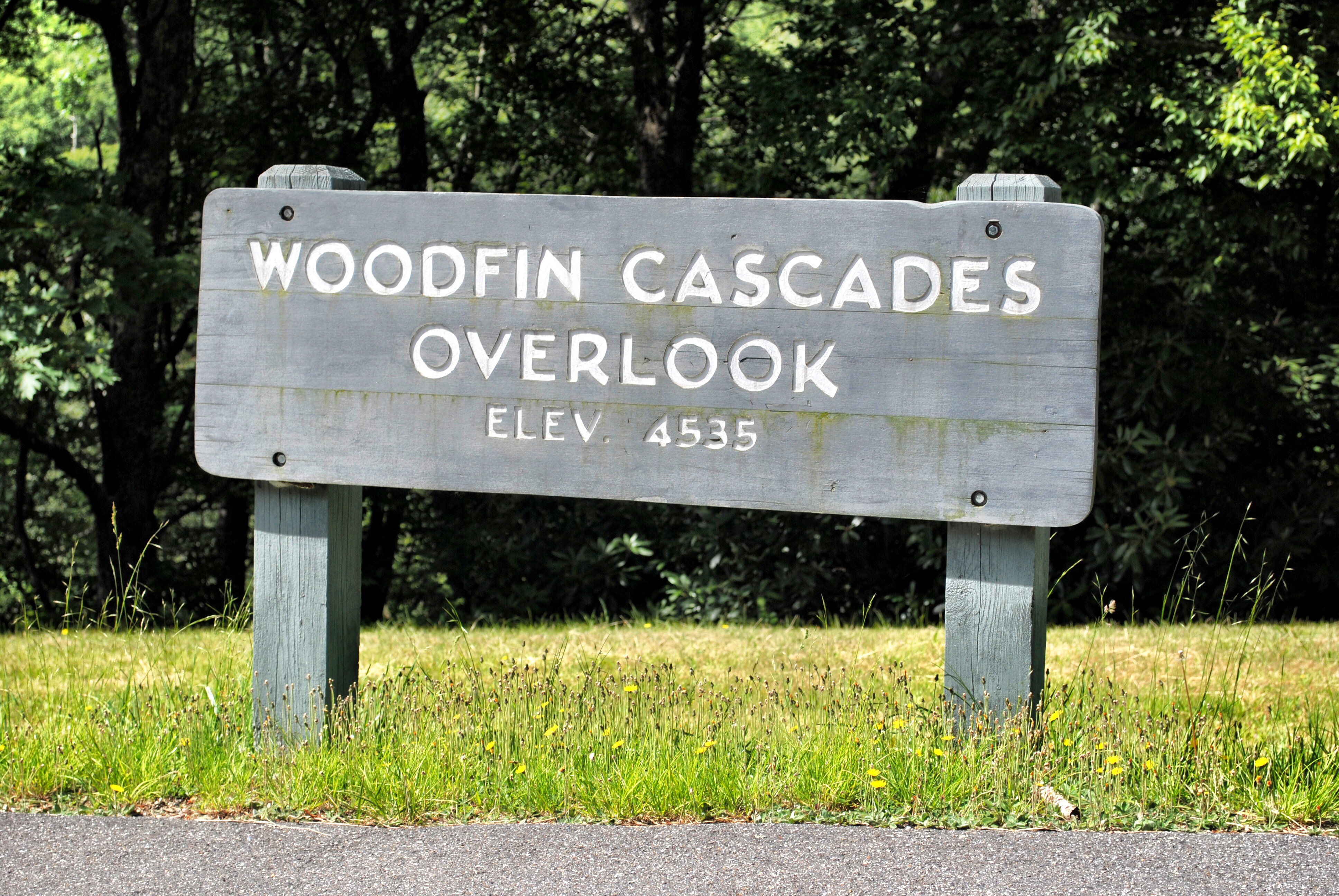 This is where you can get a look at Woodfin Cascades, a waterfall right along the side of the mountain as you drive by!
TIP: In the summertime, this waterfall is easy to miss because the leaves on  the trees almost cover it up! WC totally missed it as he was driving and had his eyes on the road. We had to turn around and come back to it! I've since read that the Woodfin Cascades Overlook trail can get you to an area with a better view of the waterfall.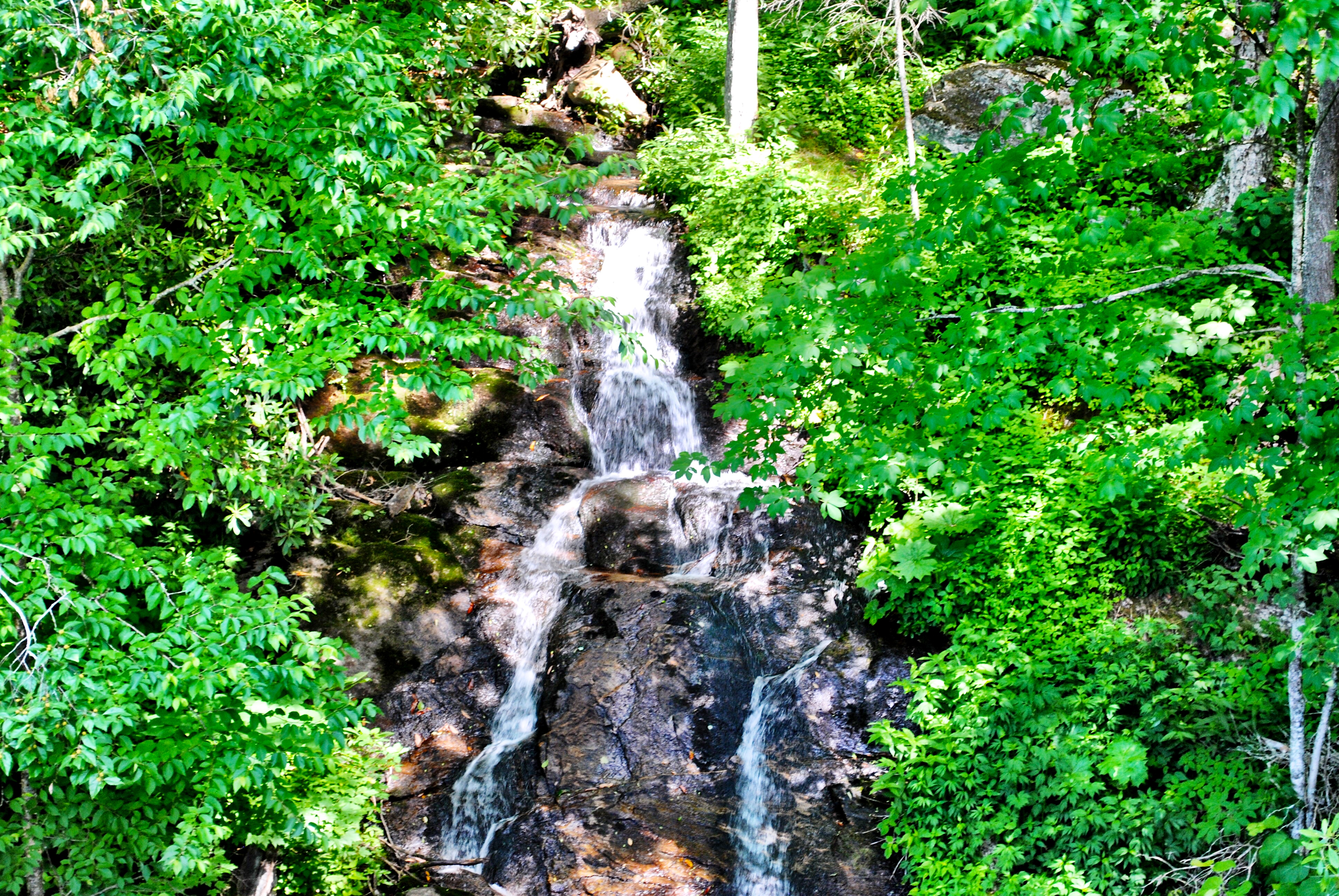 The Bear
It wasn't long after getting on the Parkway on our first day that we encountered the bear! It was right along the side of the road to the left of our car. Of course, just as I fumbled for my camera, it darted out in front of our car towards the trees on the right side. (I call the below picture my "Big Foot" sighting, since it's hard to tell that it was actually a bear!)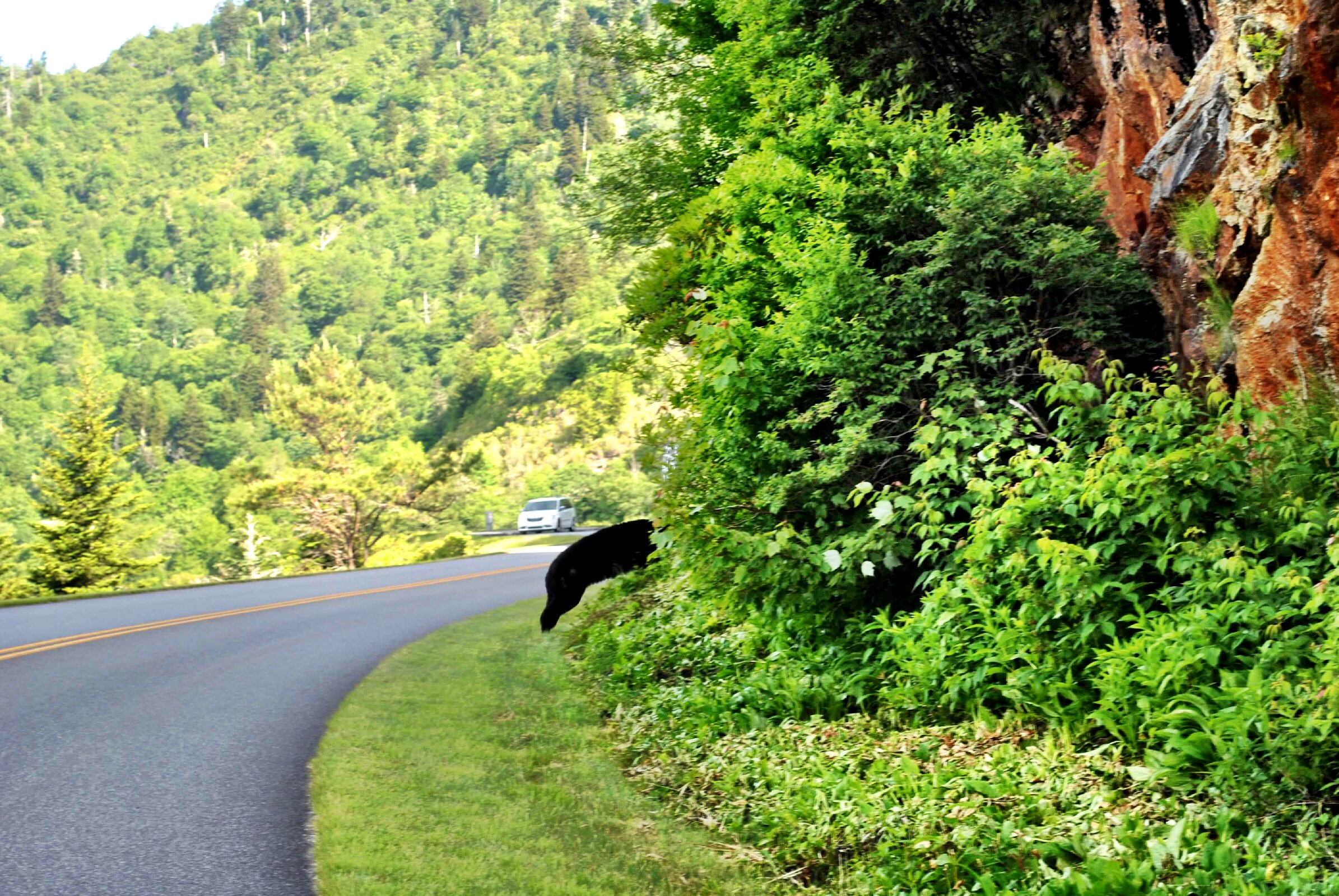 Waterrock Knob Trail and Visitor Center
Next up is Waterrock Knob Trail and Visitor Center (milepost 451). This area has restrooms and a visitor center, with gift shop and information. You'll also start here to take the trail to Waterrock Knob.
NOTE: Since we had limited time, this was our final stop on Day 1. However, if you start the day early, we'd recommend continuing on with the Day 2 itinerary below.
Not gonna lie… after seeing that bear a few minutes earlier, we were a little nervous about hiking up the trail. What if we encountered it again, but this time on foot??
Fortunately, we didn't have any bear run-ins on Waterrock Knob Trail. Our only encounters were other friendly hikers and a great view! At the top, the elevation is nearly 6,000 feet and you'll have an (almost) 360 degree view of the mountains. This hike is considered moderate to strenuous, mostly because the climb is steep.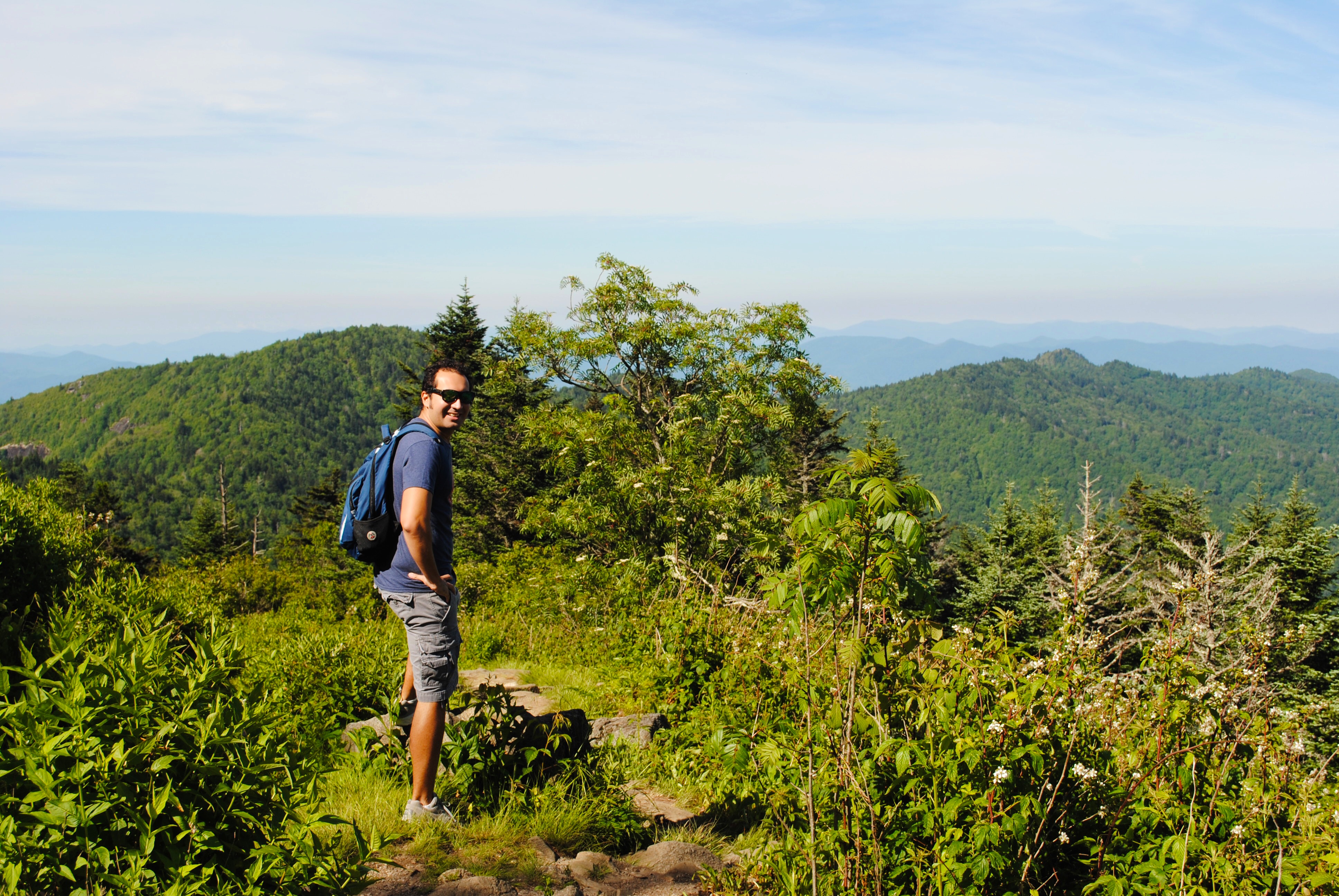 The hike to the overlook is about .6 miles and combines a dirt path with some wooden steps and rocks.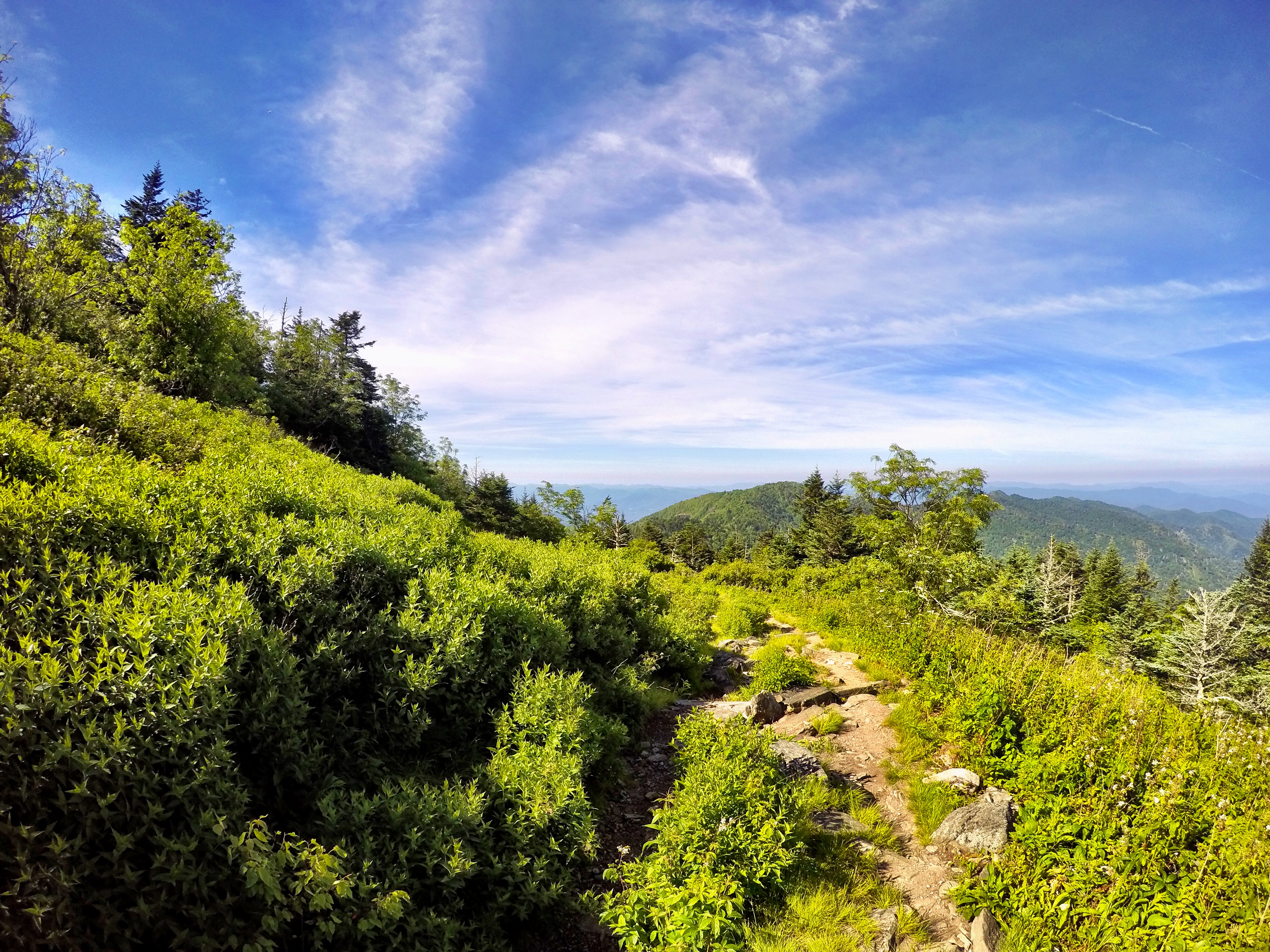 We finished off the lovely afternoon with a picnic lunch back at the bottom of the trail. The visitor area has a handful of picnic tables with a great view!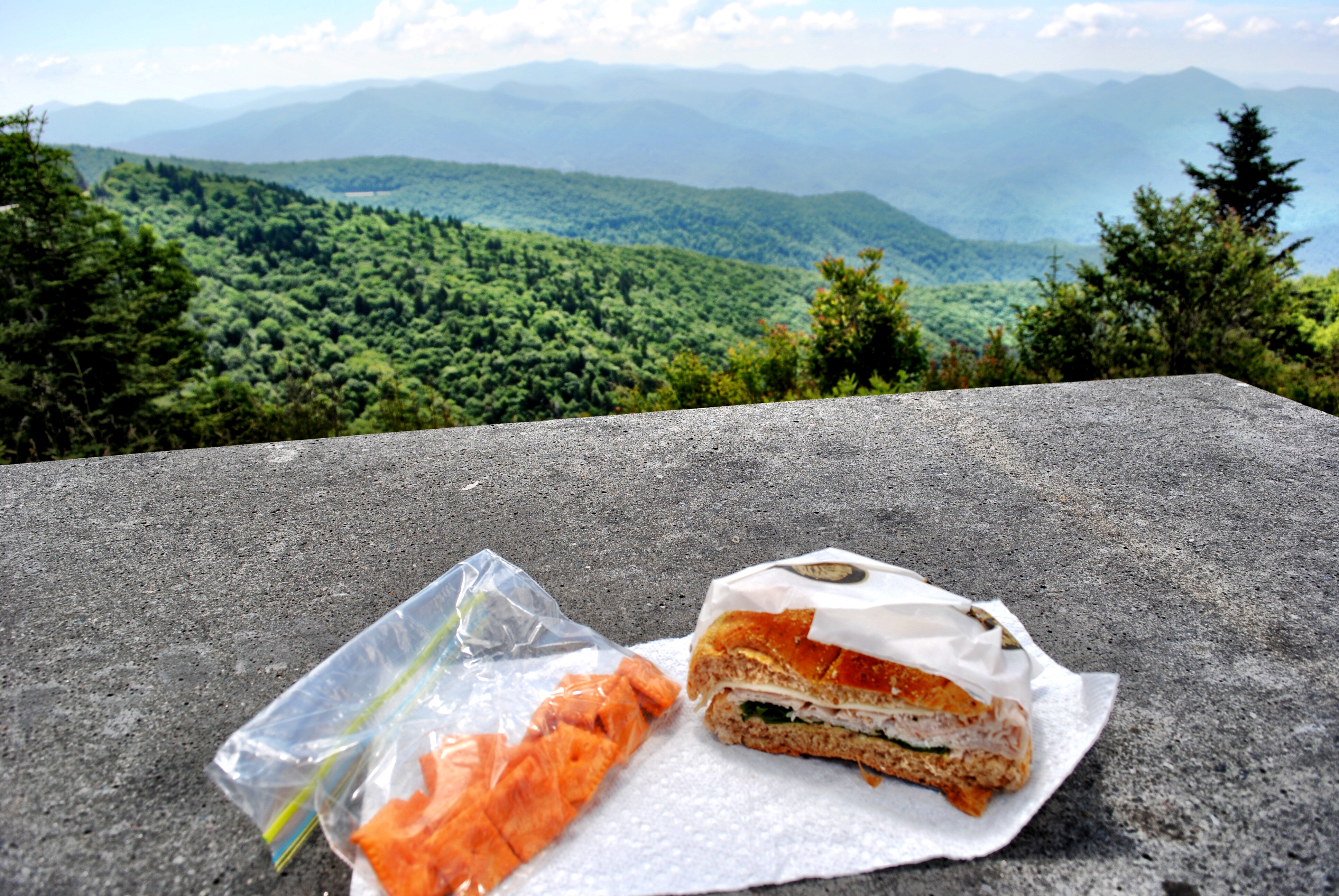 Day 2:
On our second day on the Blue Ridge Parkway, we came from the same direction (Waynesville) and drove past all the viewpoints from the day prior. (Hence, why we recommend just continuing on as part of one full day. It will save you a lot of time!)
Soco Falls
From the turnoff for Waterrock Knob, you'll keep going about 5 miles until you reach US-19 S. Head left on US-19 S toward the town of Cherokee. You'll be looking for Soco Falls (on the left).
TIP: It is easy to drive by this spot if you're not looking! There are not any signs indicating a parking area. Coming from the Blue Ridge Parkway direction, be on the lookout for signs that you are entering Cherokee land. After that, keep an eye out for a very small blue sign indicating the falls are .5 miles away. From what I've read, the sign is wrong and the falls are actually closer! That's probably why we drove right past the first time!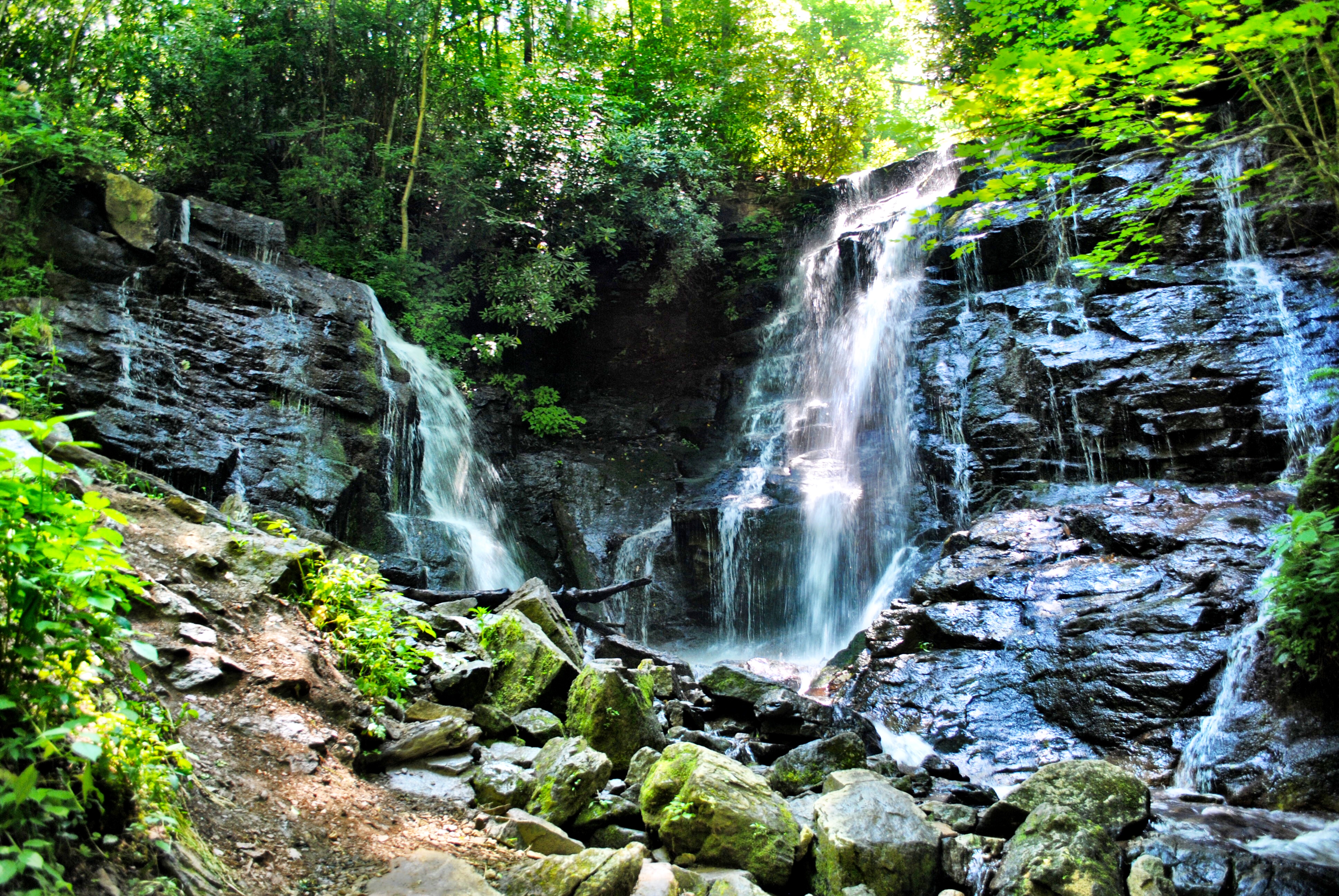 There is a short walk to an observation deck with a view of Soco Falls. However, if you like to hike, there is a steep trail going down to the bottom of the falls.
NOTE: Be very careful if you decide to go to the bottom. This trail is not maintained and can be slippery. You will need shoes with a good tread.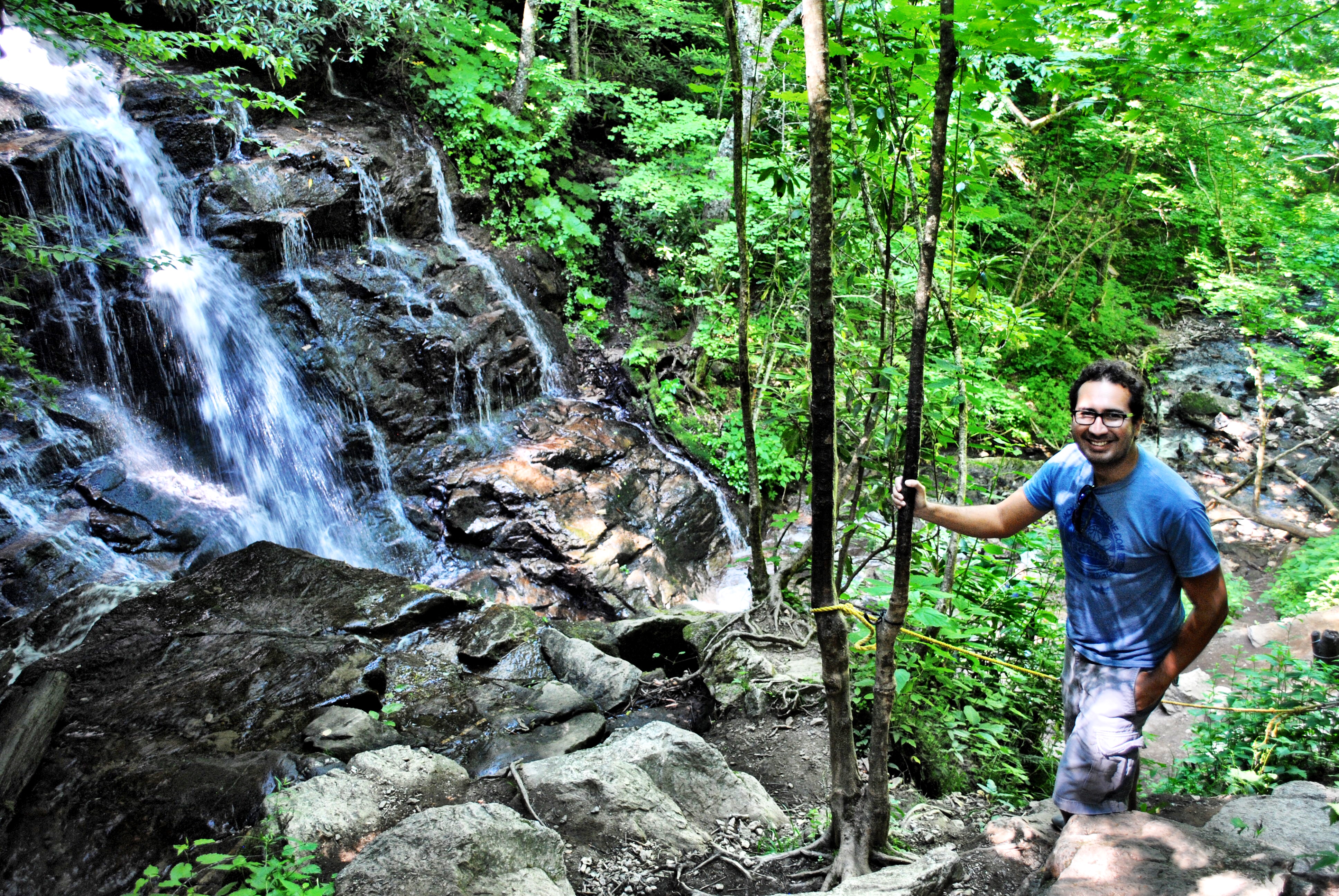 The view from the bottom is very beautiful and serene. There is just something about waterfalls that we love!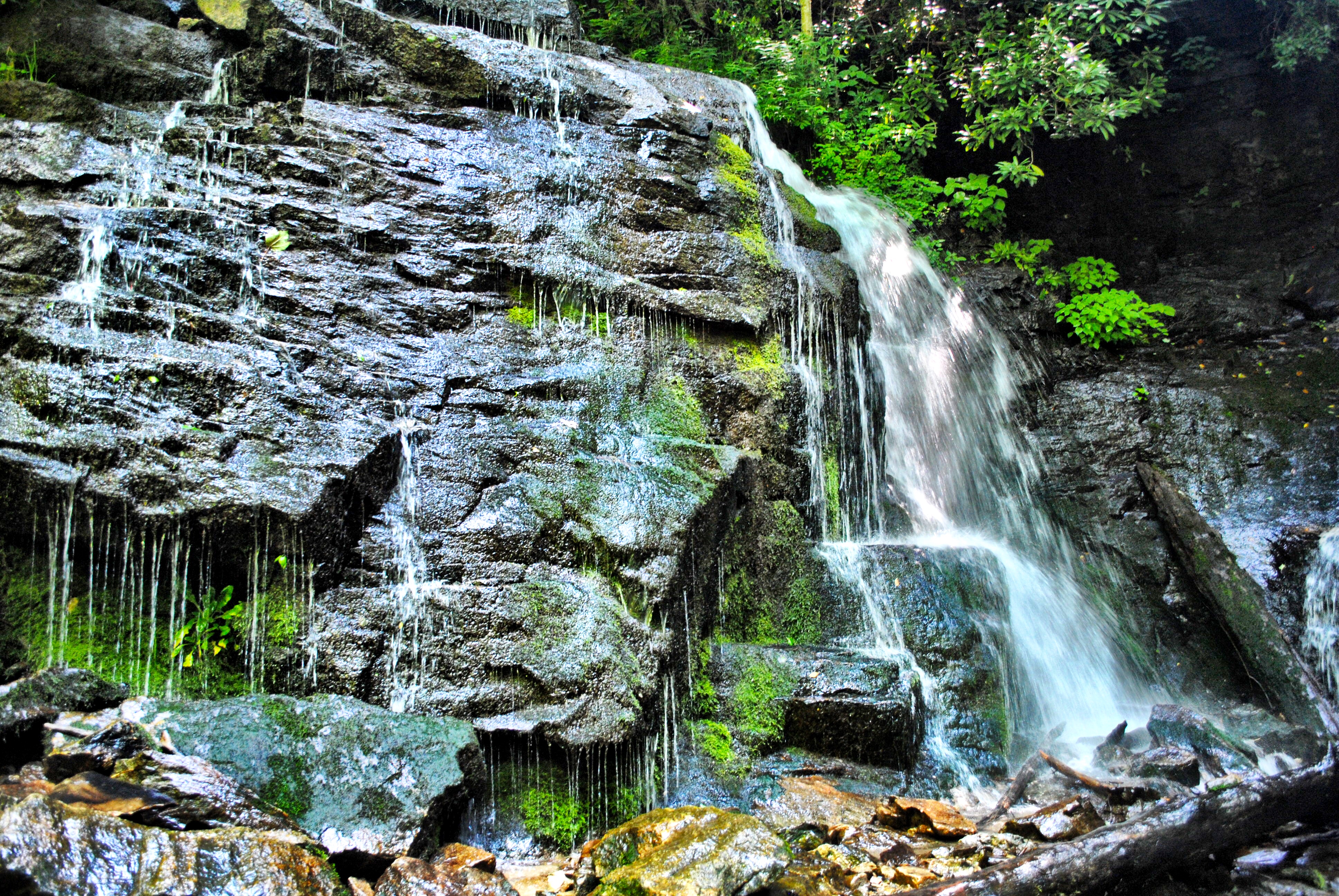 Mingo Falls
This next stop can be tricky if you lose  cell phone service (and GPS) like we did. From Soco Falls, you will continue the same direction on US-19 S for about 10 miles. The road will split in the town of Cherokee, and you'll head right onto State Road 1368. At that point you will be only a few miles away.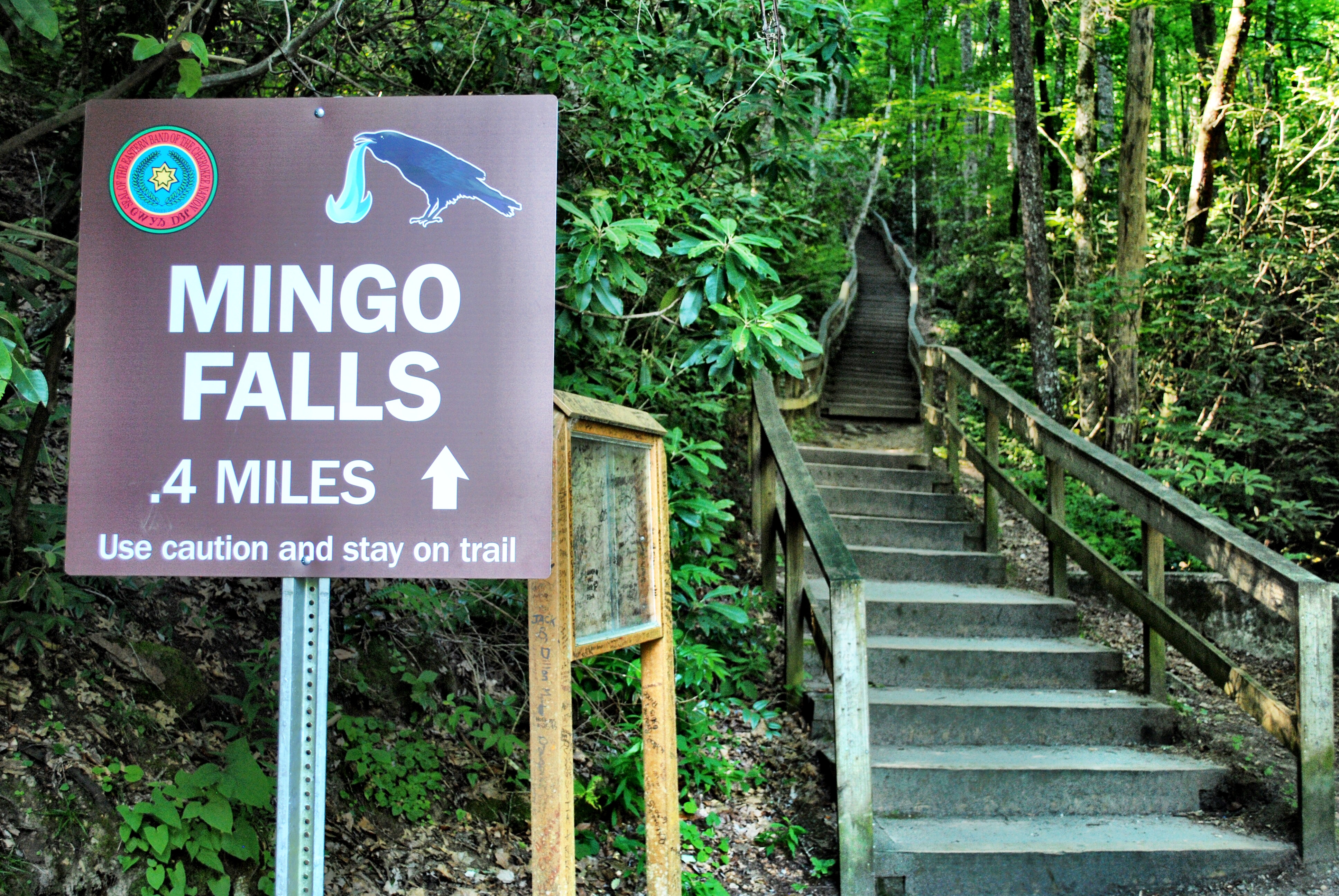 If you don't like stairs, this might not be the waterfall for you! While the hike is not strenuous, you will have to climb about 150 steps to get to the falls. We promise it's worth it!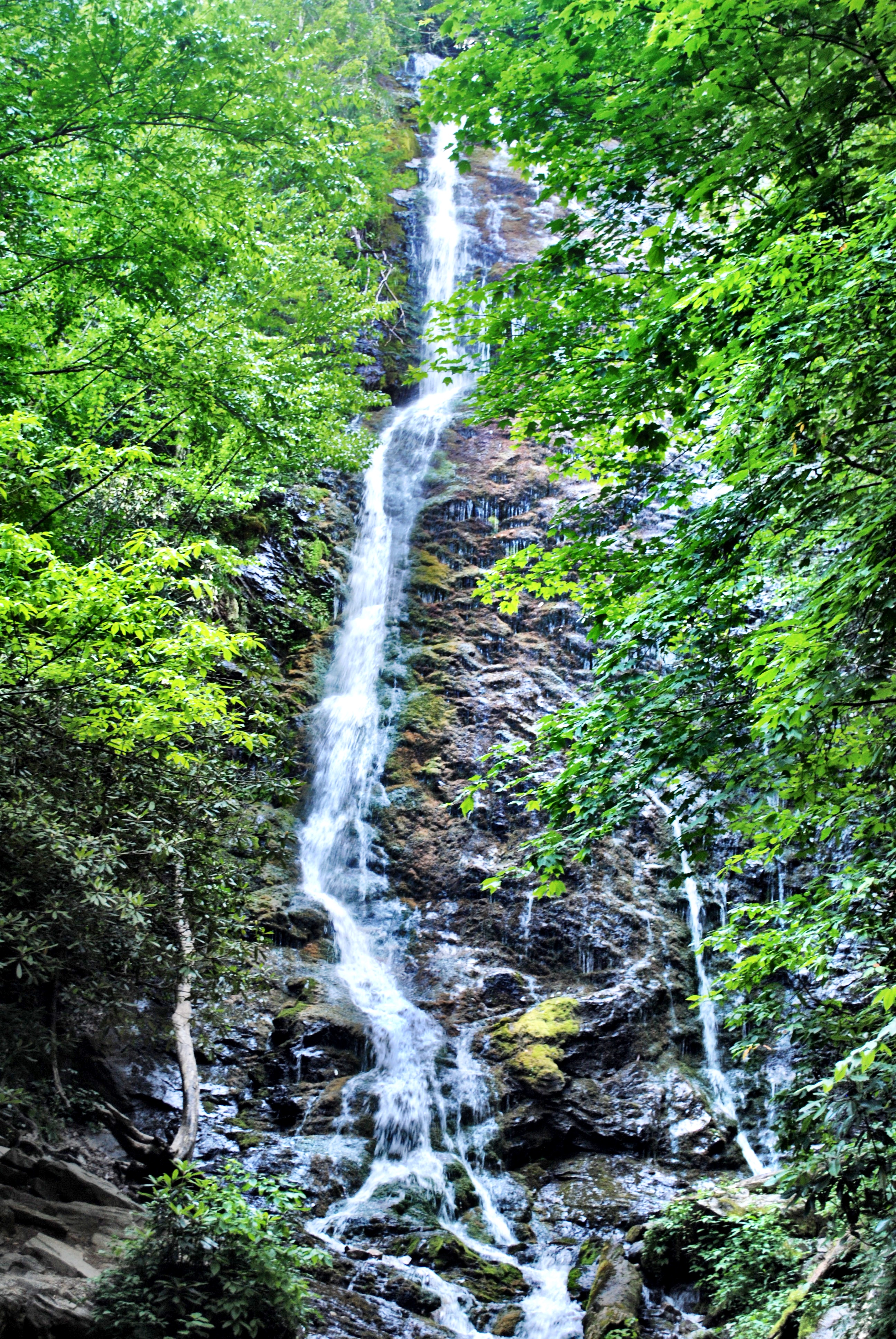 Once you make it to the observation platform, you can climb down to the bottom and walk on the old logs and rocks.

Back on the Blue Ridge Parkway
Once you've wrapped up at Mingo Falls, the drive will take you back onto the Blue Ridge Parkway to head back towards Waynesville. From the falls, you'll take Sherill Cove Road to Big Cove Road and then get on US-441 N, which will deposit you onto the Blue Ridge Parkway entrance
Raven Fork Overlook
The first overlook we stopped at on the way back was Raven Fork. At this point, you may feel like you've stopped at enough overlooks but we enjoyed seeing the different views at each of them. Here you'll be at milepost 467.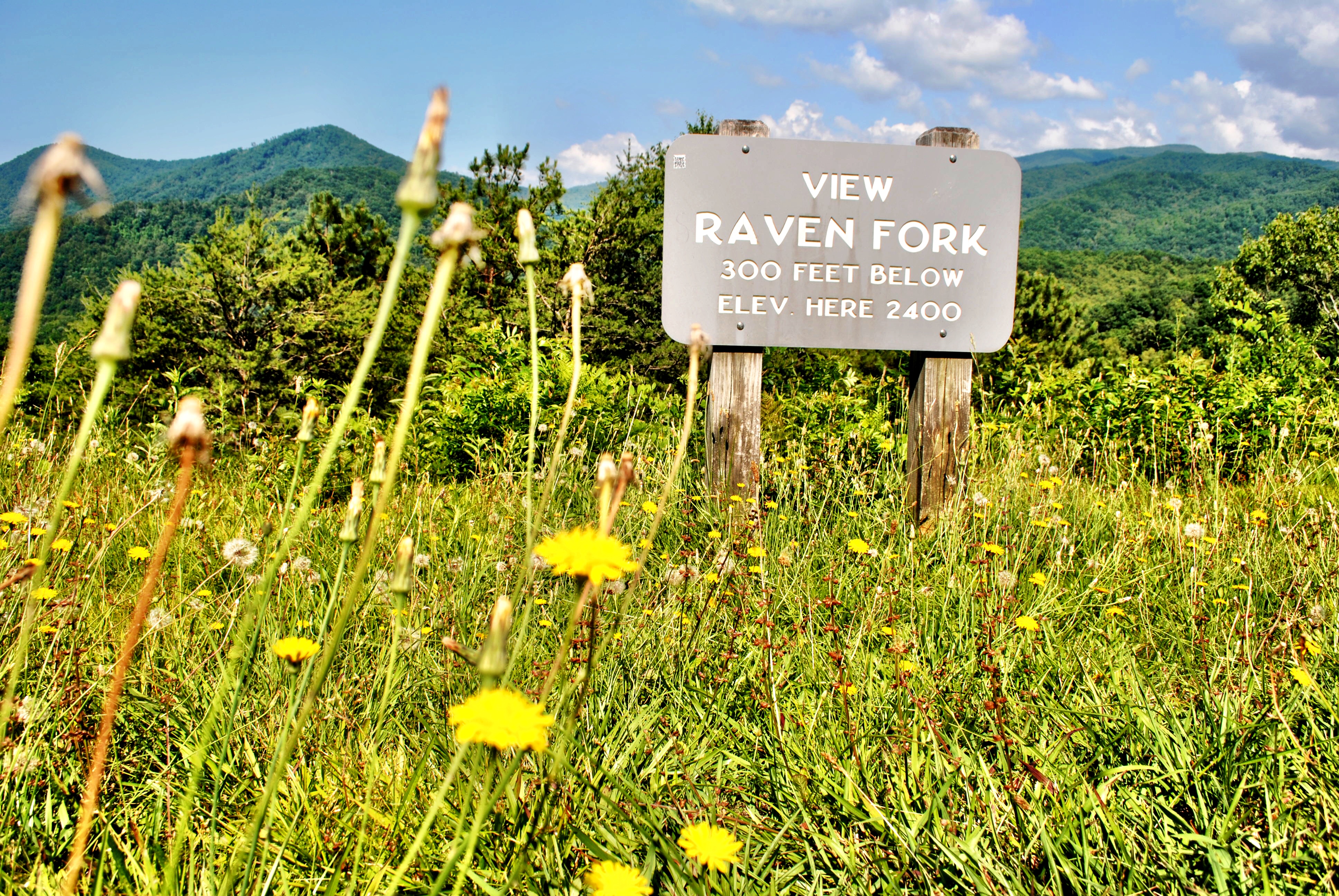 Rattlesnake Mountain Tunnel
The Blue Ridge Parkway has a total of 26 throughout the 469 mile road and you'll pass a few of them if you follow our route. Rattlesnake Mountain Tunnel is at  milepost 465. We slowed down to snap this photo out the window because there was no one else around, but there wasn't really a good area to pull over.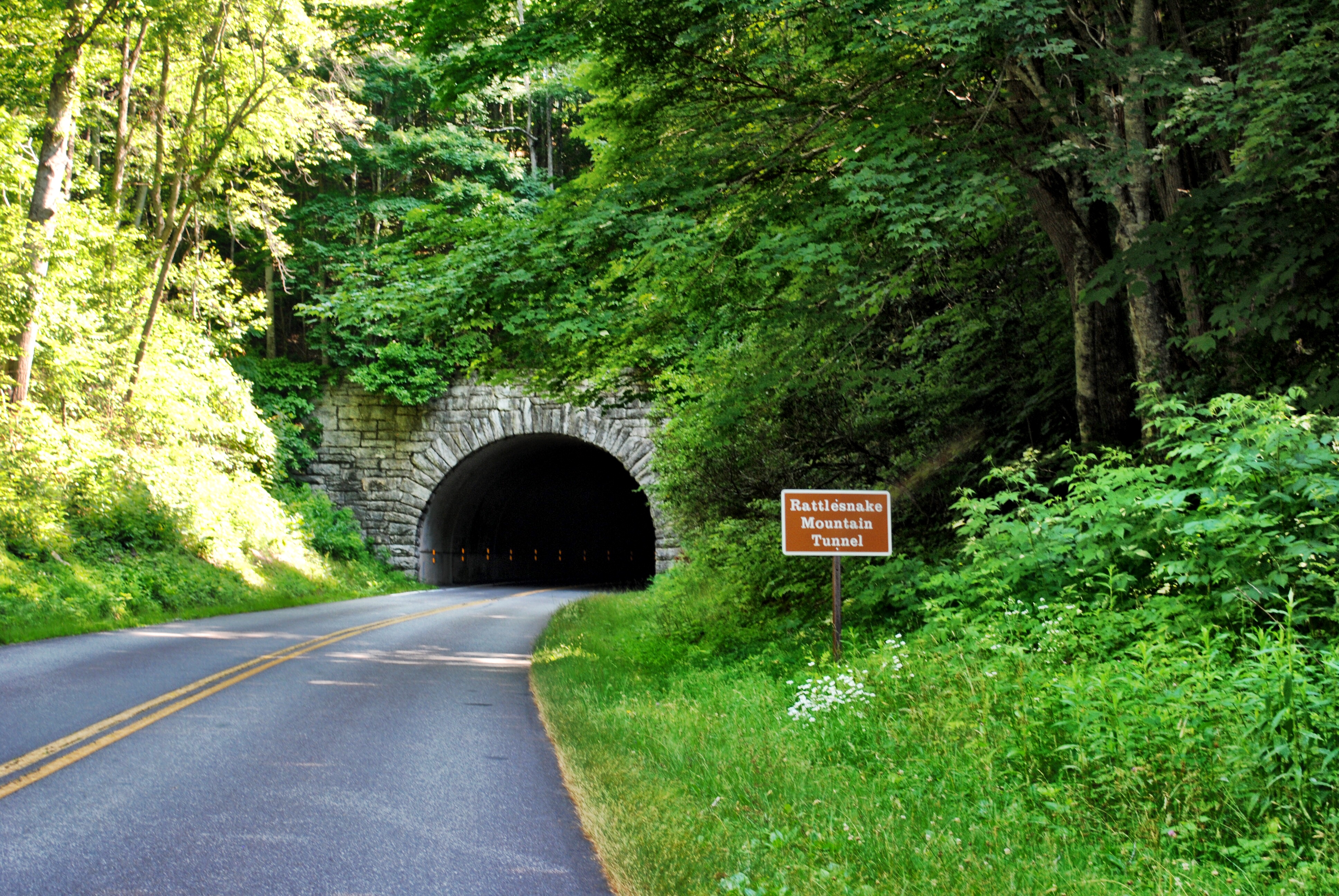 Thomas Divide Overlook
Thomas Divide Overlook is at milepost 463. The view is partially blocked by the large trees that have grown along the side of the mountain.
We were obviously here during the daytime, but some nighttime visitors have reported glowing lights in the sky from this viewpoint. Just do a quick online search and you'll see several articles and posts about it!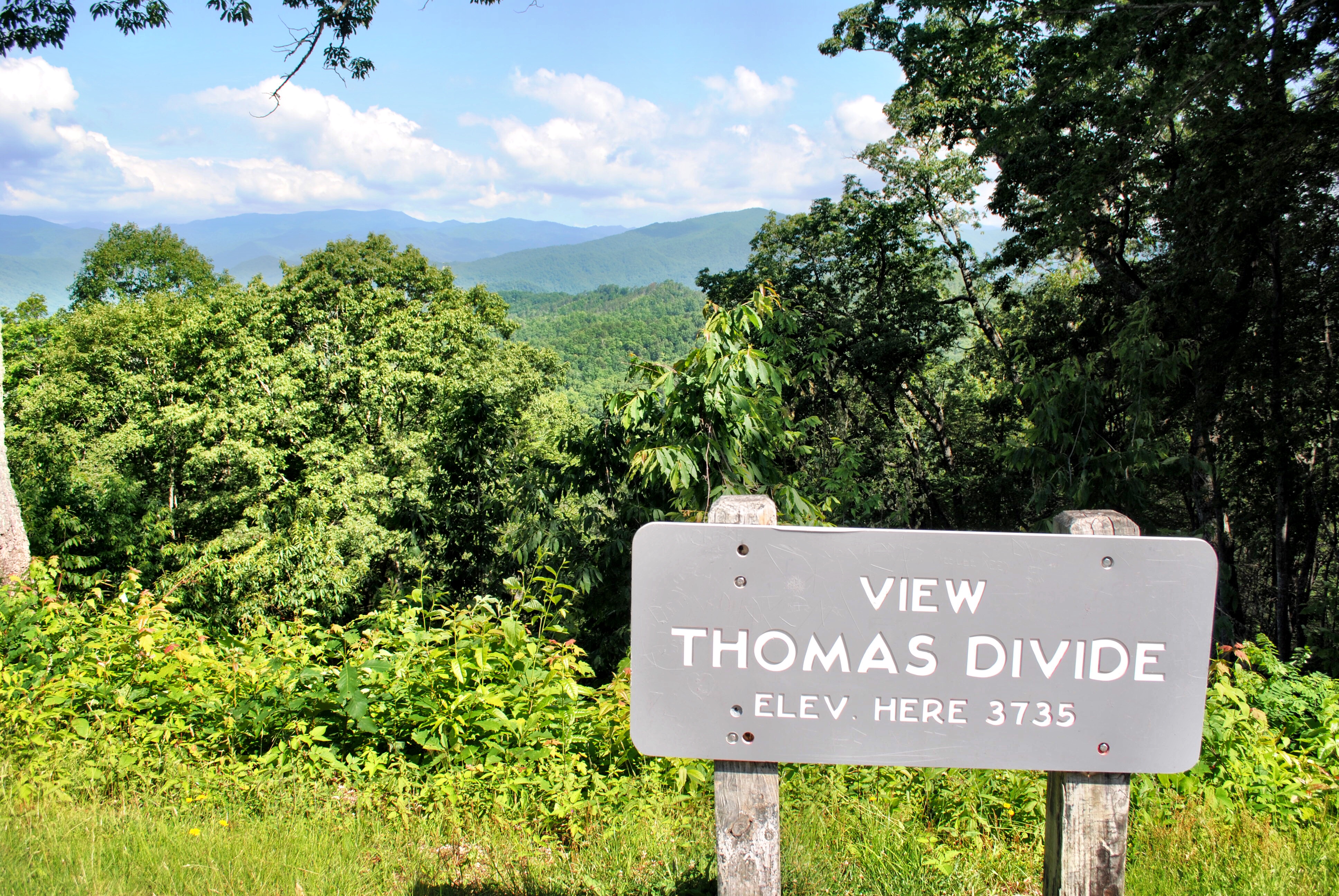 The Rest of the Blue Ridge Parkway
We wish we could have seen more of the Parkway and would definitely like to return sometime (especially during Autumn when the leaves are changing)! There is so much to see and do, not only along the Parkway but in the surrounding areas as well.
TIP: If you decide to spend some time in Asheville, make sure to check out our Guide to Visiting the Biltmore Estate beforehand!

Enjoy our blog post? Pin it to share with others!