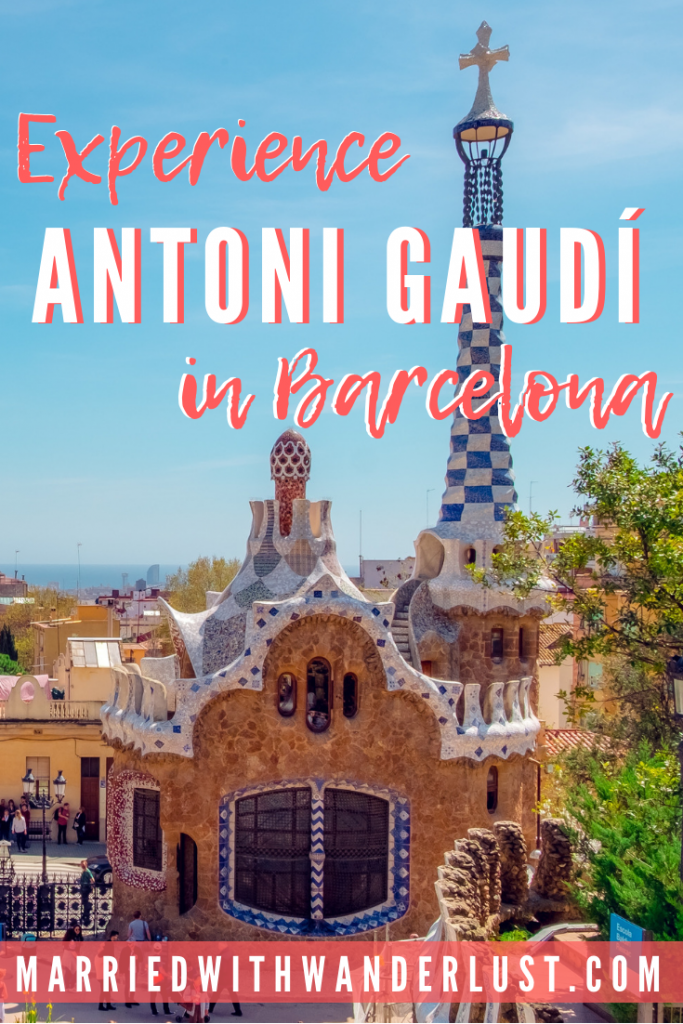 The second you begin planning your trip to Barcelona, your Google searches will be filled with many colorful buildings, thanks to the creative and inspiring architect Antoni Gaudí.
Experiencing Gaudi in Barcelona will be top-priority on your to-do list and for good reason. His mark on the city is one-of-a-kind and there are so many opportunities to enjoy his work.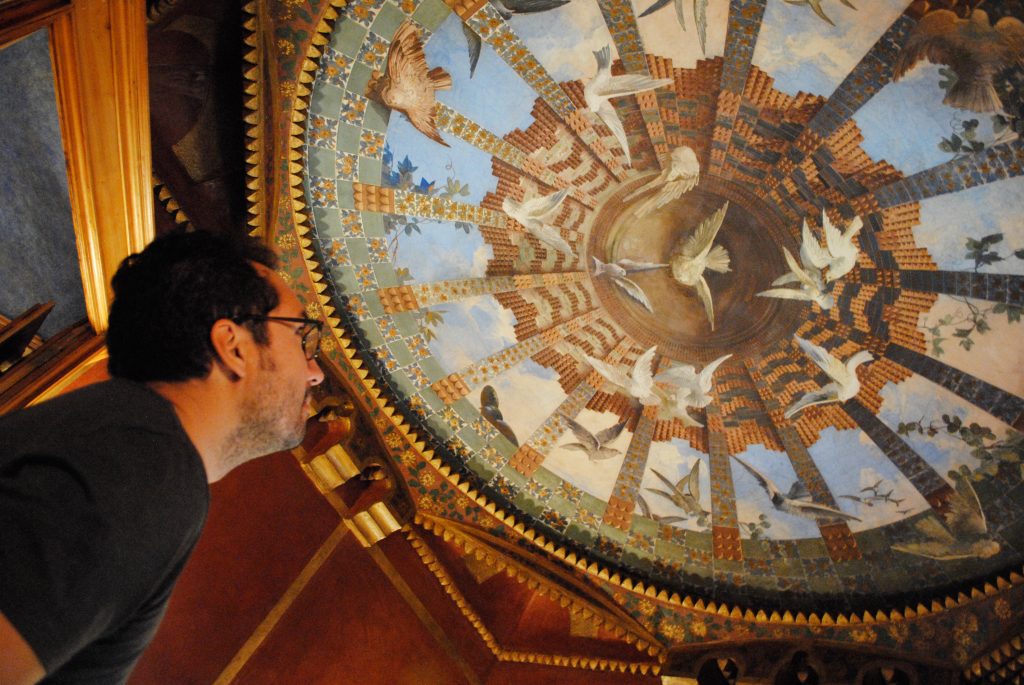 Which Gaudí should I visit?
We asked this exact same question before and after arriving in Barcelona. Even after seeing several of his buildings from the outside, we still couldn't decide which to visit. We would have loved to see them all but a) we couldn't afford to and b) we didn't have time!
To be honest, it ended up falling to chance for us! Casa Vicens happened to be discounted on the day we were there so it made that an easy choice. We had also read a lot about Parc Güell and since it was a long walk to get there, we went ahead and committed. Honestly, we're sure all of Gaudí's works would be great to see. We'd suggest just figuring out your schedule and your budget and use that to help you choose!
Here are just a few of our favorite ways to immerse yourself in Gaudí's architecture:
Casa Vicens
We fell in LOVE with Casa Vicens, enough to joke about having a replica made for our own home if we ever win the lottery.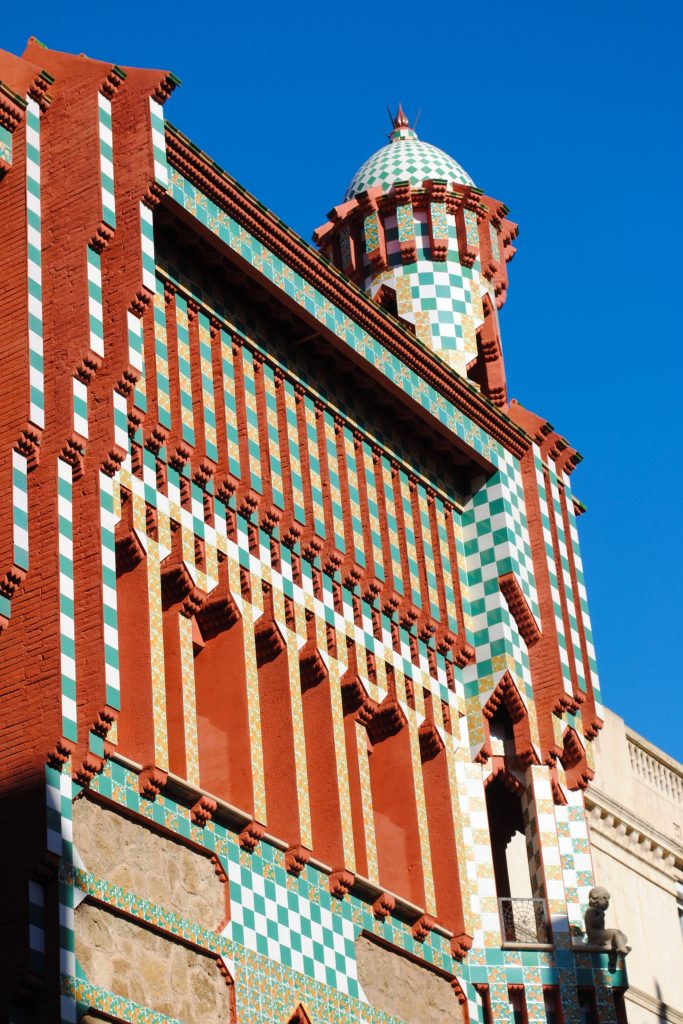 Casa Vicens was Antoni Gaudí's first major commission. Manel Vicens i Montaner, a stock and currency broker, hired him to design the summer home in 1883. The home is now open to the public for tours and you can opt for a guide, if you prefer.
MONEY SAVING TIP: On Mondays, tickets are discounted to €10. Tickets are also available at the discounted price on the last Sunday of the month.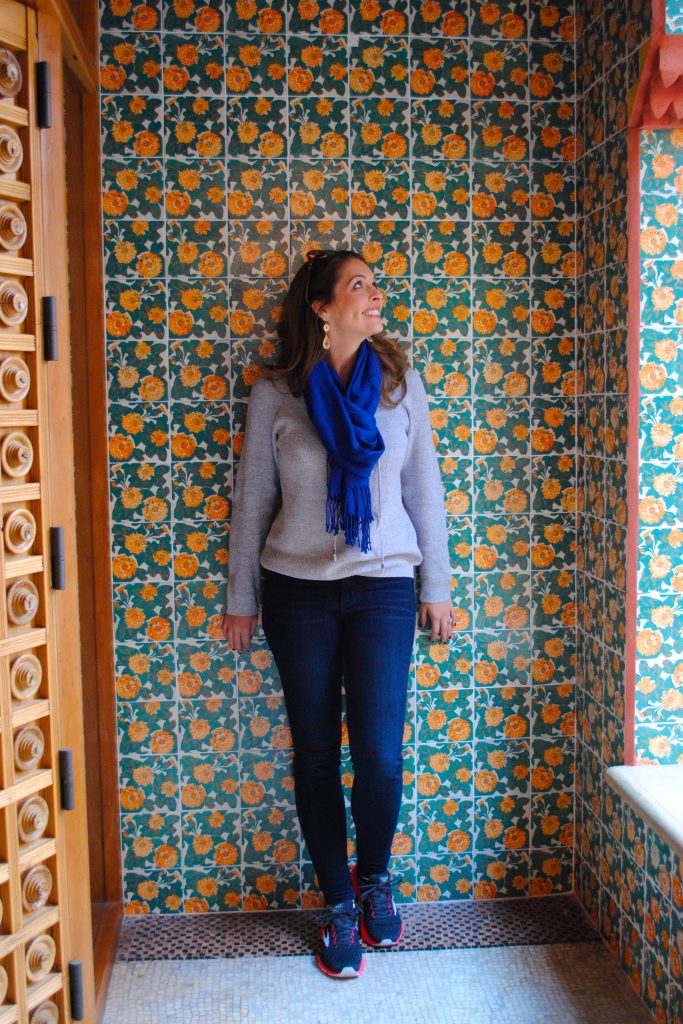 The bright greens, yellows, and oranges that greet you from the outside will follow you throughout your visit and you'll leave feeling more cheerful than ever!
Park Güell
Park Güell is a whimsical public park with a variety of colorful statues, walls, buildings, and gardens.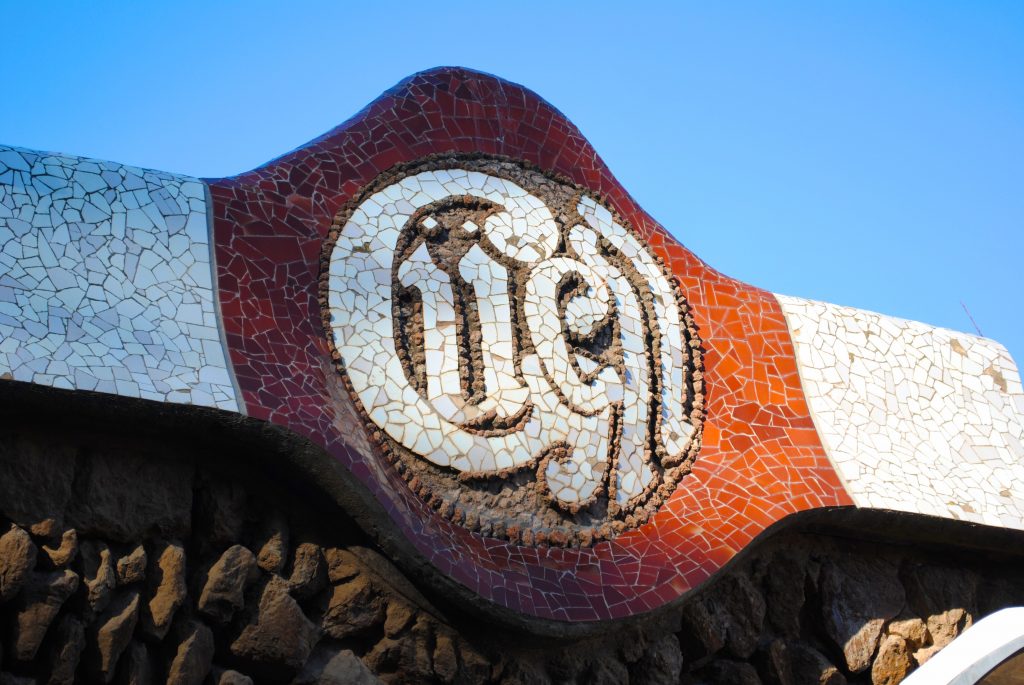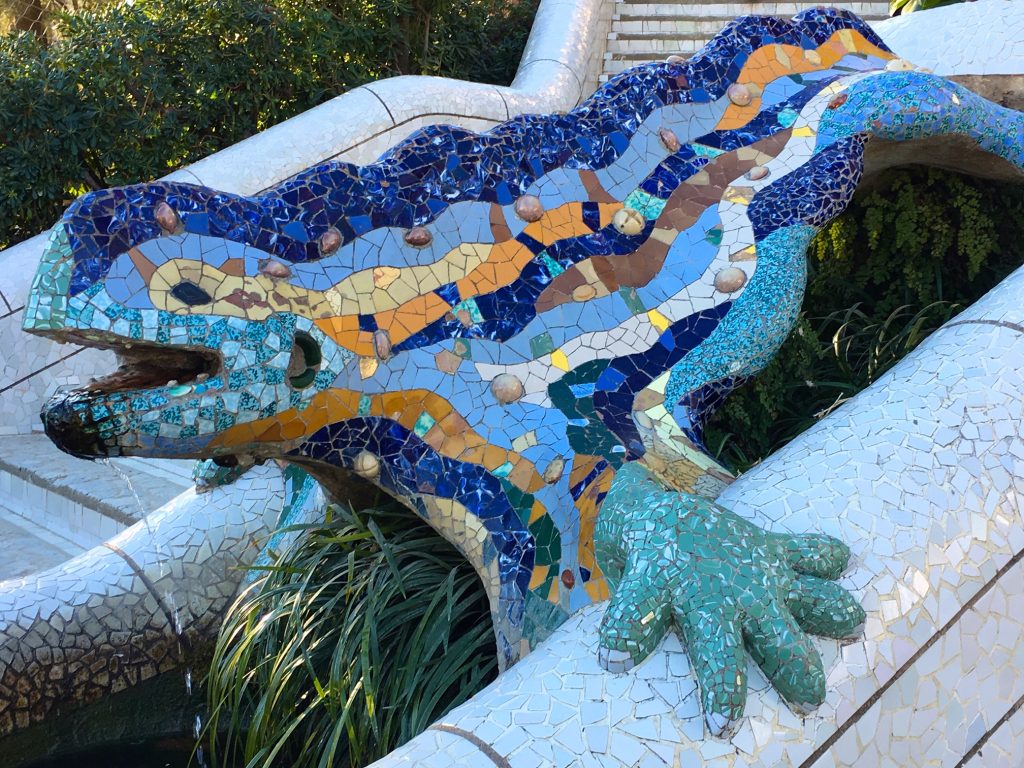 Perhaps the most famous images of Barcelona – the iconic "gingerbread" looking houses – come from Park Güell. It truly is a fun photo to capture but good luck battling the crowd at this popular spot!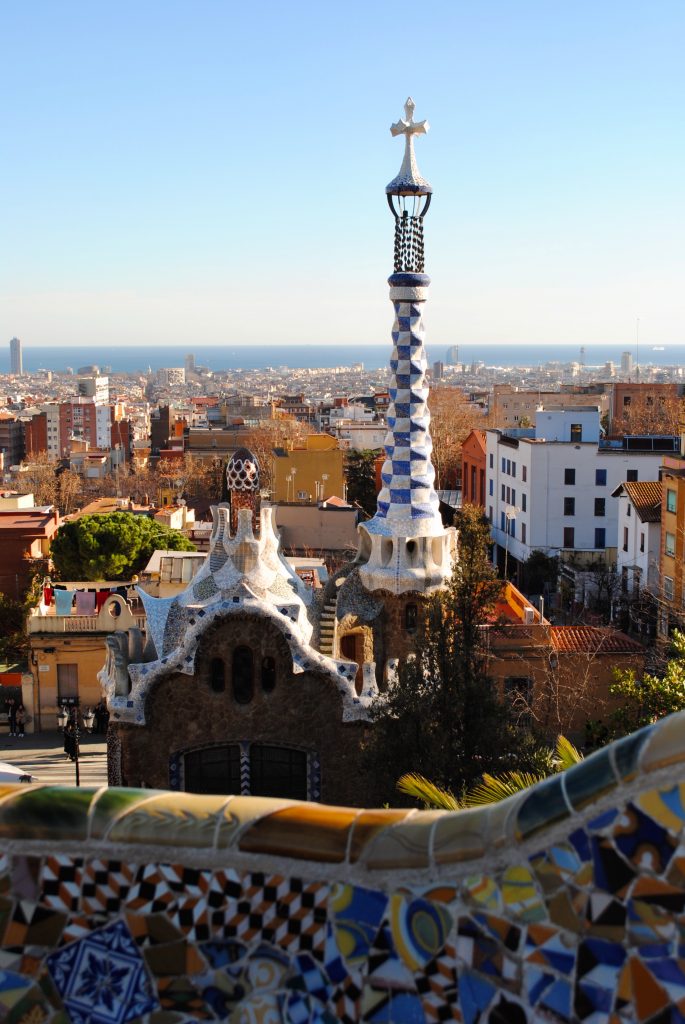 The only downside to Park Güell is the number of tourists within the park. Though limited to a maximum of 400 people per half hour, the crowds are still really heavy at the main photo opps. As of January 2019, part of the park is also under construction making it even more crowded.
Sagrada Familia
La Sagrada Família has been under construction for more than 135 years! The church is expected to finally be complete in 2026. It makes me wonder what Gaudí would think of how his vision will look when finished. I'm sure he'd be impressed: it sure is a masterpiece!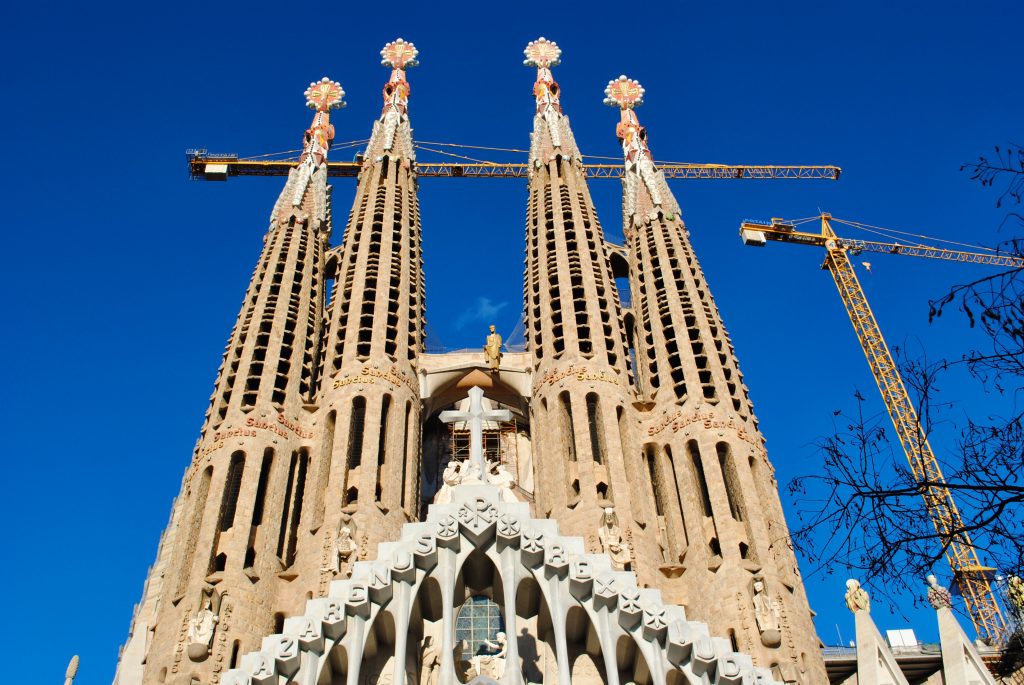 If you'd like to see the inside of the basilica, make sure you book your tickets in advance! It's one of the mistakes we made on our trip to Barcelona; tickets were already sold out for all the times we could visit.
Plaça Reial
This is a bustling plaza filled with restaurants, a flamenco venue, and other clubs. We liked visiting during the day but the plaza was especially fun at night for a drink and tapas.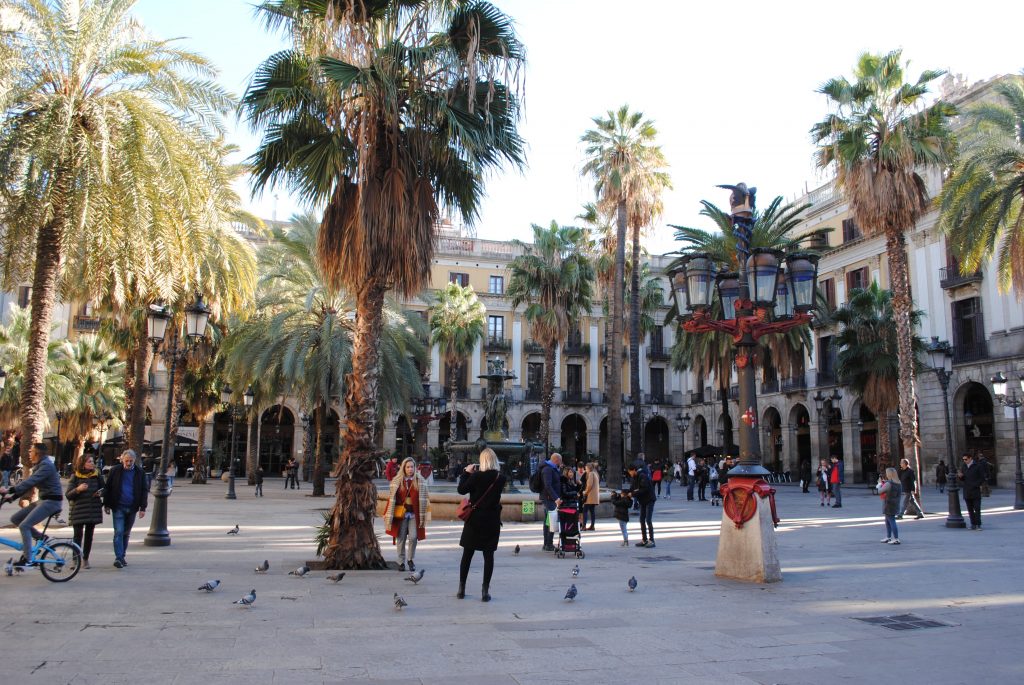 The touch of Gaudí that you'll find here is the lampposts and they were one of his first projects after graduating as an architect. The Barcelona City Council commissioned him to design the public lighting here and in
Pla de Palau.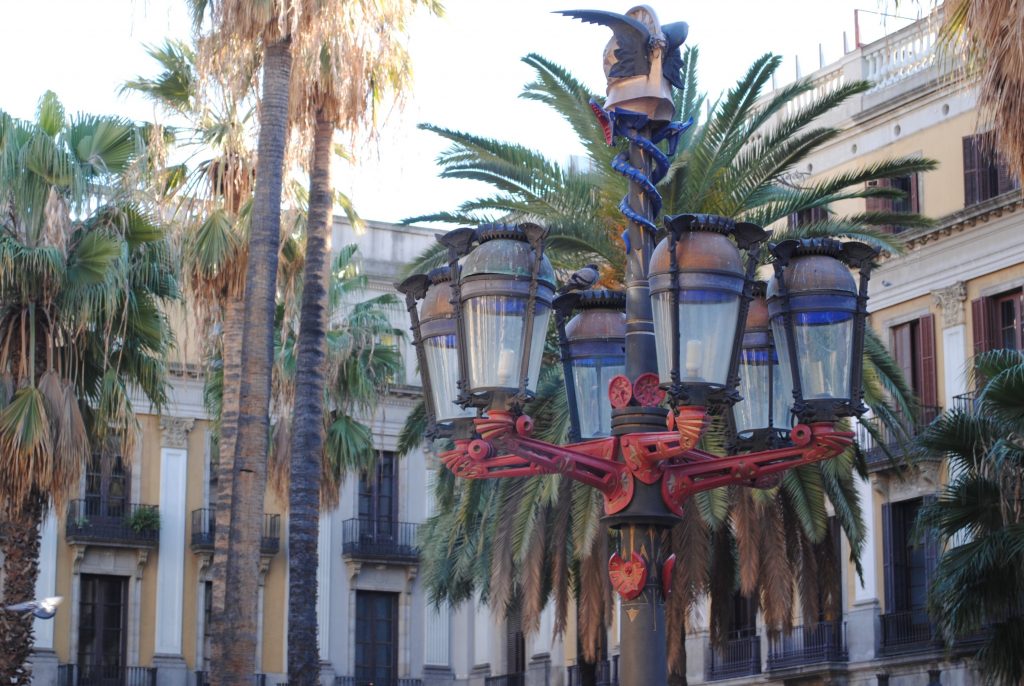 Casa Batlló
This is the one Gaudi building that we'd really wish we toured. We arrived in the evening shortly before closing and just didn't have enough time. 3 days in Barcelona is not enough time to see everything so you'll have to prioritize!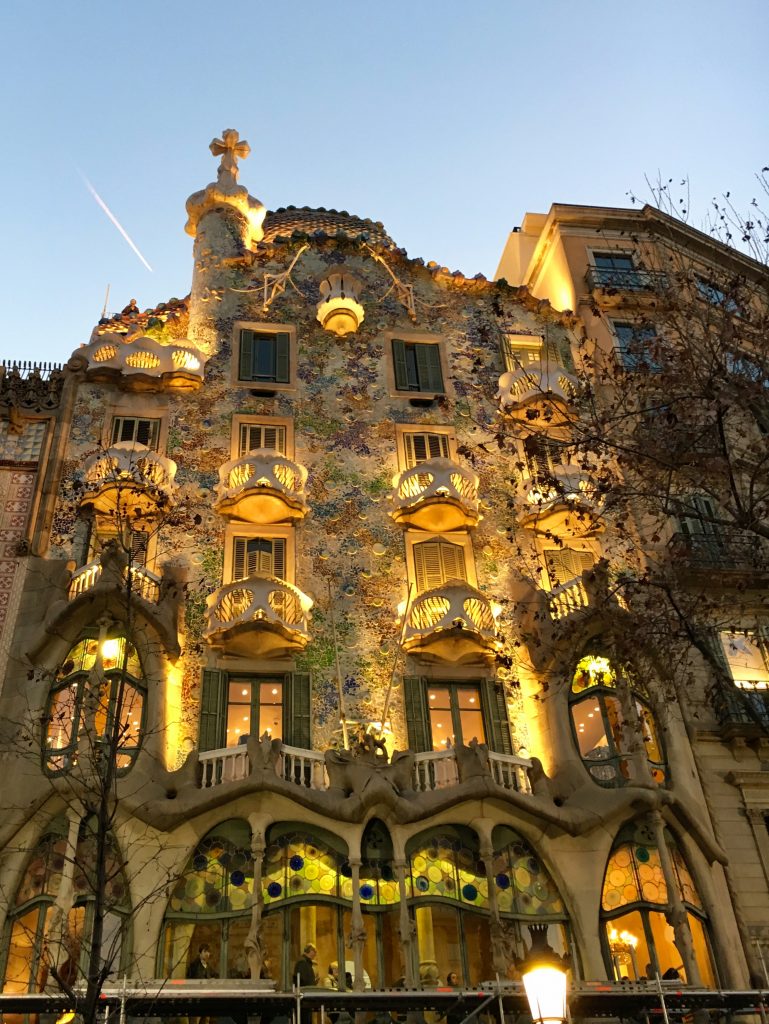 Casa Batlló is a modernist building located along the Passeig de Gràcia. The Batlló family purchased the original building in 1903 and gave Gaudí full creative freedom in the redesign.
As mentioned, we didn't get to go inside. However, here's a look at a few photos from Pixabay so you can get an idea of the amazing architecture inside: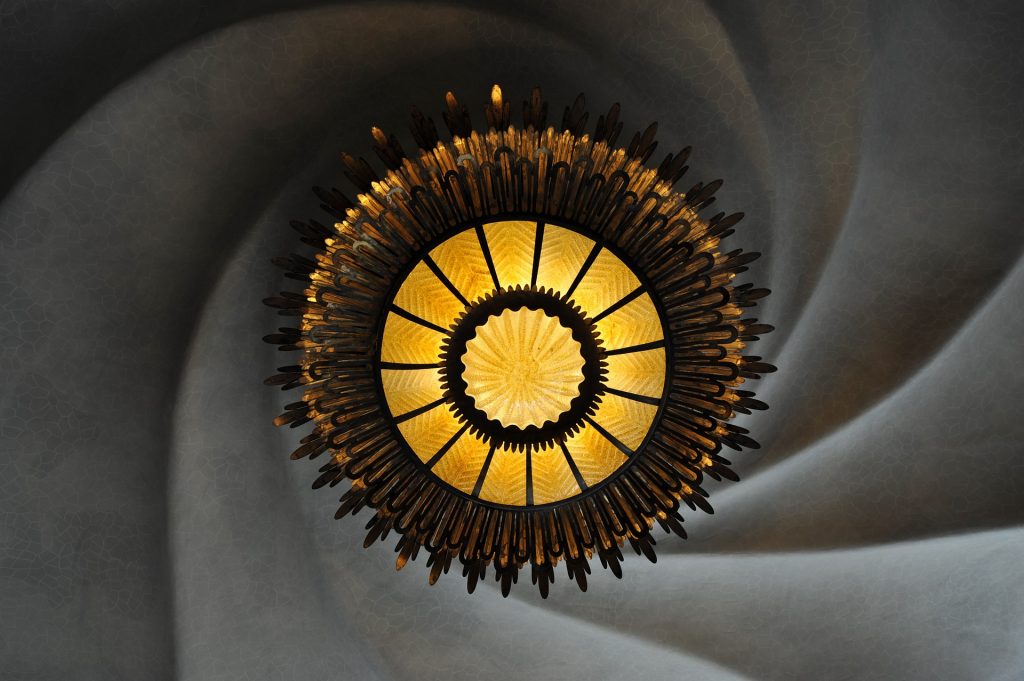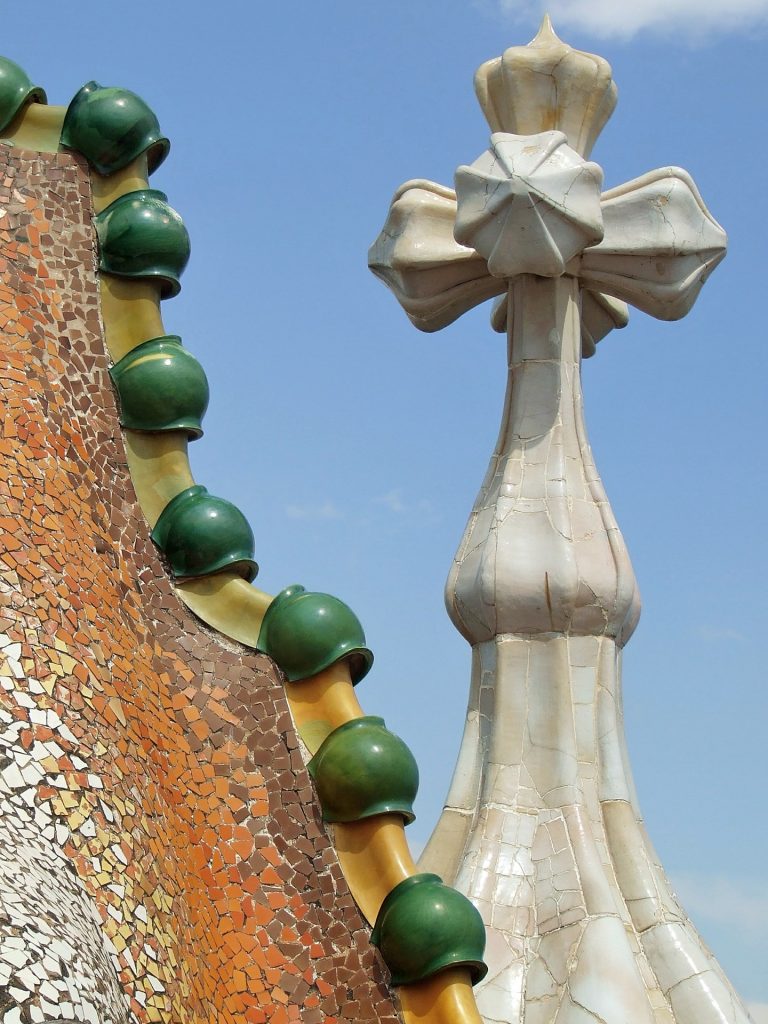 Palau Güell
This mansion was home to the Güell family before they moved to Park Güell. It was built from 1886 to 1888 and is located off Carrer Nou de la Rambla. Admission is €12.
MONEY SAVING TIP: The first Sunday of every month is an free ticket day. The tickets are released twice during the day, so check the website for times depending on the season.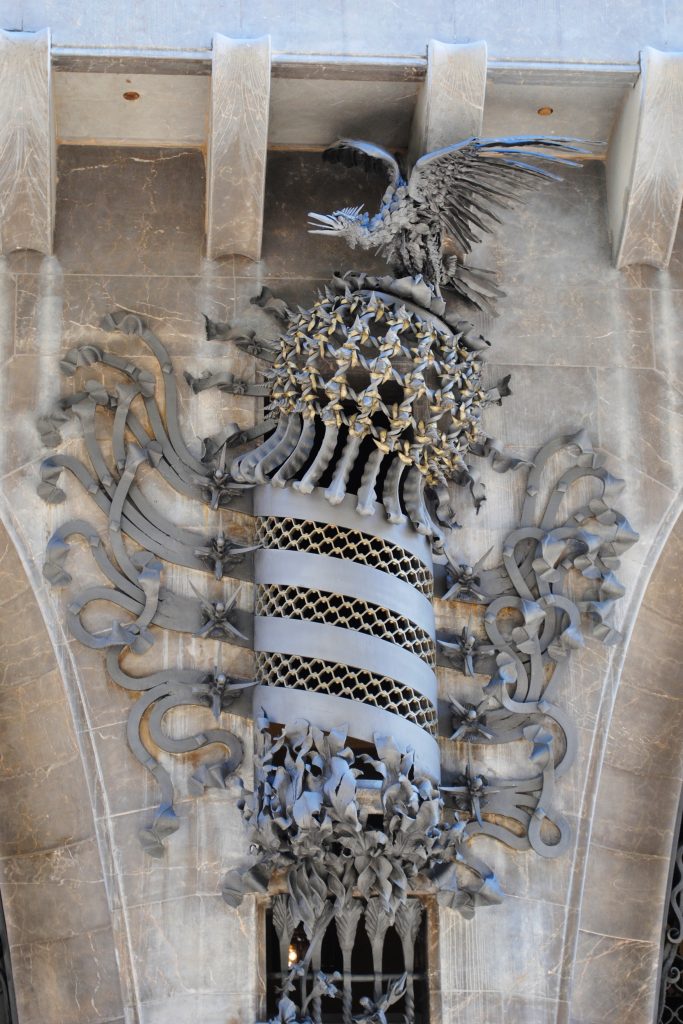 From the exterior, Palau Güell looks quite different than the other residential buildings we've seen. It's certainly not as bright or as unusually shaped, but the "darker" exterior gets a pop of color with the chimney stacks on the roof.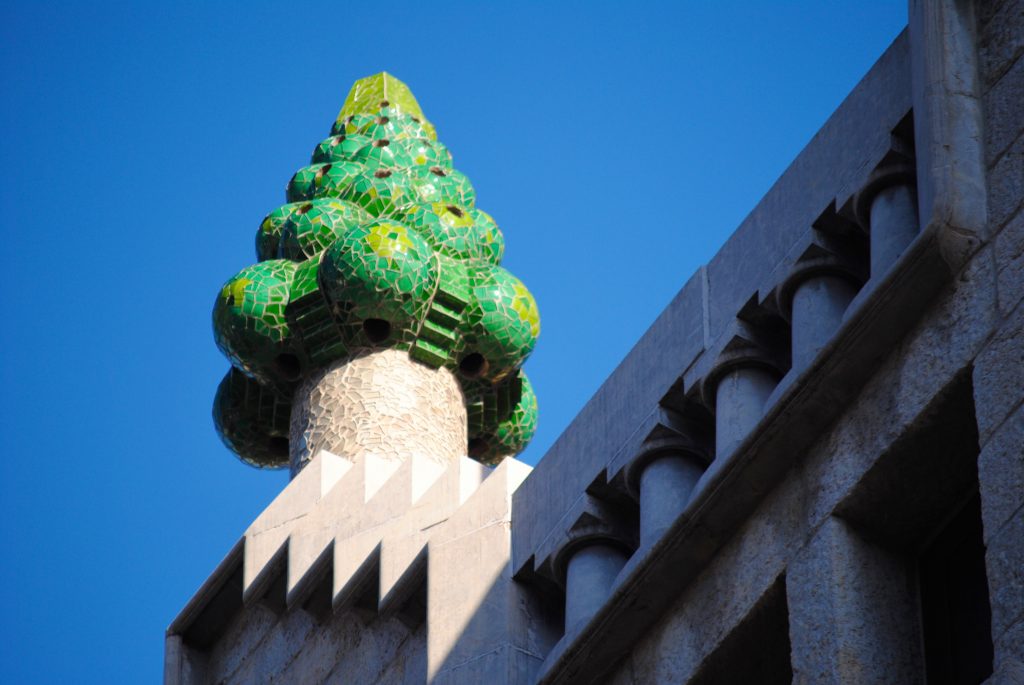 Casa Milà (La Pedrera)
This is the only Gaudí building that we didn't see even from the outside and we don't really have an excuse: it's not that far from Casa Batlló. Casa Milà is more commonly referred to as La Pedrera which means stone quarry.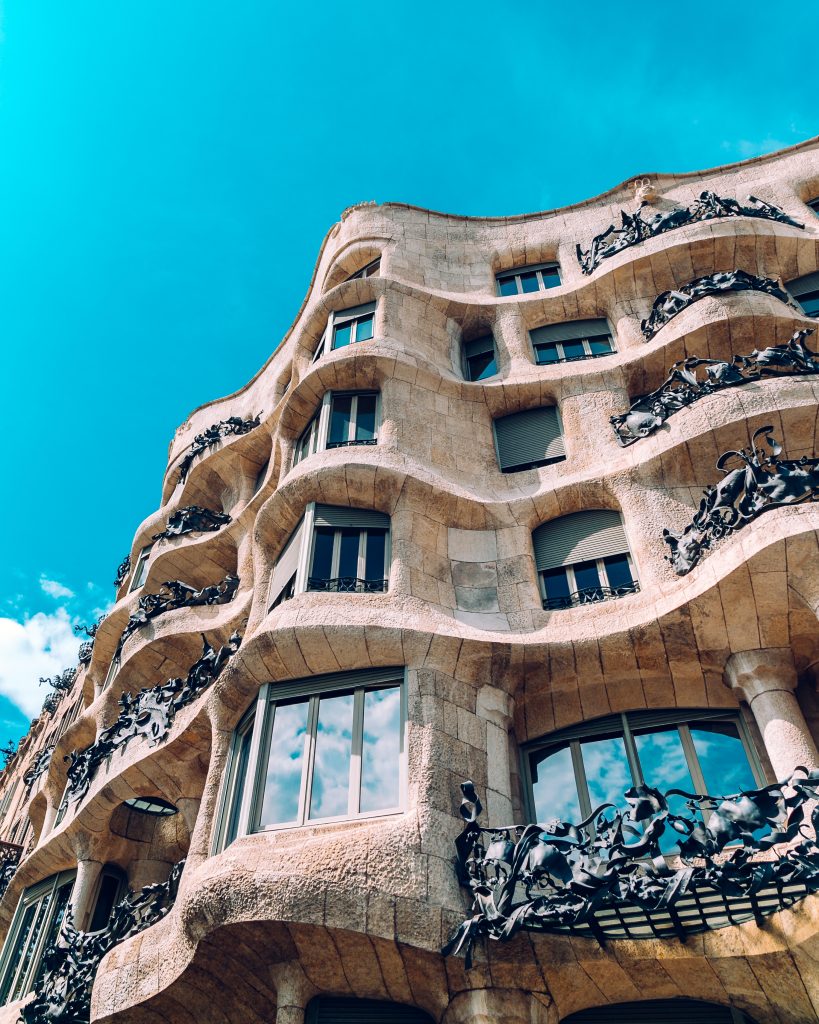 The construction of Casa Mila was quite controversial. There were budget issues, city code violations, and even a court case; you can read the background on the La Pedrera website.
Today the building is open to the public, and also serves as a cultural center and a residential property. It can be visited during both day and night and the roof terrace is a popular spot for its unique stairwells and chimneys.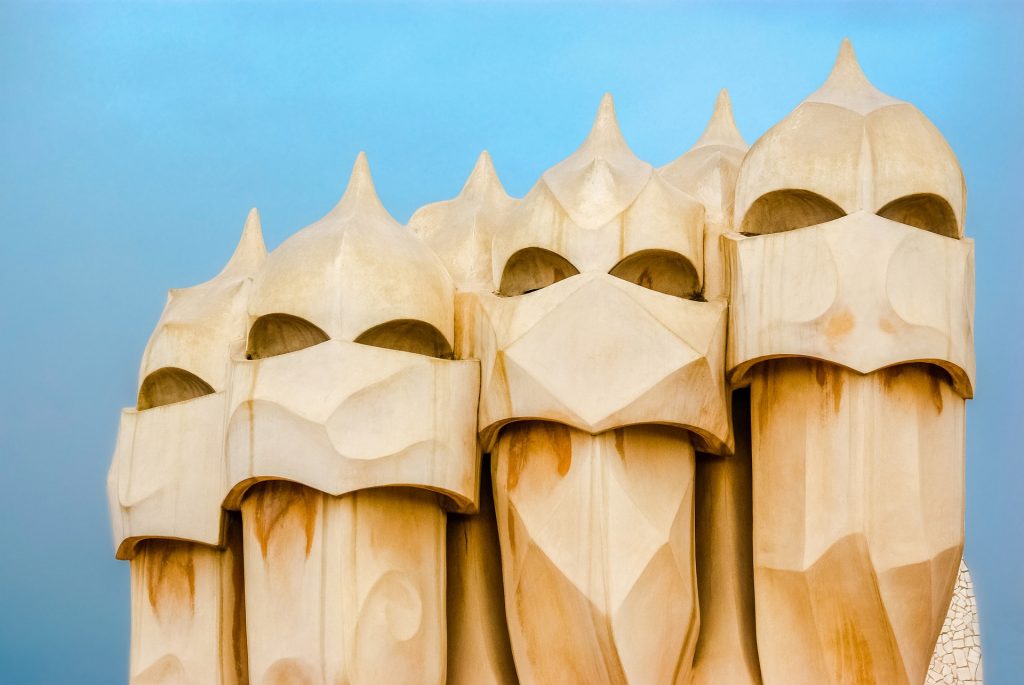 Other Gaudi in Barcelona?
Gaudí had such an influence on Barcelona that there are more than 20 sites where you can see his work. Here are a few others you could check out:
Church of Sant Pacià – Gaudí designed the mosiac floor within this church.
Colonia Güell – This is more of a day/half day trip from Barcelona, about a half hour drive or about an hour's train ride.
Casa Calvet – This home was designed by Gaudi for a textile manufacturer. It used to be open to the public as a restaurant, but currently is closed.
Finca Güell – This spot is known for the wrought iron main gate which is designed to look like a dragon.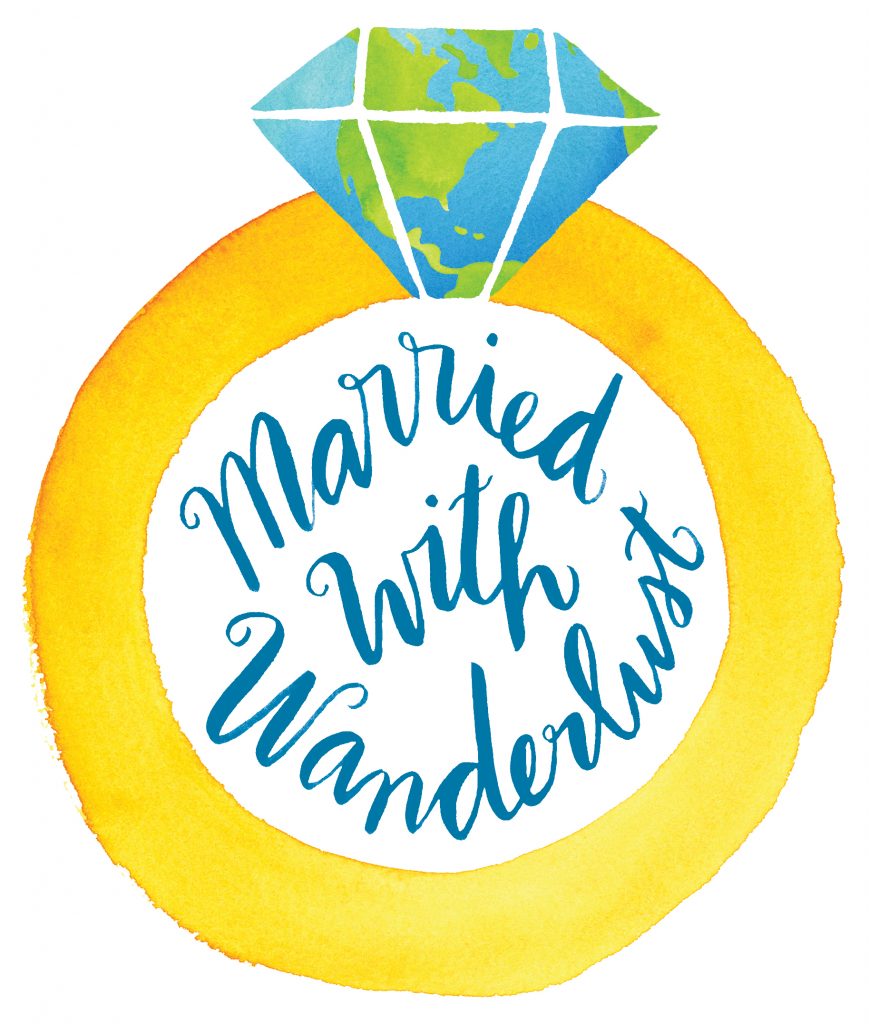 Enjoy our blog post? Pin it to share with others!