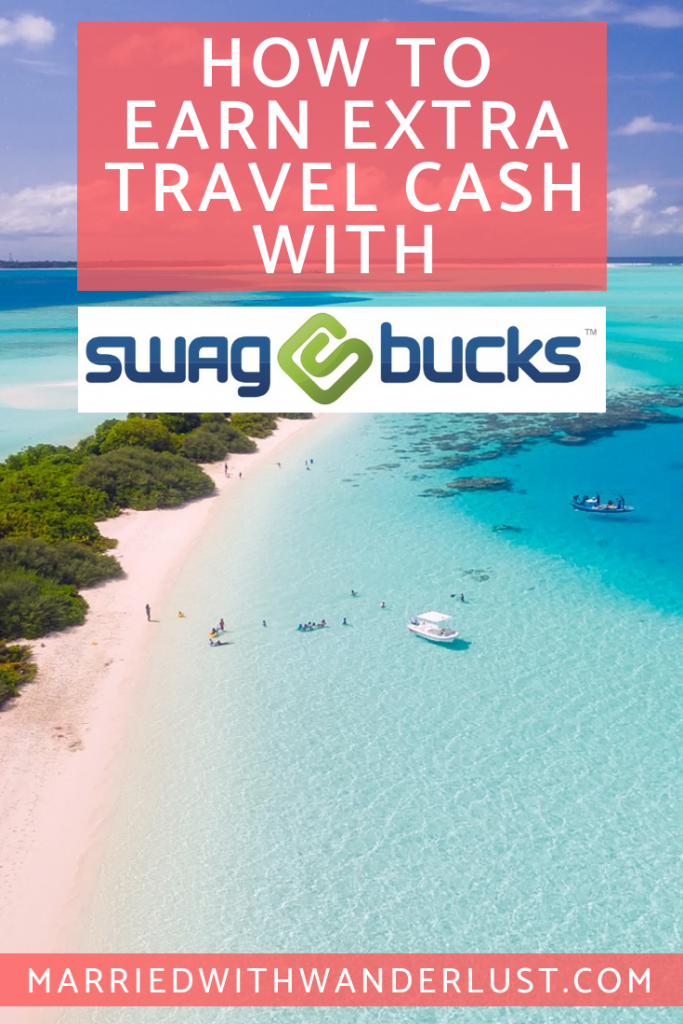 When you love to travel as much as we do, it's always nice to have extra spending cash on hand. It's also nice to get rewarded with cash back for your travel bookings. We discovered Swagbucks several years ago and it's definitely helped put extra travel money in our pockets. The site can be a little overwhelming at first, so we want to share how we use it and how it can work for you!
NOTE: This travel blog contains some affiliate links. Should you use our links, we may receive a small compensation at no extra cost to you. We greatly appreciate your support of Married with Wanderlust! As always, all opinions are our own and we only promote products we personally love.
What is Swagbucks?
Swagbucks is an online rewards site that allows you to complete tasks, surveys, watch videos, and shop online to earn points that can be swapped for money and gift cards. The points are called "swagbucks" and each SB is worth a penny. So, for example, if you earned 100 SB, you now have $1 in your account. Usually, there is also a sign-up bonus for starting an account.
The Best Way to Earn Cash with Swagbucks
While you could participate in all the site offers (watching videos, taking surveys, etc.), we mostly use it to earn cash back through the online shopping portal.
You can earn cash back for shopping on a variety of websites you likely already use including Amazon, Target, Groupon, StubHub, and also a variety of travel sites like Expedia, Marriott, Hilton, Booking.com, Priceline, and many more! Plus if you pair your shopping with your favorite travel rewards credit card, you'll be earning double points.

Here's how the shopping portal works: Log into your Swagbucks account and visit the shopping portal. Search for the website that you plan to shop at (Amazon, etc.) and click the SHOP button next to that retailer. You will then be connected to that website and see a notification that shopping through Swagbucks will earn you x% cash back or x SB per $1 spent on the site. The percent of cash back varies depending on which retailer you're shopping.
A lot of the sites provide the x SB back per $1, but some of the travel websites provide a flat rate, such as 250 SB per booking.
Note: You must make your purchase during that visit without leaving the website and coming back. If you decide to wait on your purchase, you'll need to go back through the Swagbucks portal again to activate the cash back.
When do the SB credit to your account? Great question! With most shopping purchases (Amazon, for example), you'll receive a notification of your pending SB shortly after you check-out. For travel-related purchases (hotels, flights), you'll typically receive credit within 30 days after you complete the travel.
Cashing In: How to Earn Travel Money with Swagbucks
You've stacked up some SB in your account and now you're ready to cash in. What can you get and how will it help you travel?
There are a few options that we think are great for travel fanatics. The first is simply trading in for PayPal cash. This is obvious: who doesn't want more cash in hand? You can trade in as little as 2,500 Swagbucks for $25 cash or you can wait until your pot gets higher to get a larger payout.
Another option for travel spending is gift cards. There are a variety of travel-related gift cards that you can trade in your swagbucks for. Some options are Carnival Cruise Lines, Southwest Airlines, Hertz rental car, Hotels.com, American Airlines, just to name a few. We've also traded in for a Groupon gift card and used it to purchase one of the air-inclusive vacations on their site.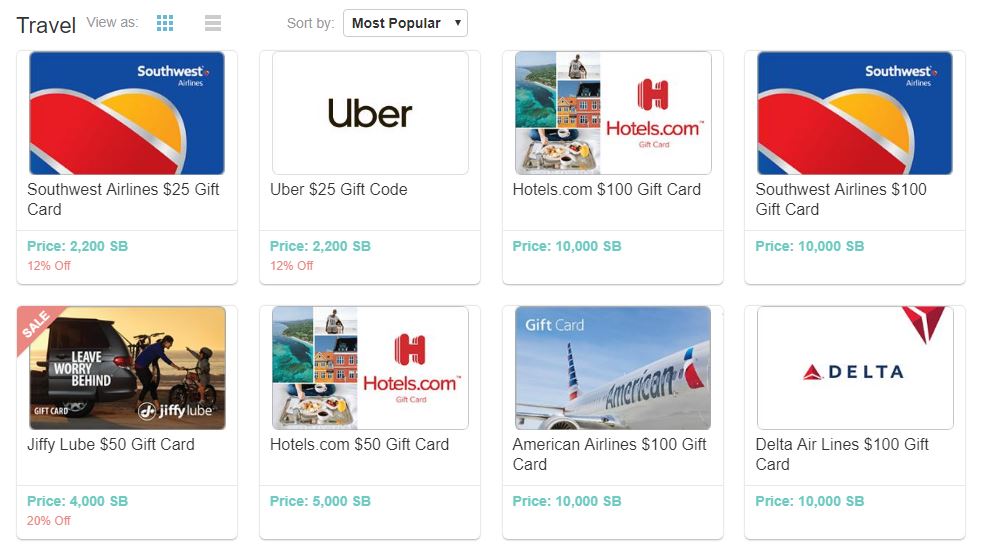 One good thing with gift card redemptions: Swagbucks always has some cards that are on sale. In the screengrab above, you can see Southwest Airlines gift cards were discounted at the time. This means you'll need fewer SB to reach the redemption level. The sale gift cards change, so just keep an eye out!
Get Started with Swagbucks
Ready to make some extra travel cash? Register for your Swagbucks account today. Explore the site and decide what's best for you: simply using it for shopping and travel bookings, or taking advantage of the other SB-earning opportunities. Either way, you'll be on your way to some extra travel money in no time!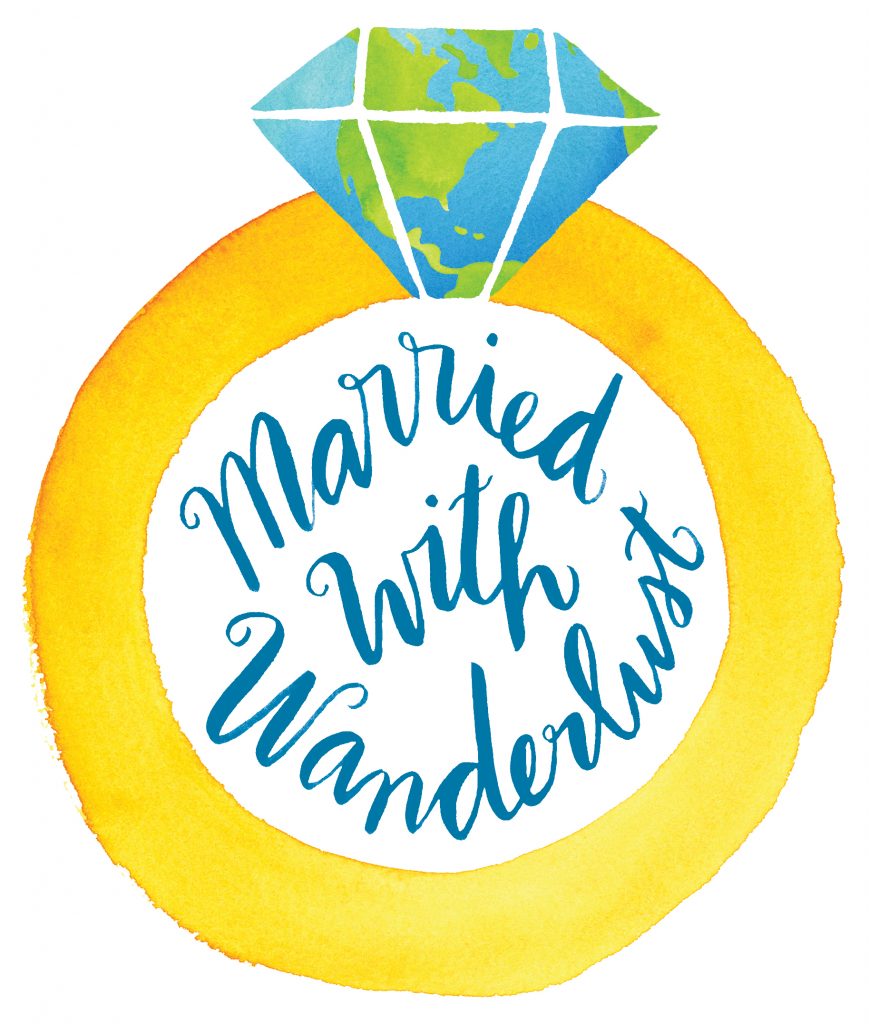 Enjoy our blog post? Pin it to share with others!