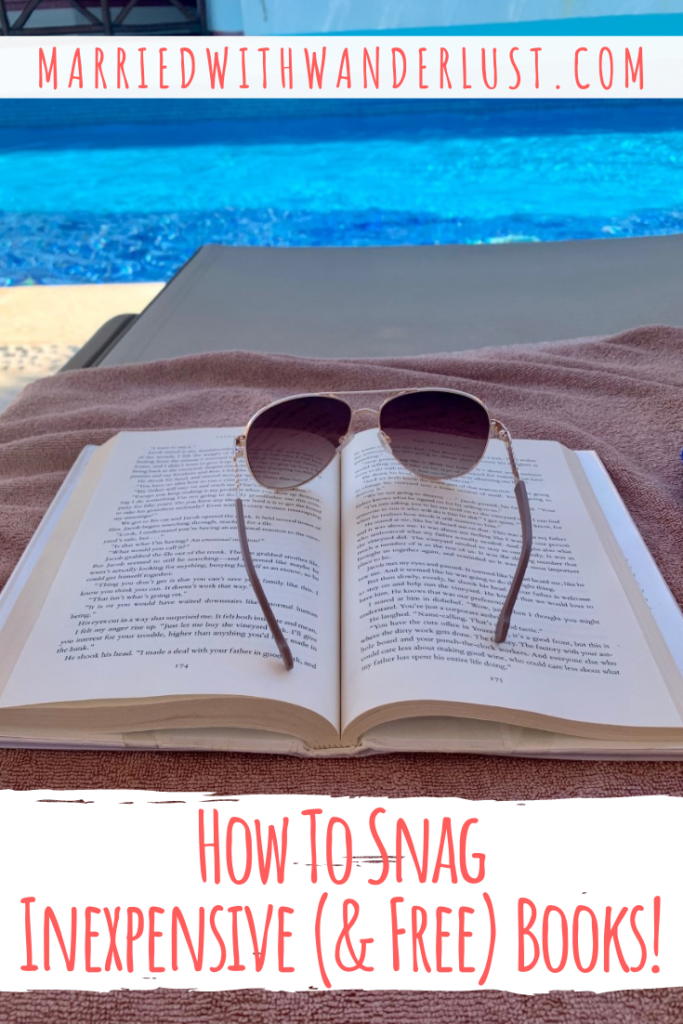 I've been out of commission a few weeks for surgery and had some extra time to relax and stick my head in a book! Are you like me and just prefer to have a book in your hands? It always feels so good to turn the pages and see your progress! Of course, if you like physical books, you know they can add up — especially if you like reading new releases. You all know I love a good travel bargain and, of course, this extends to my book buying obsession, too! So today I thought I'd share some of my favorite inexpensive ways to get books.

My Favorite Inexpensive Ways to Get Books
Libby/Hoopla – Never pay for a kindle or audiobooks again – you can download them for FREE with Libby and Hoopla! These apps virtually connect you to your local library card for free download of books, audiobooks, and music with the click of a button. You can also download the books and audiobooks while on WiFi and then use them for long road trips or plane rides. Learn more in my post: Travel Apps You Need to Download.
Book of the Month – I LOVE Book of the Month and I would say it's somewhere in between inexpensive and regular price. My favorite part about BOTM is getting introduced to new authors AND getting brand new/sometimes not-yet-released books. Club members get to choose from five vetted hardcovers each month. The first book each month is $15.99 for a new release, and you can add up to two extras for just $9.99 each. You can also skip without being charged. BONUS: Use my link to get your first book for just $5.
ThriftBooks – ThriftBooks is fabulous if you're looking to get a slightly older book for a bargain. Usually newer books are still pretty pricey but anything that's about a year old or older can be found at quite a discount.
Facebook Groups – Facebook groups are a great way to swap, sell, and buy books! I am part of a few groups and have successfully ordered from these with no issues. You can also negotiate prices and, often, the seller will offer deals for bundling multiple books. My group recs: No Shelf Control Book Sales & Swaps and All the Books, Swap and Sell.
Little Free Library – Check out the Little Free Library locator and find a box near you where you can give a book, take a book!
Your Local Library – This one is obvious but I thought I had to include it!
Do you have other inexpensive ways to get books? I'd love to hear them!
Enjoy our blog post? Sharing is caring!