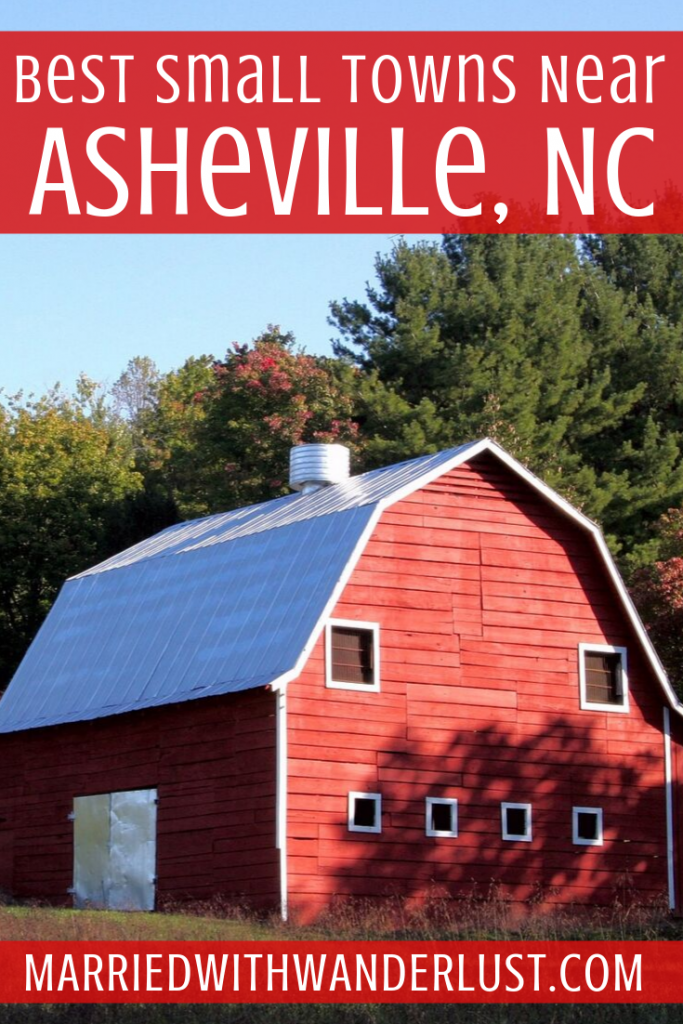 With award winning restaurants, the famous Biltmore Estate, countless craft breweries, and a quirky, artsy atmosphere, Asheville is a must-visit destination. But don't spend all your time in the "big city!" Some of our favorite experiences while visiting Asheville were made while exploring the surrounding small towns. Here is a guide to four of our favorites:
4 Must-Visit Small Towns Near Asheville:
Chimney Rock, NC
The highlight of Chimney Rock is the hike to, well, Chimney Rock. You'll pay $17 per person to enter the park but if you love hiking or fantastic views, it's definitely worth it. (NOTE: There's an elevator if you can't do the hike.)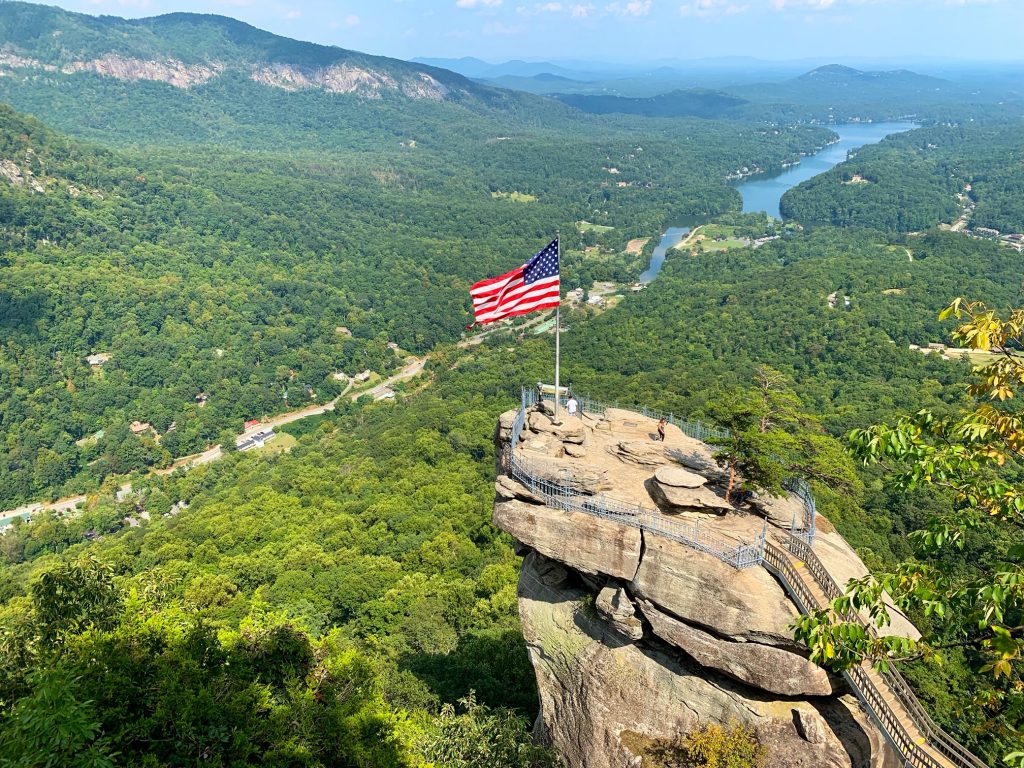 After tiring yourself out on the hiking trails, drive out of the park and turn left for a visit to Hickory Nut Gorge Brewery. It offers (by far) the best view of any of the breweries we visited in Western North Carolina.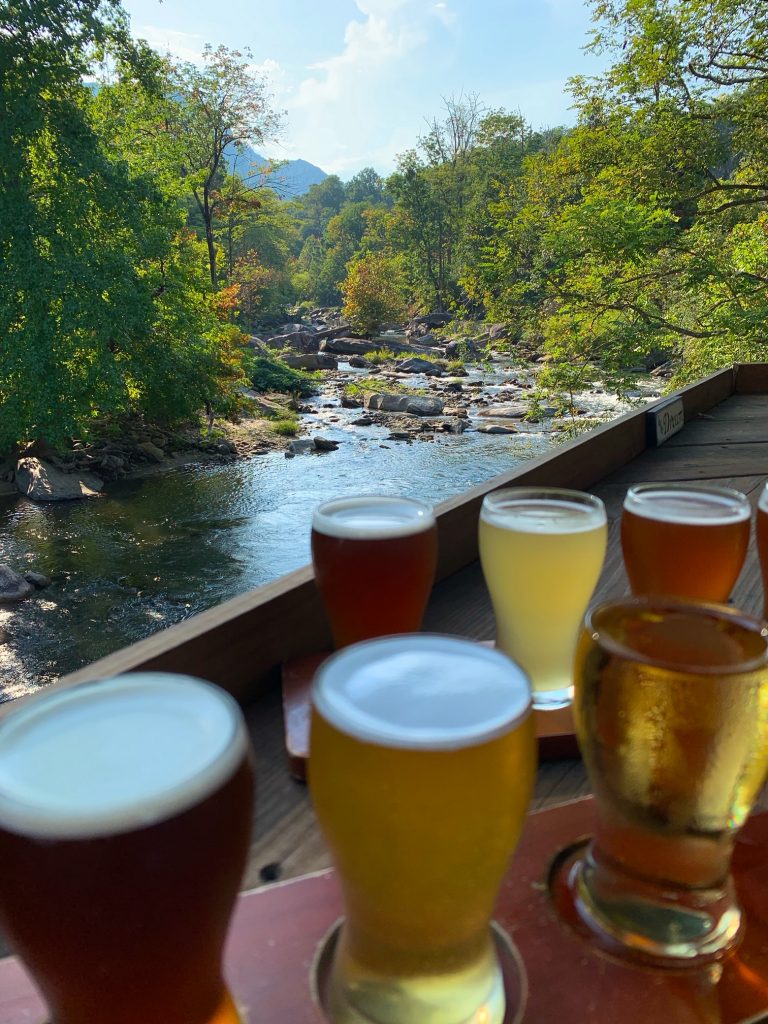 After the brewery, head across the street to visit the Burntshirt Vineyards tasting room. You'll also want to visit the vineyard in Hendersonville – details in 3, 2, 1…
Hendersonville, NC
Hendersonville is "Apple Country" and was one of our favorite small town finds even though we didn't even get a chance to explore much of the downtown area! (It did look really cute with scattered painted bear statues, and dozens of restaurants and boutique shops.)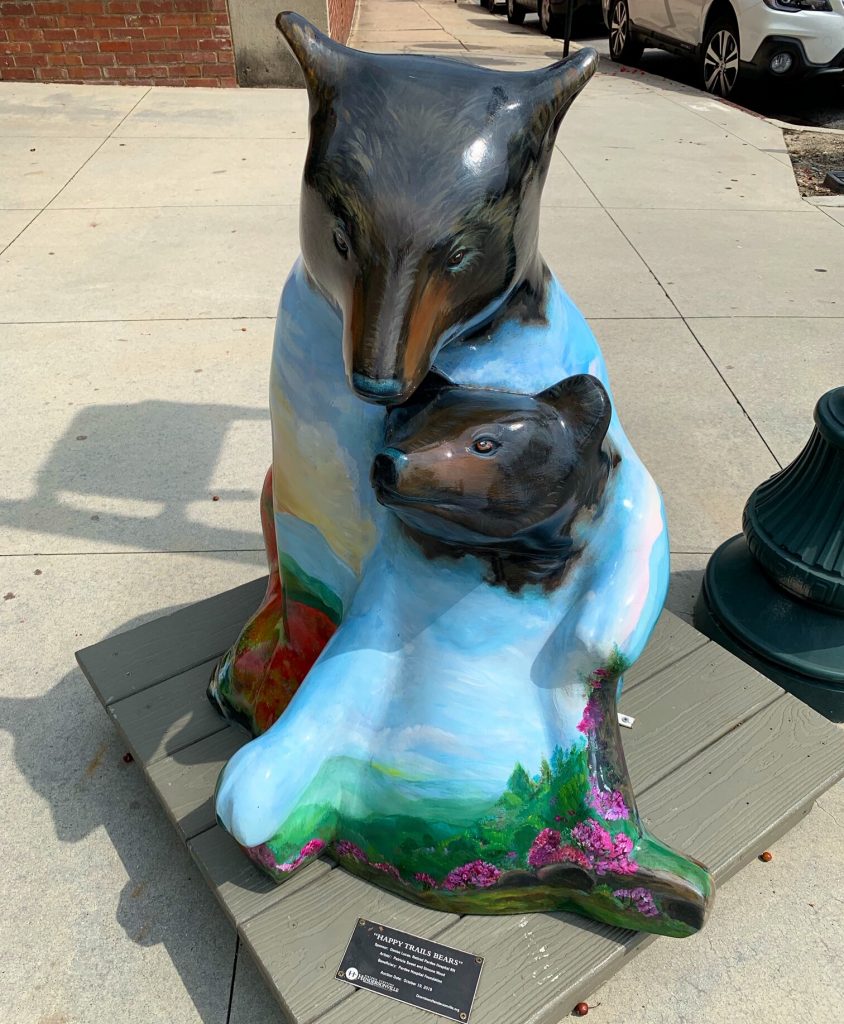 After a quick lunch, we headed to Grandad's Apples where we met up with our friends and their daughter. It was very family-friendly, but you won't need kids to enjoy the activities on the farm.
There are a bunch of apple orchards to choose from in Hendersonville so you'll have your pick, so to speak! You can also check out Justus, Mountain Fresh, Lyda, Stepp's, Sky Top, or one of several other nearby orchards.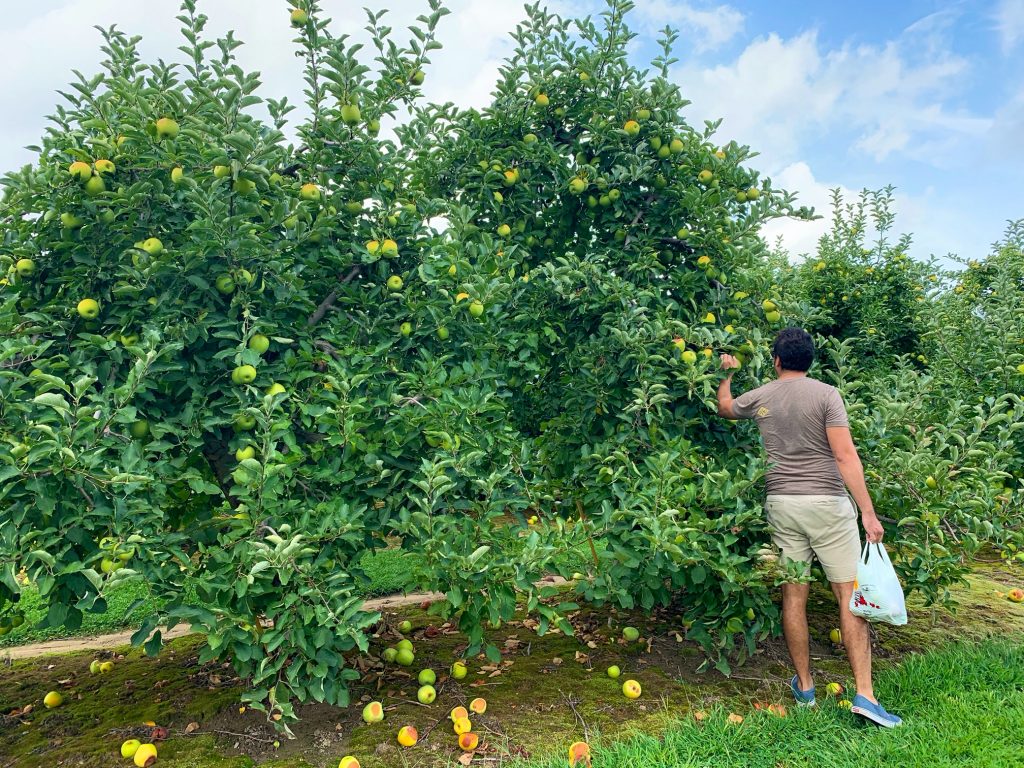 Done exploring the orchard? Head over to one of the local wineries for a tasting. We relaxed at Burntshirt which offers beautiful views over the vineyard. Other nearby wineries include Saint Paul Mountain and Point Lookout Vineyards.
Marion, NC
Did you know there is an annual WNC (Western North Carolina) Big Foot Festival? Well there is and we found it in Marion, NC! When we heard about this quirky festival, we knew we had to go and boy are we glad we did. Held once a year, the Big Foot Festival is your chance to search for Sasquatch and any and all Sasquatch-related items!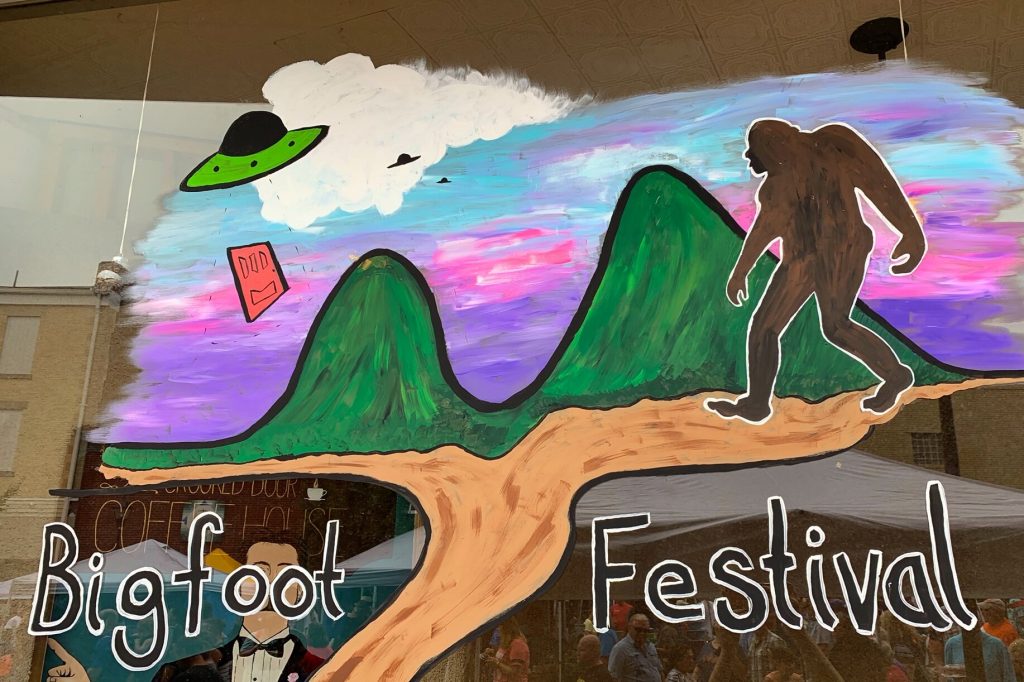 Not in town the right dates to catch Big Foot? Attend the Mountain Glory Festival, NC Gold Fest, NC Bluegrass Festival, or one of the small town's countless other events instead. 
Marion also has Mica Town brewery (offering some of our favorite beer we had during our visit to Asheville) and a local taproom with a variety of NC beers. Love to hike? Hit the trail en route to Tom's Creek Falls, an 80 foot cascade.
Black Mountain, NC
Last, but certainly not least, is the town of Black Mountain where we stayed during our visit to the Asheville area. Our cozy cabin-for-two offered mountain views and a fire pit out back. It was about a 10 minute drive from downtown which was perfect for spending our evenings exploring the small town.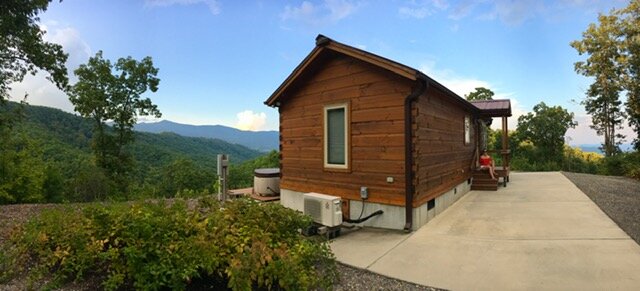 We started our visit to Black Mountain with a visit to the brewery (I'm sure you can see a theme here, haha). If the weather is nice, you'll want to sit on the outside patio.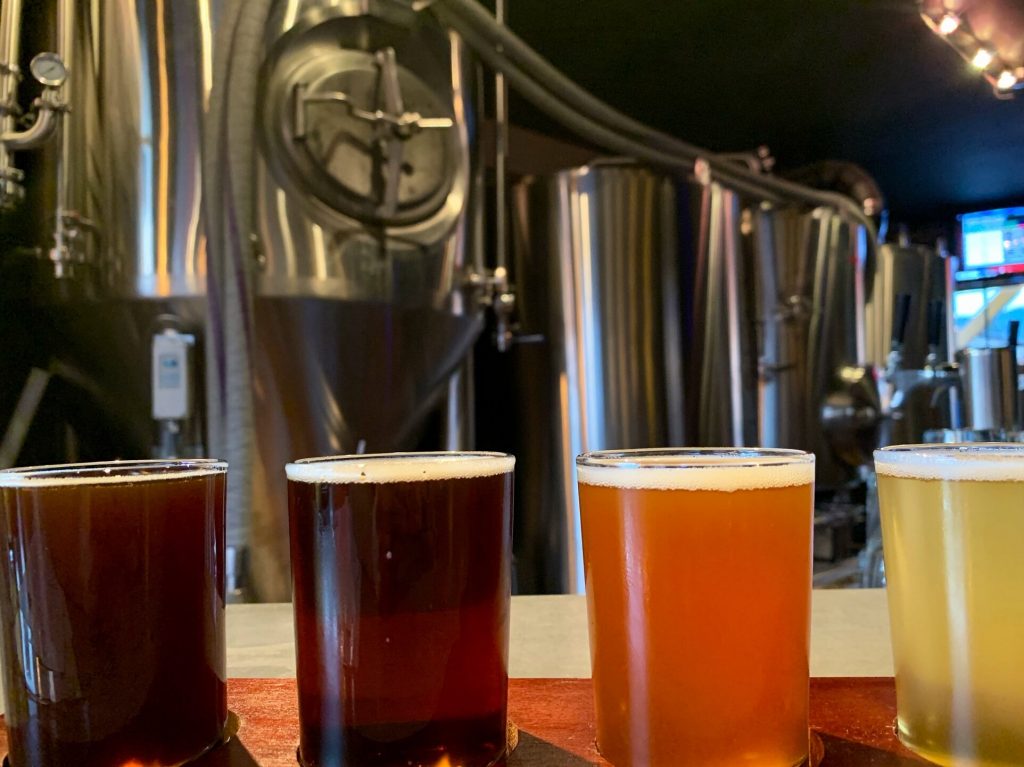 Need food after your drinks? Head across the street to the Black Mountain Ale House (same owners) for a bite. We highly recommend the deviled eggs! Prefer a nice glass of wine and an eclectic atmosphere? Our favorite spot was unWINE'd at Mellie Mac's, an adorable wine bar that's part of a garden shop.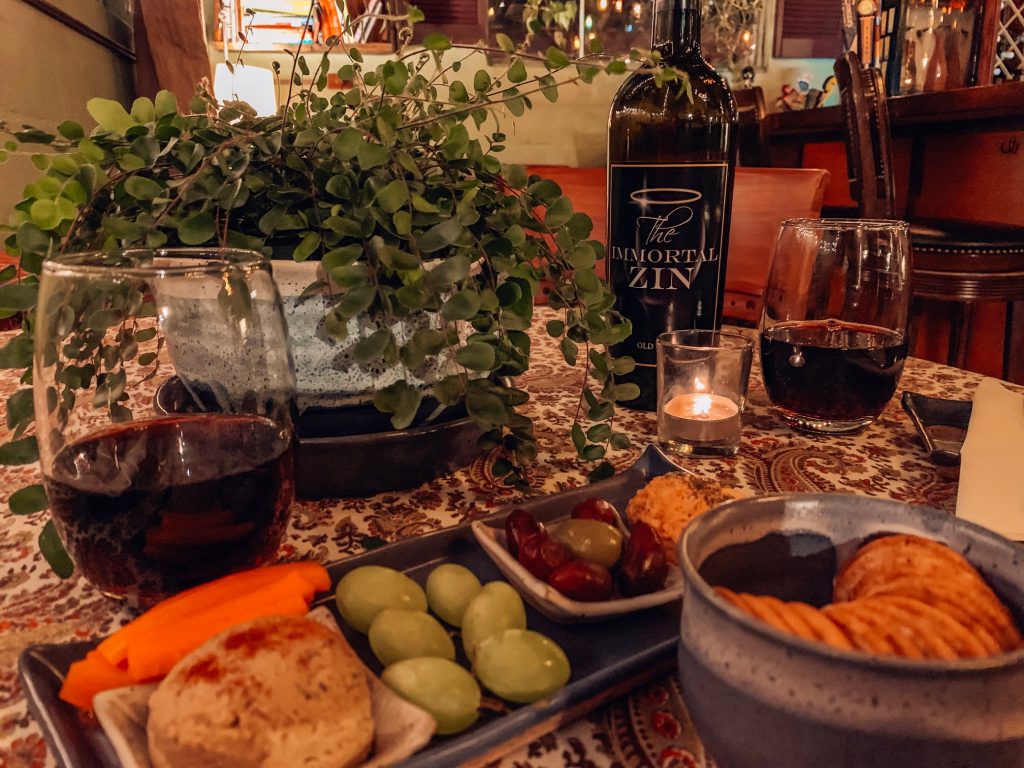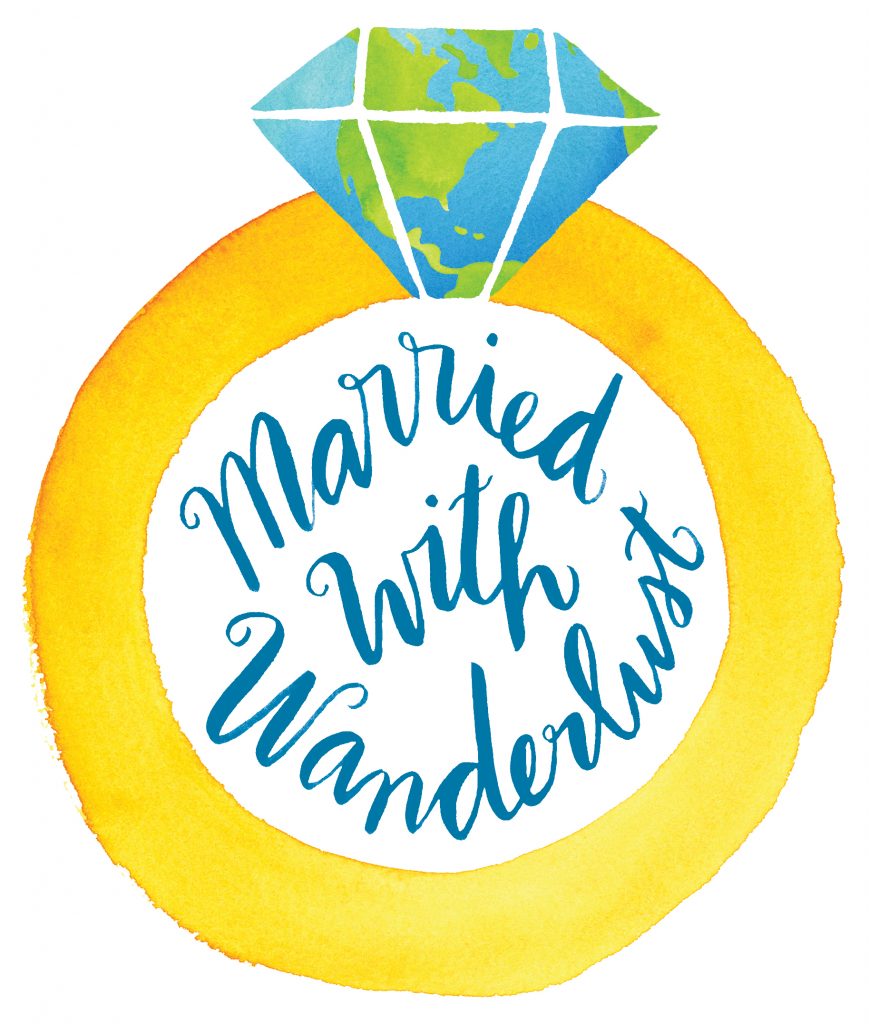 Enjoy our blog post? Sharing is caring!