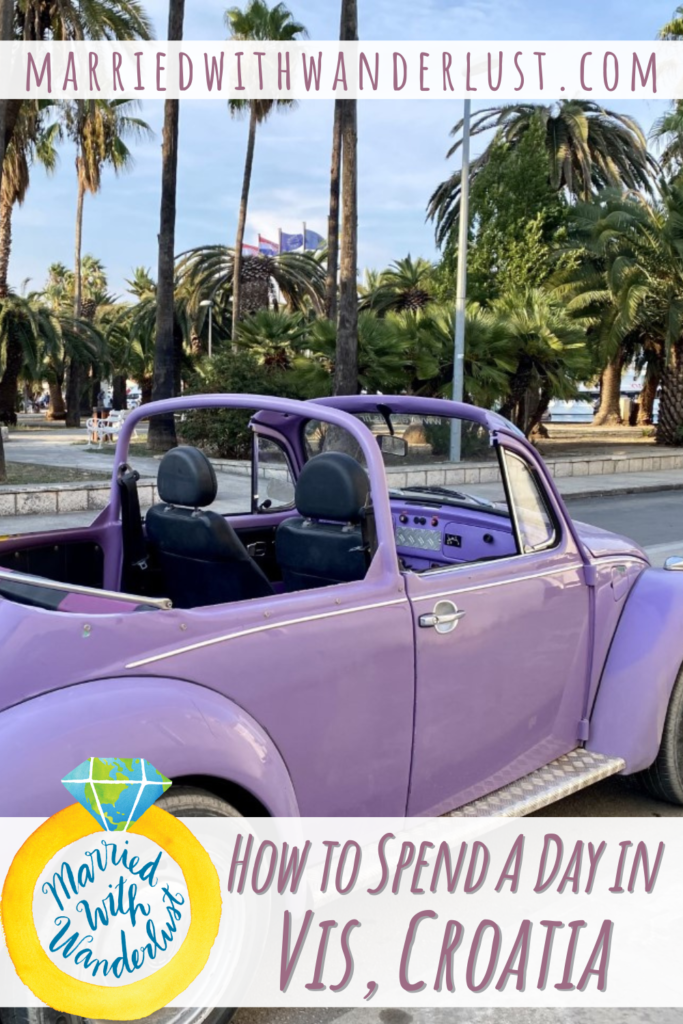 If you're following along, you know we're in the middle of recapping our friends trip with Sail Croatia. Today's highlights are from Vis! If you want to catch up on the first few days of the cruise, check out these posts:
Day 4 with Sail Croatia: Vis
Our fourth day of the cruise started as usual with a morning breakfast and a mid-morning swim stop. The swim stop in Vis was calm water perfect for jumping from the top of the deck… perfect for WC that is! I was happy staying on my floatie.
After our swim stop, we headed to the dining room for lunch while the boat headed in to port.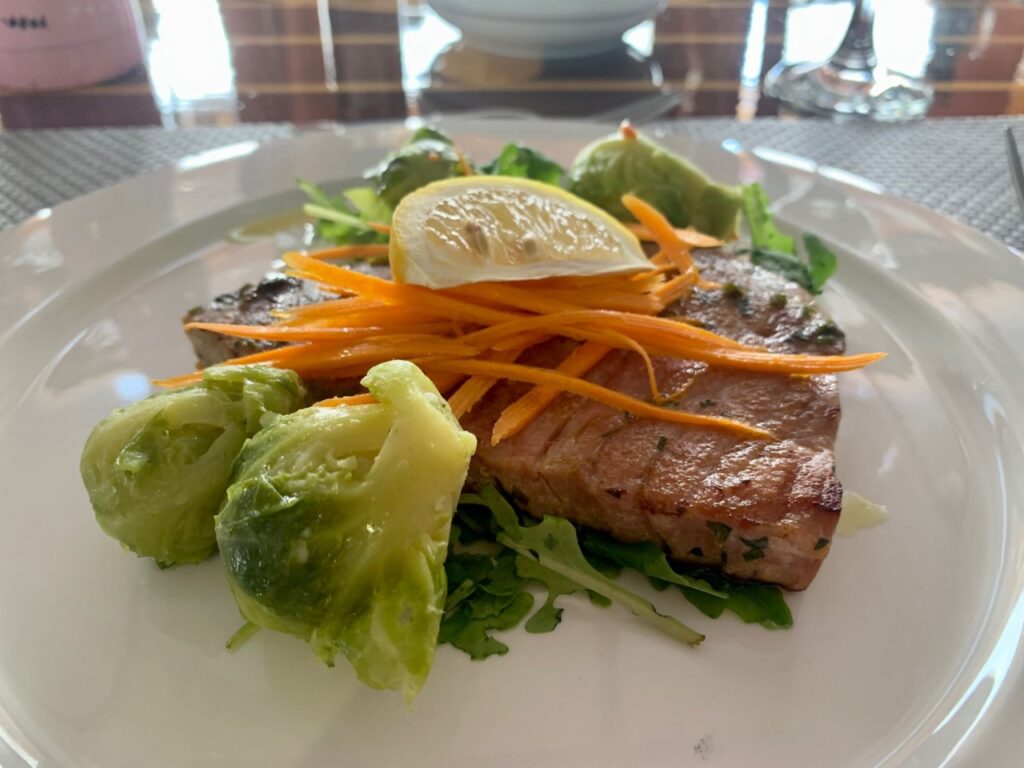 Daytime in Vis, Croatia:
For excursions, Sail Croatia offered a Vis military tour that visited several historical sites including Parja ex-military tunnel, submarine tunnel Jastog, and the former RAF Airport, among others. A couple people from our group participated and everyone else ventured out to explored Vis on their own.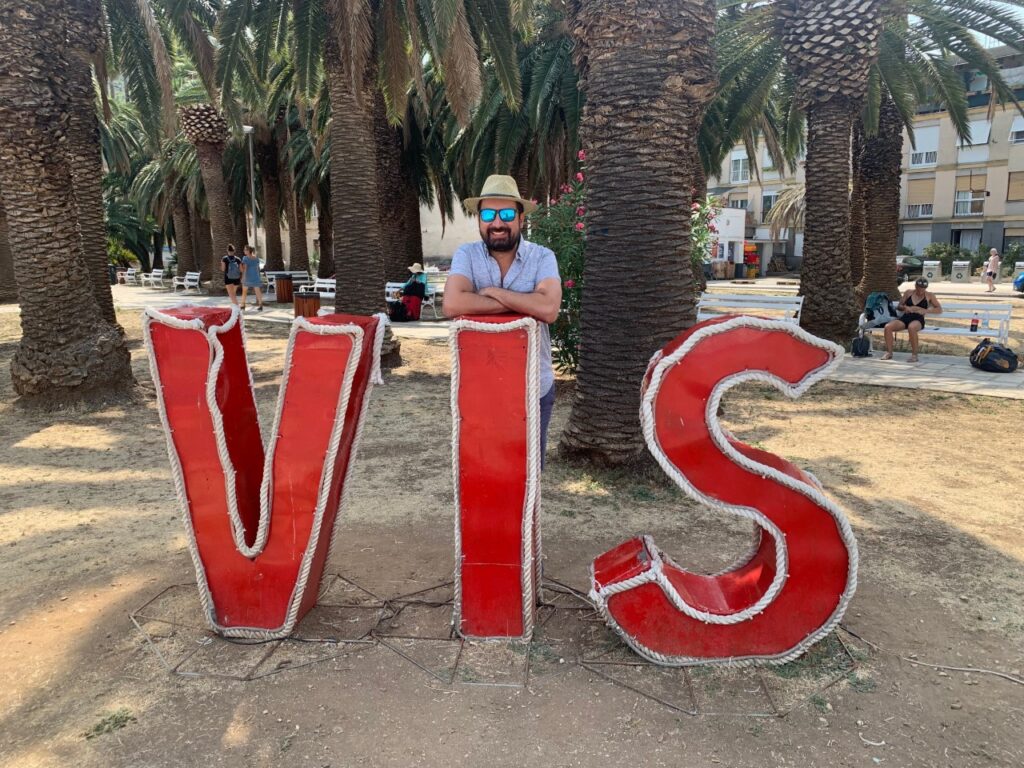 Vis town has a quaint harbor with restaurants, bars, and shops to explore. Make sure you grab a photo at the Vis sign!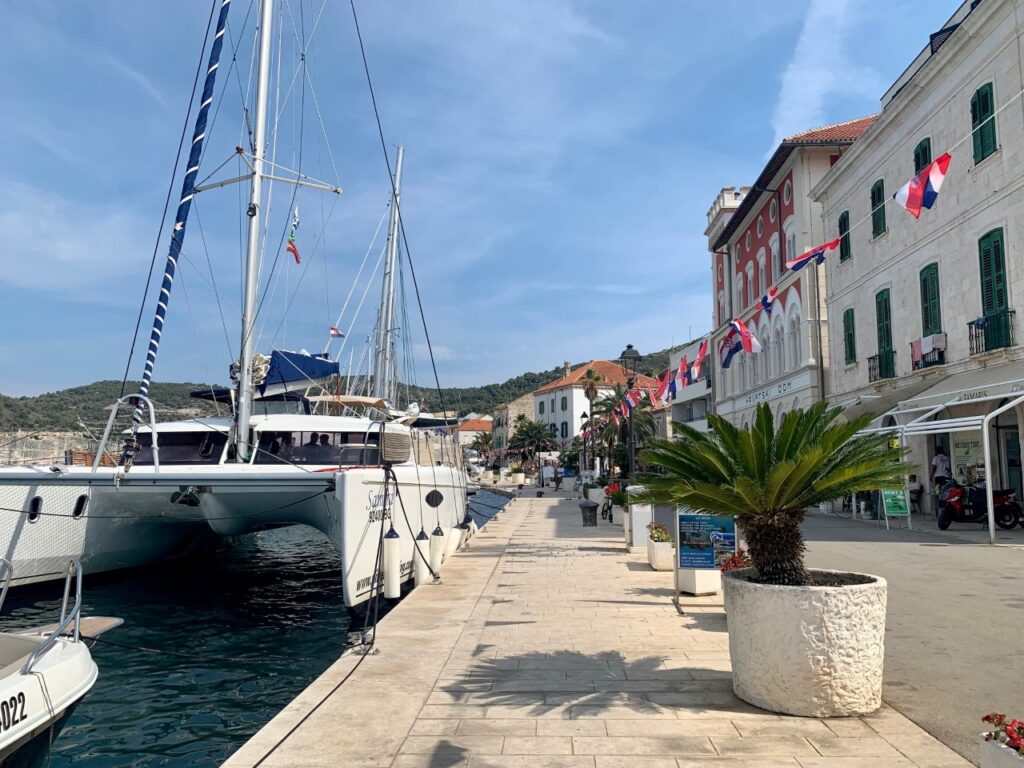 A lot of our friends opted to rent scooter or e-bikes and ride around the island. Keep in mind many of the roads in Vis are steep and twisty so just be careful!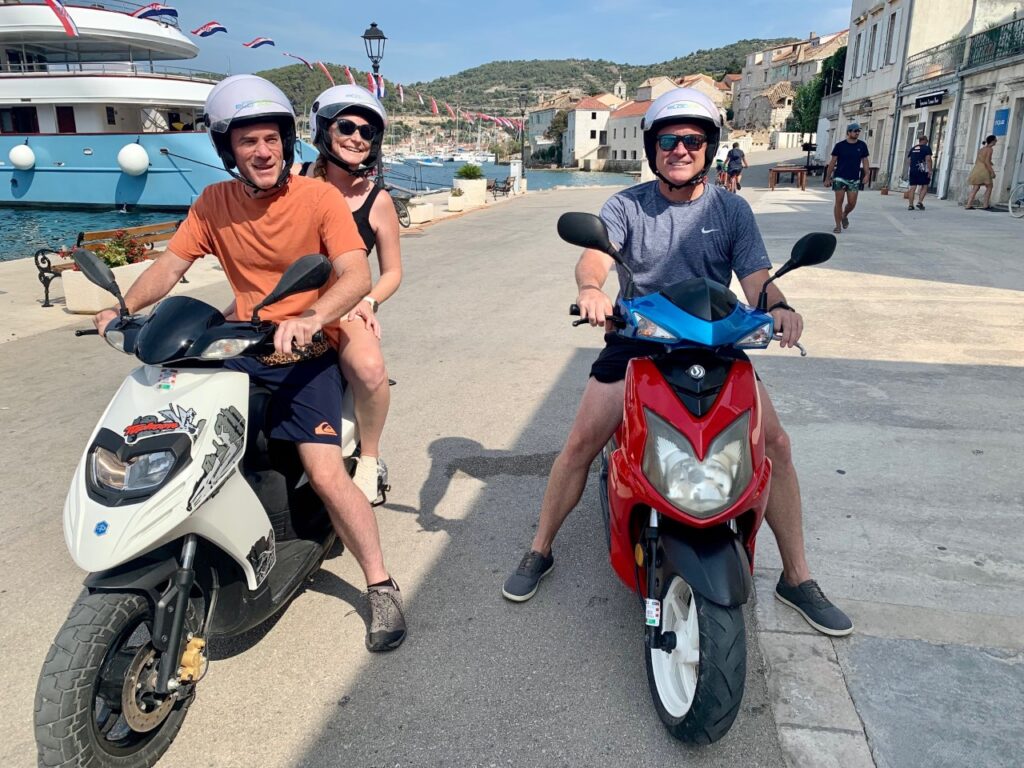 If you read about Day 3's adventures in Vela Luka, you know we love to taste wine wherever we go! So after wandering around the harbor, our Sail Croatia tour representative, Ivana, helped us call a taxi to visit Vislander Winery.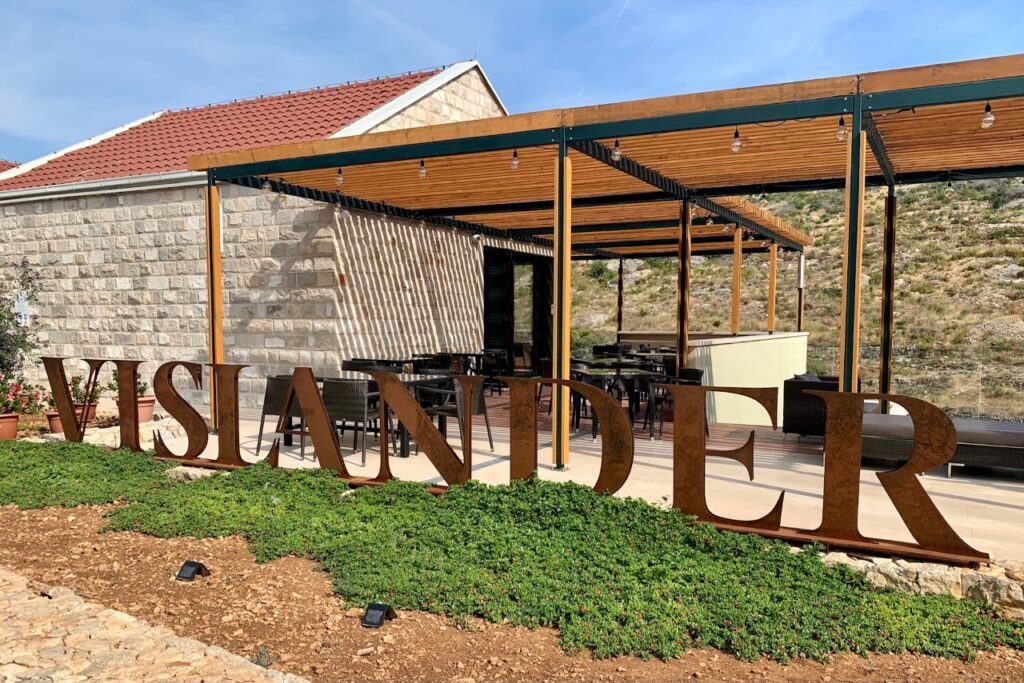 There are a variety of wine varietals at Vislander and we chose a tasting with a couple whites and rosé. WC also tried limoncello. Vislander also has the popular Croatian wine Plavac mali.
Tip: You'll definitely want to try Vugava (or Bugava depending where you're at). This is a varietal only that mostly grown one the island of Vis in Croatia. We bought a bottle of Bugava Antique to bring home with us.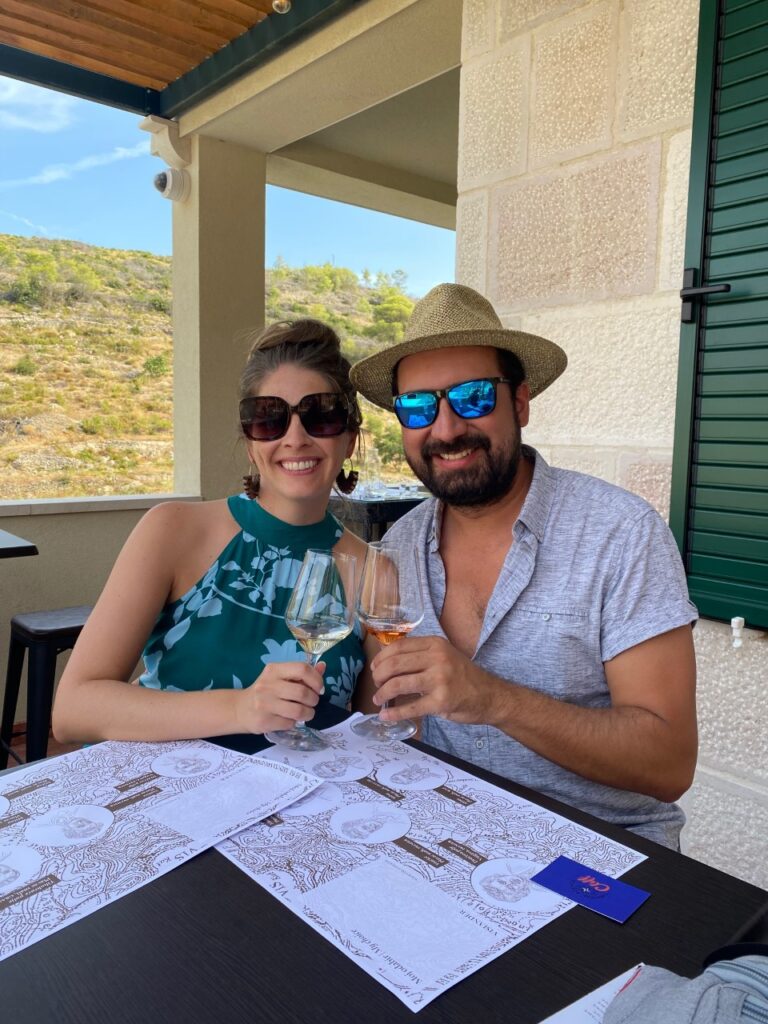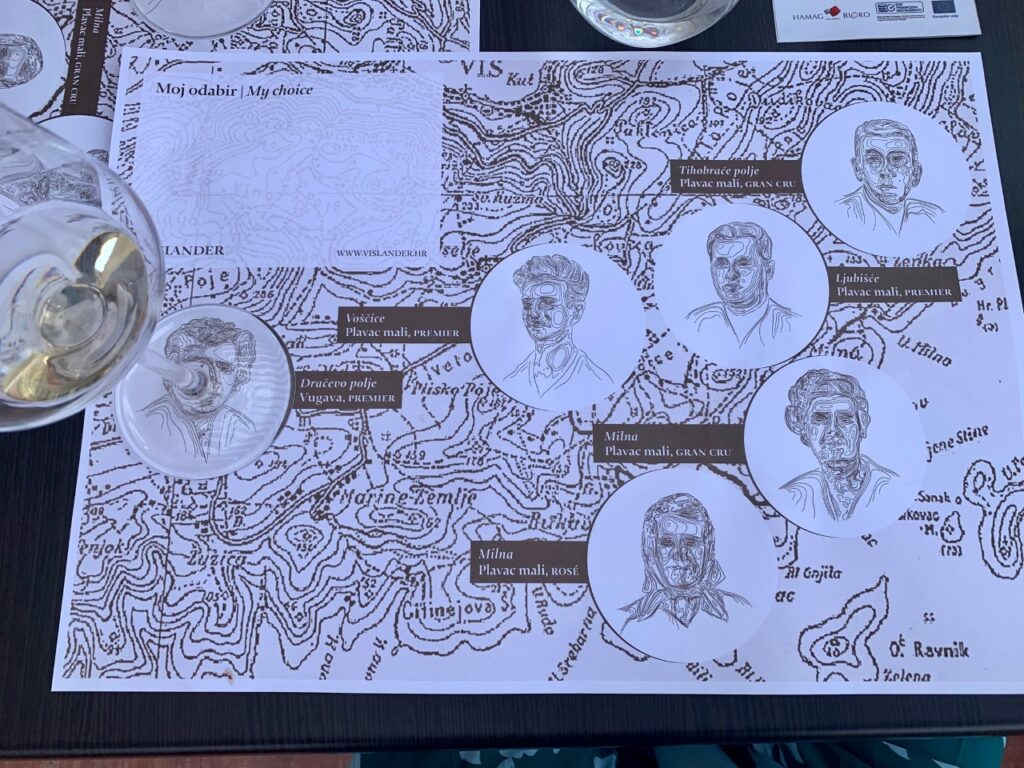 You know what's also great about Vislander… the winery dog! What a cutie.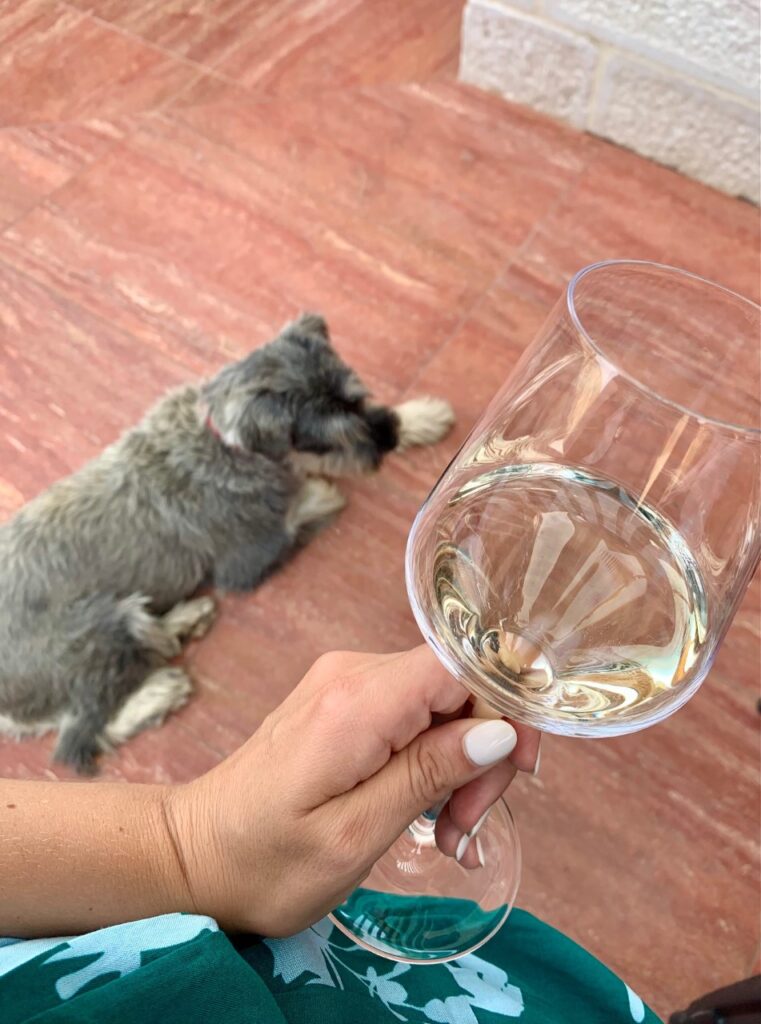 The wine tasting also included a free tour of the winery which was given by the winemaker! He showed us around the production area of the property where the grapes are processed, fermented, and bottled.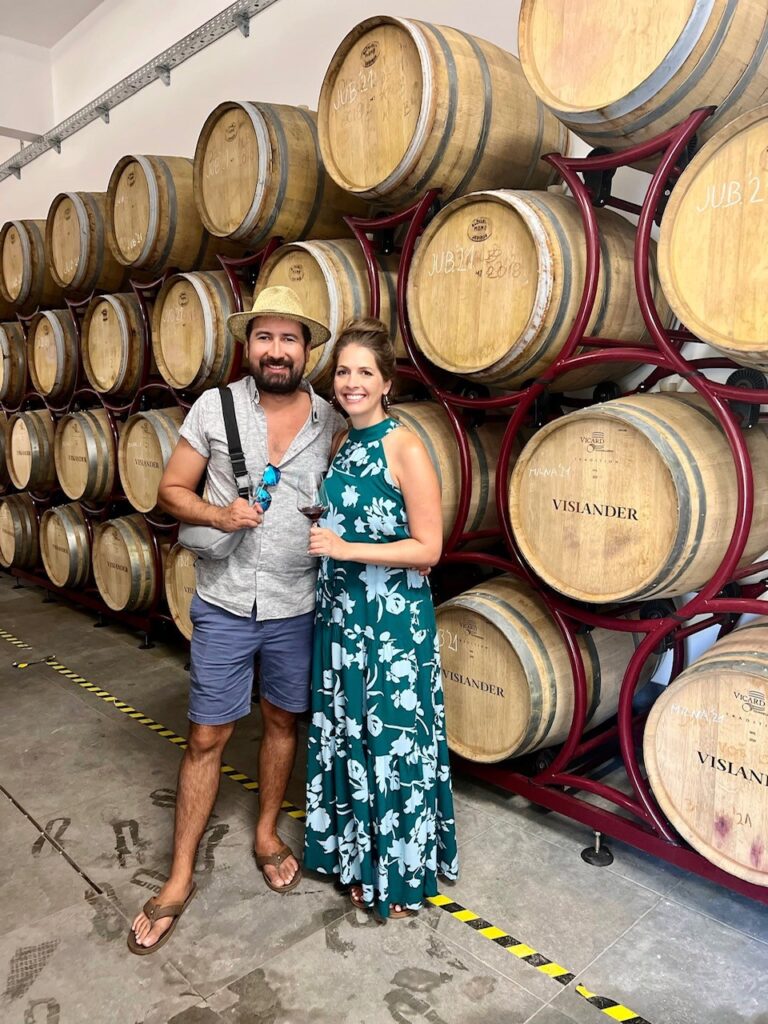 Evening in Vis, Croatia:
After wine tasting, we headed back to the Princeza Diana to shower and get ready for dinner. Ivana recommended Villa Kaliopa and what a fabulous recommendation! You will want a reservation since it's a pretty busy spot — Ivana helped us out with that! The walk to the restaurant takes about 10-15 minutes from the port and you get a lovely view of the harbor at magic hour.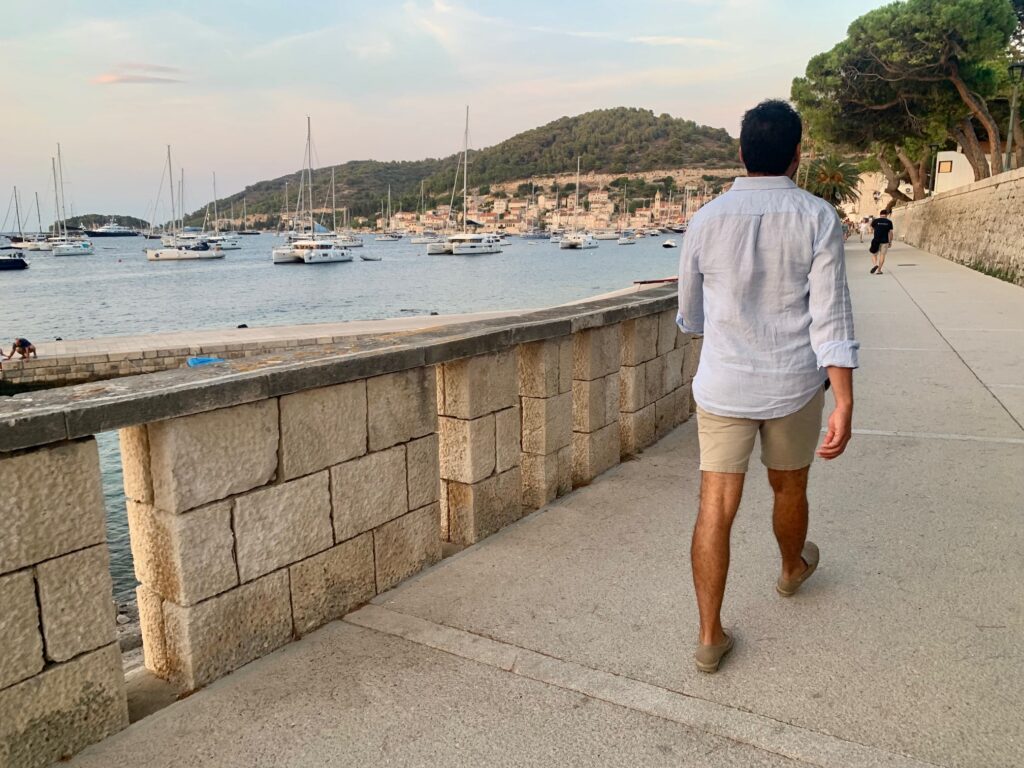 Along the way we passed this adorable Bubbly Bar, but we didn't have time to stop for a drink before our reservation.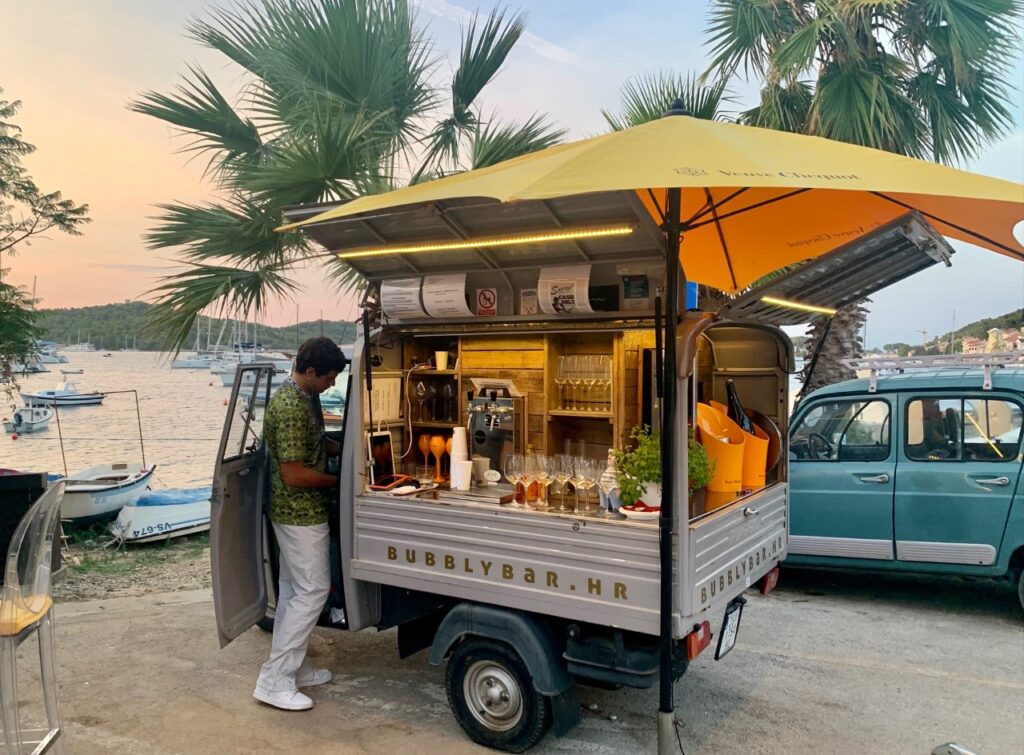 Dinner at Villa Kaliopa was a great recommendation! The restaurant is in the middle of a 16th century botanical garden. All the food was great, but my favorite item was actually the soup!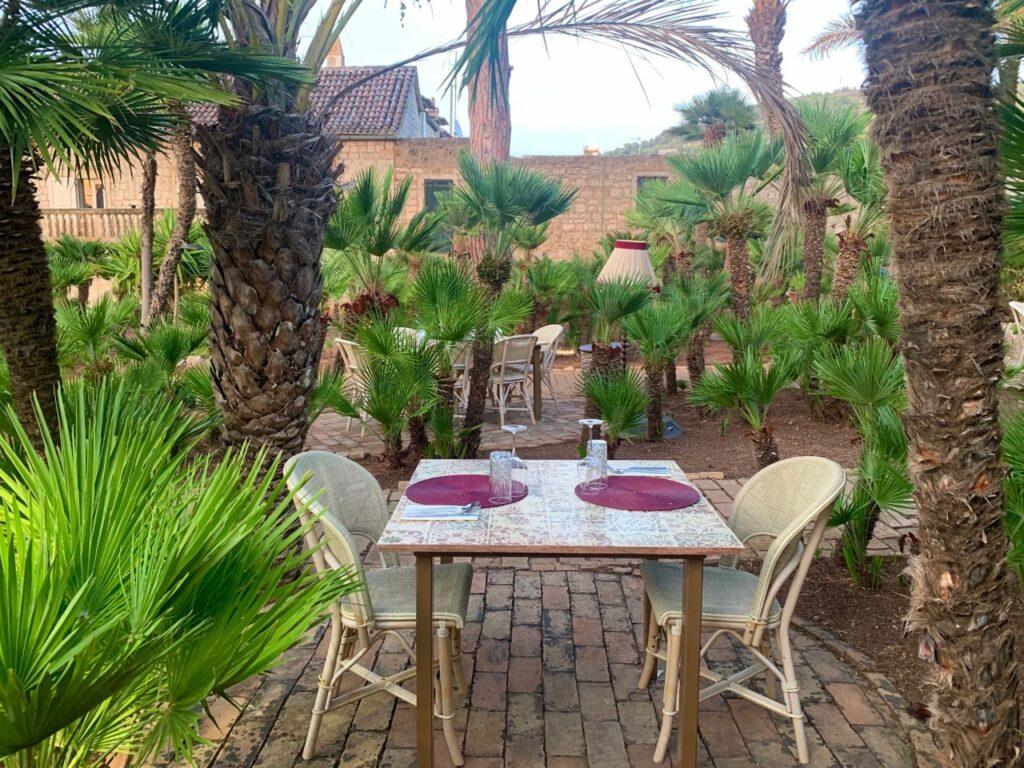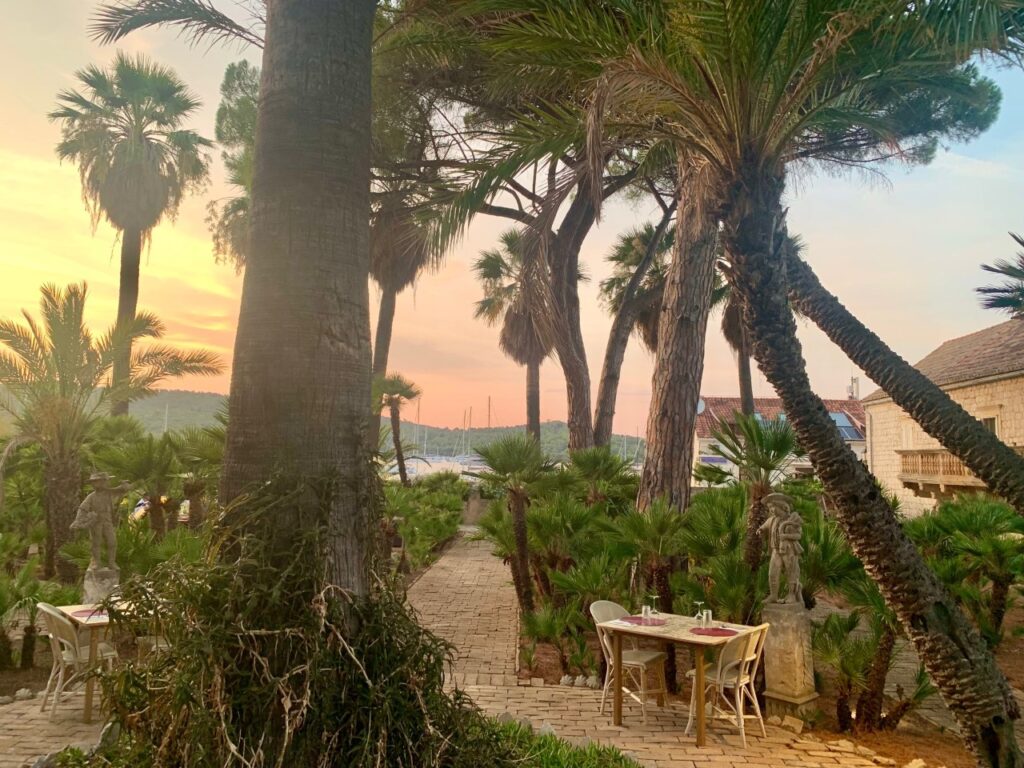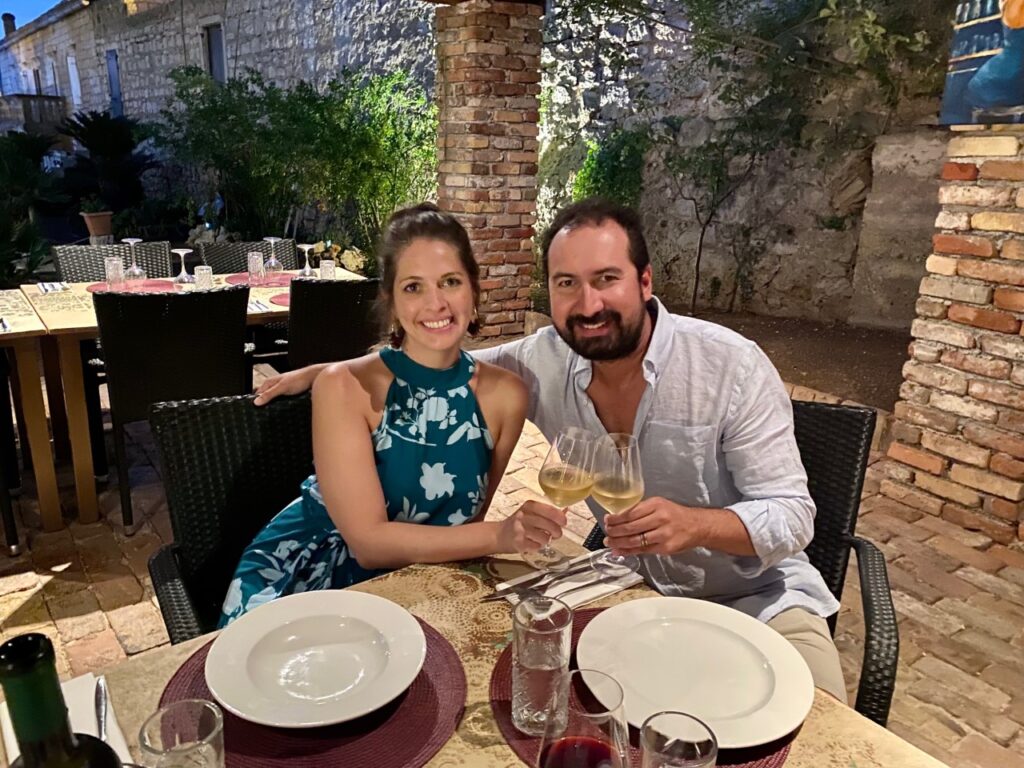 After dinner, we stopped back by the Bubbly bar before heading back to the ship to end our night with a few drinks on the deck.
Next stop on our Sail Croatia cruise: Hvar, one of Croatia's party towns!
Need more Croatia inspiration?
Check out these blog posts to help you plan your trip to Croatia:
Enjoy our blog post? Sharing is caring!