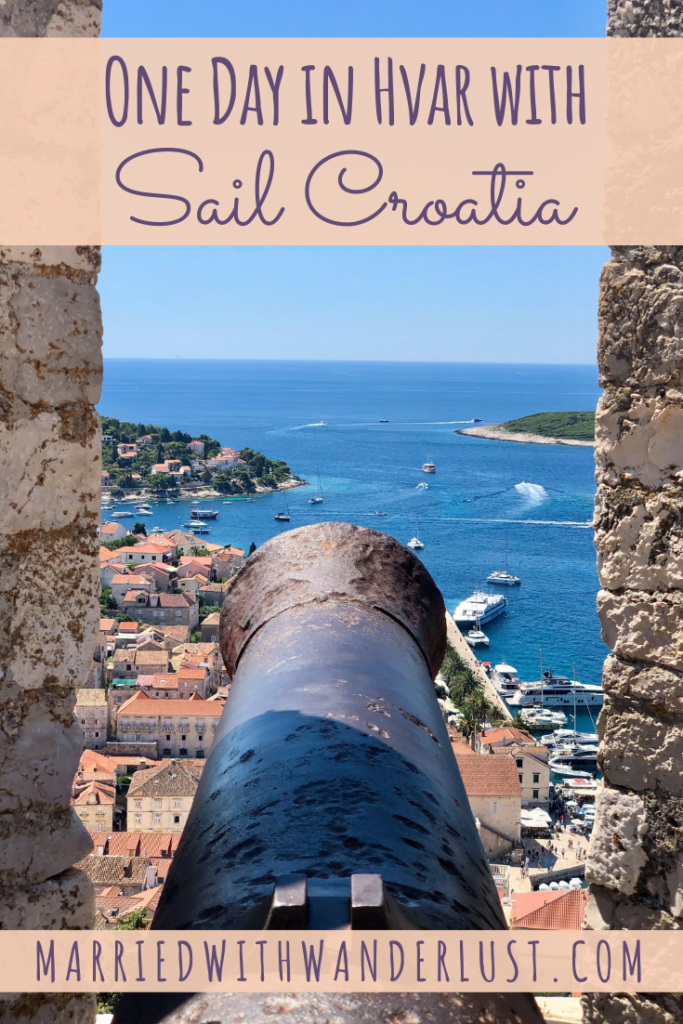 The fifth day of our Sail Croatia cruise on the Princeza Diana took us to Hvar, one of the country's party towns! I'm sad to say I didn't get to enjoy it nearly as much as I would have liked because I didn't feel well that day. But I did check out a few spots and WC hung out with our group of friends so I'll share everything they did!
Day 5 with Sail Croatia: Hvar
Our morning started a little different than some of the other days on the cruise. We departed from Vis around 6:00 am and headed for the Blue Cave, an optional excursion. The cave tour was 100 kuna per person. Basically it worked like this: those who participated left the Princeza Diana early morning to head to shore to a waiting area (pictured below). The wait is typically 1-2 hours but there is a snack bar and gift shop to help pass the time.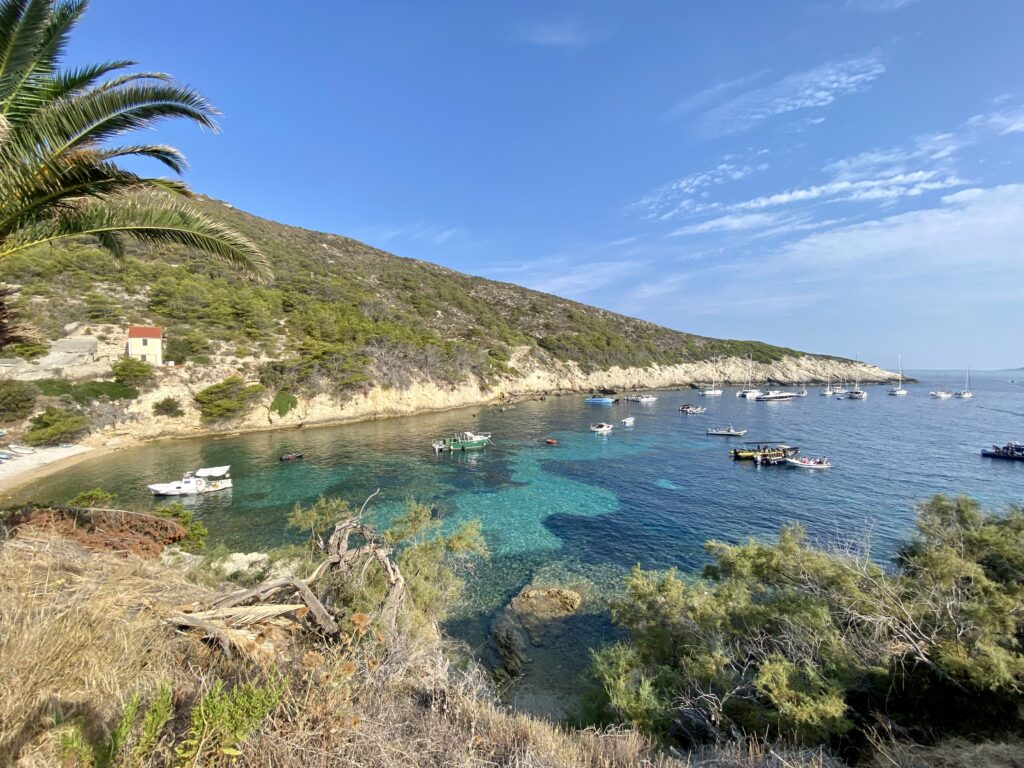 Once it's time to head to the cave, you board a smaller boat that gets in line outside the cave entrance. Each boat enters the cave for about 5 minutes. You're not allowed to get out of the boat or swim. Though it is a bit of a "tourist trap" our friend, Kris, said the bright blue colors created by the sun's reflection on the water is incredible.
Those who didn't go on the excursion got a look at the outside of the cave from the deck of our ship. Thank you to our friends for sharing these photos and video!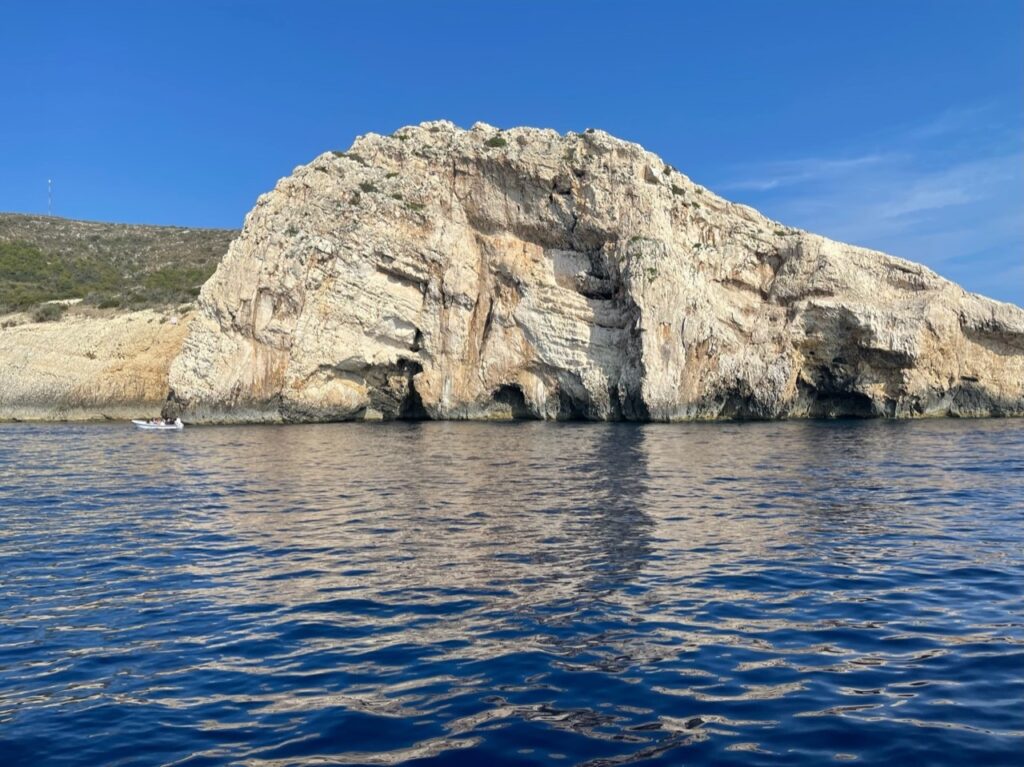 After the excursion, the Princeza Diana headed for Hvar which was a bit of a longer trip than some other days. Lunch was served in the dining room around 1:00 pm with our daily swim stop shortly after.
Daytime in Hvar
In Hvar, getting to shore sometimes requires a water taxi since the port is pretty crowded. The water taxi fare is covered by Sail Croatia so you don't have to worry about that but you can leave a tip for the taxi captain if you'd like. Once off the taxi, everyone walked to the main square of the port where Ivana, our Sail Croatia tour representative, gave us some info about Hvar.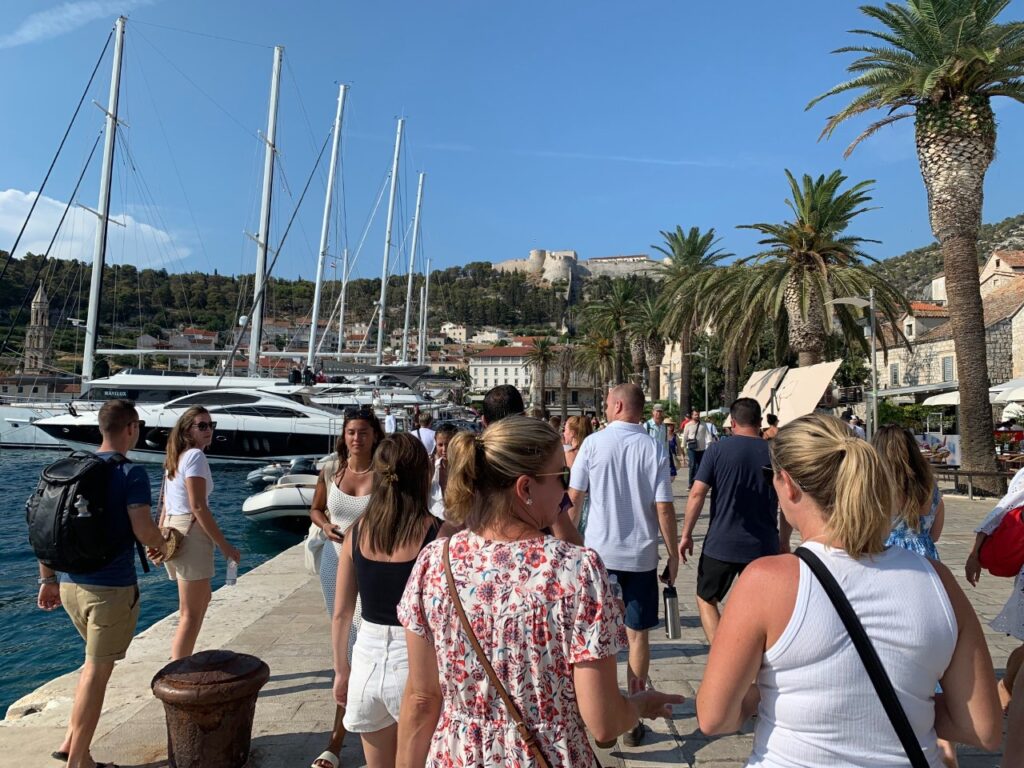 We also grabbed our only full group photo with everyone from the Princeza Diana. Along with our friends from the U.S., we also had people on our boat visiting from Australia, South Africa, Ireland, Portugal, and England!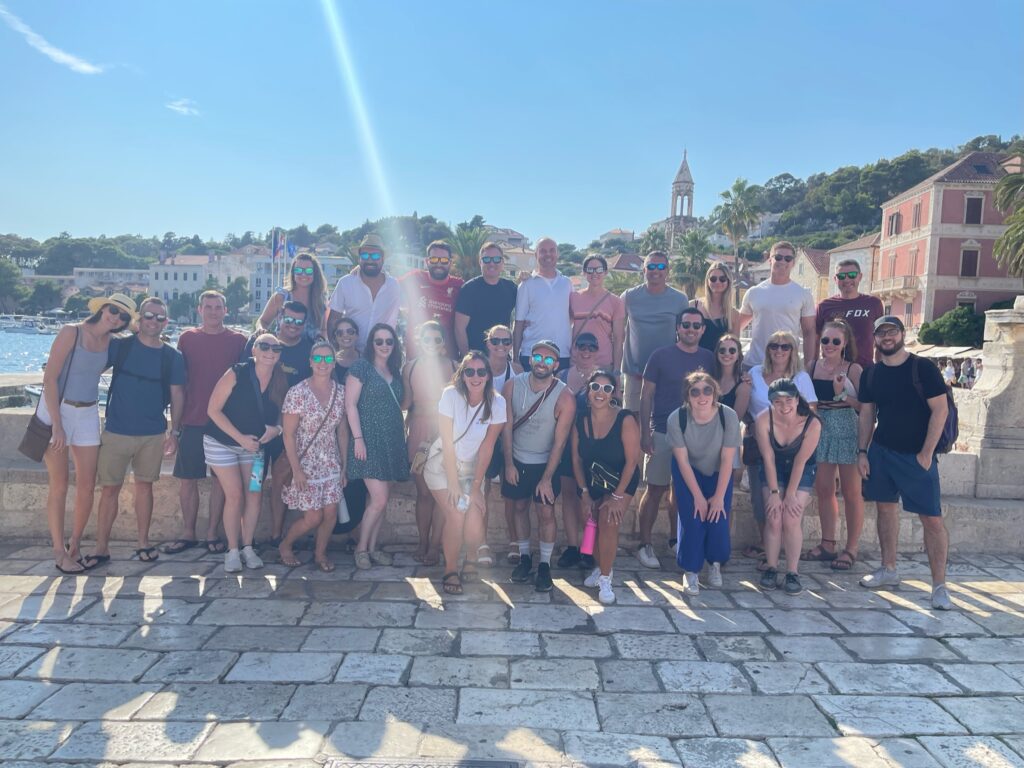 From there, Ivana led part of our group on a hike up to the Fortica Fortress. It takes about 20 minutes to hike up the stairs to the fort. Make sure to bring a water bottle with you, especially in summer. We didn't go on the hike, but our friends said it was worth the effort for the fabulous views of the town.
Those of us who skipped the hike walked around the harbor and enjoyed several cocktail spots. Our first stop was Kod Kapetana which has a lovely view of the harbor.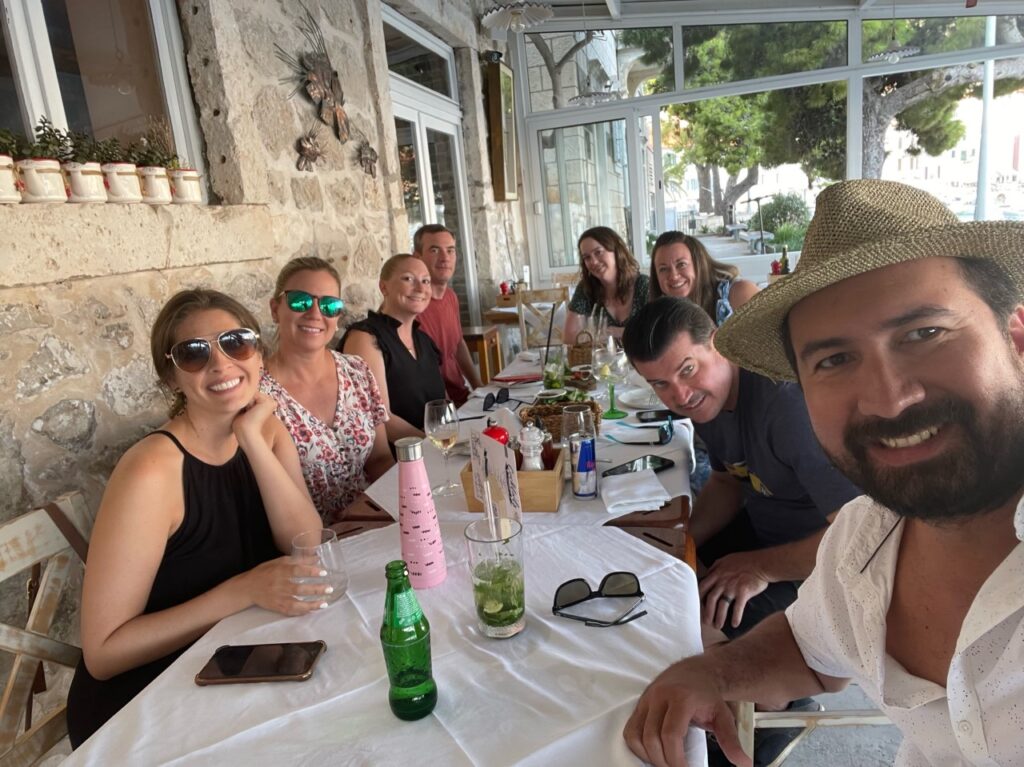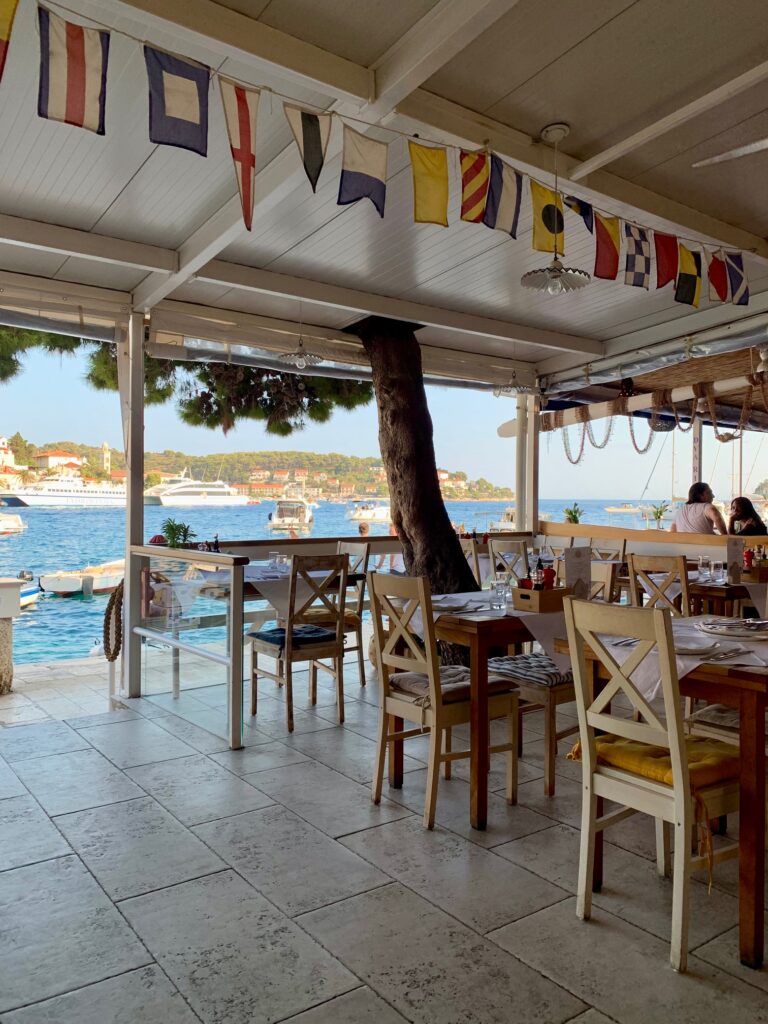 After Kod Kapetana, we walked along the waterfront to the well-known Hula Hula Beach Bar. We weren't able get a spot at Hula Hula for a group — but we did get to see the Princeza Diana heading into port to dock!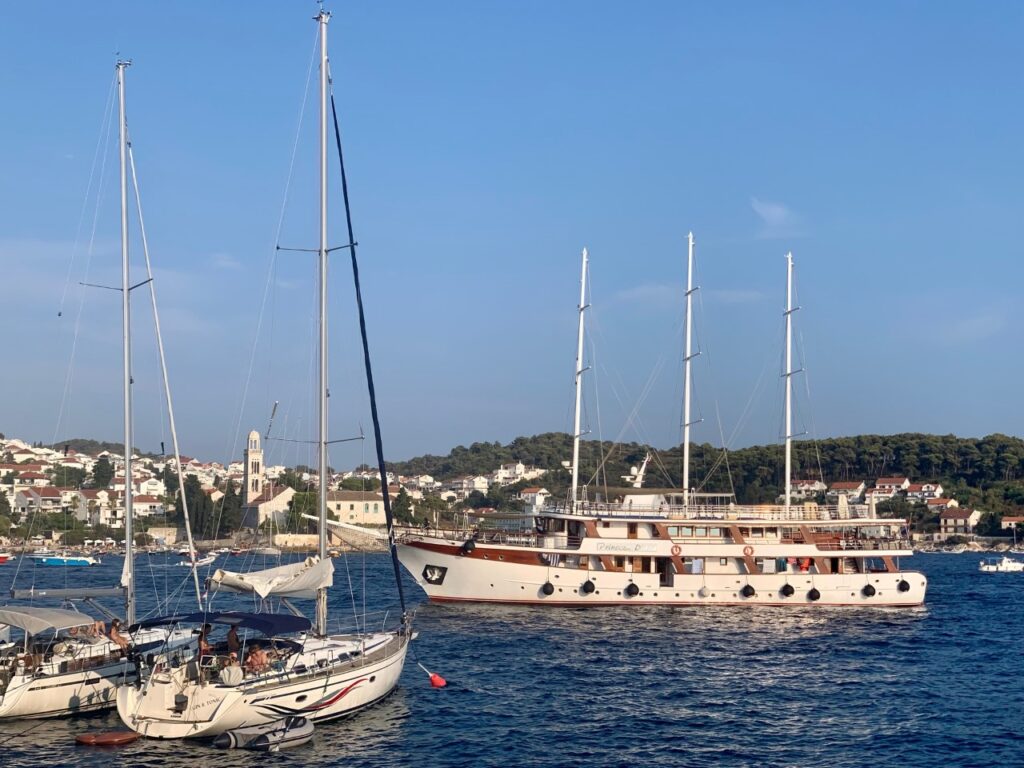 Around this time, I still wasn't feeling great so I headed back to the boat to get some rest and grabbed a burger from a takeaway spot. I'll be honest, I was a bit tired of seafood by that point so the burger hit the spot! I ate it sitting on our room floor by the air conditioner – Hvar is hot in the summer!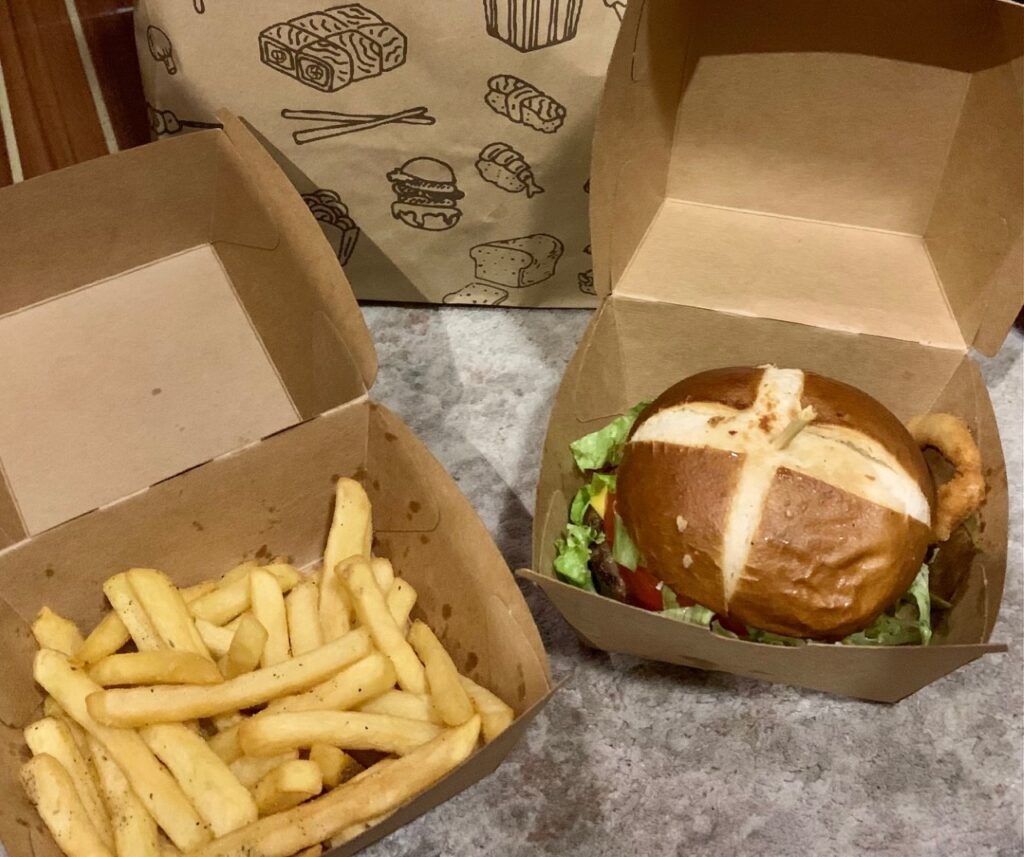 WC and our friends continued on their bar crawl and their next stop was The Top Bar on the rooftop of the Adriana hotel. It is known for spectacular views over the harbor and city as you can see below.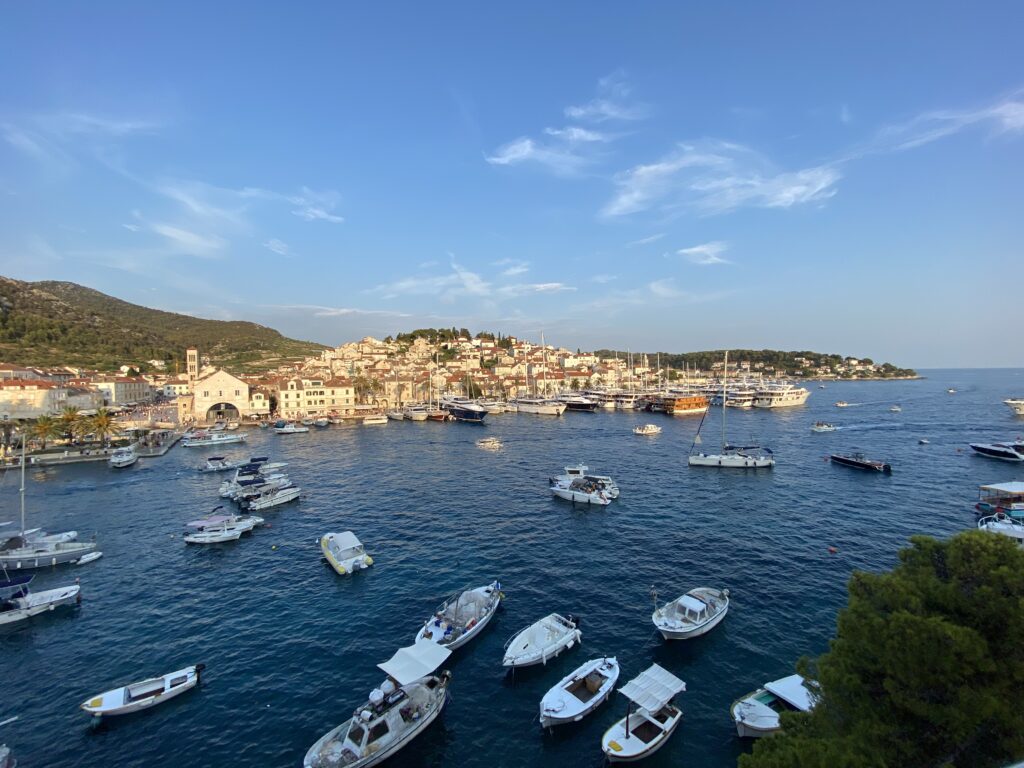 Nightlife in Hvar
After dinner and a little rest, I rallied and joined everyone from our ship at the popular Nautica Bar which has a partnership with Sail Croatia. Ivana walked with all of us from the ship and helped our group snag the famous flaming Jäger shots (video below)!
If you're traveling on your own, know this bar gets VERY crowded and you'll want arrive fairly early if you want a table. The music and dancing are top notch at Nautica but it is also very smoky which is common for bars in Croatia. I still wasn't feeling great so I headed back to the ship after it started getting too smoky inside. The rest of our group stayed at Nautica until closing time. If you're out and about this time of night make sure you get a look at the fortress lit up over the harbor when you leave the bar.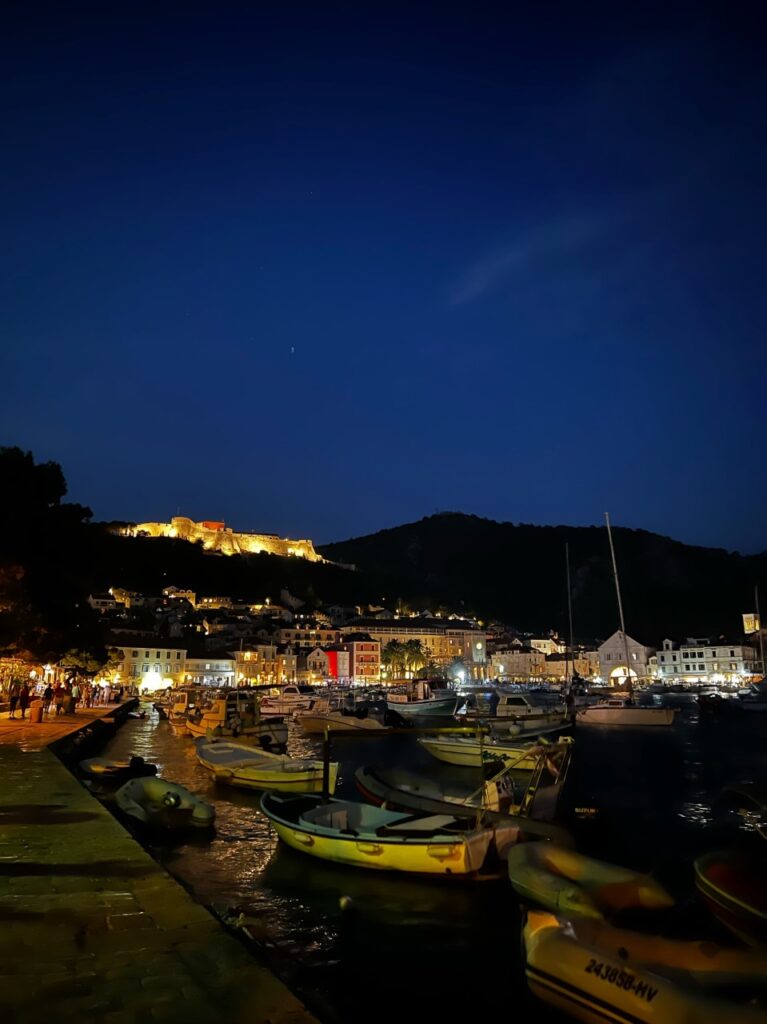 After Nautica closed, a lot of the group headed to Pink Champagne, a club that doesn't open until 2 am! Whew, I was long asleep by then, haha. Pink Champagne is known for its theme parties and be prepared to pay a cover charge.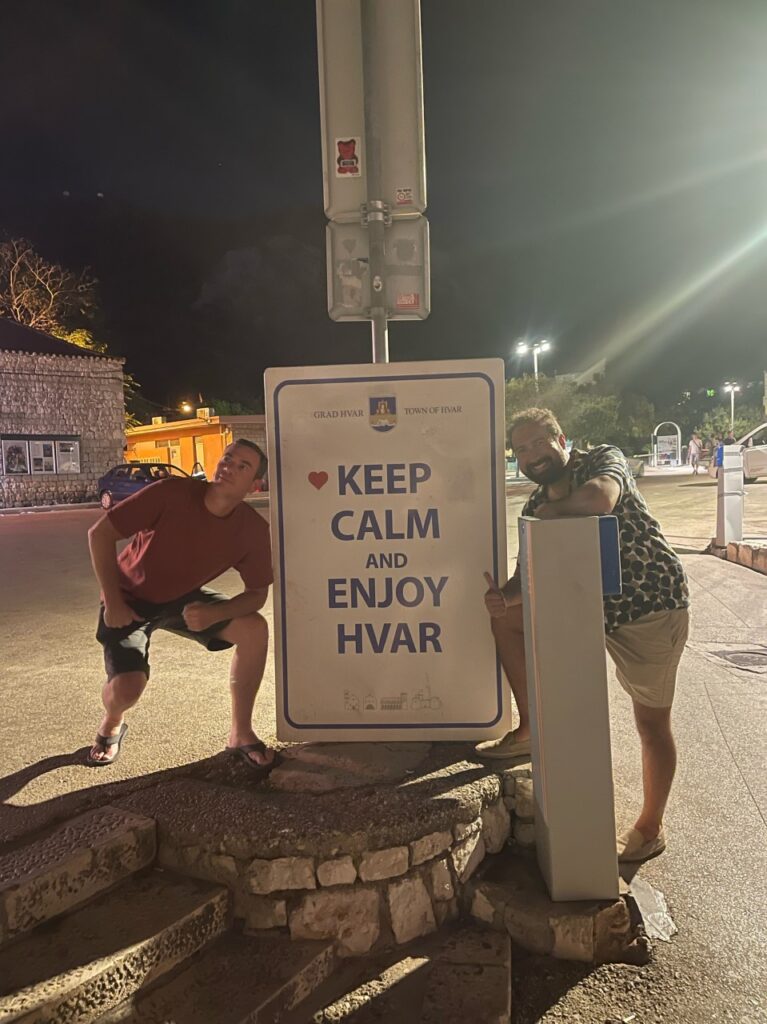 That's a wrap on our day in Hvar, Croatia! I'm happy to say I felt 100% better by the next morning and was able to enjoy an awesome day in Stari Grad. Looking forward to sharing about it in our next post!
Need more Croatia inspiration?
Check out these blog posts to help you plan your trip to Croatia:
Enjoy our blog post? Sharing is caring!