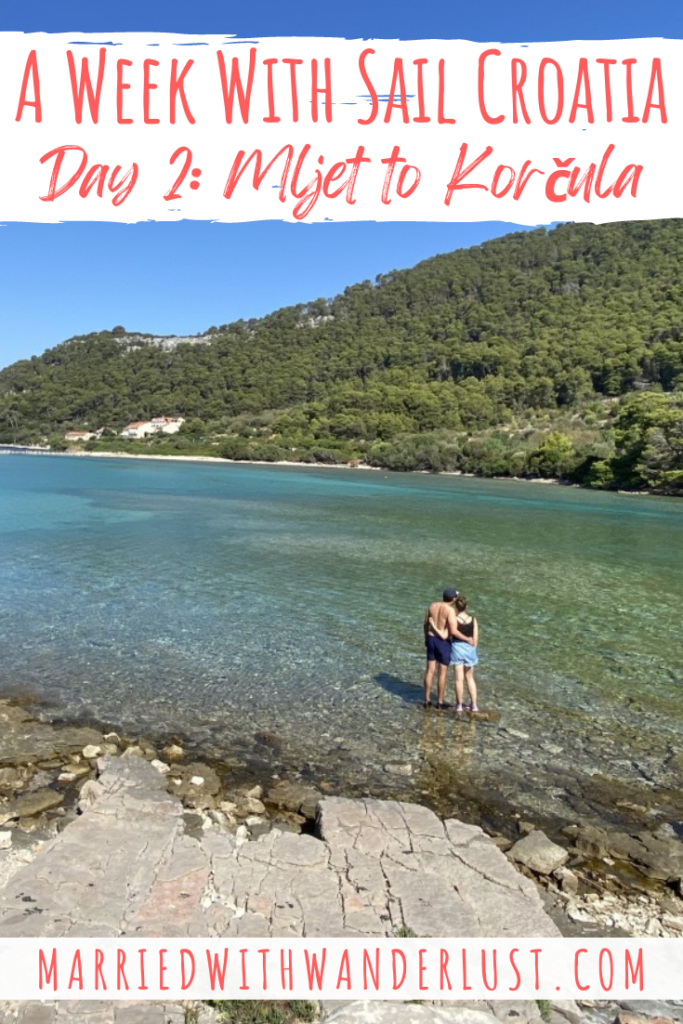 In August, WC and I and 16 friends set sail on a 7-day adventure with Sail Croatia. In our last post, we recapped day one from Dubrovnik to Mljet. Our second day was divided between Mljet and Korcula (or Korčula). It was a busy day that combined activity and adventure with relaxation! Here's a recap:
Day 2 with Sail Croatia: Mljet and Korcula
Our second day on the ship started early with breakfast from 7:30-8:30 am. At 8:45, our group began the walk from Pomena Harbor over to Mljet National Park for a bicycling excursion. (This excursion is optional so you can also choose to explore on your own if you prefer.)
Planning note: Getting into the national park costs 150 kuna. Renting a bicycle inside the park costs 110 kuna.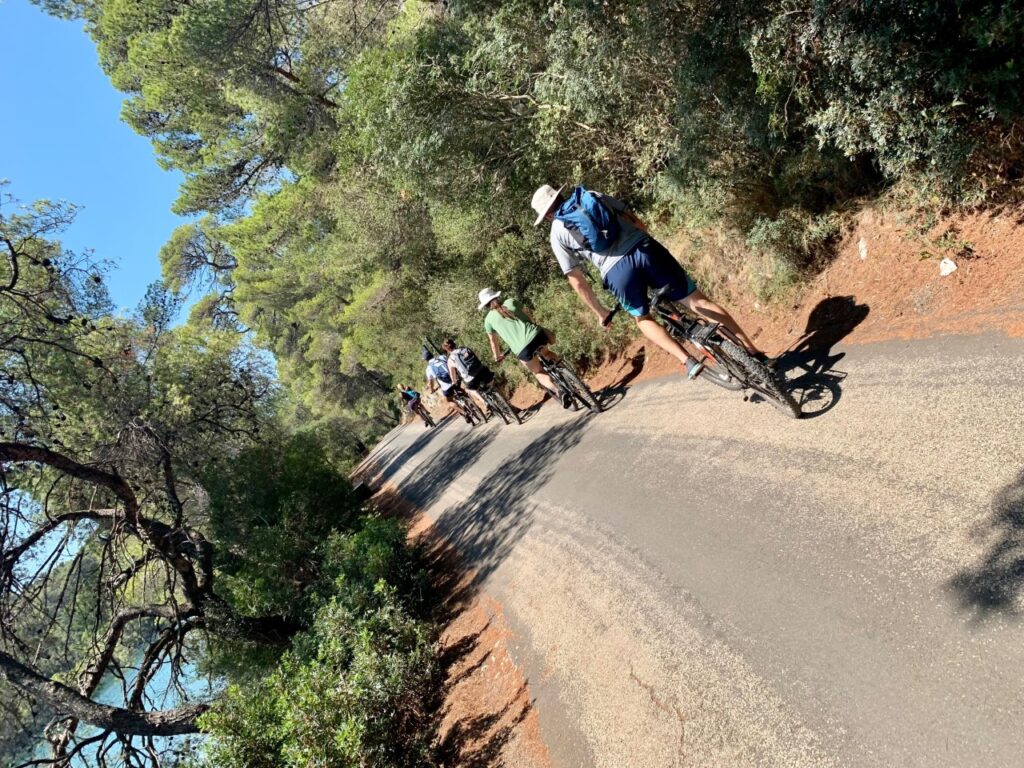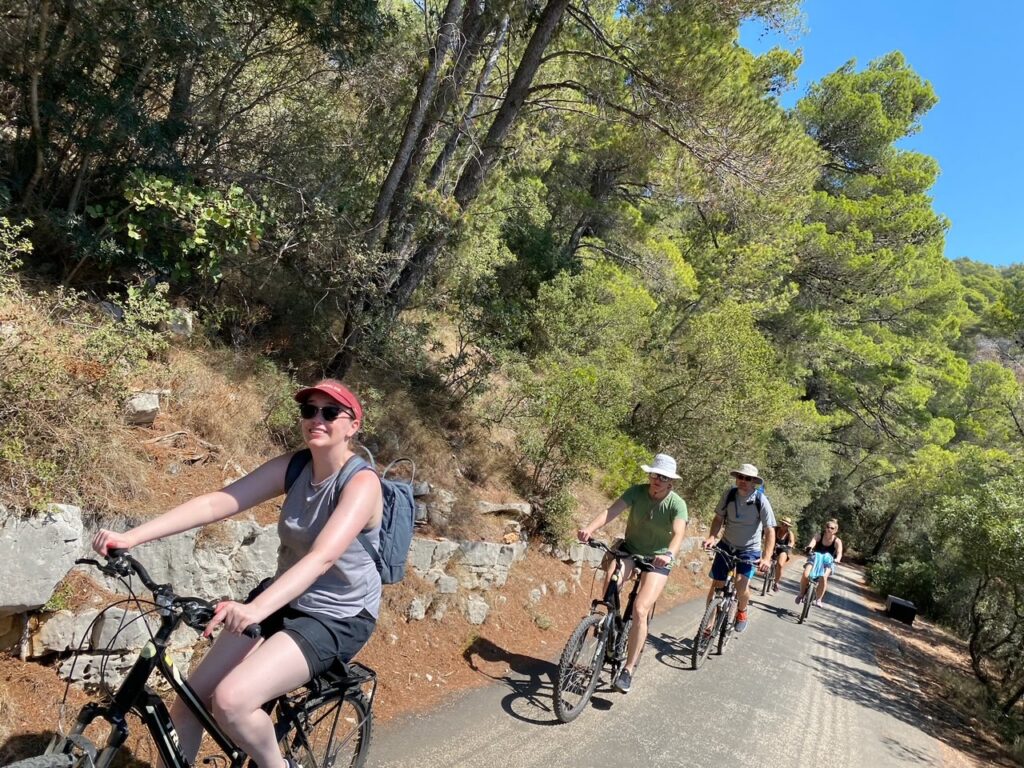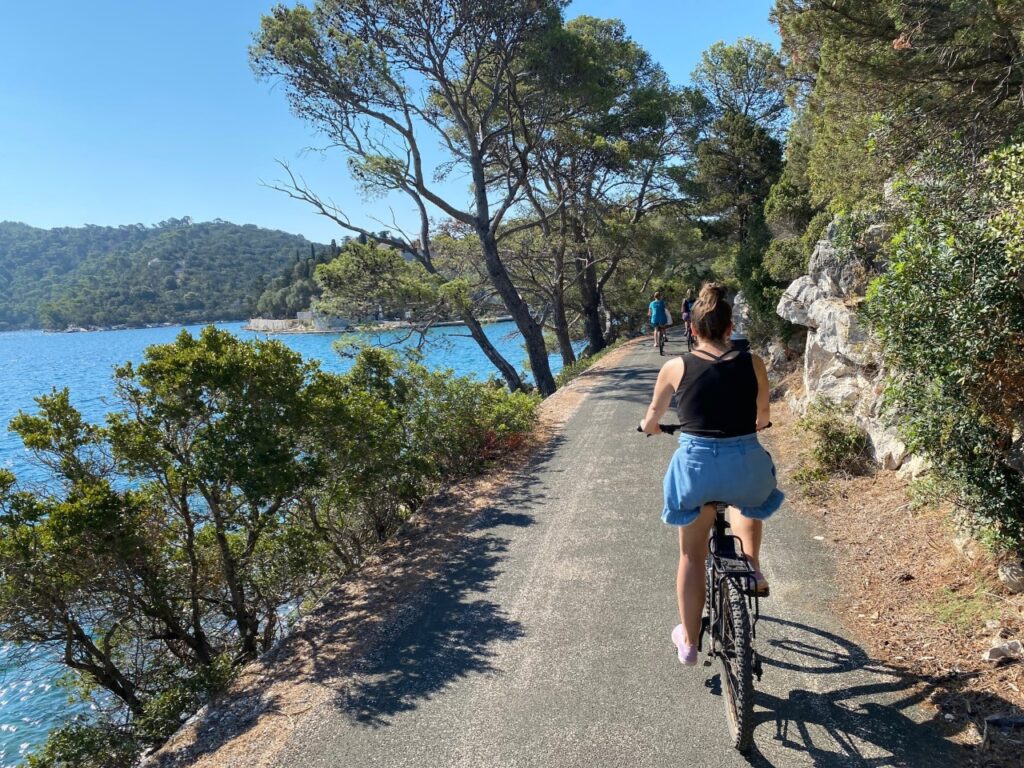 The national park path runs in a loop and takes about an hour to get around the large lake if you don't make any stops. Traveling counter-clockwise from the in-park bicycle rental, we rode to the end of the road which brings you to a gorgeous overlook of the lake. You can walk down to the water's edge but be sure to wear water shoes! The landscape is rocky and you'll need to watch out for sea urchins (this is the case throughout Croatia).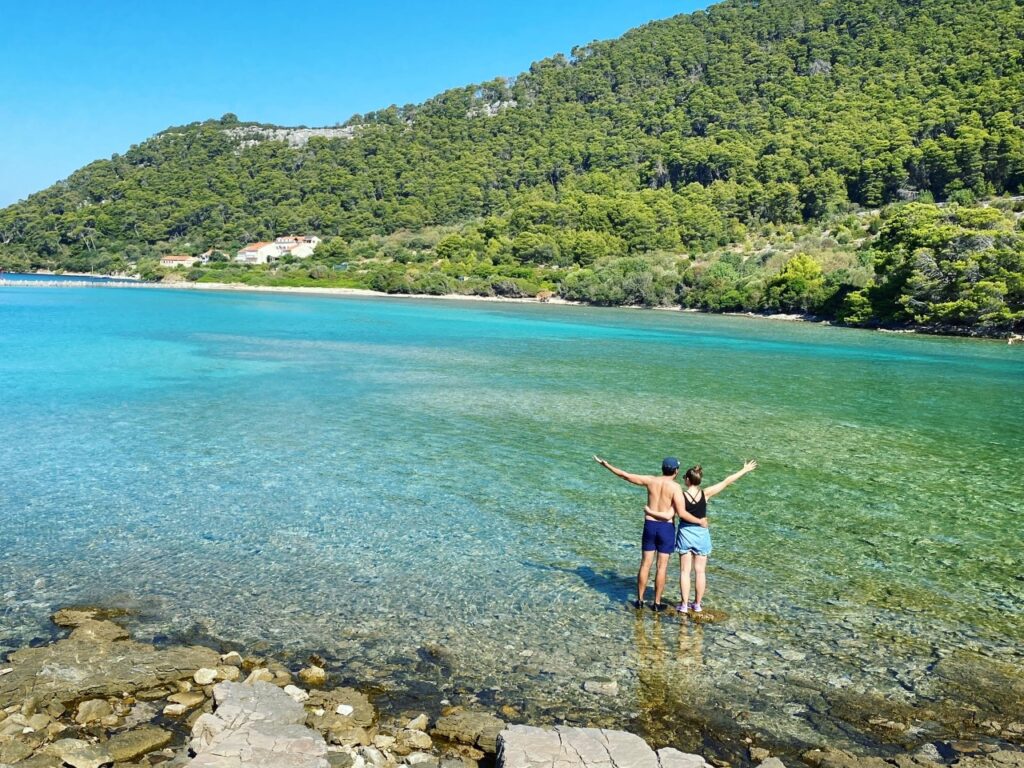 After a short stop at the overlook, we headed back the way we came on the bikes to a bridge that crosses the large lake. Here you'll have to pick up your bike and carry it over the bridge. Once on the other side, we continued around the loop for a bit until we found a nice spot to stop for a swim!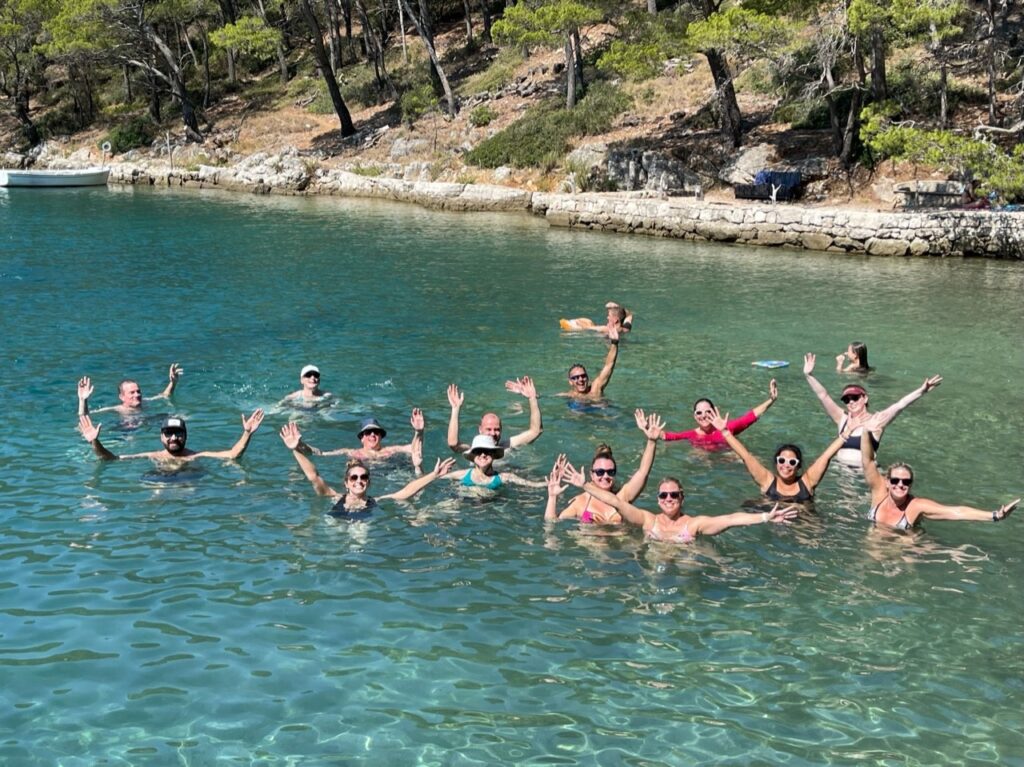 From here, as you continue on the loop back to front of the park / bicycle rental, you'll go through a small town. This is a dismount zone, so make sure you get off and walk your bike. Here we stopped at a restaurant for a short beer, gelato and cat-photography break!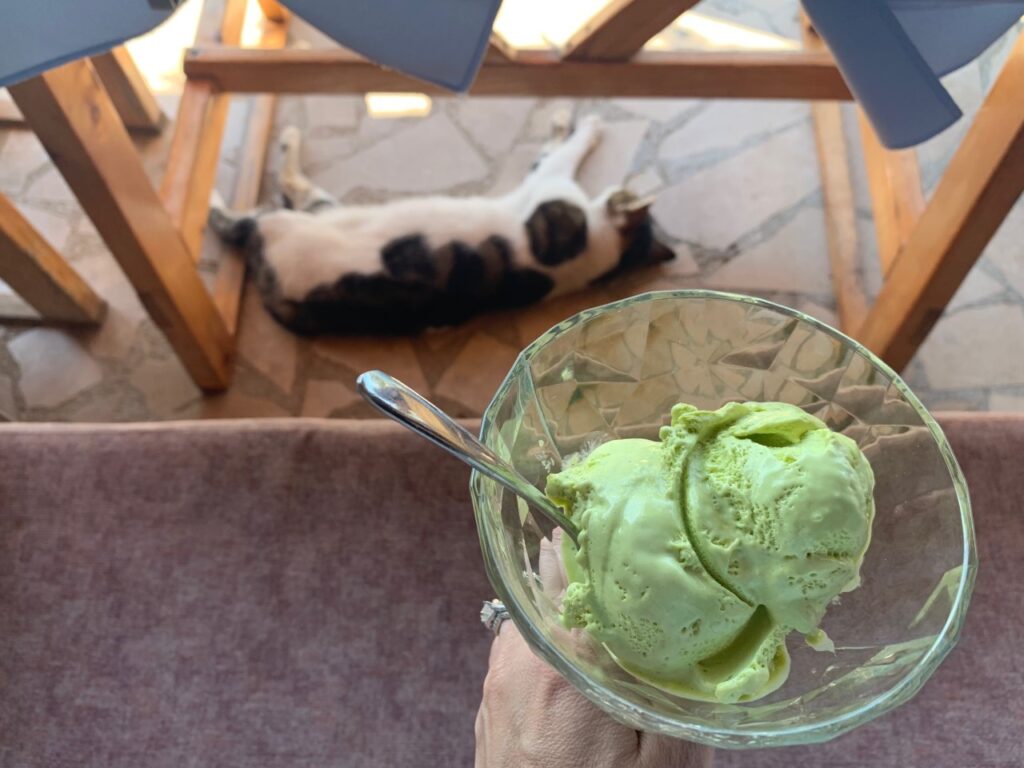 One last activity before heading back to the boat: There's a small tunnel running between the small and large lake beside the bicycle rental. You can have a leisurely float through the tunnel whichever way the tide is running. Check it out:
Planning note: While in Mljet National Park, you may also want to visit the Benedictine Monastery of Santa Maria. It was closed on the day we were there!
We got back to the boat just in time for lunch at 1:00 pm. Every day on the ship, the crew prepares a fantastic 4-to-5 course meal. While we ate, the ship set sail for Korcula and around 3:00 pm, we had our daily swim stop. The water was pretty rough this day so we held onto the rope to stay near the ship.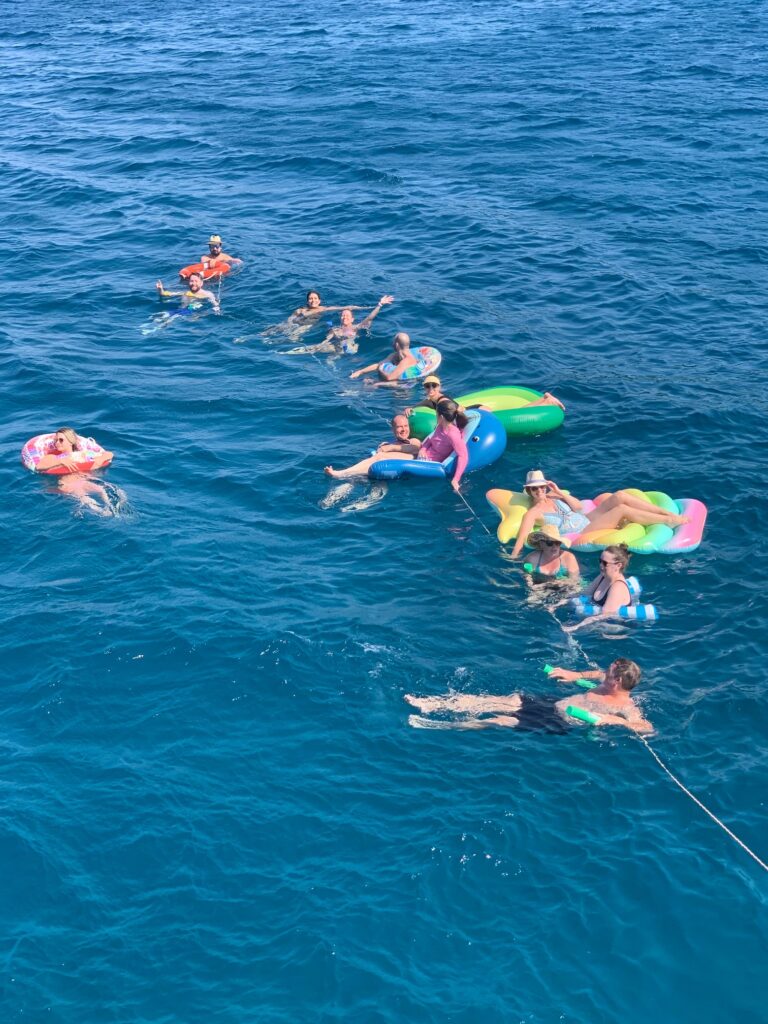 The Princeza Diana docked around 4:30 pm and then it was time to explore Korcula! On this afternoon, our large group split up with everyone checking out different things. Some of the group went with Ivana, our Sail Croatia tour representative, on a walk around the town. Others had booked a buggy excursion. WC and I, along with our friend Kelly, wandered on our own.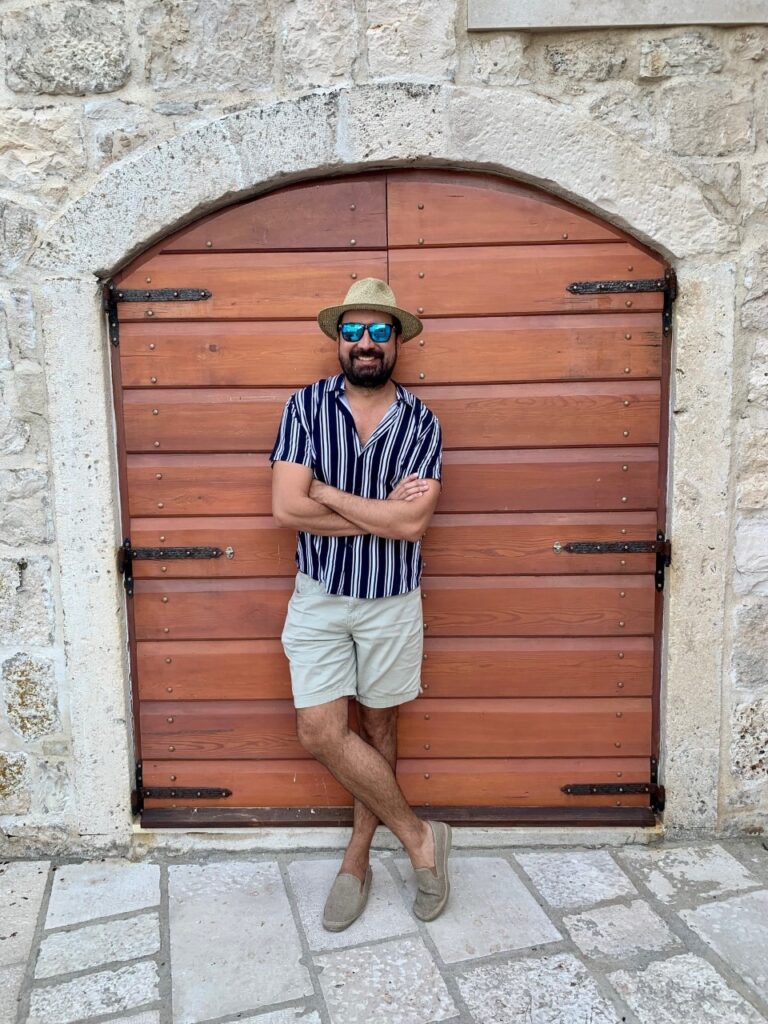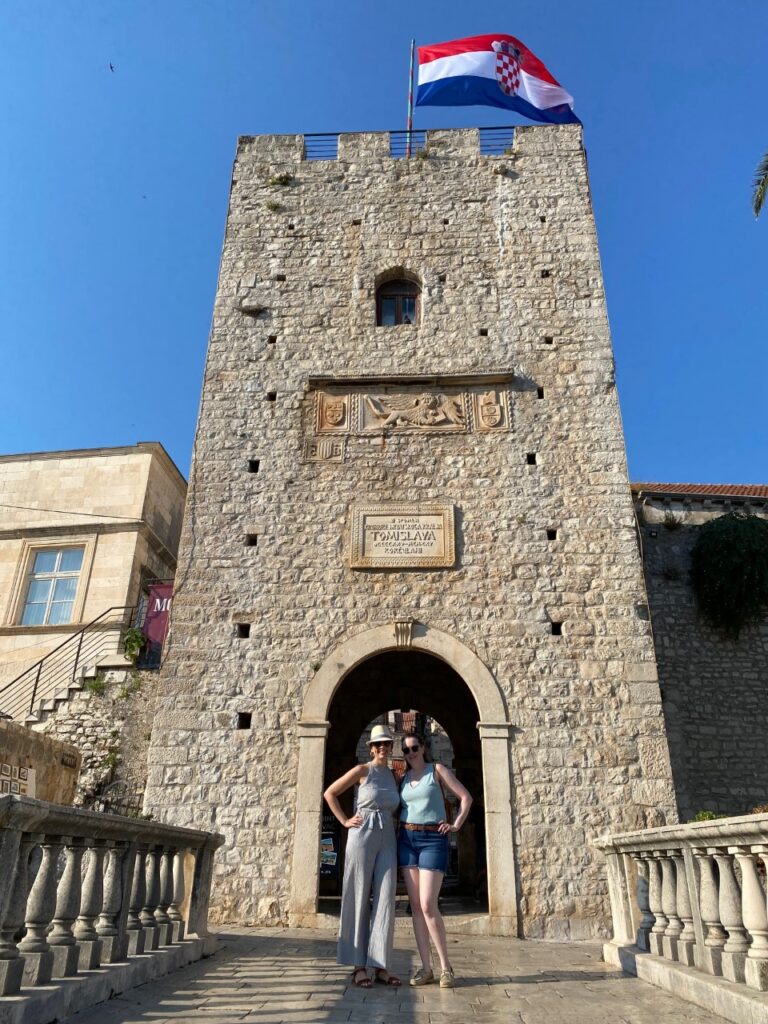 After exploring the town and wandering through shops, we stopped at Mariola Wine Bar for a glass of wine and cheese board. Mariola is located in an alley right across from the popular Bokar Wine Bar. We had planned to try to make it back to Bokar at some time during our visit but ran out of time.
Tip: Make sure you try the Grk variety of wine- it's almost exclusively grown on Korcula island!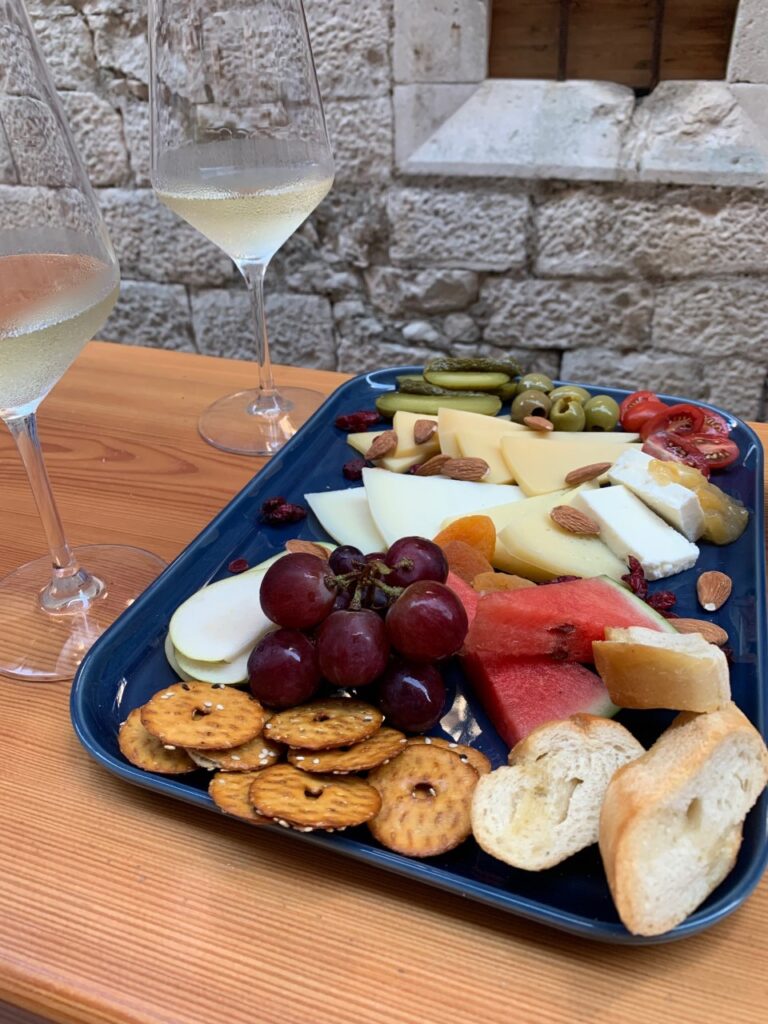 A must-do in Korcula is the Massimo Cocktail Bar at sunset, and thanks to Ivana, we had a reservation for our entire group from 6:30-7:30 pm. To get to Massimo, you climb up stairs in the turret of Zakerjan Tower. Tip: Ladies, you may want to wear pants for the climb!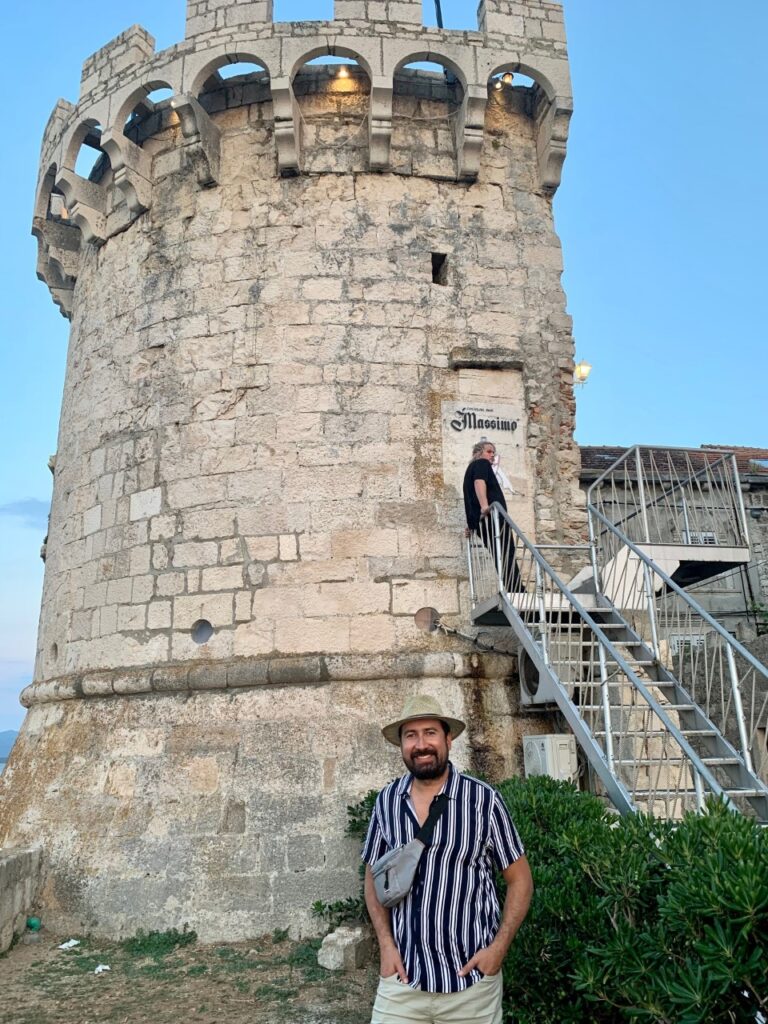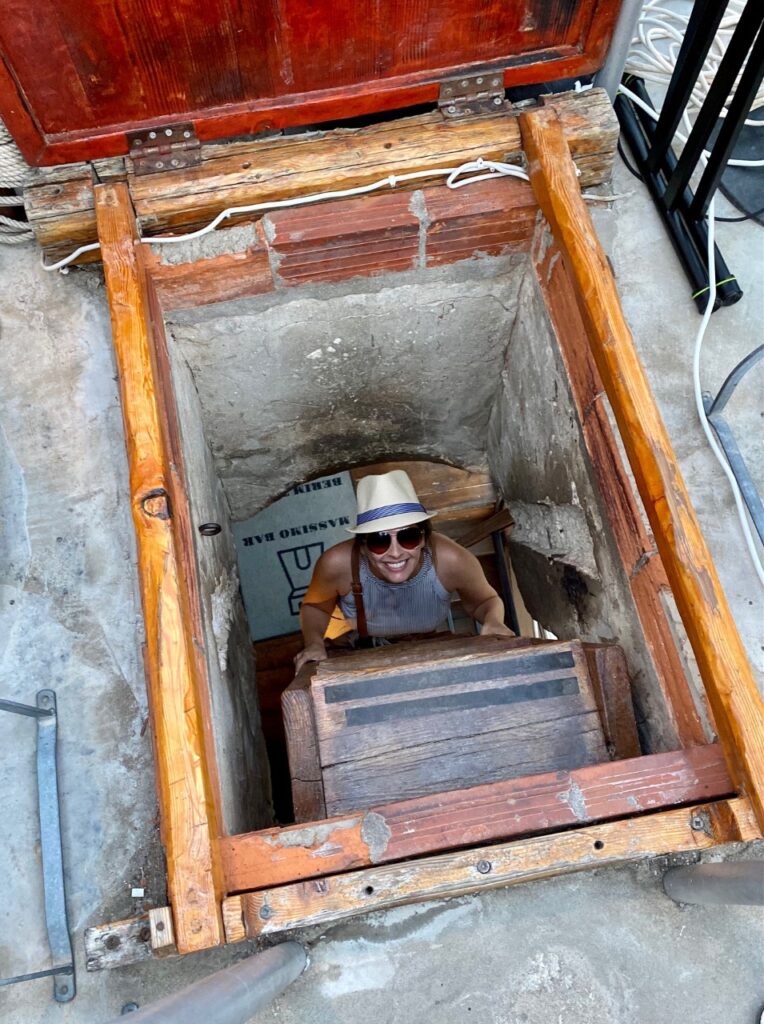 The view from Massimo is fabulous but make sure you have a reservation if you want to visit. It is a busy spot and the staff is very strict about keeping you to your scheduled time.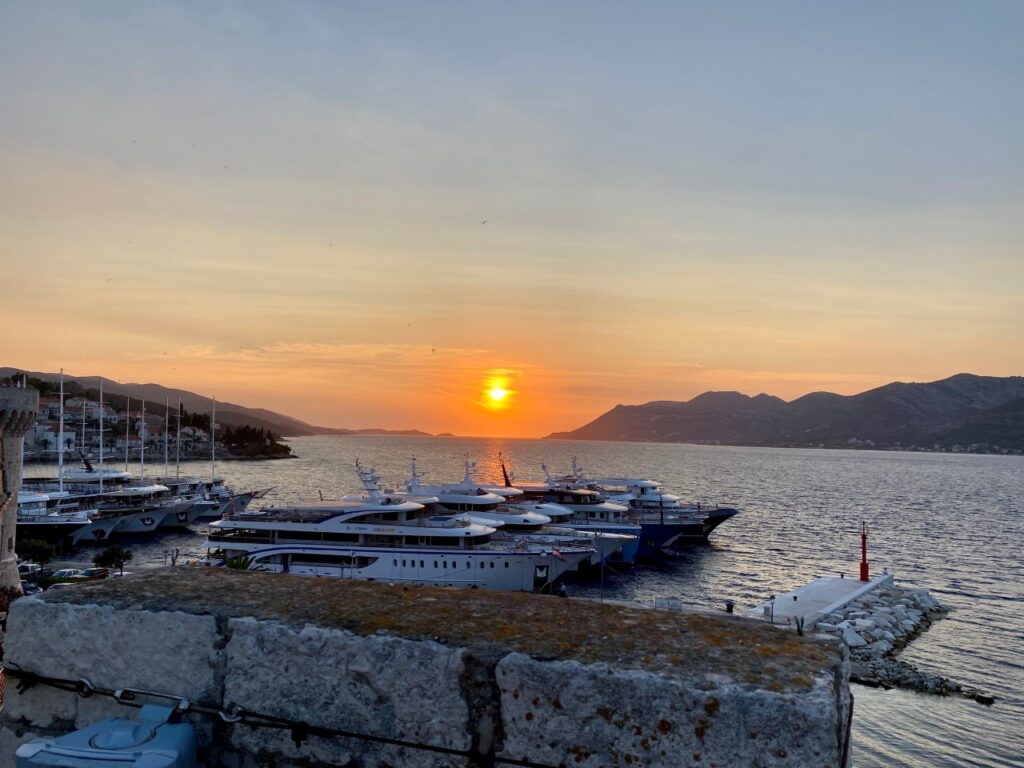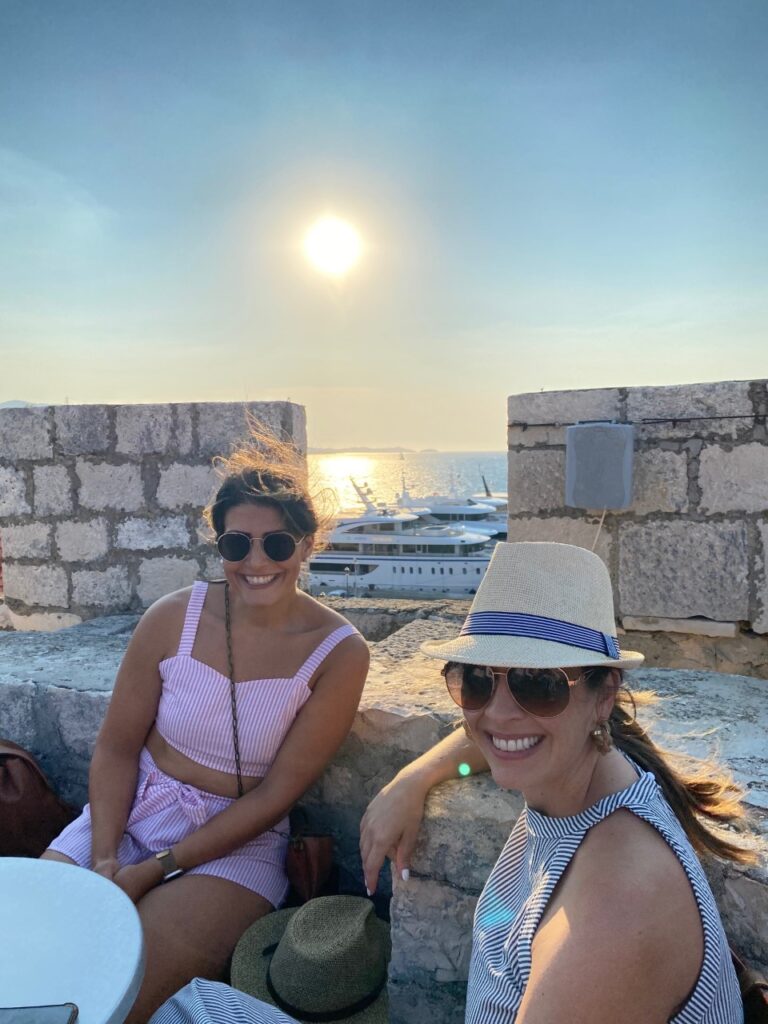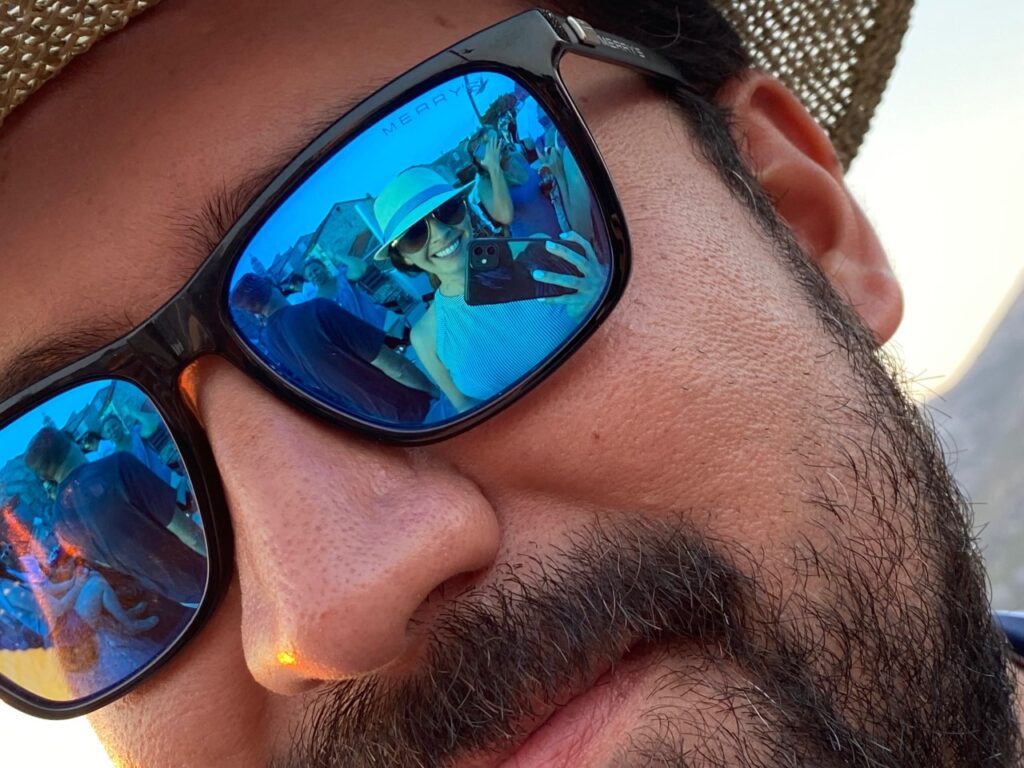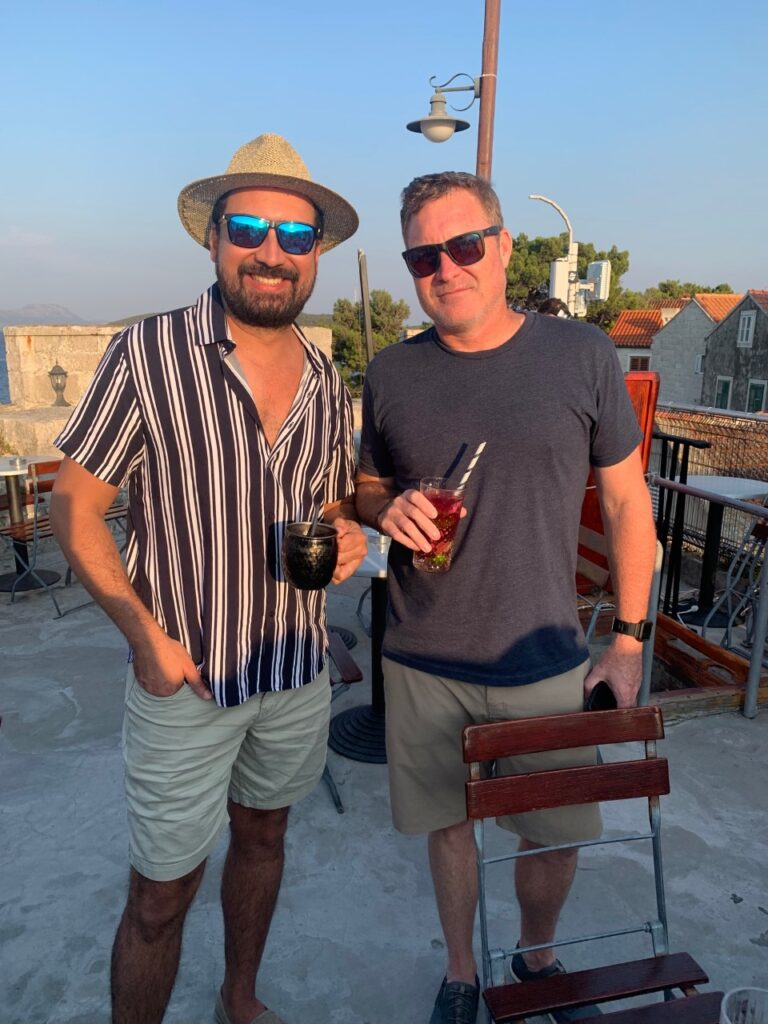 After Massimo, we wandered the waterfront and stopped for dinner at Cupido. Though the meal was good, I wouldn't say it stacked up to many of the other restaurants we visited throughout Croatia.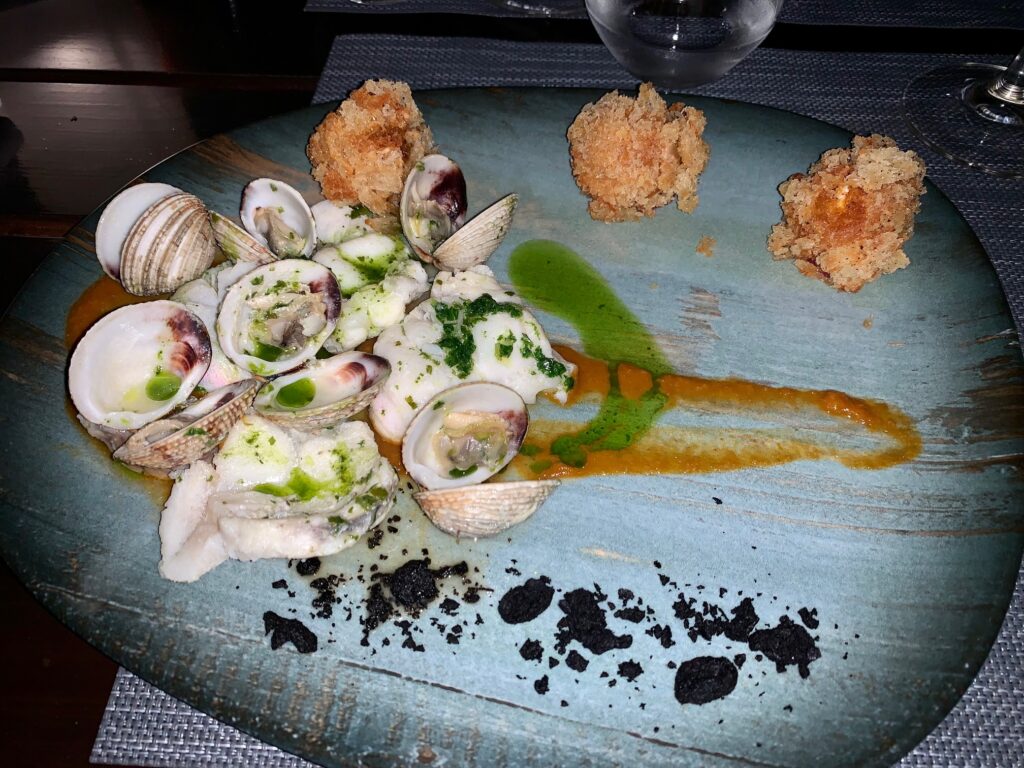 Our alternate dinner recommendation: some of our friends ate at Konoba Mareta steakhouse and they raved about their meal.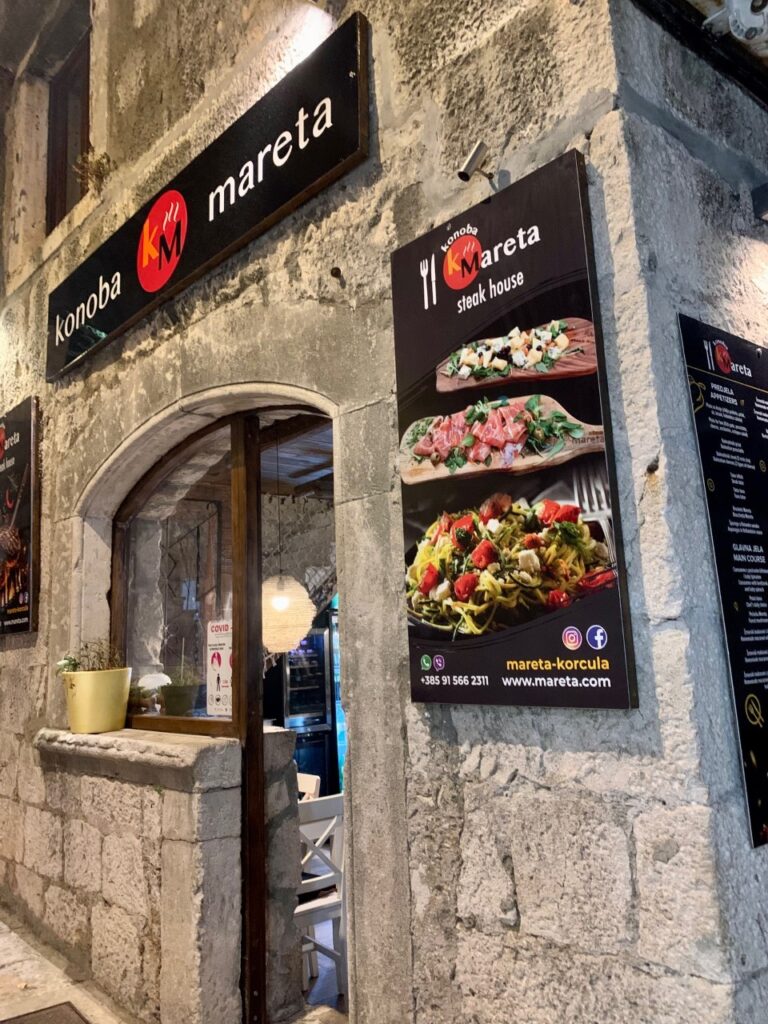 After dinner, we returned to Art Gallery Hrvoje Kapelina which we'd visited earlier in the day. I had my eye set on several pieces and it was a tough decision picking just one! His work truly captures the beauty and color of Croatia, Korcula specifically.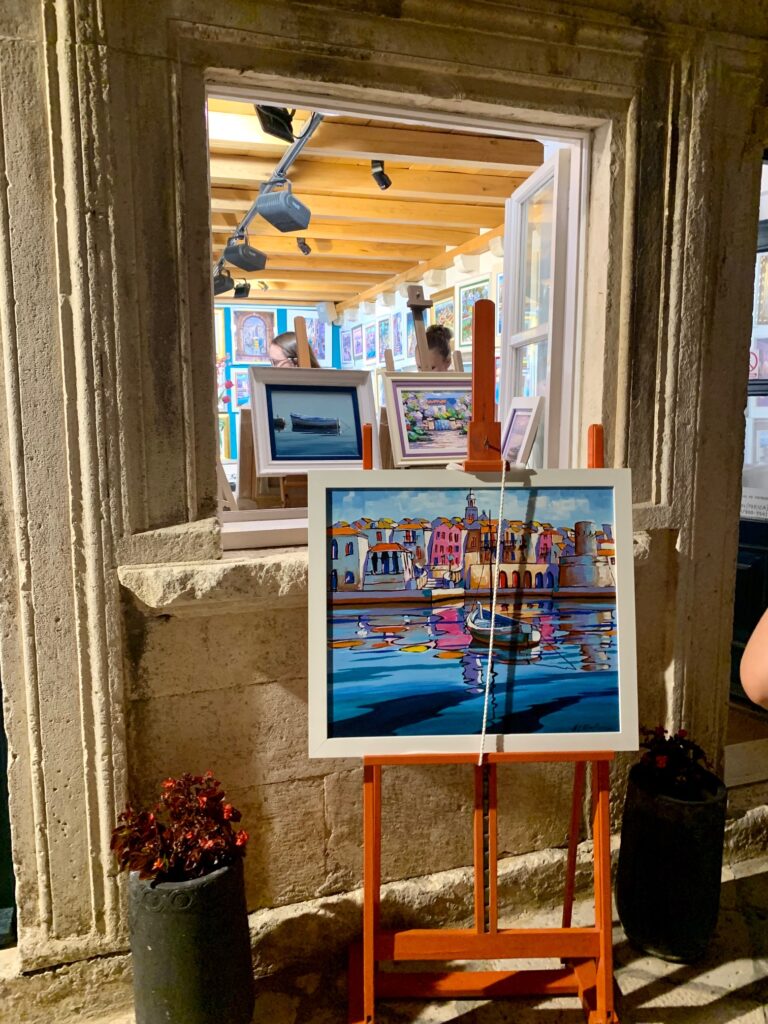 To round out our day visiting Mljet and Korcula, our group headed out to the nightclub Dos Locos No1. This bar is a fun time with great dance music but be prepared: it's crowded and smoky (like many of the bars in Croatia).
And that's a wrap on our day in Mljet and Korcula! Coming soon: our recap of day 3 which was one for the books! It included wine tasting in Vela Luka and a huge boat party for our friend Michele's birthday!
Need more Croatia inspiration?
Check out these blog posts to help you plan your trip to Croatia:
Enjoy our blog post? Sharing is caring!