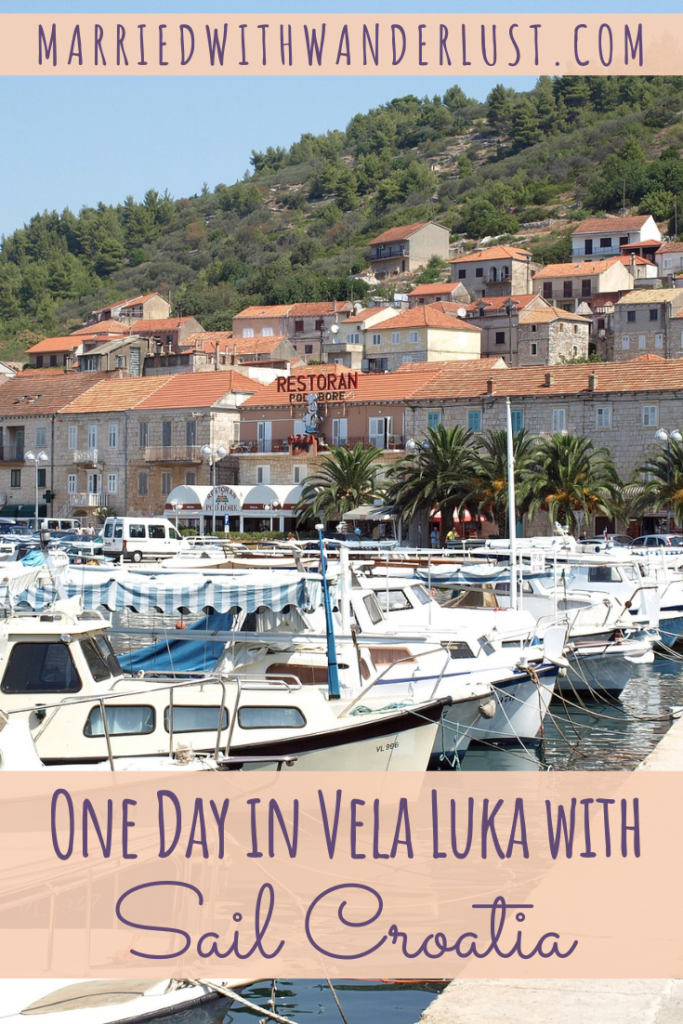 We're on Day 3 of recapping our 7-day friends trip on the Princeza Diana with Sail Croatia and today's highlights are from Vela Luka! Previously, we recapped Day 2 in Mljet and Korcula and Day 1 in Dubrovnik and Mljet. Here's a look at all the fun we had in Vela Luka which included a lot of wine and celebrating our friend Michele's birthday!
Day 3 with Sail Croatia: Vela Luka
Daytime in Vela Luka:
Day 3 in Vela Luka started with breakfast on the boat from 8:00-9:00 am, followed by our swim stop around 10:30 am. After our swim, we enjoyed the daily lunch on the boat with docking in Vela Luka around 2:00 pm.
In Vela Luka, we didn't have any excursions to choose from so we decided to create one of our own. Ivana, our awesome Sail Croatia tour representative, helped get us a reservation for a wine tasting at Dine Winery. She also assisted with calling two taxi vans to transport our group to the winery, which was about a 15 minute ride from the port.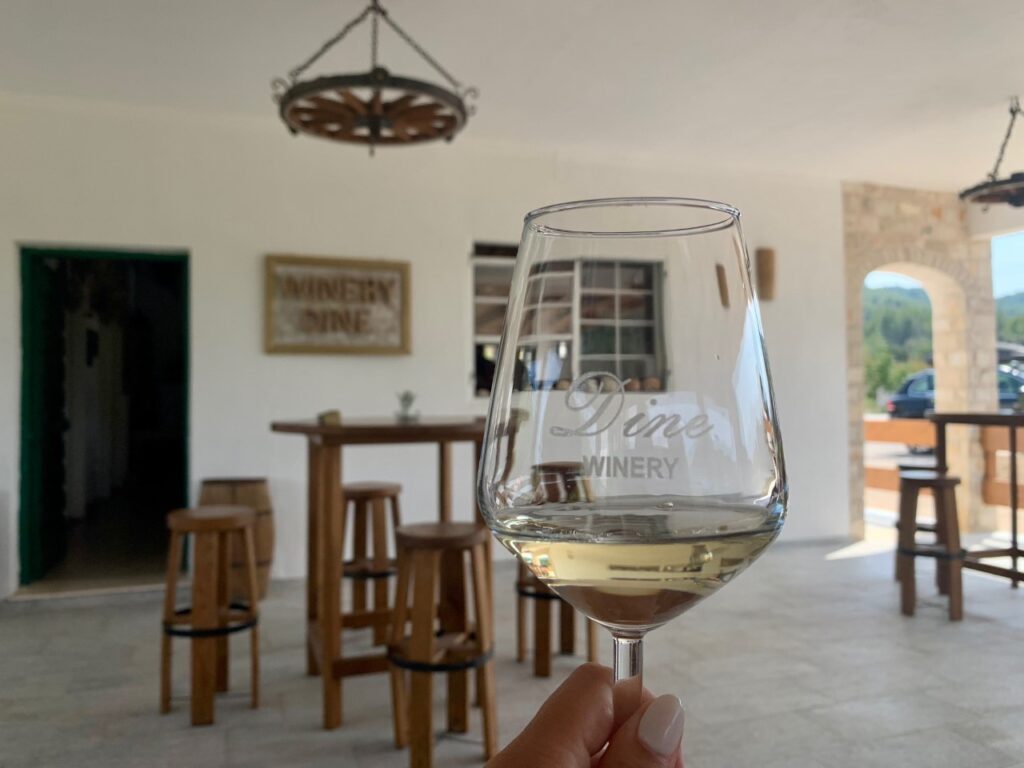 Dine offered a 6-wine tasting which included reds, whites, and a rosé. We sat on the patio overlooking the gorgeous vineyard. The tasting also included charcuterie and bread with fresh olive oil.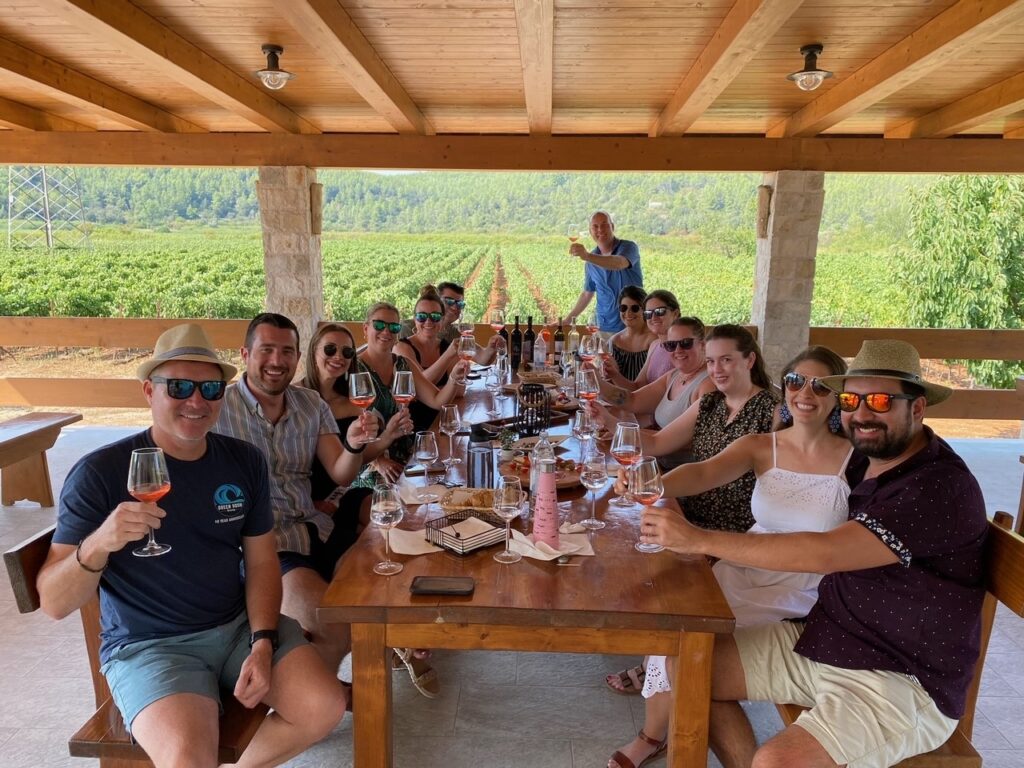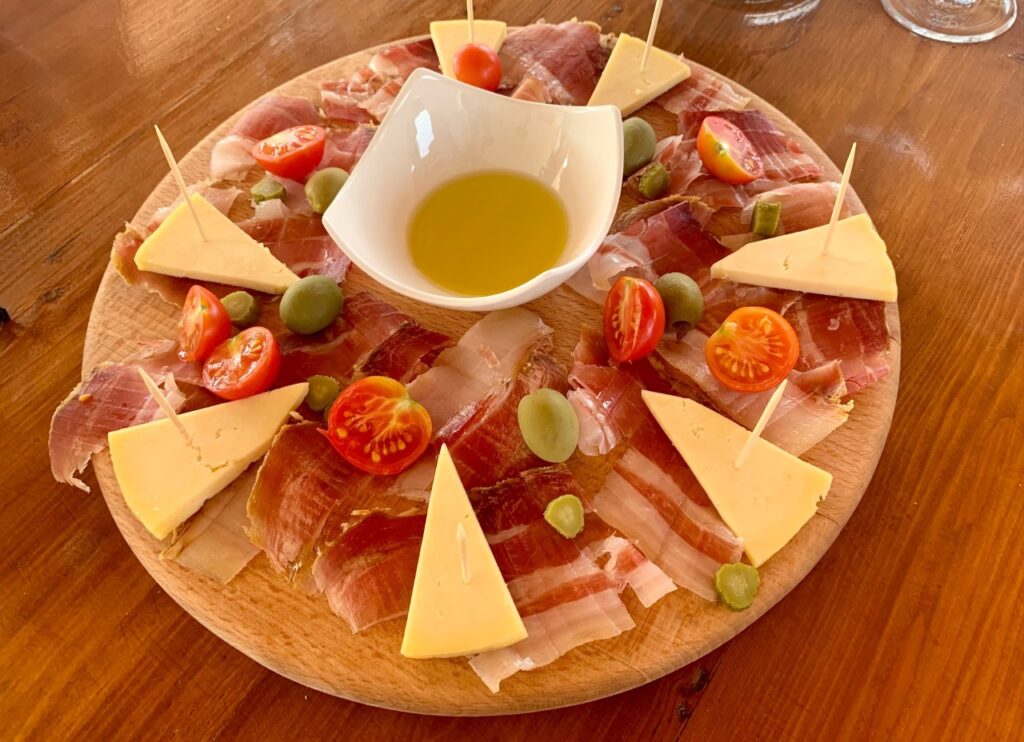 After the tasting, we wandered down to the vineyard (with permission) to snap a few photos in front of the vines.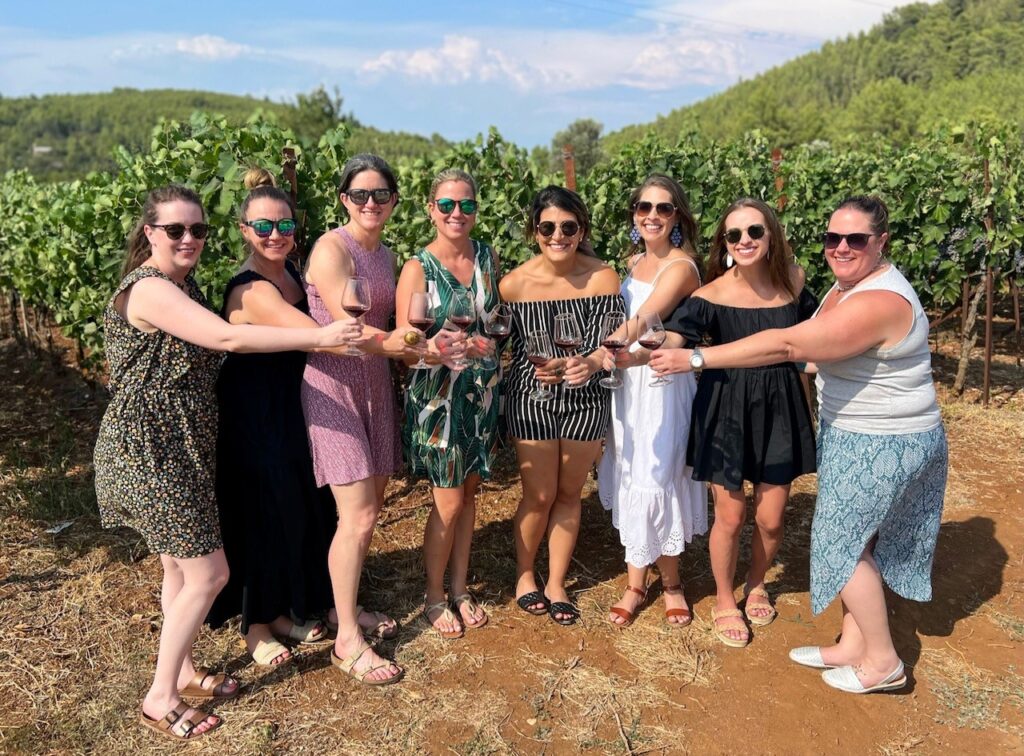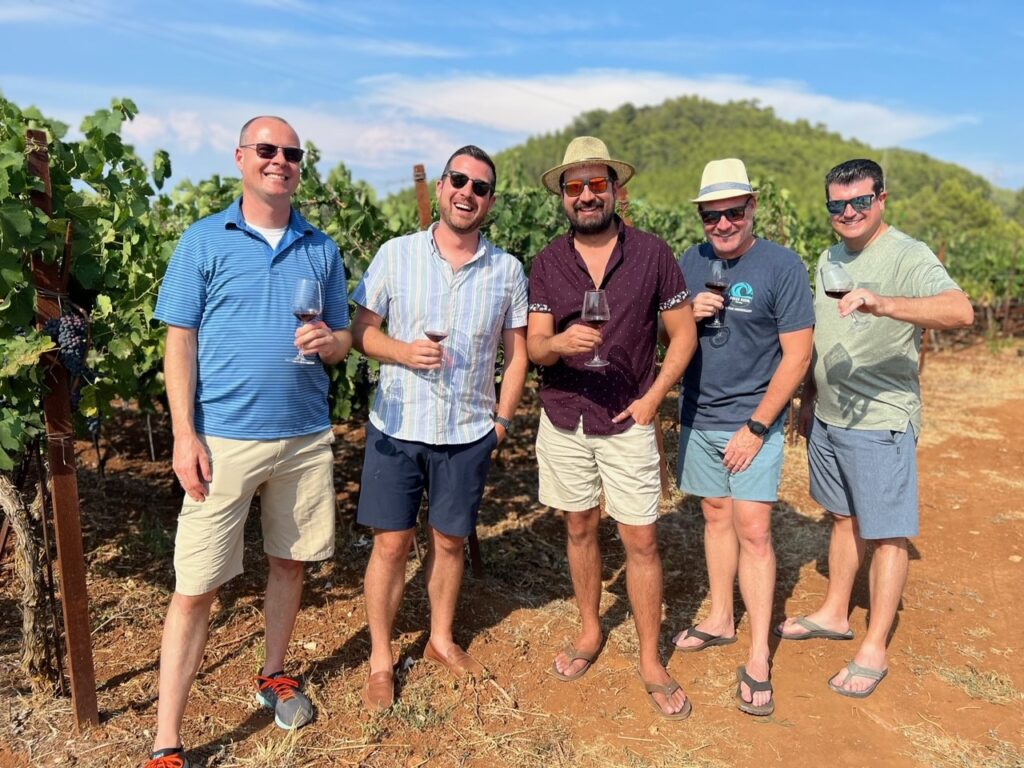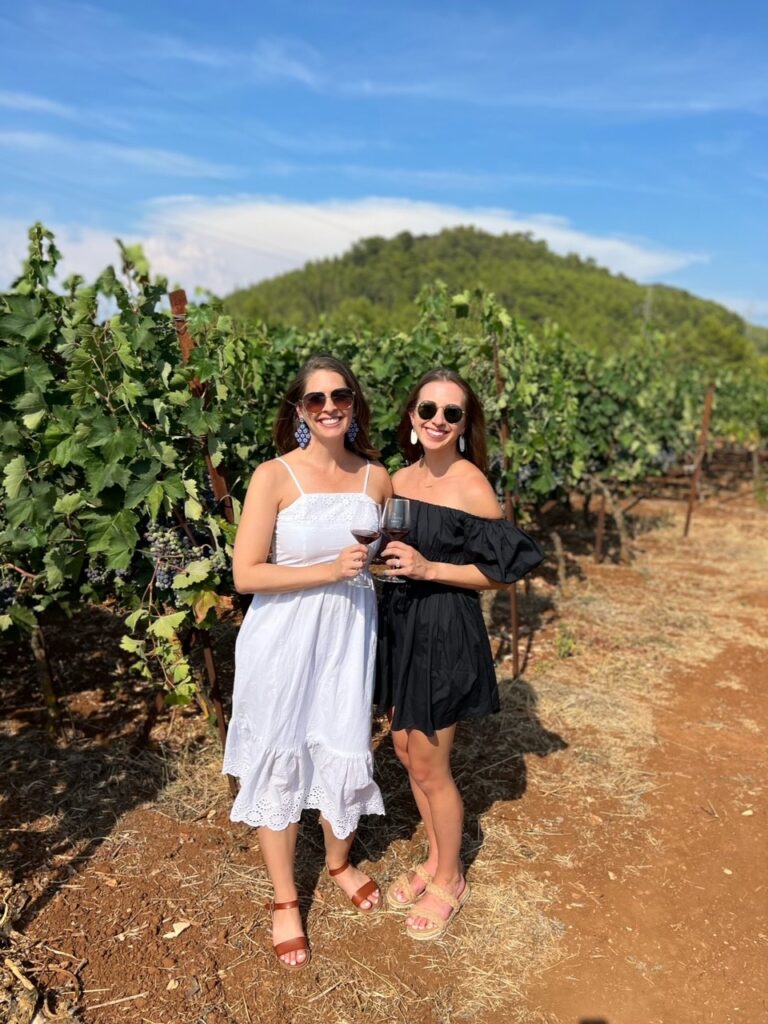 If you follow our blog regularly, you know we love wine so, of course, we had to snag a few bottles to take home. We bought a Plavac (popular varietal in Croatia) and fig brandy (popular Croatian liqueur).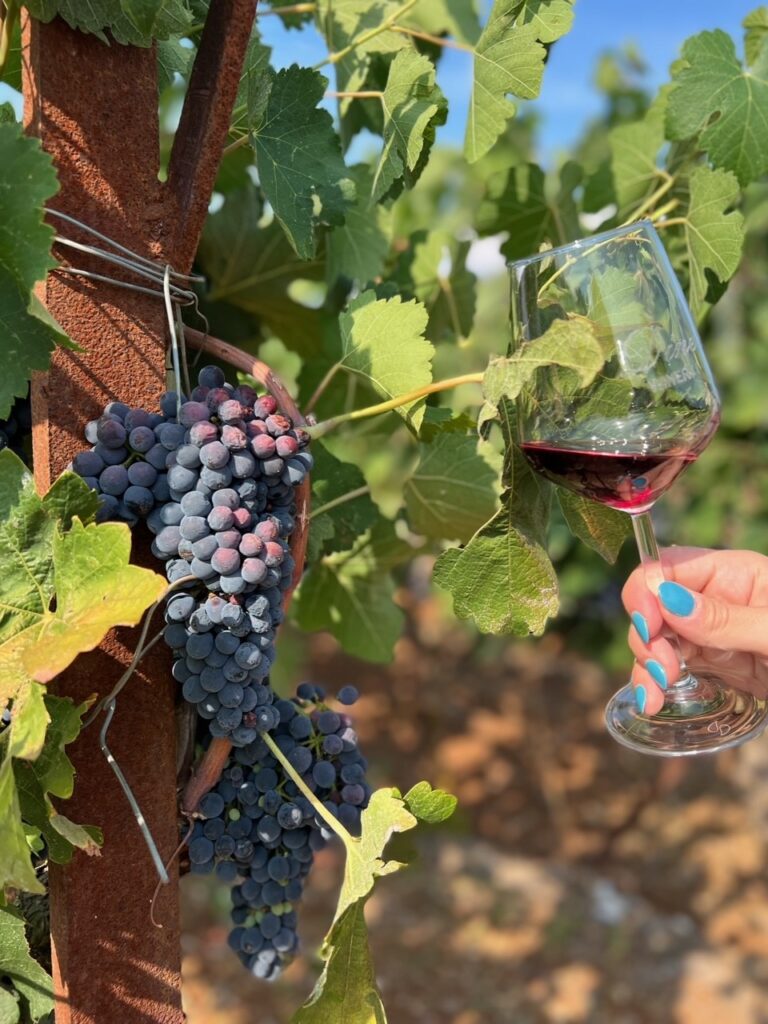 After the tasting at Dine, we had planned to head back to the port to meet Ivana for a hike to Vela Spila cave. But our driver recommended another nearby winery and you know we can always be persuaded by good wine! That's how we ended up at Jovanov Winery.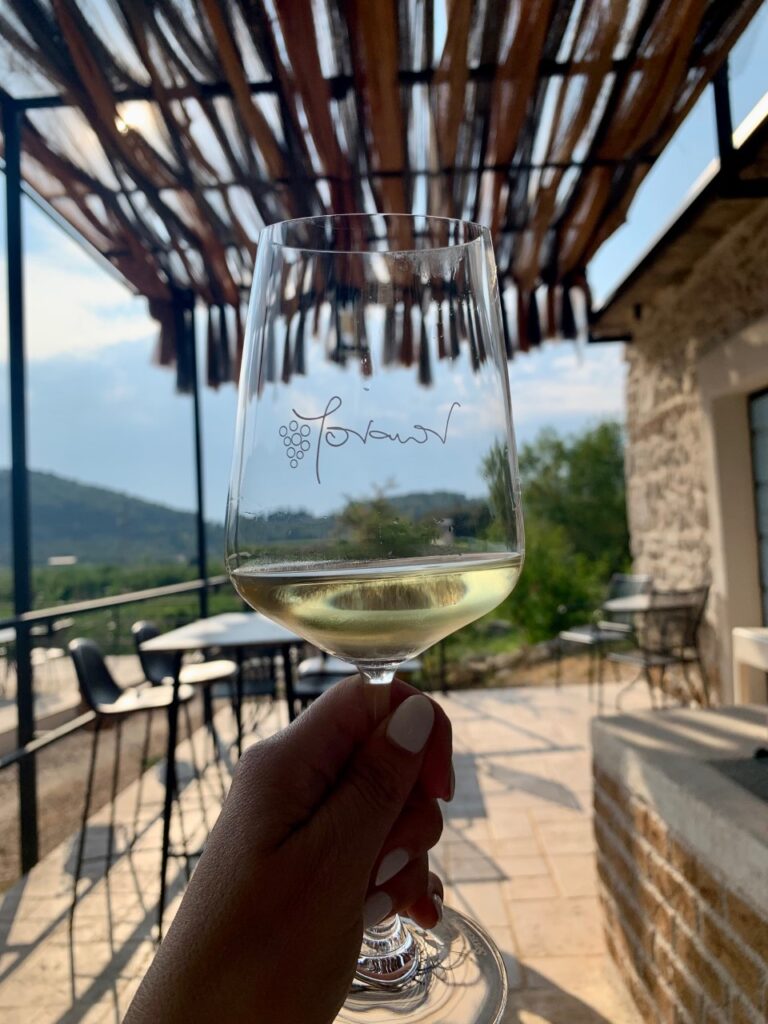 We were on a little tighter time schedule for this stop since we had dinner plans so I believe we did just 3 or 4 wines with the tasting. It is such a cute spot that also looks out over the vineyard.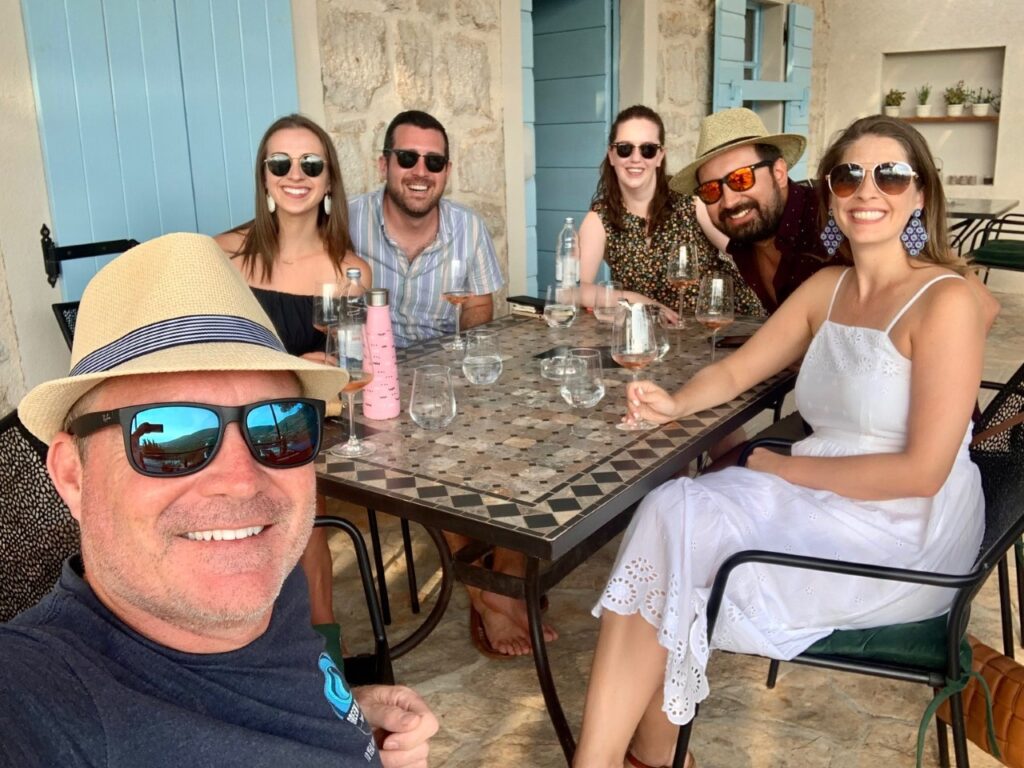 My favorite was the rosé and the label is adorable! We snagged one of these bottles to bring home with us as well.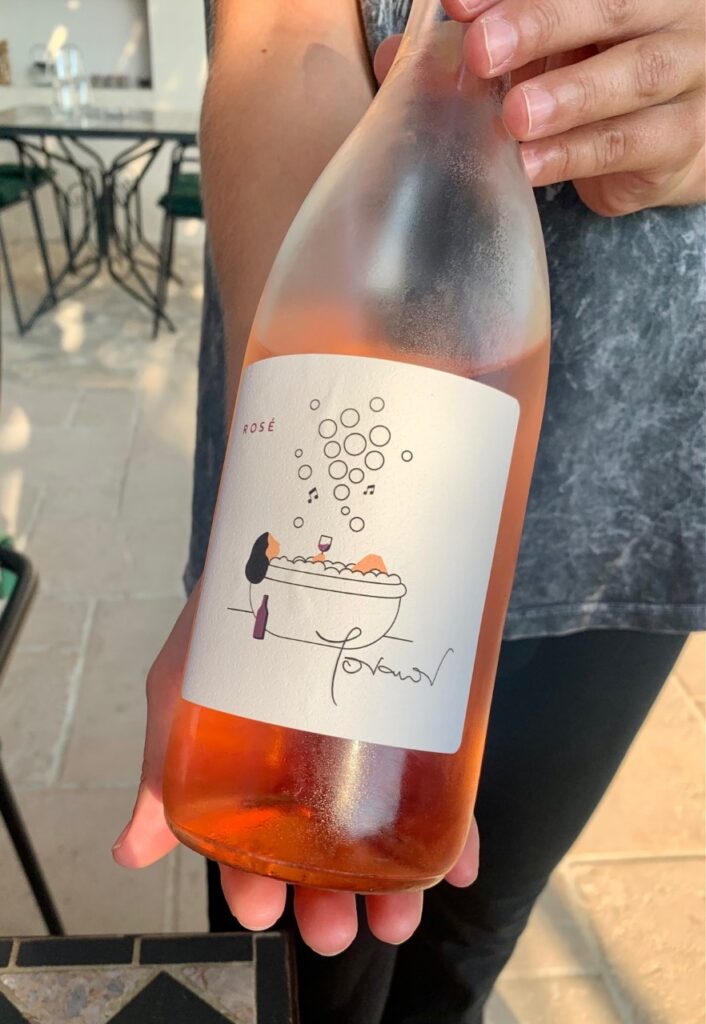 Even though we didn't make it on the hike to Vela Spila cave, I wanted to include it since a lot of our group did go. They said the hike from the port took just over 20 minutes and is pretty steep. Thanks to our friend Susan for sharing these photos.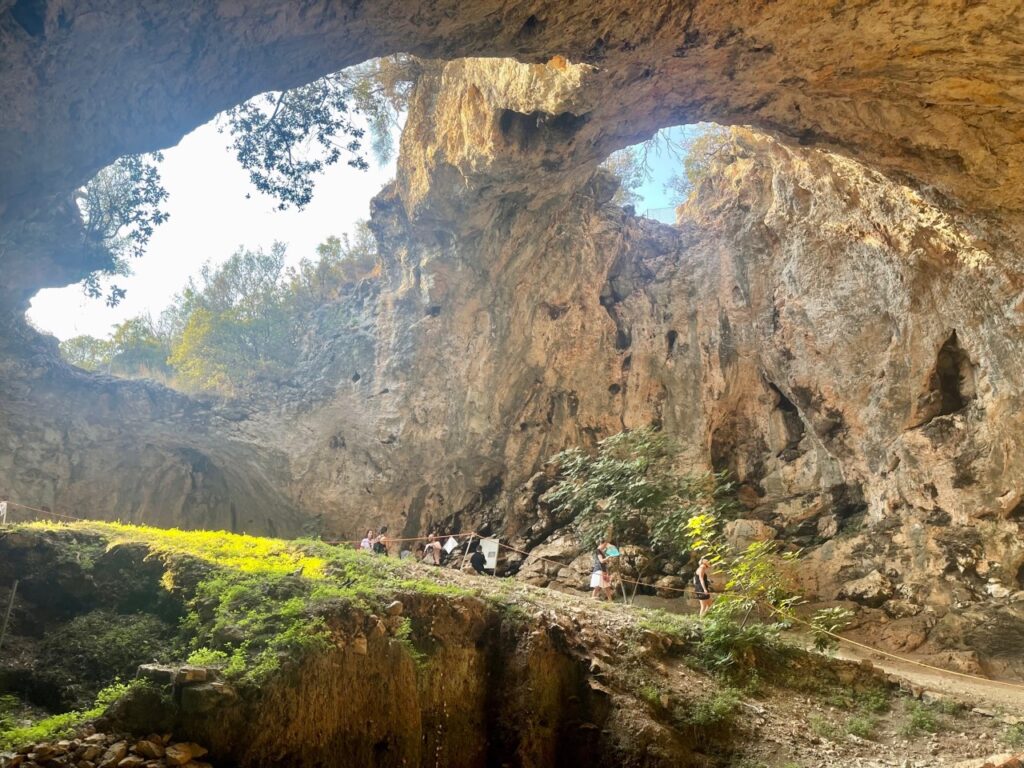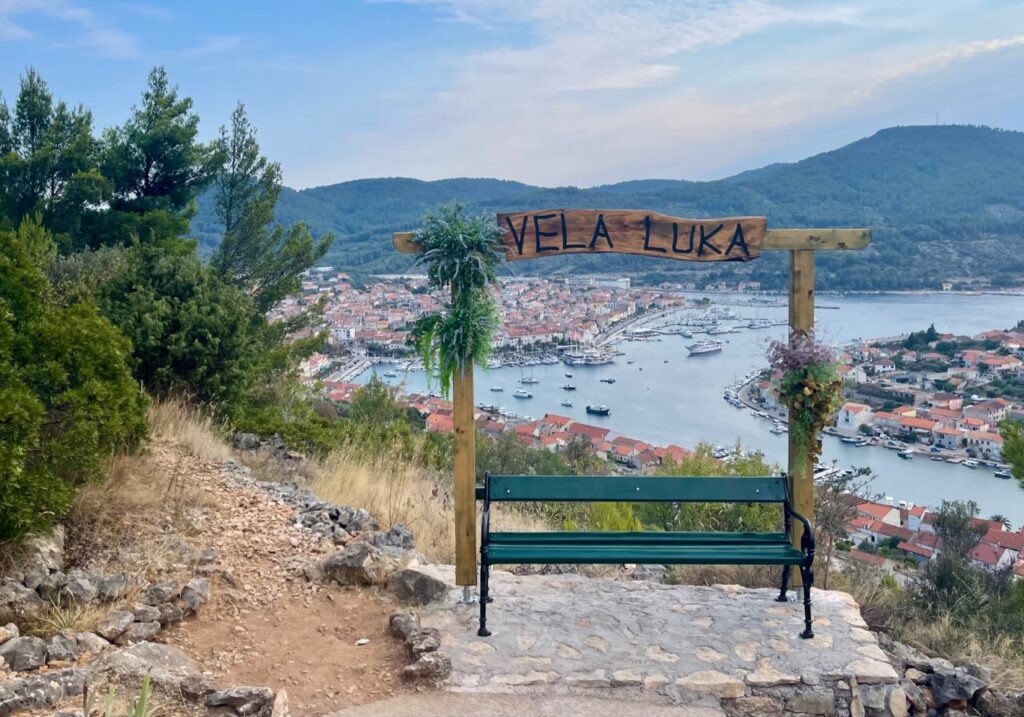 Evening in Vela Luka:
Dinners while traveling with Sail Croatia are typically on-your-own, but in Vela Luka they offered an optional Croatian BBQ on board. I think everyone from the boat opted to participate. The dinner was quite a feast; compliments to our chef!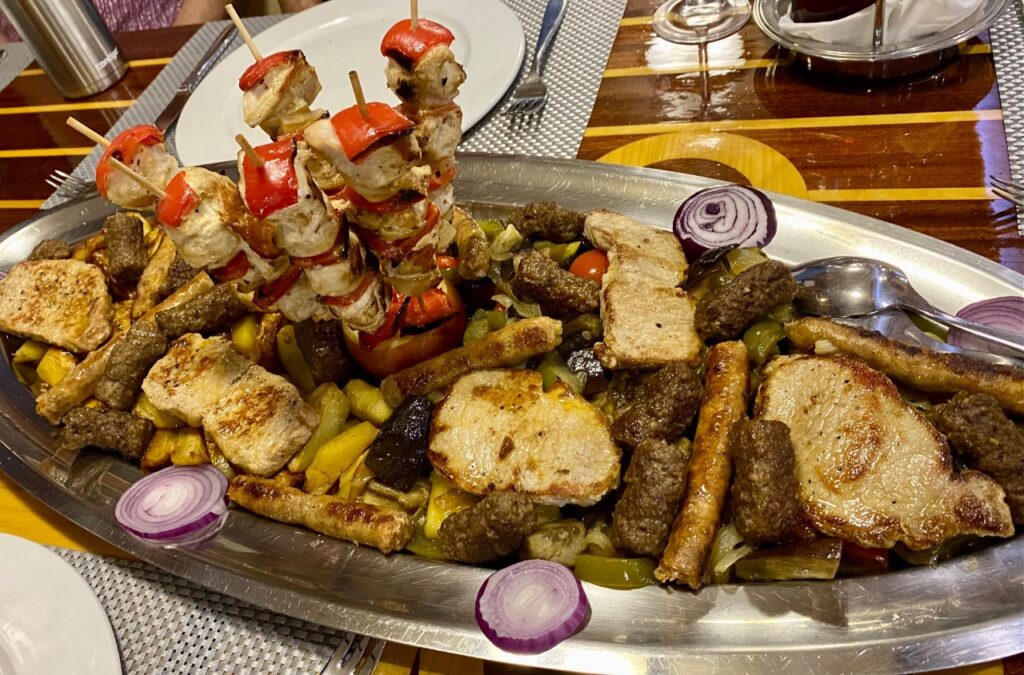 The crew also had a birthday cake to celebrate Michele's 30th!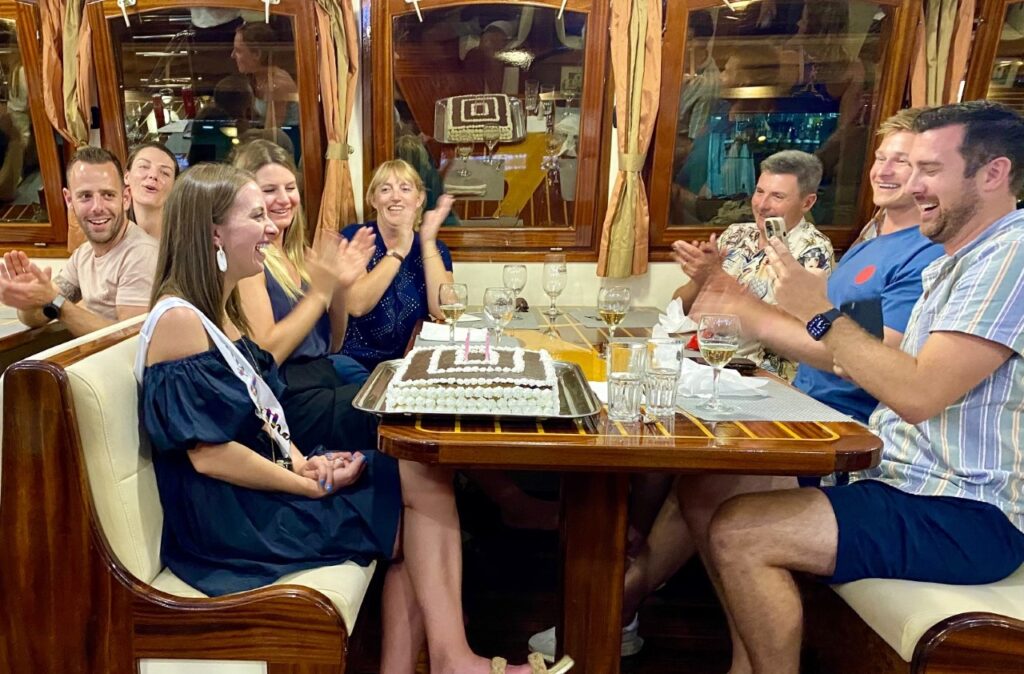 After dinner is when the party started! This was our first big party night (of several) on the boat and we danced until early in the morning. Duje and Stjephan, our Sail Croatia bartenders, were rock stars (as always). And some of the group even made it to sunrise!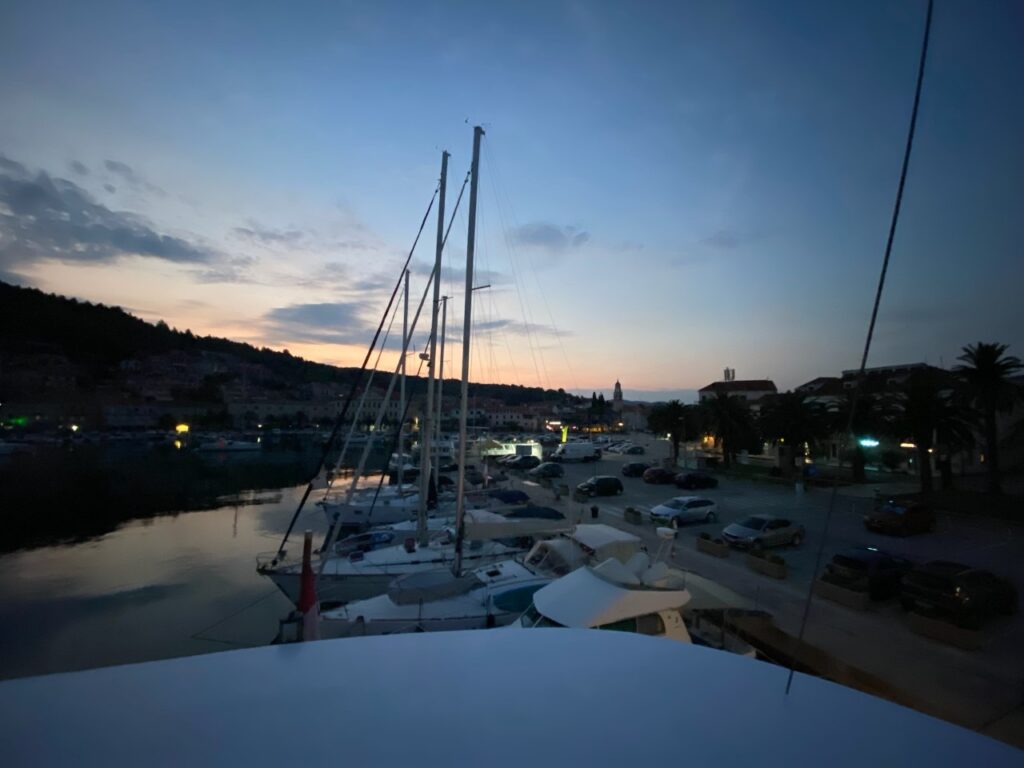 That's a wrap on Day 3 in Vela Luka! In our next post, we'll share Day 4 in Vis, Croatia!
Need more Croatia inspiration?
Check out these blog posts to help you plan your trip to Croatia:
Enjoy our blog post? Sharing is caring!