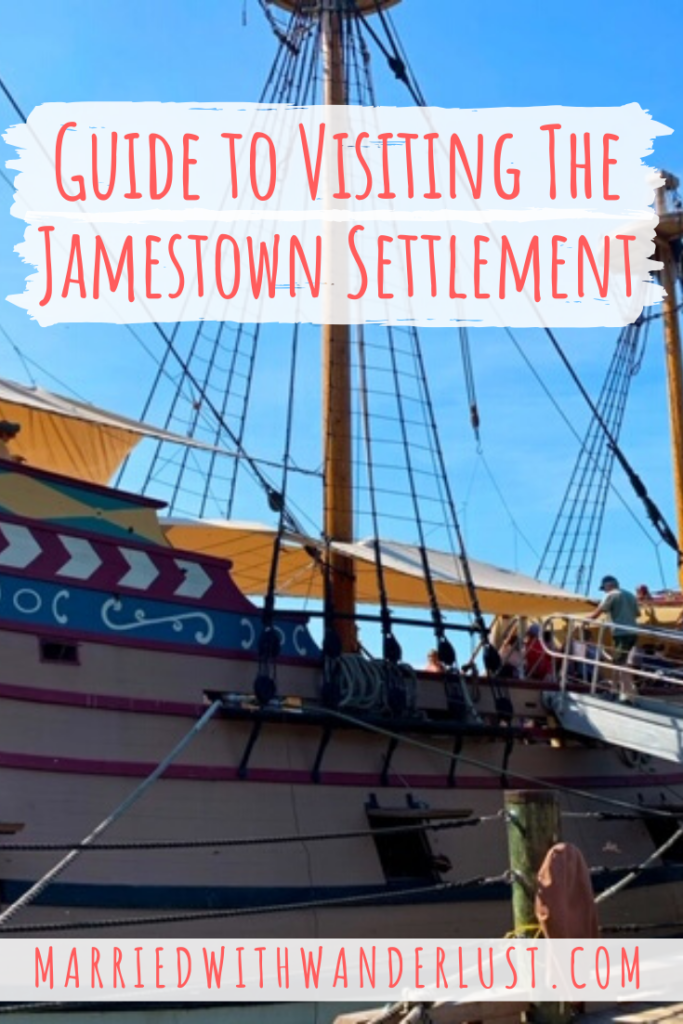 Jamestown Settlement vs. Historic Jamestowne
This can be a little confusing so we wanted to clear it up before we describe what to see and do at the Jamestown Settlement. Even on the website for the Jamestown Settlement, you don't find a whole lot of explanation about whether the "museum" is built upon the original settlement with archaeological sites or whether it is a recreation.
So, what is it? The Settlement is basically a living history museum, a recreation of what took place at Jamestown during the colonial period. You'll come across "Powhatan Indians" and "colonists" and climb aboard the "ships" that sailed from England. (More about this in a moment) You can also explore museums and watch historical movies.
Historic Jamestowne, on the other hand, is located less than two miles away at the original site of the Jamestown settlement. The property is now owned by the National Park Service and gives visitors a chance to see the archaeological remains of the settlement including the settlers' fort (this continues to be under excavation), 17th century church tower, and more.
TIP: Your ticket to Historic Jamestowne (or to Yorktown Battlefield, which is also run by the National Park Service) includes entry to the nearby Glasshouse where you can see glassblowing demonstrations.
What to See & Do at the Jamestown Settlement
Powhatan Indian Village
The Indian village is recreated based on archaeological findings at the the Powhatan tribe site that was nearby to Jamestown.
You'll find the interpreters "working" during your visit: cooking meals, making fishing nets, processing animal hides, and more. They'll explain the process behind what they're doing and are happy to answer questions.
Note that they like to stay in character, so they'll answer your questions as if it's still colonial times!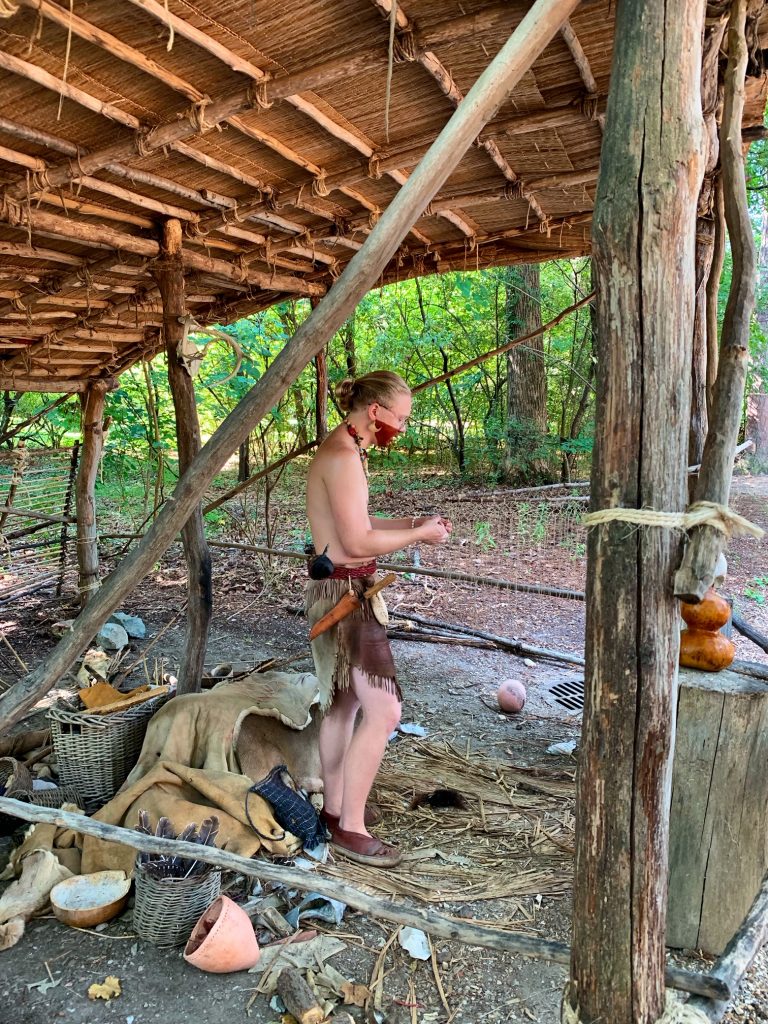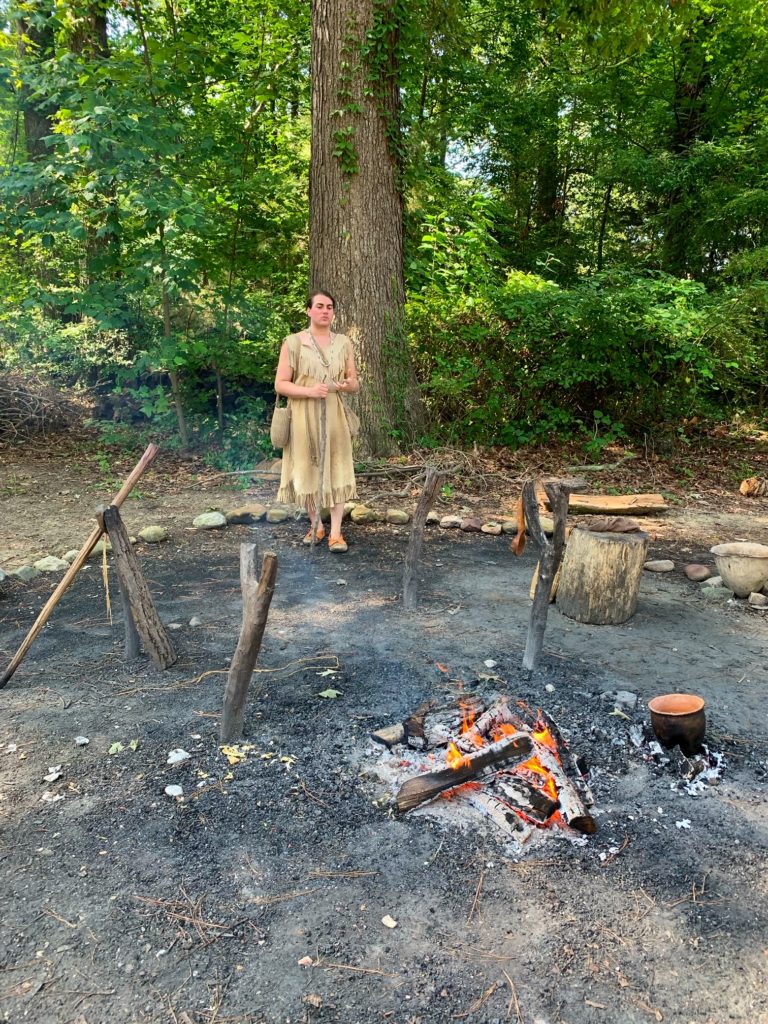 You can also go inside the recreated reed-covered houses where you'll see processed animal hides and examples of weapons, blankets, and other tools that were used at the time.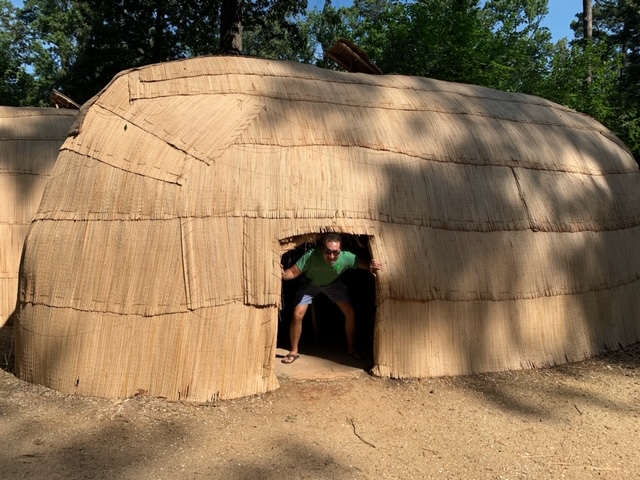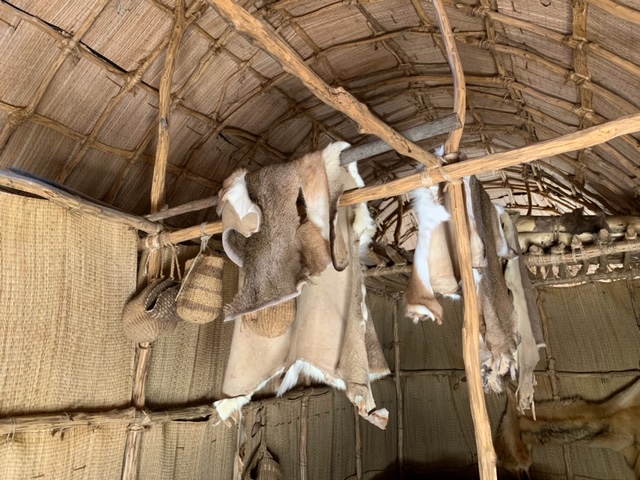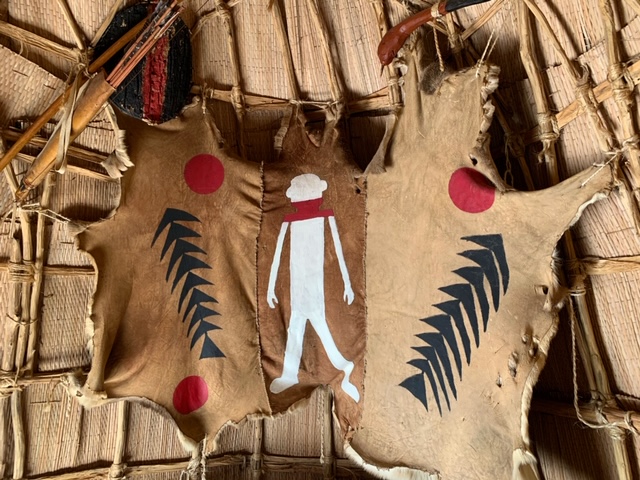 The Susan Constant, Godspeed and Discovery
Climb on board the recreated ships that sailed from England to Virginia in 1607 and learn about the four-and-a-half-month voyage. Throughout the day, the "colonists" are present on the ships to answer questions about….. They also provide demonstrations such as raising the sails (and you can participate) and tying sailors' knots. You can also climb into a sailor's bunk.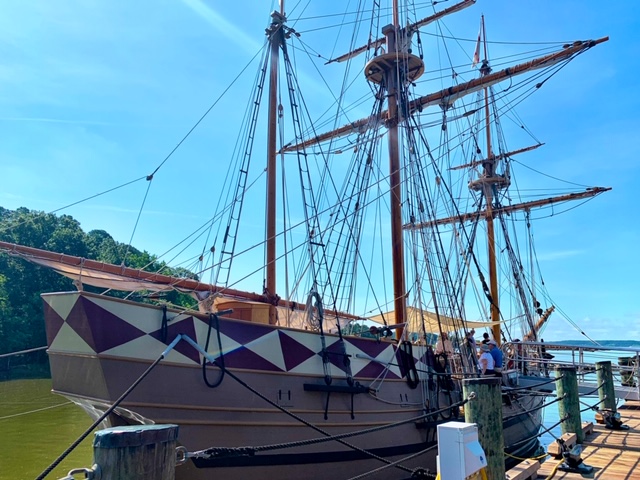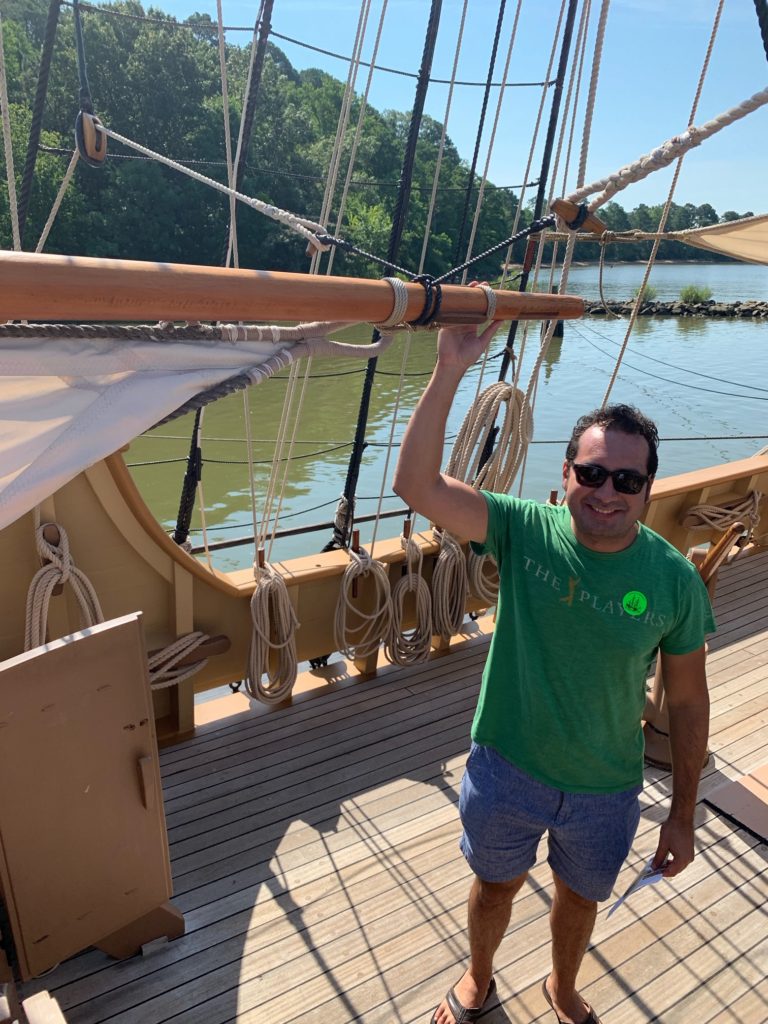 Colonists' Fort
The Colonists' Fort is a recreation of the military fort at Jamestown from 1610-14. You can see a blacksmith at work or watch a musket demonstration, among other interpretations. Go inside the church, governor's house, or storehouse.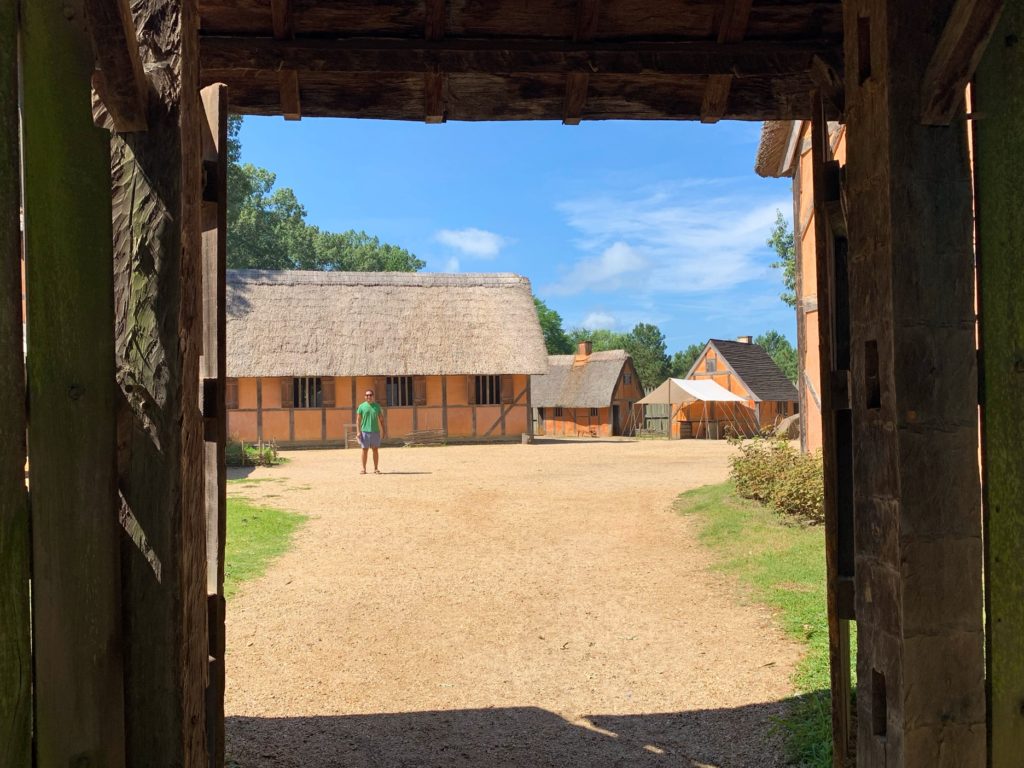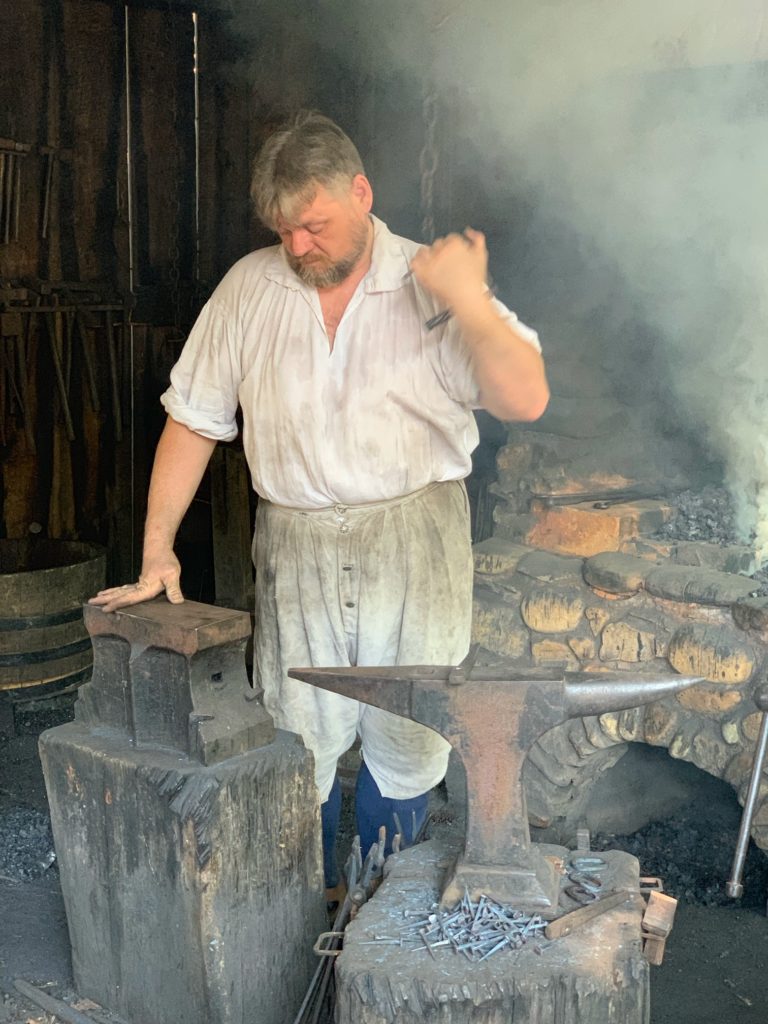 Museum, Shops, Cafe
We saved the museum for last and it's quite large filled with numerous galleries. There are a variety of interactive exhibits and movies exploring the history. Unless you have a lot of time, you probably won't be able to get through every exhibit in detail!
Before you leave, pick up a souvenir at one of the shops. (We never leave a trip without an ornament for our travel Christmas tree!)
Hungry? Grab a bite to eat at the cafe. You could also head across the street after you're done for a visit to the Billsburg Brewery. It's part of the Williamsburg Tasting Trail!
Visiting the Jamestown Settlement: the Basics
The Jamestown Settlement is open every day from 9 a.m. to 5 p.m. (9 a.m. to 6 p.m. June 15-August 15) except Christmas and New Year's days.
It's important to note that the Jamestown Settlement and American Revolution Museum at Yorktown are partners, part of the Jamestown-Yorktown Foundation. You can get combination tickets for both living history museums which saves 15% off the individual admission price. There are also value tickets available that combine those admissions with Historic Jamestowne and Yorktown Battlefield, and Colonial Williamburg. It all depends how much time you have and the combo tickets are good for seven consecutive days.
Admission for just the Jamestown Settlement is $17.50 for adults.
Need more Virginia inspiration?
Check out these other articles to help plan your trip to Virginia's historic triangle: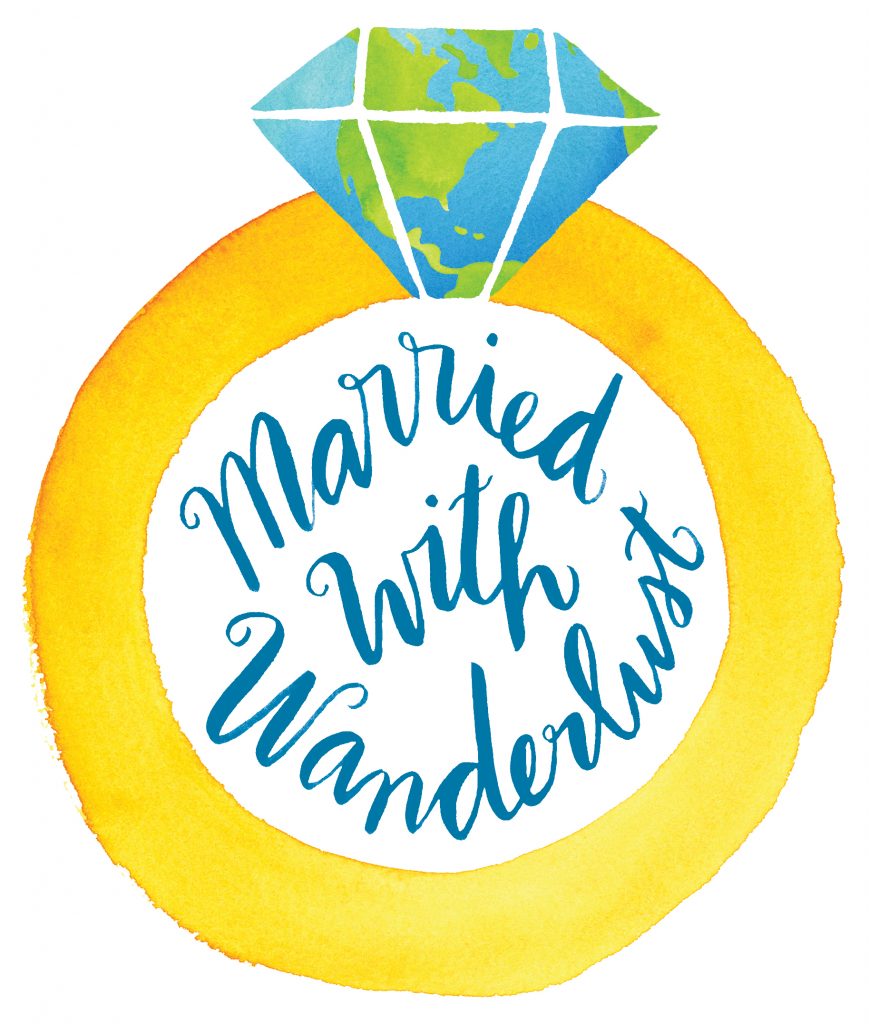 Enjoy our blog post? Sharing is caring!