On day 5 on Hawaii's Big Island, we loaded up our stuff, checked out of our rental house, and hit the road for the Royal Kona Resort. Royal Kona is home to the Voyagers of the Pacific luau, one of the top-rated luaus on the Big Island. Attending a luau was one of my must-dos for this trip and we decided to save it for the last night so we'd then be close to the airport in the morning.
If you missed the first four days of our Big Island trip, you can check those out here:
On our drive from Volcano, we took the northern route across the island along Saddle Road giving us a chance to see Mauna Kea from a distance. The drive to the Royal Kona from Volcano on this route takes a little over two hours. Upon arrival, we checked into our room and got ready to enjoy a pool day. The relaxation was needed after four packed days exploring the island!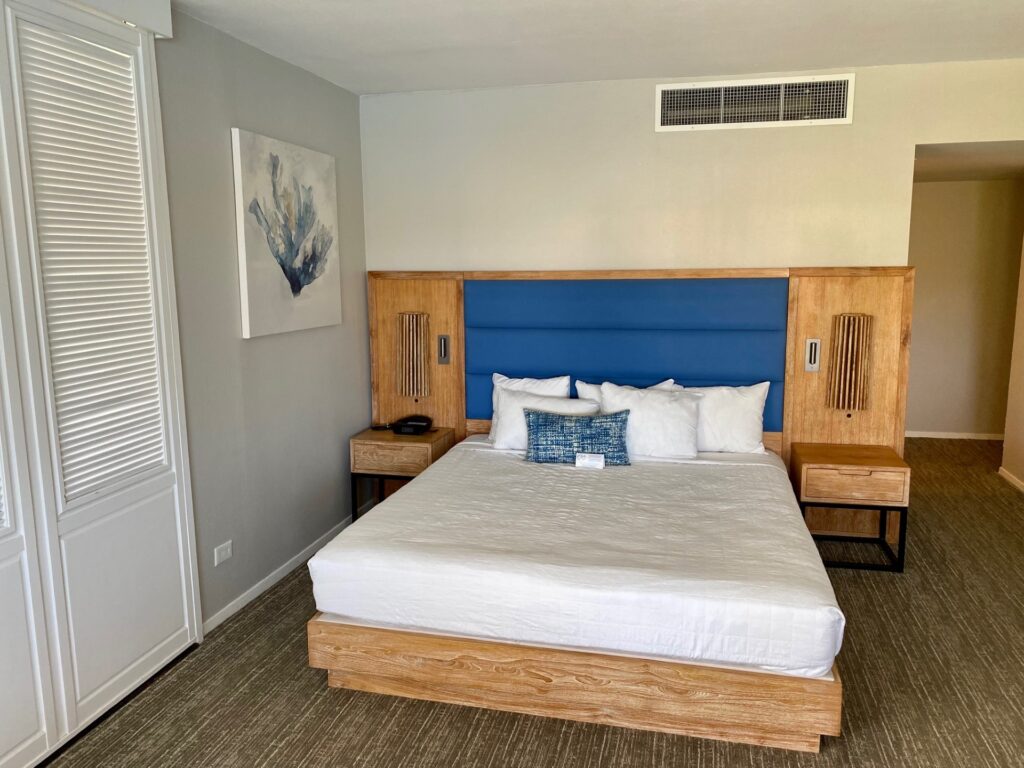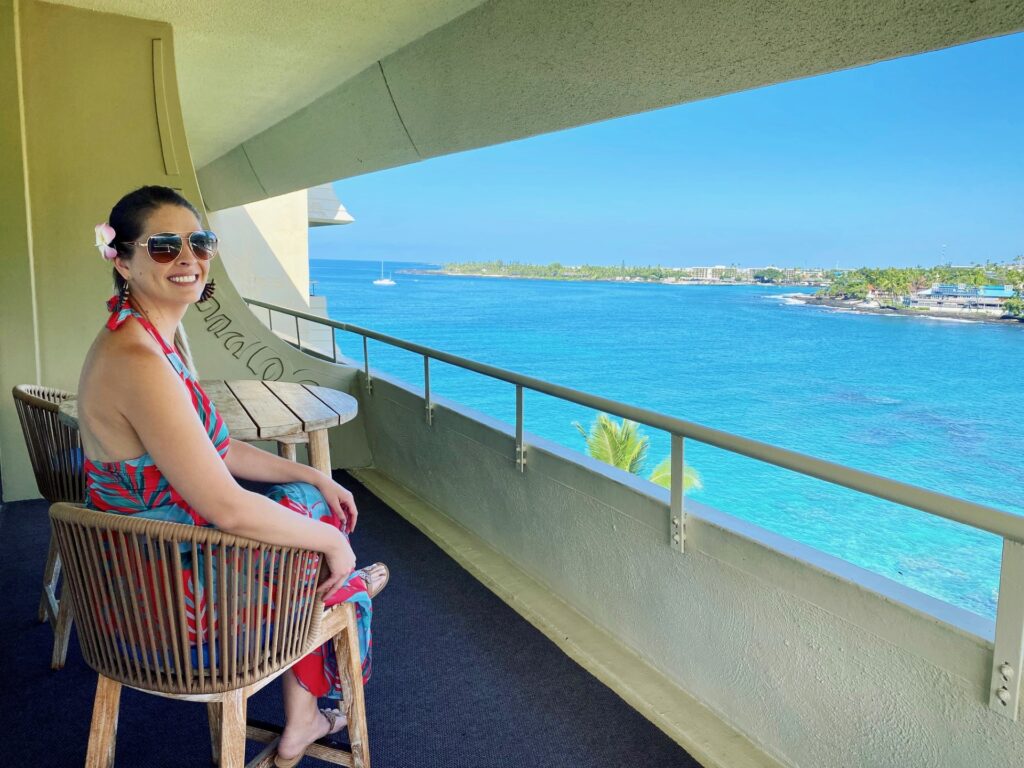 The pool at Royal Kona isn't huge and since we arrived later in the morning, a lot of the shaded pool chairs were already taken. We opted to pay an hourly rate to rent an ocean view cabana for the afternoon.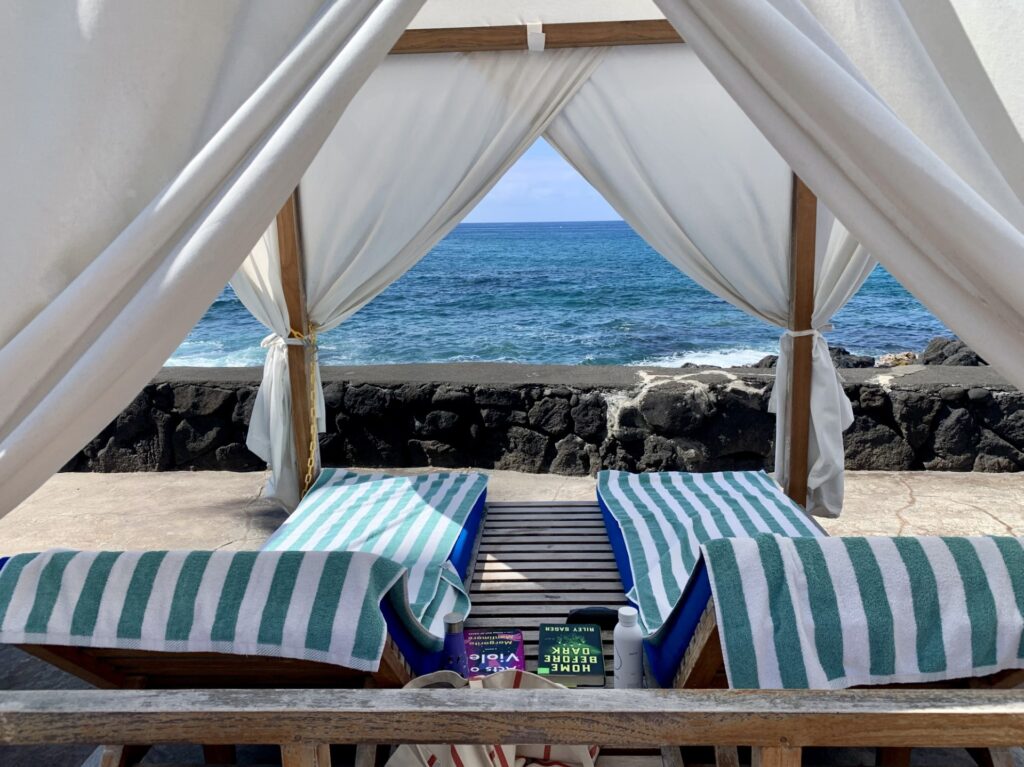 Don's Mai Tai Bar is just a few steps away from the pool and has a variety of drinks including mai tai and mojito flights. For a resort, we thought the drink prices were pretty reasonable.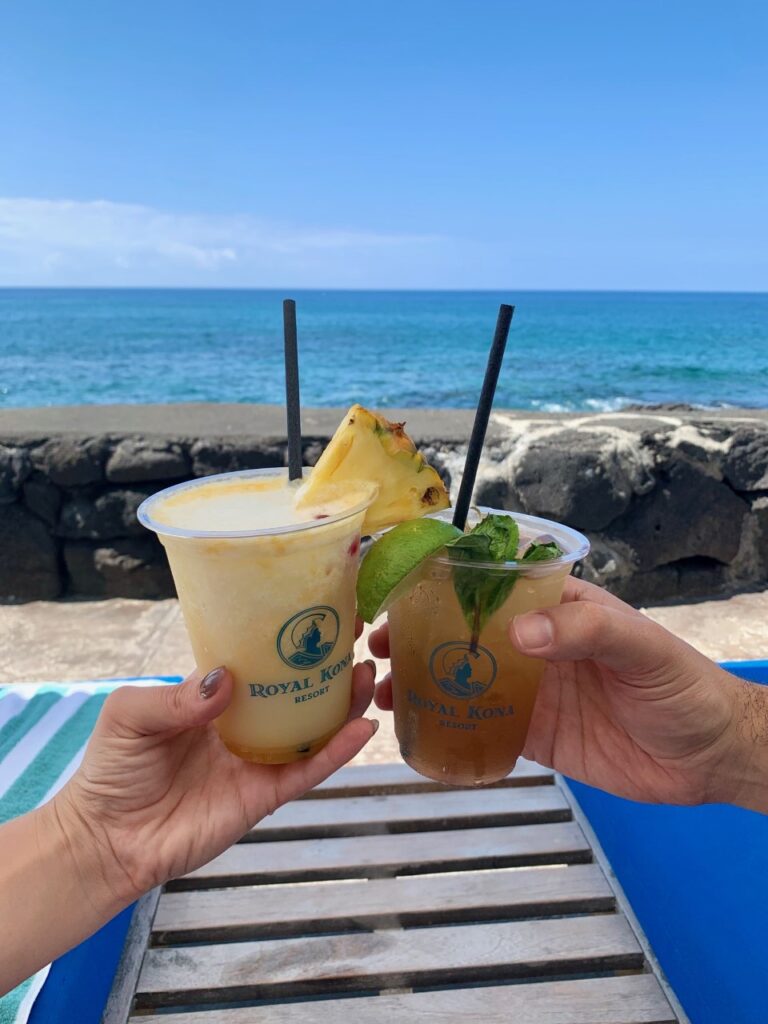 We had a little visitor who spent most of the day with us and enjoyed the condensation from our cups! These are called gold dust day geckos and there common to the area. Our photo at the top of this post was taken the next morning on our way to the airport. I saw the mural in town and had to stop for a pic!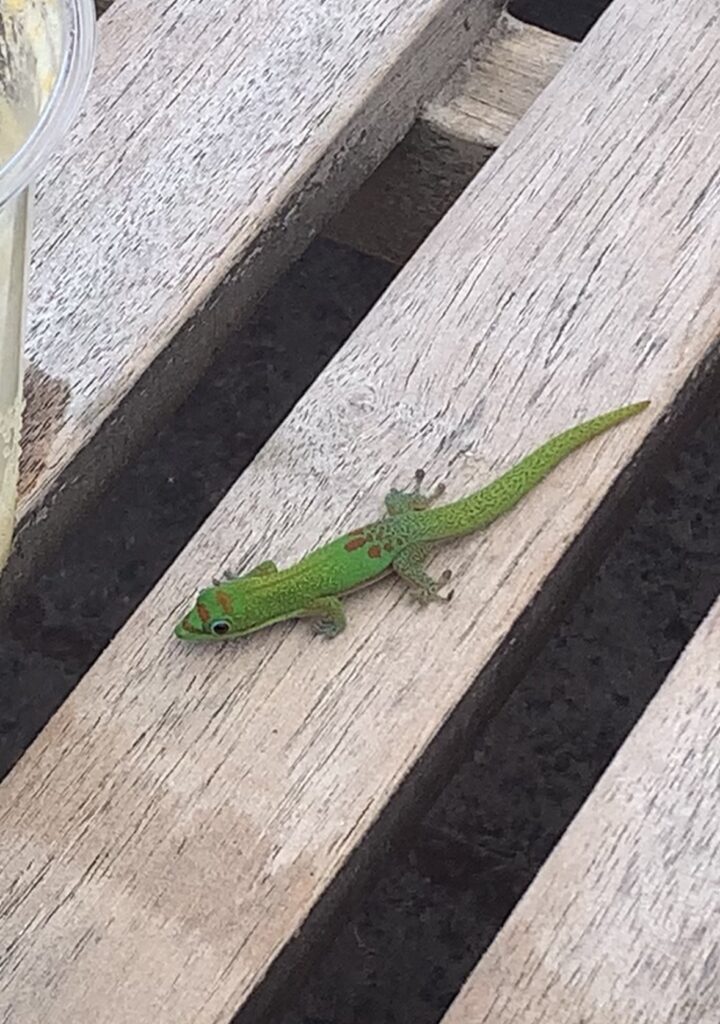 We stayed at the pool until we needed to get ready for the luau. Entry opens at 4:45 pm and we arrived only a little before to get in line. Before dinner and drinks, we took advantage of the gorgeous backdrop for a photo. This spot is just behind where the food and drinks tents are set up for the luau.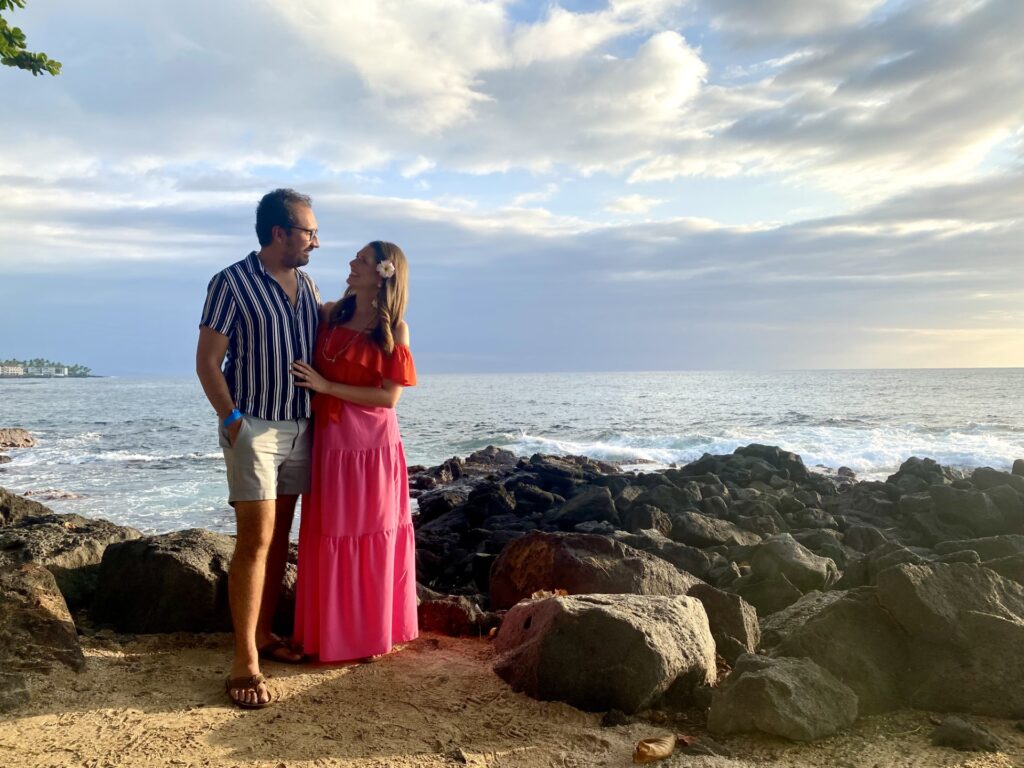 About Kona's Voyagers of the Pacific Luau:
The show is from 5:00-8:00 pm and takes place on Monday, Tuesday, Wednesday, and Friday. General admission tickets (at time of writing this) are $169.60 for adults, and VIP seating is $212 (online advance pricing). We chose general admission but you'll see what the view is like in our photos and videos below. VIP seating comes with reserved seating closer to the stage and first access to the buffet. If you do general admission, I'd recommend getting in line early to grab a closer seat. The luau includes songs and dances from Hawaii and the South Pacific.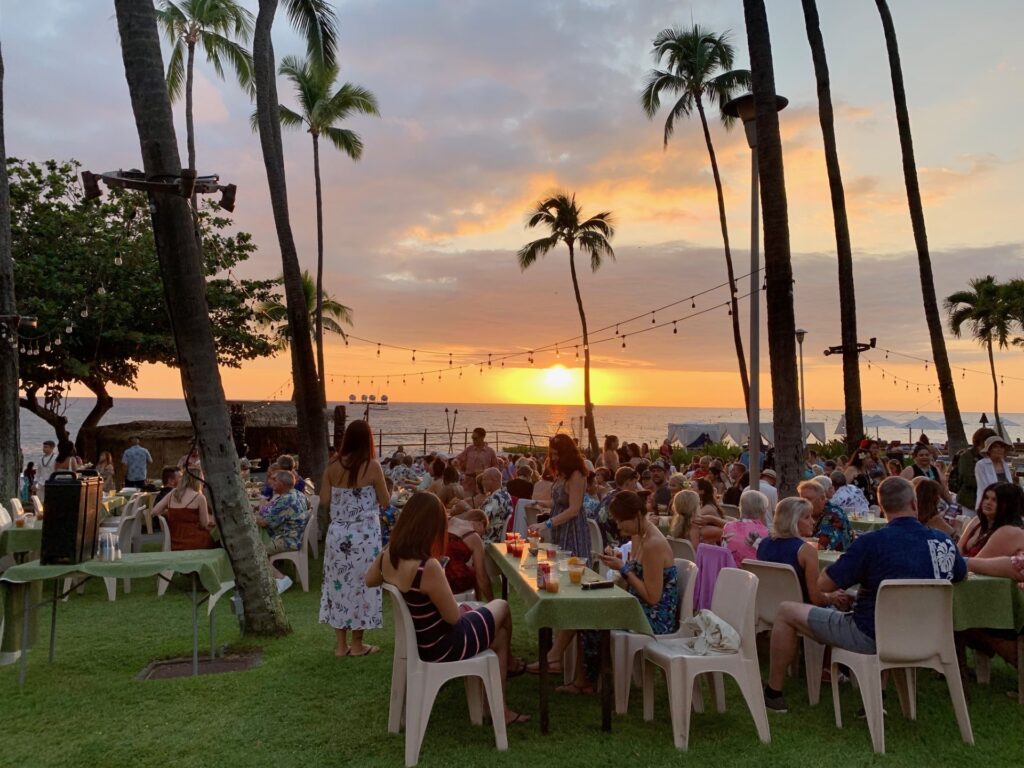 The buffet menu is traditional Hawaiian and Asian cuisine including roasted pig, teriyaki beef and fresh fish, Hawaiian sweet potatoes, macaroni salad, and more. Mai Tais, cocktails, beer, wine, and non-alcoholic drinks are also included.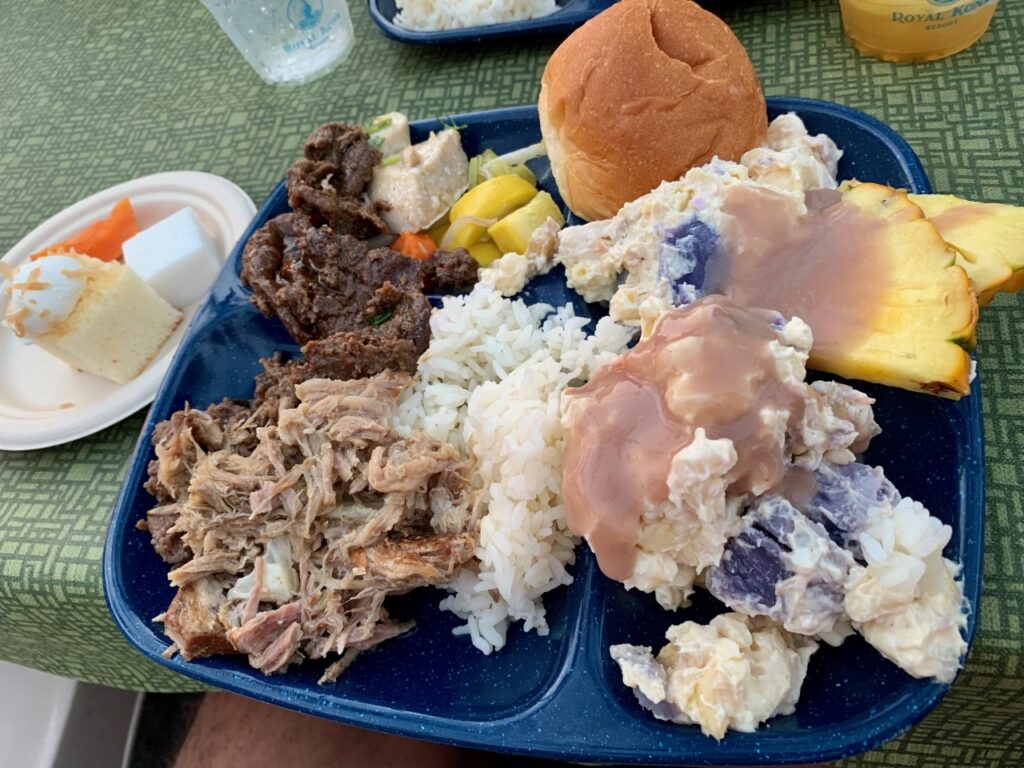 The show gets started while everyone is eating their meals. And once the sun starts to set, the fire comes out!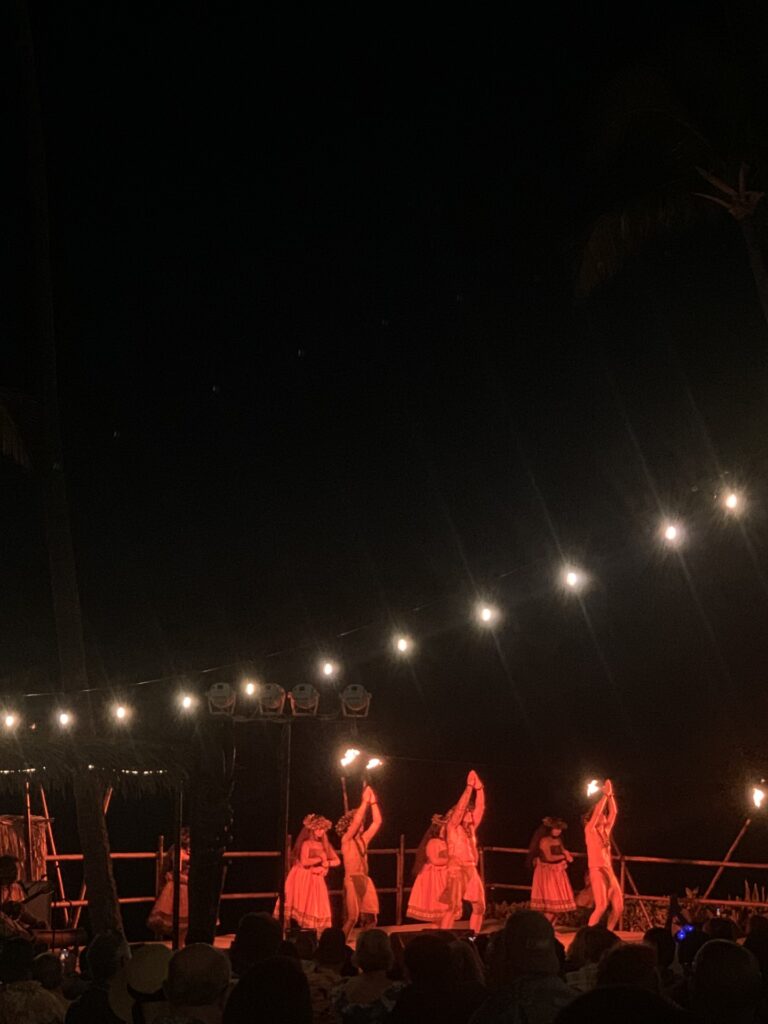 Probably the highlight of the evening (and the culmination of the show) is the Samoan fire dance (Siva Afi).
And that's a wrap on our five-day Big Island itinerary! We hope it helps you plan your trip, but, of course, with just five days, you can't see everything. What did we miss? Here are a few things we had on our idea list but weren't able to get to:
Volcano Farmers Market (Sunday from 6:00-10:00 am)
Kona Farmer's Markets (there are several)
Parrots in Paradise Sanctuary
Pana'ewa Rainforest Zoo
Lava Trees State Park
Mauna Kea Summit Tour
Kehena Black Sand Beach in Hilo
plus all north side of the island attractions
Need more Hawaii inspiration?
Check out these blog posts to help you plan your trip:
Enjoy our blog post? Sharing is caring!