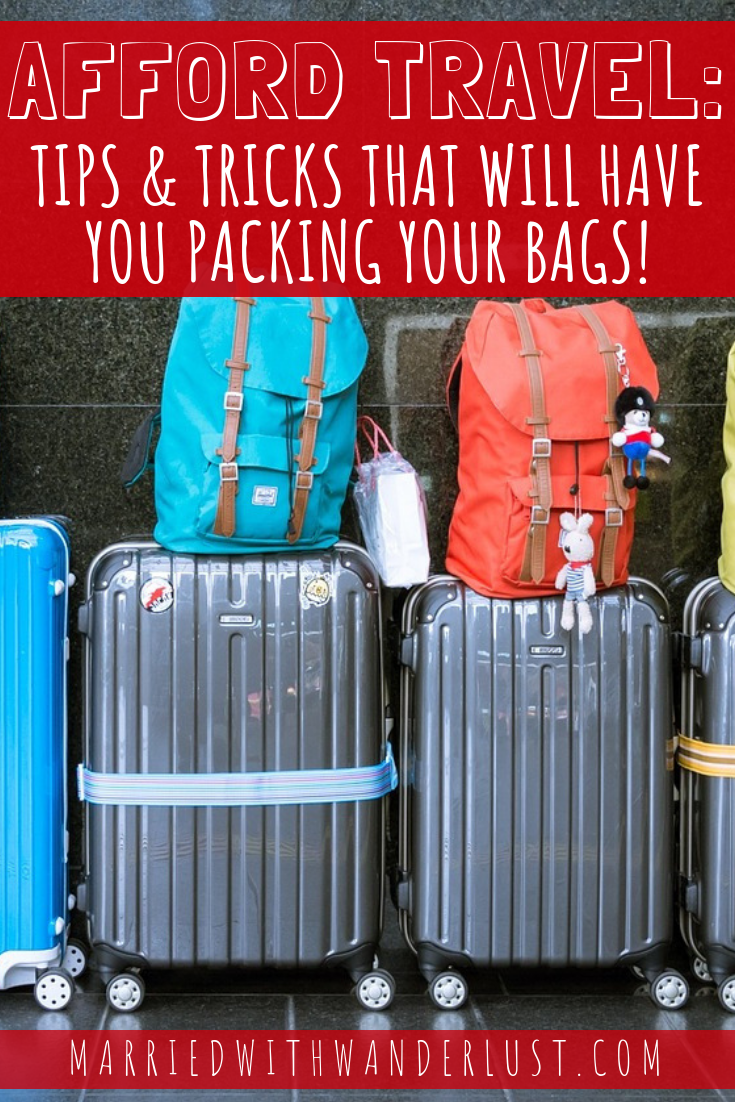 Love to travel but feel like you don't have the time or money? Don't be discouraged! Even if you think you can't afford to travel, there are many tricks and tips that will have you packing your bags before you know it!
Our Tips & Tricks: How We Afford to Travel
Earn FREE Airline Miles
It's true: you don't have to have credit cards to start earning airline or hotel rewards miles! You can earn points by taking surveys online. Programs like e-rewards and Rewards for Opinions allow you to earn points with Southwest Air, Marriott, and similar programs.
You also could be missing out on free airline or hotel miles for things you are already doing like dining at restaurants and making regular online purchases. Check out Rapid Rewards Dining and Rapid Rewards Shopping if you like to fly Southwest. You don't need their credit card- you can register any card you have and earn from purchasing through their partner restaurants and stores! Delta also has a restaurant program called SkyMiles Dining.
Check out our post on How to Earn Airline Points (Without Signing Up For Credit Cards) for more details!
Maximize Credit Card Points
This is an obvious one, but it's the easiest way to start racking up free flights and hotels. You have to buy food, gas, and pay regular bills… so why not get something back for your purchases? We definitely have our preferences on the credit cards we use for travel rewards, but your preference will depend on what types of rewards you want to earn. We especially like the Chase Sapphire Preferred Card because you can use your points to book airfare and hotels on their website OR you can transfer your points 1:1 to a variety of other travel partners like Southwest Air or Marriott hotels. New card members can also earn 50,000 bonus points!
Check out our post on Our Favorite Travel Rewards Credit Cards to see some of our other favorites!
Search Flights from Various Airports
Do you live in a city without a major airport? You might think international flights are impossible to afford. However, you just need to think outside the box!
We live in Jacksonville, FL and have some international flights but sometimes they are significantly higher priced than flying from major airports like those in New York City, Boston, and Atlanta. (Usually we have to go through one of those other cities anyway) So, what do we do? We like to book our international flights from one of the big cities and then use our frequent flyer miles to get to that hub. For example, when we visited Greece, we used our Southwest points to get to Boston and then booked an Expedia flight from Boston to Athens. You might also be able to find a cheap flight to a hub on a low-cost carrier like Frontier or JetBlue.
Be Flexible on Dates
Flexibility is key to getting a great travel deal! We've found that often flights that depart on Fridays or return on Sundays are more expensive. Be flexible when searching for airline tickets and try a variety of dates and times. Many airline websites will allow you to see a calendar to compare ticket prices throughout the week and month. Departing on the very first flight of the day or the last flight of the day is also usually cheaper.
Another thing to consider is traveling in the off-season. This helps you avoid high prices AND crowds! We loved Iceland in the middle of January and it was a great price. We also visited the Maldives at the end of April which is the very end of the tourist season. Weather was still great and our rate was better.
Travel Based on Deals
We definitely recommend signing up to receive travel deals from a variety of companies. This is how we've ended up trying a variety of new destinations over the years including Peru and the Azores. One of our favorite tour companies is Gate 1 Travel and they offer even bigger discounts for first-time bookings, for paying by cash or check, and for referring friends. We also recommend signing up for the TravelZoo Top 20 of the week. Each Wednesday, you'll receive the top 20 travel packages their team has been able to find for trips all around the globe.
If you keep an open mind and you're willing to go wherever the deals take you, you can see the world at a bargain!
Take Advantage of Holiday Weekends at Work
If time is a bigger issue for you than money, we understand! Not everyone gets weeks of paid vacation at their job. One of the best ways we maximize your vacation time is by booking vacations on holiday weekends. When it comes to international travel, not everywhere has the same holidays as the U.S. so your flights/hotels won't necessarily be more expensive. For instance, we visited Ireland over the Labor Day holiday to get an extra free day off work and we visited Greece over Memorial Day.
Travel With Friends
We love traveling with friends anyway so this is a bonus for us. Often, travel deals are based on a 2-person occupancy so solo travelers have to pay an extra fee. That can be frustrating, but finding a friend who loves to travel will help you save and give you someone to explore with! Traveling in a group can also help you save by splitting the cost on rental cars and hotel rooms.
Forego Buying "Things"
This one isn't too difficult for us, because we just prefer to spend our money on travel and activities rather than things. But, if you do love to shop, you might want to consider how much you're spending and whether you'd rather book a trip instead! When we visited Iceland, our 4-day package was less than $500. We like to think of it this way: spend $100 less each month and we can have another trip booked in just a few months!
Find Free Things to Do Wherever You Go
From free walking tours to public parks and museums and even outdoor activities like hiking, there are a plethora of FREE activities that you can do in almost any location. Pinterest is a great place to find free things to do in whatever city you're heading to next. You may have to spend some money to get to your destination, but – with some planning – you can probably get by without spending a lot once you're there!
See, You Can Afford to Travel!
We hope these tips have you packing your bags for your next trip!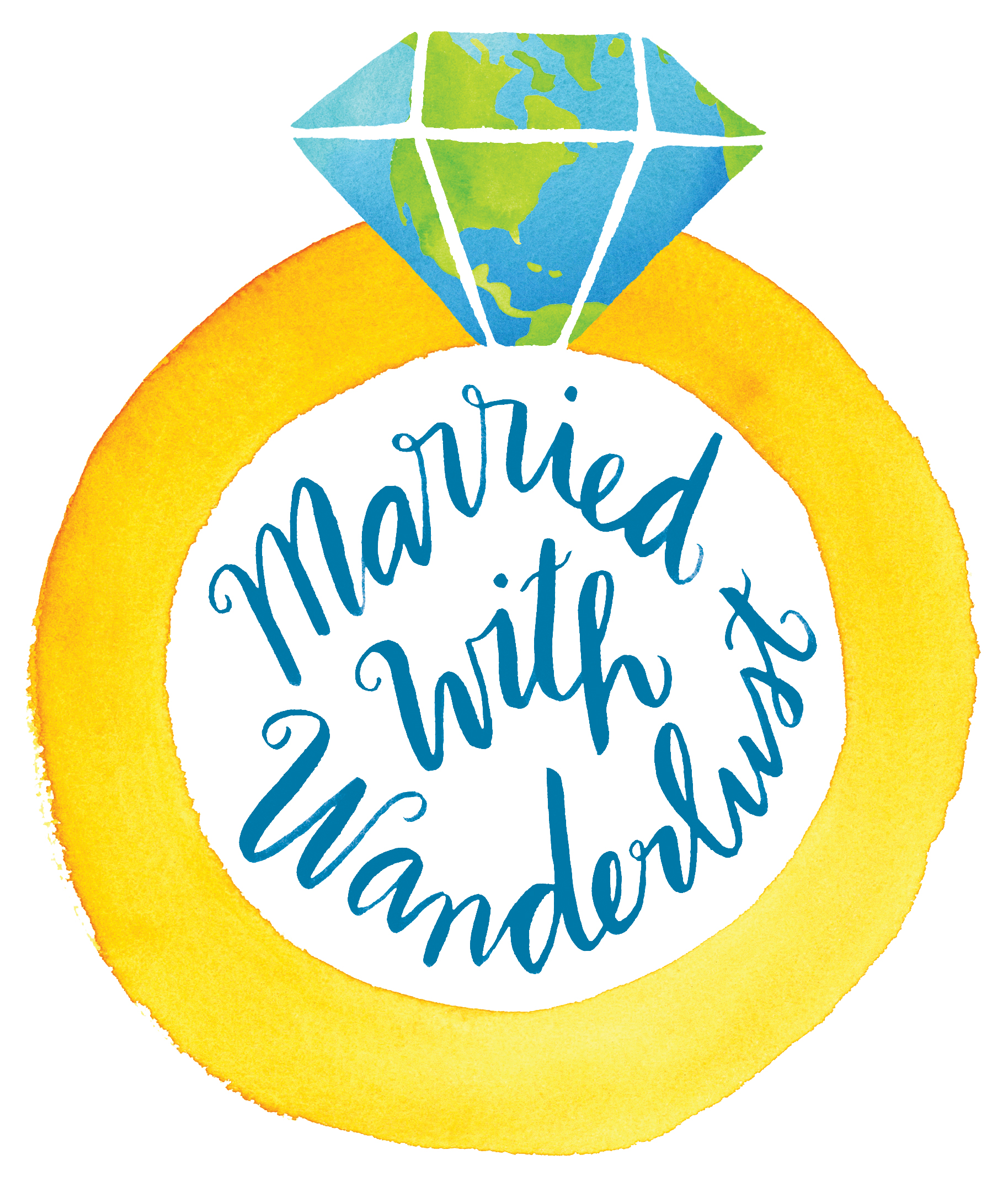 Enjoy our blog post? Pin it to share with others!