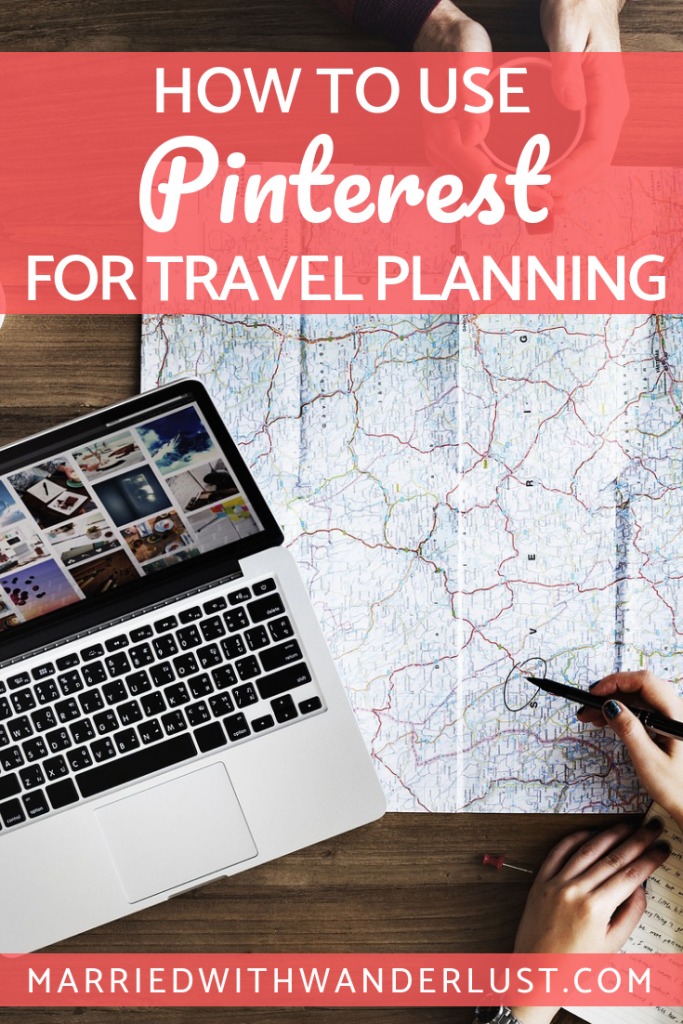 Pinterest is one of our favorite tools for travel planning! It can help with itineraries, packing lists, money-saving tips, restaurant and hotel suggestions, and so much more. If you're planning a trip, Pinterest should be one of the first places you start.
Follow our Married with Wanderlust Pinterest account and see our travel content, by clicking here!
Here's a look at how we use Pinterest for travel planning:
Ways to use Pinterest for travel planning:
Create boards for your upcoming destinations
First, you'll want to start a new board for saving all of your pins related to the trip. To do this, go to your Pinterest page (pinterest.com/YOURUSERNAME) and click on the + sign at the top. Select "Create board" and name your board after your destination. I've used my personal account below as an example of what the screen looks like: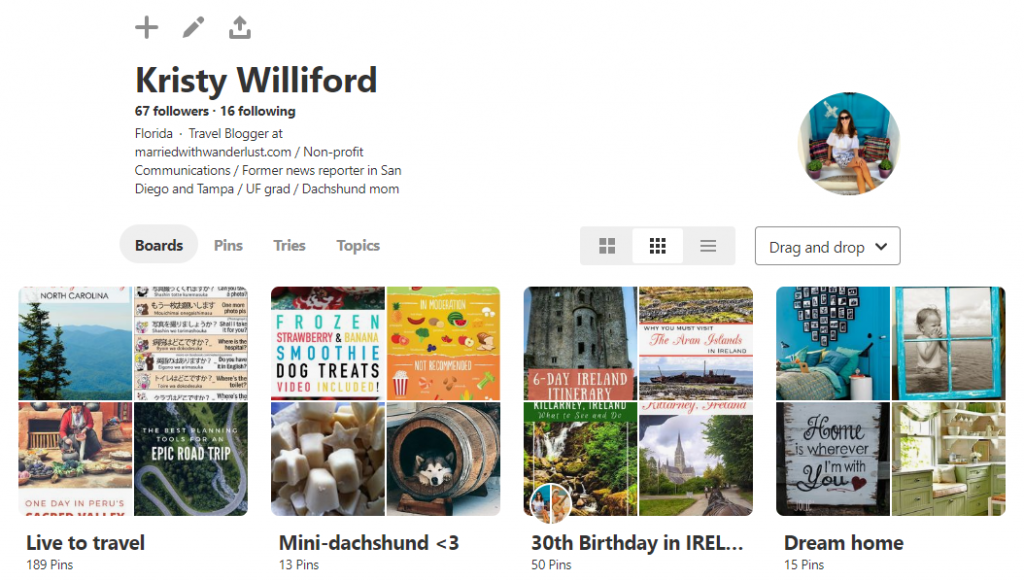 With your board created, now you're ready to start searching. You can do this in a few ways:
Search generically just with the name of your destination like "Ireland" or "Croatia" – this will bring up a wide range of content for you to look through.
Search specifically like "Free things to do in Barcelona" or "Packing list for Peru" – this will bring up more posts specific to what you're looking for, but you may also see some other related posts as well.
Search with a hashtag – this will bring up pins that pinners have saved using the specific hashtag that you search. Note: Pinterest brings up hashtags based on the most recent first so it might not necessarily be the best content, just the newest.
All of these are great ways to find destination-related content on Pinterest! Once you find a post you like, you'll save it to your board simply by hovering over it and clicking save.
Follow your favorite pinners
Many travel bloggers have "business" accounts on Pinterest separate from their personal accounts. This is where they will post all travel articles from their sites, as well as pins from other colleagues in the travel world.
If you come across some pins you really love, consider following the pinner. It's likely that person will post a lot of other travel content you'd also be interested in. To follow someone, simply go to their account and click the red "follow" button.

Using Pinterest boards and group boards
To find a board on Pinterest, you'll want to type a subject in the search bar and hit enter. You'll see a drop down menu to the right of the search bar and select Boards.

From here you can search through boards that already have content curated and saved. This can be helpful in finding other travelers that have already planned a trip to the same destination.
Group Pinterest boards are an even better way to connect with a variety of like-minded people all in one place. For travel bloggers, the value of Pinterest group boards is obvious: you can share your work with people who are specifically interested in travel-related content. For travelers and those looking for travel inspiration, Pinterest group boards allow you to find a wide variety of travel content all in one place.
We started the group board Sharing our Wanderlust and it now has more than 1,400 travel bloggers contributing!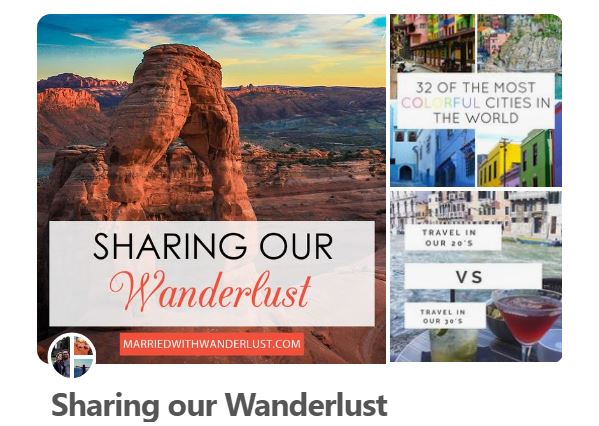 The best part about Pinterest group boards is the variety of content! Unsure where you want to go next? Maybe a broader board like Travel Around the World is a good one for you to follow. If you know you're heading to Asia next, but trying to narrow your itinerary? Perhaps the Explore Asia board is a better fit. Or maybe you need some warm weather inspiration: try following the Caribbean Travel Collection board! There is something for everyone!

Unfortunately, there isn't an easy way to find group boards on Pinterest without clicking through each of the boards that came up in your original search and seeing how many collaborators they have. We instead looking at the boards your favorite pinners/travel bloggers are members of and following those. Many will be group boards.
Joining Pinterest Group Boards
We're members of a variety of Pinterest group boards. If you're a travel blogger hoping to share your content, you'll definitely want to join some. Usually the board description will provide instructions for joining such as "follow the board and message the board owner to join."
Once you've been added as a contributor, make sure you follow the rules of the board. Some allow only a certain number of pins per day, etc.
Need more Travel Planning inspiration?
Check out these other articles to help plan your next trip: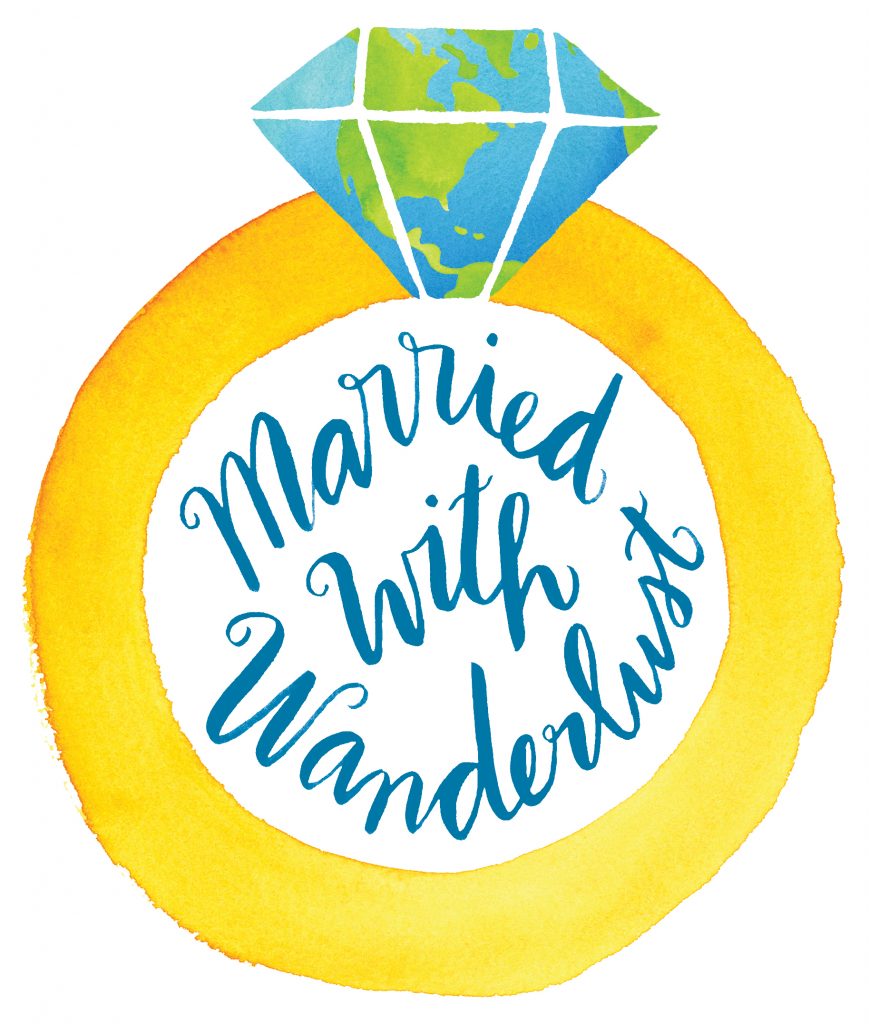 Enjoy our blog post? Pin it to share with others!