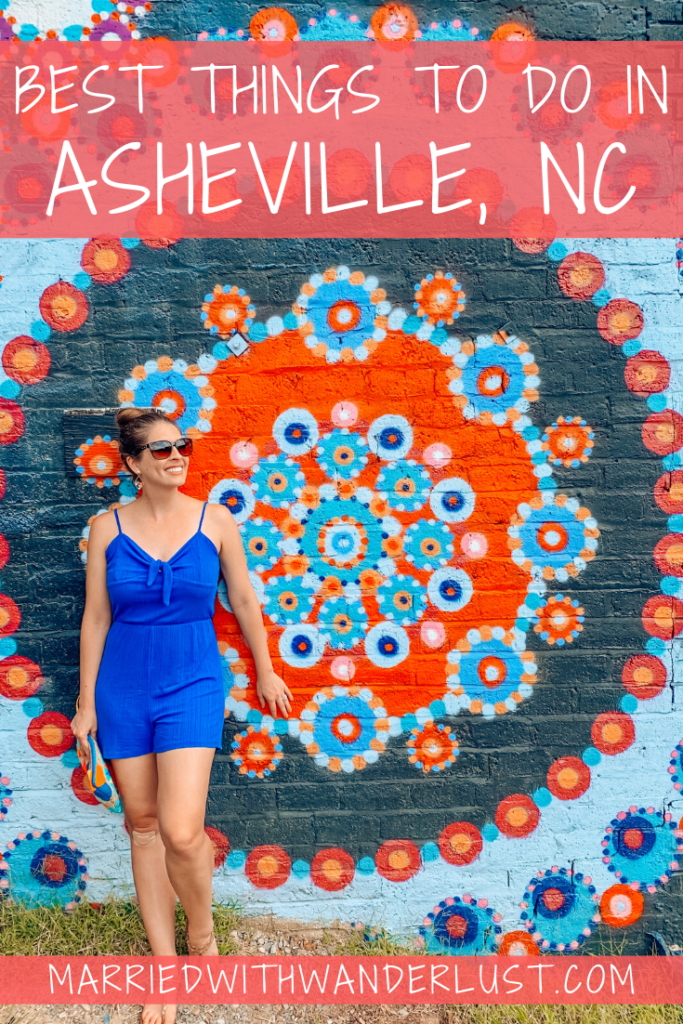 Over the past few years, we've really come to love the North Carolina mountains. It's a doable drive from Florida, and always makes for a relaxing few days away. Asheville and the surrounding small towns have a lot to offer whether you are a foodie, enjoy the outdoors, or prefer arts or shopping. Whether you're a first-timer or a repeat visitor, you'll want these activities on your list of things to do in Asheville:
1) Hit the trails
If you really want to get a feel for the beauty of the Blue Ridge Mountains, you'll want to spend some time on one of the hundreds of nearby hiking trails. They range from easy to difficult, meaning there is something for everyone.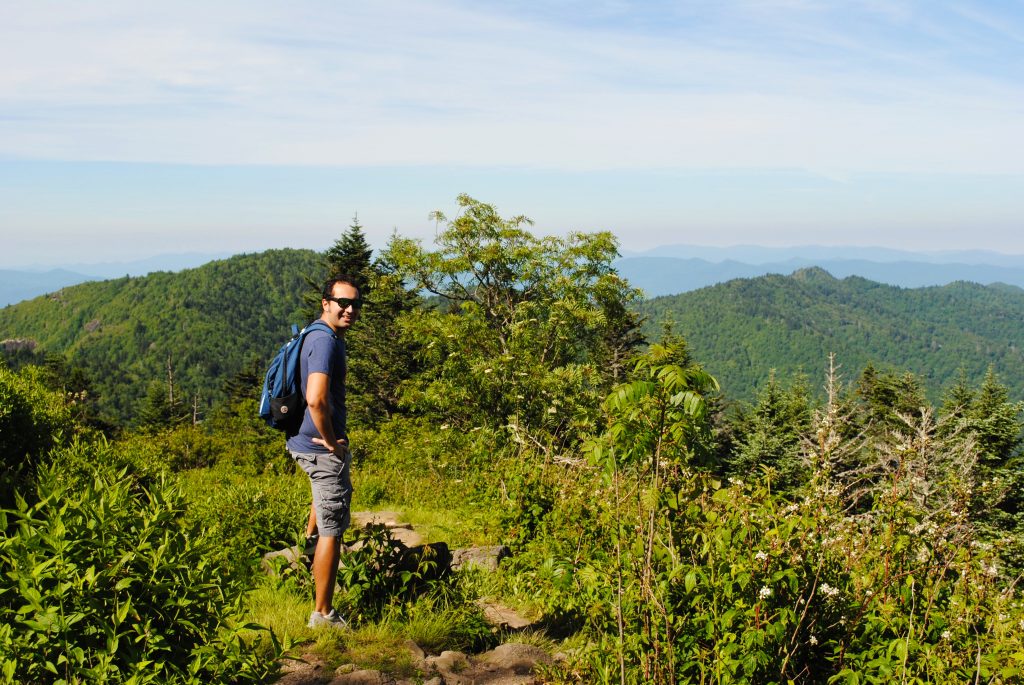 2) …and then hit the Ale Trail
After burning some calories you'll be ready for an ice cold beer and Asheville has plenty to offer! In downtown alone, there are dozens of options and many of the surrounding small towns also have their own. One of our favorites was Hickory Nut Gorge Brewery in Chimney Rock (pictured below).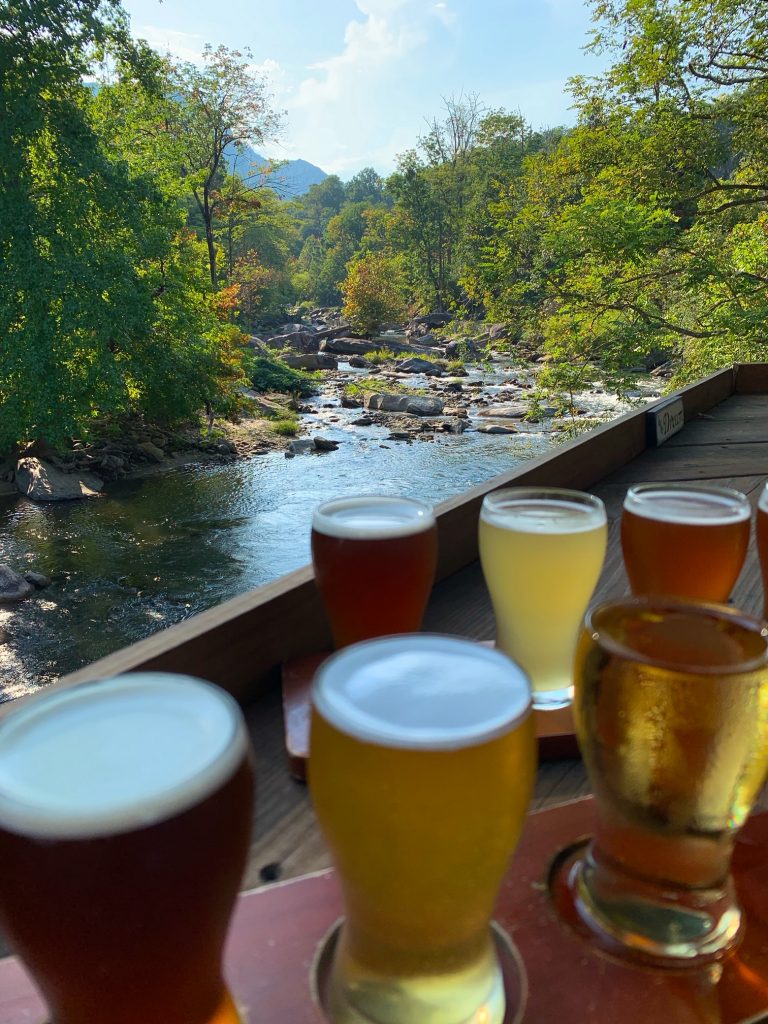 3) Visit the surrounding small towns
Each of the small towns near Asheville has its own little quirks and attractions. For example, Lake Lure is home to the annual Dirty Dancing Festival and Marion hosts the annual Big Foot Festival (but we'll get to more on that one in a bit). Black Mountain is "the Little Town that Rocks" and you'll want to snap your photo on the giant rocking chairs downtown. There are many nearby small towns and we've yet to explore them all!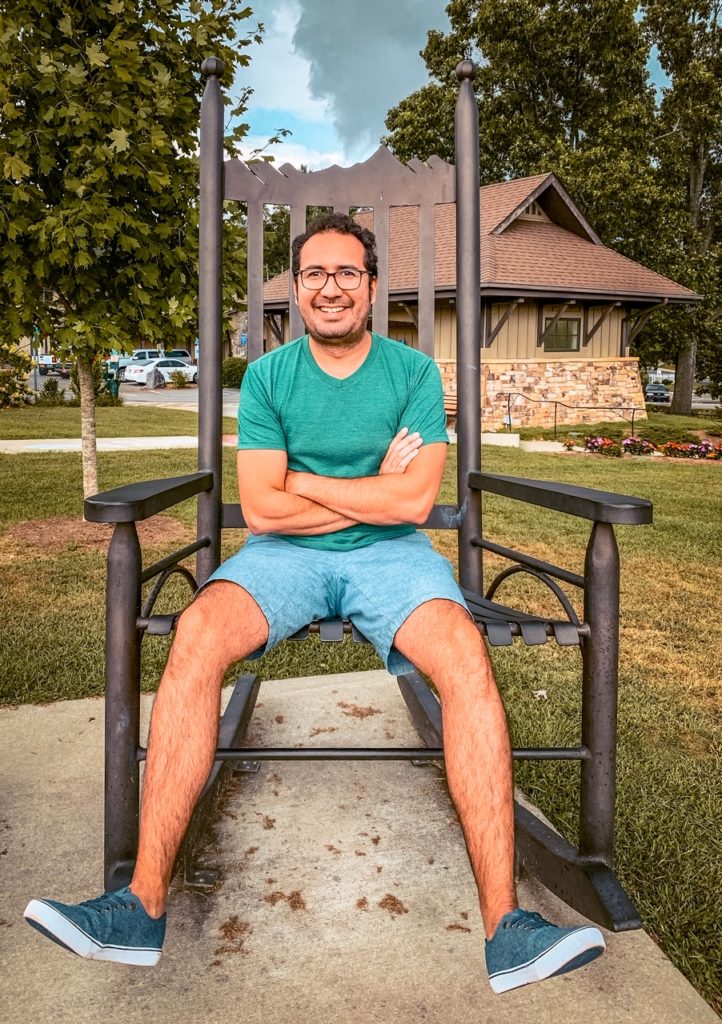 4) Go apple picking in Henderson County
Whether you love apples or just want to spend a relaxing day on the farm, head over to Hendersonville in the fall and stop by one of the many apple orchards. We visited Grandad's Apples which has a U-pick orchard, delicious baked goods, activities for kids, and the apple cannon (cause why not!?)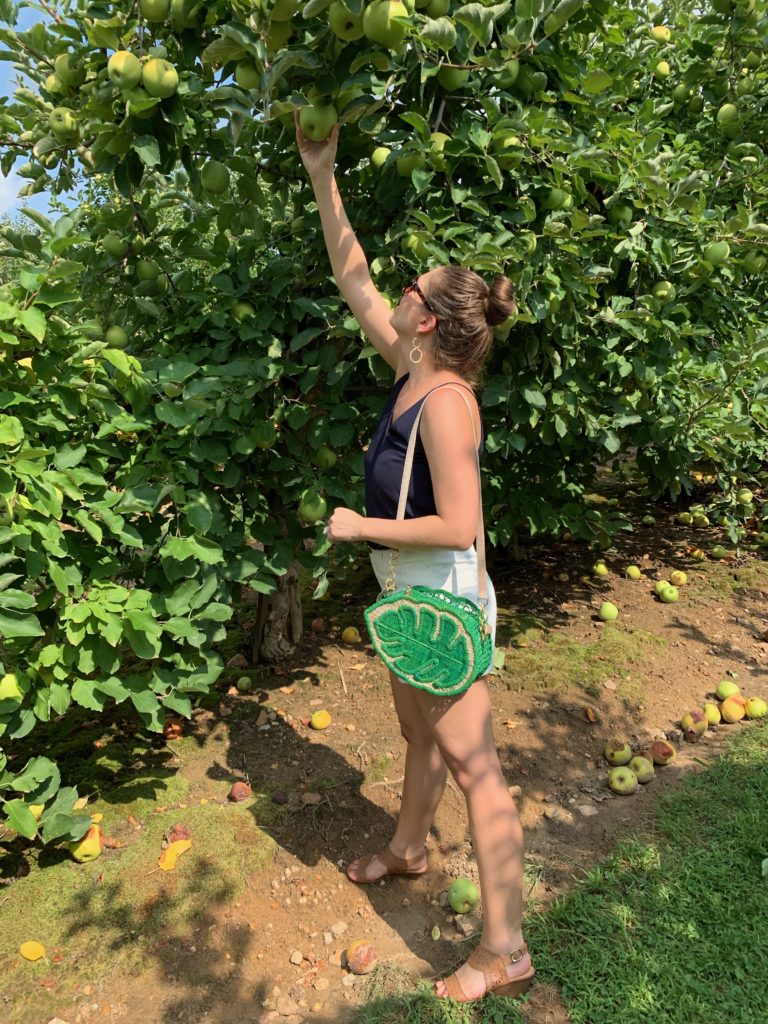 5) Attend the Western North Carolina Bigfoot Festival
This is a must-do if you love quirky adventures. The WNC Bigfoot Festival takes place in Autumn and stretches through downtown Marion, NC. You can take photos with Bigfoot, buy all sorts of Bigfoot swag, participate in the Bigfoot calling contest (if you do, please send us a video!), or drink Bigfoot-themed beer at the local brewery!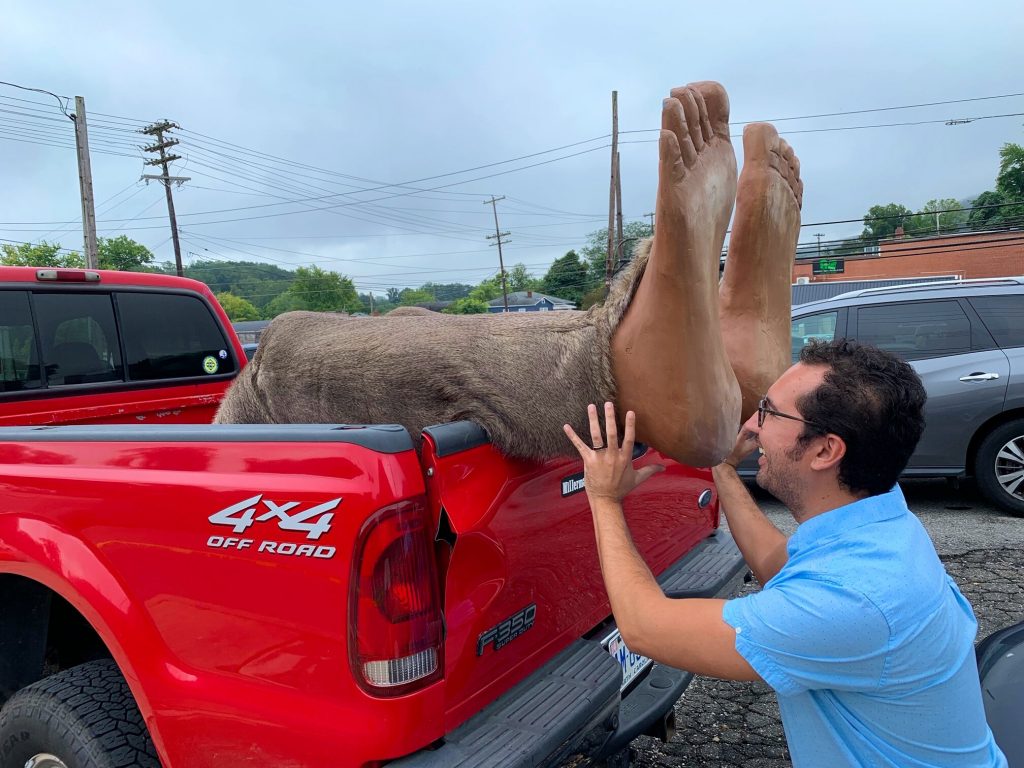 6) Chase waterfalls
When in Asheville, DO go chasing waterfalls! There are dozens within a short distance of the city which should make it easy to squeeze one into your busy sightseeing schedule. Pictured below is Hickory Nut Falls at Chimney Rock State Park. The falls were featured in the movie The Last of the Mohicans.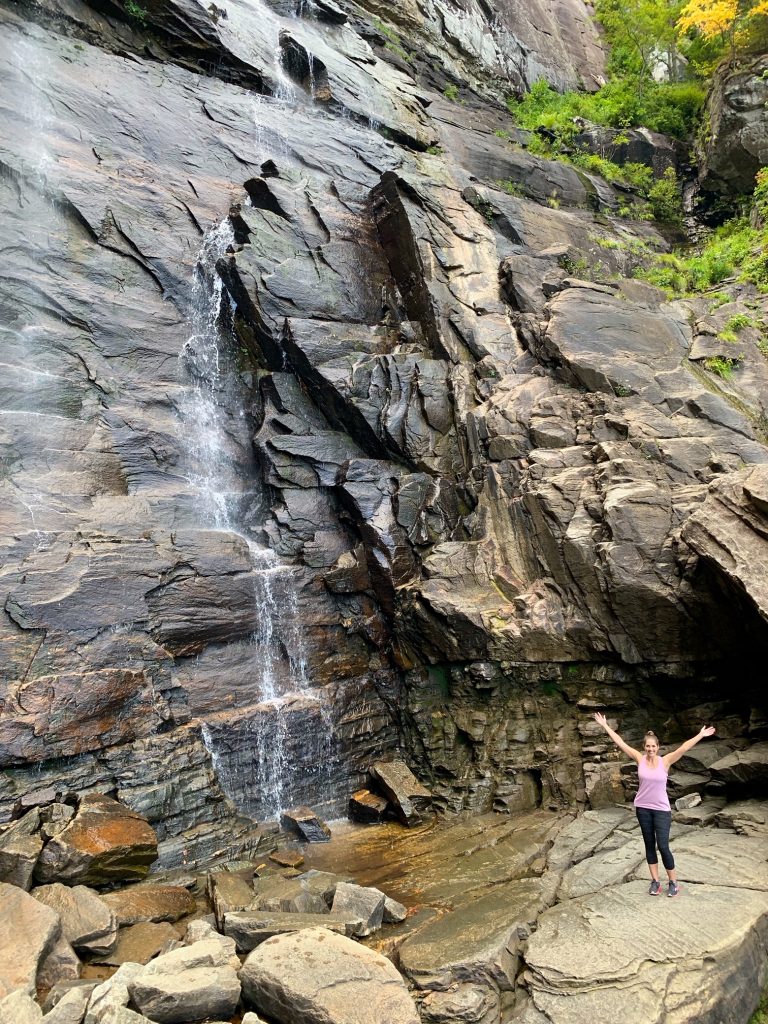 7) Drive the Blue Ridge Parkway
Even if you don't want to hike, it's worth hitting the Blue Ridge Parkway by car just for the gorgeous drive and scenery. Along the way, you'll find lookout points that don't require any effort for a great view and we even found a roadside waterfall.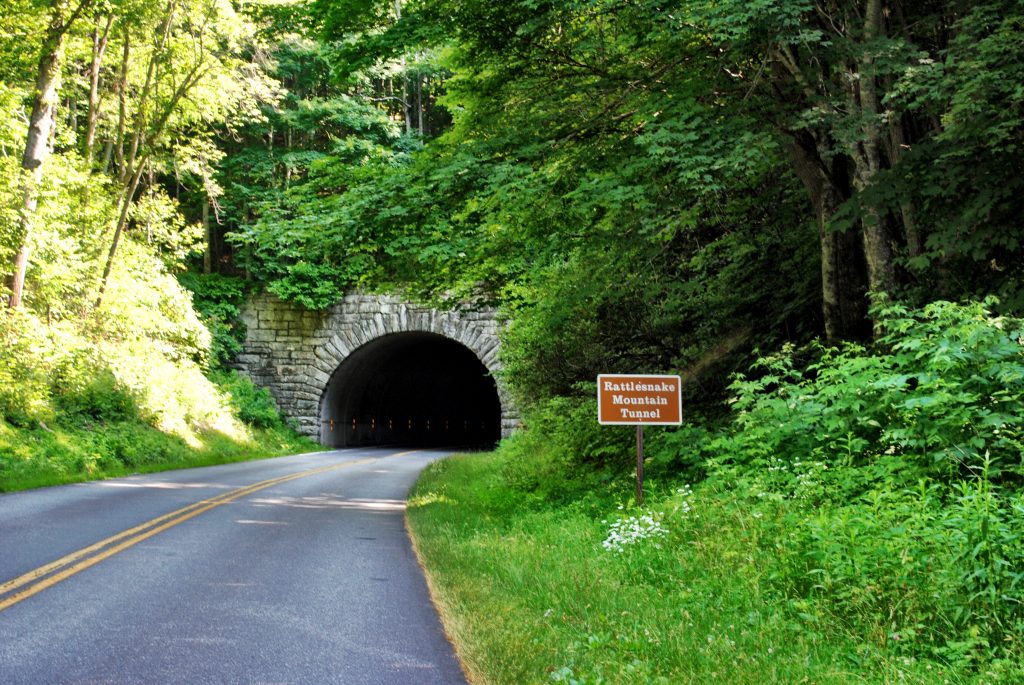 8) Visit the iconic Biltmore Estate
The Biltmore Estate is on almost every "things to do in Asheville" list and it is the most iconic spot in town. While it is crowded and isn't cheap, it is fun to check off the Asheville bucket list. After you've toured the mansion, make sure to save some time for wandering the gardens and visiting the winery.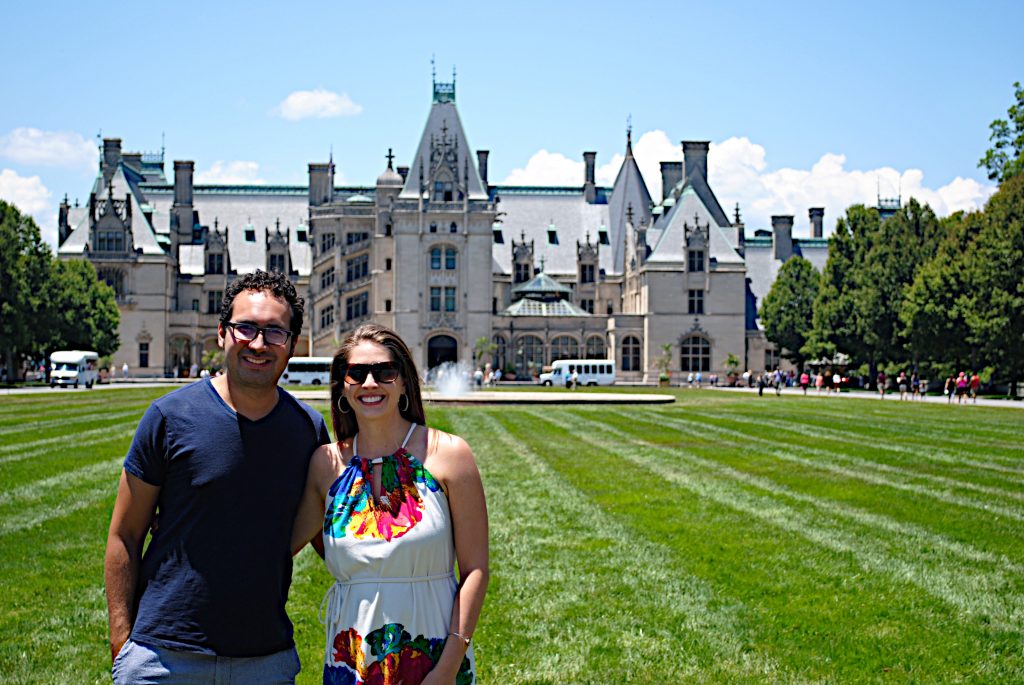 9) Taste wine in Hendersonville
Did you stop by a Hendersonville apple orchard based on our earlier recommendation? Well, now head over to one of the nearby wineries (we enjoyed Burntshirt Vineyards) and taste some of the locally grown wine.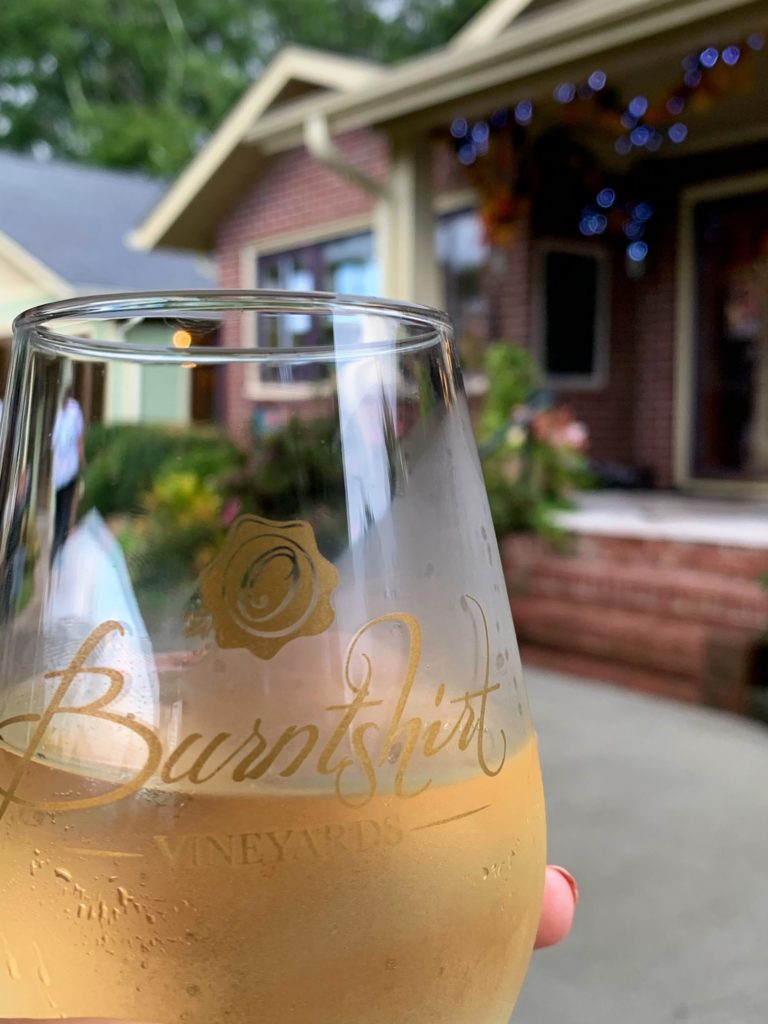 10) Photograph the murals and street art
If you enjoy art, have your camera ready as you wander around Asheville. Everywhere you go, you'll see colorful murals beckoning for a photo. One of our favorites was this funky painting of Sloth (The Goonies) and Tom Selleck. You can find it at Burial Beer Co.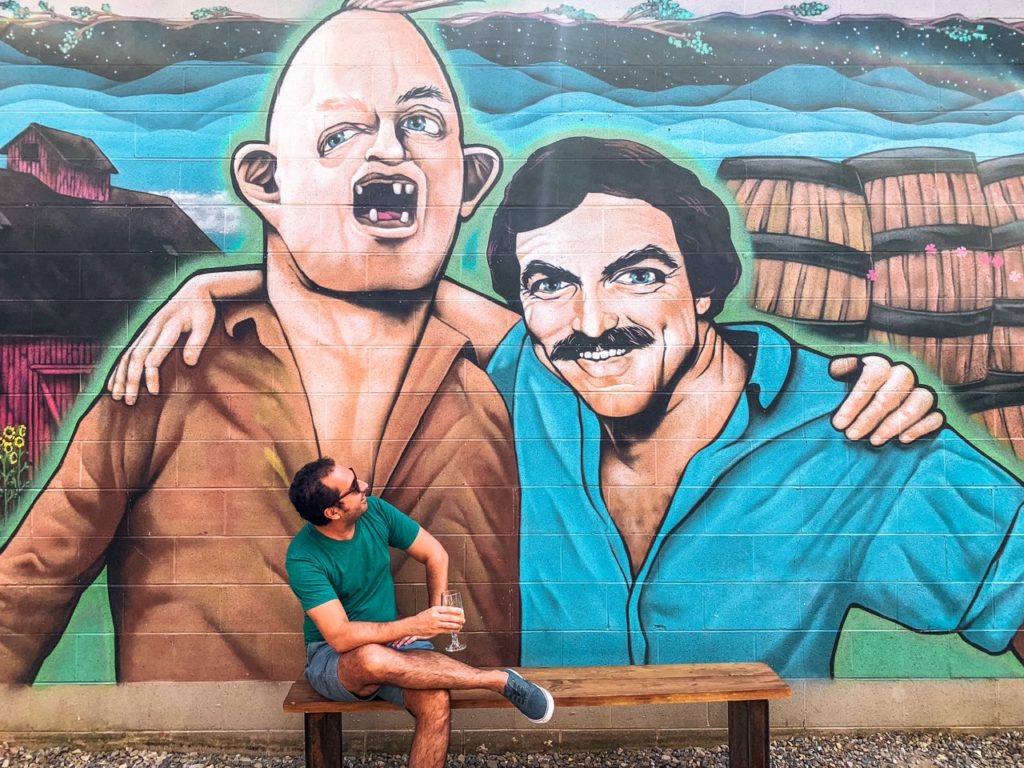 11) Go shopping downtown
Art, clothing, crafts, jewelry and more… there are plenty of shopping opportunities in Asheville. We especially enjoyed browsing some of the quirky shops like The LOFT.
12) Eat delicious food
Asheville has become a foodie's favorite and even though we've only tried a couple restaurants so far, we've liked them all! For breakfast, we visited Tupelo Honey downtown (try the deviled eggs!) and for lunch, White Duck Taco Shop.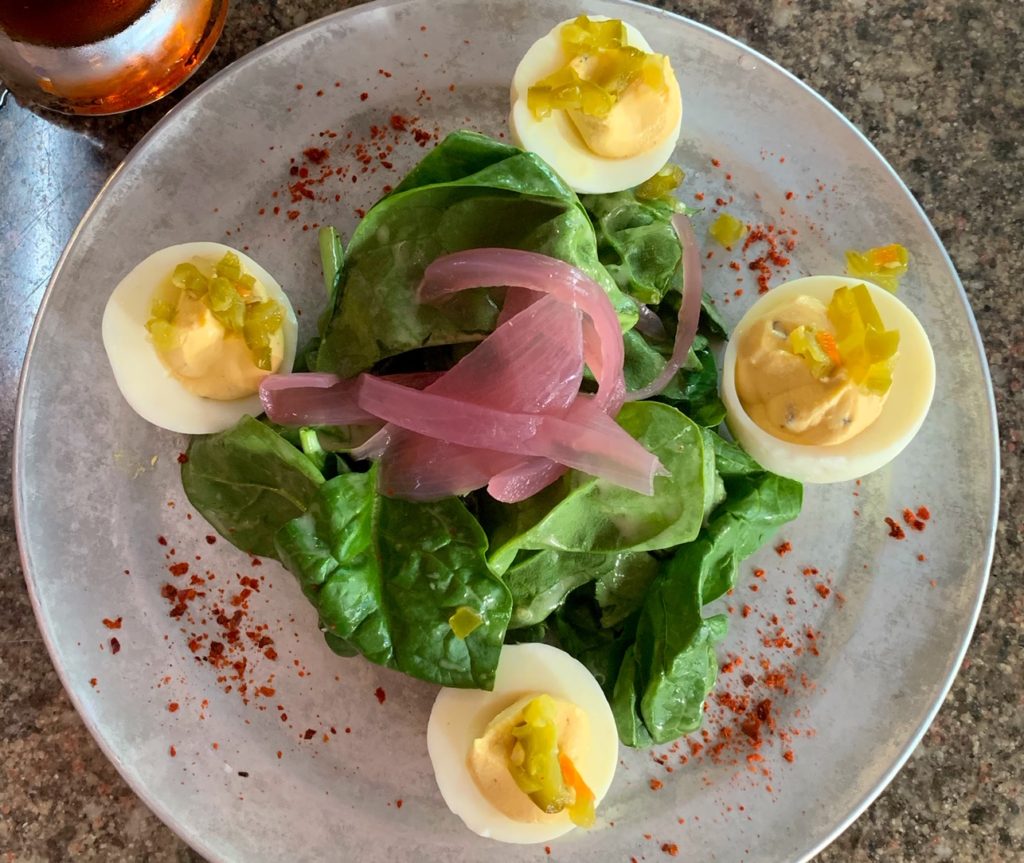 13) Relax at your cabin and enjoy the view
Spending some time at a quaint cabin in the mountains is one of the best parts about visiting North Carolina. With this view, all your worries will melt away!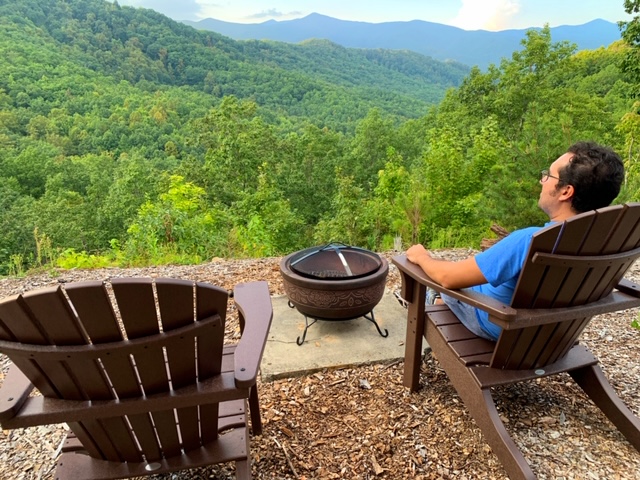 14) Climb to the top of Chimney Rock
It takes nearly 500 steps to get to the top of Chimney Rock, but the effort pays off with an amazing view of the surrounding Blue Ridge mountains. Can't hike? No worries – an elevator is available, too!
It does cost $17 to get in the park, but don't let that deter you from adding it to your list of things to do in Asheville. HINT: Go in Winter for a discount!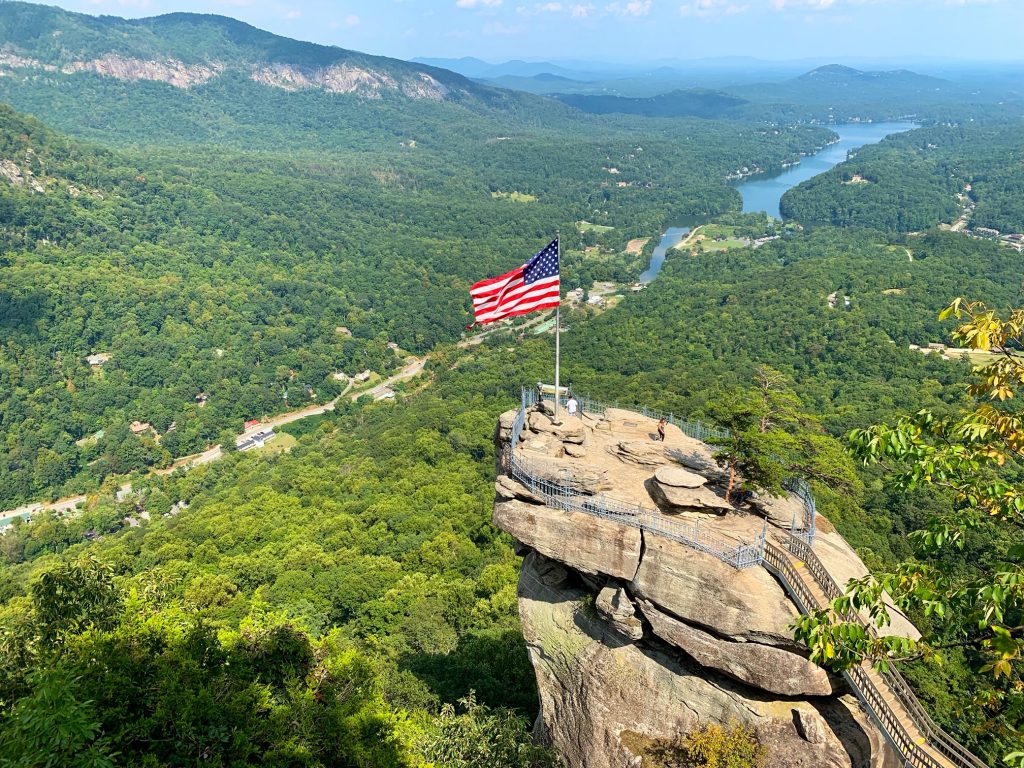 Need more Asheville inspiration?
Check out these other posts to help you plan your North Carolina vacation: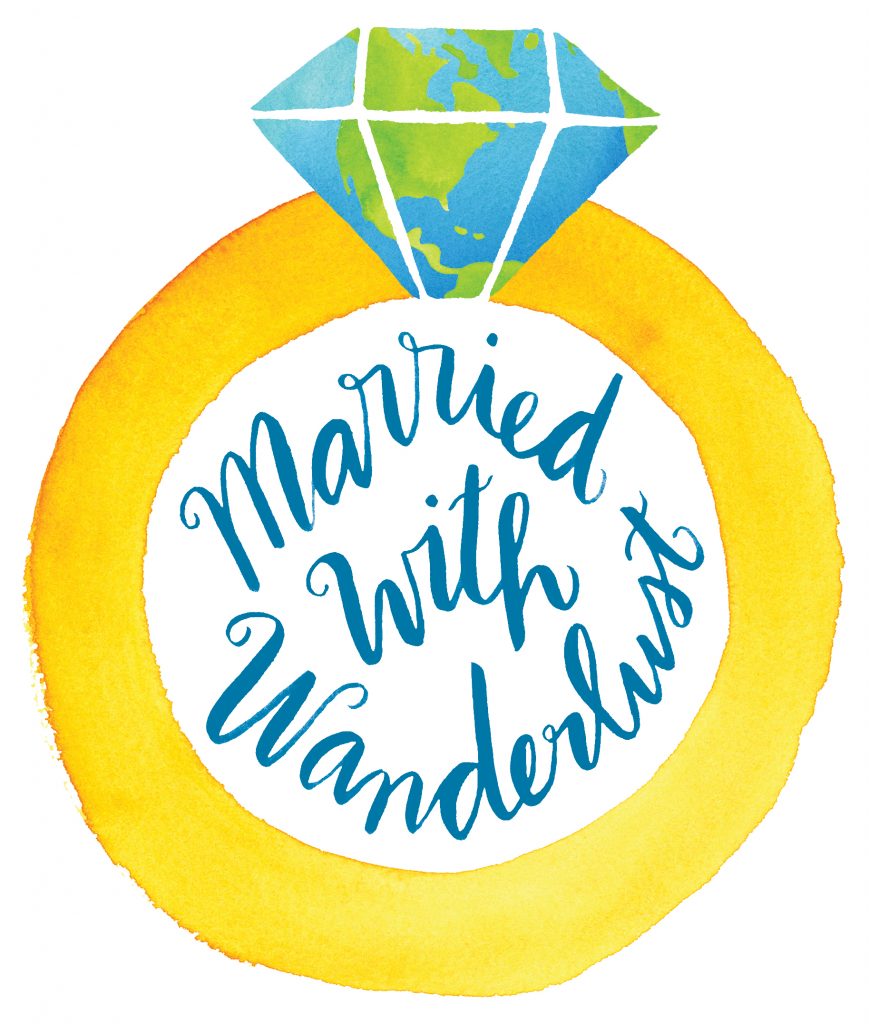 Enjoy our blog post? Sharing is caring!