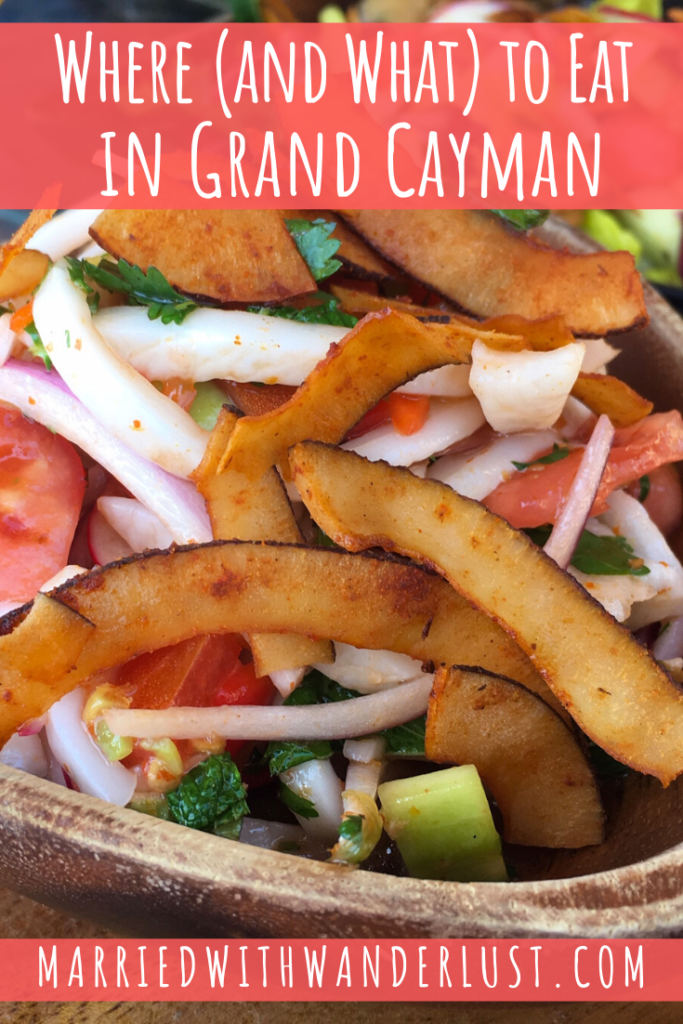 Grand Cayman truly is a foodie's paradise and – bonus – a lot of the best places to eat in Grand Cayman come with spectacular views! During our four days on the island, these were some of our favorite restaurants, plus a few of our fave dishes:
Macabuca at Cracked Conch
Macabuca is the tiki bar at the Cracked Conch restaurant. I'm sure both restaurants are great choices, but we only tried Macabuca. We liked it so much, we went back several times!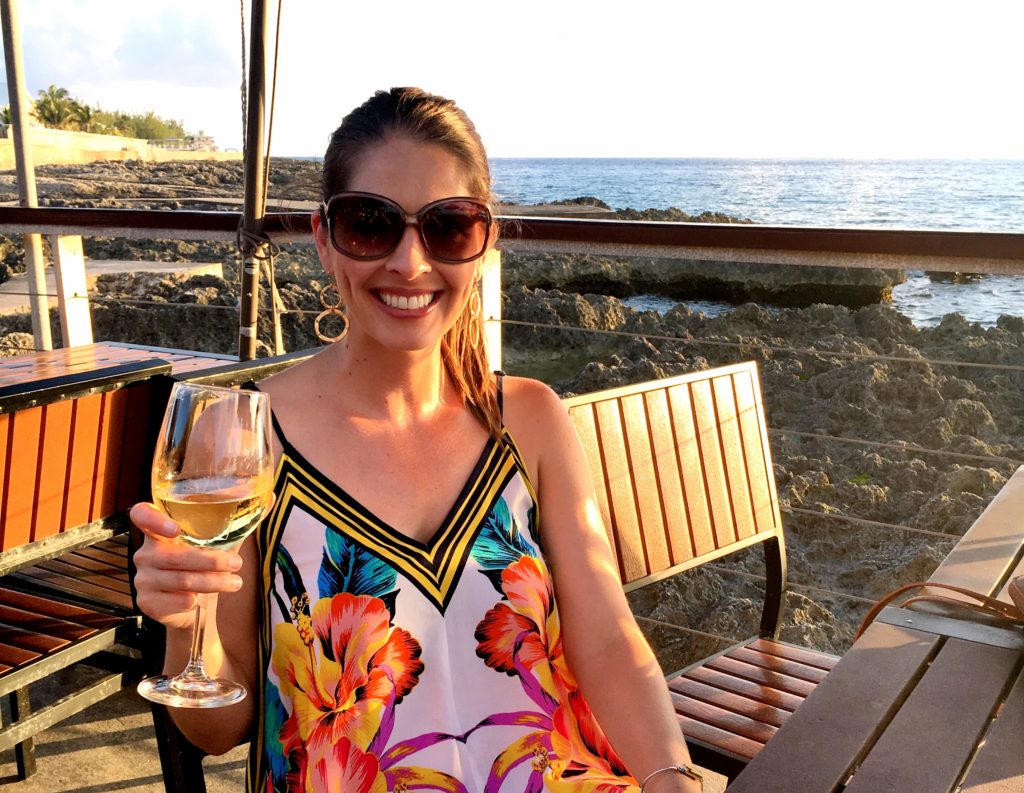 Macabuca is also one of the best spots to eat in Grand Cayman where you can catch the sunset. You can also enjoy live music a couple nights a week. If you visit during the day, bring your snorkel or diving gear! A ladder on the side of the restaurant provides access to the water.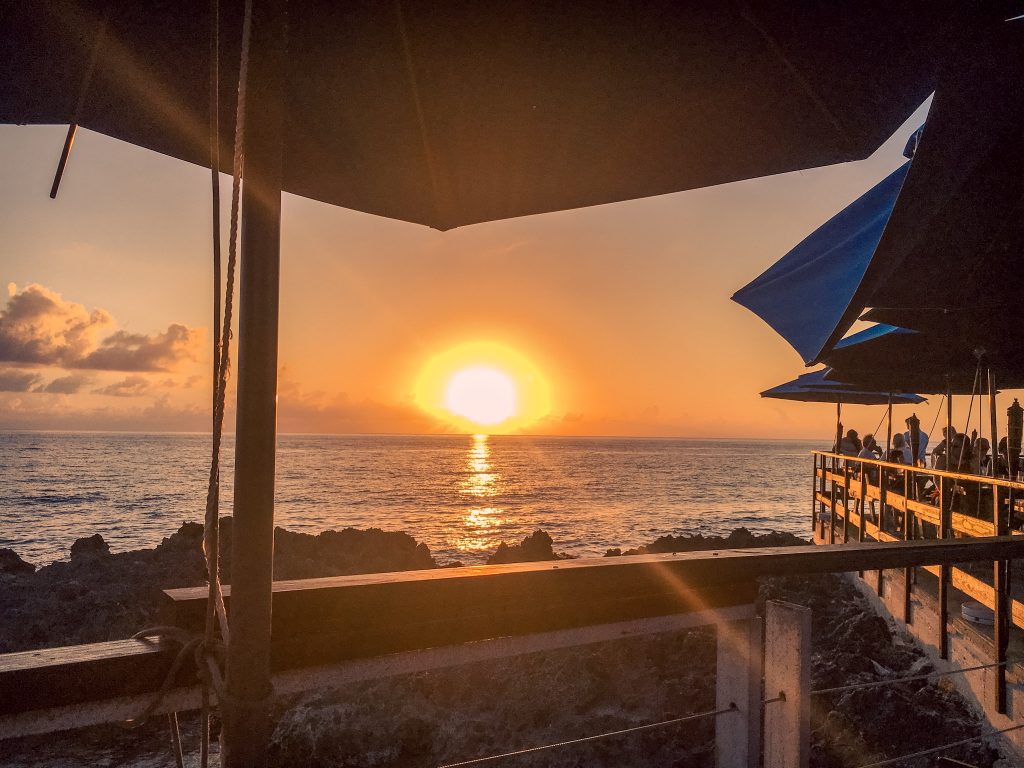 Cayman Cabana
Another of our favorite waterfront spots, you'll find Cayman Cabana located near the cruise port. We discovered this farm-to-table restaurant a little too late on our trip (the last day!), so we only got to experience lunch here: try the Cabana burger!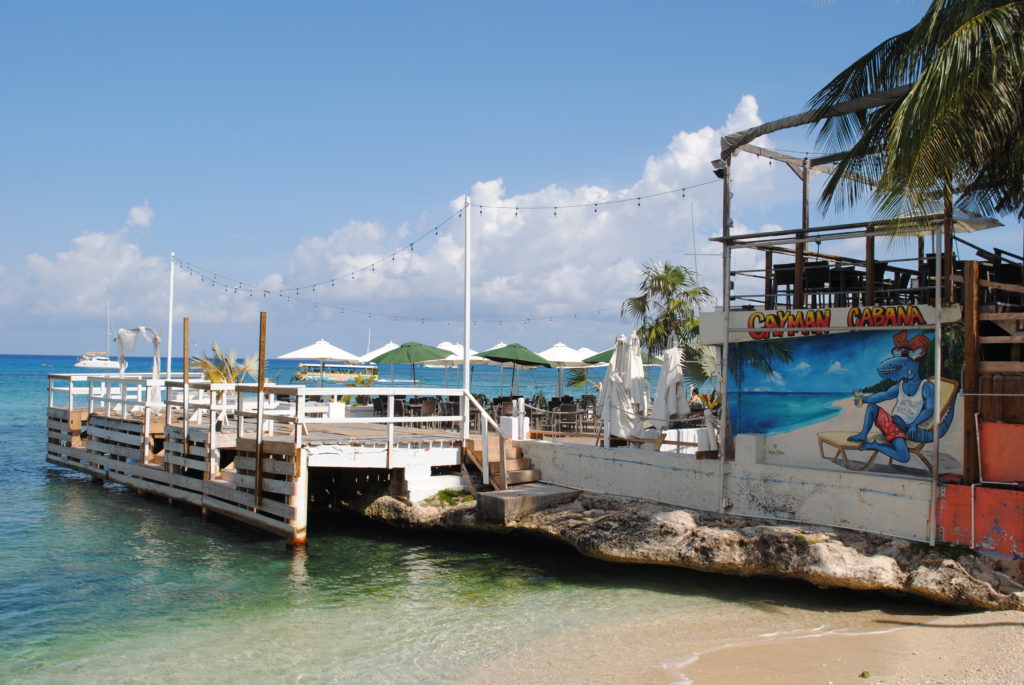 If we get to return, we'd love to try their Farm to Table Thursday. Every week at 7:30pm, the restaurant hosts a family-style dinner showcasing the Cayman's locally grown food. The 4-course, 8 dish spread will cost you 60CI for food-only, or 80CI for a wine-pairing.
Wreck Bar at Rum Point
We didn't spend a whole lot of time in Rum Point, but you have to visit this iconic Grand Cayman spot just to sip one of their famous mudslides! You'll find the drink (made with Absolut Vodka, Kahlua, and Bailey's or Molly's Irish cream) at Wreck Bar.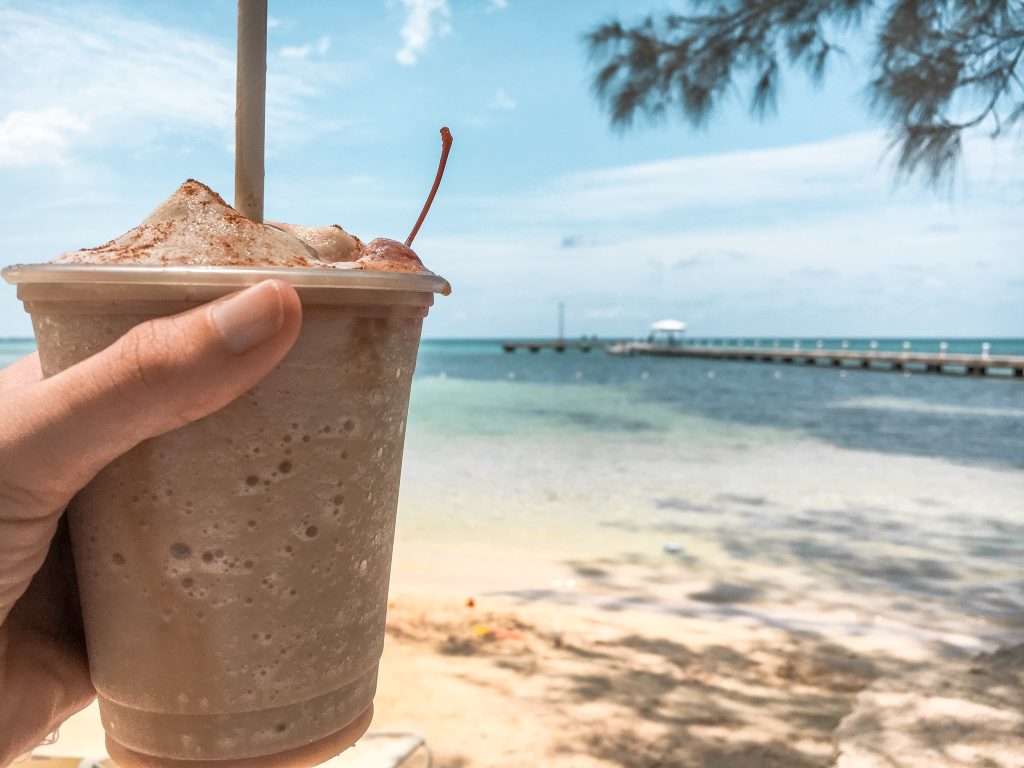 Duke's Seafood and Rib Shack
Duke's is a laid back restaurant on Seven Mile Beach and we especially loved the variety of music they played. We sat outside and shared the crabby fries; how can you go wrong with french fries covered in crab and spinach dip?
Peppers
A popular jerk and BBQ spot, Peppers has a casual outdoor seating area and live music a few nights a week. We didn't get to try the Jamaican cuisine but enjoyed the mango and raspberry spritzers and baked crab backs.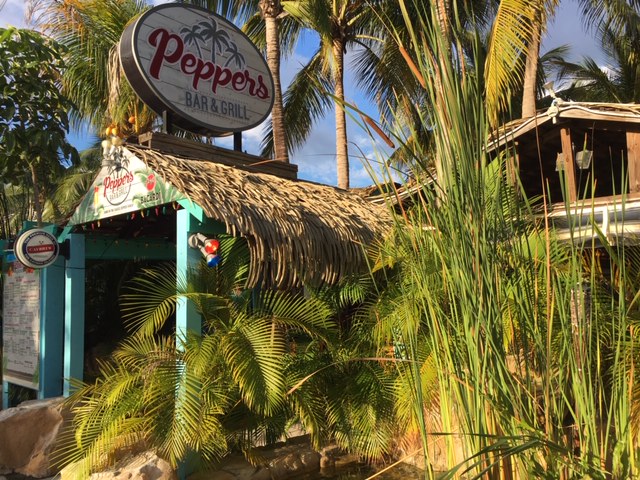 Casa 43
Grand Cayman has some amazing seafood, but a few days into your trip, you may be craving something a little different. Casa 43 is a Mexican restaurant in Seven Mile Beach. We love any excuse to try street tacos wherever we travel so we had to give it a shot. We were in agreement on our favorite taco: beef barbacoa!
Rackums
Rackums is on the water not far from the cruise port. It has a nice view and you'll enjoy watching the giant tarpon that hang out alongside the restaurant! Be there at 7:30 p.m. and you'll get to see the daily tarpon feeding. It's worth the experience.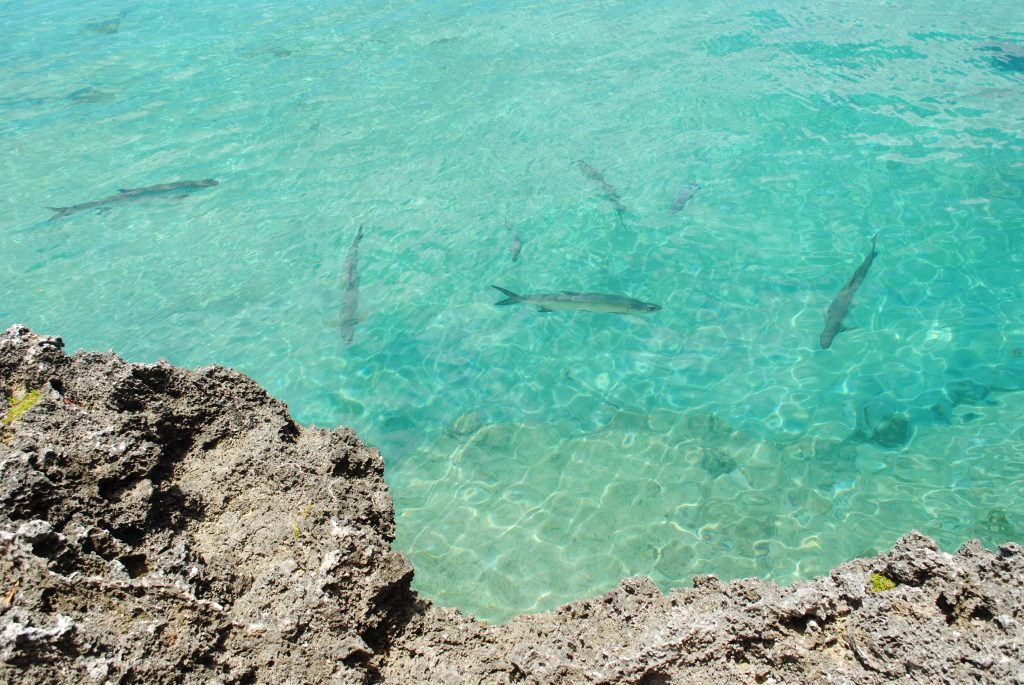 If you want to swim alongside these massive fish, you can use the restaurant's ladder. Leave your belongings on the deck while you take a swim (but be polite and be a paying customer).
Over the Edge
Over the Edge is a very unassuming cafe, located on the waterfront on the eastern side of the island. We stumbled upon it and stopped in for a bite and a couple drinks. Our recommendation: thai style octopus appetizer.
Tukka
Pronounced tuck-uh, Tukka (on the East End) was one of our favorite places to eat in Grand Cayman! This Australian-Caribbean restaurant has an awesome Happy hour. It runs Monday through Friday from 3-6 p.m and the earlier you arrive, the cheaper the food (appetizers start at just $1.50)! Definitely try the baked brie – we liked it so much, we got a second order.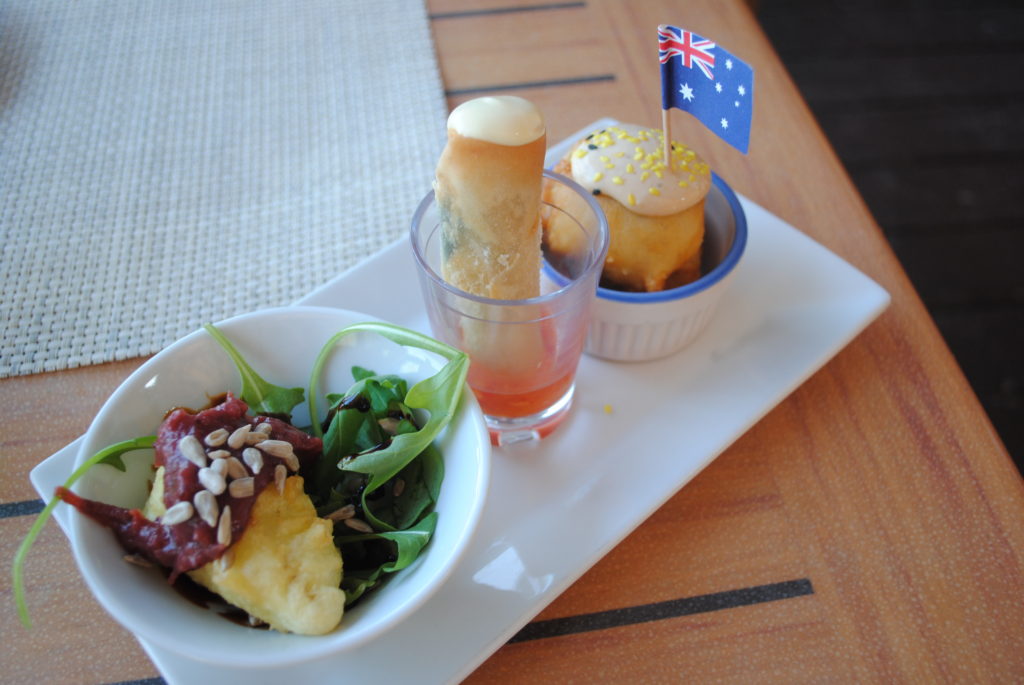 The real highlight at Tukka is watching the feeding of the frigate birds. We shared details (and a short video!) on our Ultimate Grand Cayman Bucket List post. Other fun events at the restaurant include Walkabout Wednesday and Fresh Fish Friday. Visit their website for details.
Mimi's Tiki Bar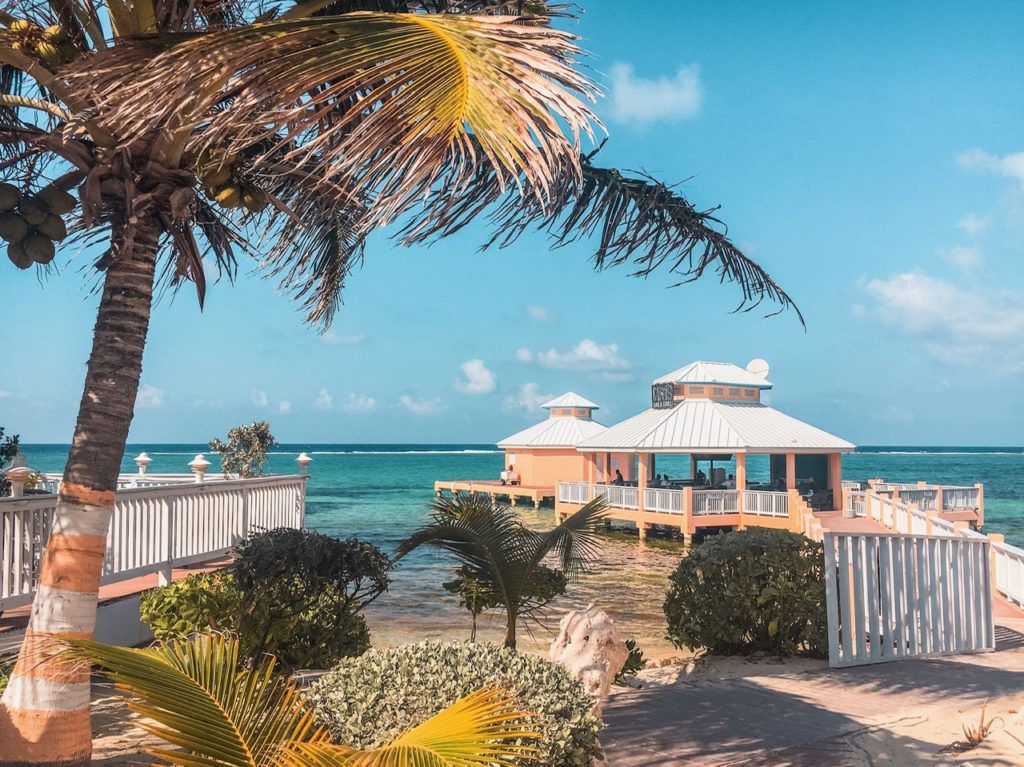 This is another spot to try on the eastern side of the island. Located at Morritt's resort, you'll get a nearly 360 view of the Caribbean. We actually can't speak for the food but it's a fun spot to relax with a frozen cocktail!
Need more Grand Cayman inspiration?
Check out these other articles to help you plan your trip to Grand Cayman!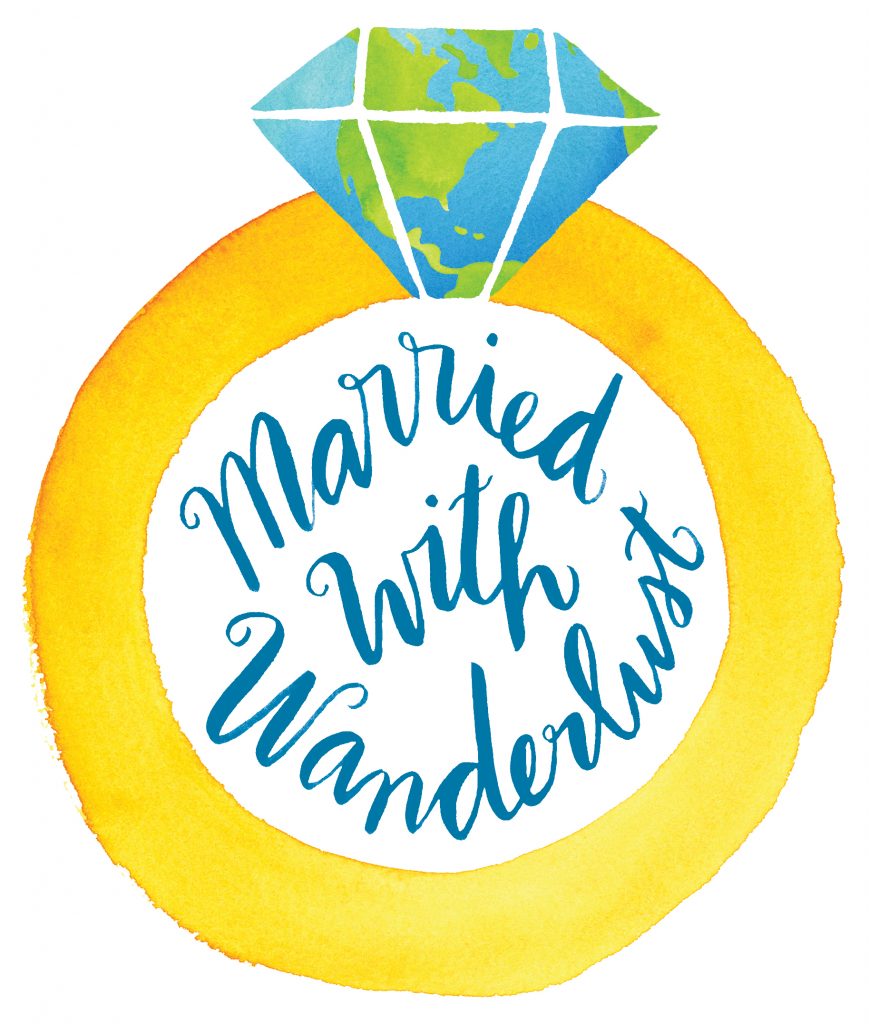 Enjoy our blog post? Sharing is caring!