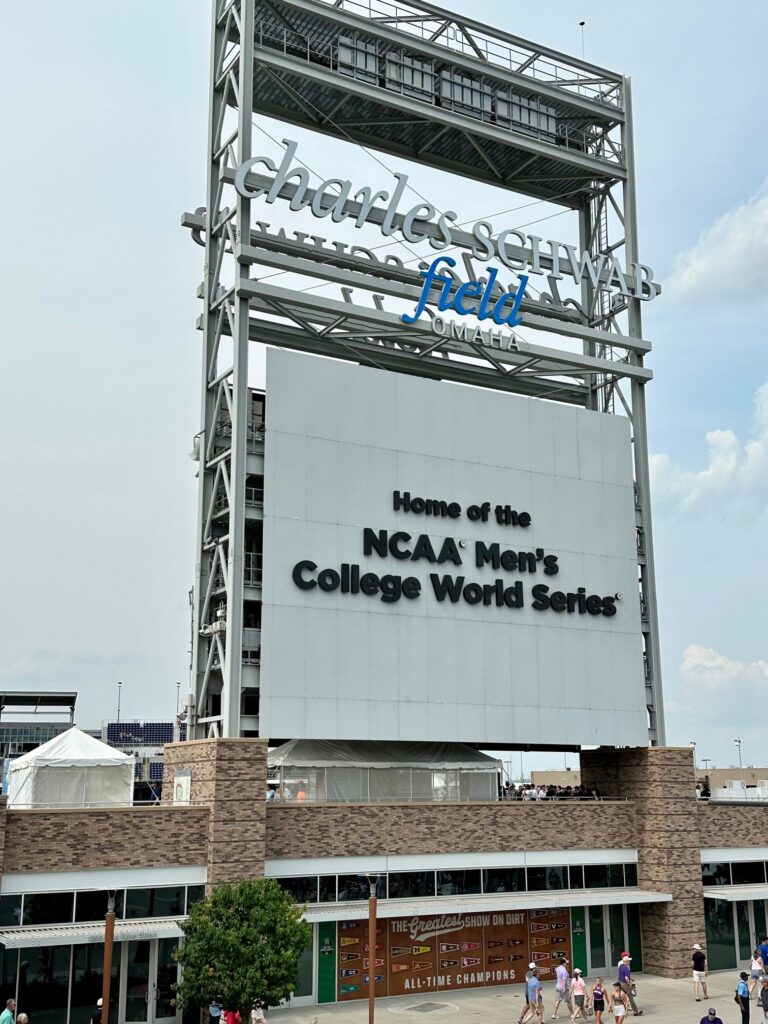 Last weekend we took a road trip from Denver to Omaha, Nebraska to check out the College World Series for the first time! If you're a college sports or baseball fan (we're Florida Gators I'm sure you can tell!), this is a must-do. The fans are passionate. The town is excited. The locals are kind. All in all, just a great time enjoying America's pastime.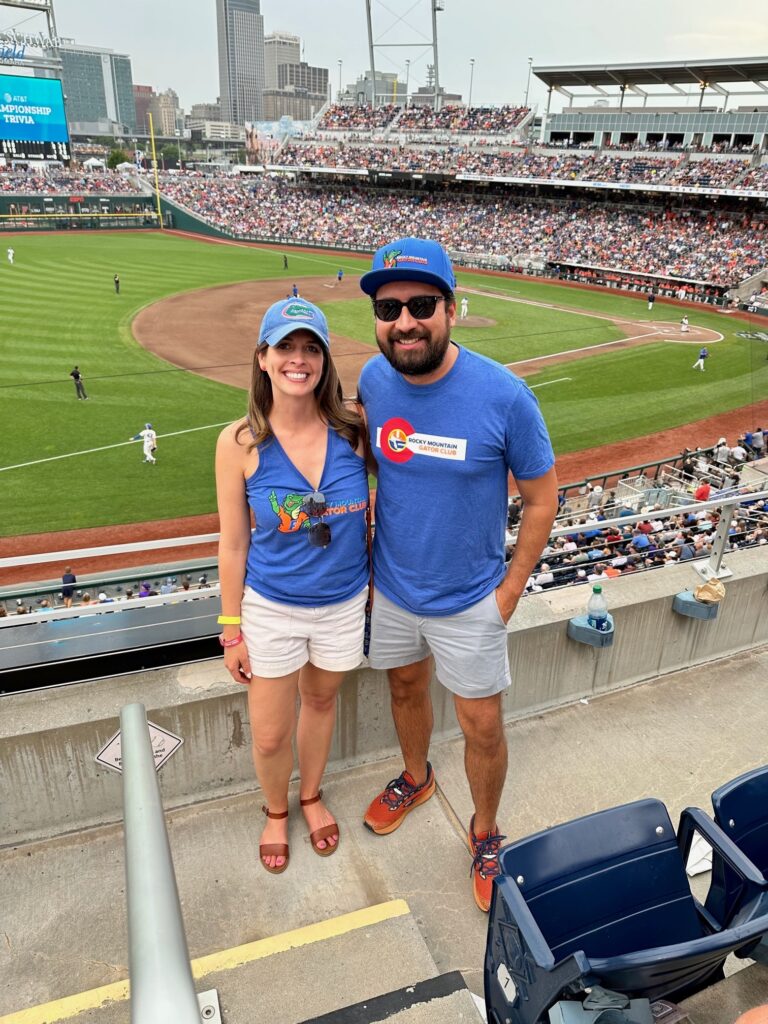 We basically winged this first College World Series trip. We had a place to stay (huge advantage) through friends of ours whose parents invited us to stay with them – thank you, Bahr family! And that's all we had when we got on the road Friday morning. We snagged tickets from Ticketmaster during the drive and didn't know much else of what to expect. So now that we have some experience with the CWS, here's our recap of what to expect and our top tips for planning:
Our top tips for planning your College World Series trip:
Lodging – Be prepared. This is one of the most expensive times of the year to book a hotel in Omaha. Locals told us rates are about 3-4 times the average.
Parking – Don't commit to the first parking space you see! Look for the $15 surface lots — the spot we liked (which was never full) was beside the Creighton University soccer stadium. The city has a variety of other $15 surface lots available. This is compared to the city street parking spots which cost $30 for the day. And we saw private lots charging up to $40! Here's the official parking information from the CWS.
Cell Phone Service – This was the biggest surprise for us. Cell phone service was little to nonexistent once you got down near the stadium. Likely this is due to the sheer number of people connecting in a small area. But either way it does make it tough to get in touch with friends. And the biggest problem was accessing digital tickets. Make sure you save your tickets to your Apple or Google wallet just in case. And if you do need wifi, the best we found was at Zipline Brewing (which also had stellar AC)!
What You Can Bring in the Stadium – Purses and bags are limited at Charles Schwab Field. Only clear, uncolored plastic tote-bags are permitted, or clutch-sized purses/wallets (4.5 x 6.5 inches). I will say I got in with my purse which was a tad larger than a clutch but I wouldn't recommend risking it as the stadium does not have a bag check so you'd need to return to your car. Additionally, most baseball stadiums are known for allowing you to bring food items, but no outside food is permitted for the College World Series. You can bring a 20 oz. or smaller empty clear plastic bottle to use at the water refill stations in the stadium. If you need to check about other permitted/prohibited items at CWS, click here.
Getting Tickets – We waited until game day to snag our tickets via Ticketmaster but you'll want to monitor ticket prices leading up to your game. Our tickets (both were evening games during opening weekend) averaged around $50 each. That obviously will depend on who is playing and how far into the Series the game is. One huge tip: if LSU is playing in the College World Series, tickets may be harder to come by/ more expensive. Their fans come out in droves and are very passionate. Apparently they come out every year, whether or not their team makes it! Keep that in mind if your team is playing against LSU.
Cash vs Credit – You won't need cash inside Charles Schwab Field. The ballpark only accepts credit, debit, and mobile payments. 
Alcohol – If you're planning to buy alcohol inside the ballpark, stop by one of the wristband statitions once you get inside to show your ID. You'll need the wristband before you can buy a drink. Each person with a wristband was allowed to buy two alcoholic beverages.
Shade in the Stadium – Omaha is hotter than we expected! Fortunately, both of our games were in the evening so it wasn't nearly as intense as the 1:00 pm games. If you're sensitive to the sun, a local told us that a little after 3:00 pm behind homeplate and the first-base side of the stadium start to receive shade. You may want to keep that in mind when buying tickets.
Home & Away Side for Tickets – We had a tough time figuring this one out when buying tickets. For our first game, we knew we'd be home since our team was the higher seed. For the second game though, we could not find this information easily. Different websites had our team name listed first vs second. We ended up being "away" for the second game so it appears they alternate but I don't know how it works once you're several games in. You'll definitely want to look into this before buying tickets.
Need more inspiration for your trip out west?
Check out these blog posts to help you plan your trip:
Enjoy our blog post? Pin it to share with others!