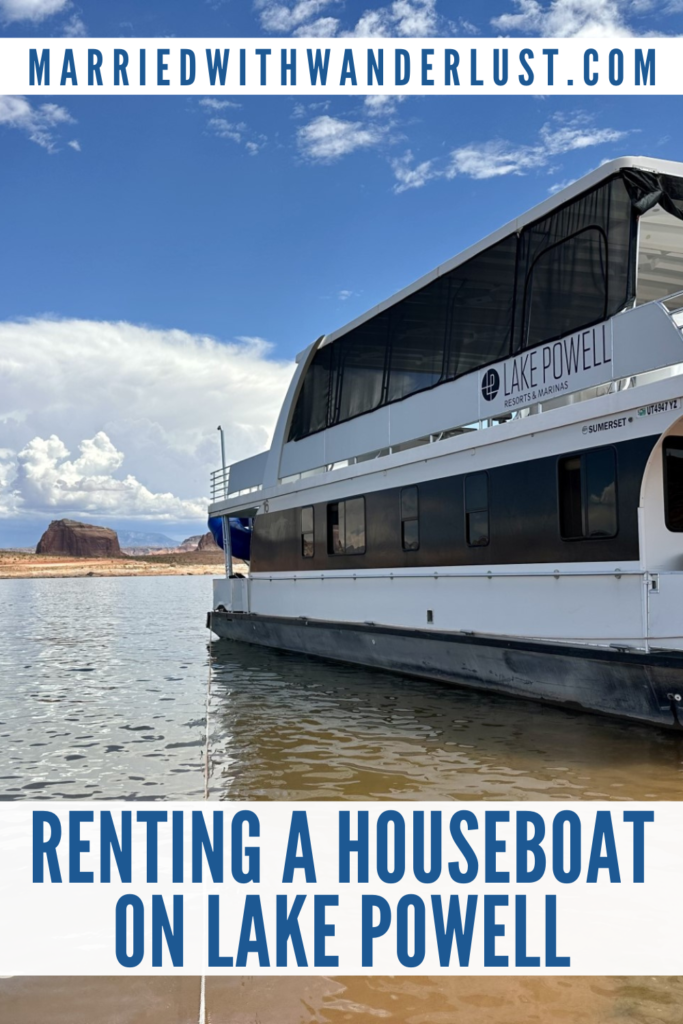 This summer, our friend Joe invited us to join his annual houseboat trip to Lake Powell. He has been going with family since he was a kid and now does an annual friends trip. I'll be honest, we didn't know anything about Lake Powell before we agreed to go! I hadn't even Googled it. But we're always up for a new adventure and it was such a unique experience. The red rocks are so stunning up close!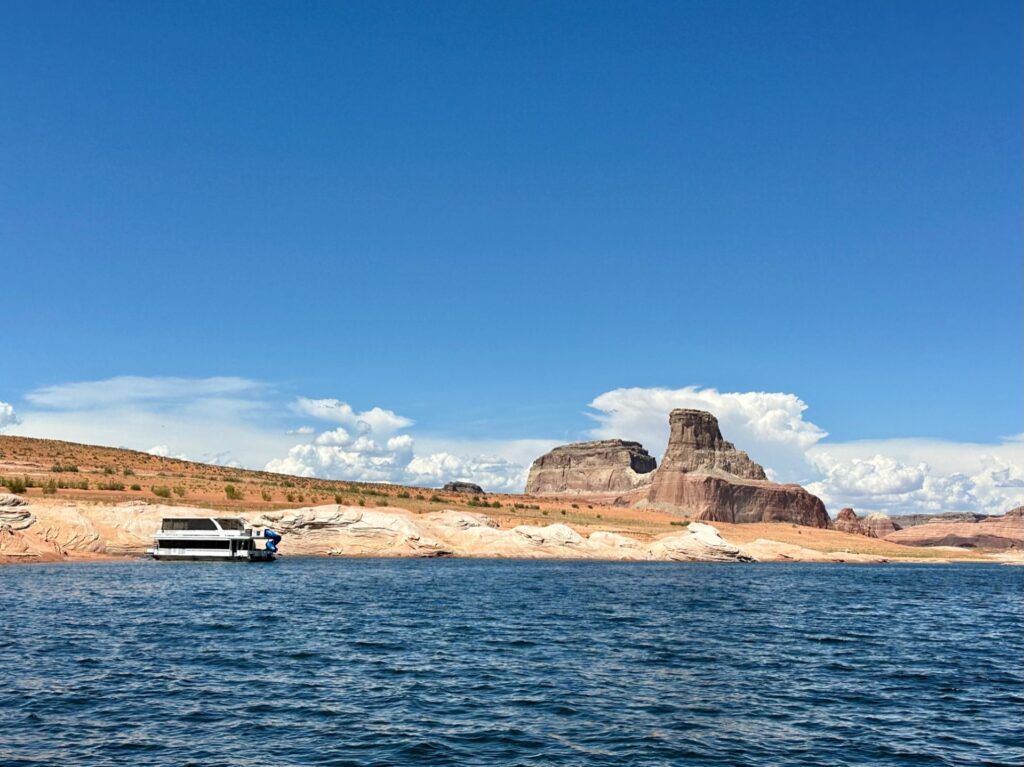 We rented through Lake Powell Resorts & Marinas and departed from Wahweap Marina in Page, Arizona. You can also rent a houseboat on Lake Powell from Bullfrog Marina in Bullfrog, Utah. Picking your rental will be your first order of business and will depend on the number of people in your group and the amenities you want on your boat. Once you've got that squared away, here are a few other tips to help you prepare for your houseboat trip:
Tips for Renting a Houseboat on Lake Powell
1. Lake Powell is huge and you'll likely travel quite a distance.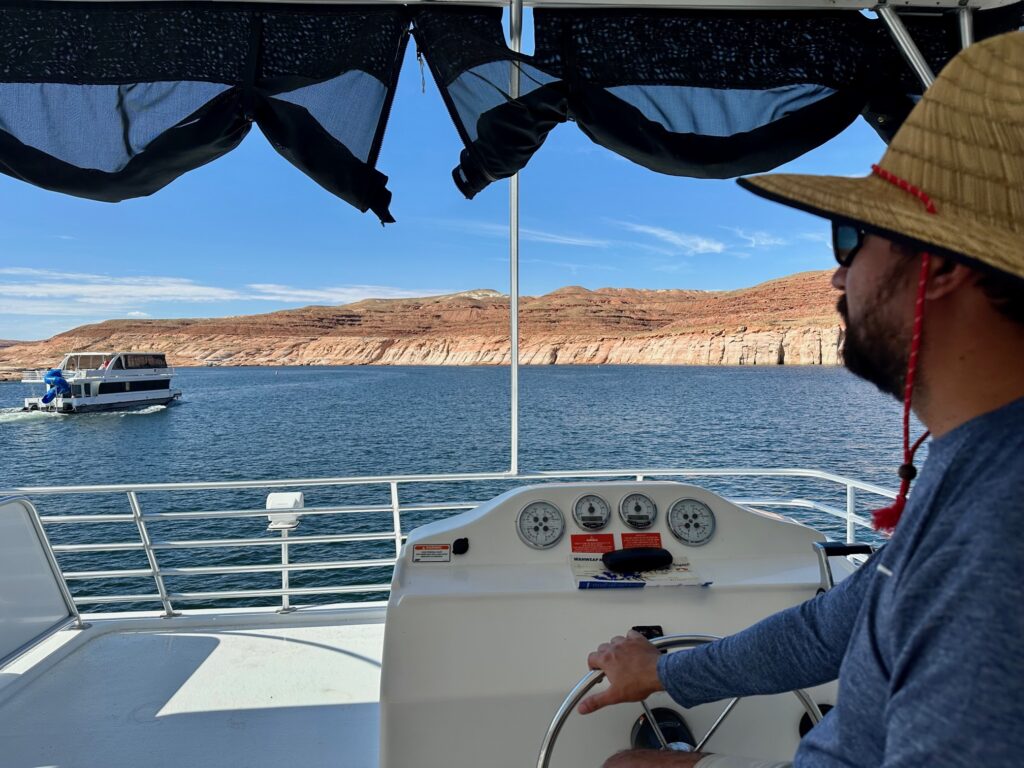 It took us almost three hours to get from the Wahweap Marina to where we docked our houseboat in Padre Bay, Utah. With the time and cost of gas, you definitely won't want to turn around. Many houseboaters (including us) tow a powerboat to use for daily boating, tubing, and sightseeing. Most people pick a spot for their houseboat for the week and then use the powerboat when they want to leave their home base.
2. Know that cell service is almost nonexistent.
We had cell service before departing the Wahweap Marina and when we went to the Antelope Point Marina to stock up on ice. Otherwise, we had no cell service during our time on Lake Powell. It didn't bother us as it was nice to take the break from email and social media, but it's good to be prepared.
3. Know the basics of boating/houseboating before departure.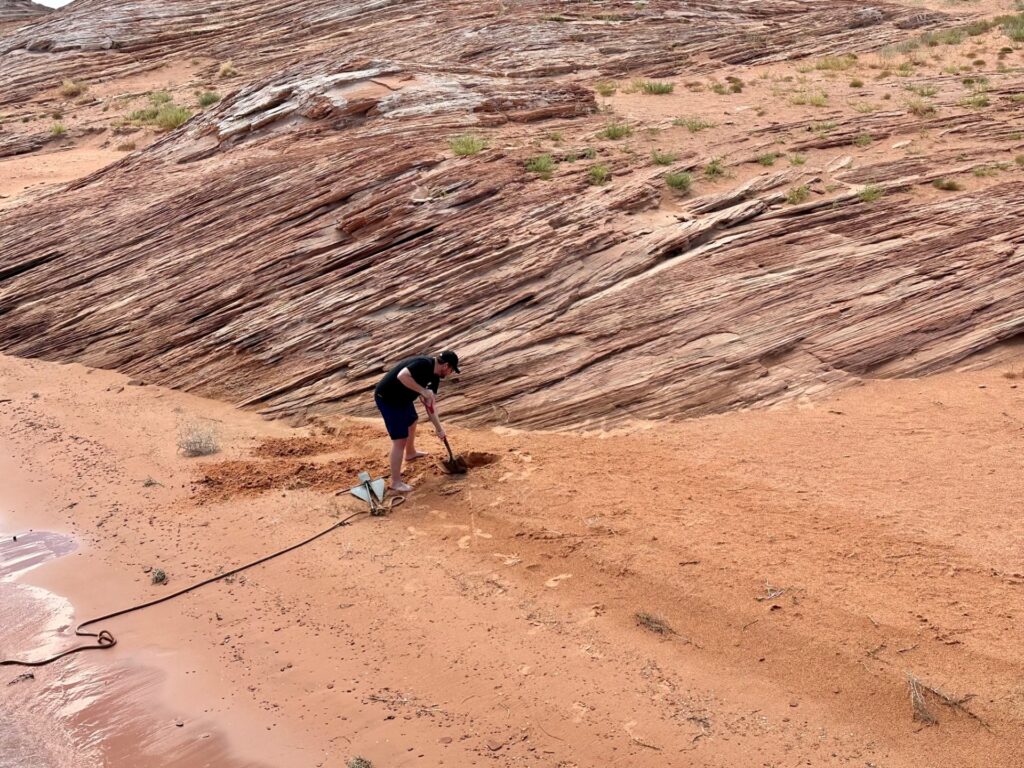 WC and I grew up boating so we know the basics but we also learned several things from our friends who rent a houseboat on Lake Powell every year. For instance, WC knew how to navigate the buoys while driving the houseboat. However, anchoring the boat on the beach was a new experience. Lake Powell is a large water source for Lake Mead which supplies water for Nevada, Arizona and lower California. For this reason, the lake drops about a foot daily as water is released. Due to the daily rapid drop in water levels, you have to reposition your boat daily so that your boat doesn't get stuck on the beach.
4. Watch where you're going.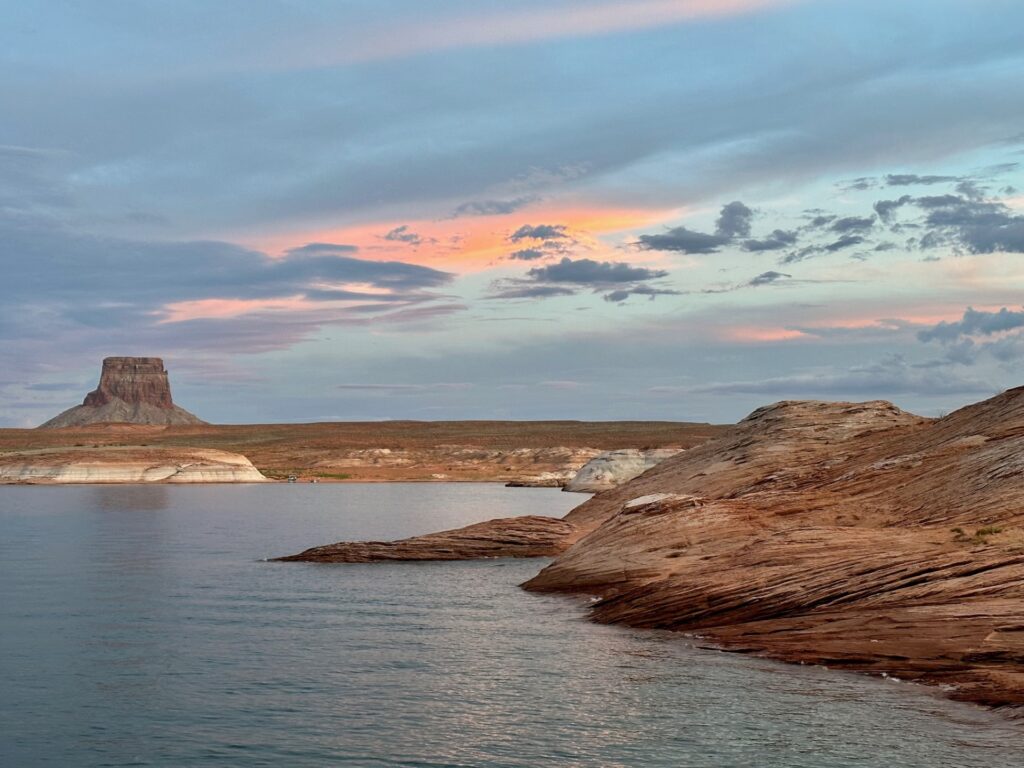 This might seem obvious, but I don't mean watching out for other boats (though of course you do need to do that). Lake Powell is surrounded by massive red rock canyons and not all of the rocks are just on the outskirts of the lake. Some are out in the middle of the lake. Depending on the time of year and the water level, the rocks could be lurking just under the surface of the water and you don't want to run into one!
5. On that note, always opt for the additional insurance.
It costs around $70 per day for the additional insurance which protects you should something happen to the boat. We definitely think it's worth it for the peace of mind, plus most likely you'll be splitting the cost with a group. Fortunately, we did not run into any issues but it's better safe than sorry.
6. Make sure you meal plan.
We highly recommend making a meal plan/shopping list and go to the grocery store before you get to the marina. If you forget something, the marinas do have some essentials but a much smaller variety and higher price tag. There is a Safeway and Super Walmart in Page where you can shop beforehand. Bringing your own supplies and cooking on the boat will be the most economical option. The houseboats are equipped with full kitchen and ours also had a propane grill on the roof.
Bringing your own supplies and cooking on the boat will be the most economical option. But, if you really want to skip planning and shopping, there is a grocery delivery option at Wahweap Marina.
7. What should we pack?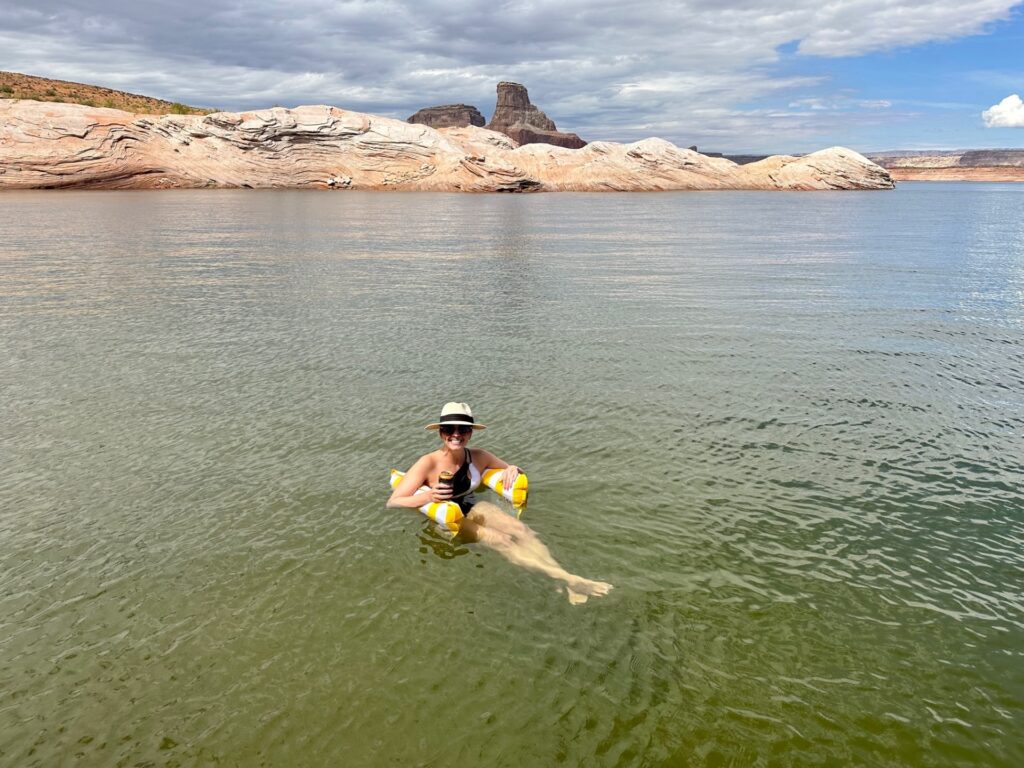 Along with food and drinks (and lots of water), you'll want to pack some kitchen supplies like garbage bags, paper towels, and tin foil. Make sure to have plenty of sunscreen and beach towels (bath towels are provided), sunglasses, and hats. Water shoes would also be helpful for some of the rockier shorelines and tennis shoes if you plan to hike. Additionally, we brought water floaties and noodles, our paddleboards, books, and a bunch of board and card games. I wish we had packed a waterproof camera to use when swimming or doing watersports. You'll also want your toiletries and any medication you might need.
8. In case of emergency, use your marine radio.
Hopefully you'll never need this information. But in case of an emergency, each boat is equipped with a marine radio. You can tune to Channel 16 which is monitored by the National Park Service and the marinas.
9. Other important information.
Have other unanswered questions about renting a houseboat in Lake Powell? Lake Powell Resorts and Marinas has a lot of information on their website including smoking and pet policies, additional fees to expect, and pre-departure info.
10. Have fun and enjoy the view!
Lake Powell is a great place to unwind and enjoy the stunning scenery. Swim. Take a hike. Paddleboard or kayak. Read a book. Go fishing. BBQ. Watch the stars at night. And most importantly, just relax!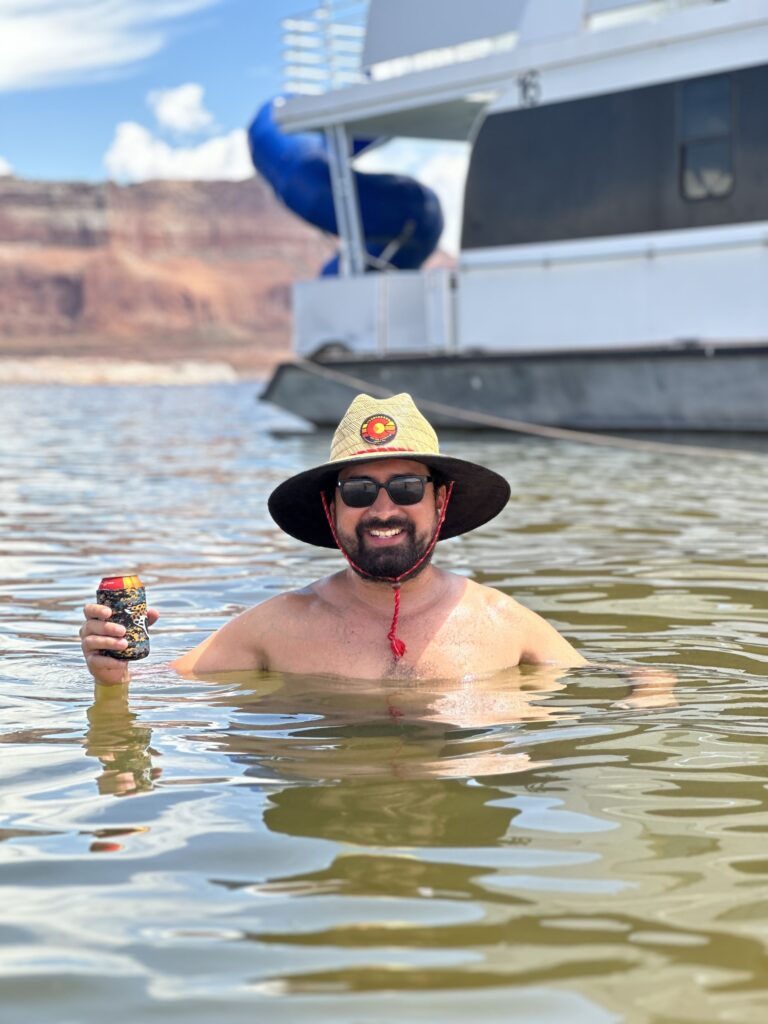 Need more inspiration for your trip out west?
Check out these blog posts to help you plan your trip:
Enjoy our blog post? Pin it to share with others!